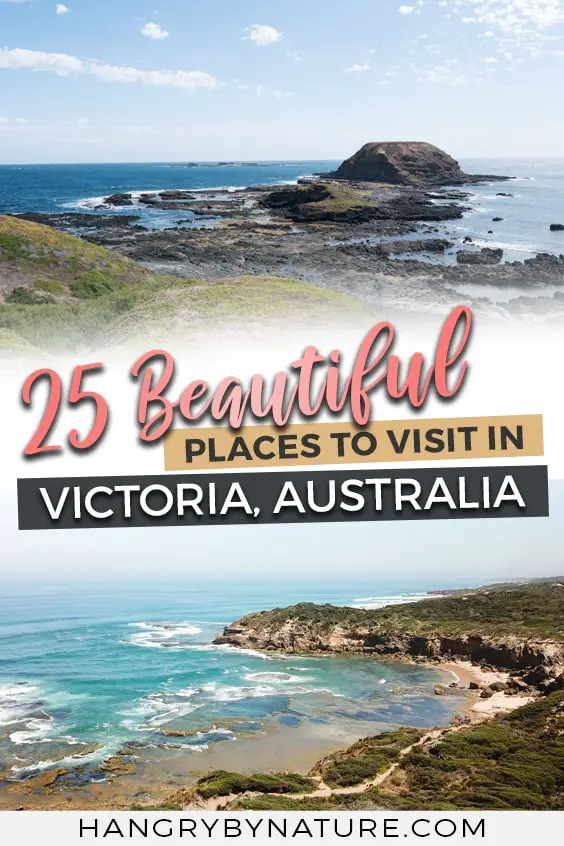 Get inspired by these spectacular places to visit in Victoria, Australia, brought to you by a local Burn City inhabitant addicted to her home state.
Melbourne. Voted the most liveable city in the world seven times over. I mean, there's gotta be more to it than our smashed avo on toast which, mind you, is the the bomb diggity – or, our not-to-be-messed-with coffee culture. Right?
I don't even know what the ranking is based on, but I can tell you one thing – despite the mind blowing brunch selections or soul soothing flat whites, Victoria is home to a vast number of captivating attractions that'll make you see exactly why the capital of this state is the most liveable city in the world.
If you're seeking the perfect weekend getaway, or you're looking to add some unforgettable day trips to your Melbourne itinerary – this epic list serves to inspire you to pack your bags, and visit the most beautiful places in Victoria.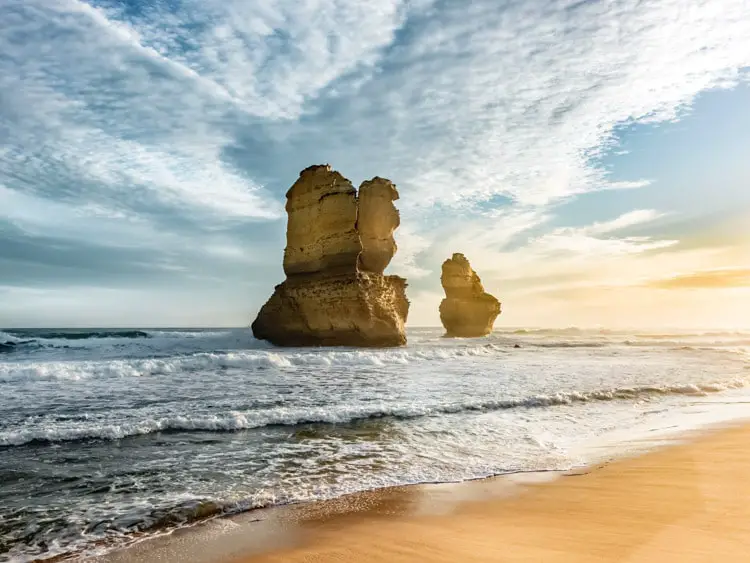 Places to Visit in Victoria: Quick Travel Tips
➢  Rent a car, van or SUV. Let's face it, Australia is big and vast – we don't have much of a rail or bus network that connects everywhere. Renting a car is your best bet of getting around at your own pace and stumbling upon hidden gems.
Find the best price and car suited to your needs on Rentalcars.
➢   Pay attention to the speed limit. To say hurts getting a speeding fine in Australia is a huge understatement. It's agonising. Torturous, even. It'll throw you a couple hundred out of pocket and make your trip much less enjoyable.
➢   Book a day trip on Klook. Not ready to brave it on the great Australian roads with a car? No problemo. Take day trips out of Melbourne to the Great Ocean Road, Yarra Valley or Mornington Peninsula with Klook.
Take a look at these popular one day trips in Melbourne:
➢ Get the Entertainment Book. Australia is expensive. Save a ton on activities, dining, shopping and accommodation in Melbourne and regional Victoria by getting this handy money-saver.
➢ Pack clothes suited for all seasons. Because weather in Victoria is, basically, like Melbourne weather. This state is notorious for experiencing "4 seasons in one day" climate.
➢ Pick up a 4G SIM card. You'll definitely need data to navigate the roads. WiFi can be sketchy in country towns Victoria, so be prepared and grab yourself a reliable SIM provider with plenty of data.
21 Beautiful Places to Visit in Victoria
Strap in your seatbelts, guys. This list is going to overload your summer road trips from Melbourne plans for the next 2 years straight. Who would've thunk that there are this many beautiful hidden places in Victoria to unravel? 
1. Wilsons Promontory National Park
Deemed one of the most beautiful places in Victoria, it's safe to say that you haven't experienced the magnificence of Aussie beaches until you've been to Wilsons Promontory. Located in the Gippsland region, roughly 2.5 hours from Melbourne, the national park is a natural marvel that you need to feast your eyes on.
Prepare to be astounded by gorgeous trails and hikes, spotless white sandy beaches, unique Australian wildlife, and views to literally die for.
Camp under the stars, skip along the 'Prom's iconic Squeaky Beach, or conquer the summit at Mount Oberon – it's a haven for hikers, family adventurers, and photographers alike. Get out of the city, slow down a few paces, and immerse yourself in the beauty of the outdoors.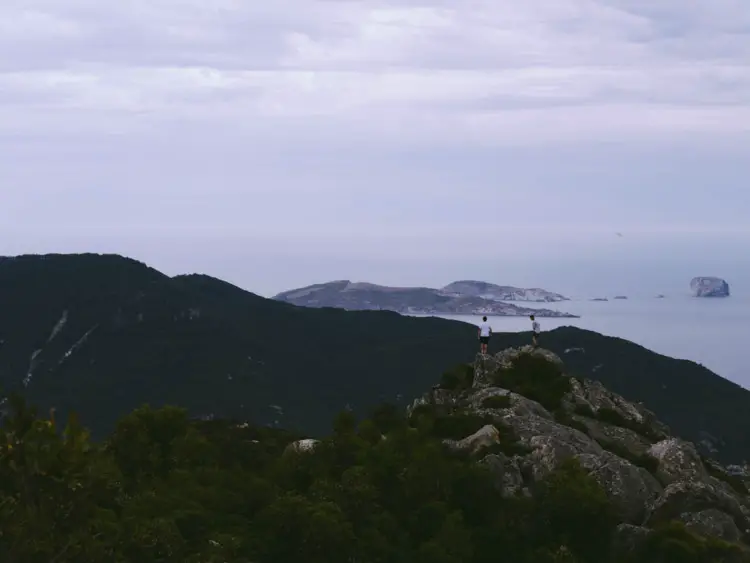 Things to do in Wilsons Prom
▪︎  Watch the sunset from Mount Oberon. One of the most scenic places in Victoria, the hiking trail to the summit is a booty-busting and leg-demolishing exercise that's worth all the blood, sweat and tears
▪︎   Explore Squeaky Beach, Whisky Bay & Norman Beach. Sink your feet into bright white sand and turquoise water at these glorious beaches found within the national park.
▪︎   Go on a wilderness cruise. Jump onboard one of Wilsons Promontory Cruises amphibious boats and experience the breathtaking granite coastline from the serenity of the water. If you're lucky, you might even spot dolphins, whales and seabirds.
Unique Stays in Wilsons Prom
Unless you're a keen camper – no accommodation can be found within Wilsons Promontory, as the National Park aims to protect its pristine beaches, rainforests and wildlife.
▪︎ Stay inside an Eco Tent. Not quite glamping, not quite camping – this unique experience sits somewhere in between. Powered by solar and fitted with an ensuite bathroom, kitchen and deck BBQ, this is the perfect place to stay for semi-nature lovers.
▪︎ Spend a night inside a cottage at a lighthouse. Visitors can get a taste of the lighthouse keeper lifestyle by staying in one of the three gorgeous cottages right next to the lighthouse.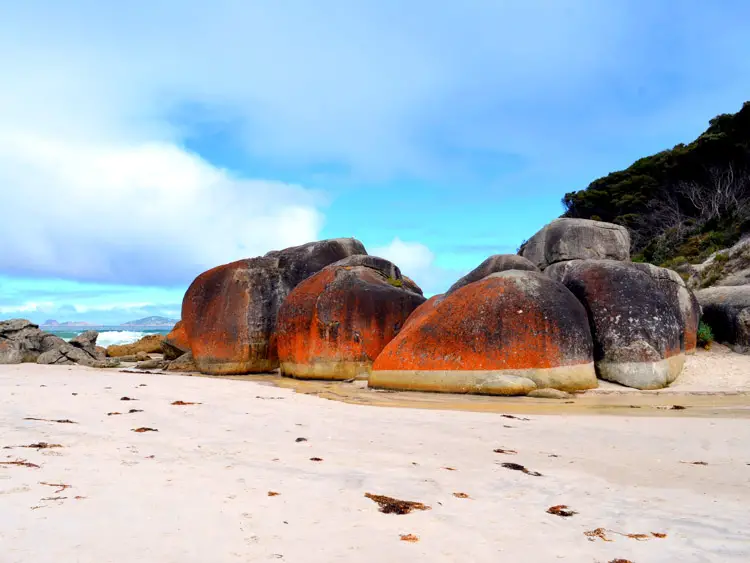 2. Inverloch
One of the best summer family holiday destinations in Victoria, the laid-back coastal town of Inverloch is the perfect retreat for beach lovers, families and water sport junkies. 
Tucked safely inside Andersons Inlet, the beach and waters are protected by Venus Bay peninsula, making it an ideal spot for little swimmers and beginner surfers. 
But, the town is not all about the beach life – wander inland and you'll be greeted with serene boardwalks and nature trails that take you through the marshlands and stunning viewing platforms of Anderson Inlet.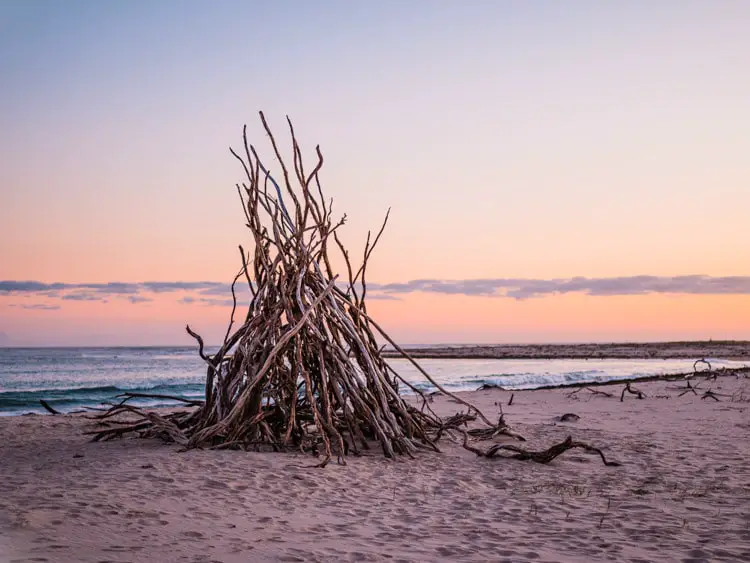 Things to do in Inverloch
▪︎   Explore the rugged coastlines at Eagles Nest. One of the most beautiful hidden places in Victoria, this gem is located between Inverloch and Cape Patterson. Soak in the views from the lookout or climb down to the secluded beach for a swim or surf.
▪︎   Take kids on a Dinosaur Discovery tour. Embark on a pre-historic adventure to The Caves and unravel plant and dinosaur fossils on this geological landscape
▪︎   Taste wine, beer and local produce at Dirty Three Wines. Spend a lazy afternoon enjoying local wines and delicious food inside this small industrial estate.
Unique Stays in Inverloch
▪︎   Relax in a Beach Shack with a private outdoor cinema. Retreat into a 1960s inspired beach shack with a designer flare. Chill out by the fireplace or enjoy lying on bean bags while watching a movie on the big screen outside.
▪︎   Spend the night inside a glamping tent. Set on scenic farmlands with gorgeous ocean views – enjoy luxury bell tents with private bespoke bathrooms while you switch off from the world.
3. Lakes Entrance
A solid 3-hour road trip from Melbourne, Lakes Entrance is found in the eastern corner of Victoria. Known for its picturesque intertwining lakes, amazing camping grounds, and the famous Ninety Mile Beach – it's a popular spot for families and nature seekers.
Grab your sleep bags and snooze under the starry night sky on a quiet stretch of beach, try your luck at fishing, explore the coastline, or visit all the quaint little towns dotted around the lakes. 
For more destinations in Gippsland (and a cheeky trip to NSW South Coast), take a look at this Melbourne to Sydney road trip itinerary.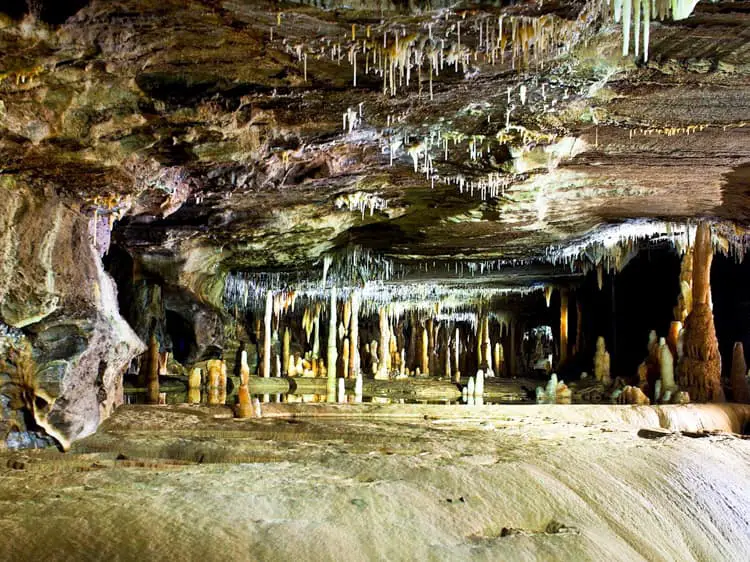 Things to do in Lakes Entrance
▪︎   Drive inland to the Buchan Caves. Formed by a system of underground rivers cutting through limestone, inside, visitors can tread beneath hundreds of stalactites that line the ceiling (whilst trying not to freak out about one dropping on your noggin').
▪︎   Rent a houseboat. Be your own skipper and wake up to a different view each morning aboard your own floating island. 
▪︎   Hop on a ferry and explore Gippsland Lakes. Uncover the beauty of the waterways from the comforts of a large ferry and cruise through stunning inland waterways consisting of lakes, marshes and lagoons.
Unique Stays in Lakes Entrance
▪︎  Stay inside a luxury off-grid home. Switch off from the world and experience sustainable living at a completely off-grid home set on 3 acres of rolling green hills.
▪︎  Sojourn at a wooden lakehouse. Ever dreamt of living in lakehouse complete with a private jetty and pool? Time to convert that dream into a reality.
Lakes Entrance accommodation booked out? Take a look at this family holiday park in Bairnsdale that's only a 15-minute drive away.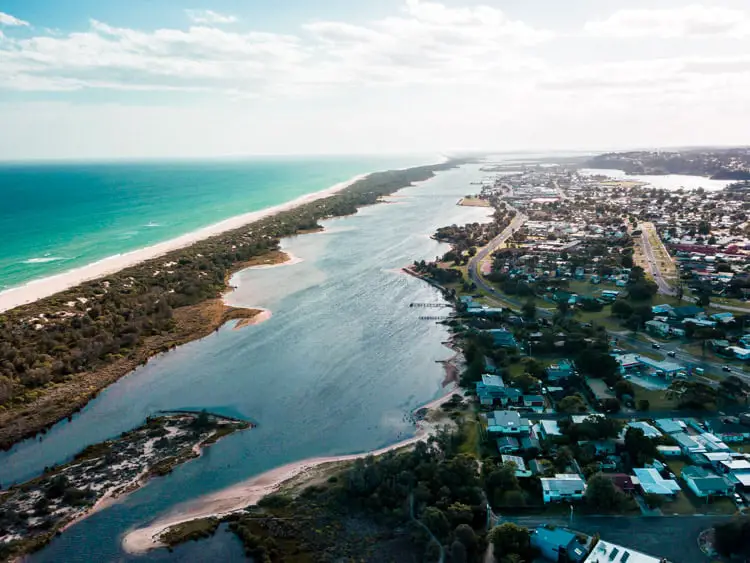 4. Mallacoota
Surrounded by the glittering beauty and wilderness of Croanjingolong National Park, the pretty little town of Mallacoota is graced with cool ocean breezes in the hot summer months and the warmest winter temperatures in Victoria.
Enjoy nature strolls, boating, fishing, canoeing, 4WDing, surfing or golfing – there's something enjoyable to be found in Mallacoota for every type of traveller.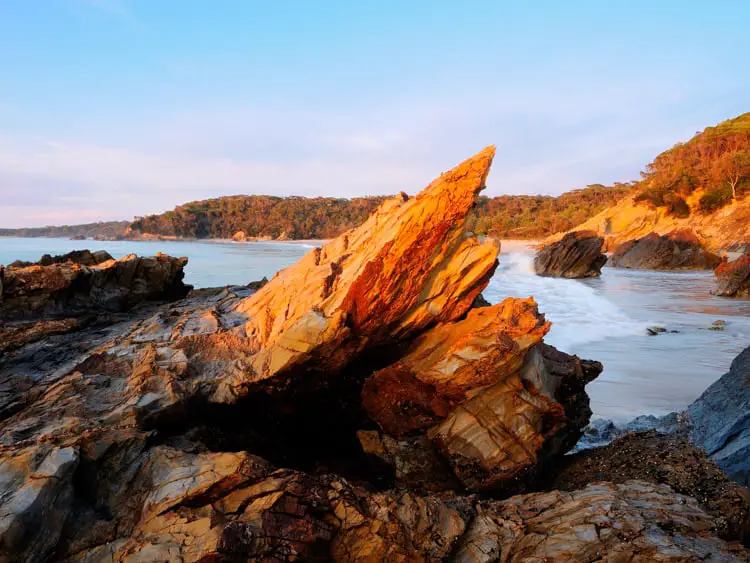 Things to do in Mallacoota
▪︎  Explore the ancient forests of Croanjingolong National Park. Delve into the unique landscapes and enjoy boating, fishing, canoeing, 4WDing, surfing and golfing.
▪︎  Visit Gabo Island Lighthouse. Join in on a tour with the keeper and learn about the town's history and look out for whales, dolphins, seals and even penguins.
▪︎  Captain your own motorboat. Hire a small boat for the day and explore the scenic waterways and secluded coastlines.
Unique Stays in Mallacoota
▪︎  Stay inside a secluded Riverhouse inside the forest. Immerse yourself in pristine bushlands and forest life inside this magnificent home by the river.
5. Mount Dandenong
Country, bush, coast – Victoria's got 'em all. But, if the mountains are callin' – we've got a set of those, too. And, you better heed that call.
Take a trip out to the Dandenong Ranges, a mere one hour drive from the city – it's a short trip from Melbourne that makes for a perfect 'quickie' retreat from the fast paced city life. Explore eclectic mountainside villages, wander through forest-scape, discover magical falls, and stunning viewpoints.
Things to do in Mount Dandenong
▪︎  Ride the Puffing Billy Steam Train. Travel through lush forest land, fern gullies and farmlands of the Dandenong Ranges onboard Victoria's most famous train.
▪︎  Soak in panoramic views at Sky High. Drive up to the highest natural viewing point in Victoria – stop at the bistro for a feed or roam the hedge maze and secret gardens.
▪︎  Visit the charming towns of Olinda and Sassafrass. Stop for tea, coffee or lunch in one of these laid-back mountain towns.
▪︎  Take a stroll inside William Ricketts Sanctuary. A free outdoor exhibition that winds through nature paths dotted with wonderful sculptures.
Unique Stays in Mount Dandenong
▪︎  Spend the night inside a medieval-style cottage. Be awed by the Tudor-inspired lodging experience surrounded by rainforest views, walking tracks and picnic areas.
▪︎  Sleep inside a converted 1966 vintage caravan. Experience a stay inside a lovingly restored caravan complete with a hot tub, free WiFi and private patio with a BBQ.
▪︎  Frolic inside a wooden barnhouse. This cosy country-style home is surrounded by breathtaking views and boasts a double spa in the living room, gas log fire and private balcony with a BBQ.
6. Healesville
For a splendid one day trip in Melbourne that's guaranteed to please kids and grown-ups alike, there's no place quite like Healesville. A haven for food and wine lovers, the region is enveloped by awe-inspiring scenery, iconic Australian wildlife, artistic inspiration, and award-winning  wineries and restaurants.
It's also, without a doubt, one of the best places to visit in Victoria with kids where little ones are given the opportunity to encounter rescued wildlife at Healesville Sanctuary, or run wild at one of the many outdoor picnic grounds with playgrounds.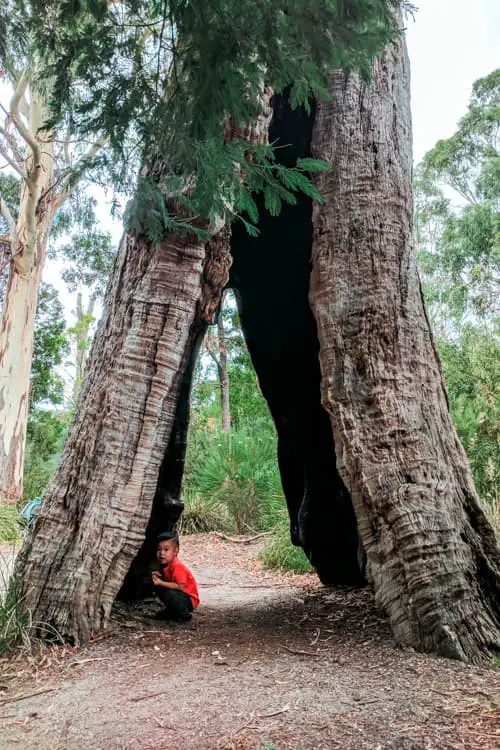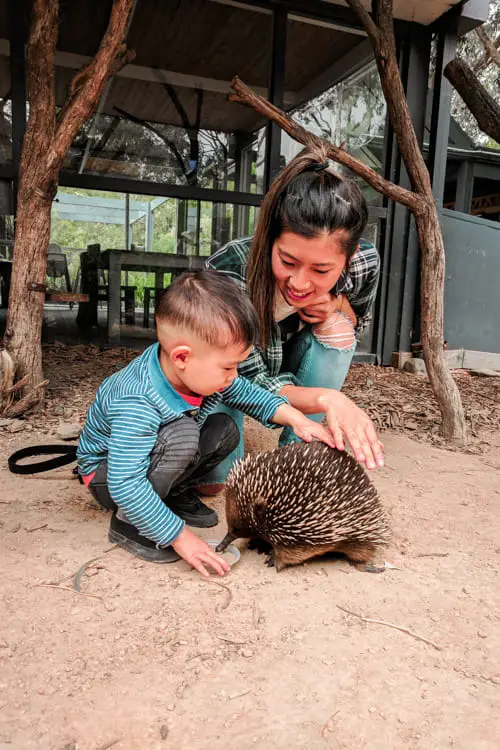 Things to do in Healesville
▪︎  Encounter Aussie wildlife at Healesville Sanctuary. One of the top places of interest in Victoria, this is where you can meet rescued wombats, kangaroos, Tasmanian Devils, koalas and more native animals. 
▪︎  Have a picnic at Maroondah Reservoir Park. Pack a picnic and chill inside the huge park space or climb up to the dam wall for a gorgeous vista of Healesville from above.
▪︎  Pop into some of the region's finest wineries. Soak in views of rolling green hills and indulge in some of the state's most delectable cuisine and wines.
Unique Stays in Healesville
▪︎  Stay inside a glamping pod at a holiday park. Sleep inside an eco glamping pod with an ensuite bathroom and enjoy roaming the great outdoors.
▪︎  Romantic vacay at a tiny house on the edge of a hill. Be awed by this adorable country-style cottage nestled on rolling green hills.
▪︎  Experience living inside a luxury warehouse. Enjoy one of the most unique weekend trips from Melbourne by staying in a warehouse-style shed.
Experience the best attractions of the region. Join in on one of these top-rated tours and activities in the Yarra and Dandenong Ranges.
✰ Puffing Billy & Winery Lunch
Hop on the famous steam train and choo choo your way through Dandenong Ranges National Park followed by lunch and wine tasting in the Yarra Valley.
✰ Sunrise Hot Air Balloon Flight
Kick off the morning feeling like you're on top of the world (literally) with an unforgettable flight over the Yarra Valley.
✰ Full Day Yarra Valley Wine Tour & Lunch 
Hop between Victoria's top wineries and enjoy tastings with an expert guide, including lunch at a winery restaurant.
7. Warburton
Lovers of the outdoors, rejoice. Warburton is one of the most adorable country towns in Victoria you'll come across and fall instantly in love with. 
Located in the upper reaches of the Yarra River, the area is surrounded by lush, green mountains and age-old trees that soar into the skies. Take the opportunity to see some of the state's most picturesque countryside via bicycle, 4WDing or on foot. 
Things to do in Warburton
▪︎  Experience snow in winter on top of Mount Donna Buang. Drive up the windy road to the summit and experience snow play toboggan runs in the cold months.
▪︎  Stroll through the majestic Redwood Forest. Pack a picnic and explore this magical forest lined with towering Californian Redwood trees.
▪︎  Visit the Warburton Rainforest Gallery. Float along enormous mountain ash and myrtle trees and be mesmerised by the beauty of this forest.
Unique Stays in Warburton
▪︎  Spend the night inside an American-style eco barn. Prepare to be blown away by this collection of hand built barn-style rooms tucked away in the Yarra State Forest.
▪︎  Sleep inside an off-grid mudbrick house. Built with reclaimed timbers and handmade mudbricks, this rustic cottage is the perfect way to switch off.
▪︎  Retreat into a Gaudi-inspire art house. Let your creative muse loose inside this artsy space and find inspiration for your next project.
8. Marysville
Nestled in the foothills of the state's great alpine region is the delightful little town of Marysville, truly, one of the tip top beautiful places to visit in Victoria. The drive up the Black Spur alone is a jaw-dropping experience that'll make you tear up with all the beauty that this corner of the state has to offer.
Only a 1.5-hour drive from Melbourne, this alpine resort village is the ideal destination for all-year-round outdoor activities. Take the family on a snow adventure to Lake Mountain for toboggan runs in the colder months or trail to Keppel Lookout for breathtaking scenes of Steavenson Falls.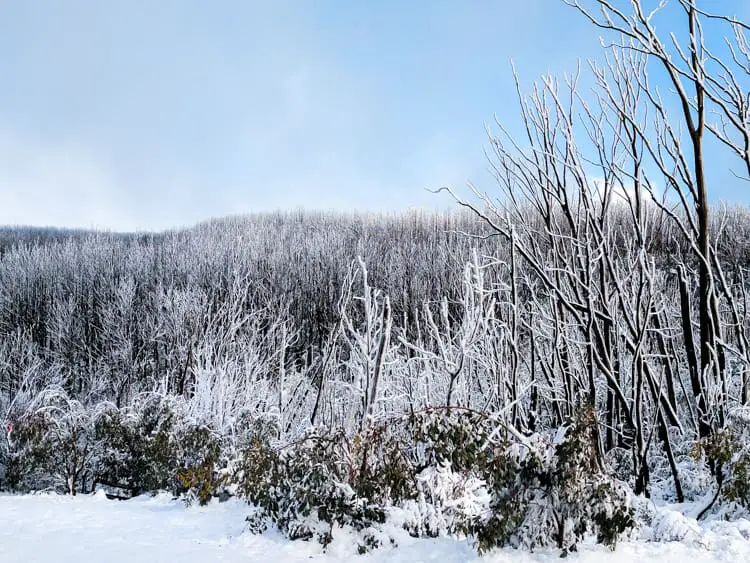 Things to do in Marysville
▪︎  Hike up to Steavenson Falls. Embark on an easy climb up to the top of this magnificent waterfall for amazing views of the region.
▪︎  Trek along the Keppel Lookout Trail. Drive or hike up to this wonderful viewing spot where you can soak in invigorating panoramas of Marysville.
▪︎  Visit Lake Mountain Alpine Resort for snow-filled shenanigans. Ski through 37 kilometres of cross-country trails or let the kids loose on the fun toboggan runs.
Unique stays in Marysville
▪︎  Experience country hospitality at a secluded lodge. Wake up to kangaroos outside your window on a 68-hectare property surrounded by dense forests.
▪︎  Stay inside a German Alps-inspired mountain chalet. Enveloped by untouched rainforest and native Australian wildlife – this place is one of the best escapes from the hustle and bustle of city life.
9. Cathedral Ranges State Park
One of the craziest and adrenalin-fuelled hikes that I ever agreed to embark on – hiking up Cathedral Ranges is not for the faint-hearted. 
However, I can assure you that the view at the summit is completely worth the near-death experiences encountered along the way. Enjoy one of the most beautiful places in Victoria overlooking vast farmlands, charming towns and mountain ranges.
Clamber through claustrophobia-inducing narrow cave passages and cliff-edge climbs that'll make your heart rate drop. If adrenalin is what you seek, then adrenalin you shall find.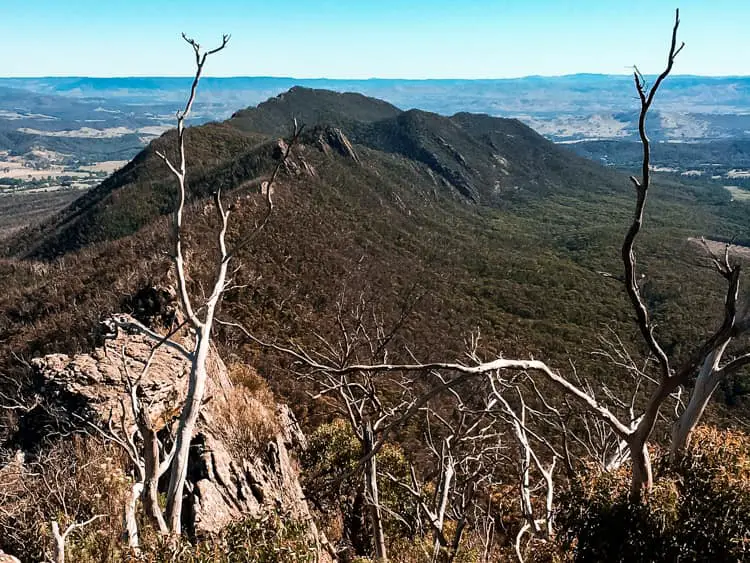 Things to do in Cathedral Ranges
▪︎  Drop by the township of Lake Eildon. Explore this quaint little town and its rich history or partake in water-based activities, such as houseboating and wakeboarding.
▪︎  Camp and hike to the top of Cathedral Ranges State Park. Climb to the summit for inspiring views and experience one of the hardest hikes in Victoria.
Unique Stays in Cathedral Ranges
▪︎  Experience a family stay at a 40 acre rural retreat. Spend a few nights inside a huge 4-bedroom house with views of the Cathedral Mountain range, splendid sunsets and a private pool.
Want more local Melbourne tips for planning your next getaway?
10. Kinglake
Before we dive into the beautiful attractions of Kinglake, let's set the record straight – there's no lake. Alright, now that we got that out of the way, let's talk about this incredible town that's an absolute paradise for outdoor lovers.
Situated 50 minutes north of Melbourne CBD, the town is home to countless natural marvels, such as the Kinglake National Park, berry farms, lush walking trails and adventure playgrounds that the kids will go nuts over.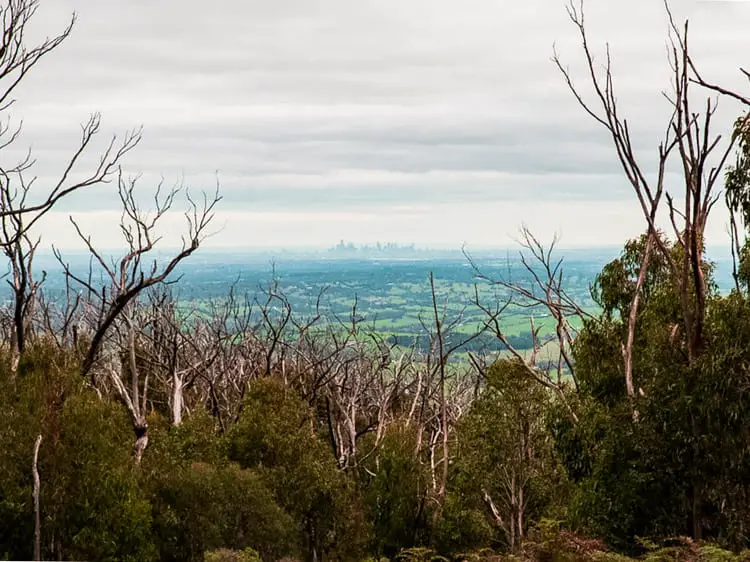 Things to do in Kinglake
▪︎  Enjoy a bushwalk in Kinglake National Park. Go camping, wind down the myriad of nature trails and find a quiet spot to admire the powerful Kinglake Waterfall.
▪︎  Pop by the magical playground at Bollygum Park. Moulded after the award-winning children's book 'Bollygum', this outdoor playspace features a skate park, animal houses and a bird's nest making it a hit amongst kids.
▪︎  Visit one of the biggest berry farms in Australia. Sink your teeth into the fresh and juicy raspberries at Kinglake Raspberries during harvest season.
11. Bright
Inch your way towards the Alpine National Park, one of the best places to visit in Victoria in the autumn and winter seasons, and enjoy the splendour and allure of the high country. 
Wander along Ovens River and soak in the stunning forest and call of the mountains that the town is engulfed in. Bright also boasts a first-rate foodie scene, where you'll stumble upon boutique wineries, village cafes and mouthwatering restaurants serving up delicacies sourced from local ingredients.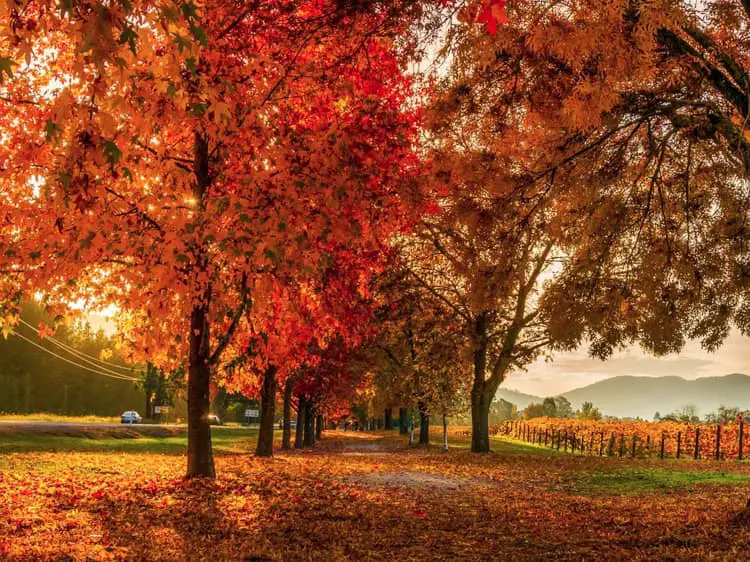 Things to do in Bright
▪︎  Embark on an easy walk to The Canyon. Follow Ovens Valley River, bask in the natural scenery and cross a picturesque suspension bridge.
▪︎  Swing by Bright Splash Park in the summer. Cool off in the warmer months and chill out in this free public space that features bucket dumps and ring sprinklers where kids will have an absolute ball.
▪︎  Day trip to Mount Hotham or Falls Creek. If you're after snow-capped adventures in the winter time, these two popular snow resorts are a must for ski enthusiasts.
Unique stays in Bright
▪︎  Stay inside a contemporary tin hut. Experience a memorable stay inside a modern tin house with designer touches.
▪︎  Cosy up in a modern love shack. What great romances are made of. Plan a romantic getaway and enjoy views of the mountains from the outdoor bath.
▪︎  Tiny House with an epic mountain view. Switch off from the world and seclude yourself in this gorgeous tiny home surrounded by killer mountain scenery.
TIP: Plan a trip during the Bright Autumn Festival to experience breath-stealing autumn foliage and taste rare seasonal produce of the region.
12. Alpine National Park
Welcome to the state's amazing High Country where you can spend days hiking along towering alpine ridgelines, trek past lush river valleys, rugged bushland and revel in unforgettable mountain scenery.
Some of the most amazing places to visit in Victoria are not always found along the coast. Albeit, Victoria is home to tear-jerkingly beautiful rugged coastlines that'll make your heart skip a beat, but we also have mountain ranges that some might call 'alps' (as a German-born, I tend to disagree). With snow. Yes, plenty of snow.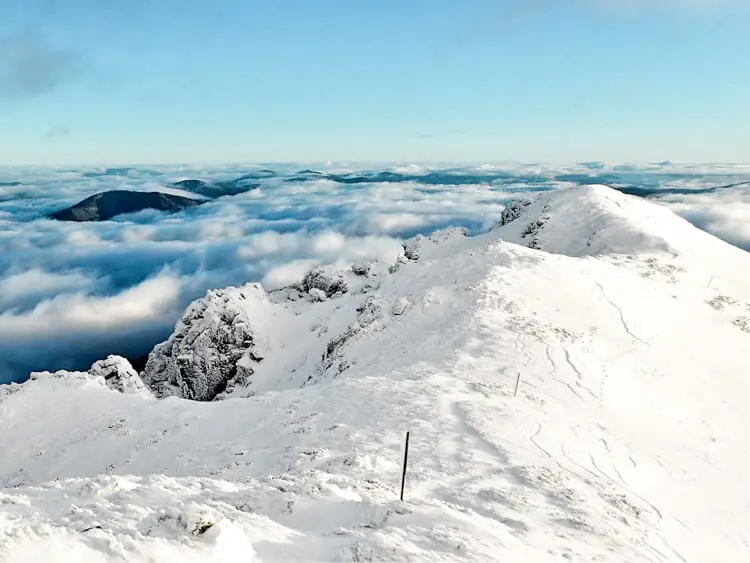 Things to do in Alpine National Park
▪︎  Make a trip up to Mount Hotham or Falls Creek. Victoria's most popular ski resorts are open all-year round for adventure seekers.
▪︎  Trek or drive up to highest mountain in Victoria. Nestled in the heart of the Alpine National Park, Bogong High Plains offer world-class mountain bike trails and hiking opportunities.
▪︎  Visit the hidden Lake Tali Karng. Camp out at the highest freshwater lake in the alpine region and bask in unforgettable mountain views.
Unique Stays in Alpine National Park
▪︎  Get cosy inside a Witcher-style stone cottage. Wake up to the sounds of the river and the forest in this detached mudbrick studio nestled at the foot of the mountain.
▪︎  Live it up inside a pod with breathtaking vistas. Enjoy stunning views from the bed or terrace of Kiewa Valley and Mount Bogong.
▪︎  Relax in a loft-style 3-bedroom chalet. Kick back in this Scandi-inspired mountain chalet boasting minimalist modern furnishings and to-die-for views.
New to Airbnb? Get $40 travel credit when you book your first stay!

13. Geelong & Bellarine Peninsula
Geelong. Better yet, Gee-troit, as the locals like to call it to give Victoria's second largest city a ghetto edge. Although it's far flung from its colloquial name, you'll be pleasantly surprised by all the delightful attractions and natural sights Geelong has to offer.
Roughly an hour's drive from Melbourne, this easy-going coastal city is a burgeoning foodie scene, home to a myriad of contemporary dining experiences, craft breweries and hipster cafes. Enjoy wading in the cool waters of Eastern Beach in the summertime, explore the historic streetscapes or drive off to the Bellarine Peninsula for a surf, swim or scenic walk.
Things to do in Geelong
▪︎  Take a leisurely stroll down the scenic waterfront. Food, cafes, ice cream parlours, vintage carousels and an awesome public swimming pool is what awaits you at the Geelong Waterfront.
▪︎  Eat your way through Pakington Street. Discover cool laneways, cafes tucked into warehouses, shipping containers and even old churches – it's a mini Melbourne outside of Melbourne.
▪︎  Uncover the beauty of the Bellarine Peninsula. Scramble along the rocky shores of Barwon Heads, explore the seaside resort town, Queenscliff or even jump on a ferry to the Mornington Peninsula.
Unique Stays in Geelong
▪︎  Stay inside an incredible converted barnhouse. Constructed from traditional post and beam, this place even features a complete wooden chess corner on the top floor.
▪︎  Spend the night inside an enchanting Hobbit-style bungalow. This art deco-inspired private bungalow is surrounded by magical gardens and whimsical footpaths that'll whisk you off into a fantasy world.
14. Great Ocean Road
Hailed one of the bucket list places to visit near Melbourne, the Great Ocean Road is one of nature's most marvellous creations and a place you have to set out to visit at least once in your life.
The 243 kilometre coastal stretch runs along the rugged south western coast of Victoria, where the journey begins in a small beach town called Torquay, a paradise for surfers just over an hour's drive outside from Melbourne.
Without a doubt, the most iconic stop on the Great Ocean Road is the legendary Twelve Apostles, only, there aren't many left. So, be sure to make the effort to go and see these unique rocky pillars before they vanish from the surface of our Earth.
Take a look at our suggestions for hidden gems along the Great Ocean Road.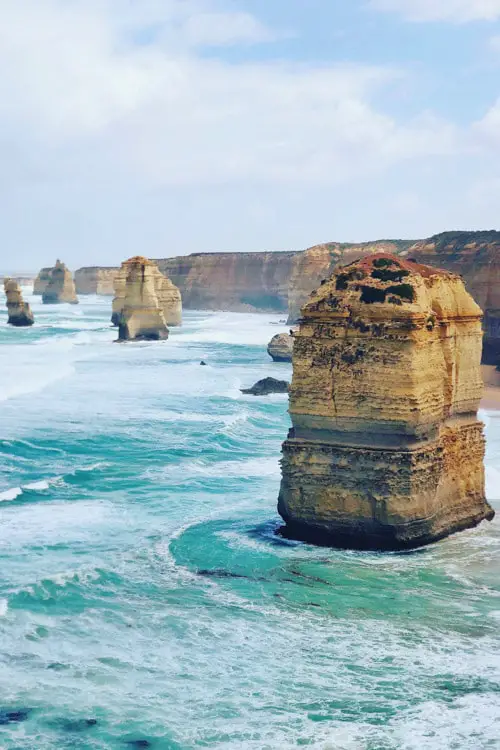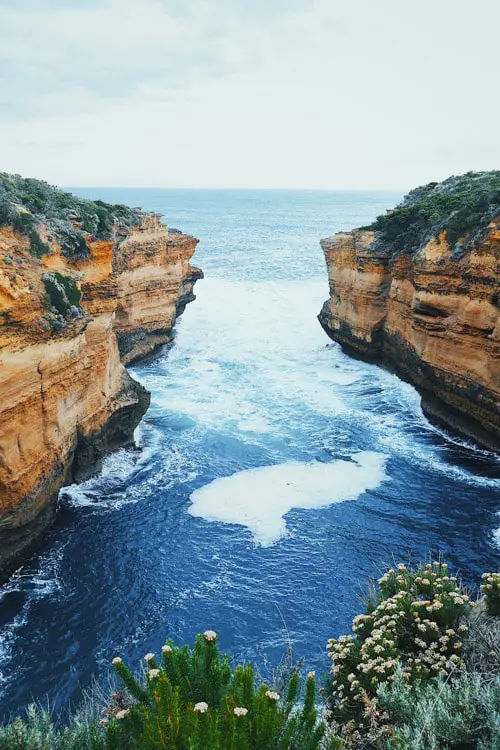 Great Ocean Road: Things to do
▪︎  Kick back in the popular surf towns of Torquay, Bells Beach and Lorne. Bask in Australia's beach culture, explore the cliffsides or trek up waterfalls in these chilled out towns.
▪︎  See the best attractions on a guided day tour. Get blown away by the Twelve Apostles, Loch Ard Gorge and London Bridge.
▪︎  Otway Fly Treetops Walk or Otway Fly Zipline Tour. Discover the incredible Otway National Park from the treetops.
You might like these fun activities on the Great Ocean Road:
Unique Stays on the Great Ocean Road
▪︎  Stay inside a 40 metre high suspended glass house. Staring into the Pacific Ocean, this is Australia's most photographed luxury accommodation that will completely blow your mind.
▪︎  Sleep inside an award-winning designer eco lodge. A stone's throw away from the Twelve Apostles, you'll find a group of unique sanctuaries where you can relax and heed the call of nature.
▪︎  Bunk up inside a converted steam train carriage. Disconnect from technology and reconnect with nature and those around you inside this renovated train carriage.
15. Warrnambool
Set out on a 3 hour drive to the remote western corner of the state – in our personal opinion, one of the best towns in Victoria to visit with kids, or simply retire in. 
Better yet, add Warrnambool to your Great Ocean Road itinerary and make it your first (or last) stop to enjoy whale watching, beach swims and stunning walks along the rocky coast.
It's the ideal family vacation spot where you'll find the historical Flagstaff Hill Maritime Village, Bay of Islands and a pretty lake that is the social gathering point of the town.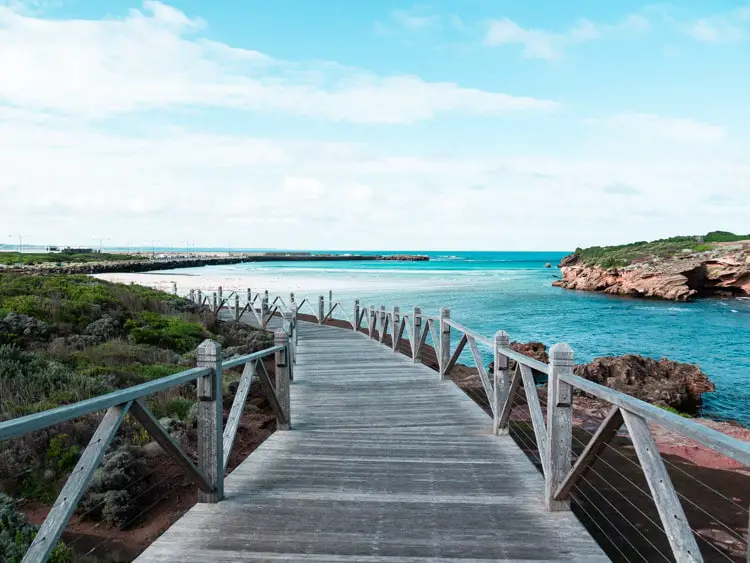 Things to do in Warrnambool
▪︎  Catch the sunset at Warrnambool Breakwater. Climb around the rocky cliffs or trail down Pickering Point for impressive views of the islands.
▪︎  Take the kids to Lake Pertobe Adventure Playground. An epic outdoor playspace that the kids will never want to leave. Stroll around the lake or hire a small motorboat.
▪︎  Visit the Flagstaff Hill Maritime Village. Travel back in time to a 19th century replica maritime village and see Australia's most precious shipwreck relic.
Unique Stays in Warrnambool
▪︎  Call a shipping container your home for the night. Wake up to sounds of the river from within a converted shipping container with all the amenities you could possibly need.
▪︎  A church that's been renovated into a home. For a unique experience in Warrnambool, stay inside a converted church complete with stained glass windows and high ceilings.
16. Mornington Peninsula
Crystal blue waters and silky soft and shallow sand beaches that span into the horizon – the Mornington Peninsula is home to some of the best kid-friendly beaches in Melbourne. If this isn't on your list of top places to see in Victoria, then you need to add it in right this moment.
Rent a car and make the gorgeous drive down yourself or book the Ultimate Mornington Peninsula Day Tour that covers prime attractions of the region, such as Fort Nepean National Park, Sorrento Beach, wine tasting and more.
Take a look at our complete guide to 12 must-dos in the Mornington Peninsula.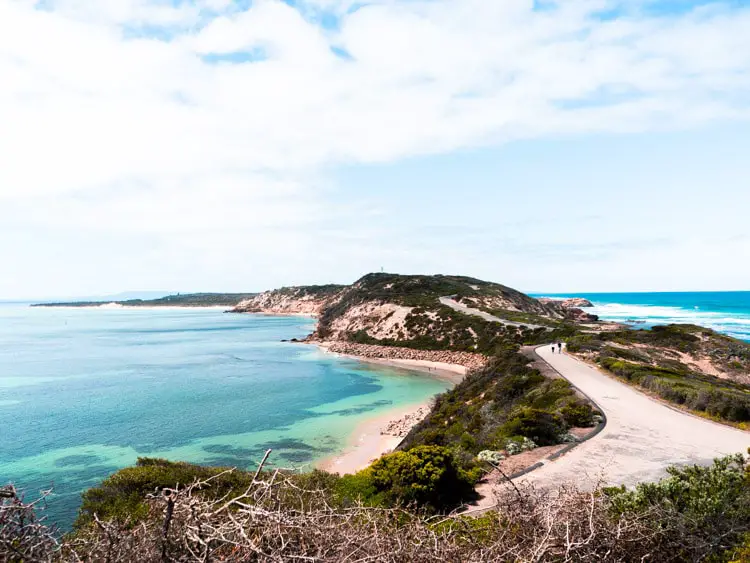 Things to do in Mornington Peninsula
▪︎  Book a visit to the Peninsula Hot Springs. Dip in the toasty waters of thermal hot springs and experience ultimate rejuvenation in this peaceful sanctuary.
▪︎  Drive to the hidden back beaches. Explore the untouched sands of Bridgewater Bay, Gunnamatta Beach and Cape Shanck.
▪︎  Take a scenic gondola ride on the Arthurs Seat Eagle. Soar through the skies and marvel at scenic views of the Melbourne skyline and Port Phillip Bay.
Unique Stays in Mornington Peninsula
▪︎  Sleep in a Tiki-style ocean cottage. Get whisked away to the Pacific Islands and chill inside this home with all the tropical beach vibes.
▪︎  Relax inside a luxury Mongolian-style yurt. Experience what it's like to be a true nomad by sleeping in a traditional yurt with a modern touch.
▪︎  Bungalow tower with million dollar views. Perched on the highest vantage point in Mount Martha, this architect-designed home will have you picking your jaws up from the floor.
Discover more popular Mornington Peninsula activities:
17. Werribee Gorge State Park
A perfect short day trip from Melbourne, the Werribee Gorge can be found in the desolate west of the city. Hugely popular amongst bushwalkers and rock climbers, it's easily one of the best day trips from Melbourne.
The national park offers on trail and off trail adventures, steep descents for thrill seekers, river crossings, cable climbs, wildlife spotting and rock hopping for outdoor junkies.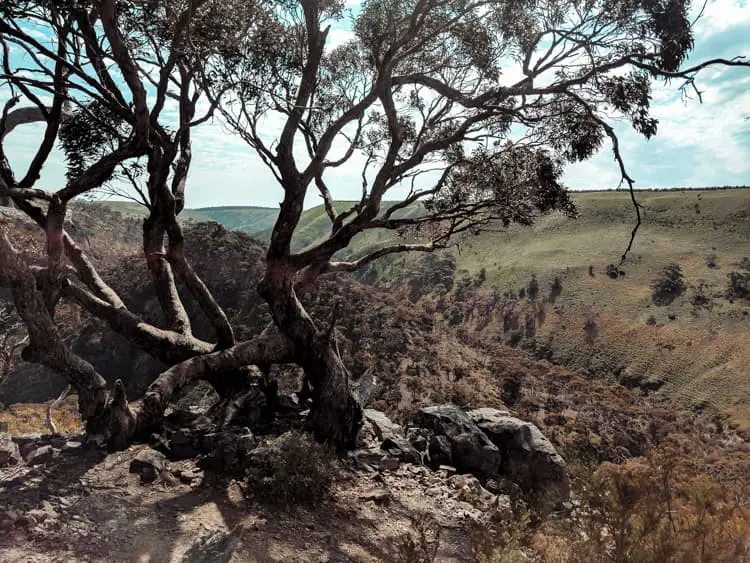 18. Ballarat
If you've had enough of the coast and beach (as if), then it's time for a getaway to the remote inland regions of Victoria. Situated just over an hour from Melbourne by road or rail; the city makes for an ideal day trip or weekend escape from the city.
Although gold played an important role in moulding the city into what it is today, there is much more to this place than all that glitters. Home to scores family-friendly activities and enveloped by stunning green landscapes, Ballarat is one of the best things to do in Victoria that caters for all interests and age groups.
Have a glance at our entire 10 things to do in Ballarat guide for more inspiration.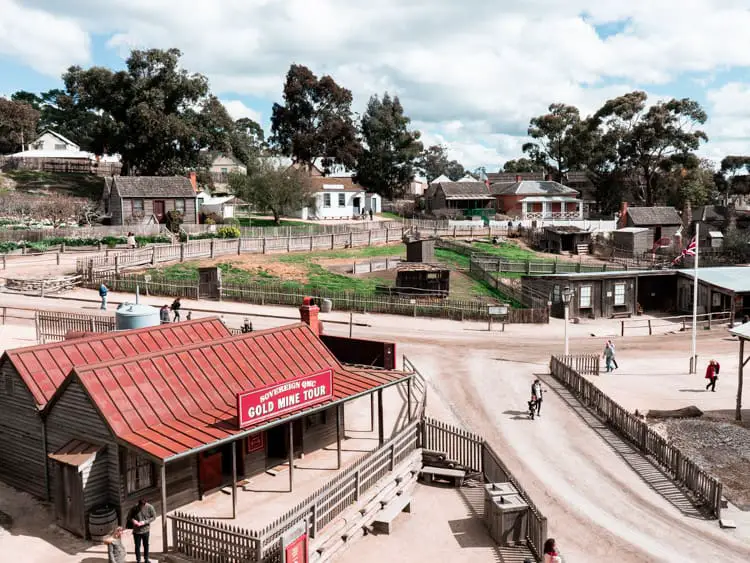 Things to do in Ballarat
▪︎  Dig for gold inside Sovereign Hill. A visit to Ballarat's number one attraction is an absolute must. Descend into old gold mines, pan for gold and immerse yourself in life as it was in the 1850s.
▪︎  Encounter Australian animals at Ballarat Wildlife Park. Home to over 100 free-roaming kangaroos, wombats and koalas – this place is a sanctuary for animal lovers.
▪︎  Experience medieval life inside Kryal Castle. Perfect for anyone who's fascinated by knights, wizards and castles, this is a must-visit attraction for all ages.
Unique Stays in Ballarat
▪︎  Stay inside a classical Victorian townhouse. Choose between a 2 or 6-bedroom beautifully restored townhouse in the heart of Ballarat.
▪︎ Spend the night inside Kryal Castle. The medieval-themed suites inside this adventure park will bring out the knight and princess in you.
▪︎  Sleep in a restored corner shop. Experience a unique stay inside a restored shop with a lofty bedroom and all modern amenities.
▪︎  Bunk up inside a 1850s-style miner's loft. Ever wondered what kind of space miners would've slept in? Be awe-struck by this whimsical and rustic goldmine-inspired abode.
19. Daylesford
Overdue for a romantic escape with your other half? Daylesford calls. Possibly one of the best places to visit in Victoria for couples, this dreamy little town is famously known for its natural mineral springs and botanical garden that sits atop an extinct volcano.
It's the ideal location to invigorate your body and mind, ignite creativity in the dense forests or venture to some of the historic neighbouring towns for country-style culinary experiences. 
Things to do in Daylesford
▪︎  Spend half a day bathing inside Hepburn Bathhouse & Spa. Indulge in a relaxing body treatment or massage to rejuvenate your mind and soul.
▪︎  Visit Wombat Hill Botanical Gardens. Wander through this enchanting green space that was built on top of an extinct volcano.
▪︎  Drive to Trentham Falls. Marvel at one of the most beautiful outdoor places to travel in Victoria and get awe-struck by this powerfall waterfall.
Unique Stays in Daylesford
▪︎  Cosy up inside a wombat hole-inspired home. What it looks like when Scandi-style meets wombat hole.
▪︎  Live it up inside a converted horse stable. Experience loft-style living inside an old horse stable that's been brought back to life.
▪︎  Sleep inside an enormous converted barn. Enjoy life inside a revitalised 100-year old property that's been creatively restored.
20. Macedon Ranges
Venture an easy 1-hour trip north of Melbourne where you'll find spectacular gardens, quaint towns and rolling green hills in the Macedon Ranges. 
Stock up on some of the finest local produce at the markets, indulge in artisan food, hit up world-class wineries or explore the expansive forests and trails at Mount Macedon and Hanging Rock.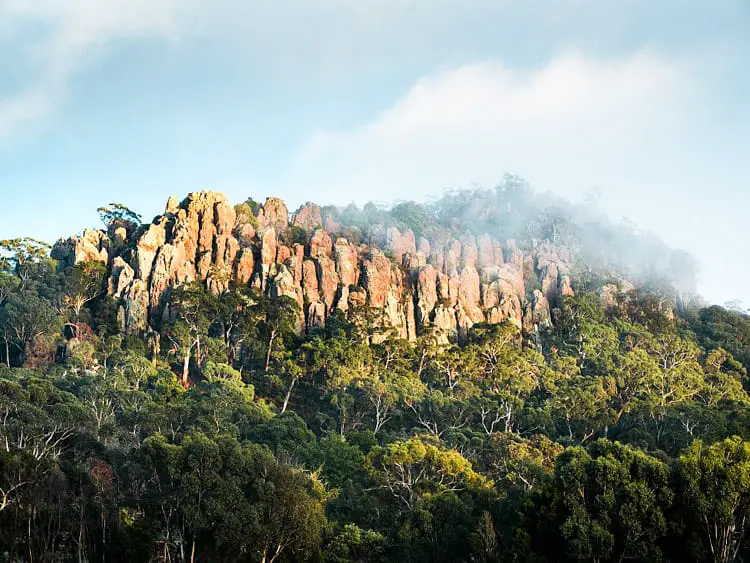 Things to do in Macedon Ranges
▪︎  Climb up Hanging Rock Reserve. Make your way up this imposing rock edifice, meet some native animals along the way and bask in the scenery.
▪︎  Visit one of the many wineries. Macedon Ranges is known for its quality wineries, be sure to wine and dine in, at least, one.
▪︎  Soak in panoramic views from Mount Macedon. Roam the beautifully manicured gardens and admire the breathtaking scenery.
Unique Places to stay in Macedon Ranges
▪︎  Stay inside an old school house. Experience accommodation inside a converted 1876 school in the heart of the Macedon Ranges.
▪︎  Sleep inside an old railway station. Set in Lance Field, the converted train station houses a restaurant and includes free breakfast.
▪︎  Make the inside of a vintage colonial tram your home. Stay the night inside a cosy 1920s tram with an outdoor campfire, BBQ and Tiki bar.
21. Bendigo
Searching for more glory, gold and riches? If Ballarat didn't cut it in way of panning for gold, make a trip to Bendigo and continue the hunt. Lying 150 kilometres north of Melbourne, Bendigo is Victoria's fourth largest city and the second highest producing goldfield in Australia during the height of the gold rush.
Boasting some of the country's finest Victorian buildings, Bendigo is steeped in captivating history of a bygone age. Tour the Central Deborah Mine, sample delectable modern cuising inside historic buildings or uncover the city's Chinese heritage; Bendigo makes for one of the best day trips from Melbourne for all types of travellers who enjoy a wee bit of history and culture.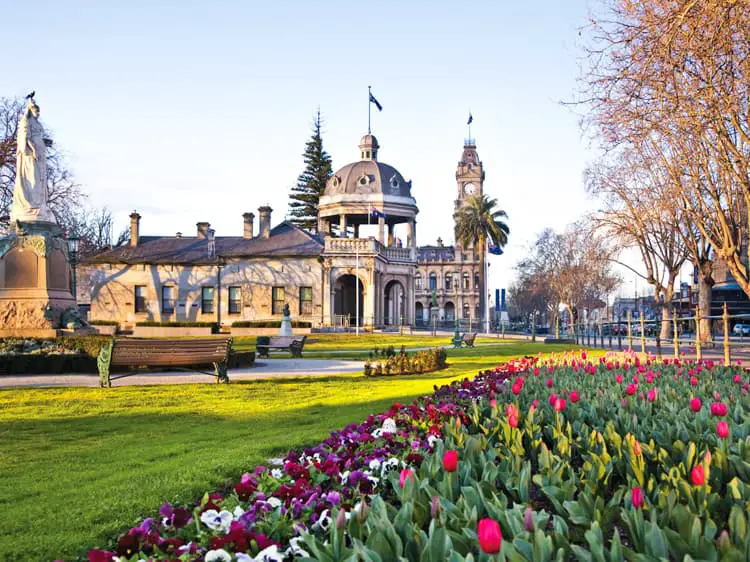 Things to do in Bendigo
▪︎  Bendigo Vintage Talking Tram Tour. Hop onboard this refurbished vintage tram and see the best landmarks and attractions.
▪︎  Tour the Central Deborah Gold Mine. Learn about Bendigo's golden past and experience what life was like for miners.
▪︎  Visit the Golden Dragon Museum. Learn about the Bendigo's Chinese influence during the great gold rush era and how it shaped the city.
Unique Stays in Bendigo
▪︎  Stay inside a glamping tent at a winery. Spend a night or two at Balgownie Estate Winery Retreat, enjoy complimentary wine tasting and relax inside the luxurious tents.
▪︎  Experience the 70s inside a hippie van. Get groovy inside a 1973 vintage caravan with a private ensuite and private outdoor area.
▪︎  Live it up inside Victorian-style residences. Run wild inside this restored 4-bedroom residence in Bendigo's art precinct.
22. Echuca Moama
Ahoy! Welcome to Australia's paddler steamer capital, home to the world's largest fleet of riverboats and floating fine-dining restaurants. 
Roughly a 2.5-hour drive from Melbourne, Echuca-Moama is steeped in exciting colonial heritage, but also makes for an action-packed holiday for outdoor lovers. Stroll around the old Port of Echuca and observe paddlewheelers and steam engines in action, experience the mighty Murray River on a river cruise, wakeboard, waterski or get a group together and get rowdy on the paintball fields.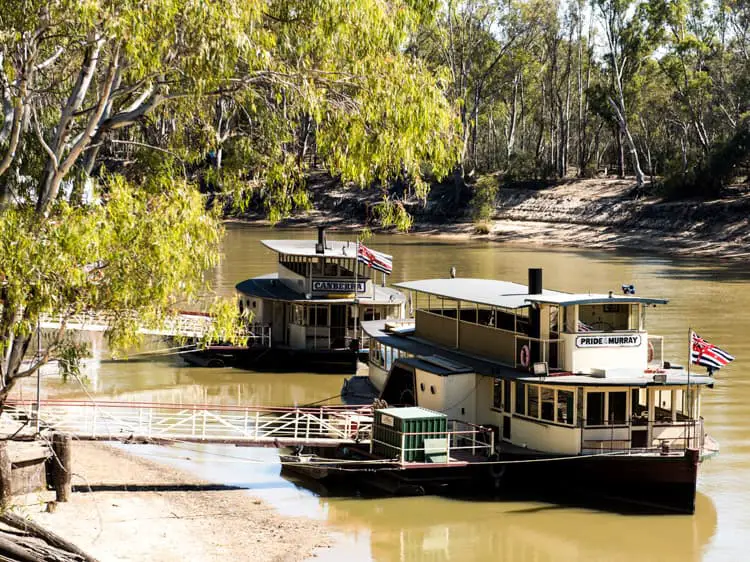 Things to do in Echuca
▪︎  Tour Echuca on the back of a rickshaw. Get chauffeured around to the best points of interest and historical sites.
▪︎  Cruise the Murray River onboard PS Emmylou. Soak up the beautiful surrounds on a traditional wood-fired paddlesteamer.
▪︎  Paintball 'til you fall. Get a gang together and run wild inside Australia's biggest paintball venue.
Unique Stays in Echuca
▪︎  1-night onboard PS Emmylou paddlesteamer. Experience an all-inclusive overnight stay – enjoy a multicourse dinner and bask in the spectacular scenery.
▪︎  Stay inside a vibrant gypsy wagon. Inspired by 19th century gypsy wagons, this modern reproduction comes with all the 21st century comforts.
23. Phillip Island
Picture this. Dazzling rugged coastlines, deep blue water ideal for surfing, fish and chips by the beach and cute little penguins bouncing up sandy hills. That's the essence of Phillip Island, without a doubt, one of the most beautiful places in Victoria that needs to be on your bucket list.
The island harbours splendid sights and activities for families, couples and adventure seekers. Learn about its history and heritage at Churchill Island Farm, hike along Cape Woolamai or watch the Penguin Parade; you'll find it hard to get bored on Phillip Island.
Don't forget to grab the Phillip Island 4 Parks Pass to save on entry for the Penguin Parade, Koala Conservation Centre and more top attractions.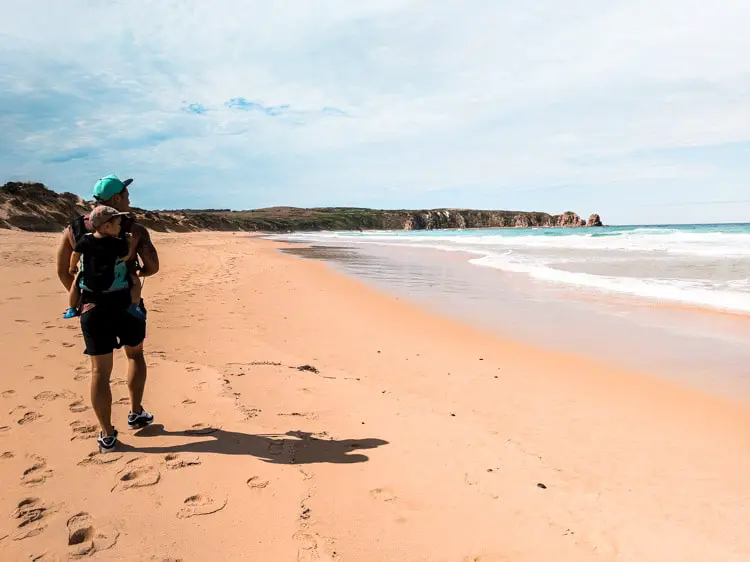 Things to do in Phillip Island
▪︎  Relax at Cape Woolamai Beach and hike to the Pinnacles. Traverse this stunning surf beach and trail your way along the coast to the Pinnacles lookout.
▪︎  Go on a wacky adventure inside A Maze'n Things. Waltz through rooms filled with optical illusions and crazy puzzles, an attraction all members of the family are sure to enjoy.
▪︎  Watch the Penguin Parade. Observe adorable penguins hobbling up to their nests at sunset.
Unique Places to stay in Phillip Island
▪︎  Get cosy inside a tiny beach house. Situate yourself minutes from the beach in a unique tiny home with all the beach vibes.
▪︎  Stay in a Bohemian beach bungalow. Featuring an outdoor camp kitchen, a firepit and eco-composting toilet, this is what Bohemian rhapsodies are made of.
Discover more of Phillip Island's best attractions:
24. The Grampians
Known for picture perfect sandstone mountains, jaw-dropping views and unique Australian wildlife, the Grampians National Park is one of the top places to see in Victoria for couples or families seeking recluse in the mountains.
Covering over 170,000 hectares of space at the border of Victoria and South Australia, a visit to this corner of the state will have you reconnecting with nature, loved ones and the nomad inside of you. Expect to come across awe-inspiring vistas, mighty waterfalls, tranquil lakes and wild native forests.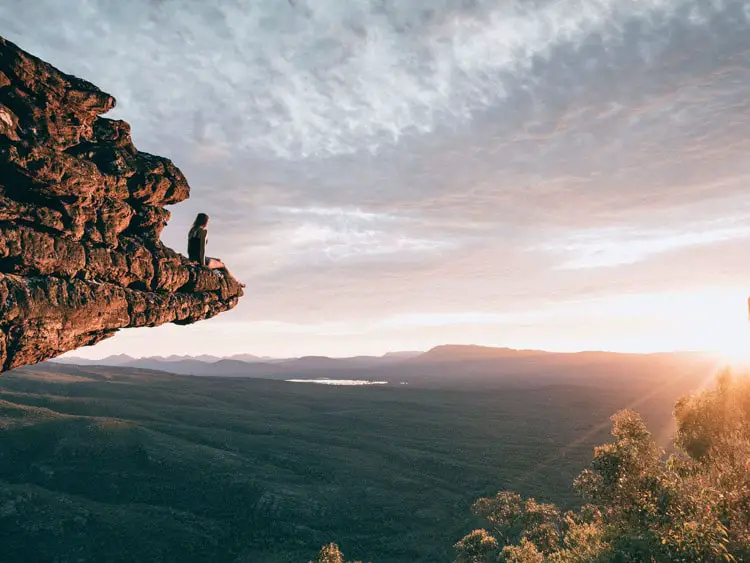 Things to do in the Grampians
▪︎  Hike up to The Pinnacle lookout. Deemed one of the top things to see in Victoria, getting to this bucket list lookout involves an arduous 2 kilometre hike that leads to an insanely rewarding view.
▪︎  Stare in wonder at Mackenzie Falls. Marvel at the water cascading down Victoria's largest waterfall from the top or bottom lookout.
▪︎  Pop by the Halls Gap Zoo. Found at the foothills of the Grampians, Victoria's largest regional zoo is home to over 160 native and exotic animals.
Unique Stays at the Grampians
▪︎  Enjoy a glamping retreat in the mountains. Immerse yourself in the great outdoors and enjoy 5-star amenities inside a canvas tent.
▪︎  Hide out in a secluded cabin in the woods. Escape city life in this modern couple's retreat that's surrounded by native bush and wildlife.
▪︎  Live it up inside luxury terracotta villas. Including breakfast, a spa bath and a romantic fireplace, this is the ultimate getaway with modern amenities.
25. Albury Wodonga
Ever wanted to be in two difference places at the same time? Albury Wodonga is 'where everything comes together'. Two cities located at opposite ends of the state border that are filled with natural wonders, charming townships and outdoor adventures; a trip to this stunning region will bring out the explorer in you, but will also give you the time to relax and unwind.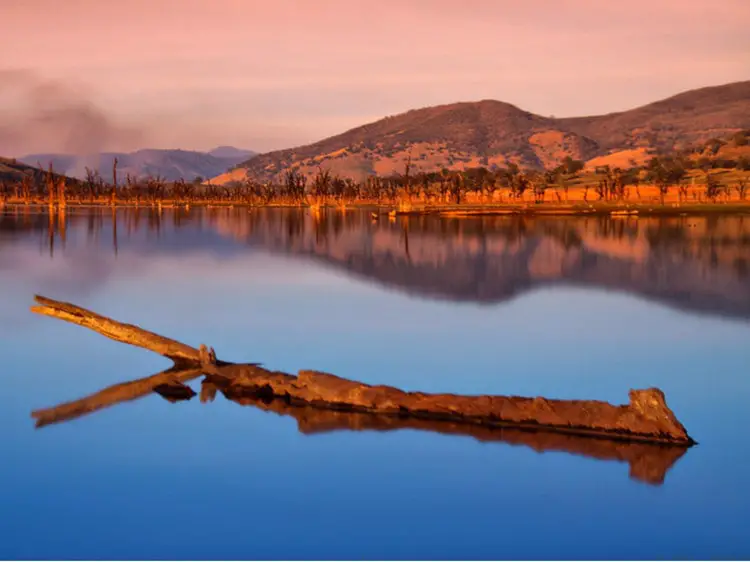 Things to do in Albury Wodonga
▪︎  Picnic at Lake Hume. Drive or stroll around the picturesque lake and admire the impressive infrastructure.
▪︎  Paddle down the Murray River. Hire a canoe or kayak and explore the surrounds at your own pace.
▪︎  Spend a day at the Albury Botanic Gardens. Stroll through the 130-year old gardens that features a children's playspace and historical buildings.
Unique Stays in Albury Wodonga
▪︎  Stay inside a tranquil zen house. Surround yourself with peaceful and ambient energy that comes complete with a garden made for ultimate relaxation.
▪︎  Experience ultimate luxury in a spa hotel. Live the high life inside this upmarket space that features contemporary decor, breakfast and a day spa.
More Melbourne & Victoria Guides
Best Places to Visit in Victoria: Wrap Up
There's obviously more to the reason why Melbourne was voted the most liveable city in the world on numerous counts, but I'd say our amazing countryside mixed in with our spectacular coastline accounts for a good chunk of the points here. Oh, and our food scene. Let's not forget the mind blowing food our chefs put on the brunch table here.
I hope this list has inspired you to jump in a car to explore the remote regions of my beautiful home state – there really is so much to see and do for travellers of all kinds. A great place to start planning your next great Victorian getaway is on the official Visit Victoria site, where you can align your travels with special events, or simply find inspiration on where to go.
Want to know more about these beautiful places in Victoria?
Feel free to ask in the comments below.
Like this post? Pin me.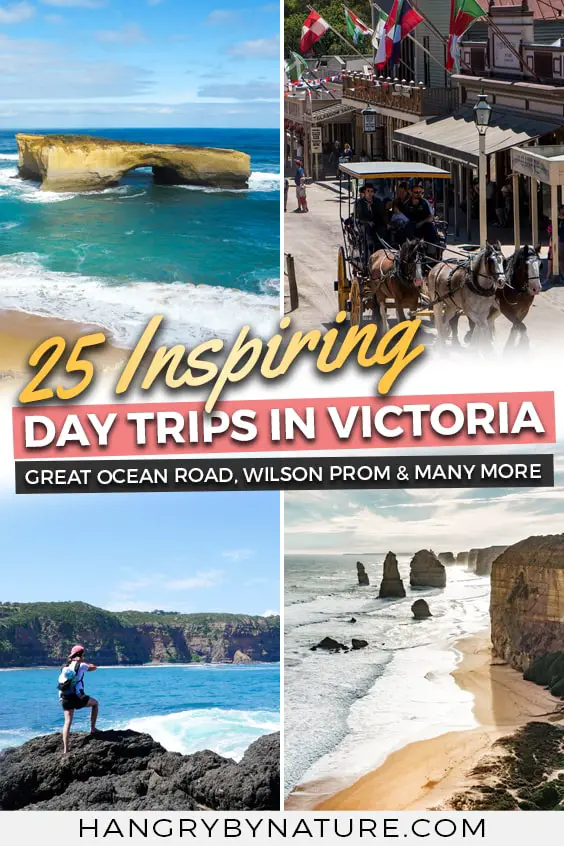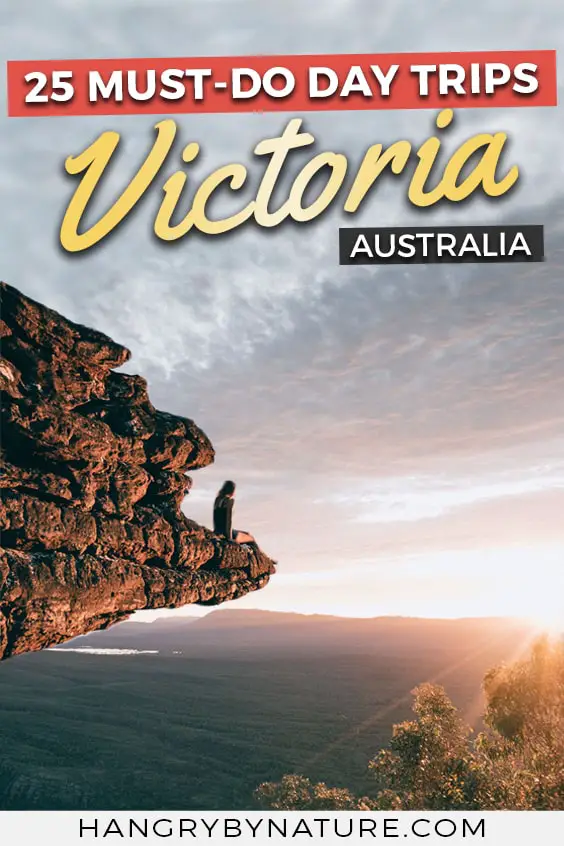 Get the most out of your Weekend Trip from Melbourne
Take a look at our Travel Resources to find the best deals on flights, accommodation and attractions. Find mistake fares, the cheapest date to fly each month, hotel and apartment savings, plus where to buy the cheapest tickets for attractions.
Looking for a sweet accommodation deal? You're in for a treat.
Come say "HEY!" on Instagram or Facey. I like to think I'm a self-proclaimed comedian, all the while providing some lit AF travel tips. You be the judge.