FYI - This post most likely

contains

 

affiliate

 links. For more info, peep my disclaimer.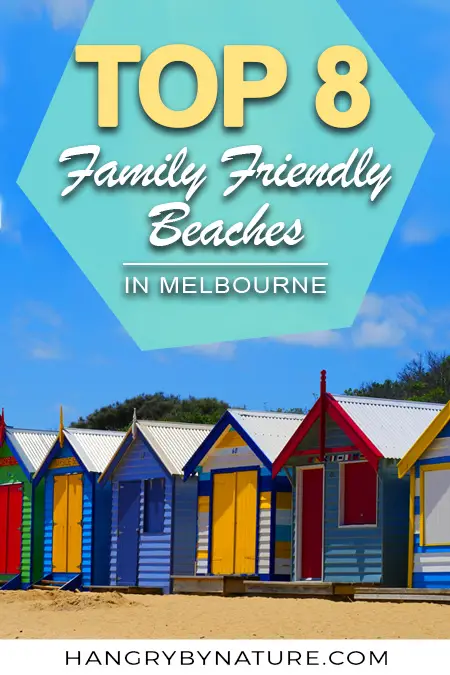 An insider's guide to the top family friendly beaches in Melbourne, based on an entire summers' worth of trial and error from your trusty Hangry squad.
Mind you, this list is not limited to parents looking for the best beaches in Melbourne for kids - these 10 spots serve solo beachgoers, couples and even dogs just as well.
You see, I used to be one of those 'sprawl-my-towel-anywhere-as-long-as-there's-sand-and-water' type of girl, I never even gave the quality of beaches  and availability of amenities a second thought because I was much too preoccupied with achieving a perfectly balanced tan in my pre-children days.
My, oh, my. Times have changed. I now have a list of prerequisites that locations have to meet before I consider visiting them. Yeah, I guess I'm that parent. Because, I'm going to be honest, my bladder simply doesn't function as well anymore after pushing a watermelon out of my nether-regions, so I'm going to need to know if there are toilets nearby. Is there a cafe or restaurant close by? Because mums don't get hungry, they get hangry. Oh, and showers. As a parent, you'll need showers to wash all that darn sand off your kids. 
Yeah, life's gotten a bit tough after kids, ey? The good news is - this list ticks all the boxes. Parents, rejoice!
Port Melbourne & Middle Park Beach
Flat, wide, and clean - you're guaranteed to find an array of the best beaches in Melbourne for kids along this strip.
Suffice to say, it's not the beach that's the point of interest here - I mean, let's be real. You'll find prettier beaches in and around Melbourne, but it's rather the outdoor adventure playground that's the highlight. Little ones can splash around in the water play area like beached whales, leap into sandy puddles of pure joy, and build castles that reach the sky (okay, maybe not that high).
Swing by with a bicycle, skateboard or scooter - this panoramic beach trail runs from Port Melbourne all the way down to St Kilda and beyond. Get your game face on because this cardio workout will actually be worth it.
To gain a better perspective, watch my video in which the outdoor adventure playground is featured, as well as other bits'n'pieces of the beauty that is Port Melbourne.
Suggested Activities
Feeling peckish? Stroll down for some brunch at Nshry, a hip café with a stunning view of the ocean and a mouthwatering menu to match.
Stroll up to Port Melbourne and visit the Princes Pier, one of the hottest photography locations in Melbourne and get some lit shots for your Insta feed
Get the fambam onto some physical activity and wear yourself out with a round of beach volleyball at Middle Park Beach
St Kilda Beach
Yeah, yeah. I know, this is an obvious one. But St Kilda Beach deserves a mention simply because there are so many family friendly activities in the area. Got it? Good.
The beach itself isn't much to marvel at, but I can tell you, it does the job on a hot day. But most people don't come down this way for a swim, it's the other attractions that draw the hordes to visit this Venice Beach reminiscent spot. So, here's what you need to do in St Kilda Beach:
Wander down the quirky Acland Street, stop by Sister Of Soul for their incredible vegetarian/vegan menu, ride the infamous rollercoaster at Luna Park, stroll up the foreshore and visit the St Kilda Pier for stunning views of the Melbourne skyline, watch kite surfers zooming through the air, or have a picnic or BBQ in Catani Gardens and let the kids roam free on the open grass and outdoor playground.
St Kilda Beach probably takes the cake for being Melbourne's best family friend beach with the largest number of activities for kids.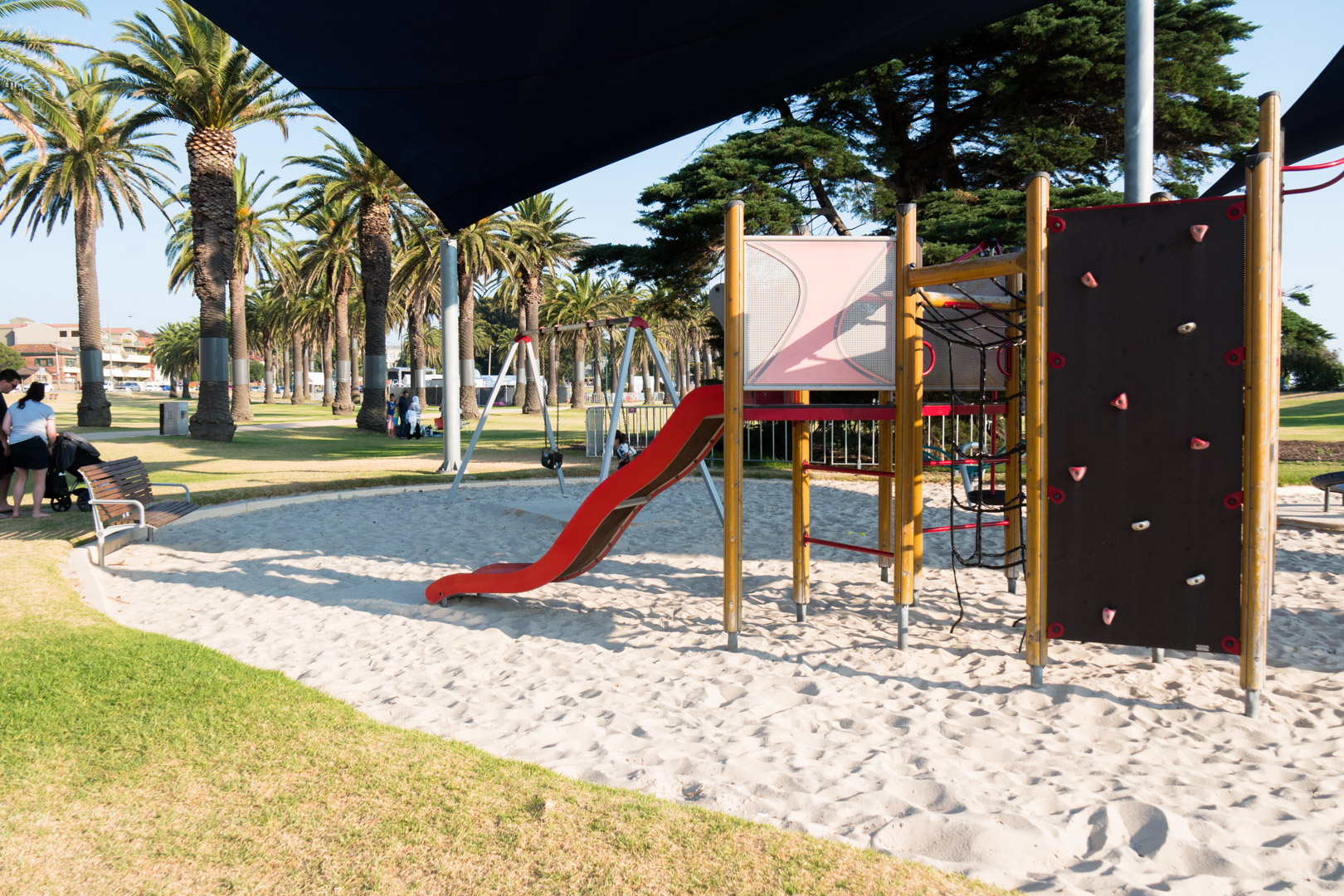 Suggested Activities:
Have a BBQ or picnic at Catani Gardens and let the kids roam free on the playground and vast grass area
Take a dip in the calm waters
Cycle or skate down the Bay Trail and discover the beautiful beaches of Melbourne
Take the kids on some wild rides at Luna Park
Stroll down the St Kilda Pier for picturesque photo opportunities. You might even spot penguins hiding in the rocks!
Williamstown Beach & Pier
We don't go to the westside often, but when we do, we make it worth our while - because, you know, we've got this age-old East > West friendly spar that goes down every time an Eastsider and Westsider meet. Unless you're coming this way for some pho or other Vietnamese delicacies (totally worth it btw), I honestly can't say there's anything groovy happening in the gloomy west. No offence, my Westside friends. I still love you, just not the west.
The better part of the inner west is Williamstown - think Brighton Beach but on the opposite end of town. If you happen to be down this way, or if you simply need a change up from St Kilda and Port Melbourne, then venture to Williamstown Beach for a dip.
The downside is that the water can get a little choppier this end of the town, so it's not entirely safe for young children to splash around in.
If you're here, don't forget to explore The Strand on the city view side of Williamstown where you'll find eateries, shops, and the Gem Pier. Kids will love running up the pier to get a good view of HMAS Castlemaine (a historic WWII ship), and the perfect spot where you can catch a killer view of the Melbourne skyline. 
You'll also find a ridiculous number (I think we counted 5-6) of children's playgrounds along the vast foreshore of Williamstown, with an abundant amount of grass space for picnics and BBQs.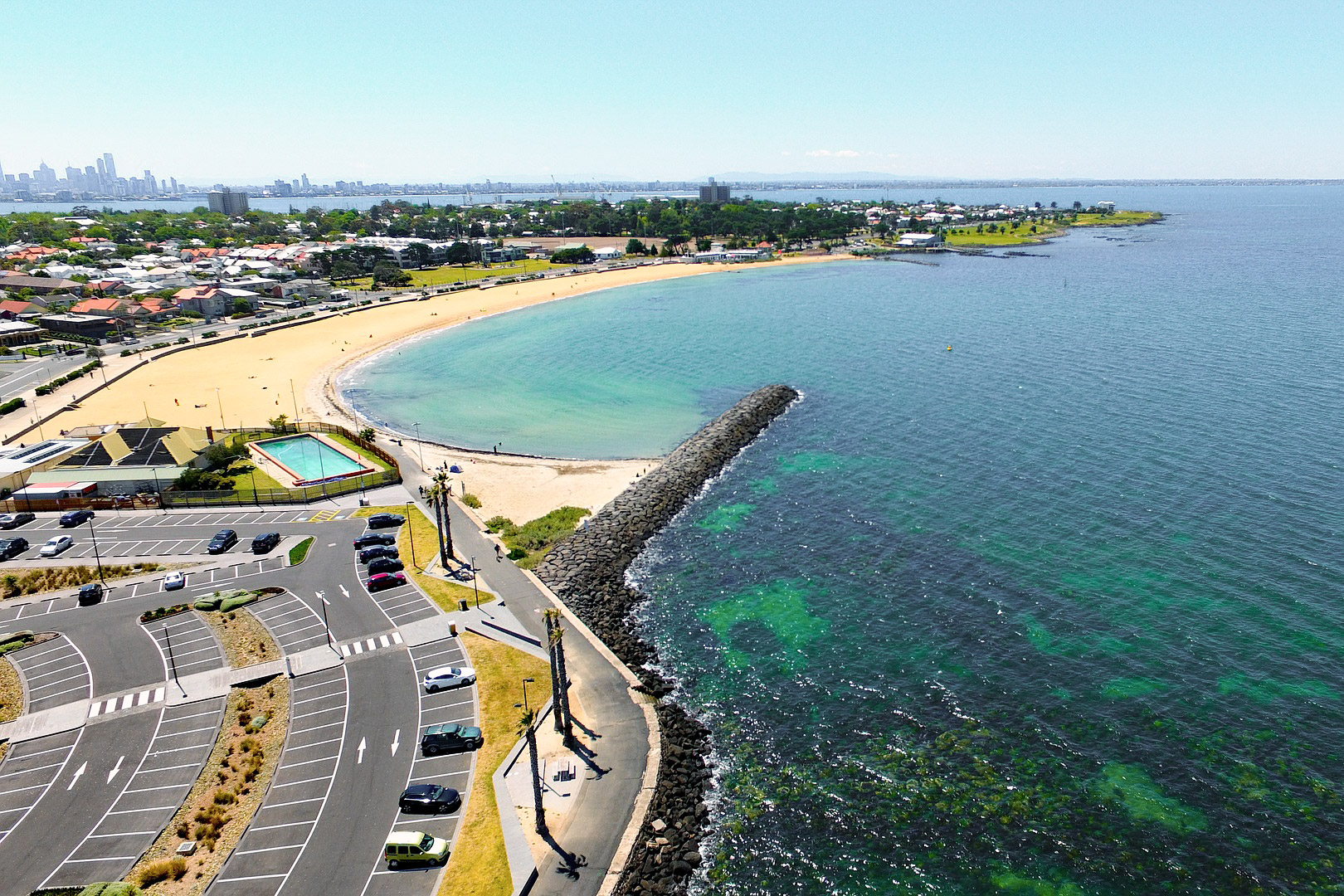 Suggested Activities:
Jump onboard the HMAS Castlemaine and explore the inside of a WWII warship 
Stroll down the Bay Trail, admire views of the city and stop for some outdoor play at the playgrounds
Grab some nibbles from one of the cafés and restaurants scattered along The Strand
Dip in the cool waters of Williamstown Beach on a hot day
Drive 10-minutes north and take the kids for an educational lesson at Scienceworks
Brighton Beach 
I never actually realised that there are 3 areas that make up Brighton Beach - Brighton Doggy Beach (north), Brighton Beach Boxes (middle), and the south, or officially, Brighton Beach. I learnt something new while researching this, peeps. 
Brighton doggy beach is the largest enclosed beach where dogs can roam free, hop in the water for a swim, and make new canine and human friends. I don't know if it's socially acceptable to enter without a dog, but I'm sure you can manage to sneak in without anyone noticing that you brought a fur friend along. After all, who could resist the opportunity to pet all the dogs? If not for the dogs, come for the views of Melbourne - I've always said that the Brighton doggy beach would be an amazing place to watch the fireworks on New Year's eve.
Alternatively, check out the iconic Beach Boxes near the Brighton Life Saving Club, or make your way down to the Foreshore Reserve where you can have a picnic, or go for a dip at the long stretch of wide beach down below.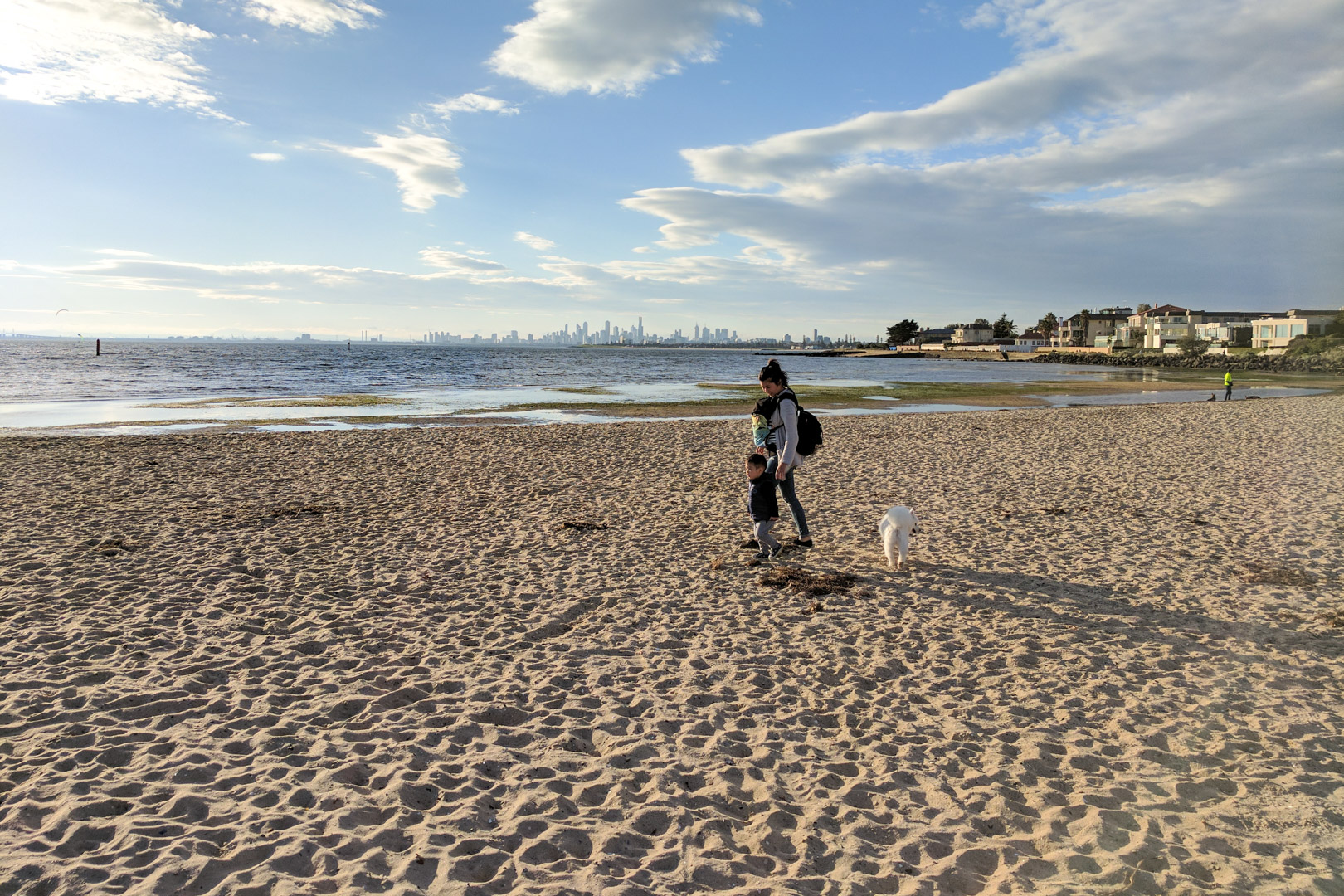 Half Moon Bay & Black Rock
Do shipwrecks rock your boat? I just realised the inappropriateness of this question, but I'm going to let it sit there anyway. But, if the kids want to see a shipwreck, then you need to visit this unique kid-friendly beach in Melbourne.
Calm and shallow waters, Half Moon Bay is the perfect place to spend the day for families with young children - with all the most important amenities (ie. toilets and showers) a stone's throw away.
By far, the coolest attraction of Half Moon Bay is the shipwreck of HMVS Cerberus, a 19th Century Victorian warship that was sunk at the site to serve as a breakwater for the Black Rock Yacht Club.
Although you can't swim or dive to the shipwreck, it's still a pretty sweet sight for kids to see.
Suggested Activities:
Wander up Black Rock Wharf and observe the shipwreck of HMVS Cerberus from a distance
Grab mouthwatering Fish & Chips from The Cerberus Beach House
Hike up to Red Bluff Lookout for breathtaking aerial views of Half Moon Bay and Melbourne
Mentone Beach
Glimmering golden sand that leads into a shallow body of water, Mentone Beach is a highly frequented spot for families and dog owners who are looking to retreat from the simmering Melbourne heat on a hot summer day. 
This was the first beach we took Flo (who was a baby then) to when he started crawling, and we make it a tradition to return every summer, simply because the ocean is peacefully calm and remains very shallow for a little span. It's the perfect spot for little crawlers to familiarise themselves with the beach and ocean.
Oh, and did I mention the best part? It's a dog-friendly beach, which means you can bring your four legged family member along to splash around for the day and run after and cuddle other people's fur friends (not sure if socially acceptable).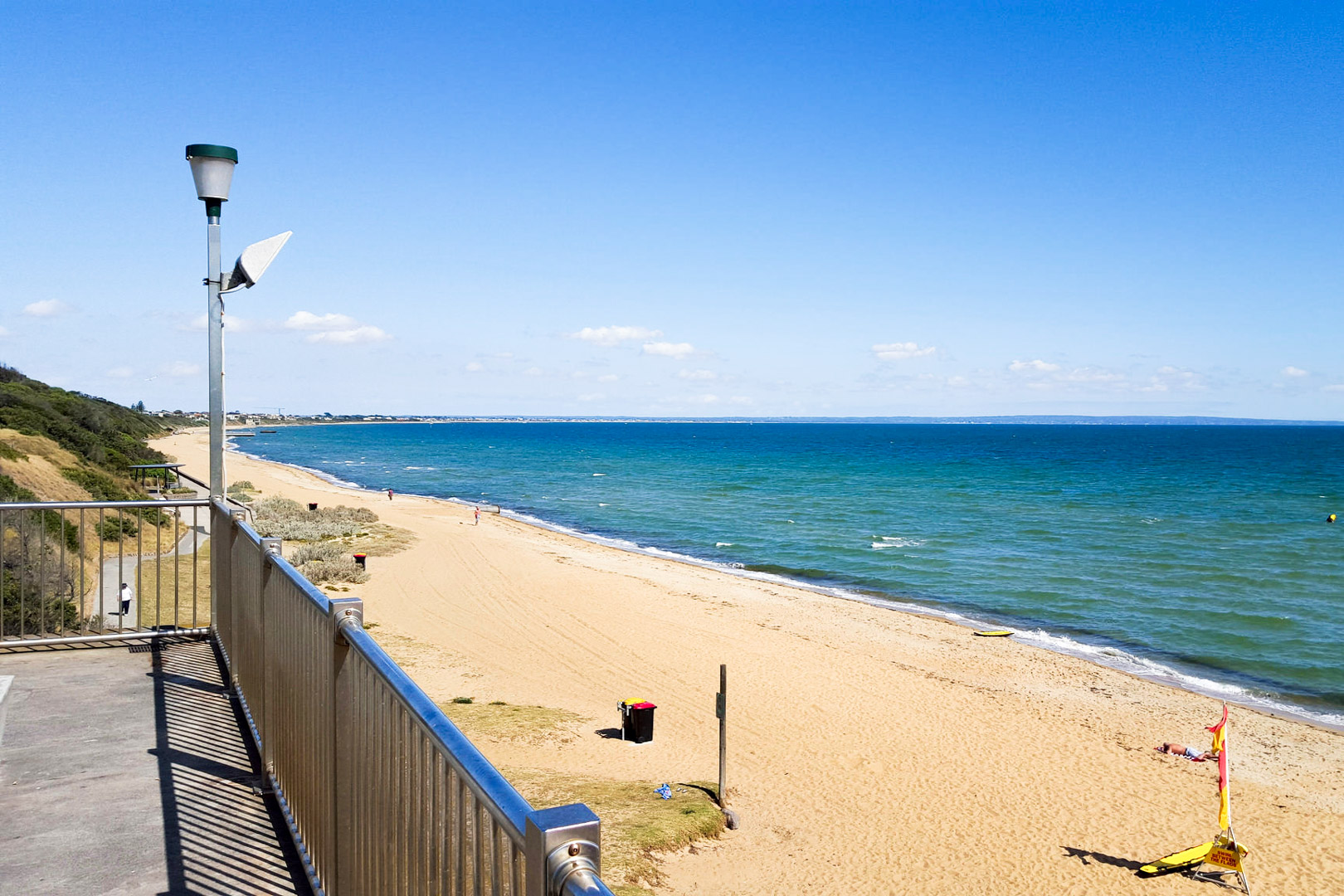 Seaford Beach
Our most recent discovery, Seaford Beach, is an absolute jewel of a find. Located 50 minutes south from Melbourne, its vast stretch of white sand and clear blue water will have you coming back in a heartbeat.
The best thing about this beach? You won't see any Jersey Shore knuckle heads macho waltzing past, or teeny boppers blasting their gangster music from their boombox. The main crowd Seaford Beach seems to draw are families with their tents.
Carrum Beach
Okay, peeps. Are you ready for this? I saved the best for last because I wanted you guys to read through to the end 😉 Yeah, I'm a sneaky bugger.
Carrum Beach is, hands down (and all the other beaches can shut up shop), the best beach in Melbourne for kids. A 45-minute drive from central Melbourne, you can find this gem nestled in between Chelsea and Seaford Beach.
Soft white sand, water so blue and clear that you can see schools of tiny fish species swimming next to your legs, and spot pretty shells on the ocean floor with your naked eye. The water remains shallow many metres in, so parents won't have to worry about a sudden drop of depth.
Just make sure you arrive early on hot summer weekends, as car parking spaces are limited and the beach is extremely popular amongst locals and other keen beachgoers.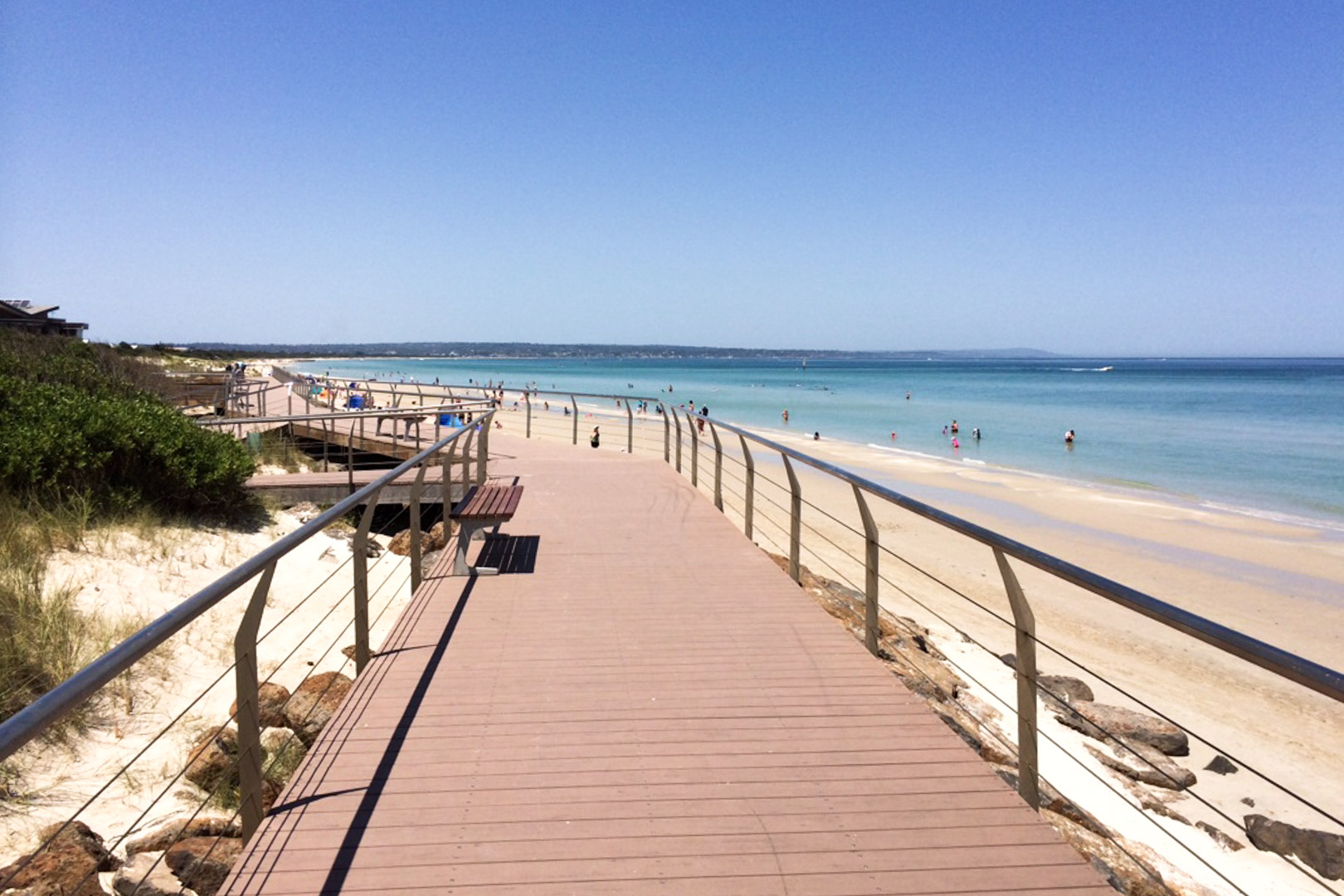 Want more Melbourne with kids inspo?
Did I miss any other incredible family friendly beaches in Melbourne that I should've mentioned? Tell me below.