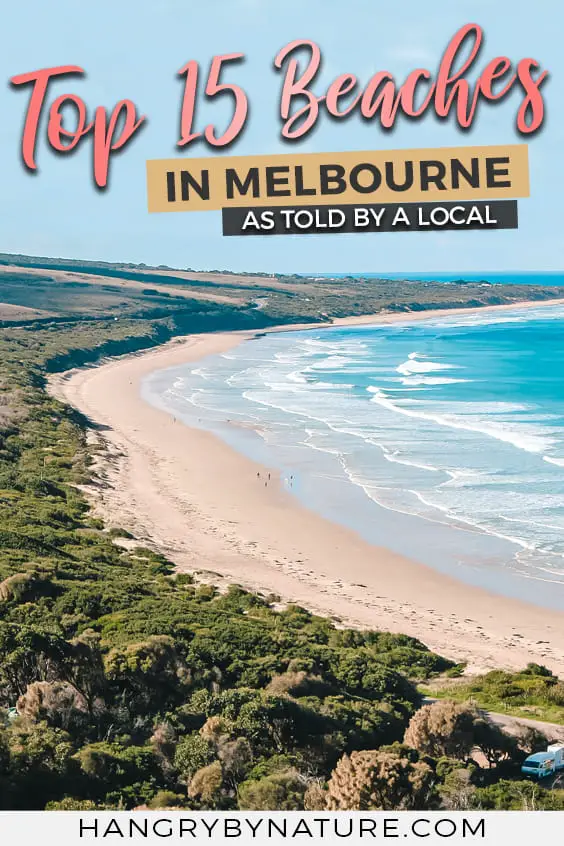 A local's guide to the best kid-friendly beaches near Melbourne for families based on an entire summer's worth of trial and error from yours truly.
Melting into a puddle of sweat at home? Kids going berserk from boredom and wreaking havoc? I've only got one piece of advice for you – GTFO. Release the wildlings into the open ocean. Works everytime, right?
Take a look at our essential guide to packing for a family beach day out for ideas on how to keep the kids happy and entertained.
This list isn't just tailored for parents with minions in tow, it's made for anyone searching for some of the best beaches near Melbourne. It's only that we, parents, have a number of prerequisites when it comes to visiting any place with kids that we never even used to think twice about in pre-children days, which I conveniently list in this article. Alright, enough chit chat. Let's get into some summer fun!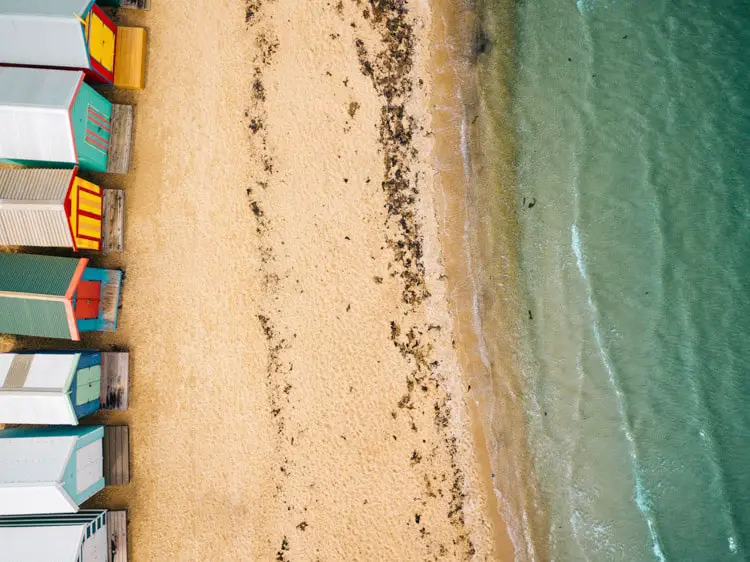 15 Best Kid-Friendly Beaches Near Melbourne
Sweating up a storm in the heat this summer? Time to peel yourselves away from the aircon and head to the coast. In this guide to the best beaches near Melbourne, we cover beaches in the west, south, east and inner city.
1. Port Melbourne Beach
Flat, wide and clean – Port Melbourne is a popular city beach in Melbourne and a great spot for kids to run amuck in the lengthy stretch of sand.
The highlight of Port Melbourne is not so much the beach itself, I mean, you can definitely find more scenic beaches in Melbourne. The real champion of this spot is the amazing water-themed playground that sits along the bay overlooking the ocean and beach. Kids can splash in the water on a hot day, leap into sandy puddles of joy and build the sand castle of their dreams.
The Port Melbourne beach trail runs from Port Melbourne to St Kilda and beyond. Bring bicycles, scooters or skateboards and cruise along this pretty coastline while squeezing in a family cardio workout.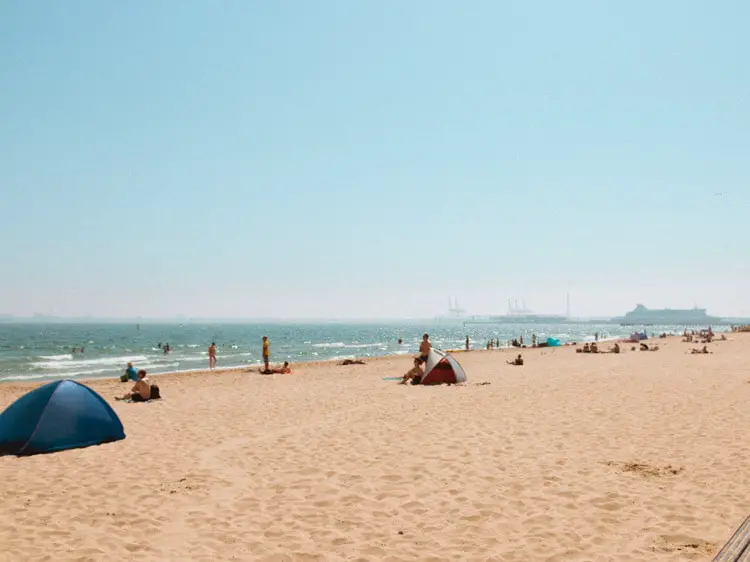 Things to do in Port Melbourne
▪︎  Sandridge Lookout. Soak in magnificent views of Port Phillip Bay from this scenic viewing platform.
▪︎  Take the kids go-karting. Had enough of the beach? Head over to Auscarts Racing and rip it up on the indoor track.
▪︎  Marvel at the Pink Lake. Head over to Westgate Park at the height of summer when the entire lake turns bright pink.
▪︎  Stroll down Princes Pier. Find out why this spot is one of Melbourne's most popular photography and Instagram spots.
Want more Melbourne tips from a local?
2. South Melbourne Beach
Tucked between Albert Park and Port Melbourne, this broad stretch of beach can be found 20 minutes south of the CBD. The 1.5 kilometre section enjoys calm waters with minimal waves, making it a perfect spot for kids to splash around. 
On top of that, the suburb of South Melbourne is a popular food hub – grab a bite to eat in one of the many hipster cafes or drop by the South Melbourne Night Market in the summer for late night shopping and street food.
Things to do in South Melbourne
▪︎  Have brunch and coffee at The Kettle Black. Arguably, Melbourne's most notable coffee and brunch joint.
▪︎  Stroll through the South Melbourne Market. Load up on fresh produce, check out the boutique shops or simply eat your way through the vendors.
3. St Kilda Beach
Home to the best city beach in Melbourne, St Kilda is not one to be overlooked considering the sheer amount of kid-friendly activities and attractions in the area. 
St Kilda Beach has undergone intensive clean up effort over the last 5 years, so forget about what you heard years back, it's now the best family beach in Melbourne that's only a 20-minute drive from the CBD.
Pack a picnic or have a barbecue inside the beautiful Catani Gardens, stroll down St Kilda Pier and spot penguins or stop for ice cream at The Esplanade; you can spend an entire day revelling in all that the place has to offer.
Take a look at what to do in St Kilda with kids for more ideas.
Things to do in St Kilda Beach
▪︎  Visit Luna Park. Frolic inside this historic amusement park that houses a mixture of new and classical rides.
▪︎  Wander along Acland St. Discover modern eateries, scrumptious bakeries and hipster cafes along St Kilda's premier shopping and dining strip.
▪︎  Meander down St Kilda Pier. Providing a scenic view of the city skyline, it's a great spot to soak in the panorama, gape at yachts and even spot penguins.
Discover more fun activities in St Kilda. Watersport lovers and thrill seekers will love these experiences.
Grab a rental board, paddle out and spot dolphins, penguins and tropical fish along the St Kilda shorelines.
✰ Port Phillip Bay Helicopter Tour
Embark on a 25-minute scenic flight and soak in Melbourne and its beaches from above.
Take the plunge and experience the thrill of jumping out of a plane and free falling for 60 seconds.
4. Elwood Beach
Not a fan of the St Kilda Beach crowds? Walk south along the coast and you'll stumble upon another broad expanse of sand known as Elwood Beach. Quieter than its more popular neighbour but no less beautiful, the suburb of Elwood is one of the best beaches near Melbourne that's only 9 kilometres from the city centre.
The beach enjoys calm waters and low lying waves, making it a perfect place for kids to splash around or engage in a bit of boogie boarding.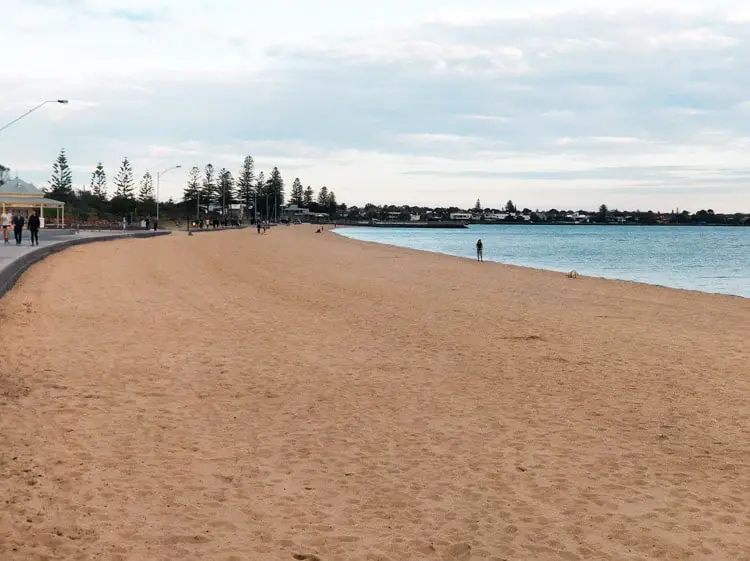 Things to do in Elwood Beach
▪︎  Soak in the view at Point Ormond. Consisting of open grass land for kids to run around, barbecue facilities and tables; this is the perfect spot hang about and enjoy the scenery.
▪︎  Grab a fresh smoothie. Pop into Combi for a delicious and healthy smoothie to help you cool down.
▪︎  Stock up local produce. Head over to The Leaf Store for organic fresh produce and gourmey goodies that your body will love you for.
5. Sandringham Beach
Separated into north and south ends, Sandringham Beach is one of the best swimming beaches in Melbourne for families. The north side comprises a 2.5 kilometre stretch with elevations in the sand, while the beach at the southern end is flat and easy to trail down. 
Bask in spectacular views from the Rotunda, take a stroll through Sandringham Village or make your way down the Bay Trail; Sandringham Beach makes for a perfect day out soaking in vitamin sea with the fambam.
Things to do in Sandringham
▪︎  Rent a kayak. Float or paddle around Sandringham Harbour and explore some of the smaller beaches.
▪︎  Sandringham Band Rotunda. Take in the beauty of the bay from the upper level of this 1926 built rotunda made for outdoor band concerts.
▪︎  Head to the centre for lunch. Also known as 'The Village', this is where you'll find modern cafes, fish and chips and burger joints.
6. Brighton Beach
Following the path south of St Kilda Beach is one of the most iconic and popular beaches in Melbourne. What makes this unassuming beach so popular? Why, the line of colourful and iconic beach boxes, of course. You've undoubtedly come across a postcard depicting these quirky little beach shacks. 
If the sheer amount of people coming to see the bathing boxes is disrupting your beach day Chi, then make a move up to the Brighton Yacht club, deemed one of the best dog beaches in Melbourne. Bring your fur friend along and plunge into the water together.
Brighton Pier is also worth a visit – walk to the end of the pier for one of the best views of the Melbourne skyline.
Things to do in Brighton Beach
▪︎  Pose in front of the Brighton Beach Boxes. Snap photos in front of these vibrant mini houses that line the shore.
▪︎  Swing by Dendy Park. Located off Dendy Street, you'll find a huge parkland reserve that has 2 playgrounds and barbecue facilities.
▪︎  Grab lunch at Middle Brighton Baths Cafe. Offering lunch and fine dining, this cafe and restaurant overlooks Melbourne's last remaining sea bath.
TIP: Watch fireworks light up the Melbourne city skyline from Brighton Beach Pier on New Year's Eve.
7. Black Rock Beach & Half Moon Bay
Keen to show the kids a 100-year old shipwreck? Head down to Black Rock Beach, the site of HMVS Cerberus, a sunken 19th century warship that serves as breakwater for the Black Rock Yacht Club.
Situated in a bay shaped like a 'half moon' and surrounded by rugged cliffs, this is, without a doubt, one of our top beautiful beaches in Melbourne. The foreshore also has toilet and shower facilities, making it ideal for family beachgoers. On a hot summer day with little wind, the water at Half Moon Bay is calm and close to crystal clear – perfect for little splashers.
Things to do in Black Rock
▪︎  Take the trail to Red Bluff Lookout. Get blown away by the breathtaking aerial views of Half Moon Bay and the Melbourne city skyline.
▪︎  Eat Fish & Chips by the beach. Enjoy fresh seafood at the kiosk or dine inside Cerberus Beach House and admire views of the bay.
▪︎  Cool down with traditional Italian gelato. Davey Mac's Gelato offers a yummy selection of sorbets and gelato flavours that kids will go over the 'half' moon for.
8. Mentone Beach
Frequented by families and dog owners alike, Mentone Beach is made up of soft, golden sand that is complemented by a shallow body of still water. 
As a family with wild young boys, Mentone is one of the best beaches in Melbourne for kids in our books – the water is shallow with no sudden dips, there are no waves and our fur friends can join in on beach shenanigans. Plus, you get to pat and cuddle other people's dogs. It's an all round winning situation, really.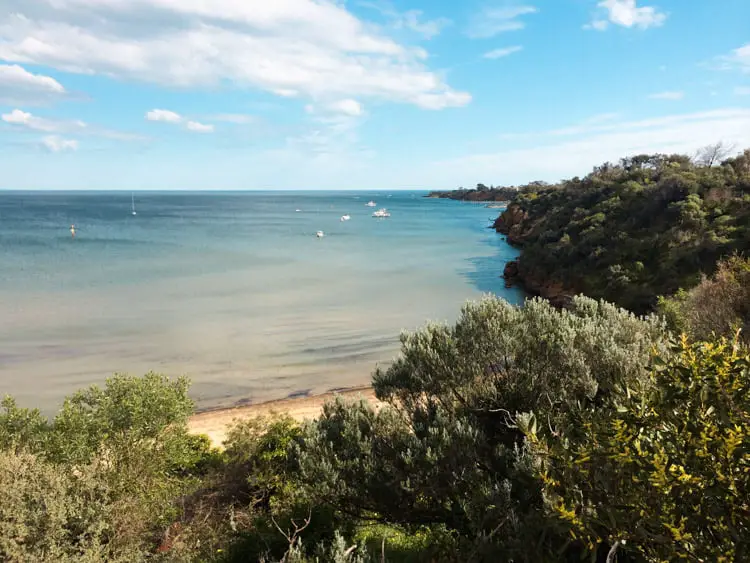 Things to do in Mentone Beach
▪︎  Explore the Foreshore Trail. Cycle, walk or skate along this scenic coastal trail with views of the Mornington Peninsula and Melbourne city.
▪︎  Pop into Parkdale Beach Cafe. Grab a cool drink, ice cream or snack at Parkdale Beach Cafe.
▪︎  Visit Mentone Racecourse Reserve. An amazing sanctuary for families, this park has open lawns, ponds, sheltered barbecues, picnic tables and a playground.
9. Edithvale Beach
Tucked between Chelsea and Aspendale, Edithvale Beach can be found 30 kilometres south-east of the city. The 1.5 kilometre stretch is dotted with quaint bathing boxes and is made of white sands and clear blue water. 
If you're keen on finding the best white sand beach in Melbourne – Edithvale is where it begins. Thanks to its flat sandbank, it's also the perfect spot to partake in beach sports. Stick around until the evening and you'll be blessed with a spectacular sunset perpendicular to the beach – grab fish and chips from the strip of shops lining the main street around Chelsea train station.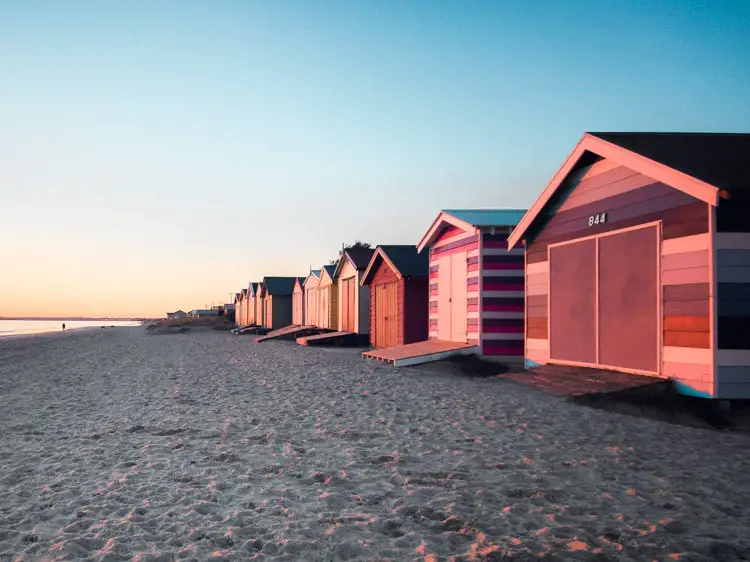 Things to do in Edithvale
▪︎  Rent a paddleboard & take on the water. Swing by SUP Warehouse in Mordialloc on the way to Edithvale beach and grab yourself a paddleboard to explore the shore.
▪︎  Edithvale Recreation Reserve. Featuring an outdoor velodrome, huge playground and barbecue facilities – this is the perfect place to host outdoor gatherings in summer.
▪︎  Quick dumplings & smoothies stop. Pop into Chubby Buddies for a delicious selection of juicy dumplings and refreshing drinks.
10. Carrum Beach
Silky soft sand and water so clear that you can see tiny schools of fish swimming beside your legs, Carrum Beach is a hidden gem that locals don't really want you to know about. The water remains comfortable shallow for a long stretch making it perfect for little water babies and providing parents with a piece of mind.
On the foreshore, you'll find a surf lifesaving club, an incredible nautical-themed playground, a scenic boardwalk, as well as showers and toilet facilities. If you're to make the trip out this way, Carrum Beach is, undeniable, one of the best kid-friendly beaches in Melbourne.
Be sure to arrive early on weekends in summer, it gets crazy busy and there's limited parking space.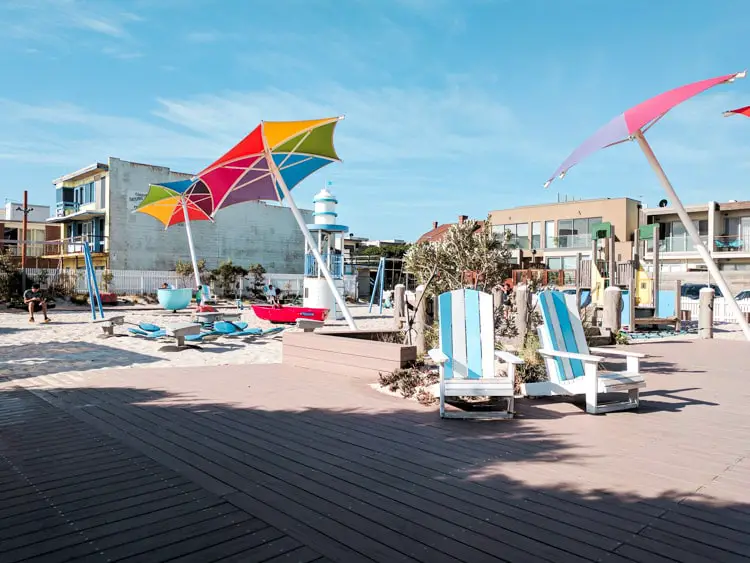 Things to do in Carrum
▪︎  Let the kids run amuck at the nautical-themed playground. This is one of our favourite playgrounds in Melbourne that oozes all the beach and sailor vibes.
▪︎  Stroll down the boardwalk. Take in tranquil views of the horizon and enjoy the amazing scenery while kids can climb around the rock formations.
▪︎  Lakeview Shopping Centre. Swing by for lunch or dinner and admire gorgeous views of the Patterson River waterway.
11. Seaford Beach
Our discovery last summer is an absolute jewel of a find that we'll be frequenting a lot more often. Seaford Beach comprises a vast stretch of white sand and crystal clear, shallow water, making it one of our top 5 best family beaches in Melbourne picks.
Situated 50 minutes south of the CBD, the beach crowd is predominantly made up of families, so you can be assured that you won't get any judgy looks when you're pitching up your sun tent.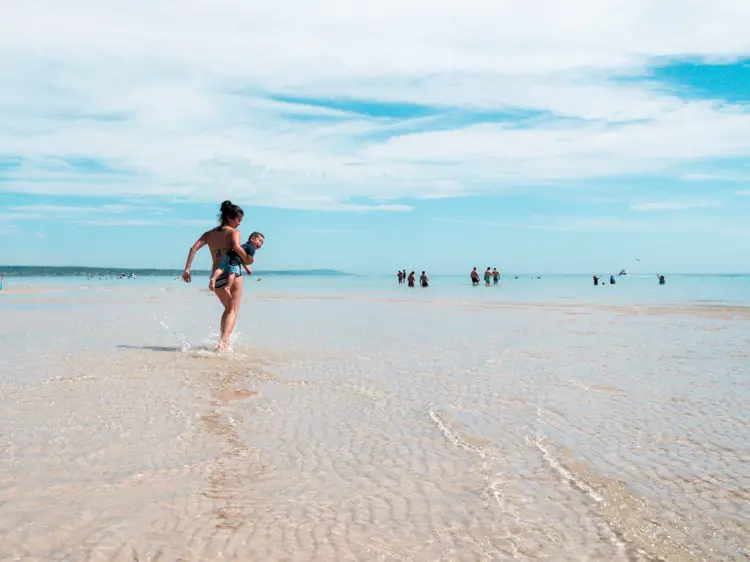 Things to do in Seaford
▪︎  Explore the Seaford Foreshore Reserve. Hunt for shells on the beach or relax on the pier, the foreshore stretch consists of easy trails and boardwalks designed for all ages.
▪︎  Brekky or lunch by the beach. Stop inside Beach Cafe Seaford for a tasty snack or feed overlooking the ocean.
▪︎  Barbecue inside Keast Park. Pack some sausages and have a sizzle at the newly built public park that features a playground and tables/seating.
TIP: Seaford Beach is another dog-friendly beach – bring your four legged friends along but be sure to pick up after them as the fines are heavy.
12. Frankston Beach
Alright. This one's a bit of a cheat entry because, technically, Frankston is not considered a part of Melbourne. It's its own city that's located an hour south from Melbourne, but hey, it has a lovely beach and foreshore with amazing facilities for families, so we're not going to discount it simply because it takes a wee bit of a longer drive to get there.
Restaurants, ice cream kiosks, sheltered BBQ spaces, restrooms and an epic castle-themed outdoor playground are lined along the Frankston Foreshore Reserve. Turn your beach visit into a day trip and explore one of the closest coastal cities from Melbourne.
If the heat gets too intense , duck into Bayside Centre and hit up the shops for coffee, snacks, or even catch a movie.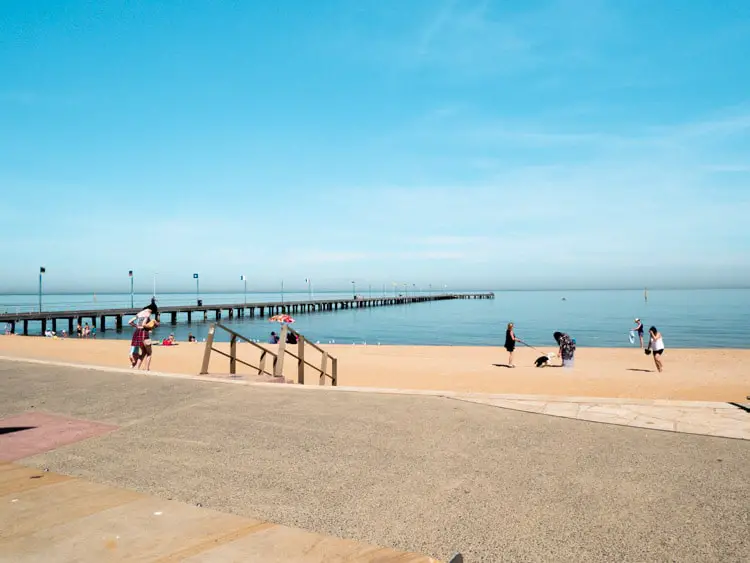 Things to do in Frankston
▪︎  Fairytale castle-themed playground. Let the kids run wild and climb obstacles at this massive outdoor playspace.
▪︎  Lunch, dinner or ice cream. Enjoy a cold beverage, dessert or meal at Sofia's Family Restaurant located on the foreshore with spectacular views of Port Phillip Bay.
▪︎  Swing into Bayside Shopping Centre. Get some retail therapy, stock up on groceries or have a coffee inside this large centre.
13. Mornington Beach
Yes, I know. Another cheat entry but Mornington Beach literally comes right after Frankston and it's too good not to include. I'm also going to proclaim that this is our favourite seaside town in all of Melbourne. There, I said it.
If you make the effort to drive 25 minutes further south from Frankston, you'll stumble upon one of the best beaches around Melbourne for kids that's tucked into a little cove and protected from currents and strong waves.
Drive through the town centre and make your way down to Mornington Pier, this is where you'll find Mothers Beach and Shire Hall Beach, two amazing spots to spend the day lazing about in the water.
Take a look at our guide to the best family-friendly attractions and activities in the Mornington Peninsula for more inspiration.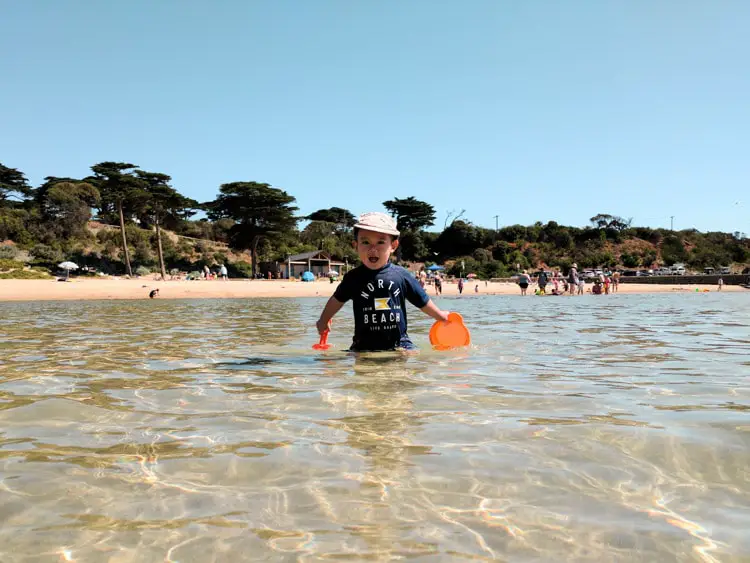 Things to do in Mornington
▪︎  Wander down Main Street. The food and shopping hub of Mornington, this is where you'll find top-rated cafes, eateries and shops.
▪︎  Flinders Monument & Mornington Pier. Walk along the road that leads Mothers Beach and make a pit-stop at these scenic sites.
▪︎  Relax at Mornington Park & Playground. Release little ones into this fenced outdoor playspace and admire stunning panoramic views of Port Phillip Bay.
Discover more activities in Mornington Peninsula:
14. Williamstown Beach
Welcome to the westside, baby! The first beach stop you have to make in this corner of Melbourne is Williamstown beach. Extremely popular amongst families, the beach blessed with fine golden sand and patrolled by lifeguards in the summer months.
What makes this one of the best beaches in Melbourne for kids are the family-friendly activities and sights that are found in Williamstown. Take a stroll in the Botanical Gardens across the road from the beach, swing by Scienceworks or traipse along the coast and relish the scenery and vista of the city skyline.
Looking for more stunning places to admire a view of the CBD? Check out these 15 secret spots to view the Melbourne skyline.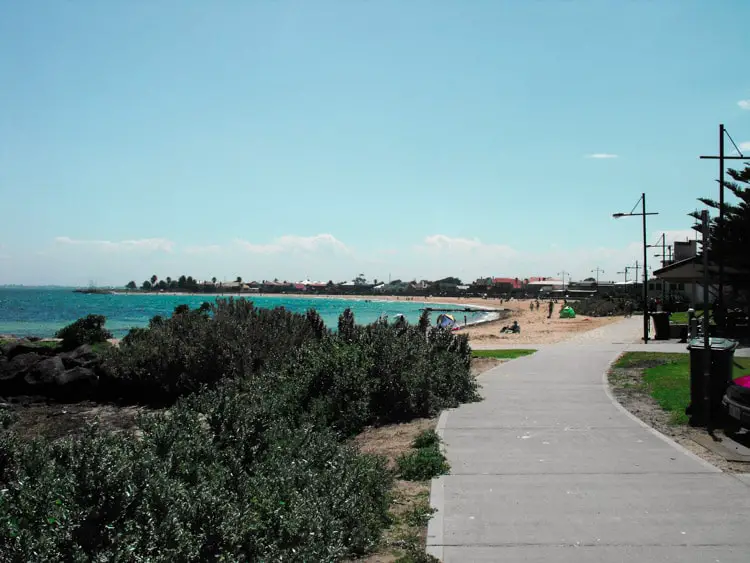 Things to do in Williamstown
▪︎  Drop into Scienceworks. Learn about science and technology inside this interactive museum located beneath the Westgate Bridge en route to Williamstown.
▪︎  Stop by Gem Pier for photos. Stroll down the pier and be greeted with the sight of a retired WW2 warship, HMAS Castlemaine. Head to the foreshore for spectacular views of the city and let kid exert some energy at the playground. 
▪︎  Have lunch or dinner at The Strand. Wander around the bustling centre of Williamstown and grab a meal at one of the many restaurants and eateries.
15. Altona Beach
Home to a myriad of recreational and water sport activities, Altona Beach is widely considered one of the best Melbourne beaches in the western suburbs. From sandcastle building to kite surfing and volleyball, you'll find it hard to run out of fun activities. 
Unlike many of the beaches in the south-eastern suburbs, parking at Altona beach is free, and the coastline is dotted with public barbecue spaces, tree-lined parks, cafes and restaurants.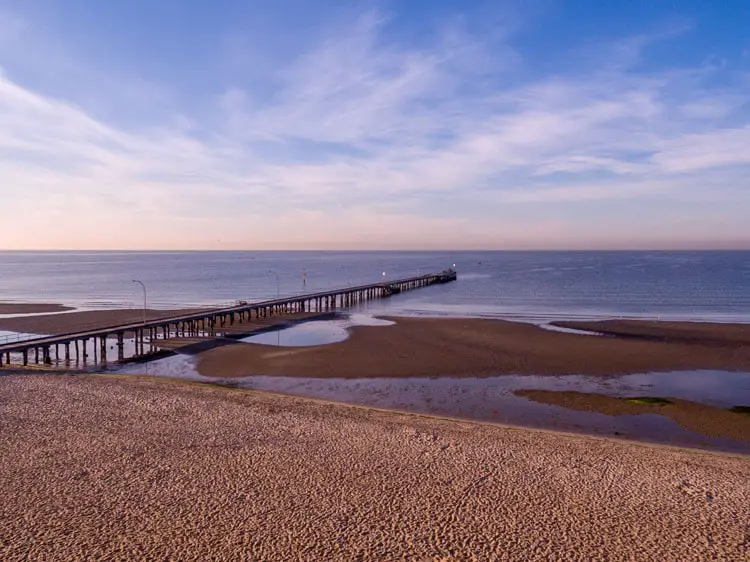 Things to do in Altona
▪︎  Rent a paddleboard or go kite surfing. Swing by Sunseekers Melbourne and see the bay from a different perspective.
▪︎  Find shade at Logan Reserve. Head into this green space for some sun cover, have a picnic or barbecue and let the kids roam the playground.
▪︎  Walk up to the town centre. Lined with shops, cafes and fancy eateries, this busy little strip is the place to go for a bite to eat.
More Popular Melbourne Guides
Best Beaches Near Melbourne: The Verdict
The million dollar question: which one is our favourite city beach in Melbourne? Dun. Dun. Dun. The award for best family beach in Melbourne goes to.. Carrum! 
Soft and fine sand, shallow water and a nautical-themed playground for the kids, it honestly doesn't get much better than that for family beach-goers.
That being said, all of the beaches in Melbourne are beautiful and have their own charm, the only way to determine which one will win your heart is to visit them all. So, there you go. Your summer schedule is sorted.
Happy beach days!
Want to know more about these beaches in Melbourne?
Feel free to ask in the comments below or add more to the list.
Like this post? Pin me.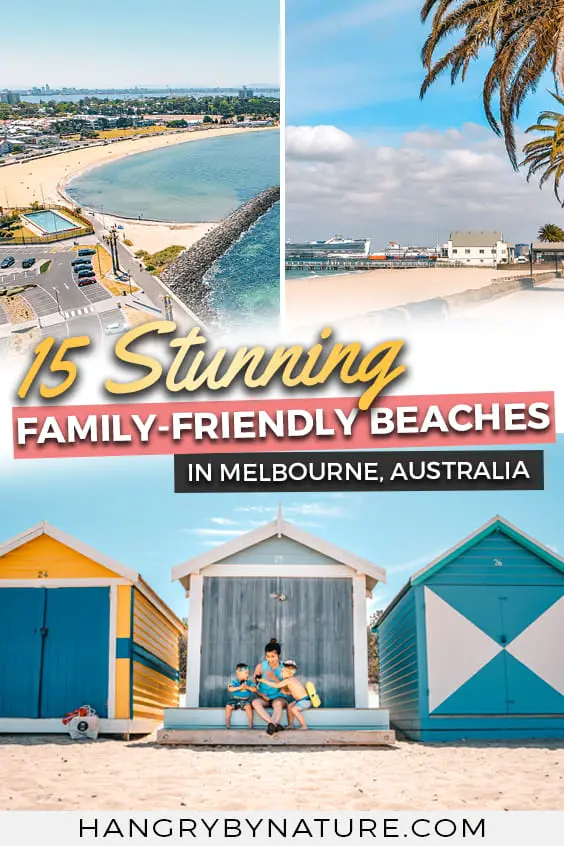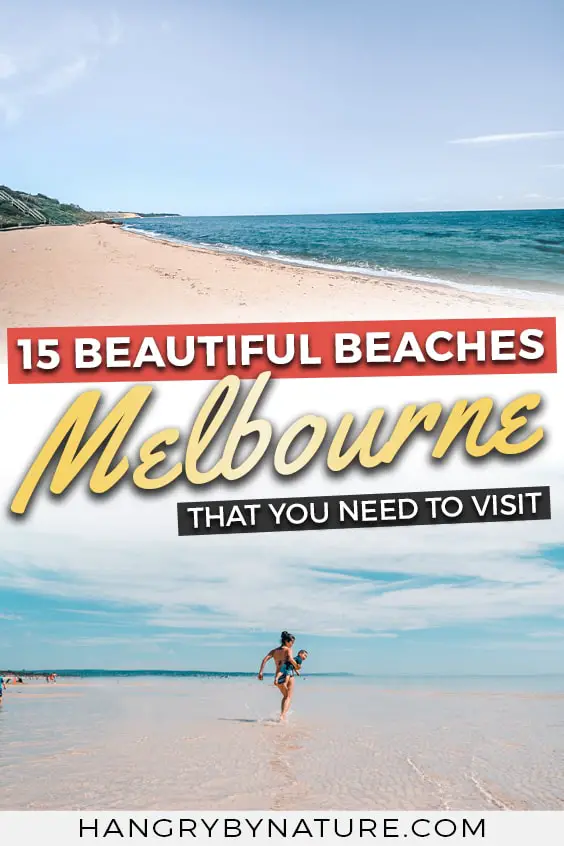 Discover more Melbourne fun & deals
Take a look at our Travel Resources to find the best deals on flights, accommodation and attractions. Find mistake fares, the cheapest date to fly each month, hotel and apartment savings, plus where to buy the cheapest tickets for attractions.
Looking for some sweet deals in Melbourne? You're in for a treat.
Come say "HEY!" on Instagram or Facey. I like to think I'm a self-proclaimed comedian, all the while providing some lit AF travel tips. You be the judge.