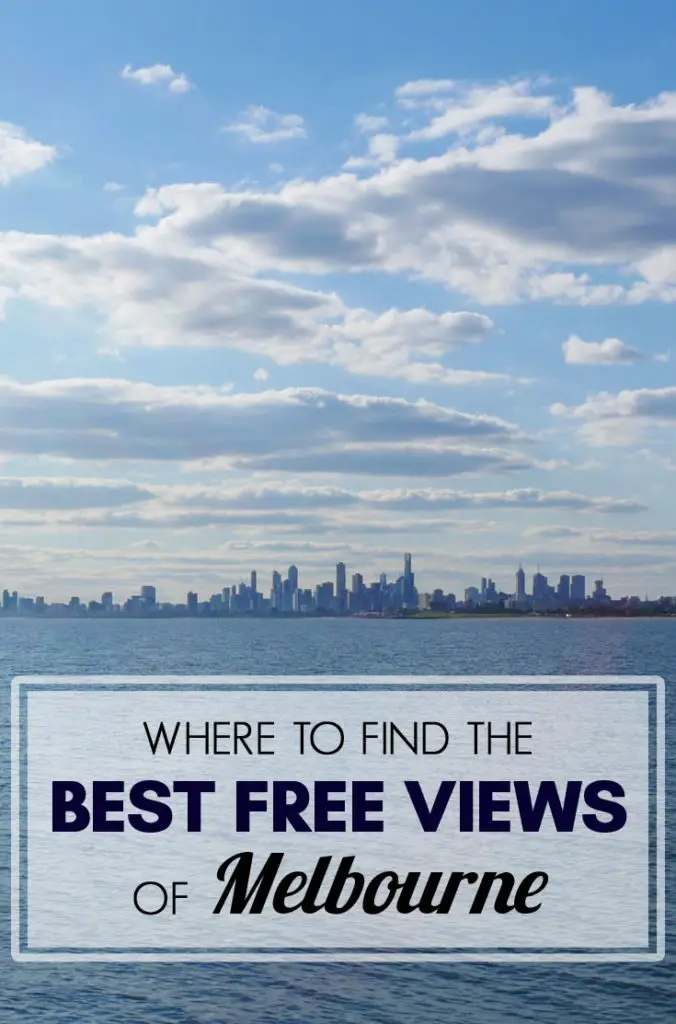 Looking for a picture perfect spot to snap photos of Melbourne's CBD skyline, or simply want to grab a picnic blanket on a sunny day and unwind somewhere with a scenic view? 
I know, as a Melbournian, deep down inside I know that our beloved 'Burn City will never amount to the panoramic beauty of Sydney. We tried with Docklands and we failed. We even tried to lure people there with our own version of The Eye and that thing literally had a 'melt-down'. I know and accept the sad fact that we will never be a Sydney. But that doesn't mean that we can't try and find pretty little gems and unravel whatever beauty we can find, right? 
Whether you're in the North, East, South, West or smack bang in the city centre; here are 10 sweet spots to get amazing free views Of Melbourne.
THE BOLTE BRIDGE
Located in the inner west of Melbourne, the Bolte Bridge is a 490 metre spectacle that connects the northern suburbs to the south. 
Unfortunately, the bridge doesn't allow pedestrian or cyclist access - so you'll have to snap your shot whilst mobile in the car, or alternatively, you can grab a shot from a distance by accessing Enterprize Road on Coode Island.
Without a doubt, the best view you'll get of the Bolte Bridge is if you jump on a Melbourne River Cruises ferry heading to Williamstown. They offer short (45-60 minute) sightseeing cruises in the daytime, or if you're keen to take it to the next level, book a dinner cruise onboard the Spirit of Melbourne Cruising Restaurant and soak in Melbourne's spectacular night lights.
SKY HIGH MOUNT DANDENONG
This can be a tricky one because it needs to be a crystal clear day in order for you to see the blob in the distance that is the Melbourne CBD. Even on a day without a single cloud in the sky, it may be difficult to see, because you know, pollution.
It's a b*tch, but if you catch yourself there on an ideal day, you get greeted with this amazeball scene. And if you don't, make a return at night and admire the night lights.
SHRINE OF REMEMBRANCE
Okay wait for it... a visit to this must-see landmark is free. Entry to the Shrine of Remembrance in Melbourne won't cost you a thang, and neither will this perfect snapshot of the sun setting over the city skyline. 
If you're stuck on what to do in Melbourne on a beauuuutiful day, be sure to make your way down the famous St Kilda Road, just a little past the Botanical Gardens, and you'll stumble upon this WWII memorial shrine that will give you an insight into our short and tragic history.
Head upstairs to the balcony after you're done touring the museum chambers, pull out a cuppa and a camping chair, and inhale this scene. Best done close to sunset.
BRIGHTON PIER
Hands down, my absolute favourite view of the Melbourne skyscrapers from afar. There's just something so serene about sitting on rocks, peering over tranquil seas into a cosmopolitan city, that helps your body and mind unwind from a hard week's work.
You know what made this scene even better for me? Pizza. There's nothing more romantic than staring into the horizon with your best friend and partner whilst chowing down on a slice of pizza. 
This is also, in my opinion, the best view of Melbourne you'll find on New Year's Eve if you get there early. It definitely won't be as serene as any other day, but you'll be blessed with a complete view of the fireworks shooting up from within the city. I probably wouldn't suggest getting shitfaced here. I assume your New Year resolution is to make it through alive, am I right?
RUCKER'S HILL NORTHCOTE
Don't miss this view of Melbourne if you happen to be hanging in the northern suburbs. Park your car, take a stroll down busy High Street, and you'll find a stunning view of the city in between Union-and Clarke St.
This venue is also one of the top locations to watch Melbourne New Year's Eve fireworks display without being caught in the centre of the city amongst the mosh pit of partygoers. 
WILLIAMSTOWN
You've seen it from Brighton Beach Pier? Well, see it from the other side. 
The Westside isn't as bleak as it's made out to be. Alright, I lie. It's bleak AF but it does have its pros. Like this pretty cool view. And the pho. I'd say that's about it.
RESTROOMS AT SOFITEL HOTEL MELBOURNE
AKA the 5-star loo on the 35th floor with a breathtaking view. You can handle your personal business, contemplate the meaning of life, all the whilst admiring Melbourne from high up above without needing to pay an outrageous fee. *Cough* Eureka Tower *Cough*.
Soak in Melbourne's landmarks, like the Melbourne Cricket Ground, State Parliament, Fitzroy Gardens and The Treasury. On a clear day, you can see as far as the Dandenong Ranges. I know, pretty damn impressive for a toilet view, right? It's like getting a taste of how the world's insanely rich enjoy their toilet breaks. I could get used to that.
You know what the best part is? The toilets are open to members of the public, so you won't have to pull out your acting skills and pretend that you're a guest staying at the hotel. It's totally socially acceptable to walk into the Sofitel Hotel in Melbourne on a mission to use the toilet.
NAKED IN THE SKY BRUNSWICK
If the mouth-watering menu at Naked for Satan on Brunswick St hasn't given you enough reason to pay this place a visit, then let this view convince you. Okay, it's not the greatest view, but if you combo that up with top notch food and alcohol - I think that's a winner. There's nothing more relaxing and more Melbournian than to head down after work for a bevvy, a selection of sumptuous tapas, and watch the sun set over the city.
When you walk in, head for the elevator in the back, and head straight for the top floor. If you're as lazy as I am, you'll be sorely disappointed to find that once get to the rooftop, you'll have to walk up another flight of stairs. At least go up knowing that you've done your cardio for the day before digging into the tapas.
WILLS STREET IN KEW
After you're done admiring the beautiful mansions of rich mofos, turn onto Wills Street in Kew and drive to the end of the road, you'll find a quaint little park perfect for an afternoon stroll. It'll be less than a minute's walk before you're greeted with this gem of a view. 
Pack a picnic, bring your four legged fur friend and kick back on a slow Sunday (if Melbourne weather is not PMS'ing). 
ALBERT PARK
Lastly, you can find a clear view of Melbourne city at Albert Park Lake, a short 4km drive from the CBD. So short, it's almost walkable, if you're game. 
It's also home to the grounds of the Australian Grand Prix, so if you're in Melbourne around that time, make sure you don't miss out on visiting this stunner of a lake.