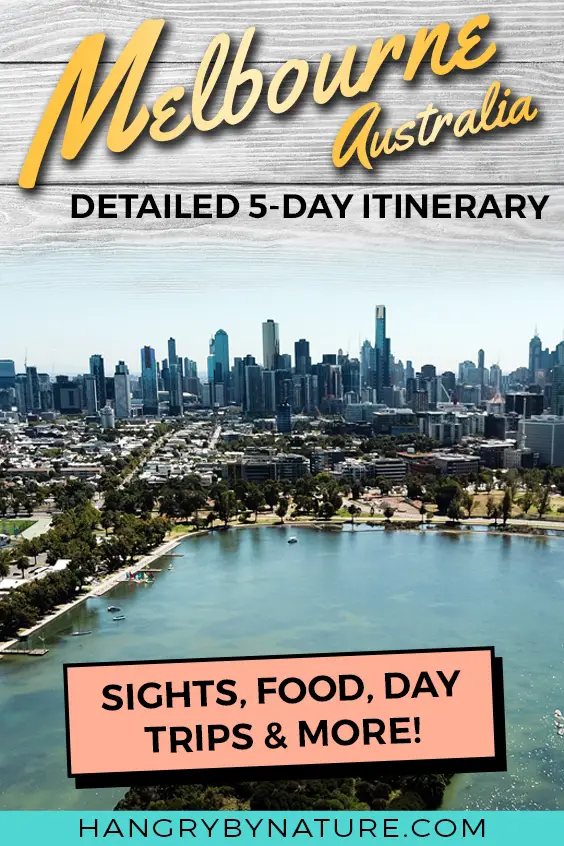 Coffee, laneways, street art and mouthwatering food will complete your Melbourne 5 day itinerary and leave you wanting more. Did I mention food? Because - lemme tell you somethin' - you haven't experienced a proper brunch until you've had a Melbourne brunch.
I don't even really know how to describe this city, mind you, I've lived here for half of my life, yet I can't quite summarise it in a cohesive way because Melbourne reminds me of many places. It's a hip mix of Berlin, with a sprinkle of New York and London, plus bits 'n' pieces of Asia stirred together to create a fusion of flavours that make up the essence of this city.
It's not the most picturesque or postcard-pretty city, but hey, what we lack in scenic beauty - we make up for in food, coffee and, well, hipsterism. Just wait until you stroll down Hosier Lane and stare in awe at mind-blowing pieces of street art, devour brunch that will change your life, or soak in some Vitamin Sea at the world-famous Brighton Beach Boxes that'll have you snapping away pics faster than I can inhale a box of Krispy Kreme doughnuts.
If you don't manage to fill up your schedule after reading through this action-packed guide, then be sure to squeeze in one of these unforgettable day trips from Melbourne. So, how do you fill your 5-day Melbourne itinerary? We'll get to that in a minute because you might want to know the 401 on this city before we get to the nitty-gritty of things.
FUN FACT: Melbourne was originally named Batmania after one of the city's founders, John Batman. Glad that name didn't stick.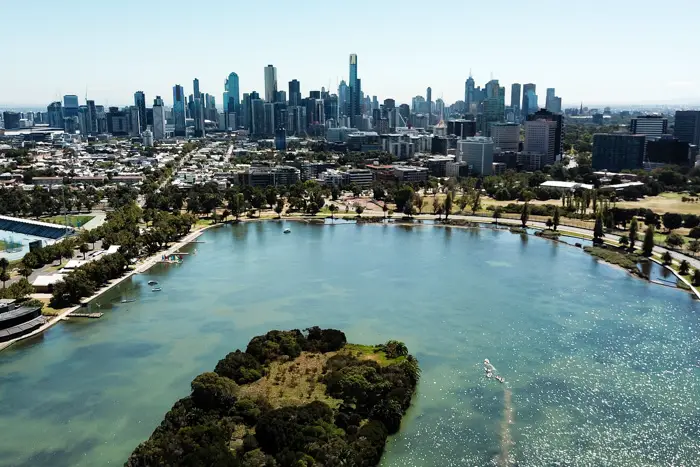 Melbourne city skyline views from Albert Park
Melbourne Travel Tips
When is the best time to visit? Trust me when I say - you don't want to experience this corner of Australia in winter. It's shivery cold for Aussie standards, constantly wet, and worst of all, windy AF. Plan your trip in spring (October - November) or autumn (March - April) for more pleasant weather, or in the summer (December - February) if you plan on hitting the beach. But, prepare thyself for school holiday madness.
Any insider tips on saving money? I gotchu on this one. Before you do anything - get yourself the iVenture card or Entertainment Book. Much like Sydney, tickets to attractions have to potential the demolish your budget and leave you crying in the corner for your Momma.
How do you get around in Melbourne? 3 words. Free Tram Zone. If you're exploring the CBD (Central Business District), there's no better (and free) way of getting around than by hopping on one of the many trams if you need to get from one end of the city to another. Taxis are pricey, so the preferred method is Uber which you'll find almost everywhere.
That being said, you absolutely need to slip a day trip into your Melbourne itinerary, and the easiest way to get around is by car if you plan on exploring places like the Great Ocean Road or Mornington Peninsula. To find the best rental car, you can use Rentalcars to compare prices or use Budget or Avis to find the best suited set of wheels for you.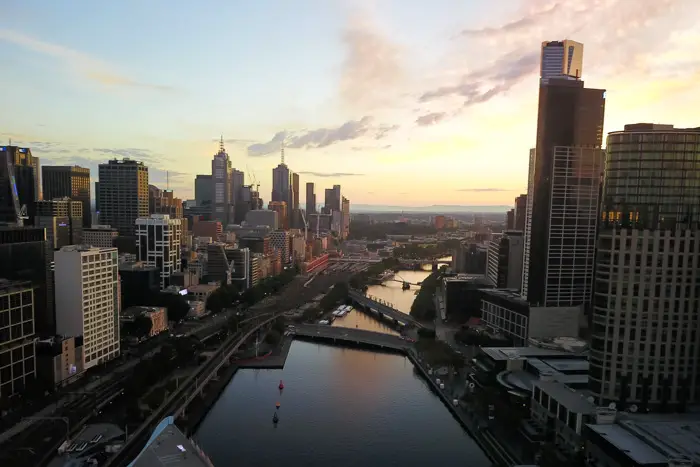 Don't forget travel insurance. Don't be that person. I worked at a travel agency for 2 years and have heard enough horror stories to direct a sequel to Final Destination. We use and recommend World Nomads, because, quite frankly, they have one of the most competitive rates in the industry. Get a quote for your upcoming trip.
What about a visa? Most EU, US and certain countries in Asia do not require a visa to enter Australia as long as you don't overstay the 3-month threshold. Check with your local consulate to determine whether a visa is needed.
Best Travel Guides for Victoria & Australia:
For more exclusive kid-friendly travel guides in Melbourne, sign up to the newsletter.
Getting Around in Melbourne
Rent a car. If you driving on the left side of the road doesn't make you sweat like a dog with nervous hesitation, then renting a car is the best way of getting about. Enjoy devising your own Melbourne self drive itinerary that'll take you from coastal marvels to country towns. For the most competitive rental car rates in Australia, take a look at Avis or Budget.
Free Tram Zone. I had you at free, didn't I? Travellers, rejoice, getting from one end of the Melbourne CBD to the other will require minimal effort. The zone covers all trams within the boundaries of Spring Street, Flinders Street, La Trobe Street, as well as Docklands. Check the Free Tram Zone map to see what's covered.
Public Transport. Probably the most cost-effective method of getting around, Melbourne's Myki system works the same way as the Oyster Card and allows for flexible travel between trains, trams and buses. For more information, prices and timetables - take a look at the official website.
Ride sharing. Venturing outside of the CBD? One word. Uber. The app services all of inner city Melbourne, outer suburbs and even some rural towns, Uber is a cheaper way of getting around compared to taxis.
Want $10 off your Uber ride? Use our sign up code to save on your first trip.
Day tours. To complete your Melbourne itinerary for 5 days, you absolutely must consider booking a day tour. Victoria is home to a vast array of natural beauties and gorgeous towns that are begging to be explored. The most popular one is the Great Ocean Road, a day trip you must set aside time for.
Take a look below for some of the best sightseeing tours in Melbourne and Great Ocean Road.
Melbourne Itinerary 5 Days
Day 1: Get Coordinated, Grab Brunch & Start Exploring the City
Explore the laneways and indulge in Melbourne coffee. After checking into your home for the next few days, the first thing you'll probably want to do is tour your accommodation surrounds, and most likely, the city. Meander through Melbourne's iconic laneway - Degraves Street - found between Collins Street and Flinders Street. This is your chance to get your first taste of Melbourne's notable coffee culture, which you'll probably need copious amounts of after coming off a flight. After a quick recharge, explore the century-old Block Arcade and Royal Arcade dotted with boutique retailers and unique shops.
Gawk at alllll the street art. The number one thing (after coffee) to include on your Melbourne city tour itinerary is all the sweet street art you'll find in Hosier Lane, AC/DC Lane, Degraves Street, Duckboard Place and Croft Alley. Make your Instagram feed lit as all hell with a couple of snaps at some of these coolest spots in the city. Take a look at this map to find all the street art hot spots in Melbourne.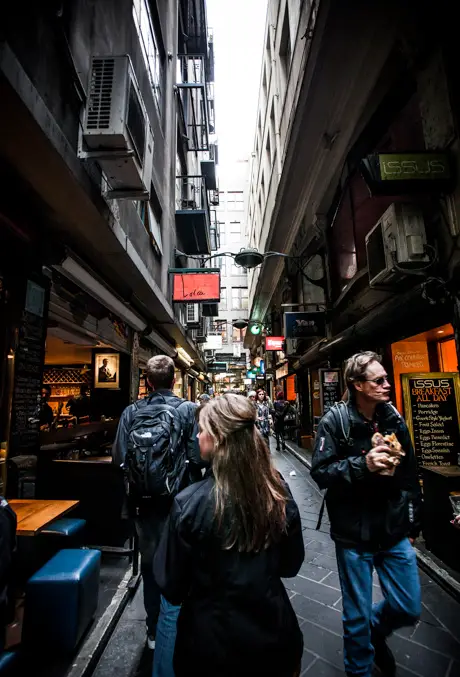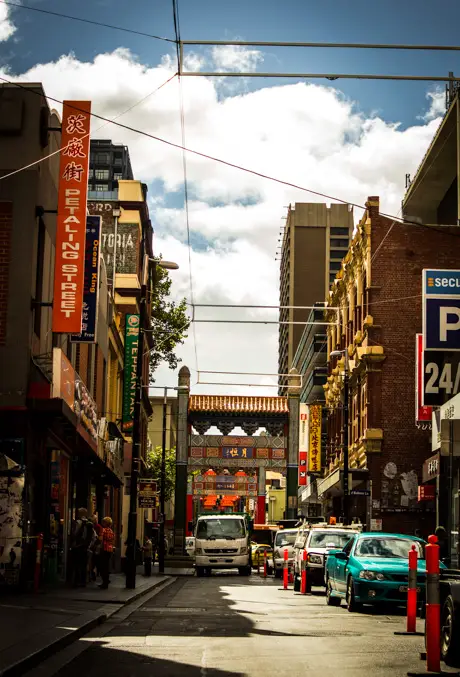 Stroll through Chinatown. Step into any Chinatown in the world and what's the first thing that comes to mind? Food. Step into Shanghai Street Dumplings and get a whiff of those juicy Xiao Long Bao (steamed soup dumplings) because it would be a crime to leave Chinatown without getting a set of those in ya mouth. If you're up for a little Chinese history lesson, pop into the Chinese Museum where you can learn all about how the Chinese came to settle in Australia. Stroll into arcades packed with Asian fashion retailers, beauty stores, and of course, bubble tea.
Jump on a tram and head to Docklands. Walk beneath the iconic Webb Bridge and admire the award-winning design by Robert Owen (a must-do photo opp for any photographers), followed by a spin on the Melbourne Star as the sun sets over the bustling city.
Searching for the best deals on Melbourne city attractions? Grab discounted tickets to the Melbourne Star.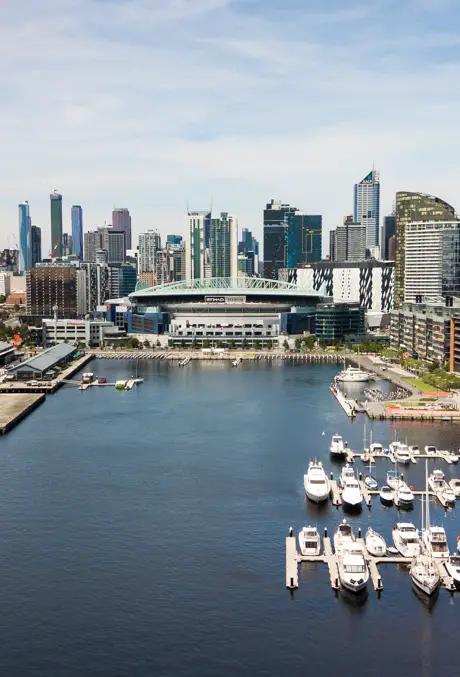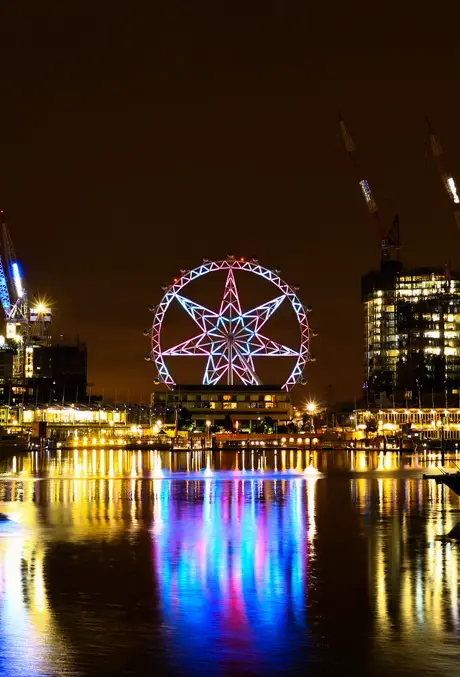 Day 2: Hit the Park, Beach & Markets
Explore the streets of South Melbourne. This neighbourhood lives and breathes food, so brunch is an absolute given. Kettle Black is one of Melbourne's most famous brunch and coffee spots, it's renowned for its amazing food (must order the Chilli Scramble and Hot Cakes) and even more impressive presentation. As soon as you've eaten to your heart's content, head over to the South Melbourne Market where you'll stumble across unique gifts, trinkets, streetwear stores, and more food.
Pit-stop at Albert Park Lake if time permits. Jump on a tram or walk down to the home of Australia's one and only Grand Prix park. Enjoy a coffee at Carousel Café overlooking the lake and magnificent city skyline and observe colourful sailboats floating by. If you're travelling to Melbourne with kids, this is also a great spot to let your little rascals exert their energy at one of the many awesome playgrounds.
Have a bevvy and spot penguins at St Kilda Beach. Your Melbourne itinerary for 5-days won't be complete without a visit to the city's most popular and buzzing beachside suburb. Wander along the shorefront where you'll find a row of cafés and eateries to grab a nibble, walk down the pier and soak in the spectacular panoramic views, or pop into the historic Luna Park for a thrill ride. If you need more inspiration, take a look at this huge list of fun things to do in St Kilda.
Pose in front of the Brighton Beach Boxes. Lined along a golden stretch of sand are 83 distinctive and vibrant mini beach houses that have become quite the spectacle in Melbourne. Back in the day, they were used as change rooms for women, but today, these little colourful huts have a market price of over $300k (insert jaw drop emoji) - inside you'll find everything from kitchenettes to full-blown lounge rooms. For more on these bathing boxes, take a look at this post that delves into their history and information on visiting.
Day 3: Time for a Day Trip
Mornington Peninsula is the perfect day trip for those who don't have enough time to venture down the Great Ocean Road, yet still, yearn to experience a slice of the stunning Aussie coastline.
Meander down the insanely beautiful boardwalk at Cape Shanck, leap off cliffs at the Pillars of Mount Martha that sorta resemble the French Coast, take a ride up Arthurs Seat Eagle and immerse yourself in awe-inspiring panoramic views from the highest point of the peninsula.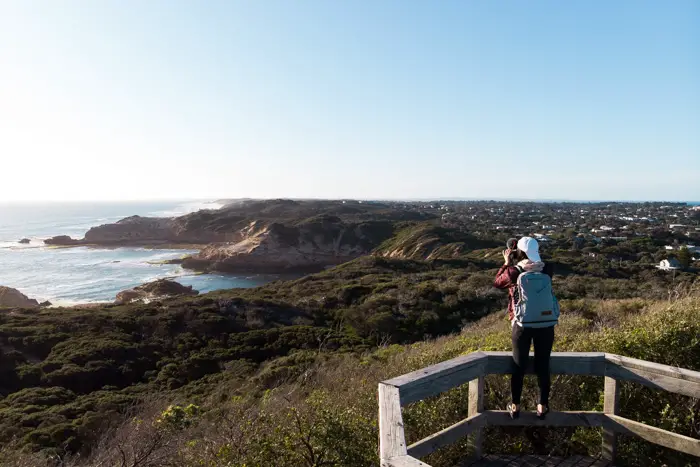 For more local insight, take a look at these 12 must-dos in Mornington Peninsula.
No car? No problems. Take a look at the following Mornington Peninsula sightseeing tours from Melbourne.
Ballarat, Victoria's third largest city, is most famously known as the 'gold' capital of Australia. During the great Gold Rush era, 80 million ounces of gold was mined below the grounds of Ballarat and, basically, shaped the city into what it is today. Surrounded by lovely natural landscapes and rolling green hills, the city lies 1.5 hours' drive outside of Melbourne and makes for a perfect day trip to explore Sovereign Hill, the city's rich heritage and the beautiful Lake Wendouree that lies in the centre.
If you're planning to add Ballarat to your Melbourne itinerary, then this Ballarat and Sovereign Hill day tour might be suited for you.
Great Ocean Road is, hands down, the most notable and popular Melbourne day trip in the entire country. Stand along the cliff's edges and marvel at the incredible Twelve Apostles (there's really only 6 left), swim inside the dazzling cove of Loch Ard Gorge or stroll along the viewing platform for panoramic views of the London Bridge arc. If you can afford to spare an extra day or two, this is one Melbourne day tour you won't regret doing.
Take a look at the ultimate Great Ocean Road itinerary for more on what this region has to offer.
The best way to see the entirety of the Great Ocean Road is by renting a car, but if you're unable to drive, these day tours are a great option.
Yarra Valley, a hilly region that's home to beautiful sights and outdoor activities, is most recognised for being Victoria's wine country. If vino and bubblies are right up your alley (with a cheeky hot air balloon ride in between) then this is the Melbourne day trip for you. The region is home to Healesville Sanctuary where you can get cuddly with Aussie animals, embark on an unforgettable sunrise hot air balloon flight over breathtaking green hills, ride the historic Puffing Billy Steam Locomotive, or simply indulge in the best wines, cheeses and cuisine of the region on a gourmet foodie tour.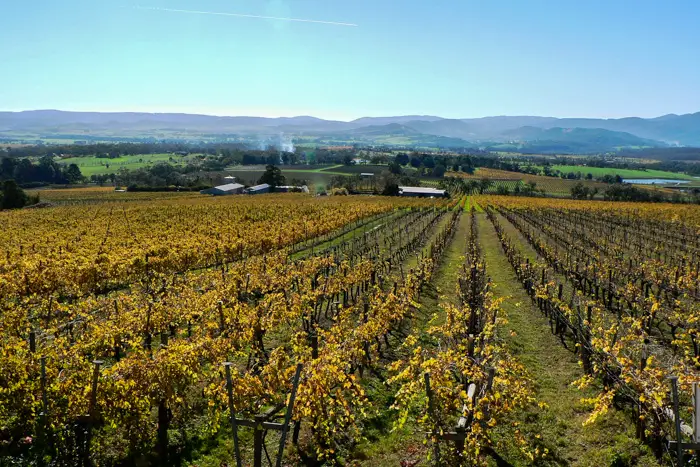 Day 4: Discover Hipster Melbourne & Meet Aussie Animals
Find street art in Melbourne's hipster suburbs of Brunswick and Fitzroy and go café-hopping until your heart rate is through the roof - some of Melbourne's best coffee resides right here. Spot quirky fashion trends, boutique stores, and a sea of man buns in Melbourne's most-raved-about-neighbourhood. Your Melbourne city tour itinerary wouldn't be complete without some tapas and beverages at Naked for Satan's famous rooftop, a ridiculously overpriced croissant from Lune, and a coffee from Addict.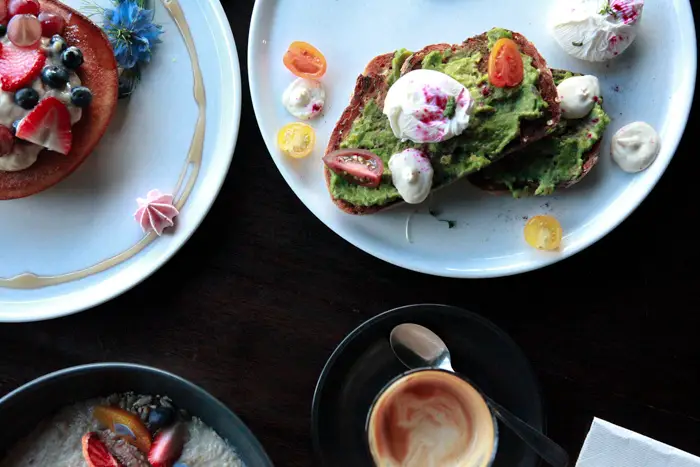 Wander through the Melbourne Museum, a natural and cultural history museum found inside the Carlton Gardens. Learn about the almost 200-year old history of the city, gawk at ceiling-tall dinosaur structures, observe hair-raising creepy crawly creatures from display windows, and discover the origins of Victoria's Aboriginal people. If you're visiting with kids, the museum is also one of the prime Melbourne family attractions, featuring the permanent 'Children's Gallery' exhibition designed for babies to 5-year olds to explore, play and learn.
Spend half a day at the Melbourne Zoo and get cosy with animal species from all over the world - your Melbourne itinerary for 5 days will feel incomplete without meeting adorable Aussie favourites like kangaroos and koalas. Set amongst captivating lush greenery, the zoo is only a 10-minute tram ride from the city centre and is a fun and eye-opening experience for young and old.
Explore the magnificent State Library. Built in the 19th century, the majestic building is a Melbourne landmark and cultural icon that houses some of the city's historical artefacts, impressive artworks and free exhibitions. The highlight of the Melbourne State Library is the La Trobe Reading Room viewing balcony beneath the grand glass dome. It's also home to Ned Kelly's 45kg heavy suit of armour, the original Jerilderie Letter and his Death Mask.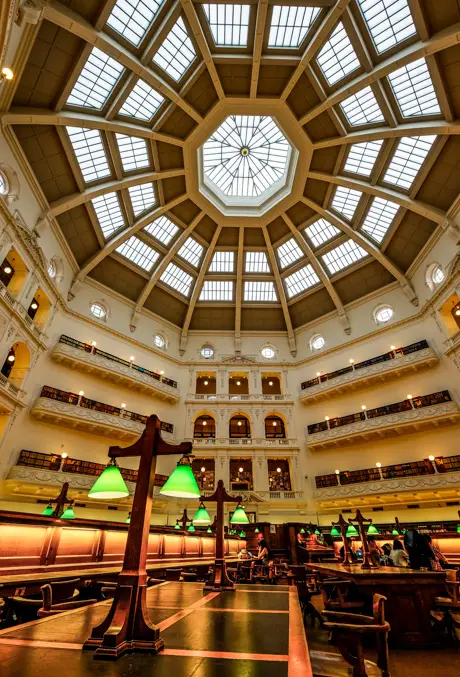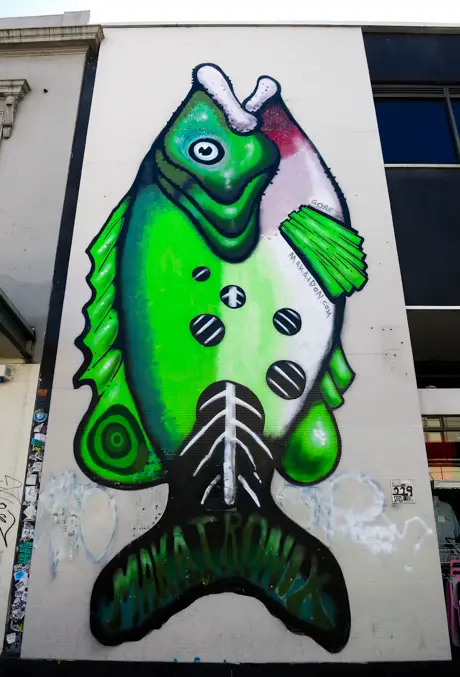 Day 5: Uncover the Rest of the City
Shuffle your way through Queen Victoria Market and throw on your haggle boots to score a bargain on souvenirs, trinkets and even fashion apparel. Queue up at the American Doughnut Kitchen truck for mouthwatering hot jam doughnuts, devour a deliciously flavoursome $3 Börek inside the delicatessen market or stock up on fresh fruits and vegetables.
Take a breather at Flinders Street Station and Federation Square, two iconic Melbourne city attractions you need to snap selfies with, or you were never there. Deemed Australia's first railway station, the building was constructed in 1854 and even houses an abandoned ballroom, gym and nursery. Venture across the road to Federation Square and pop into one of the many restaurants and bars for a refreshment, or explore the free ACMI Film & Television exhibition where you can kick back and play a round of Minecraft.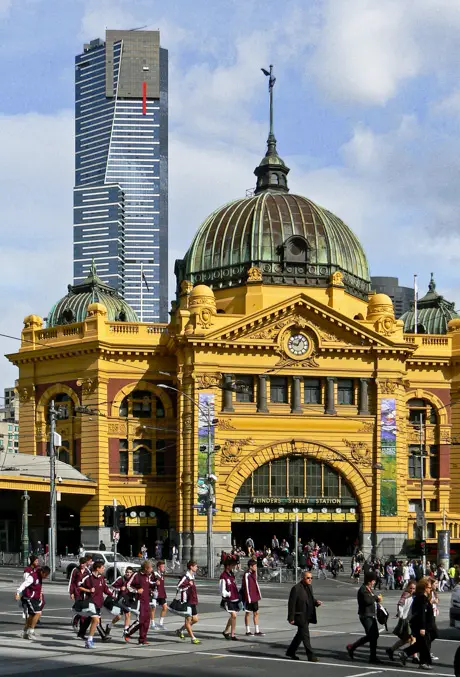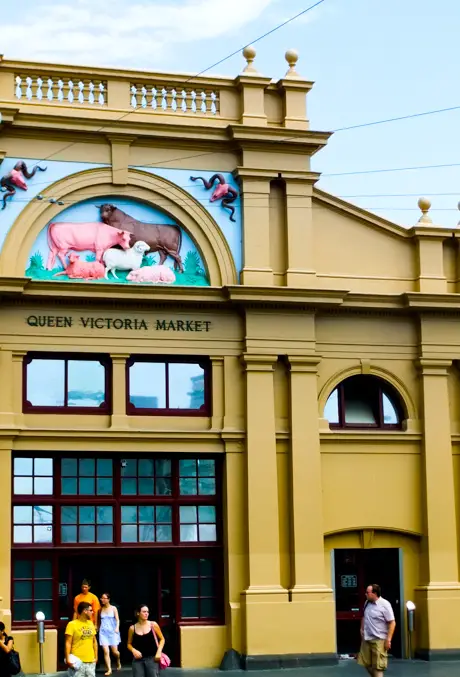 Mosey down scenic Southbank, an area filled with entertainment, food and a whole bunch of Melbourne activities for everyone to enjoy. Pop into the National Gallery of Victoria, a partially free art gallery filled with wonderful exhibitions and galleries to enjoy, make your way up to the Eureka Skydeck to soak in some of the best views of Melbourne, have a drink at the Arbory Bar situated over the Yarra River, or roam through the Crown Casino complex for even more entertainment and food options.
Visit the Shrine of Remembrance and Botanic Gardens to get schooled on Australia's involvement in the wars and pay respects to those who sacrificed their lives. The educational museum, crypts and viewing balcony are free to enter and you'll be able to enjoy a stunning vista of the Melbourne skyline. Cross the road and stroll into the Royal Botanic Gardens if the weather is obliging and discover a gorgeous green landscape filled with colourful flora and fauna, charming 19th-century buildings, as well as a peaceful to chill at.
Where to Stay in Melbourne: Adina Northbank
Pool with a panoramic view of the Melbourne skyline? Check. Well-equipped gym that I probably won't use because I'm too busy recovering from a Melbourne brunch coma? Check. Ample amount of space for the kids to sprawl their toys (causing oodles of foot injuries)? Triple check.
The modern and spacious serviced apartments at Adina Northbank ticked allll the boxes for our wee little travelling family. Their modern and roomy fully furnished 2-bedroom pads are basically what city apartment dreams are made of. Can you imagine how rapt I was after discovering the place had, not one, but 2 bathrooms? I mean, do you know what it's like living with two boys and one man child? My life is a broken record that sings "put the toilet seat down" on infinite repeat. I got to keep an entire bathroom to myself - no boy germs. Can you imagine my glee?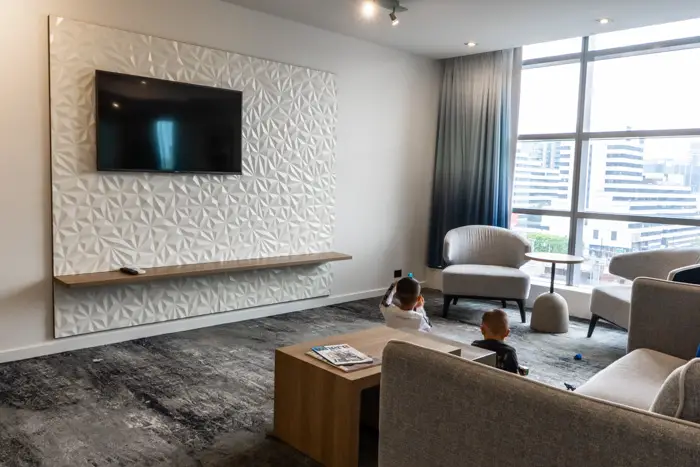 Our apartment included a fully equipped kitchen which, mind you, was an absolute lifesaver during times when hangry kids came hanging off my legs and I could prepare them snacks or a quick meal, and even came with a washer and dryer to throw our grubby kids clothes into. Not to mention the free wifi also came in handy for the times we needed to throw on Netflix for the kids so us parents could get a moment of peace.
Kids or no kids - this stylish apart-hotel has rooms suited for all types of travellers. Studios, one or two bedrooms, if you want a place with all the amenities from home, yet still experience the perks of hotel life (ahem.. housekeeping) - this is it.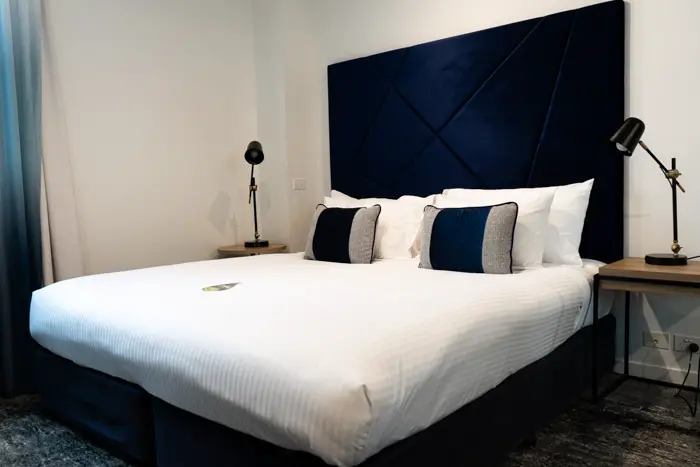 On top of that, Adina Northbank is situated in a perfect quiet corner of the city. We were literally a 1-minute walk away from the Sea Life Melbourne Aquarium, so the kiddos were pretty pleased with that (as kids would be). A 5-minute walk across the Yarra River took us to the scenic and lively Southbank Boulevard, Crown Casino Complex and Melbourne Convention and Exhibition Centre.
For lazy people (basically me), there's a tram stop located in front of the apartment complex which allowed us to easily get around to see some of the best sights and attractions of the CBD. Plus, it's within Melbourne's Free Tram Zone so we could ride all the trams without having to purchase any tickets. Woot.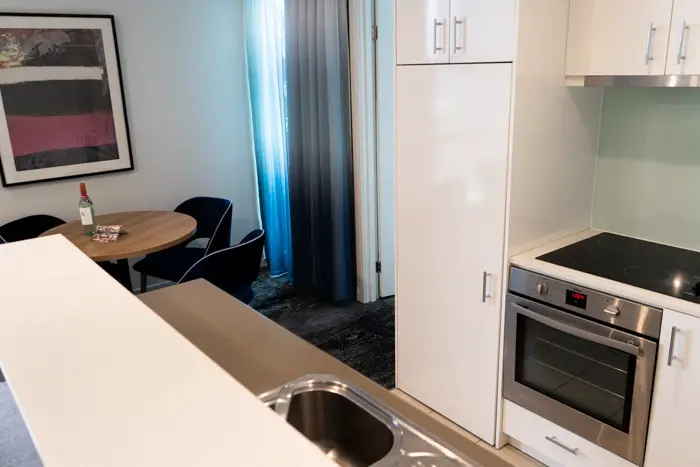 If you're travelling to Melbourne by car, you'll also be pleased to know that Adina Northbank has its own multi-level parking that you can reserve for an additional fee. Trust me, you'll need this if you're coming by car. A day of parking in the CBD will hurl you into the depths of bankruptcy. Well, close to.
So, if you're after a centrally located abode with all the hotel vibes, plus more, then consider adding Adina Northbank to your Melbourne city tour itinerary as a place to stay cos you ain't gonna find a more suited hotel / Airbnb hybrid where you can experience the best of both worlds.
Our stay was graciously hosted by Adina Northbank. All photos, videos and experiences are, however, our own.
If you feel a couple of days will suffice, well, I'm going to enlighten you - it ain't. You won't even get around to seeing all of the places of interest in Melbourne in your 5-day itinerary, but you'll definitely get a better feel and gist and will leave with slightly less fomo. I mean, when is a couple days ever enough in any city? So, if it's within your means, I would definitely try and stretch your time in Melbourne because there is so much to uncover in this vibrant city and beyond.
Don't hop away just yet. Take a look at the rest of our Melbourne travel guides:

Did this guide help you plan your Great Ocean Road trip? Sign up for exclusive Melbourne guides.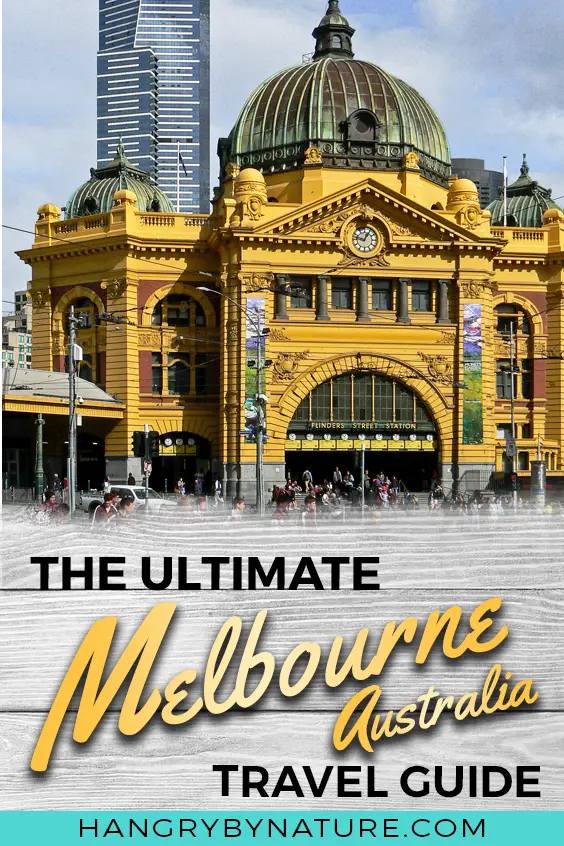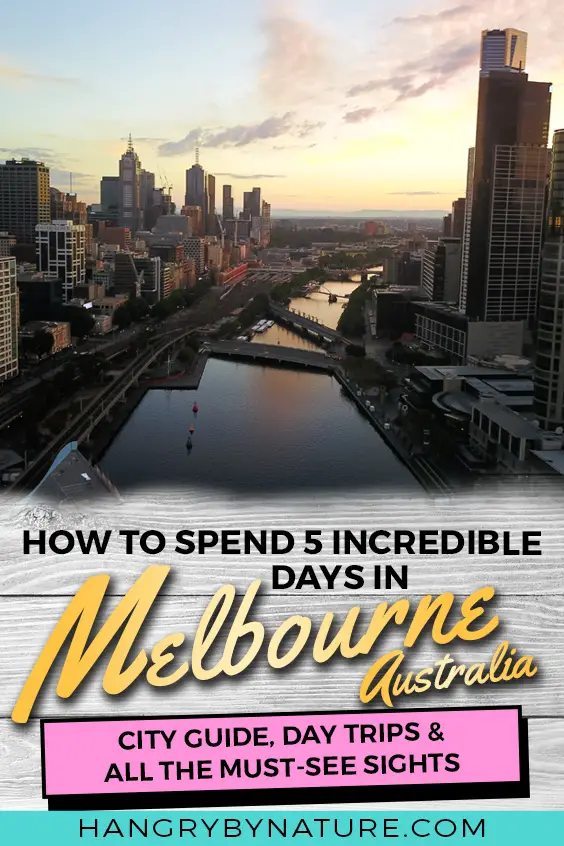 Resources to help plan your trip to Melbourne:
Visit our Travel Resources to find the best deals on flights, accommodation and attractions. We love and use these services ourselves to plan all of our family trips - they save us a ton of time and money.
Sweet accommodation deals for you:
For ideas on what to pack for a family trip, check out our gear and accessories that we take with us on every single trip.
Come say hi to us on YouTube, Instagram and Facebook. I promise we're funny and resourceful. At least, I like to think so.
Which attraction from the list above are you most likely to visit in Melbourne? Tell us in the comments below.