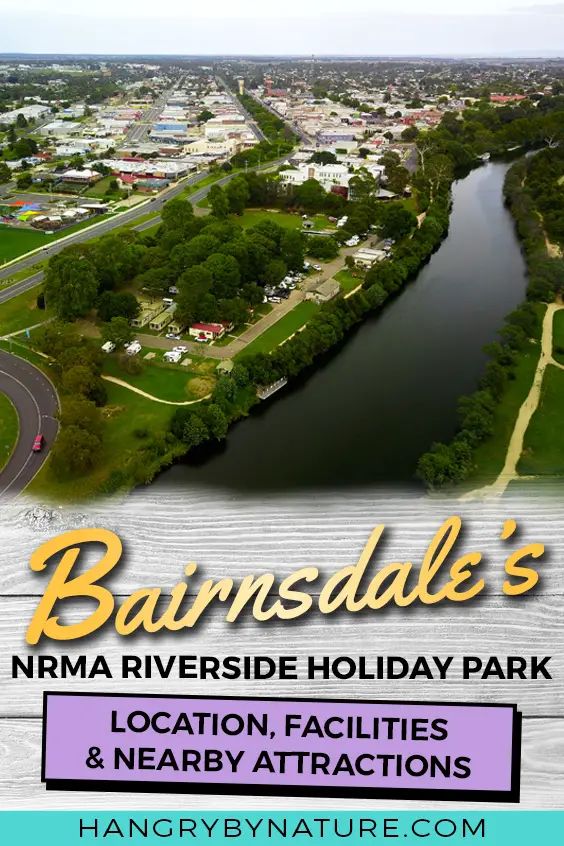 Searching for the best Bairnsdale caravan park? Let me end your hunt here and introduce you to NRMA Holiday Parks & Resorts – perfectly located with all the facilities you could possibly need.
Look, I'll be real. I'd never considered basing ourselves in Bairnsdale since most people tend to stream towards Lakes Entrance when planning a trip to Gippsland. Initially, I thought the same. Lakes Entrance is where it's all at, isn't it?
The reason we decided to situate ourselves in Bairnsdale to explore the magnificent Gippsland Lakes is because of the town's perfect midway location. We didn't just want to hang around Lakes Entrance, we wanted to go beyond and uncover all the exciting and beautiful attractions of the region. From Ninety Mile Beach to the Buchan Caves, Bairnsdale proved to be a great base to drive out to all the sights we wanted to see.
So, if you're considering a Lakes Entrance camping trip or simply want the scoop on the Bairnsdale caravan park, you'll find all the ins and outs, plus all there is to do in this town and region in this post.
Why stay in Bairnsdale?
Okay, let's get this started on the right foot because I didn't learn the pronunciation of the town's name until we had arrived and two days in, I realised that I had been mispronouncing it all along. Bairnsdale is pronounced 'Bans-dale'. Here I was waltzing around calling out Barns-dale. Whoops. Phew, now that we got that cleared up, we can proceed.
Earlier, I mentioned that it's a perfectly located base to explore the Gippsland Lakes, but to what attractions you might ask? It's a short 15-minute drive to the charming waterside village of Paynesville, 30 minutes to picturesque boating and fishing village, Metung, and 40 minutes to Lakes Entrance.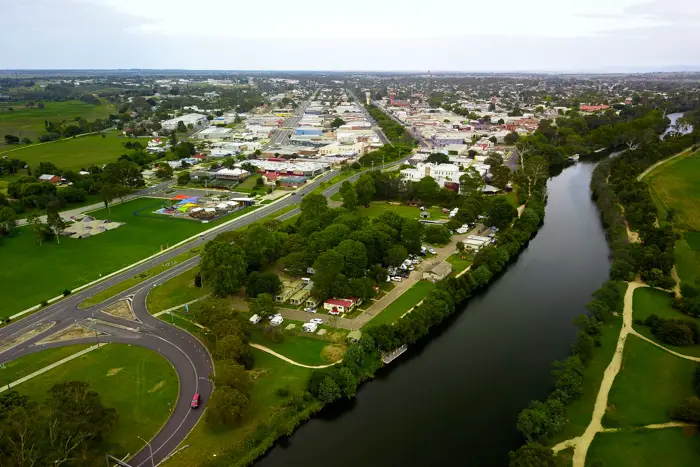 Location
Bairnsdale also provides easy access for those looking to venture to the Alpine National Park, with Mount Hotham only a 2.5-hour drive away. You could literally conquer the beach and mountains all in a days' work.
If you're staying at NRMA Bairnsdale Holiday Park, rest assured, you can acquire all of your groceries from the town's large supermarkets – take your pick between Woolworths, Coles or Aldi. You'll also find a Kmart, Spotlight, Harvey Norman, Chemist Warehouse, and all your major bank branches.
To see more of what Gippsland has to offer and all the must-see attractions, peep our video guide to the region.
WATCH: 8 Must-See Places in Gippsland
Food, glorious food.
Stuck on where to eat? Fear not. There are enough food choices to keep you munching for days.
Hendo's Cafe provides a warm and friendly environment for those seeking a soul-filling, hearty breakfast.
Lake Whadie Cafe caters for brunch, lunch and dinner-goers, serving up flavoursome Indian-inspired dishes that'll have you craving to come back for more.
Grand Terminus Hotel is a great choice for families who fancy themselves some good ole Aussie pub food – parmas, burgers, fish and chips – that trusty old lot.
Best Travel Guides for Victoria & Australia:
NRMA Bairnsdale Caravan Park: The Experience
Yup. NRMA Bairnsdale popped our holiday park cherry – and, we are so very thankful. Mind you, we're no caravanners or campers, we tend to stick with traditional forms of accommodation, but we had to uncover (for ourselves) what the hype was all about.
The best thing? Holiday parks have accommodation that caters to everyone's tastes and budget. If a safe spot to camp is all you need – they've got you covered. Plus, you won't have to dig your own hole to dispose of 'waste'. Clean toilets, bathrooms and kitchen facilities are readily available. Want the camping/outdoor experience mixed in with the comforts of home for your own personal use? No worries. Check into a cabin or cosy holiday unit to enjoy all of the perks of the property in the privacy of your own place.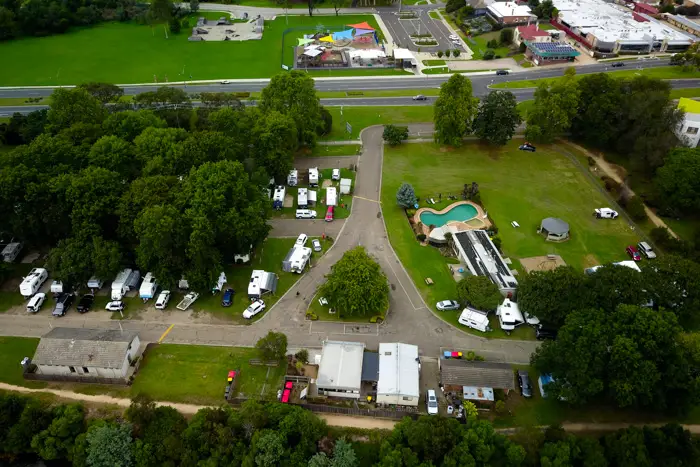 For us, the best part about staying at the NRMA Bairnsdale caravan park was meeting other families, letting all of the kids run wild in a safe environment, and conversing about the one thing we all love the most – travel. Where have you come from? Where are you going? And exchanging hidden gems that were stumbled upon and how awful enriching it is to travel with kids.
There's also the factor of stepping outside your door and there you are, surrounded by the beauty and serenity of the outdoors. That's not usually a feeling you come by when staying in hotels or apartments.
For the best deals on accommodation in Bairnsdale, do a quick comparison below.
NRMA Bairnsdale Caravan Park: Accommodation Options
If you're on the lookout for family-friendly Bairnsdale accommodation, then look no further. This is it. Set on a large green space by a scenic riverbank, NRMA holiday parks provide choices for all types of holiday-goers.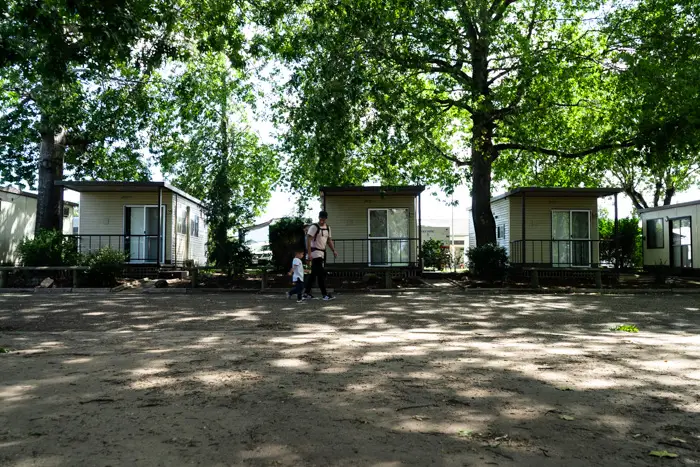 2-Bedroom Holiday Unit. This, guys, was my cuppa tea. After a days' worth driving and exploring Gippsland Lakes, this is where we came back to stretch our legs, cook up a barbie and have a restful night's sleep. A self-contained bungalow-style home featuring a main bedroom with a double bed, 2 sets of bunks in the kids' room, bathroom with a shower and basic amenities, like soap and shampoo, and a very well equipped kitchen that awakened the dormant cook inside of me. The TV and DVD player were also a bonus and kept the little minions quiet when I needed to cook. The highlight? Breakfast on the veranda on sunny mornings whilst immersing ourselves in the sounds and breeze of nature while the kiddos played soccer on the grass.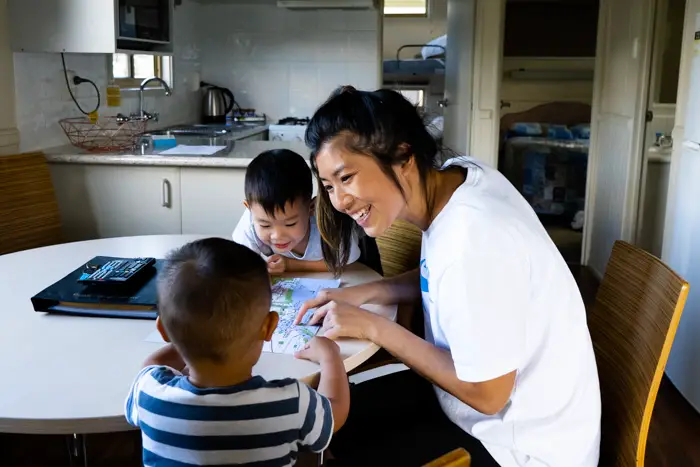 For small families or couples, the 1-Bedroom Ensuite Cabin provide the same comforts as the larger unit, but on a smaller scale and with a kitchenette instead of a full kitchen. There's also a simple Cabin for those who aren't fussed about having a private ensuite since they are located close to amenities, such as shared bathrooms and BBQs.
But, of course, a holiday park wouldn't be a holiday park without caravan and camping spots. Depending on your requirements and budget, you can choose between powered and unpowered sites for your tent or caravan. Communal amenities are nearby and super easy to access and use.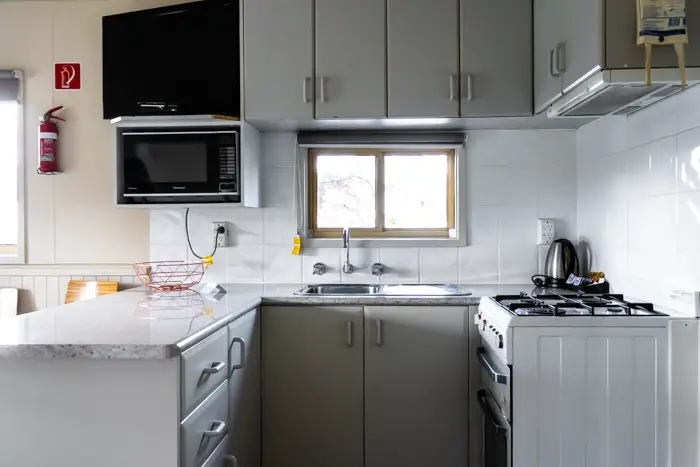 NRMA Bairnsdale: The Grounds, Facilities & Amenities
Dive into the swimming pool or plunge into the Mitchell River – the choice is yours. Personally, I'd pick the refreshing pool with all the tropical vibes and maybe a fish for dinner from the river. Surrounded by lush greenery and shrubs, the Bairnsdale riverside holiday park makes for a peaceful nature escape right on the edge of town with easy access to all of East Gippsland's breathtaking attractions.
Roll out a picnic on the grass or along the walking track by the river, there's an abundance of green space to revel in. Otherwise, make use of the communal BBQ pit or camp kitchen that all visitors can enjoy.
For caravanners and campers, there's plenty of bathrooms and toilets on the property that are clean and well-maintained.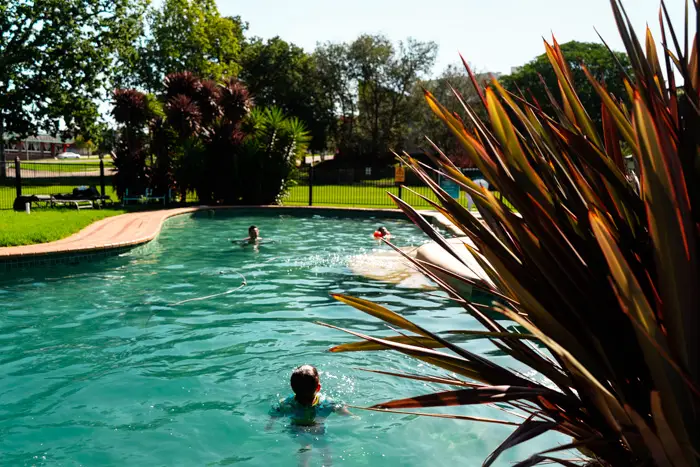 Evenings in country towns are preeetty uneventful, hence, why our survival tactic was to horde all the boardgames and DVDs from reception to make it through the quiet evenings with overactive kids. Okay, I maybe just hogged 1 or 2 games, alright? So, if you run out of ideas on how to entertain the little ones on rainy days or quiet nights, skip down to the office and pick from their collection of movies and family games.
Additionally, the property also has free wifi (praise!) and you can also bring your furry family member along if you are camping or caravanning. How awesome is that?
Although there's no playground on-site, rest assured, there's a massive outdoor playspace and skate park directly across the road from Bairnsdale caravan park. Suitable for all ages, the Bairnsdale All Abilities Playground also has its own toilet and baby change facilities, as well as BBQs for public use.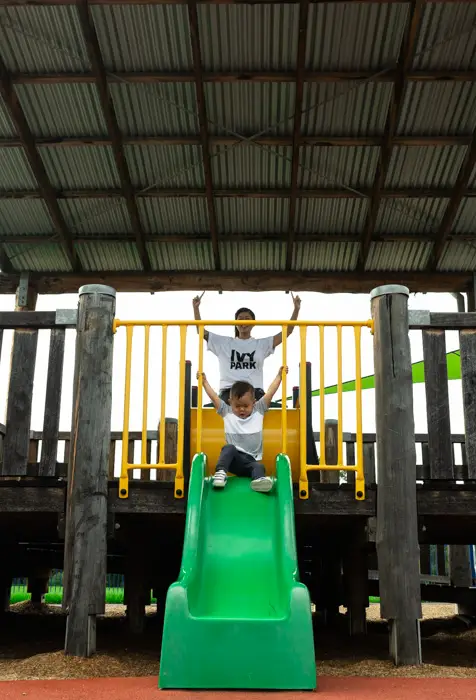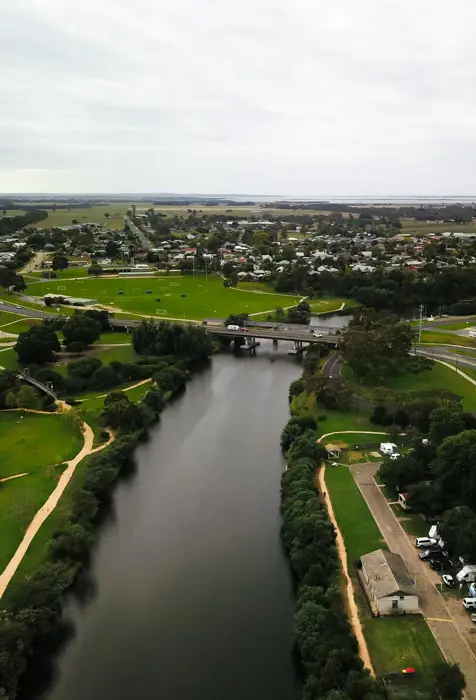 Bairnsdale: What's Nearby?
Bataluk Cultural Trail. Follow the route from Won Wrong through to the Mitchell River National Park that takes you on a journey through 30,000 years of Indigenous Gunaikurnai history and culture. Stumble upon scarred trees, relics and sacred sites, and learn about the first inhabitants of the Gippsland region.
St Mary's Catholic Church. Not exactly what you'd expect to see in a small country town, this Romanesque-style church is one of Bairnsdale's hidden gems and well worth a visit – religious or not. Adorned with exquisite ceiling paintings and stained glass windows, St Mary's is likened to the grandiose of the Sistine Chapel (but on a smaller scale), and an absolute must-see when you're in town.
Paynesville and Raymond Island. Only a 15-minute drive from Bairnsdale, this corner of the region is easy to explore in a day's work. Jump on the free passenger ferry that'll you take you to Raymond Island, famously known for its free-roaming koalas. Follow the Koala Trail as soon as you hop off the ferry and look up to spot these iconic Aussie animals eating or sleeping high up in the gum trees.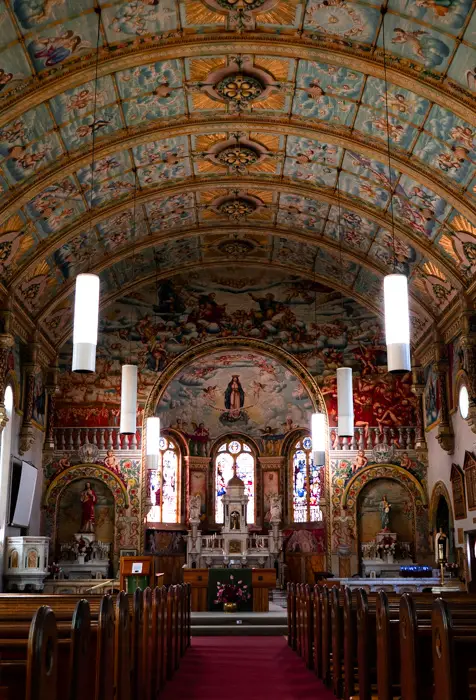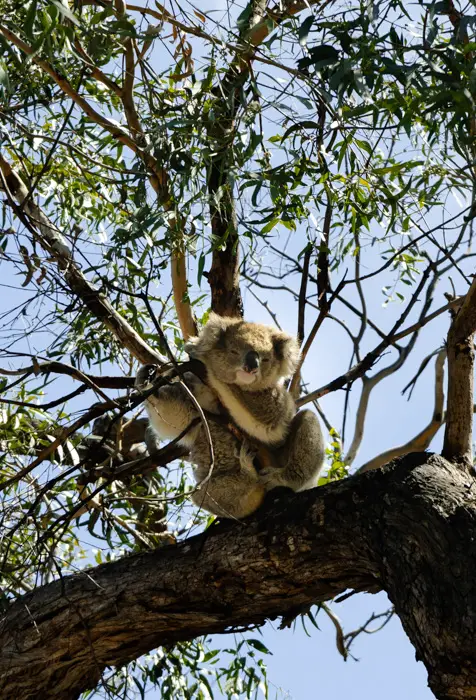 Mitchell River Walk. A leisurely 1-hour stroll along the picturesque riverbank, the trail is an easy gradient, making it a comfortable and scenic walk for families with young children.
East Gippsland Rail Trail. Up for some serious cycling or a loooong hike? This epic trail is 124km long and not recommended if your fitness level is a laughable subject (eg. me). Meandering through the foothill of the Australian Alps, the trail leads through dark tunnels, scenic bridges and the magnificent Historic Trestle Bridge in Nowa Nowa.
Bairnsdale Fun Park. Suitable for all ages, the amusement park stretches over 10 acres of space that young and old can enjoy. Pop in for fun activities, like – mini golf, laser tag, bungee trampoline, gold driving range, go-karts and stacks more. The best bit? Entry is free. Yes, you heard right. Rides and activities do incur a charge.
East Gippsland Art Gallery. Discover the centre of visual arts in East Gippsland, this creative space offers dynamic exhibitions and cultural experiences curated by local artists for the whole family to enjoy. Oh, and entry is, once again, free. Hooray!
Discover some of what the beautiful region of Gippsland has to offer on a day tour:
So, there you have it. The best Bairnsdale accommodation option for outdoor-loving families. Hopefully, this guide has given you a better insight into NRMA Bairnsdale Riverside and what it's like staying at a holiday park. Let me know in the comments if you're also new to this experience and looking forward to popping this cherry or if you're a seasoned holiday park hopper and have some insider tips and guides.
Want to discover more weekend trips and family getaways in Victoria?
Resources to help plan your trip to Bairnsdale:
Visit our Travel Resources to find the best deals on flights, accommodation and attractions. We love and use these sites ourselves to plan all of our family trips. Trust me when I say – they'll save you a ton of time and money.
Sweet accommodation deals for you:
For ideas on what to pack for a family trip, check out our gear and accessories that we take with us on every single trip.
Come say hi to us on YouTube, Instagram and Facebook. I promise we're funny and resourceful. Or, I might be the only person on this planet to think so.
Like it? Pin me.