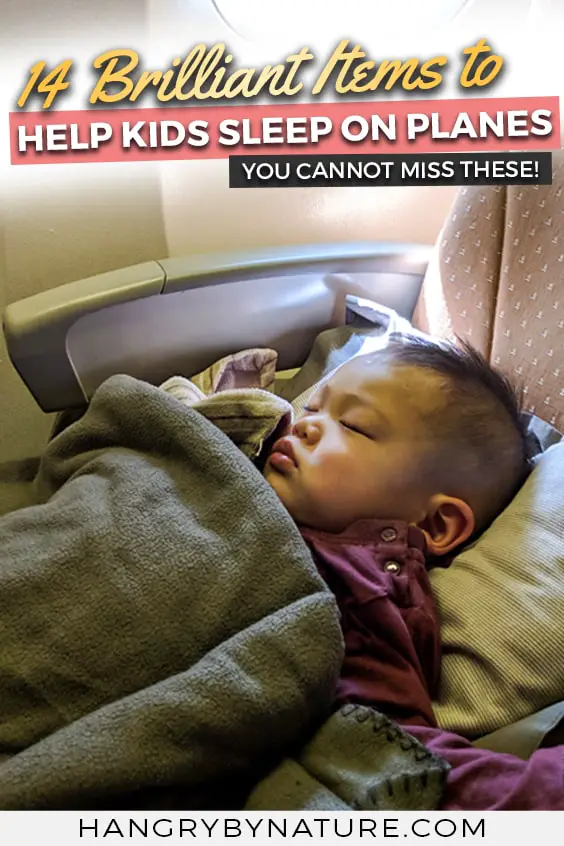 On a desperate hunt for the best toddler bed for plane travel so that your little one can catch some snooze, and you can get around to enjoying some Vino and in-flight entertainment?
We got your back on this one. Having miraculously survived a 22-hour plane trip from Australia to Germany without a wink of sleep because our toddler was either, a) sleeping on us, or b) circumnavigating the cabin for the 52nd time; we vowed to never undertake a trip like that again without some kind of intervention.
The intervention came in the form of an inflatable leg rest that allowed our toddler to lie flat and sleep in his own seat. Voila. No drooling kid on our laps or awkward sleep positions. We were free wile away our time catching up on the latest flicks or stress drinking ourselves to relaxation with free booze.
Without further ado, we present to you the best toddler airplane bed (in no particular order) to save your next family holiday.
Toddler Airplane Bed: Common Questions
We almost gave up on traveling. No kidding. Flying with a baby and toddler is our worst kind of nightmare, like, if we lived in a Harry Potter world, our 'boggart' would literally take the form of our two kids in an airplane.
Why buy a toddler airplane bed?
In a nutshell, a toddler bed for plane travel fills the gap in the leg space between your seat and the one in front. That way, babies, toddlers and kids can rest their legs comfortably (or even lie completely flat) and catch some snooze.
What type of airplane bed for toddler do I need?
It all depends on how much you're willing to pay, essentially, they all do the same thing. Whether you get an inflatable airplane bed, baby airplane hammock or a kids' suitcase that converts into a bed, at the end of the day, they serve the same purpose.
However, from our years of travelling with kids, we do have a favourite which we've reviewed below.
Read a full review of our top pick: 5 awesome features of the JetKids BedBox.
Want more exclusive family travel tips & guides?
Are airplane toddler beds allowed on flights?
It depends on which airline you're flying, as the rules differ. Currently, leg rests are banned on Emirates, Qantas, British Airways, Virgin Atlantic and Thai Airways. Be sure to check with your airline before bringing one onboard.
Is an inflatable airplane bed easy to set up?
Generally speaking – yes. Cheaper inflatable leg rests don't tend to come with a pump, meaning that you'll have to call upon the husband to exercise the air capacity in his lungs.
Pay a little extra for a Fly Tot and you might just save yourself from a cardiac arrest, thanks to the foot pump that's provided.
How do you carry them onboard?
The downside? You'll have to make space in your carry-on luggage for an inflatable plane bed. They do occupy a lot of space. Be prepared to pack minimal.
Something like a JetKids Bed Box counts as kids' carry-on luggage, which won't take up your own luggage space and allowance.
Best Airplane Bed for Toddler: Quick Comparison
Refer to the table below for a quick overview and comparison of the best toddler airplane bed, ranked according to price and practicality.
10 Best Toddler Beds for Plane Travel & Other Sleep Aids
1. JetKids BedBox Ride On & Toddler Bed for Plane
This is the mother of all kids' suitcases and our absolute favourite accessory to take with us on our travels. The JetKids BedBox is a genius multifunctional ride-on suitcase that converts into a toddler airplane bed.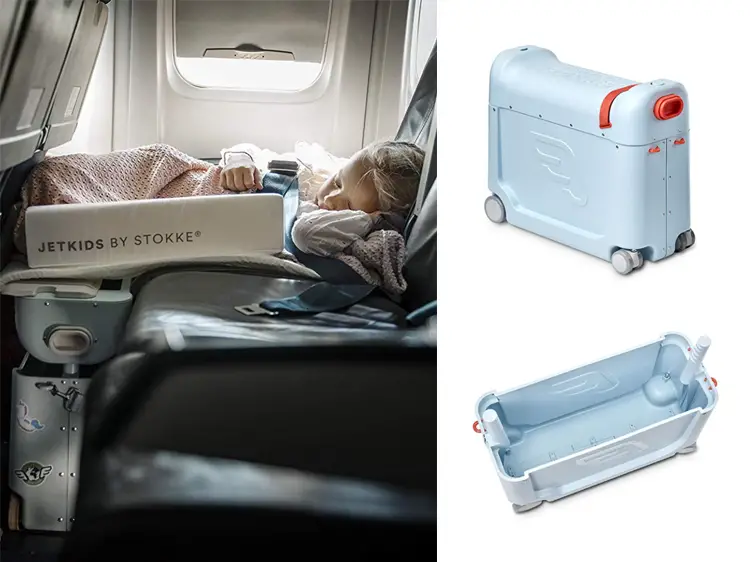 Its 3-in-1 functionality allows for it to be used as a ride-on suitcase, toy storage and toddler bed for plane travel.
This makes it easier to overcome jet lag with a baby or toddler seeing as little rascals will be well rested after a proper lie-down snooze.
For an in-depth look at the JetKids Bed Box, take a look at our full review.
2. Fly Tot Inflatable Airplane Cushion
The Fly Tot inflatable airplane cushion is a super light and more economic option when compared to the JetKids Bed Box. It deflates in seconds and fits snugly inside carry-on luggage.
In flight, it converts your lucky little kiddo's economy seat into a business class recliner, making it the perfect toddler bed for plane travel. 
The handy foot pump that comes with the set makes inflation super quick easy and, safe to say, no risk of going into cardiac arrest from vigorously trying to blow it up with your mouth.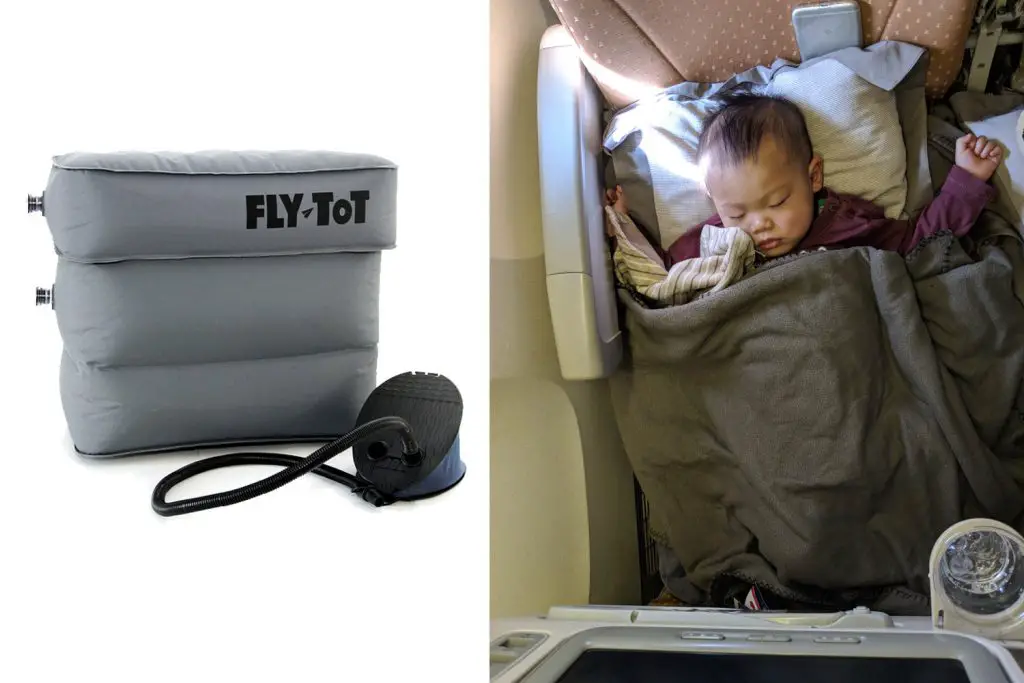 3. Cheap Inflatable Leg Rest
This super affordable inflatable toddler flight bed is the most economic option when compared to all other leg rests.
Of course, there's a downside to the cheap price. You'll need to inflate the cushion using your mouth, so if your oxygen capacity is close to non-existent (like mine), you might just pass out. But, that's what husbands are for, right?
That being said, an inflatable leg rest is still the best form of toddler bed for plane travel, and your best bet when it comes to coercing your toddler into catching some snooze on a long haul flight. 
4. MuuHoo Ride On Suitcase
Similar to the JetKids BedBox (albeit at almost half the price), the MuuHoo ride-on toddler suitcase folds out into a toddler airplane bed, allowing kids to lie flat and fall into a slumber.
This cute little suitcase packs a lot of punch – it features 20 litres storage capacity and holds up to 60 kg (130 lbs) in weight. I honestly wouldn't be surprised to catch parents rolling around and ripping doughnuts on this bad boy (100% me).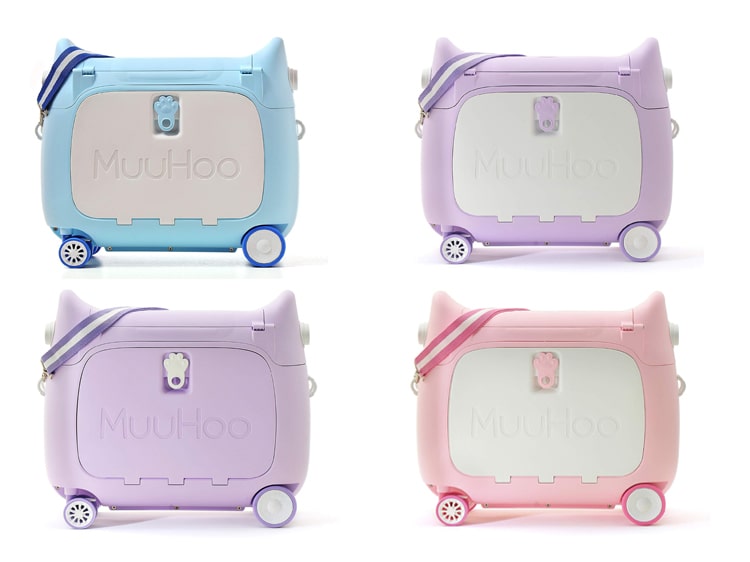 Browse more Airplane Leg Rests:
5. Toddler Carrier or Sling
Truth be told, we wouldn't know where we would be without our Tula toddler carrier. Crying in the gutter in a foreign country somewhere. Actually, no. Probably at home not travelling. Ever.
Carriers are a godsend on airplanes when you need to restrain an overtired toddler throwing an epic tantrum. They're a godsend when your baby doesn't take to the bassinet. They're a godsend to keep little ones calm during take-off and landing (provided the airline allows it).
We've only ever owned Tulas because of their front-and-back carrying abilities, plus, the toddler size holds up to 27 kg (60 lbs) weight. We still carry our 4-year old in it when we need to scurry along somewhere.
6. Travel Neck Pillow for Kids
We've tried a bunch of neck pillows – cute ones, bean ones, suspended ones (don't ask) – you name it, we've had 'em. Bottom line – our kids end up throwing them on the floor. 
Oh, but not the BCOZZY neck pillow. The two arms overlap, cradling the head and preventing little chins from dropping forward. Its unique shape and secure feel provide little ones with an overwhelming sense of comfort.
Say goodbye to wild, flailing toddler heads. They even come in adult sizes so that parents can enjoy some much needed sleep.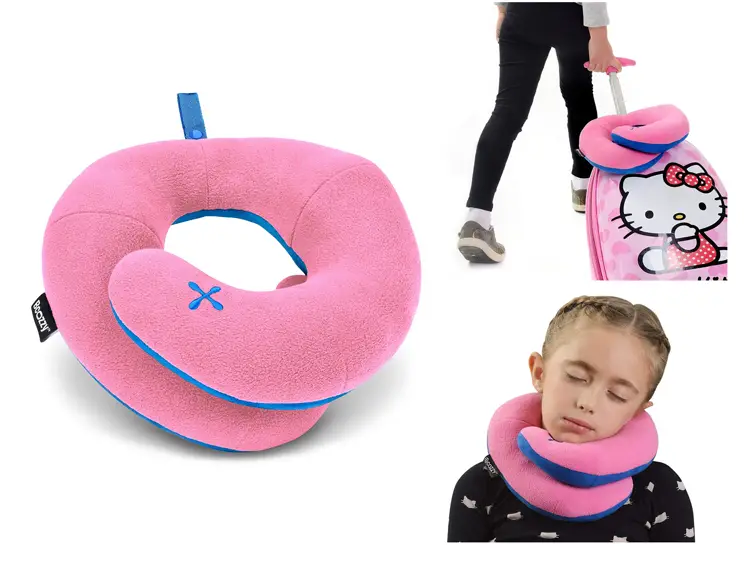 7. Plush Toddler Pillow
I know – some of you might think this is a little OTT, but bringing along our own toddler-size pillow on holidays (and even long-term travel) is one item we do not regret lugging along.
The Dreamtown Toddler Pillow is perfect in size and easily fits into any suitcase. It's 100% hypoallergenic, mould-resistent and washable.
Sometimes, kids just need a slightly larger pillow than the ones provided in-flight to get more sound sleep. Plus, it's great for use in cars, Airbnbs and hotels when you have *ahem* trust issues with their bedding.
Browse more Toddler Travel Pillows:
8. CozyPhones Headphones for Kids
Tired of repeatedly readjusting loose headphones onto little toddler heads? I know the feeling. I've been there. It's almost made me bang my head repeatedly against the emergency exit door on airplanes from mounted frustration.
CozyPhones will save your sanity. This genius headband invention features built-in speakers that actually stay on your kid's head. 
Compatible with most devices, the built-in speakers are volume-limiting to protect little ears, comfortable and foldable so you can take them on adventures near and far.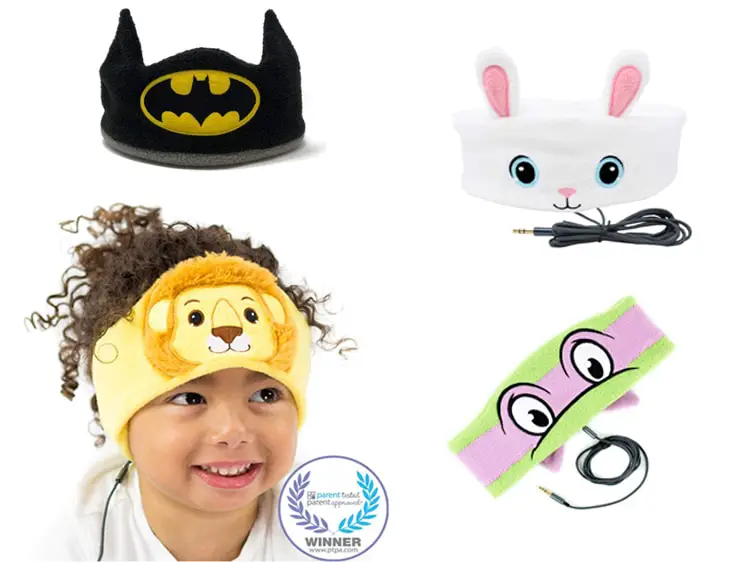 Psst.. New to Airbnb? Get $40 travel credit when you book your first stay!

9. Baby Banz Earmuffs
If your little intrepid traveller has sensitive hearing and gets easily spooked by loud noises, then a set of Baby Banz Earmuffs might just do the trick.
These soft and comfortable earmuffs are specially made for infants and toddlers to protect little ears from loud noises – be it at the airport, on a daytime flight or when you're travelling to bustling cities with non-stop traffic noise.
Alternatively, you can also get disposable airplane earplugs for kids if you don't need one for the long run.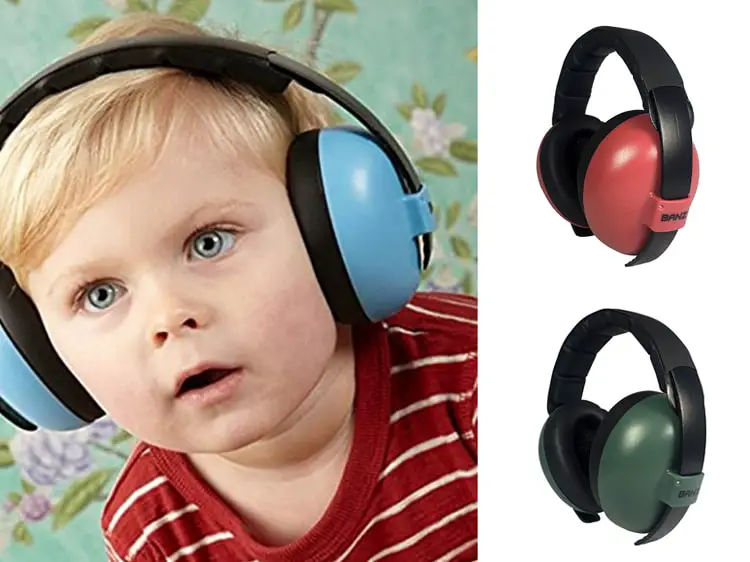 10. Saline Nose Drops
The downside of airplane travel? Dry cabin air. Our kids tend to get congested during longer plane trips, so we always make sure to pack a few bottles of saline nose spray to help relieve stuffiness and dryness.
Saline spray helps moistuside and flush out gunk in kids' nasal passages, in turn, helping them sleep easier. Pair it up with a NoseFrida Snotsucker to really clear out all the boogers, and you've got yourself a winning combination.
See more Baby Travel Essentials:
11. Baby Sleep Pillow Spray
Okay – hold up. Before you storm off in an outrage and start calling child services; it's not what you think it is. This baby sleep spray is totally legit. You can even use it on your husband if he's irritating you. But you didn't hear that from me.
Little Sleepy Head Sleep Spray is made from natural essential oils with the calming scent of lavender that helps lull little ones to sleep. It's ultra gentle, 100% natural and completely safe to use. Simply spray it onto their pillow or soft toy to help them relax and fall into a peaceful slumber.
12. Round Pet Cushion
Look, I know this sounds questionable and you're probably raising your eyebrows right now, but I promise I'm not asking you to smuggle your fur friend onboard to lull your kids to sleep.
A savvy (or desperate) mum came up with this genius hack that helped ease her kids into comfort. Round pet beds usually have a heavily padded border, which serves really well as extra cushioning.
In turn, this allows kids to lean against hard armrests comfortably without even noticing them much. A pet cushion can also serve as a leg rest or warm cover to help little ones feel safe and cosy in flight.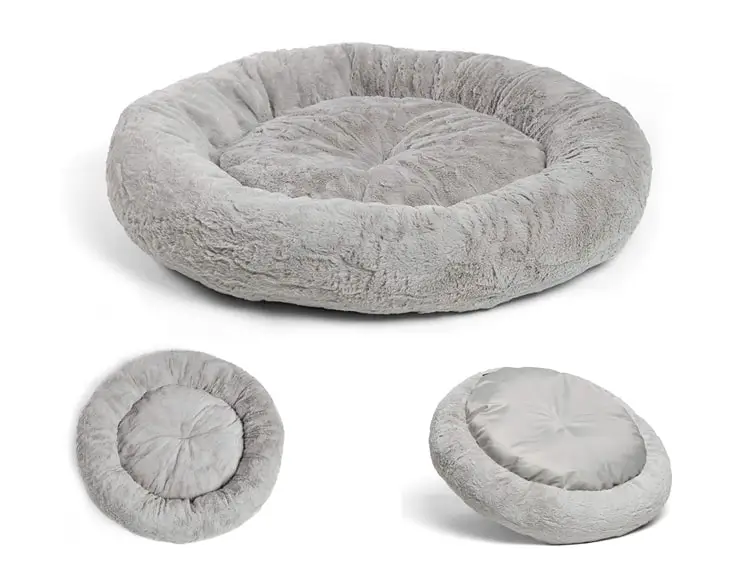 13. Roll-Up Travel Nap Mat
Ever wished that you could roll out a mat and take a nap just about anywhere? Although it's not entirely socially acceptable for adults to do so – your lucky little kids can with one of these adorable Disney nap mats.
These genius roll-up mats are the ultimate all-in-one travels beds, featuring a built-in pillow, blanket and carry strap. Oh, and your toddler's favourite Disney character, of course.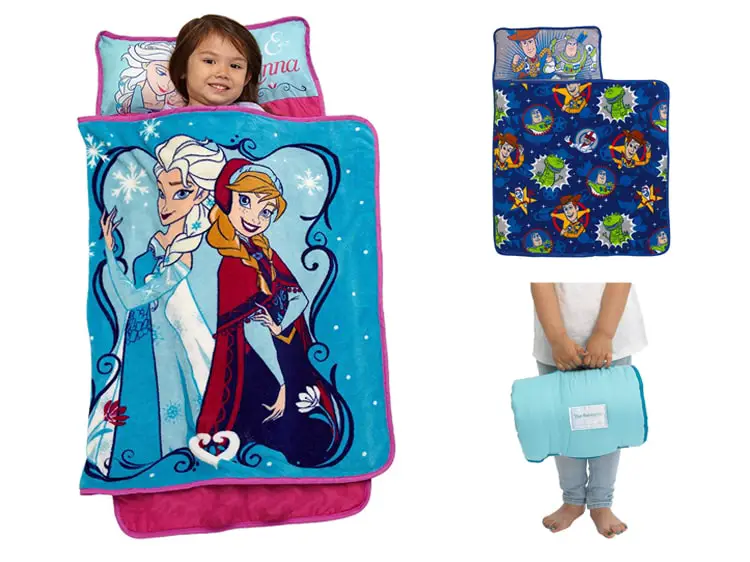 14. Snacks & Food
Let's be real – the most effective way of putting kids to sleep is to have them fall into a blissful food coma. Feed them, you know, those carb-heavy snacks that promote the release of serotonin (AKA sleep hormone), so that they, you know, pass out. 
Stay away from sugars that'll have them bouncing off the cabin walls – trust me, there's no nightmare worse than that. Here are our boys' favourite healthy travel munchies:
Lightly salted popcorn
Dried fruit and nut mix
Corn or rice crackers
Crackers with hommus dip
Got more clever tricks to get toddlers to sleep on planes?
Feel free to share them in the comments below.
More Popular Guides for Travelling with Kids
Like this post? Share on Pinterest.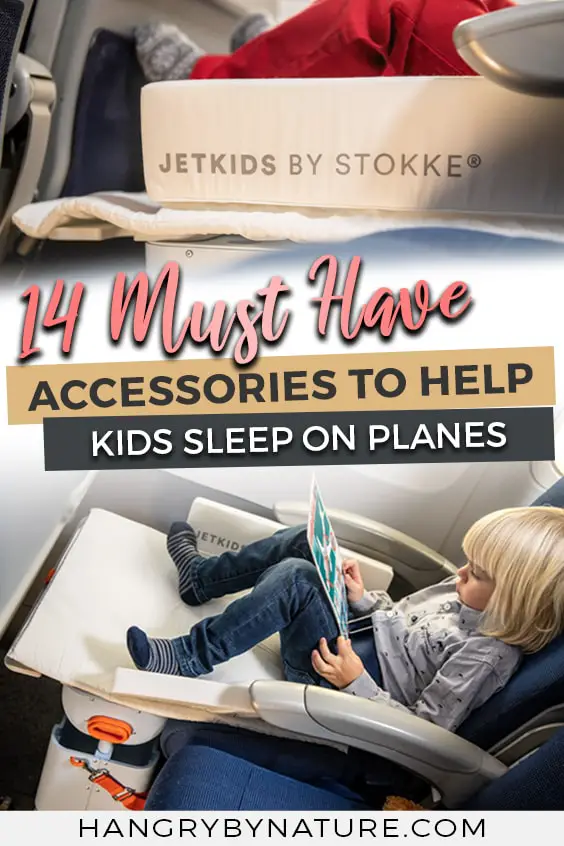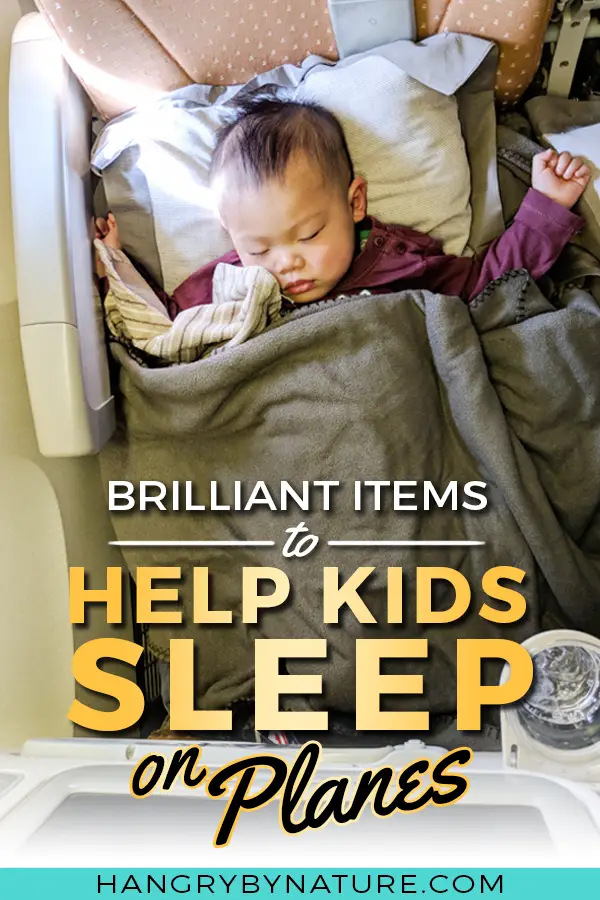 Save Money Planning your Family Trip
Take a look at our Travel Resources to find the best deals on flights, accommodation and attractions. Find mistake fares, the cheapest date to fly each month, hotel and apartment savings, plus where to buy the cheapest tickets for attractions.
Looking for a sweet accommodation deal? You're in for a treat.
Come say "HEY!" on Instagram or Facey. I like to think I'm a self-proclaimed comedian, all the while providing some lit AF travel tips. You be the judge.