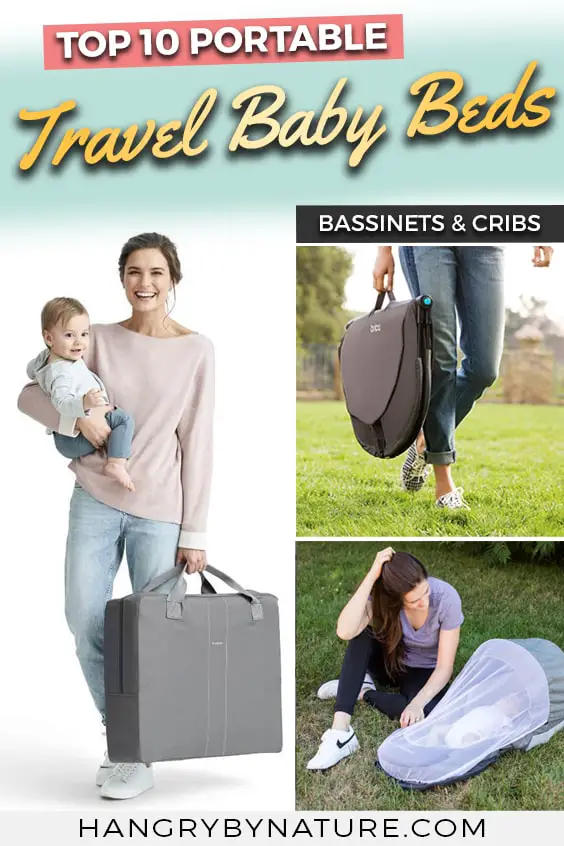 So you're travelling with your itty bitty bundle of joy and need the best portable baby bed to suit your holiday style? Gotchu covered, boo. Here's a list to get you choosin' for every type of budget.
Travelling with babies or kids is a whole new ball game. I get it. I mean, it was probably tough enough to stay within the luggage allowance in your solo travelling days. Now you've gotta lug around bulky items that make you stress harder than Trump on election day, like, prams, car seats, a portable baby cot and not to forget, a suitcase dedicated entirely to diapers. Parenting is a harder struggle than trying to sit through your worst ever Tinder date on repeat for 18 years.
As much as I'd love to fluff up the prospect of travelling with kids and proclaim to you guys that "it's, like, the best thing everrr." The hell it is. You'll probably need to photoshop the pitch black swollen circles beneath your eyes out in your travel snaps. For the most part of the day, you'll probably be jittery and overcaffeinated, potentially on the brink of a mental breakdown.
It sounds like a B-grade horror movie. I know. At least, if you're armed with the best portable baby bed that you can plop your bundle of joy into for some sound sleep after a hard day of city explorations and searching for diaper change tables in a foreign country - you might just forget about the woes of travelling with babies and kids.
Best Portable Baby Bed Comparison 
For a quick squiz at the best portable baby beds of 2019, feast your eyes on the table below comparing age suitability, weight and price, so you don't break your budget before you've even started travelling.
Portable Cribs: Common Questions
Do I really need a portable baby bed?
Look, I know. This is a bit of a Captain Obvious question, but on some occasions, you can save yourself the hassle of lugging along another extra item on top of the 17 suitcases and bags you already have to keep track of. Oh, and the wild kids, of course.
Before you go into splurge mode, determine if the hotel, Airbnb or holiday rental you've booked provides cribs. Simply shoot them an email or give them a call if you're in the local area.
What type of portable travel crib do I need?
Most of the time, it comes down to personal preference and whether you're investing into a baby travel bed for long-term use or you want something more practical and lightweight to suit your current situation.
2-in-1 portable cribs (bassinet and crib combo) or playards, are your best bet if you want to them to last until your little bundle of joy turns into an attitude-ridden threenager. However, they do tend to fall on the bulkier and heavier side.
If you're all about light travel and need something significantly more compact for your 0-3 month old baby that can fit into your checked or even carry-on luggage, then a portable bassinet for travel is your answer.
Want more exclusive family travel gear guides & tips?
What age is a baby travel bed suitable for?
Portable cribs, playards and travel cots can be used from birth. However, smaller travel bassinets will usually only fit babies up until 3 months, whereas travel cribs can fit kids up to 3 years.
How do I choose the best portable crib?
Size matters. Ha. That's what she said. Inappropriate? Okay, my bad. Back to the matter at hand. When it comes to travel, smaller is better. Pick a baby travel bed that folds up compact and does not weight equivalent to a baby elephant.
Age is also a factor. If you're travelling for an extended period of time, it's wiser to invest in a travel bed that your baby won't outgrow in a heartbeat.
Easy-to-assemble. Ensure that any assembly-challenged dummy (ie. me) can put it together in minutes. There are cribs out there that require rocket science to put together - you really don't need that kind of hardship in your life.
Safety. The most important factor to consider when making your purchase. Follow weight and height instructions and also check that the bassinet or crib has passed safety tests. The ones we have listed below meet American and European standards of safety and derive from reputable brands with an abundance of positive reviews.
Under $100 Best Portable Baby Bed Reviews
Travel gets a whole lot more expensive when you have a third wheel, AKA tiny human, tagging along. If you're the type of parent who likes to spend more of your travel savings on experiences as opposed to things, you'll be pleased discover these budget-friendly options.
SwaddleMe By Your Side Sleeper
Oh, I get super sentimental when I see the SwaddleMe Sleeper, this was our go-to when we first started travelling with our then 6-week old, who now won't even fit in our largest toddler travel crib anymore. This adorable travel bassinet collapses so that you can fit it into your checked luggage, making it super easy to transport anywhere. Place it on any flat surface or use it as a co-sleeper on your bed, the breathable mesh side panels allow for optimal air circulation and prevents bub from overheating.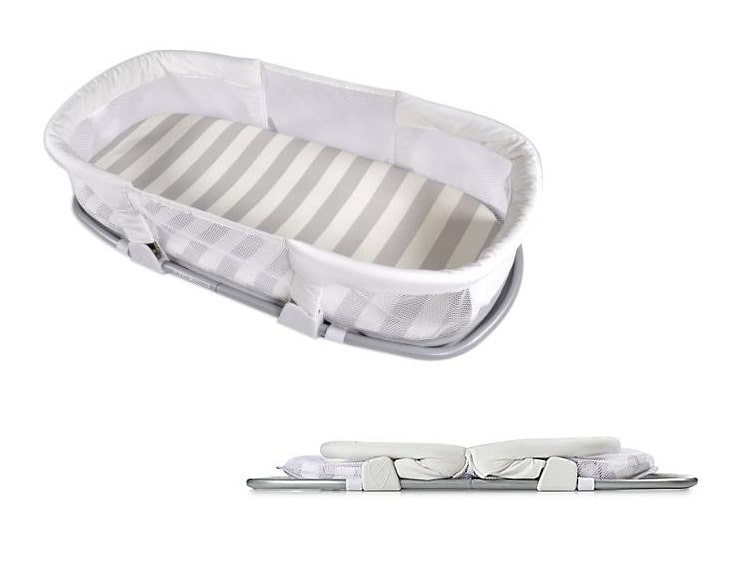 Features:
Folds flat for travel
Provides a clear view of baby
Sturdy metal frame
Breathable mesh sides
Includes washable mattress pad & fitted sheet
Recommended for use from birth to 3 months
Dimensions: 15.5 x 44 x 40 cm / 6.1 x 17.2 x 15.7 in
Weight: 2.7 kg / 6 lbs

Ideal for: Newborn babies, overseas travel, use around the home, warm destinations
The downside? Taller babies will outgrow it in less than 3 months, so you might not get much use out of it. If you're co-sleeping, you'll need a larger bed as the sleeper occupies the space of a person.
Munchkin Brica Fold 'n Go Travel Bassinet
Ever fantasised about a portable sleeper that enables you to take a nap everywhere? I do. All the time. Although no one has yet invented one for adults, it's entirely possible for babies with the Munchkin Brica Fold 'n Go.
This ultra compact and lightweight crib provides baby with a safe and cosy environment for snoozing. The bassinet is made from breathable fabric and mesh, and comes with a water-resistant mattress pad and fitted sheet set allowing for on-the-go comfort.
Best of all? Its slim and lightweight design enables the crib to fold flat for easy storage inside luggage. Plus, the integrated Safe-T-Lock system makes it a breeze to set up and collapse in a matter of seconds.
Ideal for: Young babies who aren't yet mobile, camping trips, holidays to warm destinations, beach outings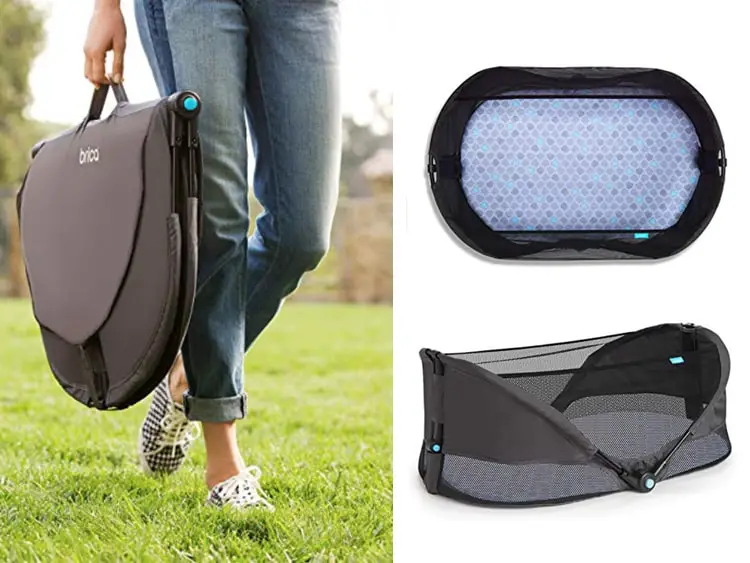 Features:
Super lightweight & compact
Made from breathable fabric with mesh panels
Includes water-resistant mattress pad & fitted sheet set
Folds flat for easy storage & transport
Expands & collapses in seconds
Recommended for use from birth to 3 months
Dimensions: 76 x 30 x 54 cm/ 30 x 11.8 x 21.2 in
Weight: 1.1 kg / 2.45 lbs

Ideal for: Newborn babies, camping trips, beach outings, warm destinations
The downside? The travel bassinet can't be used on an elevated surface and taller babies will grow out of it in 3 months or less.
Baby Delight Snuggle Nest Adventure
Is it a baby crib? Is it a backpack? Is it a diaper bag?
The Snuggle Nest is all of the above. Yes, queue jaw drop.This versatile portable infant sleeper is designed for outdoor adventures, featuring a removable canopy and mesh bug net that helps protect your little ones from insects and other outdoor elements. But, if the great outdoors ain't your cuppa tea, it's also ideal for co-sleeping and indoor use. Complete with storage pockets and a backpack strap allowing you to sling it over your shoulders, this baby.. bedpack really is the all-in-one package.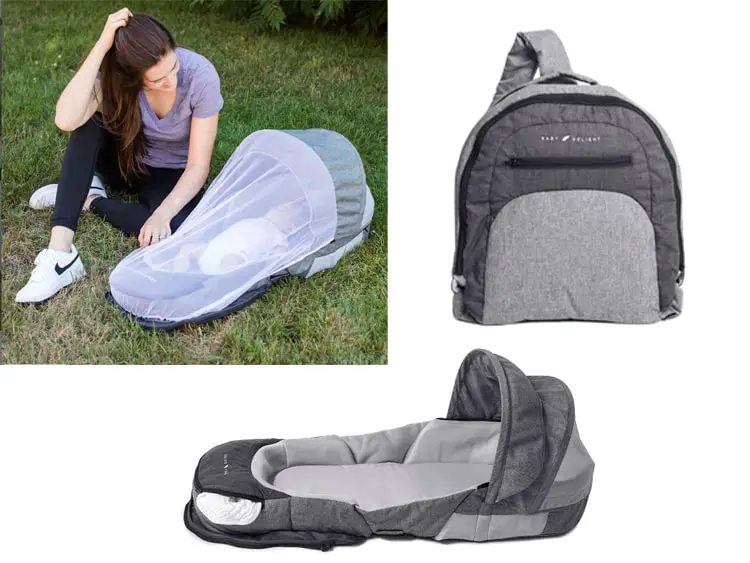 Features:
Folds into a backpack for convenient transport
Removable canopy & bug net
Storage pockets to keep baby essentials
Removable mattress & washable covers
Complies with CPSC/CPSIA safety standards
Recommended for use from birth to 3 months
Dimensions: 90 x 47 x 15.7 kg / 35.5 x 18.5 x 6.2 in
Weight: 2 kg / 6 lbs

Ideal for: Young babies who aren't yet mobile, holidays in warm destinations, camping trips, beach outings
The downside? It can't be used after 3 months, taller babies will outgrow it sooner. The mattress is thin, hence why it's super portable and lightweight.
Lulyboo Bassinet To-Go
The Lulyboo Bassinet To-Go can be used as a portable baby bed for travel, play pen, or changing station wherever your family adventures take you. It also folds into a backpack with one swift motion for easy transportation. It's also unbelievably light and features a waterproof bottom, allowing you to place it anywhere. The only thing we need now is a baby carrier that folds out into a bassinet and can be carried on your back, all at the same time. Kickstarter project, anyone?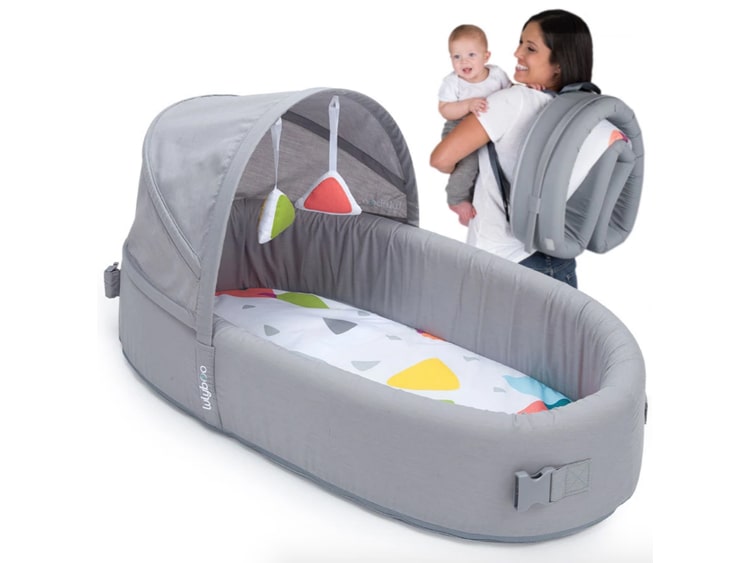 Features:
Transforms into a backpack in a single motion
Only weighs 1.6 kg (3 lbs) - super lightweight & easy to carry
Removable canopy for shade
Includes hanging toy bar & 2 x plush toys for on-the-go sensory stimulation
Waterproof bottom
Can be used as a changing station
Dimensions: 31" x 18" x 6"

Ideal for: Beach outings, picnics at the park, family holidays
The downside? Only suitable for use up to 3 months. To keep it lightweight and portable, something's gotta give so the mattress steers towards the thinner side.
Baby Trend Nursery Center
Okay, so all the travel bassinets above sounds great and all, but.. you need something that lasts longer than a few good months of 'this product is amazing' and before you know it, your bub is plotting an escape route and rolling himself on outta there? The Baby Trend Nursery Center might just be the portable travel bed your bub needs. Granted, it's on the heavier side of life, but in turn, it'll last you well into toddlerhood.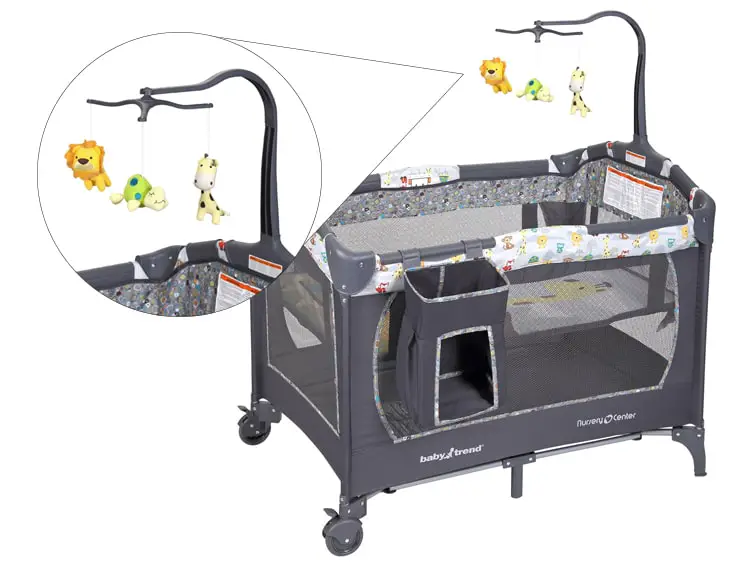 Features:
Removable full bassinet
Includes mobile with toys for sensory stimulation
One-hand locking mechanism
Attachable diaper stacker for baby essentials
Easy to assemble
Recommended for use from birth to 30 lbs
Dimensions: 102 x 71 x 80 cm / 40 x 28 x 31.5 in
Weight: 11.8 kg/ 26 lbs

Ideal for: Road trip holidays, single location travel, use around home
The downside? It's kinda basic-lookin', but hey, for the price - can't complain. It's also much heavier and bulkier than portable bassinets, although it's a longer term investment.
Over $100 Best Portable Baby Bed Reviews
If you've got the cash to splash on a lux portable baby travel bed with a sleek design and wider functionalities, then don't go past these popular options.
Phil&Teds Traveller
Aaaaand.. the award for the ultimate lightweight champion goes to *drum rolls* Phil&Teds portable travel crib. Weighing in lighter than your newborn baby, this ultra portable travel bed has been our best hack on all of our adventures near and far. It fits snugly into our suitcase without creating the need to carry an extra item because - let's be real - your hands are probably tied enough dealing with a baby or toddler. The Traveller also features a self-inflating mattress and side opening that converts the portacot into a playpen.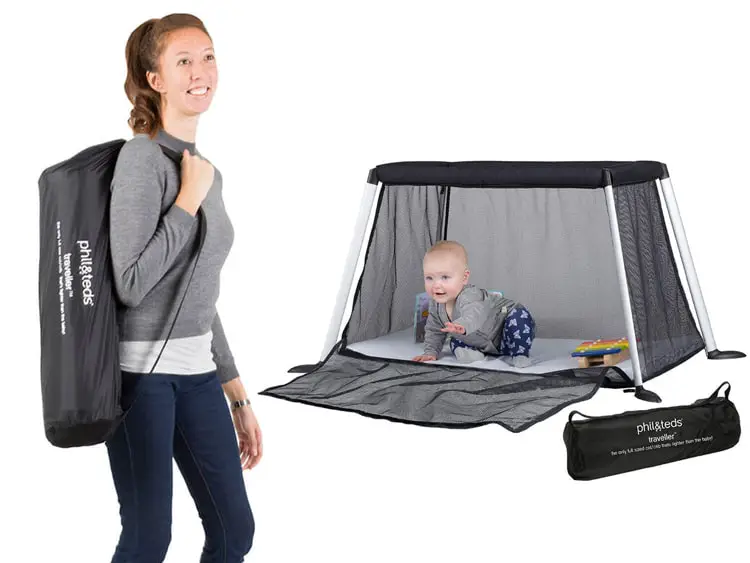 Features:
Full breathable mesh sides
Global safety certification
Thermally insulated self-inflating mattress
Includes fitted sheet made from Oeko-Tex certified fabric
Converts into a playpen with side access zipper
Easily fits into suitcases & small car trunks
Recommended for use from birth until 2 years
Dimensions: 117 x 79 x 63 cm / 25.6 x 7.8 x 7.8"
Weight: 2.8 kg / 6 lbs

Ideal for: Holidays in warm destinations, camping trips, road trip holidays, overseas trips
The downside? Can be tricky to assemble the first time (YouTube videos will do the trick) and some might find the mattress to be too thin due to the crib's compact size.
BabyBjörn Travel Cot Easy
The BabyBjörn travel cot is, undoubtedly, one you'll have come across in all your research. It's, basically, the mother of all portable baby cots that all hip and trendy parents aspire to acquire. It's the perfect slumber companion for trips near and far - set it up in a single move (literally pops open in 15 seconds), add in the mattress and your baby is ready to roll (into dreamy land). Considered one of the most portable baby travel beds, the crib includes a super comfy mattress, a fitted sheet and mesh walls for optimal breathability.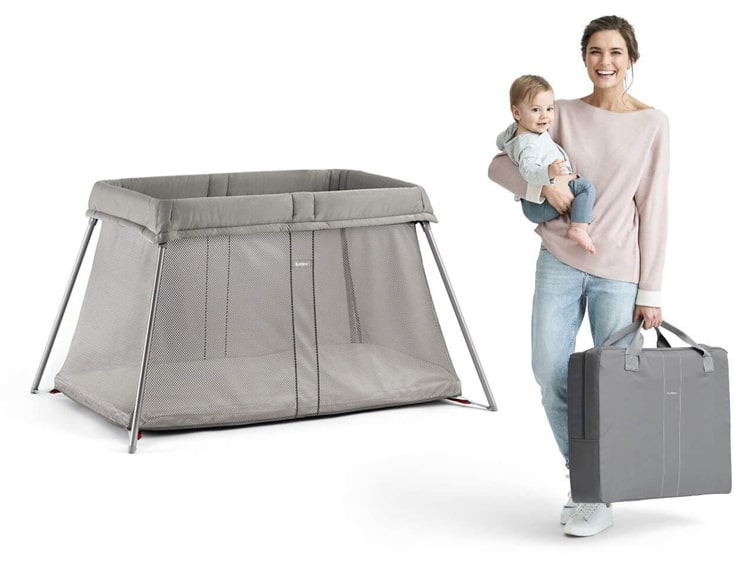 Features:
Easy set up & fold system
Airy mesh fabric
Includes soft & sturdy mattress
Made from Oeko-Tex Standard 100 material
Removable mattress cover & washable cot fabric
Recommended for use from birth until 3 years
Dimensions: 49 x 60 x 14 cm / 19 x 23.5 x 5.5"
Weight: 6 kg / 13 lbs

Ideal for: Overseas holidays, camping trips, road trip getaways, outdoor adventures, grandparents' house
The downside? It doesn't come with a fitted sheet (needs to be purchased separately) and it can be difficult to find the right size sheets for the mattress.
SlumberPod Privacy Sleep Nook
Okay, the SlumberPod is, technically, a tent that sits over a portable baby crib providing your little one with shade and privacy for a night of deep slumber, it's nevertheless, the perfect accessory for camping and outdoor trips with the family. Pair the sleep pod with a travel cot or inflatable toddler mattress and you've got yourself a baby or toddler sleeping through jetlag like a cool morning breeze.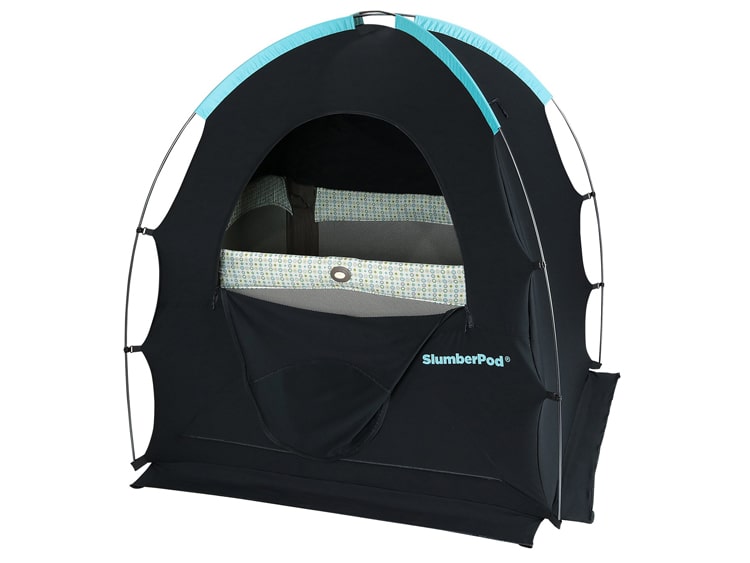 Features:
Lightweight & compact
Fits inside carry-on luggage
Control the amount of light beaming in with the customisable zipper
Zip up completely for near total darkness
Easy to set up & dissassemble
Slips over standard-sized playard or some toddler cots
Dimensions: 127 x 91 x 142 cm / 50 x 36 x 56 in
Weight: 2.6 kg / 5.65 lbs

Ideal for: Camping trips, glamping holidays, use at home to darken sleeping environment
The downside? It can get a little warm inside the pod, so dress your baby or toddler accordingly.
Lotus Travel Crib
The guys over at Guava Family invented a new term for this portable baby sleeper, calling it not just a travel crib, but an 'everywhere crib'. Truth be told, I like the sound of that. It's designed so conveniently that you can, literally, stop, drop and pop it open anywhere. Circumnavigate the globe with it or bring it over to a friend's for dinner - it's so light and easy to transport thanks to the travel carry backpack that it comes packed in. For ultimate convenience, the Lotus Travel Crib will be your go-to.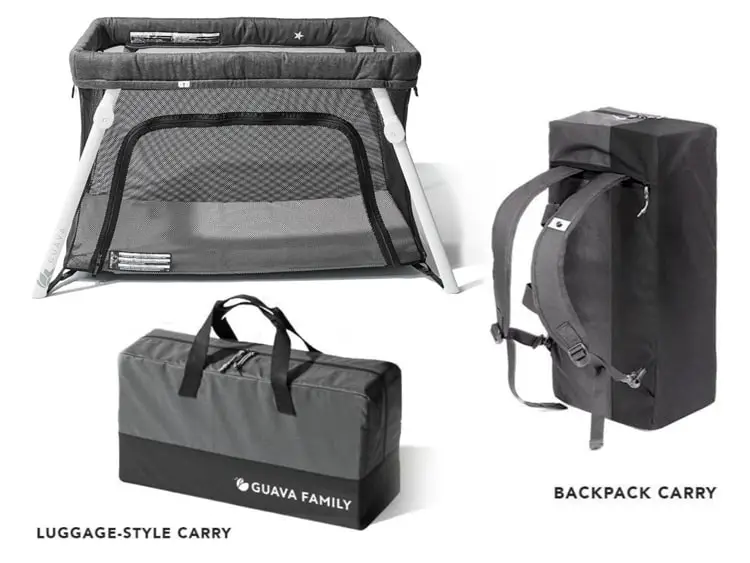 Features:
Insulated, waterproof mattress made out of high quality padding
Converts into playard with lockable side door
Includes hands-free backpack carry bag
Breathable, all-mesh side panels
3D folding aluminium frame
Recommended for use from birth until 3 years
Dimensions: 107 x 61 x 63.5 cm / 42 x 24 x 25 in
Weight: 5 kg / 11 lbs
Ideal for: Overseas holidays, camping trips, road trip getaways, outdoor adventures, grandparent's house
The downside? Thinner mattress compared to BabyBjörn Travel Cot and doesn't come with a fitted sheet.
Joovy Room2 Playard
Need that extra bit of space for your highly mobile baby to move, kick and tumble around in a safe environment? The Joovy Room2 provides almost 10 square feet (close to 1 square metre) of space for your tiny party animal to roll, sleep and kick about in. Although this extra large portable baby bed falls into the heavier category of travel cribs, it still folds up snugly for travel and is perfect for longer trips where you're based in a single location.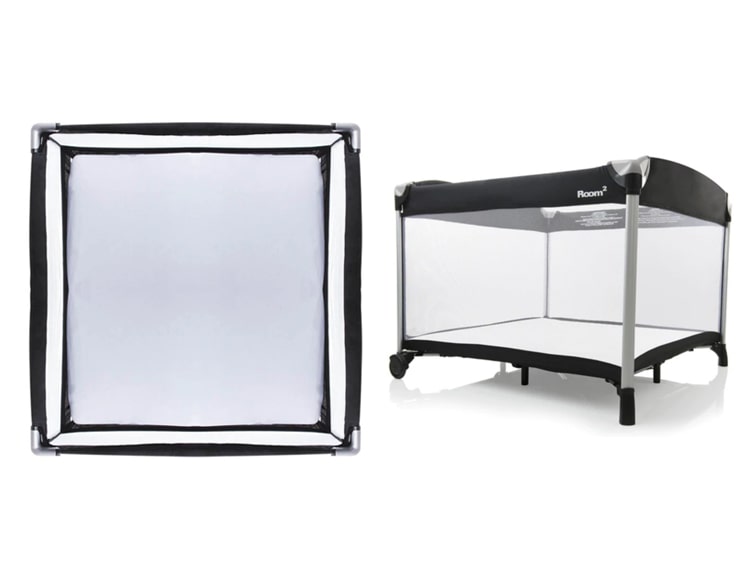 Features:
Extra large mesh windows providing 360° visibility
Heavy duty mattress with fitted cotton sheet
Almost 10 square metres of space
2 wheels at bottom for easy transport
Folds up easily for travel
Recommended for use from birth until 89 cm (35")
Dimensions:  / 39.75 x 39.75 x 31"
Weight: 13.4 kg / 29.6 lbs

Ideal for: Tall babies & toddlers, long-term travel, holidays to a single destination, use as a playpen at home, grandparent's home
The downside? It ain't no lightweight but the wheels make it easier to move around, plus, set up is a slightly lengthier process.
What are some of your best baby sleep tips & tricks for travelling?
Share them in the comments below.
Hold up! Don't scoot off just yet - you might like these baby & toddler travel essentials: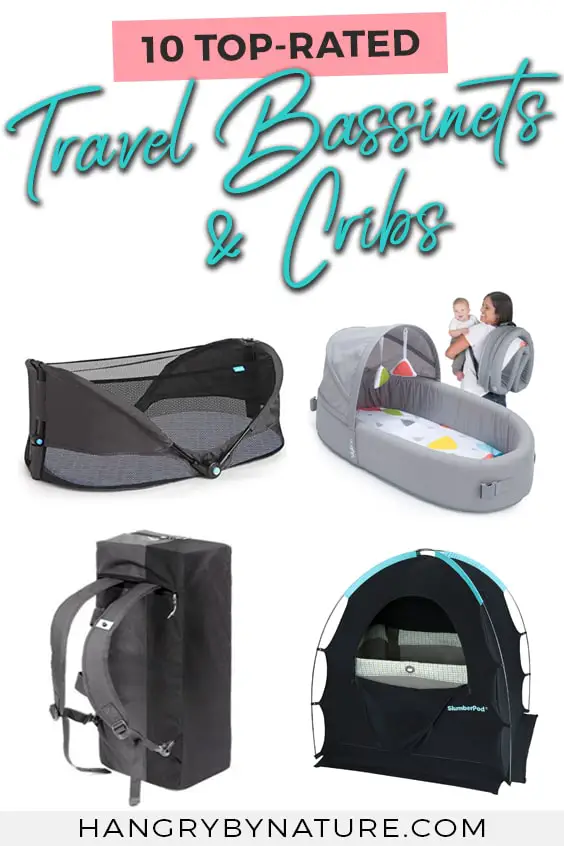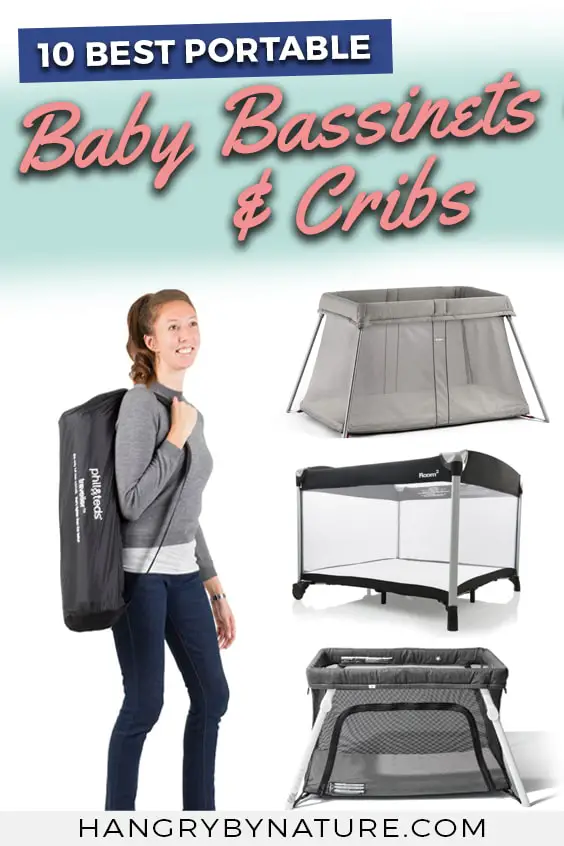 How to Save Money Traveling with Kids
Take a look at our Travel Resources to find the best deals on flights, accommodation and attractions. Find mistake fares, the cheapest date to fly each month, hotel and apartment savings, plus where to buy the cheapest tickets for attractions.
If you're looking for some sweet accommodation deals, you're in for a treat.