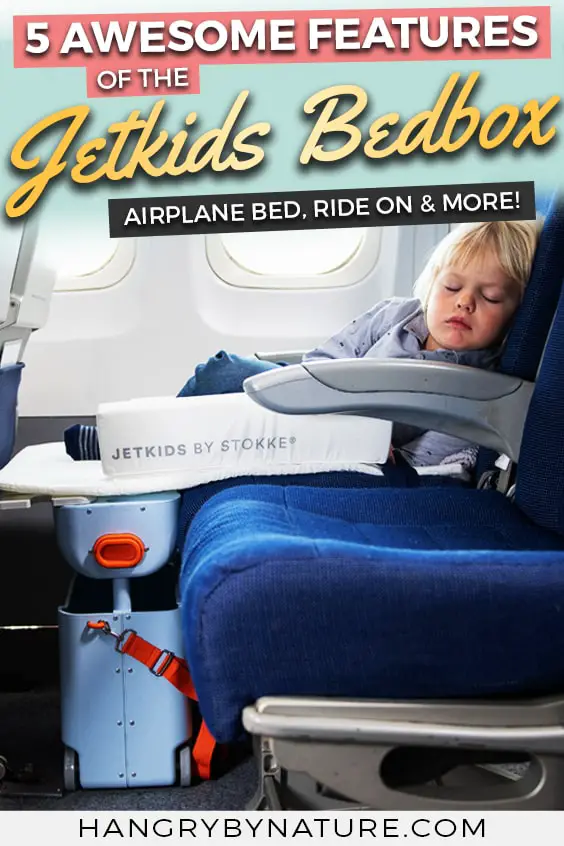 If you've been praying for a miracle to help get you through your next long haul flight featuring kids – your prayers have been answered in the form of this 3-in-1 toddler airplane bed.
All hail the JetKids Bed Box. Bow down and worship this piece of genius because you'll be kissing with gratitude on your next international flight when your toddler snoozes an unprecedented amount of hours while you attend to your in-flight movie marathon. I promise, this miracle involves alcohol or sleep medication, because.. that would be slightly unethical.
From our own experience of almost circumnavigating the entire globe with it, we've decided to rate it as one of the best toddler beds for airplane travel due to its multifunctional abilities, plus it also allows kids to pack and schlep their own junk toys to keep them occupied on flights.
Anyhoos, enough of the chit chat – let's dive into exactly why the JetKids Bed Box is a top-rated toddler airplane bed that'll make your next family trip a breeze.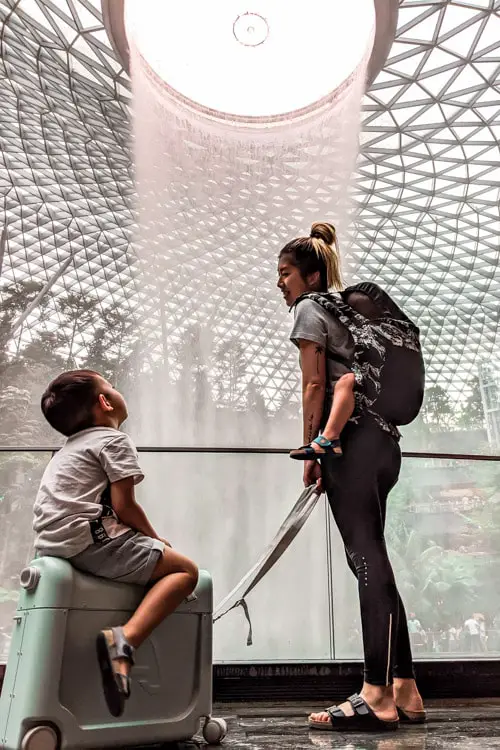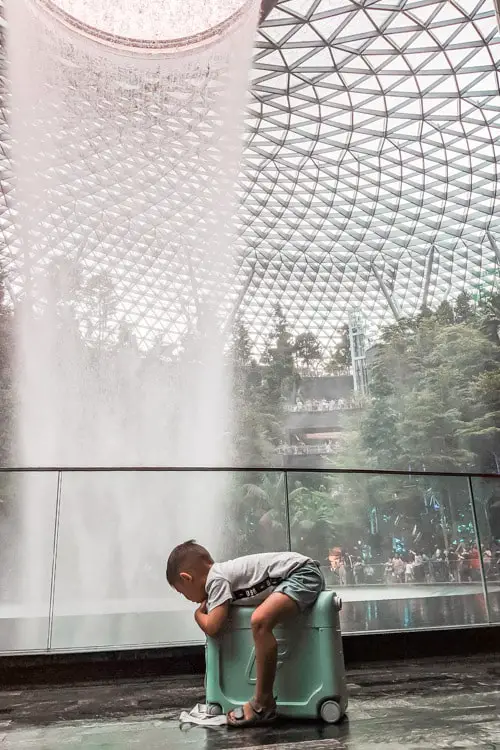 What is the JetKids Bed Box Toddler Airplane Bed?
Simply put, the Bed Box is a ride-on suitcase that 'transforms' into a bed for airplane travel. Basically, it converts an economy class seat into a business class recliner for pint-sized travellers.
It's the ultimate 3-in-1 travel accessory designed for kids to help them sleep on long airplane journeys, store their much-loved toys, and ride from one end of the airport to the other.
It's hardly fair, right? These tiny humans who haven't endured a single hardship in their lives (save from that one time you may have forgotten to cut the crust off their toast) seem to received all the royal treatment and aren't even the least bit grateful.
Want more exclusive family travel tips & guides?
What's Included in the Box?
1 x Childrens ride on luggage
1 x Roll-up mattress with side cushions
1 x Multi-purpose safety strap
2 x Sheets of decorative stickers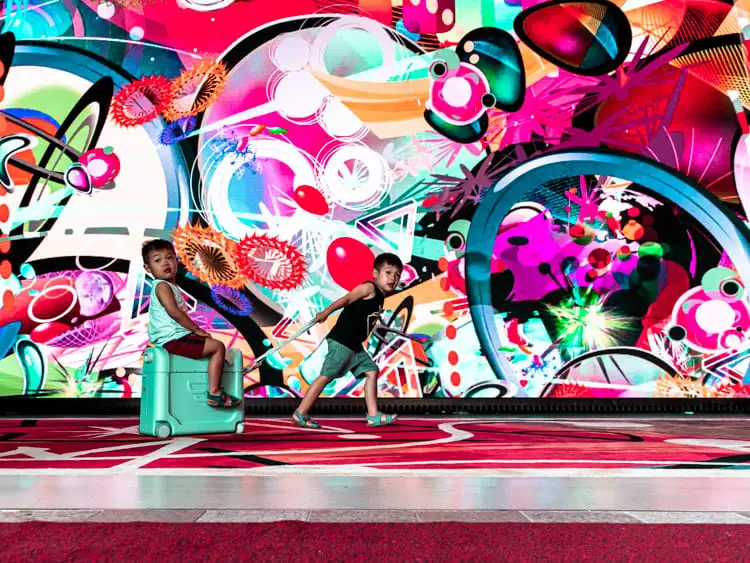 5 Key Features of the JetKids Bed Box
Off the top of my head, I can think of umpteen uses for the JetKids BedBox. Extra footrest for the couch, a spare seat at dinner for overflow guests, picnic table, seated skateboard, and the list goes on. But, we should probably get to the features this versatile suitcase bed was actually designed for.
It's the Optimus Prime of Travel Luggage
Alright, look. It doesn't transform into an alien robot from a distant planet called Cybertron, nor does it flip into any type of vehicle. However, it does remodel itself into a plane bed for kids so that you, as a parent, can get moments of peace while playing Space Invaders or engaging in your in-flight movie marathon. I mean, that's so much more rewarding than anything else, right?
All you have to do is pop open the top, pull out the rolled up mattress, flip the lid upside down, and flatten the mattress over the seat and suitcase. Voila! You have yourself a suitcase bed *standing ovation from audience*.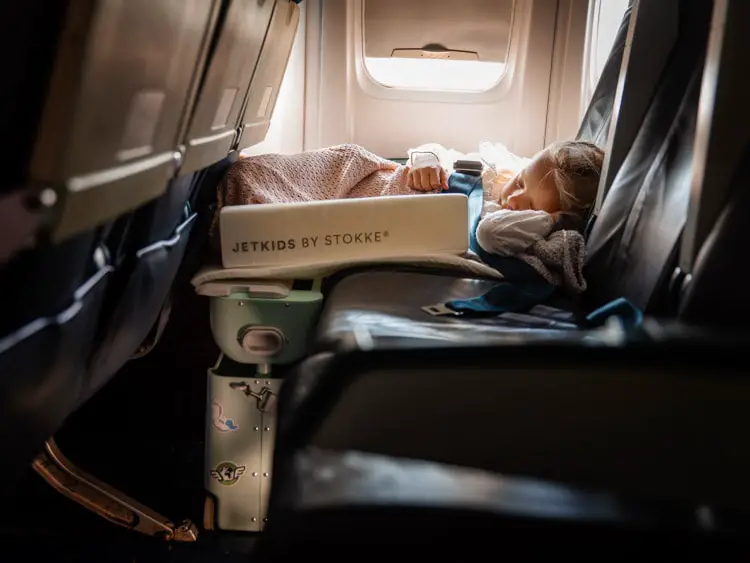 It's a Fun Ride On Suitcase for Toddlers
If you ever get caught running embarrassingly late to your gate in an attempt to make the 'final call' announcement (don't be ashamed – this is 100% us, too) because you were too busy roaming the cosmetics aisles testing out every shade of lipstick in the duty free shop – let the Bed Box be your saviour. Gather your kids, place them on the ride on suitcase, and tell them to hold on tight to the strap as you dart to your gate.
It's not just handy for transporting kids from one end of the airport to the other, the Bed Box has also kept our two unruly boys occupied during downtime between transits. They would either pretend to walk it around like a puppy or pull each other around in circles until we boarded the plane. Absolute win, I say.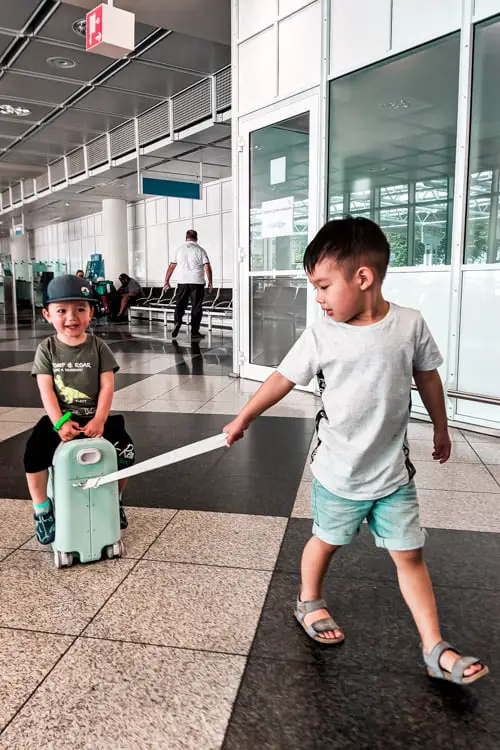 Storage for Toys & Diapers
Even with the mattress stored inside the suitcase, with 23L (36gal) capacity, there's a fair bit of extra room to squeeze in some of their favourite toys, colouring books and some stationery. On one of our short domestic trips, we took out the mattress and used it solely for diaper storage.
I don't know about you guys but, I, for one, am sick and tired of the bellboy side duties that I have to take on every single family holiday. I mean, there's no payment for these services. I've never even been given a tip for being chief bag schlepper. However, the Bed Box encouraged our kids to pack and lug their own piece of luggage and guess what? They totally did. It worked!
Perfectly Sized for Carry On
The JetKids Bed Box toddler airplane bed is approved carry-on size coming in at 46 x 20 x 36cm (11 x 8 x 12in), making it the ideal onboard companion. Stow it underneath the seat in front for easy access or in the overhead compartments if it's not immediately needed. Its universal design and size fits most standard economy seats in aircrafts big or small.
Roll Out Mattress with Side Panels
Yes, these little demanding travellers don't just get their own seat and personalised service (free toys and accessories on most major airlines) – they even receive their very own portable mattress to take on their travels. Entitled much? Heck, yes.
The thin JetKids mattress fits snugly into the Bed Box when rolled up – simply remove it from the suitcase and roll it onto the seat and inversed lid to create the bed. The plush side flaps can be removed if not needed – the intention behind them is to stop kids from hitting the armrests or, potentially, rolling off their seats.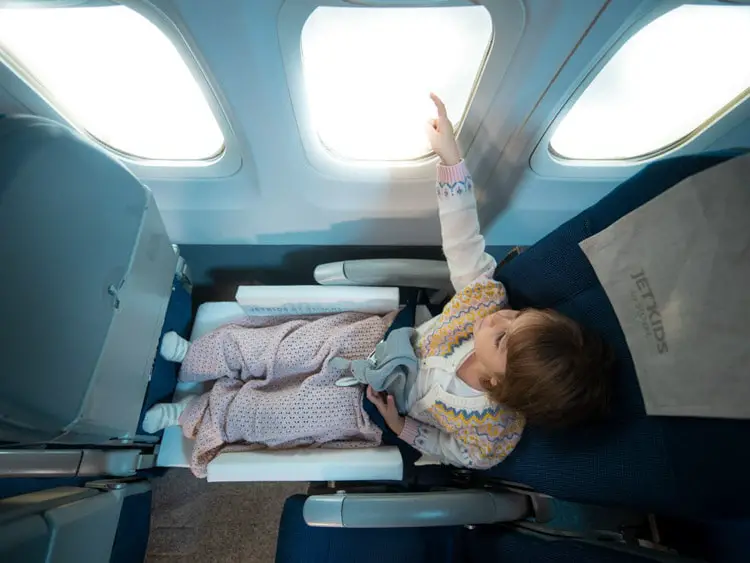 Check prices and read customer reviews of the JetKids BedBox here.
Features in a Nutshell:
Durable outer shell that holds up to 35kg (77lbs)
Approved carry-on size
Transforms into a bed in 5 simple steps
Shock absorbing front swivel feels for smooth & easy manoeuvring
Multi-purpose adjustable strap for carrying or towing
Top handle to grip onto for safety while riding
Compact mattress with plush side panels
Spacious interior with 23L (6gal) capacity
WATCH: 5 Things to Love about the JetKids BedBox
How to Set Up the Bed Box
Convert the ride on suitcase into a kids airplane bed in 5 ridiculously simple steps with minimal effort.
Place the BedBox in front of your child's allocated seat. Note – it works best when used in window or centre seats.
Lift up the lid by pressing the 2 side buttons and remove the mattress.
Flip the lid upside down and re-attach it according to seat height.
Pull the bed plate out towards the seat in front until there is no more gap.
Unfold the mattress and roll it flat onto the seat and over the suitcase.
That's basically it. You've made a kids' or toddler flight bed in under 2 minutes. Give yourself a pat on the back and start picking out those movies you've been wanting to watch since before you had kids. Final step? Coax your child into believing that it's way past bedtime and that he must go to sleep in an instant.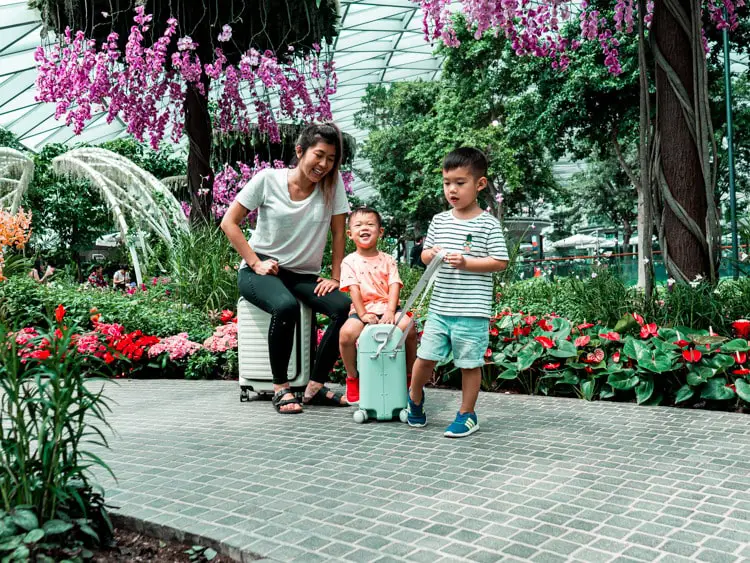 Pros & Cons of the JetKids Bed Box
Our JetKids Bed Box review has been made possible by trialling and testing the hybrid toddler flight bed and childrens ride on luggage on numerous domestic and international flight – here's our verdict.
Pros
It's a comfy leg rest that toddlers and kids can use while playing games or watching movies.
Helps kids sleep by creating a flat surface to lie down or rest their legs
It can be used when the seat in front is reclined.
It can be used in bulkhead seats.
Considered child's hand luggage, meaning more storage for parents in their own luggage (can I get a "woop, woop"?).
Kids can ride and glide on it allowing you to get around quicker
Seatbelt can be used lying down or sitting upright
Manoeuvres super smoothly thanks to its front swivel wheels
Mattress can be hand washed
Fits into the overhead compartments or under the seat in front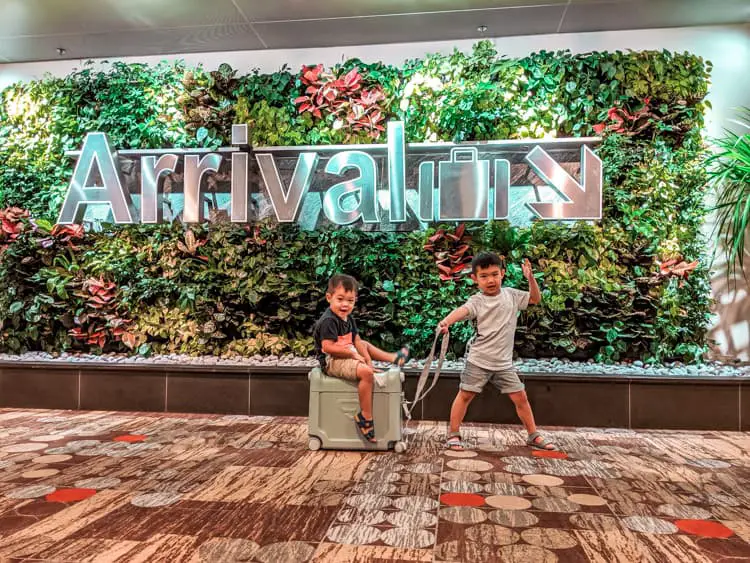 Cons
Not all airlines approve onboard use of the Bed Box – check the list of approved airlines. However, the team at JetKids are working towards getting the product approved in a greater number of operators, so be sure to monitor the list frequently for updates.
Although it's a brilliant flight bed for toddlers and babies to lie flat and sleep, older and taller kids will have difficulties stretching out their legs due to limited space between the seats
Chances are parents will end up lugging the Bed Box around once toddlers have had enough – we all know it takes, literally, 30 seconds for toddlers with the attention span of goldfish to 'get over' things. So, essentially, that's an extra piece of luggage us poor parents have to schlep around.
JetKids Bed Box VS Inflatable Leg Rests
If you've been doing your research on toddler airplane beds, there's no doubt you'll have come across these JetKids Bed Box alternatives, which also allow your kids to prop up their legs by means of inflation.
The major point of difference? Well, first up, probably the price tag. Secondly, these inflatable leg rests aren't ride on suitcases, which means that you'll have to pack the deflated mattress into your own carry-on luggage, occupying much-needed space and adding to your very own weight allowance. They also require a small amount of manual labour (I would say an 'intense' workout in my case considering my poor level of fitness) as these leg rests are, in essence, air mattresses.
Final Words: JetKids Bed Box Review
As a family of 4, we like to travel as minimal as possible. We legit share 2 x check-in suitcases between all of us. Imagine trying to juggle a 2 and 4-year old, (who I'm pretty sure are closer descendants to apes than humans) 4 suitcases, and a bunch of carry-on luggage? Nooope. We'd probably have to get our priorities straight and ditch a few items – first up, probably the kids.
In all seriousness though, we found the JetKids Bed Box to be tremendously helpful when it came down to moving kids from point A to B inside airports. Plus, they seemed to enjoy sitting on their suitcase way more than being rolled around in a stroller. Go figure.
All in all, I would say it's ideal for families with young kids (under 7 years) travelling on long haul flights. Older kids won't find much use for the bed component, as they will most likely be too tall to lie down comfortably without going into complete foetal position. However, it can still serve as a comfy leg rest for when they're sitting up.
If you have 2 kids with one BedBox each, we found it handy to set them both up and then lie the kids sideways (parallel with the seats), which provided more space and leg room. If you're really intent on getting your kids to sleep for long stretches, be sure to book night flights. We recently flew from Helsinki to Singapore and in combination with the Bed Box, our kids slept through most of the 12-hour flight which, mind you, is an absolute miracle.
---
Got more clever tricks & hacks to lull kids to sleep on planes?
Share them in the comments below.
---
This post was sponsored and created in partnership with JetKids by Stokke. However, all content, experiences and opinions are, always, our own.
Hold up! Don't roll away just yet – you might like these kids' travel hacks: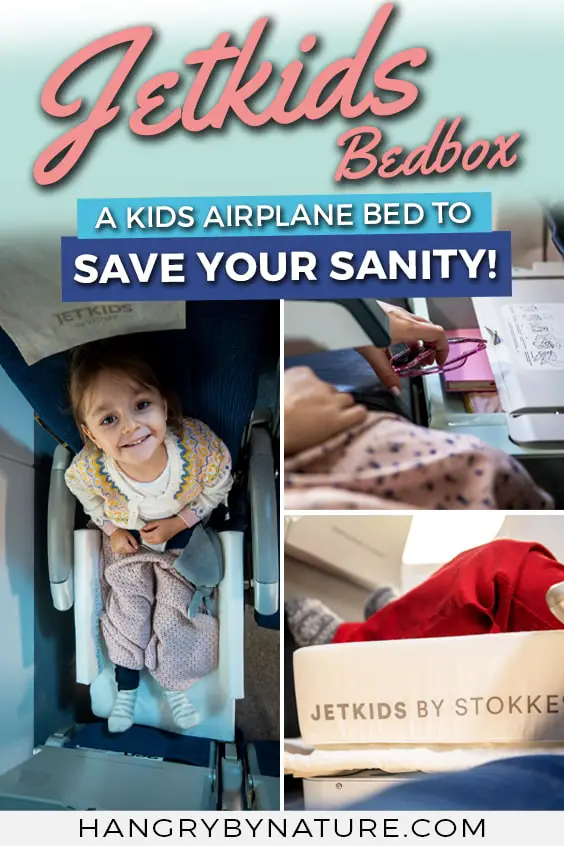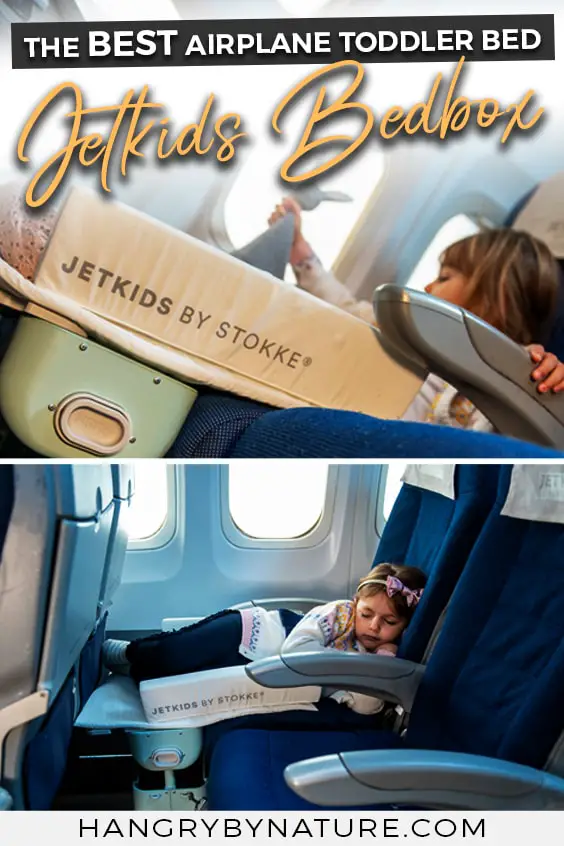 How to Save Money Traveling with Kids
Take a look at our Travel Resources to find the best deals on flights, accommodation and attractions. Find mistake fares, the cheapest date to fly each month, hotel and apartment savings, plus where to buy the cheapest tickets for attractions.
If you're looking for some sweet accommodation deals, you're in for a treat.