Traveling with kids is as easy as a walk in the park -- said no parent, ever. But, let's not lose hope here, fellow mums and dads. With the right kids' travel gear, anything can be achieved - including regaining your sanity.
We are extremely lucky to be parents in an era travel convenience and innovation, I mean - think of all the accessories and nifty travel gadgets our parents didn't have the luxury of having back in the day where they used to take us traveling. Poor folk had to endure us wild kids for an entire long haul flight with limited in-flight entertainment (remember those TV screens that used to flip down the from the aisles and everyone had to bend their necks to watch the same thing?), no smartphones or tablets, no Nintendo Switch or cool kids' travel toys. Just 100% raw kids. Respect to our parents.
Or maybe they just slipped us some drowsy antihistamine tablets, that would explain it.
As hard as traveling with kids still is - I have to say, in this day and age, we are darn lucky. So, here it is guys - welcome to the 21st century - Top Rated Kids' Travel Gear to keep parents sane on holiday.
Jet Kids Bed Box
"It's a bed. It's a suitcase. It's a miracle."
You know what would be even more miraculous? A ride-on roller suitcase for adults that opens into a bed. That, or a free upgrade to business class.
The Jet Kids BedBox is a brilliant invention - I remember traveling as a kid with my head cradled in my Mum or Dad's laps, and my legs somewhere between the surface of the seat and up in the air. I never thought about how uncomfortable it would have been for my poor Mother who would've had to sit stiff on 20-hour flights from Australia to Germany.
Multi-functionality is the spice of life, and this is the mothership of suitcases in the realm of kids' travel gear. It functions as a ride-on suitcase which toddlers and kids can sit on to zip through terminals, a place to store their favourite toys, and obviously, as an airplane toddler bed.
The Bed Box comes equipped with a mattress, swivel front wheels, and supports up to 35kg weight - making it suitable for kids up to 7 years of age.
After a hard day of riding and rolling, the Jet Kids Bed Box converts into a plush and comfy lie-down bed. Why do kids get all the luxuries of first class?
Tula Baby & Toddler Carrier
The first thing I pack for any trip, near of far, is my Tula baby carrier. Whether you're jetting off to a busy city, or camping in the mountains - this is the best baby carrier I have owned, and best believe I've trialled many-a carriers.
On our 3-day family roadtrip to Warrnambool and the Great Ocean Road, I never even laid a finger on the pram. The Tula carried Flo everywhere from forest walks, climbing down steep stairs to waterfalls and more. You can read about our Great Ocean Road family adventure here.
Baby carriers are perfect for airport transits, short hikes, jumping on public transport, beach walks and anything else you can picture yourself doing on a holiday.
PORTABLE HIGH CHAIR
Not just handy for camping - I can think of numerous of occasions when it would've been convenient to have a portable high chair handy whilst traveling. Like when a hipster café is too hipster to have high chairs.
The Ciao! Baby portable high chair is easy to collapse and transport on any adventure near or far, this compact travel high chair can be used anywhere, from 'round the campfire to tropical beach picnics; you won't have to feed your bub or wriggly toddler from your lap, or run after him like a crazy lady with a spoon.
KATHMANDU HIKING CARRIER
Okay, the Kathmandu Karinjo carrier might just shock your system when you peer at the price tag, but how cool does it look? It's like a backpack-carrier hybrid. If you're looking for the best baby carrier for your next camping trip, or if you want to be the first to climb Everest with your child (not advised), I would look into getting a hiking carrier.
A standard baby carrier or wrap might cut it for a bit, but they're not designed for hikes or long walks out in nature. I mean, I love my Tula baby carrier and all, but I wouldn't be trekking up a mountain with it.
GB POCKIT STROLLER
An umbrella stroller that folds into the size of a backpack? Shut up and take my money.
Forget fancy dancy McLaren lightweight strollers and travel prams - the GB Pockit is your answer to traveling in Asia with kids. Or babies. Or toddlers.
The majority of countries with Asia are not stroller or pram friendly. I repeat. Countries in Asia have some messed up sidewalks and gutters.
Think, MEGA population, sidewalks the height of your knees and countless bridges with no escalators or lifts to cross over to the other side. You can risk crossing the road, but I would advise against it. I got rammed by a Tuk Tuk in Hua Hin a few years back. I may or may not have been intoxicated. But that's a story for another time.
This fusion extremely compact stroller is the answer to all my upcoming Thailand travels.
PORTABLE TODDLER TRAVEL BED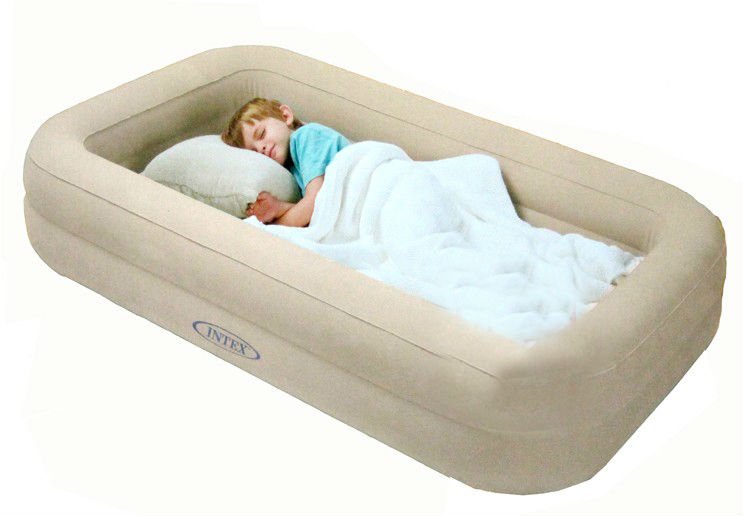 Let's face it, a portable cot is just too bulky to take on your travels on top of all the other crap you've already got to haul around for your kid. Enter the inflatable and portable toddler bed. Much lighter to transport - the only downside is having to inflate it. But that's what Dads are for, right?
What will most likely happen, is that the kid takes over and sleeps in the king sized hotel bed, and the two parents wind up sharing this seemingly comfortable inflatable mattress.
PORTABLE KIDS' BUNK BED
Okay, so this is how it's going to go down. As previously mentioned, the kids are going to wind up taking over and sharing the king sized bed in the hotel room, while the poor parents will end up as bunk buddies.
You can find the Kid-O-Bunk here.
HERSCHEL NAPPY BAG
Alright, you got me. Herschel don't design nappy bags. But, I, hereby proclaim the Little America backpack to be just as competent in storing nappies, wipes and baby food, as a nappy bag.
It's big, spacious, and has enough compartments to segregate your bub's nappies from snacks.
You may even be able to squeeze in your own goodies, so you can ditch your handbag and have an all-in-one backpack, making you the coolest kid on the block. With a kid.
You'll be the hippest traveling parent at the motherflippin' airport.
RIDE-ON CARRY-ON SUITCASE LUGGAGE CHAIR
The solution when you need to get from A to B stat, but your kid is not complying because they obviously do not see the urgency of the situation.
Strap 'em in the Ride On Carry On, get rollin', get to your gate. Unstrap. Boom. Too easy.
LUGGAGE SCOOTER
All you parents must be thinking, okay, so what's in it for me? Kids seem to have all the fun.
Well, folks, let me introduce you to the Micro Luggage Scooter for adults. Not kids. They ain't laying a finger on that.
It's cabin luggage approved size and it's designed by Micro, one of the leading brands in scooter technology. I think this is a winner. No 4-wheeled piece of luggage can beat this. Nuh uh. Best carry on luggage ever? You bet.
If you're skilled enough, you could probably even throw your kid on the Jet Kids BedBox and tow them along while you scoot, scoot away.
For more tips and advice on traveling with a baby, check out my post: Ultimate Guide to Traveling with a Baby. I can keep the parenting advice rolling in all day. 'Cause, you know. I have a child, therefore that, makes me an expert.
Has anyone come across any other cool travel gear that every parent needs to know about? Trust me, they need to know.