Dropping into Japan with your fam for the most extraordinary holiday of your lives? Start here with this complete list of Osaka attractions for kids to get you inspired.
If you're headed to Japan soon - can I just say - I am completely and utterly jelly. Green with envy. Because it is my (plus millions of others I'm sure) absolute favourite country in the world. If you've already been to Japan, then you'll probably agree. Amirite?
If you've yet to visit, I can guarantee you one thing - this country is going to blow your mind. To the moon and back. Probably even to Pluto.
We've been back from our Japan trip for months now and our 3-year old still rambles on about everything he remembers from Japan on a daily basis. We literally don't ever hear the end of it. Well, at least not until we book our next trip back, and if I had a say in that matter, it would've been yesterday.
You might be doing it for the kiddos, or you might secretly be doing it for yourselves - I mean, no shame there. We use the kids as an excuse to go see and do things every other day. Here are 10 of the best things to do in Osaka with kids.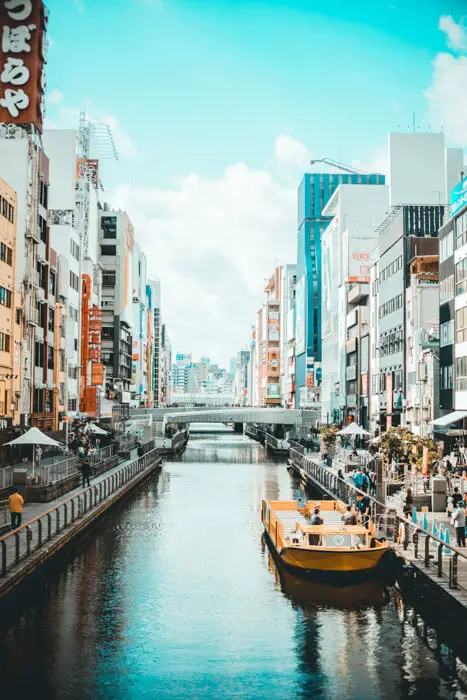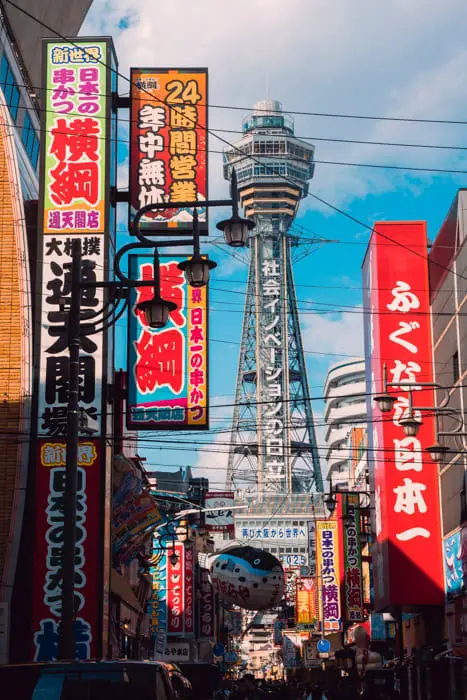 Osaka Aquarium
If there's one place to duck for cover on a rainy day in Japan, it would have to be the Osaka Aquarium Kaiyukan.
A short 20-minute subway trip from Namba station, you'll find the aquarium in the Tempozan Harbour village in Osaka's bay area. Oh, and remember to bring outer layers because it gets ch-ch-chilly down by the windy harbour.
Account for at least 3 hours here, as the aquarium spans over a whopping 8 levels, with 15 large tanks and exhibits ranging from the mystical Japan Forest, Pacific Ocean, Great Barrier Reef, and a whole lot more.
If its sheer size and exhibits haven't convinced you, then a wee little discount off entry tickets just might. That, or our amusing video tour of the Osaka Aquarium, so you can get a better visual of exactly what to expect.
Address: 1-Chome-1-10 Kaigandori, Minato-ku, Osaka-shi, Osaka-fu 552-0022, Japan
Opening hours: See official website as times vary according to season
Tickets (at the door): ¥2,300 (adults), ¥1,200 (7-15 years), ¥600 (4-6 years), kids under 3 years enter free of charge
Legoland Discovery Centre
There's indoor playgrounds, and then there's ultimate indoor playgrounds. I mean, anything that Lego do is pretty darn 'ultimate', right?
If you're already planning to venture out to the Osaka Aquarium, then you may as well invest an entire day in this area because it's literally right next door.
Like most attractions in Japan, you can save yourself the headache and pre-purchase your Legoland tickets online to avoid crazy long queues, toddler tantrums, and general feelings of malaise that arise when waiting in line.
Address: 1-1-10, Kaigandori, Minato Ward, Osaka
Opening hours: 10am - 7pm (weekdays), 10am - 8pm (weekends & public holidays)
Tickets (at the door): ¥2,300 (ages 3+), kids under 3 years enter free of charge
Round 1 Stadium
You have not been to an arcade until you've been to an arcade in Japan. They are next level. I don't even know how to begin describing this place because it is just off the charts.
Round 1 Stadium at Namba Station is basically the standard arcade you know at home, but on crack. In the best of ways.
Housing 5 levels of pure entertainment, this place is everything that articulates the absolute crazy and awesome that is Japan. Other than space age arcade games that you've probably never seen before in your life, you can also participate in segway racing (I know, right?), mini bike riding, futsal, baseball batting, rodeo, and so much more.
What the heck don't the Japanese think of?
One thing to be aware of is that kids under the age of 16 are prohibited from entering after 7pm. So get in on all the fun before then.
Address: 1-3-1, Nanba, Chuo, Osaka 542-0076
Opening hours: 24 hours
Kids Plaza & Omigachi Park
Technically hailed an 'edu-tainment' centre, Kids Plaza in Osaka is an attraction you won't want your kids to miss. If arcades in Japan are on crack, then kids' playgrounds are also on some kind of awesome pill. I don't even know if 'awesome' describes Kids Plaza to the best of its abilites.
If you think you've seen all play centres with your kids, well, I hate to burst your bubble - but, you ain't seen nothin' yet.
Spanning 4 levels (yeah, they really dig their multi levels of fun in Japan), the complex features computer studios, workshops, cooking classes, a science and nature museum, culture museum, babies play area, and at the centre of it all, an epic playground.
Watch our video tour of Kids Plaza to get a better scope of all that it has to offer.
Address: 2-Chome-1-7 Ogimachi, Kita, Osaka 530-0025
Opening hours: 9:30am - 5pm daily
Entry price:  ¥1,400 (adults), ¥800 (elementary & junior high school students), ¥500 (3+ years), kids under 3 years enter free of charge
If your kids haven't knackered themselves after a hard day's play inside Kids Plaza, then head outside and you'll find Omigachi Park right behind the building. You'll find the biggest playground I've seen in all of Osaka right here, with heaps of colourful slides, climbing obstacles, rolling hills and sand pits.
Tennoji Zoo
I don't know about you, but if you haven't already noticed, I'm a huge sucker for zoos and aquariums everywhere we travel. Because, technically, Andy and I - we're kids with kids. That's really how mature we are.
It's only a small zoo, housing some 1000 animals of 230 different types (sounds big when you out it like that), but it is still a great place for kids to roam and interact with some of their favourite four legged animals.
Considering it costs under $5 USD to enter, I think it's totally worth a visit with the kiddos. Plus, on a nice and sunny day, the park premises is a beaut place to take a stroll in - featuring a lake with turtles, Zen-looking bridge, lots of eateries, and even an indoor and outdoor playground for kids.
Address: 1-108, Chausuyama-cho, Tennoji-ku, Osaka, Japan
Opening hours: 9:30am - 5pm (weekdays), 9:30am - 6pm (weekends)
Ticket prices: ¥500 (adults 16+ years), ¥200 (elementary & junior high school students), kids under 5 years enter free of charge
HOT TIP: Japan's train network can be seriously confusing. Get the ICOCA IC Card pre-loaded with ¥1,500 / $14 USD to commute in Osaka at discounted prices.
Osaka Castle
Alright, look. You've probably already planned the Osaka Castle into your itinerary already, but in case you didn't know - it's a freakin' amazing place to unleash the kids and let them run amuck to burn off pent up energy.
Plus, entry is included if you purchase the Osaka Amazing Pass - it's only one of 30 iconic tourist sites you can visit without paying an additional entry fee.
Featuring a Plum Grove walk with small plum trees of various colours, a Zen Garden, a motherflippin' Samurai Store, shopping, and even a musical shuttle train to transport you from one attraction to the next; this is the perfect place for your kids to learn about Osaka's history involving Samurai clans, and run wild, of course.
Address: 1-1 Osakajo, Chuo, Osaka 540-0002, Japan
Opening hours: 9am - 5pm (daily March to October), 9am - 4:30pm (daily November to February), open until 9pm during Cherry Blossom season
Tickets (at the door): ¥600 (adult), kids under 3 years enter free of charge
Animal Cafes
If there's one reason (other than food) to convince you to book your next holiday to Japan, then this has to be it.
If you haven't seen any of the viral videos of Japan's animal cafes on videos - I urge you to go watch them now! Hedgehogs, Shiba Inus, owls, rabbits, you name your weakness, and they'll have it.
Animal cafes are, hands down, the best Osaka attractions for kids. I mean, the one we went to left a lasting memory we'll never forget - check out the absolutely insane animal cafe we visited (not for the faint-hearted), or to get some inspiration on what variety they have, take a look at the 5 Animal Cafes in Osaka you shan't miss.
Not your average animal cafe, but if you want to squash your creepy crawly fears - there's no better place!
Explore Umeda
On the real, I think Umeda deserves a blog post of its own. There is just that much to see and do in the area, so make sure you allocate at least half a day or more to exploring this corner of Osaka.
A 12-minute subway ride north from Namba Station, one of the first sights you might stumble upon as soon as you leave Umeda Station is the Hep5 Ferris Wheel. Jump on for $5 USD with the kids and take a spin, admiring some of the best views of the city from above.
Marvel at the 173m tall Umeda Sky Building (the one that looks like a space station, you can't miss it) from the outside, or even from the inside for $10 USD entry.
After which, you must visit the Pokemon Centre on the 13th floor of the Daimaru department store. I don't even care if you're a fan or not, you just can't not get your Pokemon pants on when you're in Japan.
If you're down for some retail therapy, swing by Yodobashi (it's so big you seriously can't miss it) to check out the latest in tech, and they also have a ginormous entire floor dedicated to kids' toys. There's also the Grand Front shopping mall where you'll find a ton of upscale restaurants and fashion retailers.
Universal Studios
Do you even... Harry Potter? 'Cause I do. I really, really do.
Don't even go for the kids, like, just go for yourself. Okay, don't take my parenting advice. But if there's one place in Osaka to splurge all your money, it would be at Universal Studios. It's basically the best Universal Studios in the entire world.
The Wizarding World of Harry Potter aside, kids will most definitely enjoy attractions like Sesame Street, Despicable Me, Jurassic Park, Shrek, and Hello Kitty to name a few. For more insight, take a look at Adventure Baby's deeper insights on all the sections.
Without  doubt, the queues for rides do get ridiculously long, so make sure you purchase your Universal Studios Osaka tickets in advance and grab the Express Pass to skip the lines at all the attractions.
Address: 2 Chome-1-33 Sakurajima, Konohana Ward, Osaka 554-0031, Japan
Opening hours: Typically 9am - 9pm (check website for up-to-date information)
Spa World
Can't get into an Onsen because, either a) you've made the mistake of getting too many tattoos, which is literally the only time in life you're regretting your body's artwork, or b) you're stuck travelling with young kids?
Spa World in Osaka is your answer.
Featuring an amusement pool with slides for the little ones, European Onsen, Asian Onsen, a gym, massage services, and even a hotel to bunk up in, there's really no better all-in-one for kids and adults alike.
Address: 3-4-24 Ebisu-higashi Naniwa-ku, Osaka-shi 556-0002, Japan
Opening hours: 24 hours (Onsen zones are closed from 8:45am - 10am for maintenance)
Admission Price: From ¥2,400 (adult) and ¥1,300 (kids under 12 years). Check the official website for full list of prices.
Bonus: Day Trip to Nara Deer Park
Can you really visit Japan without dropping by a park filled with age old temples and FREE ROAMING DEER!?
That would legit be an unforgivable act of ignorance. So, as a bonus, I'm just going to quietly slip this one in and just leave it here for y'all to muse on and, perhaps, squeeze into your fully loaded Japan itinerary.
Pack the kids, pack the man child, don't forget to pack yourself, and make your way down to Nara - it's literally only a 40-minute train ride away from Osaka, and I can guarantee you that the kids will go absolutely bonkers. Feed them, pat them, and bow to them (they actually return bows) - it is one of the best days you'll have on your Japan trip.
The best part? The park complex is completely free to enter and you can pet and snap selfies with all the deer. You only have to pay for deer crackers and entry to temples if you want to go inside.
Take a look at these 9 day trips from Osaka if you've got time to spare in your itinerary.
Location: 45 minutes east of Osaka in the Nara Prefecture
Journey cost: Free for JR Pass holders, ¥800 one way ticket from Osaka
WATCH: The Best Osaka Attractions for Kids
Osaka Attractions for Kids: The Wrap Up
Aaand, that's it. Our comprehensive list of the best things to do in Osaka with kids - and, you know what? I'm probably just scraping the mainstream surface here. If you a wee bit deeper, there's stacks more attractions and activities for the whole family.
If you only have a few days to spare, it's worth checking out this 2-day Osaka itinerary to get a quick feel of this lively city.
If the cost of travelling to Japan with the family is holding you back from booking your trip, I urge you to take a look at my post How to Visit Japan on the Cheap as a Family - it really is more affordable than you think.
And, if you DO have the time to spare in Osaka, make sure you go on at least one day trip with the fam - 100% worth the pain of travelling with kids.
But, you know what? You're gonna come back to Japan. You know it. I know it. Everyone knows it. Japan is next level lit.
Travel Savings for your Osaka Trip
Take a look at our Travel Resources to find the best deals on flights, accommodation and attractions. Find mistake fares, the cheapest date to fly each month, hotel and apartment savings, plus where to buy the cheapest tickets for attractions.
If you're looking for some sweet accommodation deals, you're in for a treat.
How do we survive travelling with kids? Check out our list of packing essentials that we take with us on every trip. Or, take a look at these genius kids' travel gear articles.
Don't forget to come say "HEY!" on YouTube or Instagram. I like to think we're funny, entertaining and resourceful. You be the judge.
Have you got more Osaka attractions for kids to add to the list? Leave us a comment below.