Dropping into Japan with your fam for the most extraordinary holiday of your lives? Start here with this epic list of things to do in Osaka with kids to get you inspired.
If you're headed to Japan soon - can I just say - I am completely and utterly jelly. Green with envy. Because it is my (plus millions of others I'm sure) absolute favourite country in the world. If you've already been to Japan, then you'll probably agree. Amirite?
If you've yet to visit, I can guarantee you one thing - this country is going to blow your mind. To the moon and back. By the end of your trip, you'll probably be planning your move to Japan.
Two trips to Japan later, our 4-year old questions us on the daily about when we're flying back to buy more Gachapon (vending machine toys) and visit more theme parks. We literally don't ever hear the end of it. Well, at least not until we book our next trip back and if I had a say in that matter - it would've been yesterday.
So, whip out your Osaka itinerary spreadsheet (or simply a pen and notepad) and start taking notes. This is a huge list and a heck of a lot to process because you simply don't run out of things to do in Japan. Ever. Without further ado, here are 50 of the best things to do in Osaka with kids.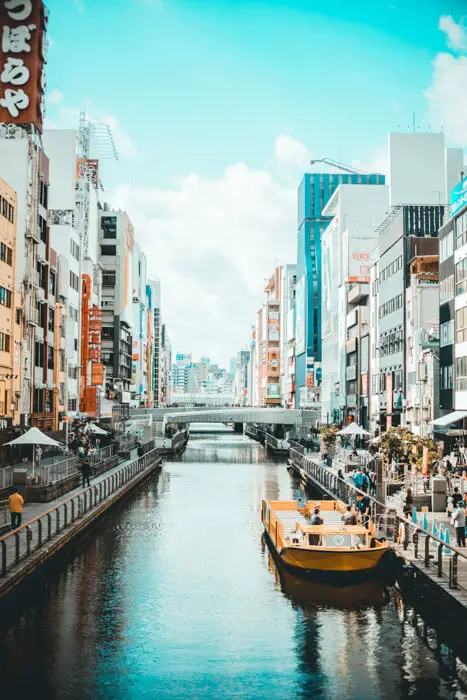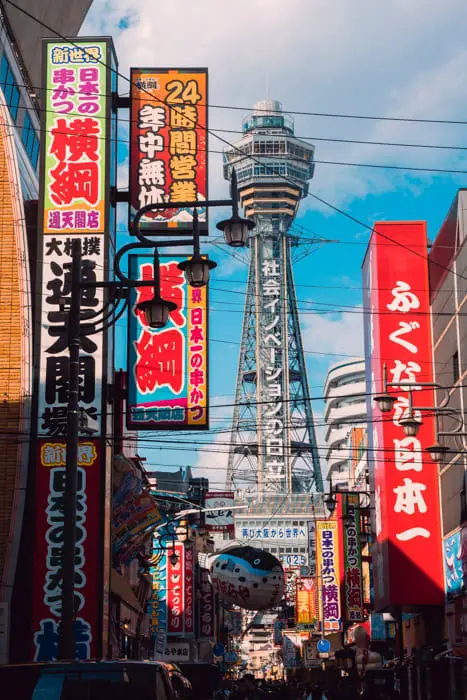 Quick Osaka with Kids Travel Tips: Know Before You Go
▪︎  Get the Osaka Amazing Pass. Save a ton on entry to some of Osaka's best tourist attractions with the 1 or 2-day Osaka Amazing Pass. Gain entry to Osaka Castle, HEP5 Ferris Wheel, Tombori River Cruise and many more places.
▪︎  Buy the ICOCA IC Card for Osaka train travel. Similar to the Suica IC card in Tokyo, this one is valid for use on JR West trains, subway and buses in the Kansai region. The ICOCA IC card comes pre-loaded with 1,500 JPY ($14 USD) and can be used for transport in Osaka, Kyoto and Kobe.
▪︎  Take advantage of cheap rail travel on Sundays. Get a one day unlimited Osaka transport ticket for 600 JYP ($5.50 USD) on Sundays. You might notice signs at ticket machines for this deal - be sure to take advantage of it as this will save you money on travel for an entire day.
Planning the nitty gritty of your Japan trip? Don't get caught in a pickle - arrange your travel insurance today.
After working at a travel agency for years, I've heard enough horror stories to direct a sequel to Final Destination. We use and recommend World Nomads - frankly, they have the most competitive rates and are available for travellers from 140 countries.
▪︎  Rent a bicycle to get around. Whizz around faster with moseying kids and see more. Some rental shops around Namba Station offer bike rentals with child seats for an extra cost. Better yet, get an e-bike if you're lazy and unfit (eg. me).
▪︎  Know your Japanese etiquette. Why are there no trash cans? No talking on trains? No eating whilst walking? Take a look at our 12 Must-Knows Before Visiting Japan to get schooled on what to do and what not to do.
▪︎  Rent a pocket WiFi. You'll need access to the Internet to get around and check train connections. Pocket WiFis are ideal because they allow multiple users to connect to one device as opposed to a single user when using a SIM card.
▪︎  Don't exchange currency at self-service machines. These are called Smart Exchange ATMs - their rates are dismal and will cause angry teeth gritting. Our best tip is to open Google Maps when in Osaka and type in "currency exchange" into search and find the ones with high star ratings. We've had good experiences with these.
▪︎  Pre-purchase attraction tickets on Klook. Check for discounted attraction tickets to Universal Studios Japan, Osaka Aquarium Kaiyukan and others to save money and skip long queues.
▪︎  To JR Pass or not to JR Pass? If you're planning to visit multiple cities in various regions - it's worth getting a 7, 14 or 21-day Japan Rail Pass. If you're doing more day trips in the Kansai Region (Kyoto, Nara, Kobe, Himeji) - save money and get the JR West Kansai Pass instead.
Want more insider tips for planning your Japan trip?
Things to do in Osaka Bay Area with Kids
The Osaka Bay Area is divided into two massive family-friendly entertainment areas - one side is home to Universal City and the other side comprises Osaka Aquarium Kaiyukan and the giant Tempozan ferris wheel.
1. Universal Studios Japan
Wizarding World of Harry Potter, anyone? Die-hard fan or not - USJ is a not-to-be-missed Osaka attraction and widely considered one of the best Universal Studios theme parks in the world.
After experiencing the magic and thrills on our most recent trip, I can wholeheartedly confirm that this is one of the best theme parks on this planet. Yeah, you heard. Younger kids will love the fun rides and characters inside Minion Park, Jurassic Park and Universal Wonderland where little ones can meet and greet Sesame Street characters, Snoopy and Hello Kitty.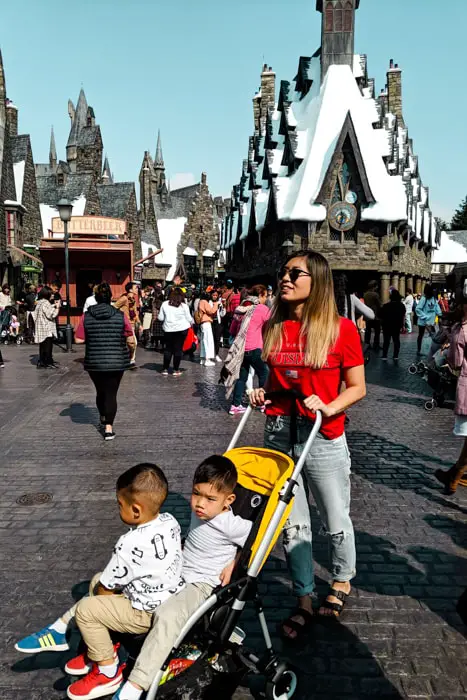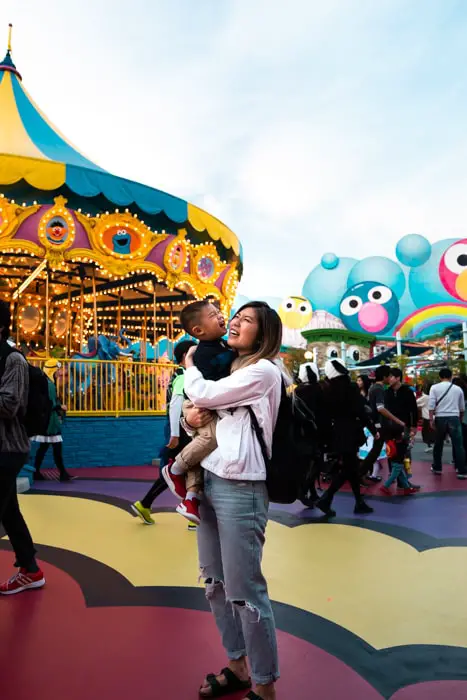 Guzzle down Butterbeer, explore the inside of Hogwarts Castle, escape a velociraptor, hi-5 some minions and brace yourself for the ride of your life onboard the backwards Hollywood Dream rollercoaster - Universal Studios Japan will, undoubtedly, be an unforgettable day for the whole family.
If you're still not sold, take a look at these convincing reasons why you should visit Universal Studios in Osaka.
For the best ticket deals and to avoid long queues, get the 1-Day Studio Pass on Klook and grab the Express Pass to whizz through queues at some of the park's most popular rides.
HOT TIP: Take turns and utilise the single rider lanes at popular rides to reduce wait times in queues.
Visitor Information
Opening hours vary from day-to-day. Check the official website for up-to-date information.
Location: 2 Chome-1-33 Sakurajima, Konohana Ward, Osaka
Entry Price: from 7,600 JPY ($70 USD) adults | from 5,200 JPY ($48 USD) children 4+ years
2. Osaka Aquarium Kaiyukan
One of the best indoor things to do in Osaka with kids is to check into the Osaka Aquarium and explore the giant space that spans over 8 levels, filled with magnificent sea animals and river creatures.
Discover 15 large themed tanks and exhibits and marvels at the wonders that can be found inside a Japanese Forest, inside the Great Barrier Reef, in the depths of the Pacific Ocean and a whole heap more.
Take a look at our Osaka Aquarium Kaiyukan guide for an inside tour on what to expect. Remember to pre-purchase tickets online to avoid queues, as this aquarium is one of the most popular ones in Japan.
Visitor Information
Opening hours: 10am - 8pm (times vary according to season)
Address: 1-Chome-1-10 Kaigandori, Minato-ku, Osaka
Entry price: 2,300 JPY ($21 USD) adults | 1,200 JPY ($11 USD) 7-15 years | 600 JPY ($5.50 USD) 4-6 years
3. Legoland Discovery Center Osaka
Located directly opposite the Osaka Aquarium inside the Tempozan Marketplace - this ultimate indoor playground is pretty self-explanatory, right?
The space comprises 2 fun rides, a 4D cinema, 8 LEGO Build & Play zones, Miniland and more activities the whole family can take part in. Additionally, you can even go on a LEGO Factory Tour and discover how the bricks are made or get the kids involved in a Master Builder Academy course while parents kick back at the café.
Visitor Information
Opening hours: 10am - 7pm daily
Location: 1-1-10, Kaigandori, Minato Ward, Osaka
Tickets (at the door): 2,300 JPY ($21 USD) ages 3+
4. Tempozan Ferris Wheel
The Japanese LOVE their ferris wheels. If the area draws crowds, then you bet there will be a ferris wheel to accompany the rest of the attractions. Osaka's Tempozan Ferris Wheel towers over the harbourfront and is classified as one of the world's largest ferris wheels. From the tippy top, the scenic ride offers views of Mount Ikoma to the east, Kansai International Airport to the south, and the Rokko Mountains to the north. There are also a select few cabins that offer glass bottom floors for those seeking extra thrills.
Visitor Information
Opening hours: 10am - 10pm (varies according to season)
Location: 1 Chome 1-10 Kaigandori, Minato Ward, Osaka
Entry price: 800 JPY ($7 USD) ages 3+
5. 'Hike' up Japan's Smallest Mountain
Take a short stroll past the ferris wheel and wander into Tempozan Park, and prepare yourself for an arduous hike up Mount Tenpo. Standing at a whopping 4.53 metres above sea level - this mountain is gargantuan. Your one-step journey upwards will be a treacherous one and you might even experience altitude sickness at such great heights.
Sarcasm aside, Mount Tenpo is officially deemed Japan's smallest mountain and we were a little bewildered when we arrived as the small hill adjacent to it was even taller. Snap a pic to claim that you've conquered this mammoth climb and then herd the kids into the playground on the other side of the hill.
Visitor Information
Location: 3-Chome-2, Chikko, Minato Ward, Osaka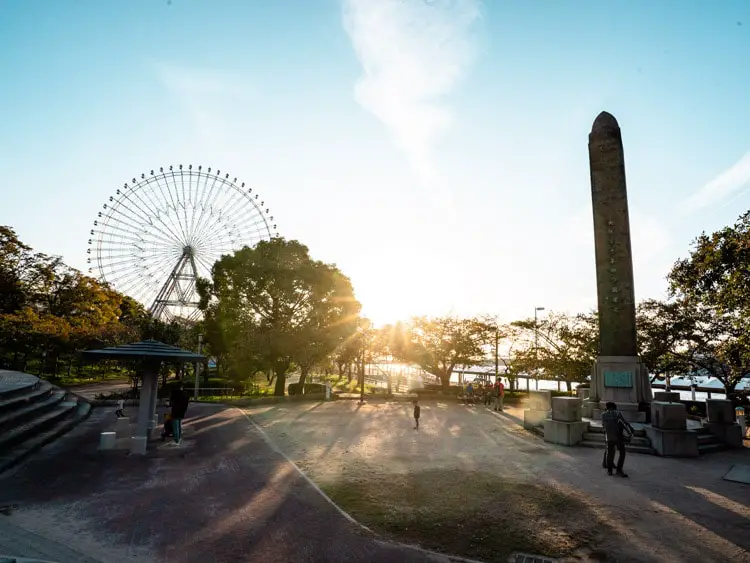 6. Relax Inside Solaniwa Onsen
Pack the kids and treat yourselves to a day of pampering - Japanese style. Not all are family-friendly, but this Azuchi-Momoyama era (1568 - 600 A.D.) natural onsen is west Japan's largest onsen theme park where families can bathe in the soothing warm waters, dress in traditional Yukata, enjoy entertaining live shows or roam the rooftop Japanese garden.
Visitor Information
Opening hours: 11am - 9am (the next day)
Location: Osaka Bay Tower, 1-2-3 Benten, Minato Ward, Osaka
Entry price: from 1,980 JPY ($18 USD) adults & 990 JPY ($9 USD) kids aged 4+
Namba & Dotonbori: Things to do in Osaka with Kids
The lively heart and soul of Osaka is famous for its gaudy neon lights, extravagant billboards, bars and tiny alleyways filled with generation-old family-run eateries. The Namba and Dotonbori area is the most vibrant and lively neighbourhood in the entire city and an absolute must-visit location when travelling to Osaka with kids.
7. Admire the Lights & Crazy Signage in Dotonbori
The main pedestrian strip in Dotobori is completely nuts. That pretty much describes it. But, I mean that in the best of ways. Our two boys could not stop gaping at the gigantic moving crab sign, life-sized dragon that decorated the front of a Chinese restaurant and Spider-Man figures that adorned the facades of restaurants serving Kobe beef (all Kobe beef restaurants have a Spider-Man statue out the front - don't ask why).
There's no place in the world quite like this and, although, it's one of the busiest areas you'll come across, it's also one of the most memorable and best places to visit in Osaka.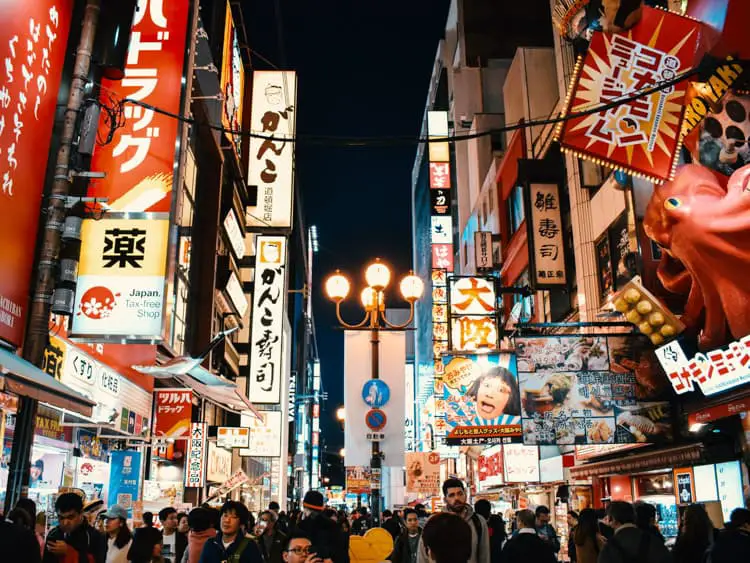 8. Oval-Shaped Don Quijote Dotonbori Ferris Wheel
Okay, so we've already established that Japan has an obsession with ferris wheels. But, what makes this one a little crazy and a little special is its oblong shape. I mean, how many people can say that they've ridden on an oval-shaped ferris wheel? Not many. If any. The views from the top are spectacular at night - soak in the lights of the entertainment district from above and spot attractions like Tsutenkaku Tower and Abeno Harukas.
This funky ferris wheel actually belongs to the discount chain store - Don Quijote, or as Japanese call it, Donki. Do yourselves a favour and take a stroll inside; buy souvenirs or simply have a laugh at some of the funny and outrageous things you'll find inside.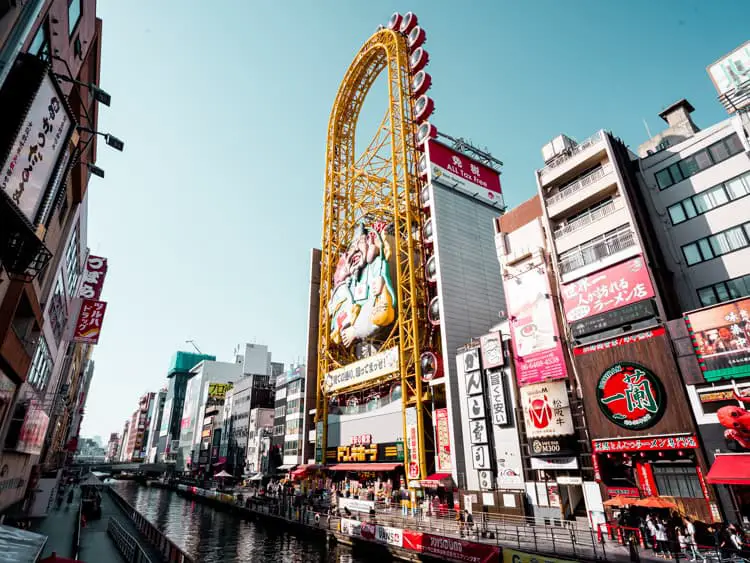 Visitor Information
Opening hours: 11am - 11pm daily
Location: Tonbori Riverfront
Entry price: 600 JPY ($550 USD) per person
9. Tombori River Cruise
Hop onboard a 20-minute cruise down the Dotonbori canal and take in all the craziness and over-the-top billboards from the serenity of the river. While you're cruising along and snapping away for the 'gram, learn all about some of Dotonbori's hidden gems and history of the area from your guide.
Visitor Information
Location: 1 Chome-6-7 Dotonbori, Chuo Ward, Osaka
Price: 900 JPY ($8 USD) adults | 400 JPY ($3.70 USD) kids 6-12 years
Round 1 Stadium
You have not been to an arcade until you've been to an arcade in Japan. They are next level. I don't even know how to begin describing this place because it is just off the charts.
Round 1 Stadium at Namba Station is basically the standard arcade you know at home, but on crack. In the best of ways.
Housing 5 levels of pure entertainment, this place is everything that articulates the absolute crazy and awesome that is Japan. Other than space age arcade games that you've probably never seen before in your life, you can also participate in segway racing (I know, right?), mini bike riding, futsal, baseball batting, rodeo, and so much more.
What the heck don't the Japanese think of?
One thing to be aware of is that kids under the age of 16 are prohibited from entering after 7pm. So get in on all the fun before then.
Address: 1-3-1, Nanba, Chuo, Osaka 542-0076
Opening hours: 24 hours
Kids Plaza & Omigachi Park
Technically hailed an 'edu-tainment' centre, Kids Plaza in Osaka is an attraction you won't want your kids to miss. If arcades in Japan are on crack, then kids' playgrounds are also on some kind of awesome pill. I don't even know if 'awesome' describes Kids Plaza to the best of its abilites.
If you think you've seen all play centres with your kids, well, I hate to burst your bubble - but, you ain't seen nothin' yet.
Spanning 4 levels (yeah, they really dig their multi levels of fun in Japan), the complex features computer studios, workshops, cooking classes, a science and nature museum, culture museum, babies play area, and at the centre of it all, an epic playground.
Watch our video tour of Kids Plaza to get a better scope of all that it has to offer.
Address: 2-Chome-1-7 Ogimachi, Kita, Osaka 530-0025
Opening hours: 9:30am - 5pm daily
Entry price:  ¥1,400 (adults), ¥800 (elementary & junior high school students), ¥500 (3+ years), kids under 3 years enter free of charge
If your kids haven't knackered themselves after a hard day's play inside Kids Plaza, then head outside and you'll find Omigachi Park right behind the building. You'll find the biggest playground I've seen in all of Osaka right here, with heaps of colourful slides, climbing obstacles, rolling hills and sand pits.
Tennoji Zoo
I don't know about you, but if you haven't already noticed, I'm a huge sucker for zoos and aquariums everywhere we travel. Because, technically, Andy and I - we're kids with kids. That's really how mature we are.
It's only a small zoo, housing some 1000 animals of 230 different types (sounds big when you out it like that), but it is still a great place for kids to roam and interact with some of their favourite four legged animals.
Considering it costs under $5 USD to enter, I think it's totally worth a visit with the kiddos. Plus, on a nice and sunny day, the park premises is a beaut place to take a stroll in - featuring a lake with turtles, Zen-looking bridge, lots of eateries, and even an indoor and outdoor playground for kids.
Address: 1-108, Chausuyama-cho, Tennoji-ku, Osaka, Japan
Opening hours: 9:30am - 5pm (weekdays), 9:30am - 6pm (weekends)
Ticket prices: ¥500 (adults 16+ years), ¥200 (elementary & junior high school students), kids under 5 years enter free of charge
HOT TIP: Japan's train network can be seriously confusing. Get the ICOCA IC Card pre-loaded with ¥1,500 / $14 USD to commute in Osaka at discounted prices.
Osaka Castle
Alright, look. You've probably already planned the Osaka Castle into your itinerary already, but in case you didn't know - it's a freakin' amazing place to unleash the kids and let them run amuck to burn off pent up energy.
Plus, entry is included if you purchase the Osaka Amazing Pass - it's only one of 30 iconic tourist sites you can visit without paying an additional entry fee.
Featuring a Plum Grove walk with small plum trees of various colours, a Zen Garden, a motherflippin' Samurai Store, shopping, and even a musical shuttle train to transport you from one attraction to the next; this is the perfect place for your kids to learn about Osaka's history involving Samurai clans, and run wild, of course.
Address: 1-1 Osakajo, Chuo, Osaka 540-0002, Japan
Opening hours: 9am - 5pm (daily March to October), 9am - 4:30pm (daily November to February), open until 9pm during Cherry Blossom season
Tickets (at the door): ¥600 (adult), kids under 3 years enter free of charge
Animal Cafes
If there's one reason (other than food) to convince you to book your next holiday to Japan, then this has to be it.
If you haven't seen any of the viral videos of Japan's animal cafes on videos - I urge you to go watch them now! Hedgehogs, Shiba Inus, owls, rabbits, you name your weakness, and they'll have it.
Animal cafes are, hands down, the best Osaka attractions for kids. I mean, the one we went to left a lasting memory we'll never forget - check out the absolutely insane animal cafe we visited (not for the faint-hearted), or to get some inspiration on what variety they have, take a look at the 5 Animal Cafes in Osaka you shan't miss.
Not your average animal cafe, but if you want to squash your creepy crawly fears - there's no better place!
Explore Umeda
On the real, I think Umeda deserves a blog post of its own. There is just that much to see and do in the area, so make sure you allocate at least half a day or more to exploring this corner of Osaka.
A 12-minute subway ride north from Namba Station, one of the first sights you might stumble upon as soon as you leave Umeda Station is the Hep5 Ferris Wheel. Jump on for $5 USD with the kids and take a spin, admiring some of the best views of the city from above.
Marvel at the 173m tall Umeda Sky Building (the one that looks like a space station, you can't miss it) from the outside, or even from the inside for $10 USD entry.
After which, you must visit the Pokemon Centre on the 13th floor of the Daimaru department store. I don't even care if you're a fan or not, you just can't not get your Pokemon pants on when you're in Japan.
If you're down for some retail therapy, swing by Yodobashi (it's so big you seriously can't miss it) to check out the latest in tech, and they also have a ginormous entire floor dedicated to kids' toys. There's also the Grand Front shopping mall where you'll find a ton of upscale restaurants and fashion retailers.
Spa World
Can't get into an Onsen because, either a) you've made the mistake of getting too many tattoos, which is literally the only time in life you're regretting your body's artwork, or b) you're stuck travelling with young kids?
Spa World in Osaka is your answer.
Featuring an amusement pool with slides for the little ones, European Onsen, Asian Onsen, a gym, massage services, and even a hotel to bunk up in, there's really no better all-in-one for kids and adults alike.
Address: 3-4-24 Ebisu-higashi Naniwa-ku, Osaka-shi 556-0002, Japan
Opening hours: 24 hours (Onsen zones are closed from 8:45am - 10am for maintenance)
Admission Price: From ¥2,400 (adult) and ¥1,300 (kids under 12 years). Check the official website for full list of prices.
Bonus: Day Trip to Nara Deer Park
Can you really visit Japan without dropping by a park filled with age old temples and FREE ROAMING DEER!?
That would legit be an unforgivable act of ignorance. So, as a bonus, I'm just going to quietly slip this one in and just leave it here for y'all to muse on and, perhaps, squeeze into your fully loaded Japan itinerary.
Pack the kids, pack the man child, don't forget to pack yourself, and make your way down to Nara - it's literally only a 40-minute train ride away from Osaka, and I can guarantee you that the kids will go absolutely bonkers. Feed them, pat them, and bow to them (they actually return bows) - it is one of the best days you'll have on your Japan trip.
The best part? The park complex is completely free to enter and you can pet and snap selfies with all the deer. You only have to pay for deer crackers and entry to temples if you want to go inside.
Take a look at these 9 day trips from Osaka if you've got time to spare in your itinerary.
Location: 45 minutes east of Osaka in the Nara Prefecture
Journey cost: Free for JR Pass holders, ¥800 one way ticket from Osaka
WATCH: The Best Osaka Attractions for Kids
Osaka Attractions for Kids: The Wrap Up
Aaand, that's it. Our comprehensive list of the best things to do in Osaka with kids - and, you know what? I'm probably just scraping the mainstream surface here. If you a wee bit deeper, there's stacks more attractions and activities for the whole family.
If you only have a few days to spare, it's worth checking out this 2-day Osaka itinerary to get a quick feel of this lively city.
If the cost of travelling to Japan with the family is holding you back from booking your trip, I urge you to take a look at my post How to Visit Japan on the Cheap as a Family - it really is more affordable than you think.
And, if you DO have the time to spare in Osaka, make sure you go on at least one day trip with the fam - 100% worth the pain of travelling with kids.
But, you know what? You're gonna come back to Japan. You know it. I know it. Everyone knows it. Japan is next level lit.
Travel Savings for your Osaka Trip
Take a look at our Travel Resources to find the best deals on flights, accommodation and attractions. Find mistake fares, the cheapest date to fly each month, hotel and apartment savings, plus where to buy the cheapest tickets for attractions.
If you're looking for some sweet accommodation deals, you're in for a treat.
How do we survive travelling with kids? Check out our list of packing essentials that we take with us on every trip. Or, take a look at these genius kids' travel gear articles.
Don't forget to come say "HEY!" on YouTube or Instagram. I like to think we're funny, entertaining and resourceful. You be the judge.
Have you got more Osaka attractions for kids to add to the list? Leave us a comment below.