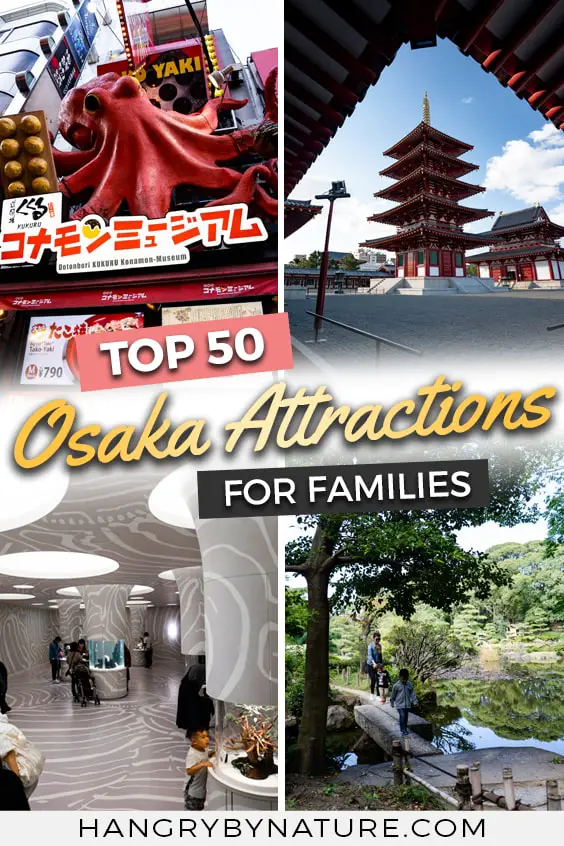 Dropping into Japan with your fam for the most extraordinary holiday of your lives? Start here with this epic list of things to do in Osaka with kids to get you inspired.
Grungy. Funny. Completely awesome. That's Osaka summed up in 3 words for you. Wait, I forgot 'absolutely friggin delicious'. Okay, 4 words. It ain't no Tokyo, for Osaka has a completely different vibe. People are a little looser and funnier, and everything seems to be a little crazier - you'll see what I mean the moment you set foot in Dotonbori.
That being said, it's still one of the most family-friendly places in the world we have visited, with an insane amount of entertainment and attractions for the whole family that'll having you screaming out, "why the heck did I not book a longer trip to this place!?".
However, I get that not everyone has all the time in the world to explore this city for as long as they'd like, so if you've only got a day to spare, take a look at our 1-day Osaka Itinerary for all the essential must-dos.
Without further ado, whip out your Osaka itinerary spreadsheet and start taking notes. This is a mega list and a heck of a lot to process because you simply don't run out of things to do in Osaka with kids.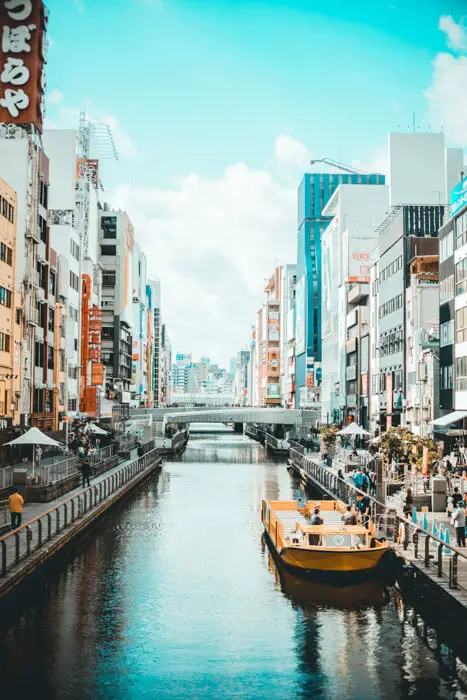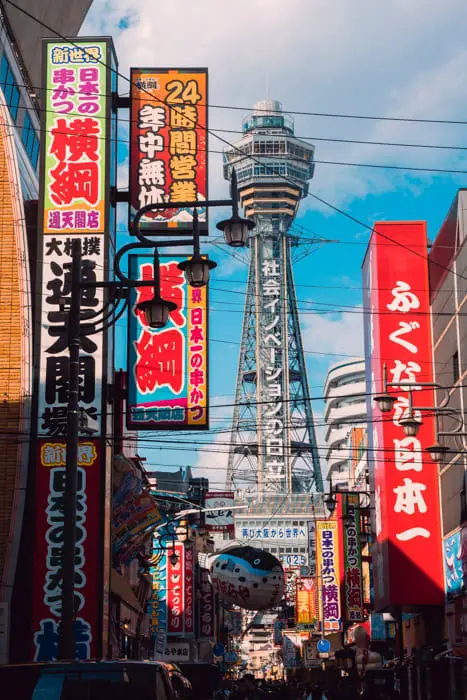 Quick Osaka with Kids Travel Tips: Know Before You Go
▪︎  Get the Osaka Amazing Pass. Save a ton on entry to some of Osaka's best tourist attractions with the 1 or 2-day Osaka Amazing Pass. Gain entry to Osaka Castle, HEP5 Ferris Wheel, Tombori River Cruise and many more places.
▪︎  Buy the ICOCA IC Card for Osaka train travel. Similar to the Suica IC card in Tokyo, this one is valid for use on JR West trains, subway and buses in the Kansai region. The ICOCA IC card comes pre-loaded with 1,500 JPY ($14 USD) and can be used for transport in Osaka, Kyoto and Kobe.
▪︎  Take advantage of cheap rail travel on Sundays. Get a one day unlimited Osaka transport ticket for 600 JYP ($5.50 USD) on Sundays. You might notice signs at ticket machines for this deal - be sure to take advantage of it as this will save you money on travel for an entire day.
Planning the nitty gritty of your Japan trip? Don't get caught in a pickle - arrange your travel insurance today.
After working at a travel agency for years, I've heard enough horror stories to direct a sequel to Final Destination. We use and recommend World Nomads - frankly, they have the most competitive rates and are available for travellers from 140 countries.
▪︎  Rent a bicycle to get around. Whizz around faster with kids and see more. Some rental shops around Namba Station offer bike rentals with child seats at an extra fee. Better yet, get an e-bike if you're lazy and unfit (eg. me).
▪︎  Know your Japanese etiquette. Why are there no trash cans? No talking on trains? No eating whilst walking? Take a look at our 12 Must-Knows Before Visiting Japan to get schooled on what to do and what not to do.
▪︎  Rent a pocket WiFi. You'll need access to the Internet to get around and check train connections. Pocket WiFis are ideal because they allow multiple users to connect to one device as opposed to a single user when using a SIM card.
▪︎  Don't exchange currency at self-service machines. These are called Smart Exchange ATMs - their rates are dismal and will cause angry teeth gritting. Our best tip is to open Google Maps when in Osaka and type in "currency exchange" into search and find the ones with high star ratings. We've had good experiences with these.
▪︎  Pre-purchase attraction tickets on Klook. Check for discounted attraction tickets to Universal Studios Japan, Osaka Aquarium Kaiyukan and others to save money and skip long queues.
▪︎  To JR Pass or not to JR Pass? If you're planning to visit multiple cities in various regions - it's worth getting a 7, 14 or 21-day Japan Rail Pass. If you're doing more day trips in the Kansai Region (Kyoto, Nara, Kobe, Himeji) - save money and get the JR West Kansai Pass instead.
Want more insider tips for planning your Japan trip?
Things to do in Osaka Bay Area with Kids
The Osaka Bay Area is divided into two massive family-friendly entertainment areas - one side is home to Universal City and the other side comprises Osaka Aquarium Kaiyukan and the giant Tempozan ferris wheel.
1. Universal Studios Japan
Wizarding World of Harry Potter, anyone? Die-hard fan or not - USJ is a not-to-be-missed Osaka attraction and widely considered one of the best Universal Studios theme parks in the world.
After experiencing the magic and thrills on our most recent trip, I can wholeheartedly confirm that this is one of the best theme parks on this planet. Yeah, you heard. Younger kids will love the fun rides and characters inside Minion Park, Jurassic Park and Universal Wonderland where little ones can meet and greet Sesame Street characters, Snoopy and Hello Kitty.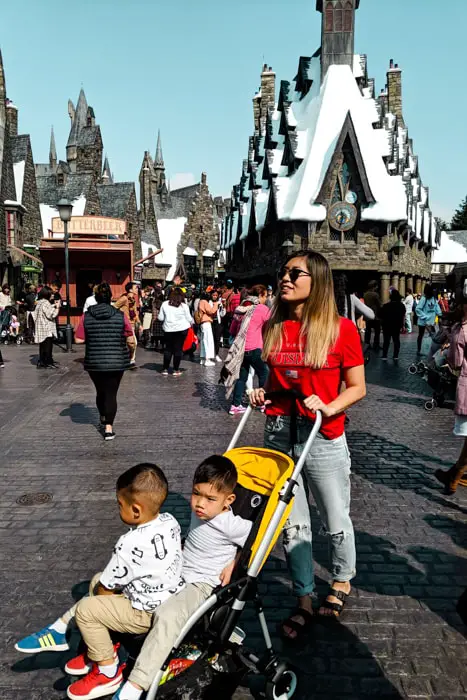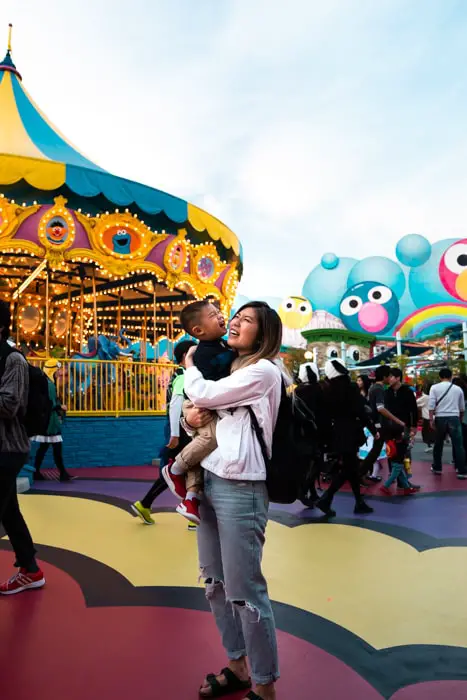 Guzzle down Butterbeer, explore the inside of Hogwarts Castle, escape a velociraptor, hi-5 some minions and brace yourself for the ride of your life onboard the backwards Hollywood Dream rollercoaster; Universal Studios Japan will, undoubtedly, be an unforgettable day for the whole family.
If you're still not sold, take a look at these convincing reasons why you should visit Universal Studios in Osaka.
For the best deals on Universal Studios Osaka tickets - get the 1-Day Studio Pass on Klook and grab the Express Pass to whizz through queues at some of the park's most popular rides.
HOT TIP: Take turns and utilise the single rider lanes at popular rides to reduce wait times in queues.
Opening hours: may vary daily. Check the official website for up-to-date information.
Location: 2 Chome-1-33 Sakurajima, Konohana Ward, Osaka
Entry Price: from 7,600 JPY / $70 USD adults | from 5,200 JPY / $48 USD kids 4+ years
2. Osaka Aquarium Kaiyukan
One of the best indoor things to do in Osaka with kids is to check into the Osaka Aquarium and explore the giant space that spans over 8 levels, filled with magnificent sea animals and river creatures.
Discover 15 large themed tanks and exhibits; marvel at the wonders that can be found inside a Japanese Forest, inside the Great Barrier Reef and in the depths of the Pacific Ocean.
Take a look at our Osaka Aquarium Kaiyukan guide for an inside tour on what to expect. Remember to pre-purchase tickets online to avoid queues, as this aquarium is one of the most popular ones in Japan.
Opening hours: 10am - 8pm (times vary according to season)
Address: 1-Chome-1-10 Kaigandori, Minato Ward, Osaka
Entry price: 2,300 JPY / $21 USD adults | 1,200 JPY / $11 USD kids 7-15 years | 600 JPY / $5.50 USD kids 4-6 years
3. Legoland Discovery Center Osaka
Located directly opposite the Osaka Aquarium inside the Tempozan Marketplace - this ultimate indoor playground is pretty self-explanatory, right?
The space comprises 2 fun rides, a 4D cinema, 8 LEGO Build & Play zones, Miniland and more activities the whole family can take part in. Additionally, you can even go on a LEGO Factory Tour and discover how the bricks are made; or get the kids involved in a Master Builder Academy course while parents kick back at the café.
Opening hours: 10am - 7pm daily
Location: 1-1-10, Kaigandori, Minato Ward, Osaka
Entry price: 2,300 JPY ($21 USD) ages 3+
4. Tempozan Ferris Wheel
The Japanese LOVE their ferris wheels. There's no doubt about that - they're everywhere. Osaka's Tempozan Ferris Wheel towers over the harbourfront and is classified as one of the world's largest ferris wheels. From the tippy top, the scenic ride offers views of Mount Ikoma to the east, Kansai International Airport to the south, and the Rokko Mountains to the north. There are also a select few cabins with glass bottom floors for those seeking extra thrills.
Opening hours: 10am - 10pm daily (varies according to season)
Location: 1 Chome 1-10 Kaigandori, Minato Ward, Osaka
Entry price: 800 JPY / $7 USD per persons | free for kids under 3
I get it. 50 is A LOT to get through. We've summed up the best 8 in a video.
5. 'Hike' up Japan's Smallest Mountain
Wander into Tempozan Park and prepare for an arduous hike up Mount Tenpo. Standing at a whopping 4.53 metres above sea level - she's an absolute mammoth of a mountain. Your one-step journey upwards will be a treacherous one, there's no guarantee that you won't experience altitude sickness at such great heights.
Sarcasm aside, Mount Tenpo is officially deemed Japan's smallest mountain, and I gotta say, we were a little bewildered when we arrived considering everything around us was taller than that mountain. Snap a pic to claim that you've conquered this backbreaking climb and then herd the kids into the playground on the other side of the hill.
Opening hours: 24 hours
Location: 3-Chome-2, Chikko, Minato Ward, Osaka
Entry: Free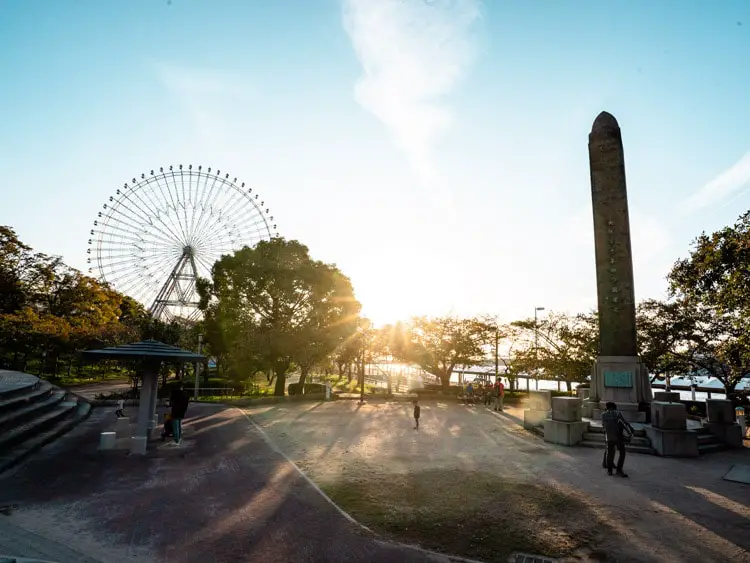 6. Relax Inside Solaniwa Onsen
Pack the kids and treat yourselves to a day of pampering - Japanese style. Not all are family-friendly, but this Azuchi-Momoyama era (1568 - 600 A.D.) natural onsen is west Japan's largest onsen theme park where families can bathe in the soothing warm waters, dress in traditional Yukata, enjoy entertaining live shows and roam the rooftop Japanese garden.
Opening hours: 11am - 9am (open 22 hours)
Location: Osaka Bay Tower, 1-2-3 Benten, Minato Ward, Osaka
Entry price: from 1,980 JPY / $18 USD adults | 990 JPY / $9 USD kids over 4
Namba & Dotonbori: Things to do in Osaka with Kids
The lively heart and soul of Osaka is famous for its gaudy neon lights, extravagant billboards, bars and tiny alleyways filled with generation-old family-run eateries. The Namba and Dotonbori area is the most vibrant and lively neighbourhood in the entire city and an absolute must-visit location when travelling to Osaka with kids.
7. Admire the Lights & Crazy Signage in Dotonbori
The main pedestrian strip in Dotobori is completely nuts. That pretty much describes it. But, I mean that in the best of ways. Our two boys could not stop gaping at the gigantic moving crab sign, life-sized dragon that decorated the front of a Chinese restaurant and Spider-Man figures that adorned the facades of restaurants serving Kobe beef (all Kobe beef restaurants have a Spider-Man statue out the front - don't ask why).
There's no place in the world quite like this and, although, it's one of the busiest areas you'll come across, it's also one of the most memorable and best places to visit in Osaka.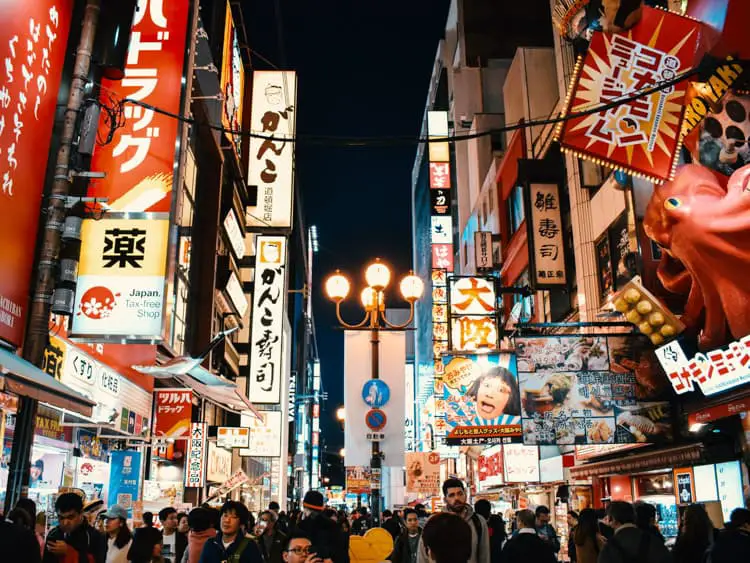 8. Oval-Shaped Dotonbori Ferris Wheel
Okay, so we've already established that Japan has an obsession with ferris wheels. But, what makes this one a little crazy and a little special is its oblong shape. I mean, how many people can say that they've ridden on an oval-shaped ferris wheel? Not many. If any. The views from the top are spectacular at night - soak in the lights of the entertainment district from above and spot attractions like Tsutenkaku Tower and Abeno Harukas.
This funky ferris wheel actually belongs to the discount chain store - Don Quijote, or as Japanese call it, Donki. Do yourselves a favour and take a stroll inside; buy souvenirs or simply have a laugh at some of the funny and outrageous things you'll find inside.
Opening hours: 11am - 11pm daily
Location: Tonbori Riverfront
Entry price: 600 JPY / $5.50 USD per person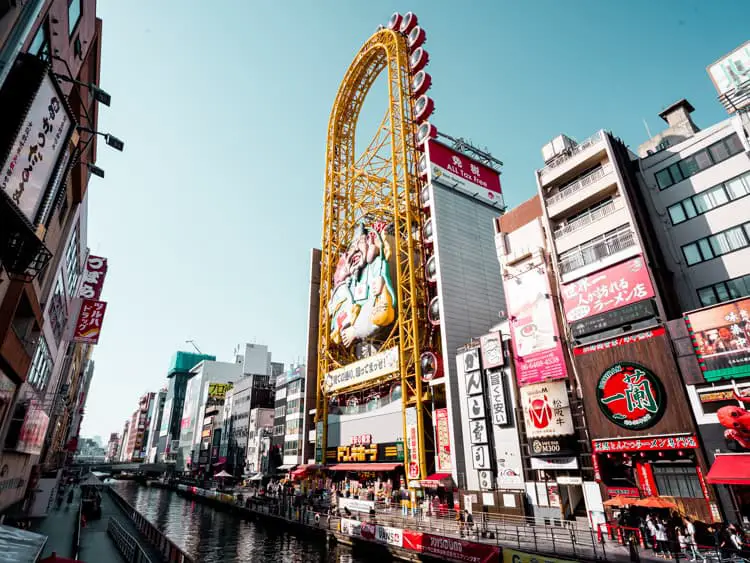 9. Tombori River Cruise
Hop onboard a 20-minute cruise down the Dotonbori canal and take in all the craziness and over-the-top billboards from the serenity of the river. While you're cruising along and snapping away for the 'gram, learn all about some of Dotonbori's hidden gems and history of the area from your guide.
Access to the Tombori River Cruise is included in the Osaka Amazing Pass. Get the pass to save on entry to major attractions.
Visitor Information
Location: 1 Chome-6-7 Dotonbori, Chuo Ward, Osaka
Price: 900 JPY ($8 USD) adults | 400 JPY ($3.70 USD) kids 6-12 years
HOT TIP: Japan's train network can be seriously confusing. Get the ICOCA IC Card pre-loaded with ¥1,500 / $14 USD to commute stress-free in Osaka.
10. Tombori River Boardwalk
If the thought of cruising makes you feel a wee bit nauseous - take a stroll down the Tombori River instead. The scenic boardwalk will take you past scores of restaurants and food stands that serve up some of the city's best Takoyaki (octopus balls), gyoza (Japanese dumplings) and other popular street food. Experiencing a sunset from the Riverwalk is breathtaking and a memory that will stick with you forever-ever.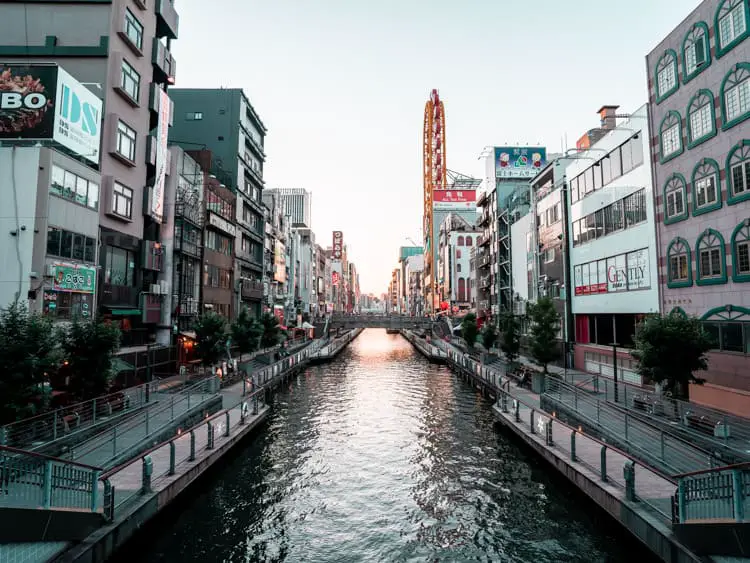 11. Dotonbori Konamon Museum
Alright, so if you and your kids pass as 'foodies' - the Konamon Museum needs to be added to your Japan with kids itinerary. Stat. Munch on Osaka's soul food, Takoyaki; learn about the dish's roots and even make wax samples because they love their art of making fake food in Japan. Observe experts preparing Takoyaki up close and discover the origins of the dish, what the brown sauce is made from, and bring home neat little souvenirs.
Opening hours: 11:30am - 10pm daily
Location: 1 Chome-6-12, Dotonbori, Chuo Ward, Osaka
Entry price: Free (wax model making costs 1,600 JPY / $15 USD)
12. Make a Wish at Hozen-ji Temple
If there's one thing our 4-year old came to love in Japan (apart from collecting Gachapon), it was making prayers at shrines. Throw in a coin, ring the bell, clap twice and make your prayer. At the famous moss-covered statue of Fudo Myo-o found in the little laneways of Hozen-ji Yokocho, visitors aren't required to make a prayer. Instead, you make a wish. Legend has it that tossing in a coin and throwing water over the statue whilst making your wish will bring it to fulfilment.
Opening hours: 24 hours
Location: 1 Chome-2-16, Namba, Chuo Ward, Osaka
Entry: Free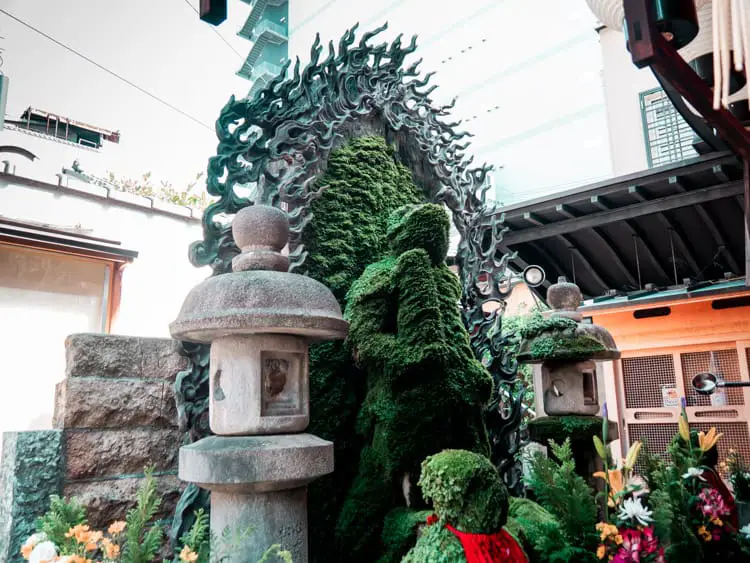 13. Eat Melonpan Ice Cream
Cure your sweet tooth and head over to Amerika-mura, found on the outskirts of Dotonbori, for a Melonpan Ice Cream Sandwich. Melonpan is a sweet bun topped with crunchy cookie dough that's shaped to look like a melon. In Japan, they take it to the next level by slicing it open and slipping a scoop of vanilla or matcha ice in between. Could life get any more complete? Nah-uh. This is it. Melonpan Ice Cream is the reason for being.
Opening hours: 11am - 7:30pm daily
Location: Melonpan Ice Amerika-mura, 2-11-9 Nishishinsaibashi, Chuo Ward, Osaka
14. Collect Gachapon in DenDen Town
Hailed the Akihabara of Osaka, DenDen Town, is a haven for tech nuts and game freaks. Stumble upon shops selling pop culture merchandise, collectible items, camera gear, anime fan gear and, of course, Gachapon - vending machine dispensed capsule toys. Parents will have a love/hate relationship with these mysterious ball-shaped Kinder Surprise-like goodies. There are entire shops dedicated to Gachapon in DenDen Town - kids will go nuts. Parents will go broke.
Location: 5-minute walk east from Namba Station
15. Rockstar Reptile Cafe (if you dare)
Conquer all your creepy crawly fears and pop into this bizarre and awesome animal café that'll either have you screaming your way back out or overcoming some of your greatest fears. Sip on your latté with an Iguana, chase a tortoise around the café, wrap a snake around your neck or even hold a hairy tarantula in the palm of your hand. This is not everyone's cuppa tea, but if you're down for a once-in-a-lifetime experience with your family - it doesn't get crazier than this.
For an inside look at Rockstar Reptile Cafe in Osaka - take a look at our hair-raising video.
Opening hours: 11am - 10pm daily
Location: 3rd floor, 2 Chome-7-7, Naniwa Ward, Osaka
Entry price: 1,000 JPY / $9 USD per person (each person must order a drink inside)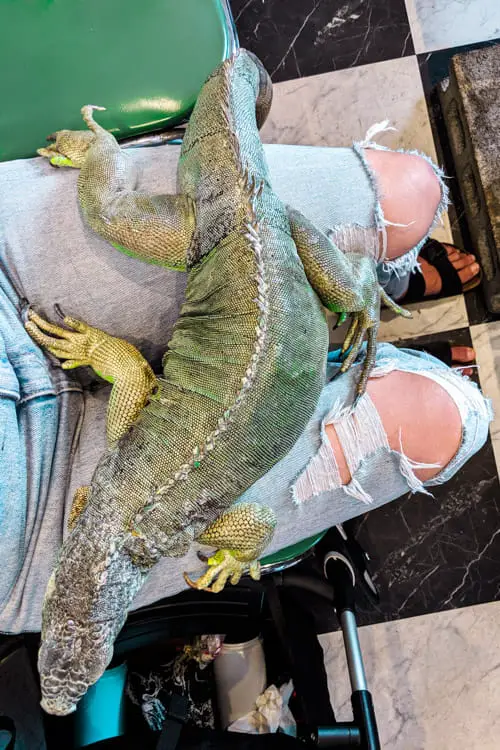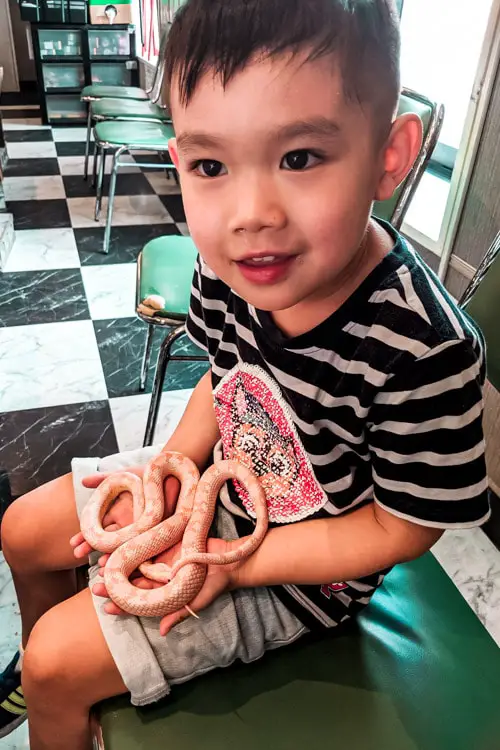 16. Round1 Stadium Namba
You have not been to an arcade until you've been to an arcade in Japan. Skill testers, state-of-the-art arcade games, rollerskating rink, segway racing, bowling, baseball batting, rodeo riding, inflatable bubble soccer.. and I don't even think I've covered the half of it.
Round1 Stadium at Namba Station is an arcade, sports, play and entertainment centre under one huge roof. Just imagine 10 levels of unadulterated fun. This place quickly became one of the best things to do in Osaka with kids for our family - we legit wanted to live inside Round1 Stadium.
Opening hours: 24 hours
Address: 1 Chome-3-1, Namba, Chuo Ward, Osaka
Price: from 1,880 JPY / $17 USD per person | free for kids under 2
17. Visit the Namba Yasaka Shrine
A short 10-minute stroll from station, the Namba Yasaka Shrine is a giant 12-metre tall lion head-shaped structure with an open mouth that is said to swallow evil spirits and bring fortune to those seeking success in business and school-related ventures. It's nothing like any other shrine you'll visit in Japan, and the kids will undoubtedly marvel at the gigantic lion head.
Opening hours: 6:30am - 5pm daily
Location: 2 Chome-9-19 Motomachi, Naniwa Ward, Osaka
Entry: Free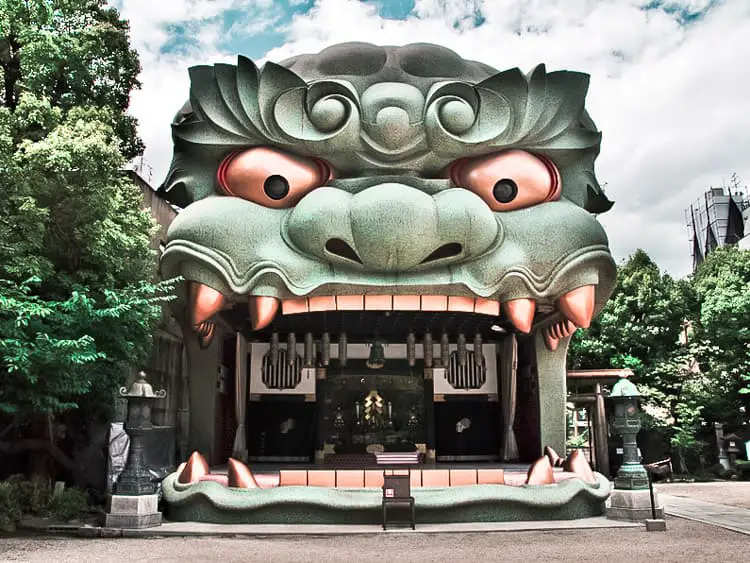 18. Frolic in the Urban Oasis at Namba Parks
Feeling slightly suffocated by the concrete jungle and city life? Head to the Namba Parks rooftop garden where you'll find 8 levels of rising terraces filled with 7,000 plants, waterfalls, streams, climbing obstacles for kids, gardens and an amphitheatre for outdoor concerts. Let the little ones run free while parents chill out on the lawn space, admire killer views over Osaka and gape in awe at the canyon-design of the mall seen from the top.
Opening hours: 11am - 9pm daily
Location: 2 Chome-10-70 Nanbanaka, Naniwa Ward, Osaka
Entry: Free
Short on time? Make the most out of your Osaka trip with kids by jumping on one of these top-rated tours that include Namba & Dotonbori.
✰ Hop-on Hop-off Sightseeing Bus Tour
Hop on a whirlwind tour through Dotonbori, Shinsaibashi, Shinsekai, Osaka Castle and many more sights if your time is limited.
✰ Osaka Family Friendly City Tour
Enjoy a personalised tour tailored to your family's interests without having to worry about how to get around and where to eat with kids.
✰ Namba & Dotonbori Street Food Tour
Taste some of the most popular street food in Namba & Dotonbori with a local foodie to guide your family.
Tennoji & Shinsekai: Osaka Attractions for Kids
Home to the tallest skyscraper and oldest temple in Japan, Tennoji and Shinsekai are areas that have undergone rapid redevelopment over the past years to revitalise the district and draw in family crowds.
19. Stroll through Tennoji Park
Hugely popular amongst local families seeking to get outside with their kids, Tennoji Park is a large and open urban oasis that's home to attractions like the zoo, Osaka City Museum of Art, a Japanese Garden, and a bright red bridge that provides the perfect elevation for turtle-spotting over the lake.
Grab a bite to eat or let the kids run around in Ten-Shiba, a huge open space lined with hip cafes, eateries, shops, futsal courts and an indoor/outdoor kids' play centre. Another cool spot to visit inside the park is the Chausu-yama mound, the famous site of the legendary 17th century Summer Siege battle between two samurai clans.
20. Zen out at Keitakuen Garden
Don't miss this Japanese garden inside Tennoji Park - it's a little hidden but I'm going to tell you exactly how to find this little gem. Navigate your way to the southern end of the Osaka City Museum of Art (closer to the Ten-Shiba area), there you'll find a tiny little booth that sells tickets to the Keitakuen Garden. Inside, you'll find a small lake inhabited by koi fish, narrow walking paths, a gazebo, streams and stone bridges that will help you find complete inner peace. Or not (taking kids into consideration).
Opening hours: 9:30am - 5pm (Tuesday to Friday), closed on Mondays
Location: 1-108 Chausuyamacho, Tennoji, Osaka
Entry Price: 150 JYP / $1.40 USD adults
21. Tennoji Zoo
If you're running out of things to do with kids in Osaka (highly unlikely) - go and check out Tennoji Zoo. Conveniently nestled inside Tennoji Park, entrance to the zoo only costs $5, making it one of the cheapest kids activities in Osaka. Bargain, right? It's not a huge zoo, but it still houses thousands of animals from lions and chimpanzees to koalas and New Zealand kiwis.
Opening hours: 9:30am - 5pm (weekdays), 9:30am - 6pm (weekends)
Address: 1-108, Chausuyama-cho, Tennoji, Osaka
Entry price: 500 JYP / $4.60 USD adults | free for kids under 5
22. Gawk at Shitenno-ji Temple
Get blown away by the beauty and tranquility at Shitenno-ji Temple - Japan's oldest official temple clocking in around 1400 birthdays. This blows my mind considering Australia is a total of, like, 200 years old. Wander into the pebble-covered courtyard and even make your way up to the top of the five-storied pagoda. At the back of the temple you'll find a pond packed with super cute turtles and also the breathaking Gokuraku-jodo Garden, which is well worth a visit if you can't get enough of Japanese gardens.
Opening hours: 8am - 4pm daily
Location: 1-11-18 Shitennoji, Tennoji Ward, Osaka
Entry price: 500 JPY / $4.60 USD per adult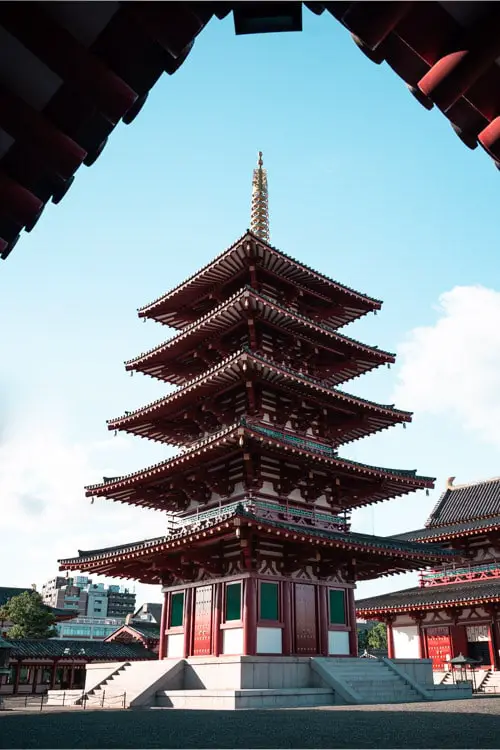 23. Swing by Isshin-ji Temple
For a 12th century temple, Isshin-ji certainly doesn't look it. Well, at least not at the entrance gate. It's got more.. modern art museum vibes. What makes this place eerily different to other temples is that the collection of Buddha statues, known to locals as Okutsu Butsu, are made from the cremated remains of 150,000 ancestors of today's residents in Osaka. Crazy, huh?
Opening hours: 5am - 6pm daily
Location: 2 Chome-8-69 Tennoji Ward, Osaka
Entry: Free
24. Abeno Harukas 300 Observatory
For some seriously impressive panoramic views of Osaka, there's no better place than the tallest skyscraper in Japan - Abeno Harukas. The Harukas 300 Observatory is found between the 58th to 60th floors where visitors can step out to an open-air plaza and kids can run a few laps and catch some fresh air. The real marvel is on the 60th floor - prepare to be blown away by incredible views of the city from a 360° glass-enclosed deck.
Real thrill seekers and older kids might enjoy giving their heart rates a good beating with a trip up to the very top with Edge The Harukas, where adrenalin junkies can skim along the edge of a narrow deck while attached to a harness.
Opening hours: 6:30am - midnight daily
Location: 1 Chome-1-43 Abenosuji, Abeno Ward, Osaka
Entry price: 1,500 JPY / $14 USD adults | free for kids under 3
25. Roam the Shopping Malls
Pop into Abeno Q's Mall or Tennoji MIO for a sightseeing break and relax in the kids' spaces, grab a bite to eat, skim the toy stores or update your wardrobe - it's the biggest and trendiest shopping complex in all of Osaka. We loved dropping into these malls for some downtime - browsing some of the variety stores like Tokyu Hands and Loft is a fun family activity in Osaka.
26. Uncover a 'New World' at Shinsekai
Before you start singing the lyrics to 'a whole new world' from Aladdin - no, I'm not referring to that one. The New World in Shinsekai was conceived in the early 20th century and inspired by Coney Island and Paris. If you and the kids love the crazy restaurant signage in Dotonbori, then you'll sure as hell love the completely over-the-top ones hanging over the restaurants in Shinsekai.
The iconic Osakan dish that you must try in Shinsekai is Kushikatsu, a deep fried skewered meat and vegetable local delicacy. We squeezed ourselves into Shinsekai's best Kushikatsu eatery - Kushikatsu Daruma, and by gods, it was nirvana in my mouth. Another fun place to take the kids to eat is Yokozuna Tsutenkaku where they serve sumo-sized portions of ramen, fried noodles, gyoza and a whole heap of other dishes that could literally feed the entire family.
27. Tsutenkaku Tower
Modelled after elements of the Eiffel Tower, Tsutenkaku Tower is the big neon-lit metal thing that shoots out of the centre of Shinsekai. But, let's be real. It probably resembles more of an airport control tower than anything else. The tower houses two observation decks with panoramic views over the city, souvenir shops, amusement stores and a Kinnikuman Museum dedicated to the popular anime character.
Opening hours: 9am - 9pm daily
Location: 1 Chome-18-6 Ebisuhigashi, Naniwa Ward, Osaka
Entry price: 800 JPY / $7 USD | free for kids under 5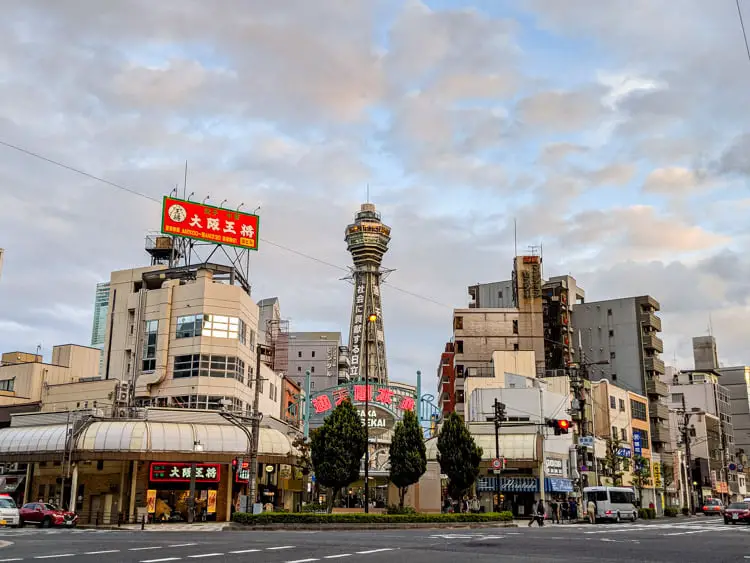 28. Splash Around Inside Spa World
This is not just another onsen theme park. This is an aquatic journey to hot spring-themed baths all around the world. Experience the baths of Rome, Greece, Spain, Bali and Japan all under one roof. If that sounds boring to the kids, then pop into Spa World's amusement pools - one of the top fun things to do with kids in Osaka - the large swimming space is packed with thrilling water slides and water-based play spaces.
Opening hours: Times vary. Check the official website for up-to-date information.
Location: 3 Chome-4-24 Ebisuhigashi, Naniwa Ward, Osaka
Entry price: from 1,300 JPY / $12 USD adults | 1,000 JPY / $9 USD kids under 12
29. Ninja Workshop & Costume Rental Experience
Ever fantasised about being a ninja for a day? Well, if you're out of crazy ideas on what to do in Osaka with kids, learn what it takes to become a master assassin in this exciting Ninja Workshop Experience. Don your black robes, learn about the weapons and how to fight, as well as meditation techniques from a professional instructor. You can even roam the streets as a ninja fam and have your photos taken in this unforgettable experience.
Side note: only kids aged 4+ can participate in this activity.
Opening hours: 10am - 5pm daily
Location: 1 Chome-1-18 Taishi, Nishinari Ward, Osaka
Price: from 4,800 JPY / $44 USD adults | 3,800 JPY / $35 USD kids aged 4+
Expo City: Osaka Attractions for Kids
Located in Suita, roughly an hour by train north of Osaka, EXPOCITY is a massive outdoor entertainment, dining and shopping complex that sprouted from the remaining monuments of the 1970 World Expo.
30. Get Mindblown at NIFREL Aquazoo
It's nothing like you've ever experienced anywhere before - I can guarantee you that. NIFREL Aquazoo is the result when you arrange a 3-way marriage between Tokyo's TeamLab Borderless, a zoo and an aquarium. Look, it's hard to explain, but I'm going to rate this place as one of the top Osaka attractions for kids.
Based on a 'living museum' concept, NIFREL allows many of its friendly animal residents to roam freely in the open exhibits. It's a truly mind-blowing sensory experience for the whole family; along the way, there will be opportunities to interact with doctor fish, lemurs, pelicans and other unique mammals.
Opening hours: 10am - 8pm daily
Location: EXPOCITY, 2-1 Senribampakukoen, Suita Ward, Osaka
Entry price: 2,000 JPY / $18 USD adults | 600 JPY / $5.50 USD 3-6 years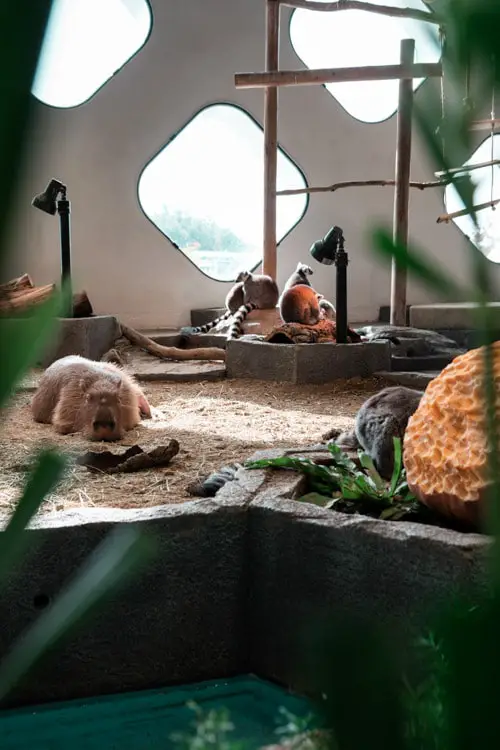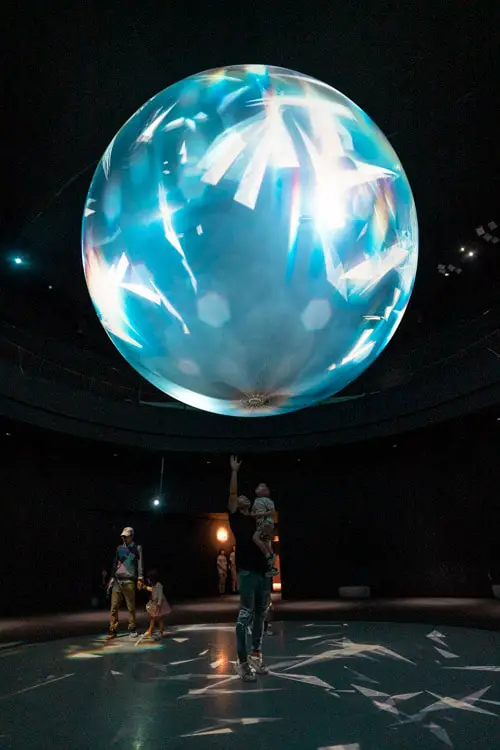 31. Redhorse Osaka Wheel
Wait, what? Another ferris wheel in Osaka? Yes - I told you the Japanese have an obsession with these big spinny things. I don't want to sound ferris wheel biased, but this one's actually my favourite one in Tokyo and Osaka combined. Oh, yeah. I said it. Best admired at night in all its lit-up glory, the 123-metre tall Redhorse Osaka Wheel features 72 transparent glass gondolas to make visitors feel like they're 'hovering' above the ground.
Opening hours: 10am - 11pm daily
Location: EXPOCITY, 2-1 Senribanpakukoen, Suita Ward, Osaka
Entry price: from 1,000 JYP ($9 USD) per person | free for kids under 3
32. Get Active inside VS Park
I can probably guarantee that you've never experienced an indoor amusement centre quite like this one . Spanning two floors, VS Park in EXPOCITY is what you get when you merge sports with virtual reality. Think you can outrun a gorilla? Put your speed to the test and find out. Challenge your kids in a round of bass table tennis set inside a boombox. Practice your aim in virtual archery or race your family on personal mobility devices - there's a ton of fun to be had inside.
Opening hours: 10am - 9pm (weekdays) | 9am - 9pm (weekends)
Location: EXPOCITY, 2-1 Senribanpakukoen, Suita Ward, Osaka
Entry price: from 2,800 JPY / $25 USD adults
Pre-book your Osaka attraction tickets:
33. ANIPO Animal Amusement Park
ANIPO is a small outdoor amusement park with rides designed for young children. Jump on a choo choo train ride, soar the skies aboard the Flying Bicycle or shoot water at super cute animals and see who gets the best shot. It's a great little bit of outdoor fun that allows parents and kids to enjoy the rides together.
Opening hours: 10am - 8pm (daily)
Location: EXPOCITY, 2 Senribanpakukoen, Suita Ward, Osaka
Price: Pay per ride (between 200-400 / $2-4 USD JPY each)
34. Chill & Play Inside the Expo '70 Commemorative Park
One of the largest public parks in Osaka, the Expo Memorial Park (AKA Banpakukinen Park) features playgrounds, barbecue facilities, Japanese-style gardens, sporting facilities, hot springs and the iconic monument - Tower of the Sun. This bizarre-looking structure kind of looks like a cross between a penguin and No-Face from Spirited Away. The main walkways are also lined with thousands of cherry trees, making the park one of the hottest spots to visit during cherry blossom season.
Opening hours: 9:30am - 5pm daily
Location: 1-1 Senribanpakukoen, Suita Ward, Osaka
Entry price: 260 JPY / $2 USD per person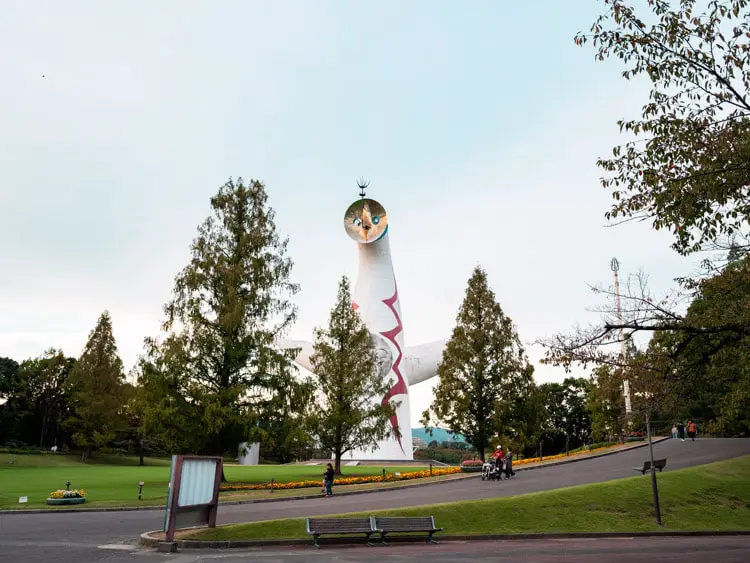 35. Japan's First KFC Buffet Restaurant
You read right. Located outside the LaLaport shopping complex in EXPOCITY is Japan's very first all-you-can-eat KFC buffet. Given that we had never seen anything like it anywhere else - we had to give this a try. Contrary to popular belief, it's not just fried chicken and 'slaw that's on offer. You'll find everything from a fresh salad buffet to lasagne and vegetable stir fries. Oh, and of course, matcha ice cream and a whole bunch of yummy Japanese desserts.
Opening hours: 11am - 10pm daily
Location: EXPOCITY, 2-1 Senribanpakukoen, Suita Ward, Osaka
Price: from 1,880 JPY ($17 USD) adults | kids under 3 eat free
36. Snap a Pic in Gundam Square
Fans of robots and Japanese anime will find plenty of amusement inside the Gundam Square Shop and Cafe. The store side sells Gunpla and other merchandise from the popular animated cartoon and the themed cafe serves up staple dishes from Osaka, such as, Takoyaki and Okonomiyaki, boba tea and the famous Char's Zaku Rice that comes served up in the shape of a Gundam head.
Don't forget to snap a pic with the two giant Gundam statues in combat at the entrance.
Opening hours: 11am - 10pm daily
Location: EXPOCITY, 2-1 Senribanpakukoen, Suita City, Osaka
Entry: Free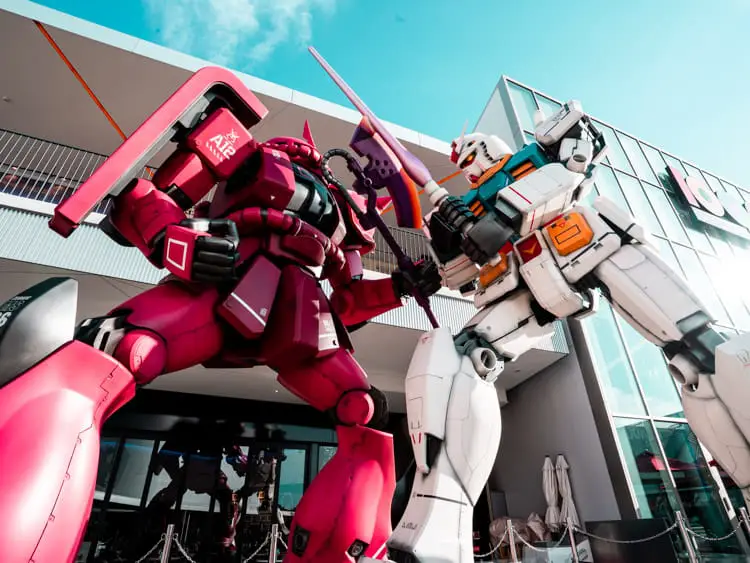 Umeda & Kita Ward: What to do in Osaka with Kids
The modern transport and business hub of the city - this popular district is located north of Osaka and is made up of large shopping complexes, dining options, entertainment centres and hotels.
37. Kids Plaza Osaka
If arcades and entertainment centres in Japan are on crack, then indoor edu-tainment play centres are on steroids. Again, of course, in the best of ways. Spread over 4 huge levels, the epic complex comprises a science and nature museum, computer studios, cooking classes, workshops, a play area for babies, a culture museum and a mammoth playground in the centre of it all.
For an inside look at Kids Plaza Osaka - check out our video that covers the highlights.
Opening hours: 9:30am - 5pm daily
Address: 2 Chome-1-7 Ogimachi, Kita Ward, Osaka
Entry price:  1,400 JPY / $13 USD adults, ¥800 (elementary & junior high school students), ¥500 (3+ years), kids under 3 years free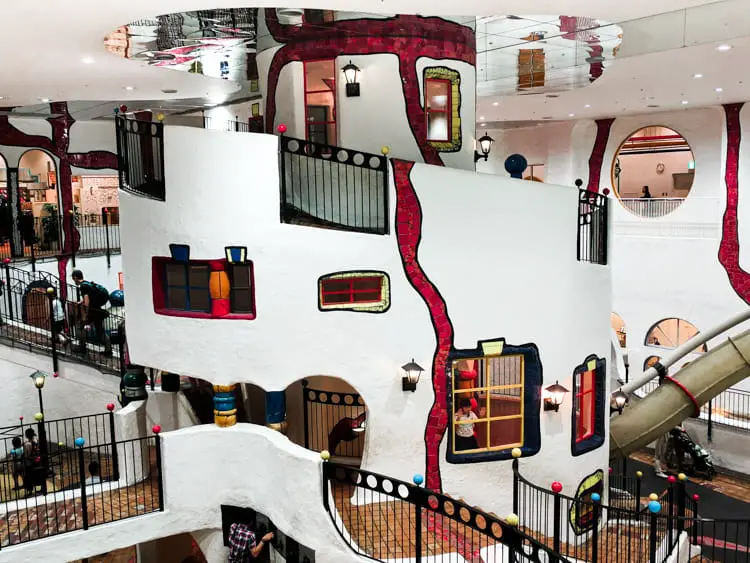 38. Omigachi Park
If your kids aren't knackered by the end of Kids Plaza - head outside to the Omigachi Park playground behind the complex. This is the biggest public outdoor playground I've seen in all of Osaka, complete with slides, climbing obstacles, rolling hills and sand pits. Fingers crossed the kiddos sleep sound through the night after an epic day of play.
Opening hours: 24 hours
Location: 1 Chome-1-2-1 Omigachi, Kita Ward, Osaka
Entry: Free
39. Osaka Museum of Housing & Living
Take a step back in time and catch a glimpse of Osaka in the Edo period inside the Osaka Museum of Housing and Living. Inside, you'll get to explore a recreated Edo-style town, where you can walk into a shops and even a bathhouse. For an extra 500 JPY / $5 USD, you can rent a kimono and roam the old townscape as if you were a resident from that period.
Opening hours: 10am - 5pm (closed on Tuesdays)
Location: 6 Chome-4-20 Tenjinbashi, Kita Ward, Osaka
Entry price: 600 JPY / $5.50 USD adults | under 15 years enter free
40. Umeda Sky Building
Is it a space station? Is it the Starship Enterprise? Nope. It's the Umeda Sky Building. At 173 metres tall, the futuristic structure stands on two towers - west and east - both joined at the top by the circular Floating Garden Observatory. Between the 35th and 40th floors, you'll find a massive ceiling-to-floor glass observatory, an open-air rooftop sky walk, and even a sky-high bar.
Entry to the Umeda Sky Building is included in the Osaka Amazing Pass - get the pass for huge discounts to major attractions in the city.
Opening hours: 9:30am - 10:30pm daily
Location: 1 Chome-1-87 Oyodonaka, Kita Ward, Osaka
Entry price: 1,500 JYP / $14 USD adults | 700 JYP / $6 USD kids 4-12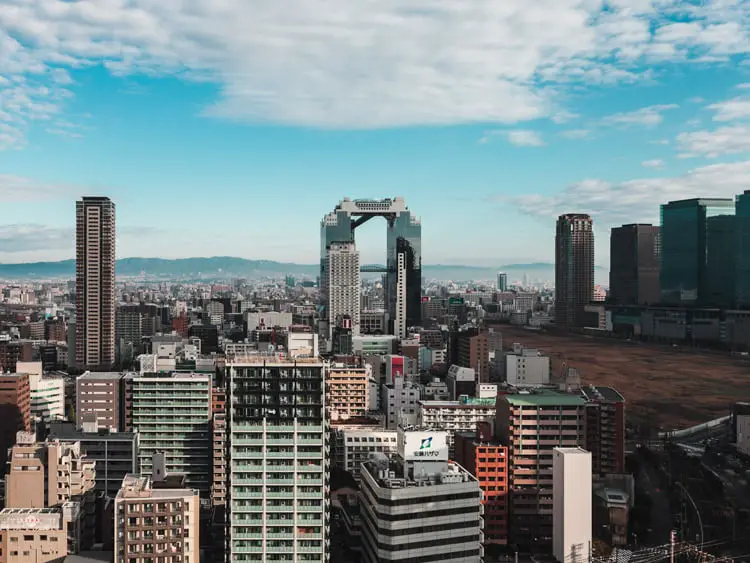 41. HEP Five Ferris Wheel
Are you serious. Another one? Yeah. What are we up to now? Ferris wheel no. 12? 55? I've lost count. However, your wandering eyes won't miss this bright red ferris wheel sitting atop a shopping complex. Yes, this one's special because it doesn't sit on ground level. It sits on top of a mall - visitors can board the ride from the 7th floor.
Entry to HEP Five ferris wheel is included in the Osaka Amazing Pass - get the pass for huge discounts to major attractions in the city.
Opening hours: 11am - 1045pm daily
Location: 5-15 Kakuda-chou, Kita Ward, Osaka
Entry price: 600 JPY / $5.50 USD adults | free for kids under 6
42. Yodobashi Toy Department
Guys. This is not just any department store. It's a friggin' Yodobashi. If you haven't heard of this department store chain, it's basically the most epic electronic department store on this entire planet. But kids, of course, aren't the slightest bit interested in household electronics, cameras and what-not. That's not what you're coming here for - you're coming for the colossal toy department that occupies an entire floor of this shopping centre-sized complex.
Move aside, Toys 'R' Us, because this toy department is on crack. Roam the aisles and find everything from Pokémon to Marvel - I can guarantee that your kids will have to be dragged out of this place. Kids will stumble upon huge demo displays and play stations where they can test out toys and build structures.
Opening hours: 9:30am - 10pm
Location: 1-1 Ofukacho, Kita Ward, Osaka
43. Kit Kat Chocolatery
Inside the Daimaru department store beneath Osaka Station, you'll find something sweet and indulgent. If you're a fan of Kit Kats (seriously - who isn't?), then this is the place to try unique flavours, like, sakura (I wasn't aware that cherry blossoms could be turned into a flavour), chilli, cream cheese, sweet potato and a whole heap more you never thought possible. Be aware that it's not cheap though - this is considered a gourmet Kit Kat shop and will dig deep into your wallet.
Opening hours: 10am - 8:30pm daily
Location: 3 Chome-1 Umeda, Kita Ward, Osaka
44. Find your Honour inside Samurai Cafe
Hang out and take selfies with legendary samurai, laugh your bottoms off and witness professional actors play out intense sword fighting scenes inside the Samurai Cafe. If you or the kids are fascinated by the folklore of these legendary warriors - and you enjoy a bit of comedy in between - this experience is an absolute must that's suitable for the whole family. Prepare to be amazed by the stunts and backflips, but moreso, the hands-on entertainment and hilarity that gets the whole audience involved.
Show hours: 4pm & 8:30pm every Tuesday, Friday & Saturday
Location: Studio Tenroku, 2-2-2 Honjohigashi, Kita Ward, Osaka
Ticket price: 5,000 JPY / $46 USD per person | free for kids under 4
45. Explore Osaka Castle
Dating back almost 450 years, the Osaka Castle and the park is an amazing place to unleash the kids and burn off some pent-up energy. The huge green space is home to a Plum Grove Walk, Japanese Garden, Samurai Store, street food stands, and of course, the impressive castle that houses a museum and viewing platform on the top floor.
Entry to Osaka Castle is included in the Osaka Amazing Pass - get the pass for huge discounts to major attractions in the city.
Opening hours: 9am - 5pm daily
Location: 1-1 Osakajo, Chuo Ward, Osaka
Entry price: 600 JPY / $5.50 per person | Under 15s enter free
46. Osaka Castle Lumina Night Walk
For an unforgettable experience at Osaka Castle - visit the grounds at night and embark on the magical Sakuya Lumina Night Walk journey. The experience combines captivating storytelling, immersive digital art and cutting edge sound and light design to draw visitors into a fairytale journey that hurls you from the present into the past.
Be sure to buy tickets in advance, as they are much more expensive at the door.
Opening hours: 6pm - 10pm daily
Location: 1-1 Osakajo, Chuo Ward, Osaka
Entry price: 3,200 JPY / $29 USD adults | 1,200 JPY / $11 USD kids 4-12 years | free for kids under 4
TIP: Visit early April for the famous cherry blossoms & mid to late November for stunning autumn foliage.
47. Illusion Museum & Magic Show
Get ready for a day filled with illusions, magic tricks and mind-blowing awe at the Illusion Museum inside the MIRAIZA shopping complex. Witness an exciting magic show that'll make your jaws drop to the ground, and discover some of the world's best magic tricks and artefacts that famous magicians and illusionists have used throughout history.
Opening hours: 10am - 5:30pm daily
Location: 1-1 Osakajo, Chuo Ward, Osaka
Entry price: 1,700 JPY / $16 USD adults | 700 JPY / $6 USD kids 4-11
48. Osaka Museum of History
For history lovers of all ages - this fun and interactive museum chronicles Osaka's vast history from ancient times that span back thousands of years to the early Showa period. The upper levels of the museum provide amazing views of Osaka Castle located across the street. The lower levels hold life-size recreations of early 20th century Osaka city streets and households that visitors can stroll through.
Opening hours: 9:30am - 5pm daily
Location: 4 Chome 1-3-2 Otemae, Chuo Ward, Osaka
Entry price: 600 JPY / $5.50 USD | under 12 years free
Kids Activities in Osaka: Other Places of Interest
These last two places to go with kids in Osaka are, perhaps, a little out of the way and make for a bit of a day trip of their own. Nevertheless, they are still unique and fun experiences that the whole family can enjoy, so squeeze them into your Osaka itinerary if you can still manage to find the space.
49. Cup Noodles Museum Ikeda
Cup noodle fans, rejoice. Much like the one in Yokohama, this super fun and tasty instant noodle museum is the perfect place to learn about the origins of this popular snack (or quick meal). Try your hand at making chicken ramen, or even create your very own personalised cup noodle to take back home as a souvenir. Walk through the colourful Instant Noodles Tunnel lined with over 800 Nissin product packages, depicting the complete evolution of flavours and noodle types.
Opening hours: 9:30am - 4:30pm (closed Tuesdays)
Location: 8-25 Masumicho, Ikeda, Osaka
Entry price: Free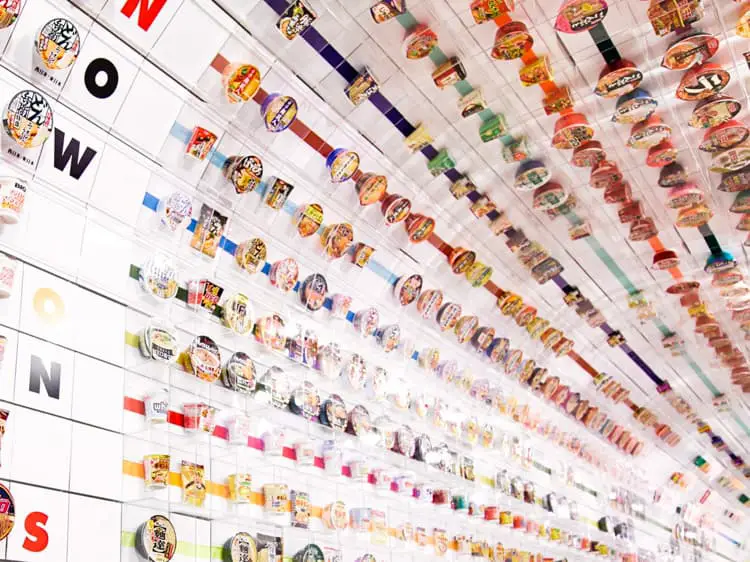 50. Visit the Asahi Brewery.. with Kids?
Built in 1981, the Asahi Suita Factory is the company's very first brewery in Japan. Embark on a free 90-minute tour of the brewery that features galleries with displays about the history andproduction process of beer; stroll along elevated observation decks where you can watch the canning, bottling and packaging of the bottles. At the end of the tour, visitors also get to sample a beer (or 3), accompanied by tasty snacks.
This is a family-friendly tour, as kids of all ages are permitted to join. They're obviously not allowed to engage in the sampling part of the tour, but I'm sure they'll enjoy the yummy snacks.
Tour hours: every 30 mins between 9:30am - 3pm daily(reservations recommended)
Location: 1-45 Nishinoshocho, Suita, Osaka
Entry: Free
Osaka Attractions for Kids: The Wrap Up
Aaand, that's it. Our epic list of the best things to do in Osaka with kids. There's no way you can even get through the half of these on a short trip, but this list gives you a pretty convincing reason to come back, right?
If an overnight trip is all the time you can spare - have a squiz at this 2-day Osaka itinerary to get a quick feel of this gritty, grungy and cool city.
However, if you're planning an extended trip to Osaka, then make sure you take the kids on, at least, one day trip. Nara, Himeji Castle, Koyasan, Kobe and Kyoto are all a short train ride away.
Got questions about visiting Osaka with kids?
Feel free to ask in the comments below.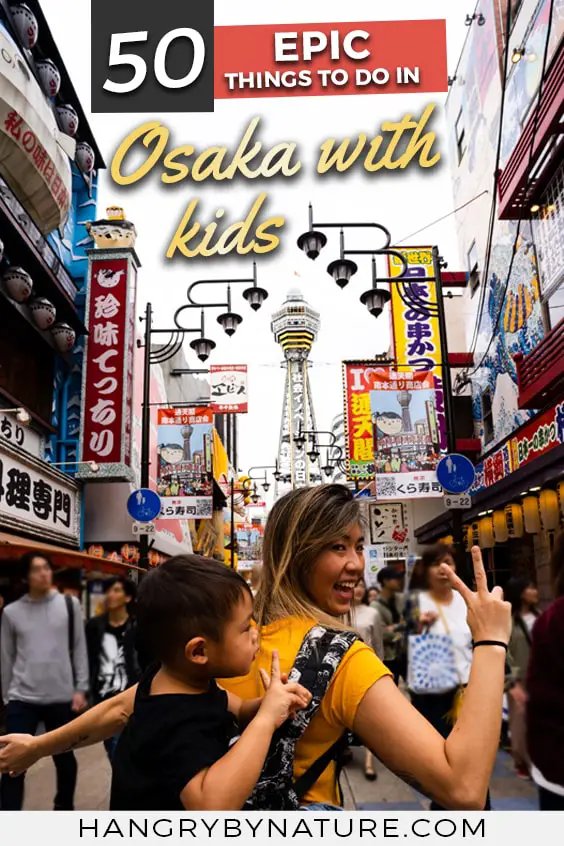 Get the most out of your Osaka Trip
Take a look at our Travel Resources to find the best deals on flights, accommodation and attractions. Find mistake fares, the cheapest date to fly each month, hotel and apartment savings, plus where to buy the cheapest tickets for attractions.
If you're looking for some sweet accommodation deals, you're in for a delicious treat.