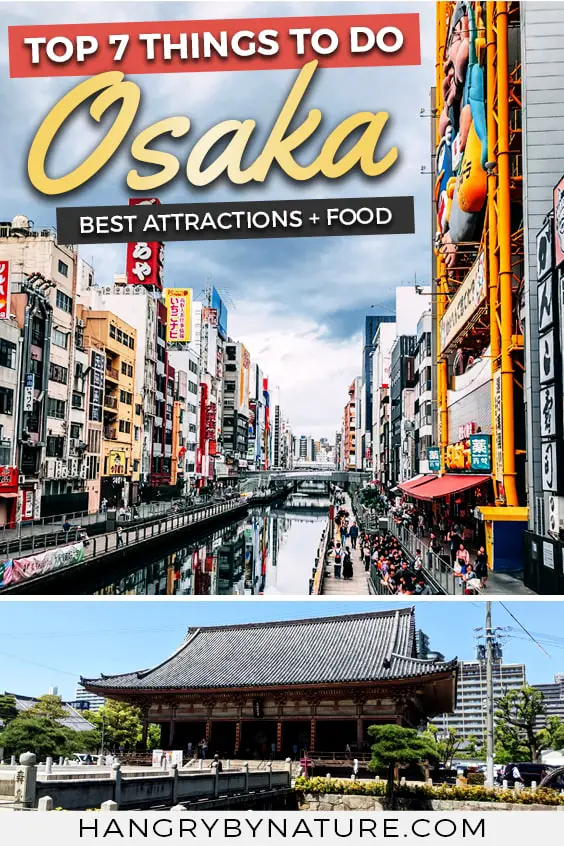 So, lemme guess.. You're wondering how much you can squeeze out of a day trip to Osaka? We've got all the answers for you in this action-packed guide.
Lucky for you, the bustling smaller counterpart of Tokyo (don't mention this to the locals) is very walkable. In fact, we hardly used the subway train unless we were planning to visit more distant attractions, such as, Osaka Aquarium, Nara Deer Park and the Umeda area.
A stone's throw away from Kyoto and a somewhat longer leap from Tokyo (2.5 hours by bullet train), this deliciously irresistible city is a must-visit on your jaunt to Japan. Home to world-famous dishes, this is the birthplace of Okonomiyaki (savoury pancake) and Takoyaki (octopus balls). Believe me when I say - the world is hella grateful for it.
Are you ready to conquer the third biggest city in Japan by way of mouth-dribbling food and epochal sights? Let's get on with it then. Here's your fool-proof Osaka 1 day itinerary.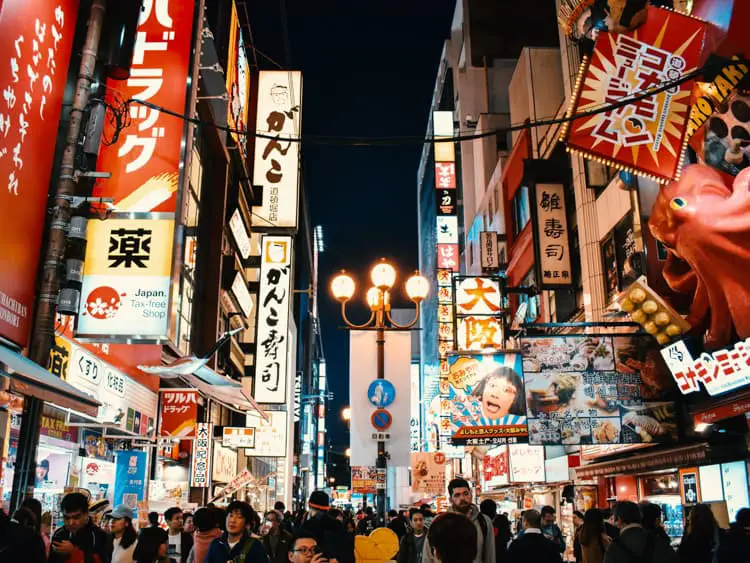 Is One Day in Osaka Worth it?
Umm, look. I'm not gonna lie just so you can go ahead with this itinerary, but, no. One day in Osaka is nowhere near enough (is it even for any city though?); however, if that's all the time you have, ain't nobody gonna judge. I mean, that's why I wrote this Osaka itinerary, so you can make the most out of the short time you have.
A day trip to Osaka is entirely possible from Tokyo or Kyoto for you to get a feel of the city; kind of like a light and tender brush of hands on your first Tinder date that leaves you wondering if this could lead to more. But, if you want to go the whole nine yards - you're gonna have to arrange a second date. With Osaka, that is. Not your Tinder date.
Quick Osaka Travel Tips
➤  Rent a bicycle to whizz around faster and see more. Better yet, get an e-bike if you're super lazy and unfit (eg. me). There are rental shops around Namba Station.
➤ Get the ICOCA IC Card. This all-in-one travel card can be used on JR West trains, subway, private railway and buses in the Kansai area. It comes pre-loaded with 1,500 JPY ($14 USD) and can be used for transport in Osaka, Kyoto and Kobe.
➤ Japan Rail Pass. Should you get it? If you're planning to visit multiple cities on your Japan itinerary, it might be worth getting a 7, 14 or 21-day pass. Check on Klook to find some of the best deals on JR Passes.
Planning the nitty gritty of your Japan trip? Don't get caught in a pickle - arrange your travel insurance today.
After working at a travel agency for years, I've heard enough horror stories to direct a sequel to Final Destination. We use and recommend World Nomads - frankly, they have the most competitive rates and are available for travellers from 140 countries.
➤ Know your Japanese etiquette before you arrive. Take a look at these 12 Must-Knows Before Visiting Japan to get schooled on what to do and what not to do.
➤ Rent a pocket WiFi to connect multiple devices to the Internet or simply get a SIM card to stay connected and find your way around Osaka.
➤ Don't exchange currency at a self-service machines - you'll get a pretty horrendous rate that'll make your nose bleed. Go to Tourex Dotonbori or Namba Currency Exchange for a much better conversion.
➤ Check for discounted attractions tickets to places like, Universal Studios Japan and Osaka Aquarium, on Klook to skip crazy long queues.
Want more insider tips for planning your Japan trip?
One Day Osaka Amazing Pass
If you've only got one day in Osaka to spare and you want to save a whole heap of cashola on entry to some of the best Osaka tourist attractions - the One Day Osaka Amazing Pass might just be your cuppa tea. This fun-filled pass gives you access to the HEP5 Ferris Wheel, National Museum of Art, Osaka Museum of Housing and Living, Osaka Castle, Tombori River Cruise, hot springs, and many more attractions.
Day Trip to Osaka 1 Day Itinerary
Okay, I'm not gonna fluff it up. This Osaka 1 day itinerary is probably going to have you bouncing around like a mountain goat if you're intent on ticking all of these sights and attractions off your list. But, you know what? Humans are capable of achieving great things when they put their mind to something. So, uhh.. put your mind to this.
Kick off your Day at Osaka Castle
What better way to start your day than at one of Japan's most iconic landmarks? Hold up though, before you get stuck into roaming the huge grounds and snapping pics for the 'gram, let's rewind and head into a Conbini (convenience store) for a quick brekky consisting of Onigiri and sushi rolls to fuel your body up for this morning venture.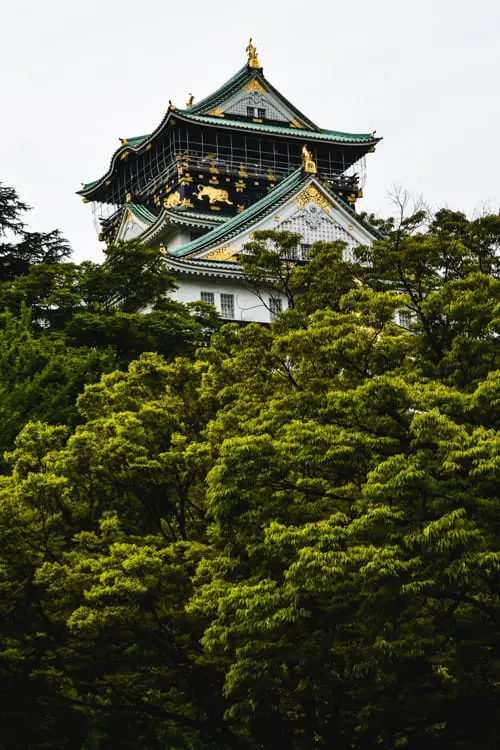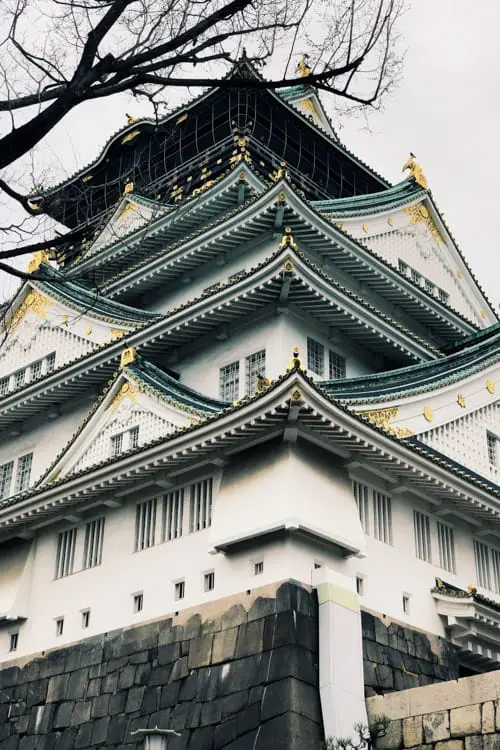 Be sure to head up early, as the crowds build towards midday. Entry to the castle doesn't open until 9am, but you can spend the early hours of the morning roaming the 105 hectare grounds; stumbling upon zen gardens, a labyrinth of walkways and small citadels. Sit under the sun with your convenience store Onigiri or Cup Noodles and bask in the serenity.
The castle grounds are also home to the Nishinomaru Garden that's lined with hundreds of cherry trees. Osaka Castle Park also happens to be one of the best places to experience cherry blossom season if you're visiting Japan in spring.
The castle standing today is actually a reconstruction of the original that was built in 1583. Unfortunately, it didn't have a good run in life, as it was destroyed not once, but twice in the last five centuries. Inside, you'll find an 8-storey museum showcasing the history of the city and castle, plus, a viewing platform on the top floor with some pretty ahh-mazing panoramic views of Osaka.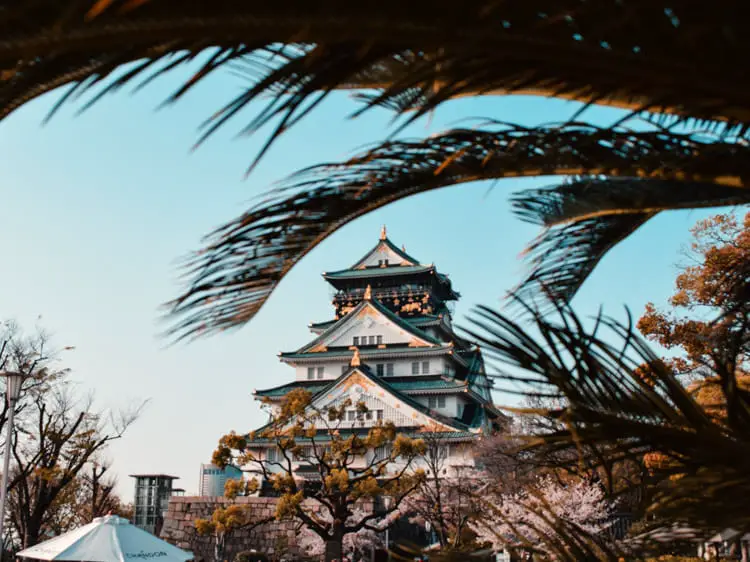 Entry to Osaka Castle is include in the Osaka Amazing Pass, which provides access to without having to queue up.
Visitor Information
Admission fees: Osaka Castle Park entry is free. If you wish to enter the castle and museum, expect to pay 600 JPY ($6 USD).
Opening hours: 9am - 5pm (Osaka Castle & Museum). Osaka Castle Park is open 24 hours. 
Short on time? Make the most out of your one day itinerary in Osaka by jumping on one of these top-rated tours that include Osaka Castle.
✰ Osaka Hop-on Hop-off Sightseeing Bus Tour
Hop on a whirlwind tour through Dotonbori, Shinsaibashi, Shinsekai, Osaka Castle and many more sights if your time is limited.
✰ Street Osaka GoKart Tour
If this isn't on your Japan bucket list - note it down. Dress up as your favourite Mario character and paint the town red, while driving past some of Osaka's top sights.
✰ Half Day Offbeat Osaka Walking Tour
Explore iconic Osaka tourists attractions as well as hidden gems on this tour that packs a whole lot of fun into a 4-hour jaunt.
✰ Osaka Family Friendly City Tour
Enjoy a personalised tour tailored to your family's interests without having to worry about how to get around and where to eat with kids.
Tap into Spiritual Osaka at Shitenno-ji Temple
Founded by Prince Shotoku Taishi who helped introduce Buddhism to the country 1400 years ago, Shitenno-ji is Japan's oldest official temple. I think it's safe to say that this ancient relic has endured a helluva lotta misfortunes and, as a result, it has been reconstructed countless times throughout the centuries from fires and other disasters.
Shitenno-ji Temple is a short subway ride from Osaka Castle - if you're feeling game, you can also take the stroll, which takes around 50 minutes. If you've got yourself a 2-wheeled whip, AKA bicycle, it's only a 25-minute leisurely ride.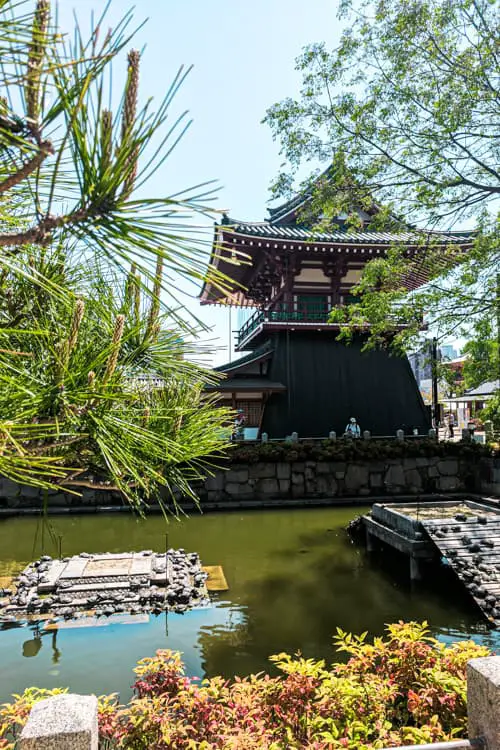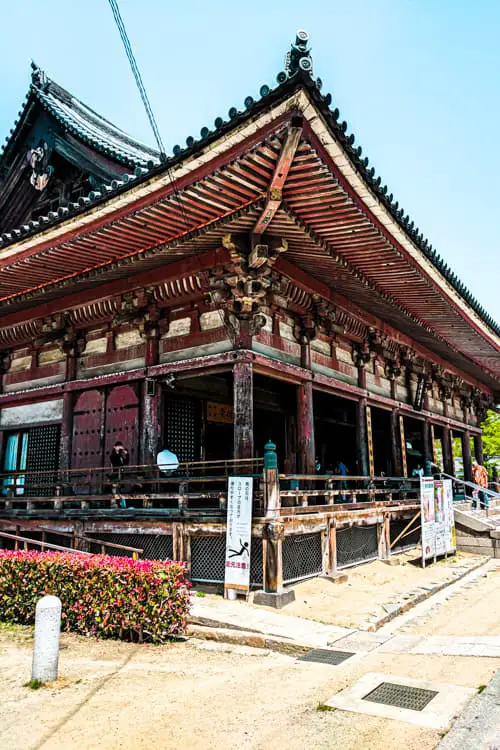 Before you leave and think that you've seen it all - hold up, fam. Not so fast. Don't say sayonara until you've set foot inside the breathtakingly beautiful Gokuraku-jodo Garden. The design of the green sanctuary is based on western notions of paradise. You might also want to pop into the Treasure House to admire paintings, scriptures and priceless Buddhist artefacts.
Visitor Information
Admission fees: Shitenno-ji Temple entry is free. To enter Gokuraku-jodo Garden (¥300 / $2.80 USD) and the Treasure House (¥500 / $4.60) incurs a fee.
Opening hours: 8am - 4pm daily
Uncover a whole 'New World' at Shinsekai
Once you are well and truly done with Shitenno-ji, head west on a 10-minute walk to the New World. Sounds kinda utopian, huh? Developed in the early 20th century, the neighbourhood was modelled after Coney Island in New York for its southern half, and Paris for its northern half. Shortly after its construction, Japanese flocked to the area with hopes and dreams of a prosperous life, as Shinsekai came alive with trendy restaurants and electrifying amusement.
Fast forward a hundred odd years and much of the buzz and excitement has faded away with the years. However, many of the food and bar establishments have remained unchanged over the last century. Nevertheless, the area provides an amusing glimpse of what people perceived to be the future in the early 1900s.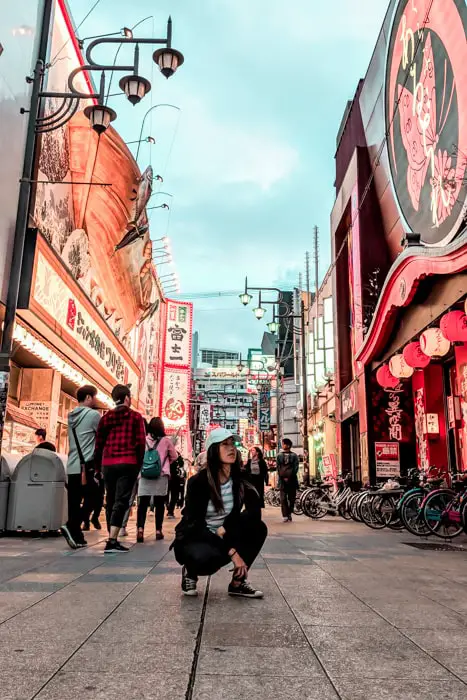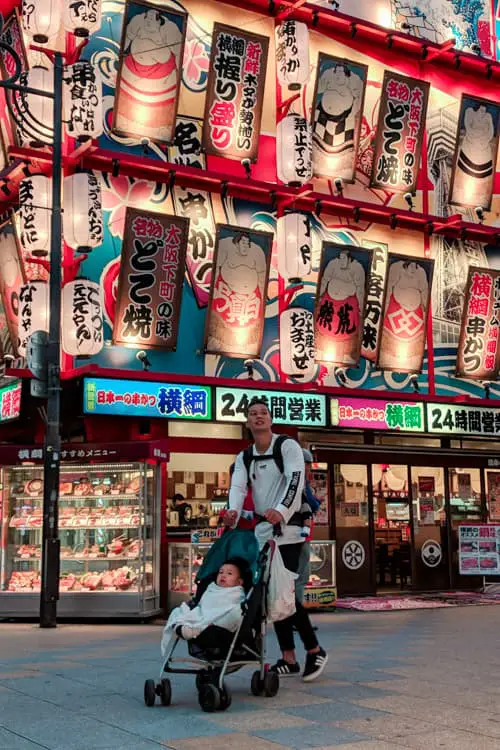 Soaring out of the backdrop of all the madness is Tsutenkaku Tower, with its inspiration drawn from none other than the Eiffel Tower. Although, it probably resembles an airport control tower more than anything else. If you're keen to take a closer look, head up to the main observatory that boasts a new open air deck for a panoramic vista of the craziness from above.
While you're there, be sure to grab a bite to eat. Shinsekai is known for serving up some of Osaka's best Kushikatsu (deep fried skewered meat & vegetables), as well as Okonomiyaki (savoury pancakes) and Takoyaki (fried octopus balls). So, come here on an empty stomach and get your belly filled with some deep fried delicacies that you definitely won't regret.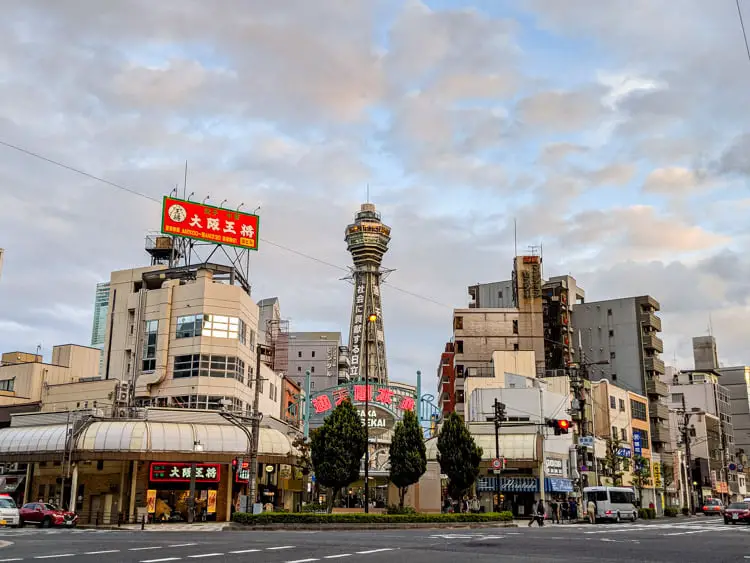 Explore DenDen Town in Nipponbashi
If you're a bit of a tech nut, game freak or just a downright geek (no judging - everyone's got geek a bit of geek inside), then you gotta get down in Den Den Town. It's, basically, the Akihabara of Osaka, but much less conspicuous.
You'll find DenDen Town a brisk 10-minute stroll north of Shinsekai, easily doable as part of your one day sightseeing in Osaka itinerary. Expect to encounter collectibles and accessories for anime lovers, camera freaks and pop culture fans. The majority of the shops run along two of the main streets in the neighbourhood: Nipponbashisuji Shopping Mall on Sakaisuji Advenue and Otaku Road.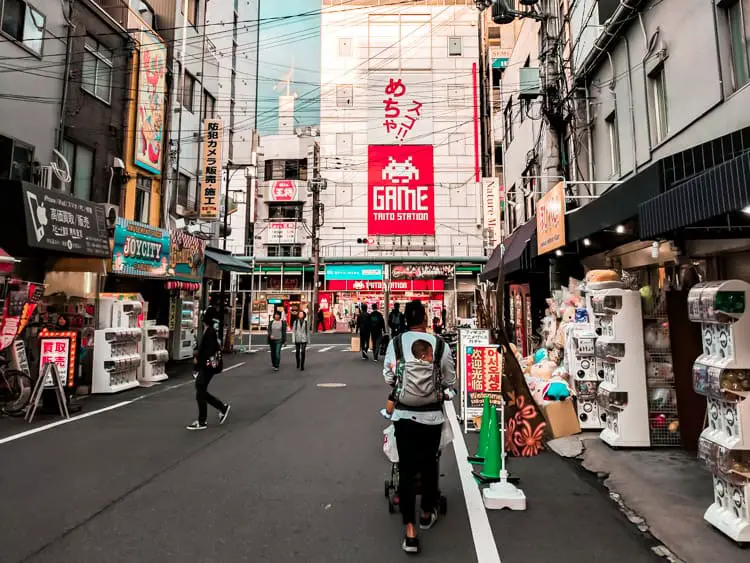 If you are in the market to add new tech gear or collectibles to your depository (AKA suitcase), it is said that bargain hunters will find a better deal in Osaka's electric town as opposed to Tokyo's Akihabara.
Aside from catering to tech fiends, the area also has a number of maid cafes, Gachapon stores (shopfronts dedicated solely to capsule toy vending machines), and independent arcades.
Eat your Way through Kuromon Market
By now, you're probably feeling a grumble in your tummy. Well, you're in luck because Osaka's most popular food market is a stone's throw away. A must-visit on your day trip to Osaka, Kuromon Ichiba Market has been around for over 170 years; and to this day, preserves the food and culture of Osaka.
The market sells everything from fresh seafood to cheap clothing and homeware, but don't get disappointed if that's not your cuppa tea because you'll definitely stumble upon delicious food stalls that your tastebuds are guaranteed to fancy. Crab is the most popular delicacy at Kuromon Market, be sure to try some of the giant spider crab legs on offer (it tastes way better than it sounds - I promise). But that certainly isn't all there is to eat.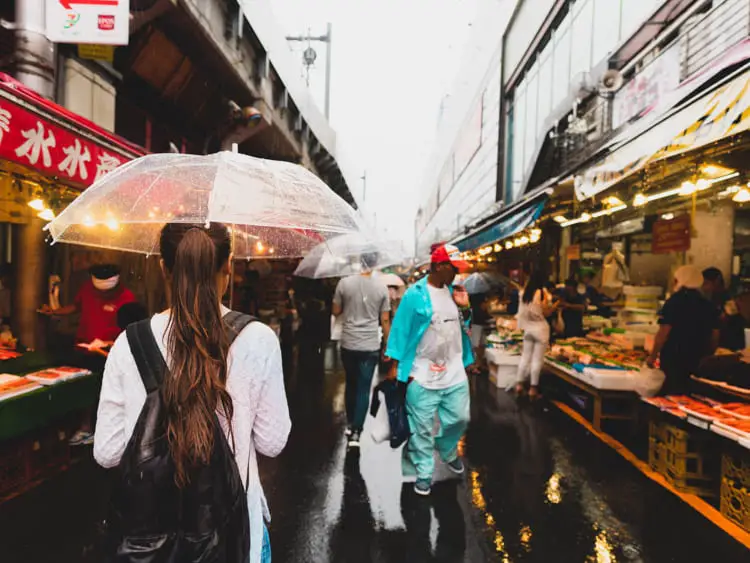 To further satisfy your hunger and charge you up for your Osaka walking tour at night, get your hands on a variety of tasty donburi (rice bowls) topped with sashimi, grilled seafood, takoyaki combinations, ridiculously fish sushi, yakitori (grilled skewered meats), plus umpteen more mouthwatering options.
Visitor Information
Address: 2 Chome-4-1 Nipponbashi, Chuo Ward, Osaka
Opening hours: 9am - 6pm daily
Uncover Osaka's best food. Spend a few hours on one of these top-rated food tours that include a walkthrough Kuromon Market.
✰ Kuromon Market Food Walking Tour
Eat 'til you drop on this delicious half day tour of Namba and Kuromon Market, whilst learning about Osaka's rich cuisine & culture.
✰ 3-Hour Evening Street Food Tour
Guided by a local foodie, discover the best street food stands & sample popular snacks like Takoyaki, Gyoza & many delicacies.
✰ Osaka Bar Hopping Food Tour
Explore local bars & offbeat eateries tucked in the hidden alleyways of Namba on this 3-hour evening tour.
✰ Best of Japanese Snacks Tour
Meander through the old back streets & markets of Osaka, while sampling famous treats & sweets as you traipse along.
Visit the Moss-Covered Buddha at Hozen-ji Yokocho Temple
Once you've feasted to your belly's content, walk off your food baby and waddle over to Namba, where you'll find a row of shopping malls, more eateries and, of course, one of Osaka's icons - the moss-covered statue of Fudo Myo-o, a Buddhist spirit that stands for discipline and morality.
Just like the Trevi Fountain in Rome, visitors flock to the statue in the hopes that their wishes come true. Instead of throwing a coin into the water, wish-makers throw water over the statue, which over many years, has resulted in moss growing over the surface.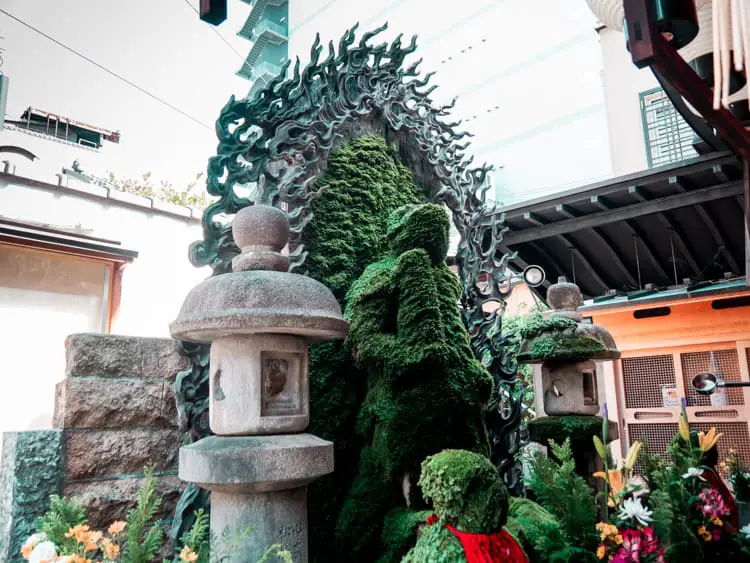 But, that's not all there is to do in the old neighbourhood of Hozen-ji Yokocho. If you've got a wee bit of extra time in your Osaka 1 day itinerary, roam the tiny atmospheric street next to the temple where you'll find trendy bars, cafes and eateries nestled inside old edo-style buildings with swinging lanters hovering above your heads that'll make you feel like you stepped into a time machine.
Soak in the Night Lights & Craziness of Dotonbori
As the sun sets over the city and the city lights start flashing, make your way to the one and only - Dotonbori. You'll find that there's no place quite like it on your day trip to Osaka - it's the beating heart and soul of the city that's home to a selection of the best eateries and shopping.
Before you dig into all that Dotonbori offers in way of food, duck away from the crowds and hop on a short river cruise and admire the bright lights and attractions from a different perspective.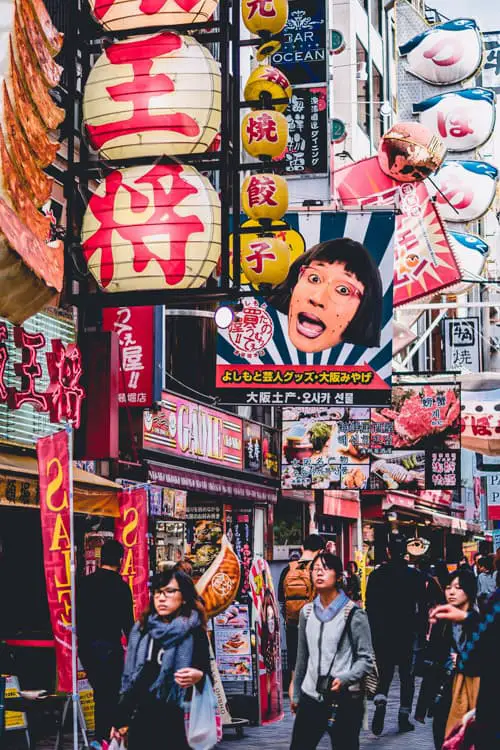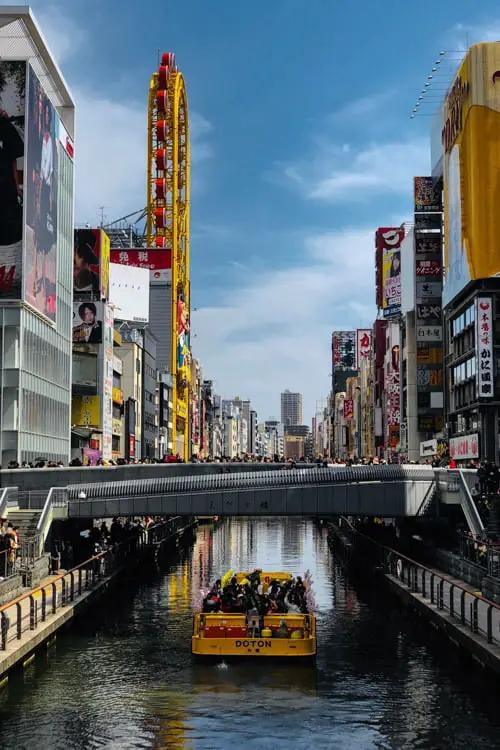 If the thought of river cruising makes you nauseous, simply wander along the Tonbori River walk, one of the most popular Osaka tourist attractions, and experience the lights and action at your own pace. Say "cheese" and snap a pic in front of the famous Glico Man sign, the symbol of the city. You can't claim to have visited Osaka without ticking this off the list.
Fashion addicts, rejoice. North of Tonbori River is where one of Osaka's longest shopping arcades - Shinsaibashi - can be found. The arcade boasts local Japanese and international brands where you can shop the latest threads and kicks.
If, by Some Miracle, you've got Extra Time...
Jump on the subway and head due north for Umeda, Osaka's business and transport hub packed with a myriad of trendy restaurants and futuristic attractions that you may want to squeeze into your one day itinerary in Osaka. Or not, considering your schedule is already jam-packed that'll have you whizzing around as if you were on a coffee and sugar high.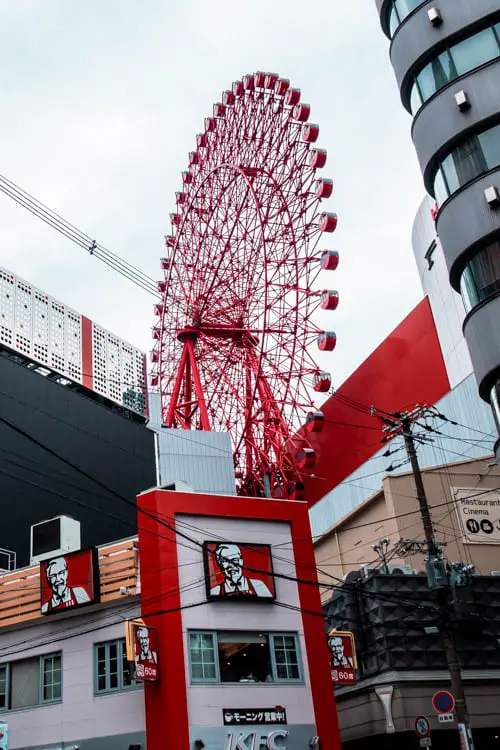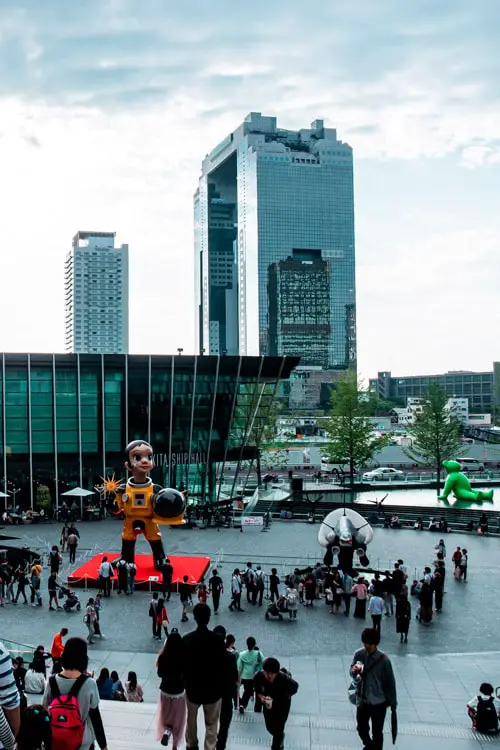 But, if you are running at supersonic speed or you've managed to convince yourself to stay the night in Osaka, it's totally worth exploring this young and cool neighbourhood. Roam inside Umeda Sky Building and head up to the observation deck for a spectacular panorama of the city from the connecting bridge that links the two buildings. Alternatively, take a spin on the bright red Hep Five Ferris Wheel, one of the iconic Osaka sights that also offers a stunning view of Umeda from above.
Note: Entry to Hep Five is included in the Osaka Amazing Pass.
Osaka Food Cheat Sheet
Japan's third most populous city is famous for being one of the top bucket list food destinations in the world. I hate to disappoint you, but I'm gonna be real here. You probably won't get around to tasting all the specialties that this city has to offer in a day. To make things easier, I threw together a quick cheat sheet highlighting the must-eat foods on your Osaka day tour.
Takoyaki. The first snack you need to have on your self-guided Osaka walking tour. Made from an octopus, ginger and green onion batter formed into bite-sized balls - Takoyaki is a staple Japanese snack and appetiser. Try these in Aizuya; this Michelin-recommended restaurant claims to have invented this snack.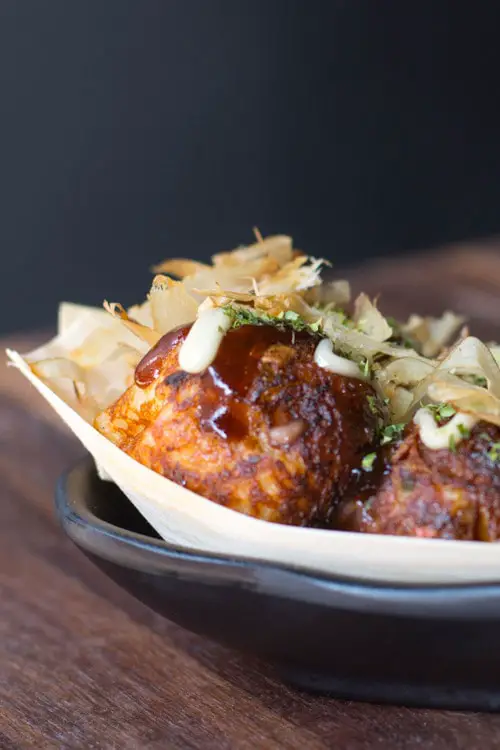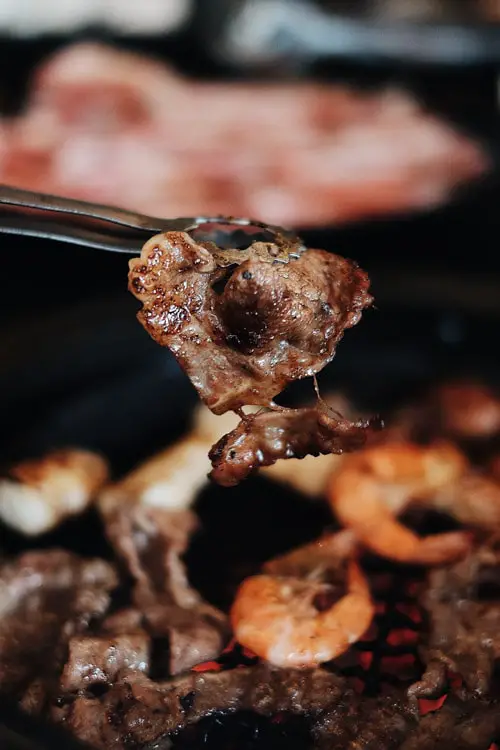 Okonomiyaki. Just like Takoyaki; this savoury Japanese pancake is one of the most popular foods in the city. Sample this dish at Mizuno and try their signature version called Mizuno-yaki that comes filled with scallops, shrimp, pork, minced meat, squid and octopus. Basically, in western terms, the works.
Kushikatsu. Lover of anything deep fried? You'll fall head over heels for this crunchy snack. Kushikatsu is made from skewered kebabs of meat, vegetables or seafood covered in breadcrumbs and deep fried to crispy golden perfection. Daruma is the birthplace of this yummy street snack.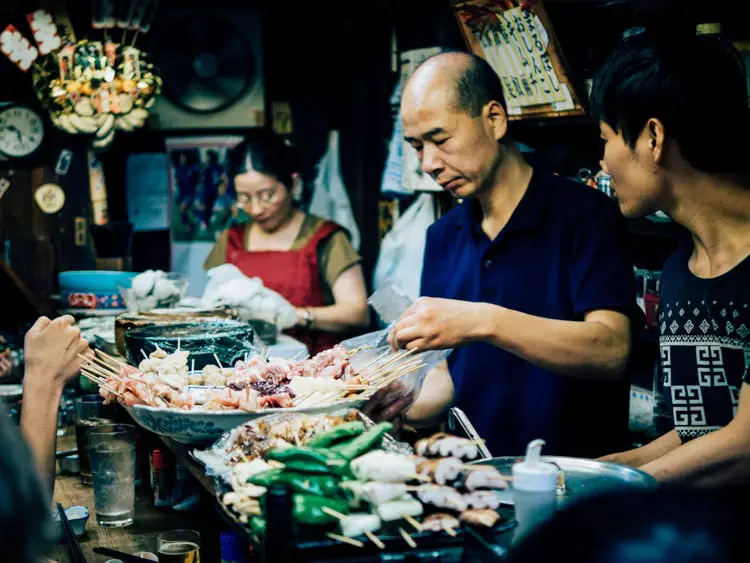 Fugu. Yeaap. The notorious blowfish. Contrary to popular belief, Fugu is very safe to eat when consumed at a reputable restaurant prepared by a qualified chef. Typically served as fine slices of sashimi, Fugu can also be eatern in Tempura, Shabu Shabu, or deep fried as Kara-age. If you're feeling gutsy, Zuboraya specialises in this fish.
Yakiniku. Taken from Korean cuisine, this dish consists of thin slices of barbecued beef served with a dipping sauce. It's typically eaten with a bowl of rice and a variety of side dishes or miso soup. Head to Osaka's very own Korea Town to sample the best melt-in-your-mouth Yakiniku.
Learn more about Osakan cuisine on these popular food tours:
Where to Stay Overnight in Osaka
If you're finding your day tour in Osaka to be.. insufficient, then it's time to book a one night sojourn in a hotel, Airbnb or, perhaps, capsule. One thing's certain - you'll be faced with a dizzying abundance of choice, but we recommend staying near Namba station or Shinsaibashi for convenience travel and to be, well, surrounded by food.
Budget: Nine Hours Namba Station
Want to tick 'staying in a capsule hotel' off your Japan bucket list? nine hours at Namba Station is conveniently located under a 10-minute walk from the bustling and lively Dotonbori area. Luggage storage space and free WiFi are provided during your stay, plus for an extra few bucks, you can even get a basic (but tasty) breakfast included.
See prices & read reviews: Booking.com | Agoda
Mid-range: Entire One Bedroom Namba Apartment
Fancy living like a local for one night in Osaka? There's no better way to do it than to rent an Airbnb. Featuring all the comforts of home, this homey apartment includes WiFi, washing machine, TV and a fridge.
More details & reviews: Airbnb
Luxury: Swissotel Nankai Osaka
Live the high life and drench yourself in luxury at Swissotel Nankai. Situated directly above Namba Station, the 5-start accommodation boasts an indoor pool, spa, gym and 7 dining concepts to pick from.
See prices & read reviews: Booking.com | Agoda
New to Airbnb? Get $40 travel credit when you book your first stay!

How to get to Osaka
Train.  It's no secret that Japan has one of the most sophisticated rail and subway networks on this entire planet. From Tokyo, it's a 2.5 hour bullet train ride and only a short hour from Kyoto. If you're travelling to multiple cities on your trip to Japan, it's probably worth looking into getting a Japan Rail Pass.
Find the best deals on 7, 14 and 21-day Japan Rail Passes:
Airplane. Most domestic and international airlines fly into Kansai International Airport, which is roughly a 45-minute train ride from Osaka Station (north of Dotonbori).
Searching for the best Osaka flight deals? We use and recommend Skyscanner to search and compare the best prices on airfares.
Getting around within Osaka. Walk or cycle if you're sticking around the central areas - Namba, Dotonbori and Shinsaibashi. It's the best way to soak in the atmosphere and sights. However, if you're running on limited time, the quickest way to get around is by using the subway. The Osaka Unlimited 1-Day Travel Pass is the perfect cheap option to hop from sight to sight.
Got questions about your Osaka day tour itinerary?
Feel free to ask in the comments below.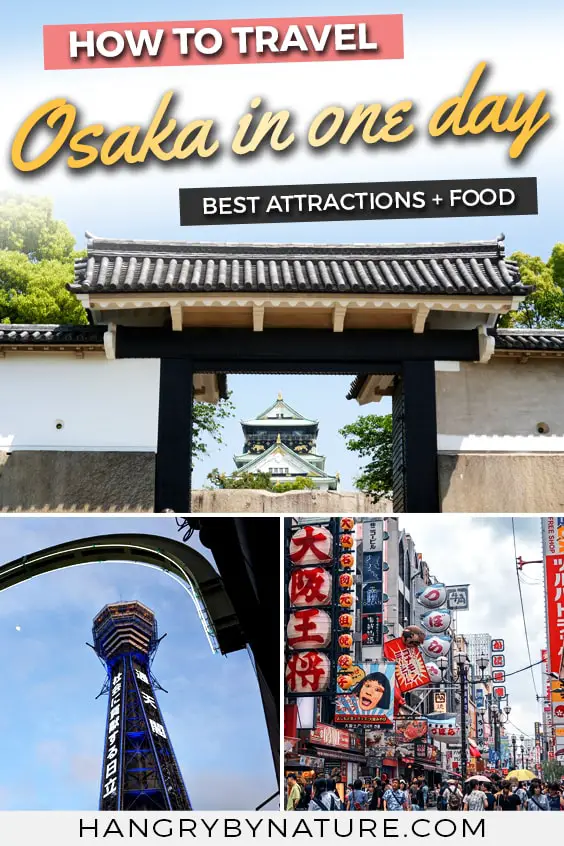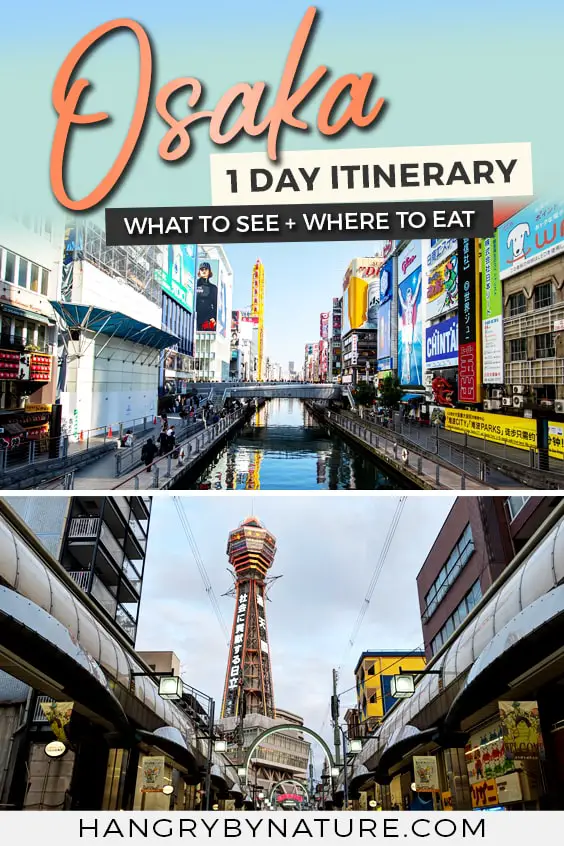 Get the most out of your Osaka Trip
Take a look at our Travel Resources to find the best deals on flights, accommodation and attractions. Find mistake fares, the cheapest date to fly each month, hotel and apartment savings, plus where to buy the cheapest tickets for attractions.
If you're looking for some sweet accommodation deals, you're in for a delicious treat.