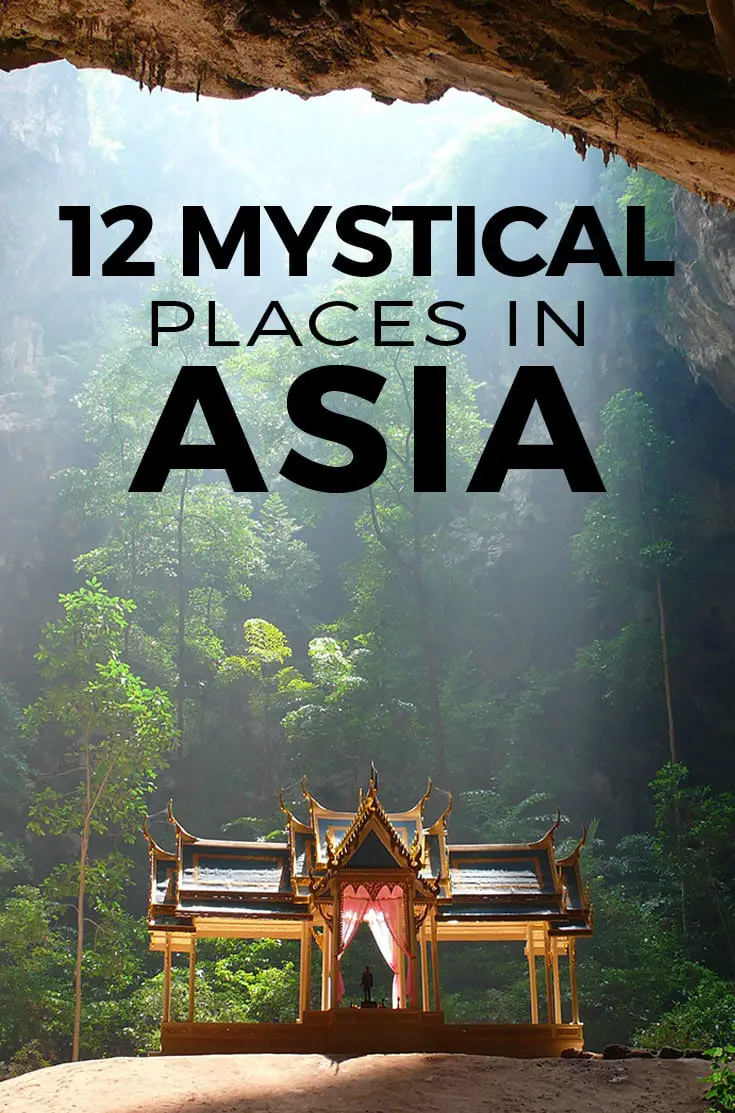 When is Asia ever a bad idea? From the options of experiencing fast-paced city life to breathtaking tropical beaches, unbeatable street food, friendly people (in exception of China) and history that dates back to before the birth of Christ - a trip to Asia is always a butt flippin' good idea.
Some people travel to unwind and recuperate from work or domestic life, while others are addicted to the thrills and adventures of the unknown.
All forms of travel are enjoyable and welcomed in my eyes, but most of all, I'm magnetised to the mystique and mythical history of foreign cultures - their superstitions, fables and legends intrigue and compel me to develop a deep desire to visit such destinations to discover and determine, for myself, whether such magic and unearthliness ever existed.
If your soul itches for adventure and divine discovery in places beyond your comfort zone, then these Twelve Mind-Blowing Mystical Destinations in Asia must fall into your travel considerations.
1. PHNOM KULEN, CAMBODIA
By far, one of the most mystical and spiritual places I have visited in South East Asia, Phnom Kulen is located an hour and a half's drive from the nation's capital, Siem Reap.
My theory, which I'm pretty darned convinced of, is that Kulen is an inactive ancient volcano with bizarre natural and man-made spectacles  - from peculiar bubbling sinkholes in the earth to the 1000 Linga stone carvings beneath the riverbed, there is much, that remains unexplained about this holy mountain.
I made a decision to see Cambodia somewhat differently, much to the disapproval of my other half, I booked a 3-day dirtbike tour with, Bun, from Siem Reap Motor Mystery Tour. How pleased I am to have made that decision, because not only did he take us on one of the most memorable adventures of our lives, but he also guided us to Phnom Kulen's summit - a place virtually no other tourists had heard of.
It's not only what meets your eyes atop the mountain that will blow your mind, there's a sense of sublimeness and etheareality that you are overcome with that you can't quite put your fingers on. I am, by no means, a devout practicing Buddhist or deeply spiritual, but this place had me believe in something more than just the tangible Earth that we live on.
2. PHRAYA NAKHON, THAILAND
Alright, it's not one of those spectacular sinkhole caves that lie beneath lakes and have streams of water gushing into them from the surface - but there's a pavilion that was erected by King Chulalongkorn as a tribute to the mesmerising beauty of the place. That's still pretty cool, right?
Under an hour's drive from beach resort town, Hua Hin, the pavilion, which looks like the facade of a temple, inside the cave is located within the Khao Sam Roi Yod National Park, under 4 hours drive southwest of Bangkok.
3. BODHI TREE, INDIA
In case you thought this was the actual tree under which the Buddha himself, Siddhartha Gautama, sat meditating for seven days 2500 years ago - it's not. Sorry, guys.
But, don't go scrolling past too fast yet - the Bodhi Tree that stands at the Mahabodhi Temple today, is likely to be a direct descendant. The majestic tree has its roots stemmed in same earth in which the original one once stood. It is believed that some time in 3000 B.C., King Ashoka's wife ordered the tree to be destroyed due to her growing jealousy of her husband's fondness for it.
Look, I get the feeling of jealousy when your husband starts to eye out other women - but a tree? Not sure what drugs she was on.
Today, the Mahabodhi Temple is a popular place for Buddhist pilgrims who flock here to pay tribute to Buddha, and to immerse themselves in the marvelous site in which enlightenment took place many centuries ago.
4. WHITE TEMPLE, THAILAND
Upon first sight, you'll think that someone spiked your drink with acid, or that Pad Thai you ate for lunch was laced with magic mushrooms. As cool as that would be, this temple is what it is - and rest assured - your mind is not conjuring up wacky hallucinogenic visions.
Not your typical temple you'll come across, this one was actually designed by a Thai artist in 1997.
It gets even more eerie when you set foot inside. Prepare yourself for hellish hand sculptures emerging from the abyss - bones, skulls and other pieces of dark art that you would normally expect to see in a Catholic religious painting, like The Fall of the Damned by Peter Paul Reubens.
5. MOUNT EMEI, CHINA
For a temple experience that's - quite literally - located above the clouds, Emei Shan is not to be missed if you happen to be in the Sichuan Province in China.
One of the Four Sacred Buddhist Mountains of China, you will stand 3099m tall at its peak, making heaven seem that much closer.
You can even stay overnight at the Golden Summit and witness a magnificent mountain sunrise. Apparently it is so spectacular, that it is considered a supreme blessing to merely witness it with your own two eyes.
6. GYANGANJ, THE HIMALAYAS
Hailed the Atlantis of Asia - Gyanganj - otherwise known as Shangri-La, Siddhashram or Shambala, is a mythical place on Earth that is believed to exist in a dimension alternate to ours. Legend has it that this city of immortals is located in an isolated valley somewhere in the Himalayas, and can only be reached via deep meditation and enlightenment.
Alright, I snuck this one in because, technically, this doesn't count since it's not a physical location. But the mere notion of its potential existence is too cool not to include in my list of mystical destinations.
So, what's so darn special about it?
According to Tibetan and Indian legend, the celestial kingdom of Gyanganj is inhabited by immortal beings of the Himalayas who discreetly guide the destiny of the world through prayer and meditation.
Sound preposterous? Probably because it is. But no one can deny that the Himlayas and its surrounding regions harbour a sense of otherworldliness that the modern world we live in, can't quite comprehend, and we can learn a lot from these highly spiritual places.
7. FENGDU (GHOST CITY), CHINA
High on the hills in the province of Chongqing in central China, you'll find a bizarre ancient "City of Ghosts" modelled after the Taoist perception of hell. Built 1800 years ago during the reign of the Han Dynasty, the city comprises of temples, monasteries, and countless ghoulish and demonic shrines dedicated to the afterlife.
Regardless of whether you're a total skeptic, or hobby ghost hunter, Fengdu Ghost City is totally worth seeing just so you can lay your eyes on "The Ghost King" - a giant 138 metre high face that emerges from the hillside, which holds the Guinness World Records title for the biggest sculpture carved in a rock.
8. MUSTANG CAVES, NEPAL
One of the world's great archaeological mysteries, the Mustang Caves comprise of around 10,000 mysterious man-carved dens nestled along the rugged and wind-savaged cliff edges of northern Nepal.
No one knows who built them. No one knows what purpose they served.
Though it is theorised that around 1000 B.C., they were used as burial chambers, and were later turned into living quarters for families seeking safety from the frequent battles that occurred in the region.
For more images of these mysterious caves and the eerie contents that have been found within, take a look at this fascinating collection by the National Geographic.
9. MOUNT KOYA, JAPAN
Widely regarded as one of Japan's most sacred sites for Buddhist pilgrims, this is the mountain in which the founder of Shingon Buddhism, Kobo Daishi, entered eternal meditation in 835 B.C. Believing that he has not perished, monks who reside on Mount Koya prepare meals and change his robes on a daily basis. His tomb can be found on the eastern peak of the mountain.
Shukubo Koya-san Eko-in Temple offers traditional Japanese-style accommodation inside a 1000-year old Buddhist temple atop the mountain, where guests are offered to attend Buddhist morning services, the Goma fire ritual and meditation with the monks.
10. TIGER'S NEST, BHUTAN
One of the last frontiers of an age-old Himalayan Buddhist culture, the small, landlocked country of Bhutan can be found nestled between Tibet and India. Its postcard landmark is the stunning Tiger's Nest - Bhutan's most sacred and religious sites.
The Bhutanese believe that guru Rinpoche (aka Padmasambhava) flew to the mountainside from Tibet on a tigress' back to subdue a local demon. According to legend, his body imprint can be found in the wall of a cave in a monastery nearby.
The hike takes roughly 3-4 hours, depending on your fitness level. If it were me, I would probably estimate closer to a day, or two, with an overnight break and 500 rest stops. Because hiking and cardio is just not something that I excel at in life.
Interested in ticking this off your bucket list? Bhutan can only be visited with on a pre-arranged tour - take a look at Tour Radar's Top 10 Tour Companies that operate in Bhutan who will take you up to see Paro Taktsang, or Tiger's Nest.
11. MOUNT KAILASH, TIBET
A place of great cultural and spiritual significance, Mount Kailash in the westernmost region of the Tibetan plateau is revered and worshipped by Buddhists, Hindus and Jains alike. Pilgrims believe that circumambulating the holy mountain will purify the soul and cultivate the ability to see the divine.
Believed to be the residences of the great Lord Shiva and his wife Parvati in Hindu belief, climbing activities are deeply frowned upon, and requests submitted by mountaineers are generally denied by the Chinese government in an effort to preserve the sanctity of the mountain.
So, what on Earth would you do there? You walk around the base of this sparkling, snowy summit - admiring and worshipping from a distance. Duh.
Some pilgrims will complete the entire 52km (32 mile) circuit on a single day, but since most of us don't have the fitness and devotion (ie. Me), it is more common for visitors to take up to three days to complete the arduous journey. Virtually inaccessible via plane, train or bus - the road to the region where Mount Kailash stands is an expedition in itself. It requires days of rugged, overland four wheel driving from Tibet's capital, Lhasa, just to get to the vicinity.
Since Tibet cannot be visited unless you're part of an organised tour, you can make a pilgrimage to Mount Kailash as part of your tour itinerary with Explore Tibet, a 17-day adventure beginning in Lhasa, taking you through sand dunes, lakes, earth forests and other wild landscapes.
12. KYAIKTIYO PAGODA, MYANMAR
Perched precariously on the edge of a cliff, sits Myanmar's Golden Rock, a gravity defying spectacle roughly 160km northeast of the capital - Yangon.
Legend has it, that the whole edifice miraculously balances on a single strand of Buddha's hair. It is said that Buddha once visited a hermit named, Taik Tha, who lived atop the mountain and have him a lock of his hair. Taik Tha then gifted it to the King with instructions for it to be place beneath a rock shaped like his head. The King then found a rock under the sea and had managed to perfectly balance it on the mountainside where the hermit once lived.
It will never be known whether there's any truth to the legend or not, but myths aside, you can't deny that Kyaitiyo is a marvel that defies the laws of physics.
There are so many more to add to this list, I might just have to compile a Part II. Any other mysterious destinations I should know of?