Your one stop, fool-proof Chiang Mai itinerary for all types of travellers visiting the stunning mountain city of Thailand: What to Do, Where to Stay, and What to Eat.
There's more to Thailand than beautiful beaches, coconuts, and watermelon shakes – I know, crazy, right? It's hard to believe that Chiang Mai is Thailand's second largest city, with a population of merely 130,000 (2017) people, it's a stark contrast to Bangkok's whopping 8 million.
So, what makes Chiang Mai so unique that scores of tourists and expats flock there each year?
Nature. The mystical mountains. Spirituality. The cuisine. But, most of all, the people.
I've always thought of Chiang Mai as the Ubud of Thailand. They just haven't quite realised it yet. By the same token, I kind of hope they don't, and spirituality and mysticism doesn't get commercialised to the extent that it has in Bali.
If you can't find the extra time to spare in your Chiang Mai itinerary, 3 days will allow you enough time to see the city's top attractions, and even a day trip into the jungle-y mountainside that the region is known for.
What to do in Chiang Mai in 3 Days
A 3-day Chiang Mai itinerary will probably not suffice to see all the incredible sights that the city and region offers, but it's enough to get a feel of the city's vibe, devour some life changing northern Thai food, and visit the standout temples.
But, that's every traveller's greatest woe, amiright? There's just never enough damn time when you're travelling.
If you intend to explore some of the wonderful national parks of the region, like Doi Inthanon, check out the bohemian vibe of Pai, and maybe even venture out to the neighbouring city of Chiang Rai to feast your eyes on the jaw-dropping White Temple – then, you're definitely going to need a whole lot more than 3 days.
That being said, Chiang Mai Old City and its neighbouring 'hoods can easily be explored in a short 3-day stay.
Important Things to Know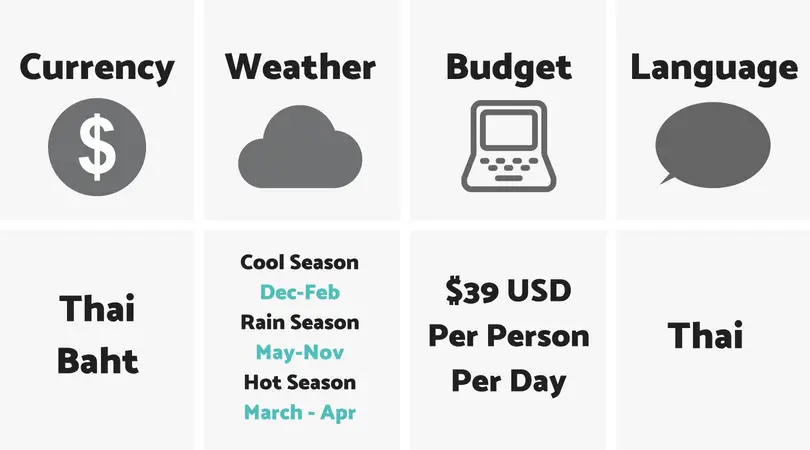 From the countless times I've been to Thailand, I've found that the best exchange rate is always found at the airport. Most of the time, before you pass through customs, you'll see currency exchange counters run by bank corporations.
So, don't fret about changing money before you leave your country – exchange when you arrive.
And, for the love of Buddha, don't leave for your trip without travel insurance. Ever. My fam and I use and recommend World Nomads – they've covered my behind on numerous occasions, like when my very first iPhone was stolen (cries) in Bangkok, or when Qatar Airways somehow managed to tear the entire side of my suitcase on the way to London.
TRAVEL TIP: Rain can fall quite sporadically in Chiang Mai. Carry a travel umbrella, or a pack of ponchos to avoid getting 'surprise drenched', especially whilst scooter riding.
Chiang Mai Itinerary Day 1: Explore Old City
Without further ado, here's the perfect sample itinerary of what to do in Chiang Mai in 3 days. If you booked your hotel or Airbnb in Old City, then you probably won't feel up for venturing far immediately after your flight, so we're going to keep your first day within walking distance to your accommodation.
Wat Phra Singh
One of the oldest and most popular temples in Chiang Mai, Wat Pra Singh was built almost 700 years ago during the reign of King Phayu in the Mangrai dynasty. He wanted the chedi to house the ashes of his late father.
You'll find this ornate Lanna style temple in the west end of Old City, and if you can time your visit right, be sure to swing by at 5pm to bear witness, or participate, in the monks' daily evening prayers.
Visitor Information
Opening Hours: 6am – 5pm
Entrance Fee: 20 Baht 
Tha Pae Gate
It's not the Great Wall, nor is it ornate or grande. But, the Tha Pae Gate served its purpose extremely well, the heavily bricked walls protected the city and its inhabitants from Burmese invasion for centuries.
Today, it's the life of the party. Well, not that it chose to be in the epicentre of it all, but it just so happened that the most popular night markets, bars, restaurants, and hotels rose around the gates and its walls.
Three Kings Monument
I'll be honest – I had absolutely no clue as to what the significance of these statues were until I went back home and actually researched it. Probably would've been smart to look it up beforehand, but then again, I'm not known for making the best decisions in life.
Standing in front of Art and Cultural Centre is the legendary monument of the Three Kings: King Mengrai, King Ramkamhaeng, and King Ngam of Paya – who together, laid out plans to build the city of Chiang Mai.
Technically, it wouldn't exist today if it weren't for their three genius minds. Local Thais are known to pray and lay down offerings at the base of the three towering statues.
Wat Chedi Luang
I've been to many parts of Southeast Asia and seen umpteen temples, hell, to say I'm "all temple'd out" is probably an understatement. But, one thing I can tell you is that Wat Chedi Luang is on a whole other level.
Completely different to the style of most of the other temples in Thailand, this tall stone temple that soars above many of the city's buildings, harbours an aura of mystique and magic. Built some time in the 14th century, it once housed the original statue of the Emerald Buddha (now located inside Wat Phra Kaew in Bangkok) – Thailand's most sacred Buddhist deity.
Without a doubt, the coolest thing about the temple is its 'sliced away' look. The top of the structure was severely damaged in an earthquake over 500 years ago, causing the roof to crumble and reduced it to nearly half its original size. On the real, it probably wouldn't rate half as cool if it wasn't for the earthquake.
Visitor Information
Opening Hours: 6am – 5pm
Entrance Fee: 40 Baht
Nong Buak Hard Park
Chill, jog, or play – Buak Hard Public Park is found on the corner of the moat on the lower west end of Old City, and it's pretty much the only park with an outdoor playground you'll find in all of Chiang Mai. If hitting up the playground with the kids is on the agenda, then this is a must-visit. Just make sure to visit in the earlier hours of the morning as it gets pretty stinkin' hot from 11am onwards.
It's a place popular amongst locals and tourists alike where you'll find families hanging on the lawn having picnics a la Thai style, fit people (AKA joggers), groups practicing Tai Chi, and even painters. Come down, bring a Thai Milk Tea, and soak in some Vitamin D.
Visitor Information
Opening Hours: 6am – 9pm
Entrance Fee: Free
Lanna Folklife Museum
The perfect attraction to kick of your Chiang Mai trip, the Lanna Folklife Museum is located directly opposite the Three Kings Monument. Showcasing the centuries old northern heritage of Chiang Mai, you'll be greeted with interesting exhibitions and facts detailing the history and culture of the Lanna people.
Fun for kids and adults alike, the displays also provide insight into the Buddhist way of life, as well as the meaning behind the symbols that you find decorated on Thai temples. Grab the 3-museum combination ticket to receive access to the Arts Centre and Historical Centre for more museum goodness.
Visitor Information
Opening Hours: 8:30am – 5pm
Entrance Fee: 90 Baht (adults), 40 Baht (children)
Saturday or Sunday Night Market
If possible, try and plan your itinerary so that it overlaps with a weekend to experience either the Wualalai Walking Street Saturday Night Market or Sunday Night Market (which is absolutely epic in size). Or, even both.
Shop, hunt for bargains, and eat your way through the streets of Chiang Mai, and if it all gets too strenuous – you can always stop for a foot massage on the side of the road. Literally.
To determine which one is best suited for you, take a look at this guide to Chiang Mai markets.
Where to Eat
Known for their mouthwatering selection of cakes and sweets, Fern Forrest Cafe is a must-visit if you're in the 'hood and are looking to get served a mean brunch and coffee. The lush, outdoor jungle-esque setting makes for a great family-friendly environment, and will definitely keep the kids at bay so y'all parents can actually enjoy your lunch.
For super cheap and delicious food options (legit as authentic as it can get), you can't go past the market life. And, if you're already traipsing around Tha Pae Gate, then you may as well swing by Sompet Market and grab northern Thai delights, like, Moo Ping (mind-blowing pork skewers that will transform your life) with some sticky rice.
You need to have dinner at The Good View located by the banks of Ping River. I'm not asking. I'm insisting. Serving up the best of northern Thai cuisine, this is (no jokes) some of the best Thai food I've had in all of Thailand. But, you need to go for local dishes, like, their extensive range of Papaya Salads, sour pork sausages, Tom Yum, and spicy lemon fish.
Where to Eat
Word of advice: don't hit up the Night Safari on an empty stomach. Especially if you plan to walk around the huge lake to see all the exhibits. I mean, you can get food there, but no one is ever really keen on eating zoo food, right?
For parents travelling with kids, be sure to drop by Nics Restaurant & Playground en route, the large open plan restaurant comprises of a large, well-maintained playground where you can dine on the sidelines and supervise your mini humans whilst chowing on a juicy steak, pizza, and pasta.
Fresh food lovers, rejoice. Ohkajhu is a fun and eclectic farm themed cafe if you're eager to get some of the freshest food in Chiang Mai, in your belly. I'm talking, like, farm to table fresh. The portions are massive if you've got a big appetite, and there's a large selection of delicious Thai and Western meals that the whole family can enjoy.
Chiang Mai Itinerary Day 3: Explore Nimman & the 'Mountain Temple'
Okay, so you've crossed Old City off the list, explored the countryside, and made BFFs with a mammal four times your size – now what?
Stroll through Nimman
Welcome to the new Chiang Mai – 'Nimman', short for Nimmanhaemin, is the trendiest and fastest-developing neighbourhood in the entire city. 8 years ago when I visited Chiang Mai for the first time, I had never even heard of this 'hood. Today, it's the digital nomad and expat hub of Thailand (some might say the world). Its narrow streets and alleyways are strewn with modern cafes offering brunch menus that would certainly rival cafes back home, modern Thai eateries, boutique shops, and even a dog cafe. What more could you possibly ask for?
Discover vibrant street art, pop into a co-working space and meet 'digital nomads', or explore chic shopping and eating complexes – Maya and One Nimman. But, most of all, make sure you eat your way through Nimman – I've listed a number of must-eat places down below.
Doi Suthep: the 'Mystical' Mountain Temple
While in Nimman, you'll find yourself a wee bit closer to the mountain range that is home to one of Thailand's most revered temples. A 30-minute drive or ride from the centre of Nimmanhaemin, you can rent a scooter, order a Grab, or jump inside a Red Truck, and make your way up to see Chiang Mai's number one attraction – Doi Suthep Temple. Considered one of the holiest Buddhist sites in the country, this awe-inspiring temple is a major pilgrimage spot that dates back to the 14th century, its origins are popular in Thai mythology, stories of its founding steeped deep in magic and mystique.
Remember this popular Thai saying, "If you haven't tasted Khao Soi or seen the view from Doi Suthep, you haven't been to Chiang Mai." So, get yourself up to the mountain for that breathtaking view, followed by a bowl of hearty Khao Soi.
The temple complex is nestled at the top of the mountain, amongst 261 square kilometres of forest. On a clear day, you can see the glistening golden Chedi all the way from Old City.
Visitor Information
Opening Hours: 6am – 6pm
Entrance Fee: 30 Baht (adults)
HOT TIP: To avoid climbing up the gargantuan set of stairs, grab a return ticket for the tram that will transport you up for 50 Baht AND includes your entry fee. No sweat, no tears.
The shiny golden chedi can be seen from Old City. That's some serious bling that would put the blingiest rapper to shame.
Drop by Huey Kaew Waterfall on the way up or down to catch some jungle vibes, wash off the dripping sweat, and snap that dreamy waterfall pic for the 'gram.
Just bear in mind, if you're hauling along young kids, the paths are uneven and craggy, so it's best to rock a carrier and strap little ones in if you're planning to hike around the waterfall. Regardless, it's definitely worth a visit – set in the lush forestry of the mountain, the greenery and sound of trickling water will inject chi and zen into any busy mind, which is explains why many locals come by and siesta by the water. They've got the right idea.
Where to Eat
If you're a brunch fiend like I am, then you need to hit up Rustic & Blue in Nimman and get either the Eggs Benedict, Acai Smoothie Bowl, or French Toast in your bellies. Or, better yet, get them all. The food coma afterwards is totally worth it.
I know. I know. You came to Thailand for Thai food. Well, while you're in Nimman – you must dine at Tong Tem Toh. Isan food is their gig, and they sure know how to barbecue some fine pork and make it taste like a slice from heaven. This is the most popular Thai eatery in the area, so make sure you rock up early to avoid waiting in queue and drooling at the guy cookin' up the pork BBQ at the front of the restaurant.
Watch the Video: Magnificent Doi Suthep & Waterfalls
Bonus: Chiang Mai Itinerary Day 4 (if you can spare an extra day)
In all honesty, if you can spare an extra day (or year) in Chiang Mai – do it. The northern Thailand region itself is home to so many beautiful natural marvels that are itching to be explored. But, if you do have a spare day to kill, then I've no doubt that you need to make a trip to see…
Wat Rong Khun (White Temple) in Chiang Rai
If the iconic White Temple isn't on your Chiang Mai itinerary, then you need to be planning your next trip back. Like, now. For a peek at what this freakish place looks like, take a look at our video Top 5 Attractions in Chiang Rai.
But, it's not just the enigmatic White Temple that attracts all the attention, there's also Baan Dam 'Black House' – a wacky art museum of sorts dedicated to the concept of death, where you'll find donated animal remains, from skins to skulls. It is, no doubt, one heck of an eerie and weird place to visit.
Much like Chiang Mai, Chiang Rai is a quaint little mountainside city. Although much smaller, it certainly is a must-do day trip if you're in the region.
Where to Stay in Chiang Mai
Chiang Mai is packed with accommodation suited for all types of travellers – live it up in luxury at a villa or resort, or go for cost-effective options like apartments and guest houses. Take a look here for a detailed list of some of the best apartments in Chiang Mai for all budgets.
If you're the type of traveller who wants to be in the centre of it all, then Nawa Sheeva is your crib. A minimalist style boutique hotel with top notch amenities; like a swimming pool, flat screen TV and free WiFi, plus, a stroll to Chiang Mai's most popular attractions in Old City are under 10 minutes walking distance. This is the perfect mid-range hotel for those who still yearn for a touch of luxury, but are on a budget.
Read latest guest reviews & check prices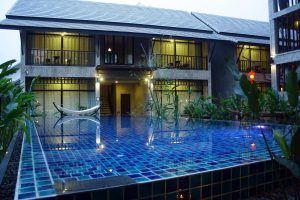 The first time we ever visited Chiang Mai back in 2010, we treated ourselves to a luxury 5-star stay at Rati Lanna Resort by the Ping River. Boy, was it worth it. The setting is absolutely breathtaking, the rooms are huge and decorated with dark timber to give it a 'Lanna' style feel, and a scrumptious buffet breakfast is served by the pool facing the river, daily. Can life get any better? Not by much if you're staying here, I'd say.
Read latest guest reviews & check prices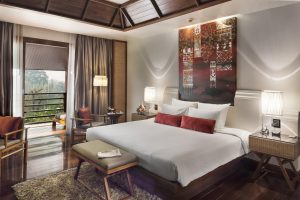 For ultimate apartment-style comfort and a super central location in Nimman (right opposite the new Maya Mall), the Eastin Tan must be on your radar. If affordable luxury is your motto, then this is your spirit apartment – is that a thing? Well, I'm making it a thing. They require a minimum booking of 3 nights, but considering the value, convenience and amenities this place offers, you probably won't want to leave. Like, ever.
Read latest guest reviews & check prices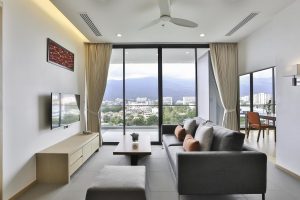 Psst.. New to Airbnb? Get $40 travel credit when you book your first stay!

Getting Around Chiang Mai
Walk. I can't say I'm a big fan 'cause I'm all 'bout that zero effort. But, it probably is an ideal way to explore Old City and Nimman, as these areas are littered with obscure little streets packed with coffee shops and trendy eateries.
Scooter. If you're game to ride this two wheeled contraption, then I'ma tell you that it is the quickest and most fun way to get around Chiang Mai. We rented our scooter from this reputable place if you're looking for one in Nimman.
Songthaew (aka Red Truck). Uber ain't got nothin' on these – Thais came up with the original concept of ride sharing. You'll see these conspicuous red trucks everywhere, just simply hail one and tell the driver where you're headed and off you go. Usually costs around 30 Baht per person.
Grab. The primary ride sharing app in South East Asia, it's easy-to-use, trustworthy and cheap – make sure you download the app before your trip.
Tuk Tuk. These are prevalent in Chiang Mai, and generally will cost you around 150-200 Baht per ride.
Bicycle. You can either rent a bicycle from a rental shop for approx. 120-180 Baht per day, or you can get the Mobike app and be part of the bike sharing revolution.
For more on Chiang Mai and general travel, take a look at:
Any more questions or suggestions about Chiang Mai? Drop them in the comments below.
Useful resources to help plan your trip:
To find the best travel deals on accommodation, attractions, and flights – take a look at our Travel Resources page to get started. These are the services we love and use ourselves to plan all our trips, and most of all – save money.
To save on your next hotel or Airbnb booking, take a look below:
For ideas on what to pack for your trip, take a look at all the gear and accessories we take with us on every single trip.
You can stalk us, the #SquatFam (aka Hangry Squad) on YouTube, Instagram and Facebook. We always promised to deliver fun and a less serious approach to life because I'm literally an 8-year old child trapped inside an adult body.
Like it? Pin me.