Your complete guide to Chiang Mai apartments in three of the most popular neighbourhoods in the city.
Chiang Mai. A place that makes me feel all warm and fuzzy inside, kind of like a first high school crush – but, at least, the feeling's mutual. Well, at least I like to think it is.
If you've ever given living in Thailand for a stint a thought, then you've probably come across this mountainside city in all your research.
It's the perfect place to base yourself as a freelancer, digital nomad, or expat. And, if the insanely delectable northern Thai cuisine (and surprisingly awesome coffee) hasn't convinced you to move over yet, then the forever smiling and warm-hearted locals definitely will. But, of course, it's also a wonderful city to kick back and vacay in.
For first-time visitors, do take a look at our perfect 3-day guide to Chiang Mai – featuring all the must-do attractions and food to eat.
Without further ado, here are some of the best budget to luxury apartments.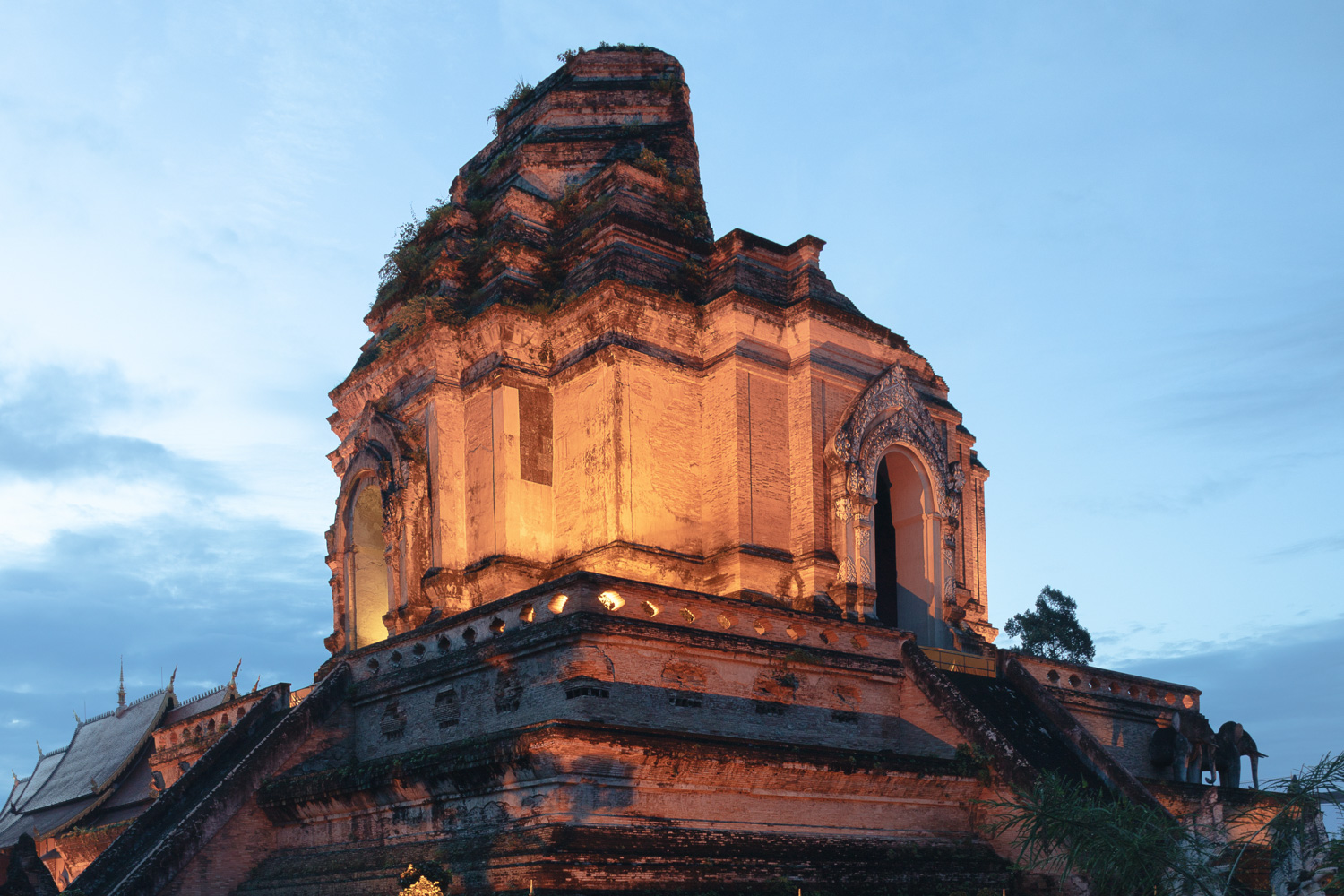 Tips for Choosing the Best Chiang Mai Apartment
Picking the Right Location
Trust me when I say, wherever you end up staying in Chiang Mai – you're gonna have a good time. The locals are some of the friendliest you'll meet in all of Thailand, mouthwatering food is at your fingertips, and an easy mode of transport can be found almost everywhere.
But, when it comes down to it all, I would recommend staying in one of the three vibin' areas when visiting Chiang Mai:
Stay in Old City if you want to be within walking distance to the city's most bangin' night markets and attractions.
Chill by the Riverside if you don't want to be in the centre of all the hustle and bustle and want to enjoy views of Ping River.
Kick back in Nimman if you're certified hipsters (like us) and want to have access to all the brunch joints and amazing coffee.
Finding a Family-Friendly Apartment
For families travelling with kids, it may be of importance to you to find a place with essential amenities that solo or couple travellers don't really think twice about. We've got two grubby little boys, so we had prerequisites when it came to finding the perfect apartment. They included:
Washing machine
Kitchen with a stovetop (many apartments don't actually have this)
Bathtub
Pool (bonus)
If the above are must-haves for you as well, then be sure to ask the apartment representative if they can arrange for a washing machine (sometimes they can) or a portable stovetop if the place is missing these.
Read Reviews Beforehand
Okay, you don't need to analyse and pick apart every single one of them – most importantly, scan through the most recent ones to get an overview of what's happening at the property and whether it's still up to par.
If there hasn't been a review in a while (at least in the last 2 months), then, perhaps, think twice before committing. Recent reviewers will disclose if there are issues that may impact the quality of your stay, ie. construction work, leakages, cleanliness, etc.
Psst.. New to Airbnb? Get $40 travel credit when you book your first stay!

Best Budget Chiang Mai Apartments
Best Mid-Range Chiang Mai Apartments
Old City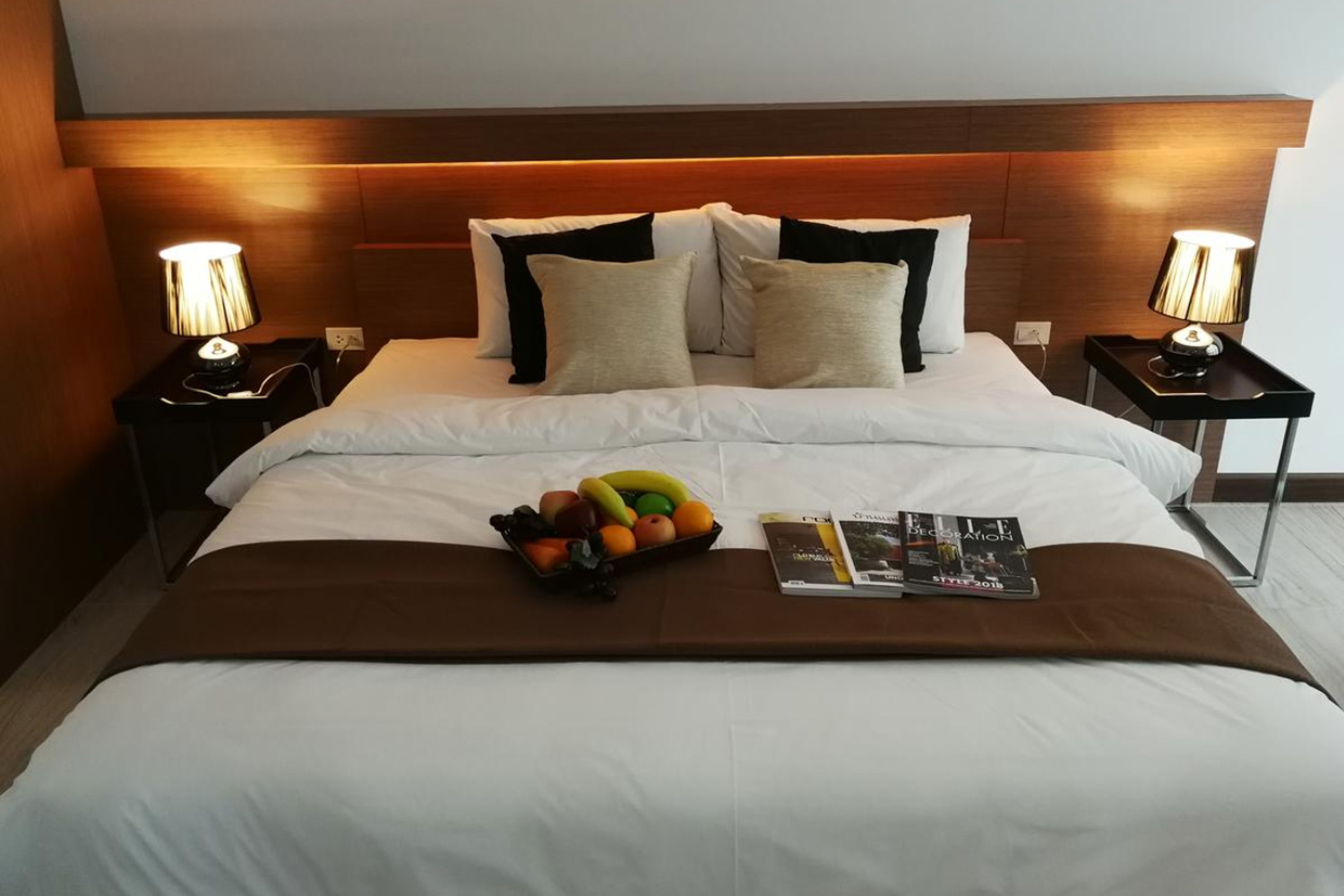 M.I.N.D. Villas is literally #HolidayGoals because – who doesn't want to stay in a villa-style apartment when they're on vacay? For the ultra affordable price, the spacious home can accommodate up to 4 people.
Set on the fringe of Old City, the Villa is a 300m stroll away from Nong Buak Hard Public Bark, making it an ideal location for families who want to seek out playgrounds and green play space.
It even includes a tasty American breakfast for the duration of your stay. Are you sold yet? 'Cause they had me at free breakfast.
Highlights:
Breakfast included
Next door to 7 Eleven
On-site café (perfect for coffee addicts)
Furnished balcony/terrace with artificial turf
Location: Near Nong Buak Hard Public Park, 500m from Wat Pra Singh
Wi-Fi: Yes
Price Range: Approx. $120 USD per night for 4 guests
Check prices & read reviews: Agoda | Booking.com
Riverside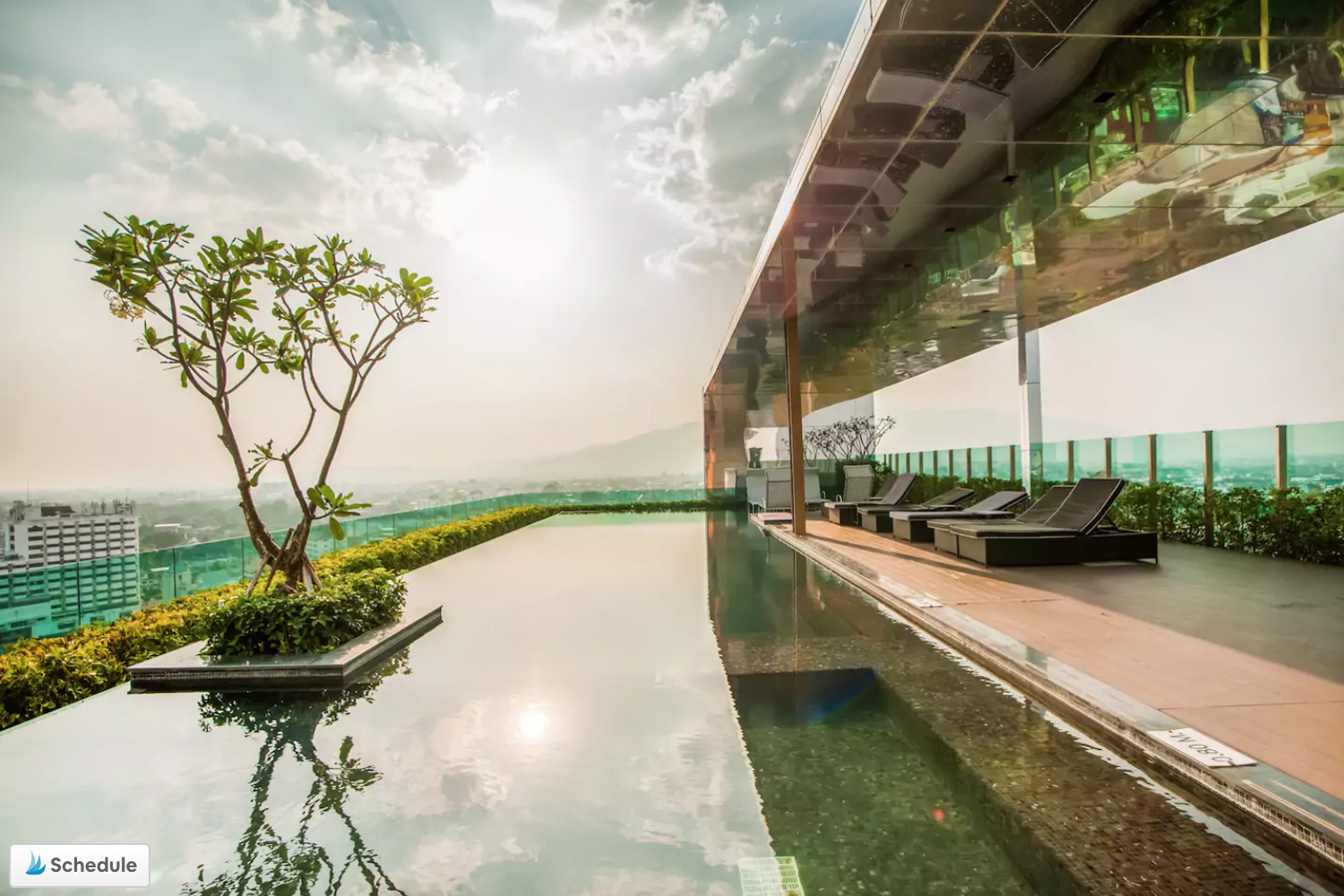 For the most part, Chiang Mai is all about the condo life – rooftop swimming pools with sunbeds, modern interiors, and perhaps even a gym. This 50sqm luxury condo ticks all the boxes, and the price? It's so much more affordable than you think.
For a more homely feel than a hotel, without losing the luxury of staying in one and still feel like you're actually on vacay – don't look past this sweet apartment.
Highlights:
Super high-speed Internet for all you serial Netflix streamers
Rooftop swimming pool overlooking Old City and the mountains
Gym to work off all the amazing food you'll be eating
Café and restaurant directly downstairs
Location: Near Sunday Night Market
Wi-Fi: Yes
Price Range: From $40 USD per night (Airbnb)
Check prices & read reviews: Booking.com | Airbnb
Nimman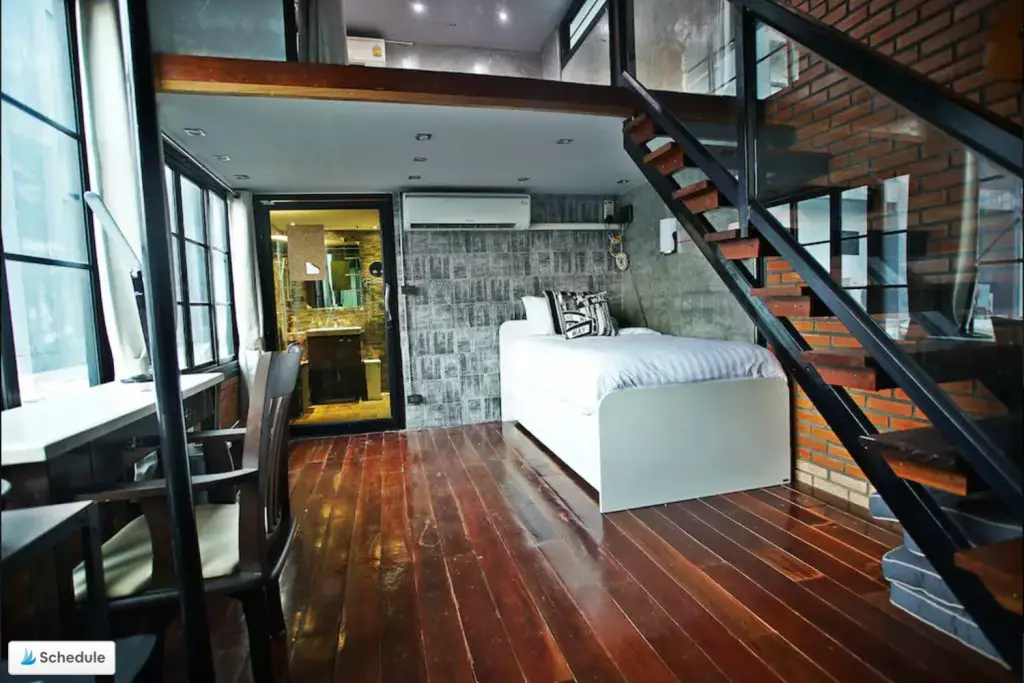 Is this funky loft-style apartment not the coolest home you've seen so far? Get those NYC feels without paying the price to stay in one. It's literally located in the smack bang centre of all the action in the trendy neighbourhood, surrounded by hot attractions, eateries, and Maya Mall.
Highlights:
Perfect for families, beds include: 1 x queen, 1 x floor mattress, and a bunk bed
Cots are available upon request
Childrens' books and toys can be found in the living area
The hosts cook a fresh breakfast every morning
A smart TV with Netflix. I'm done.
Location: Near Maya Mall and One Nimman
Wi-Fi: Yes
Price Range: Approx. $50 USD per night
Check prices & read reviews: Airbnb
Top Travel Guides for Chiang Mai & Thailand:
Best Luxury Chiang Mai Apartments
Old City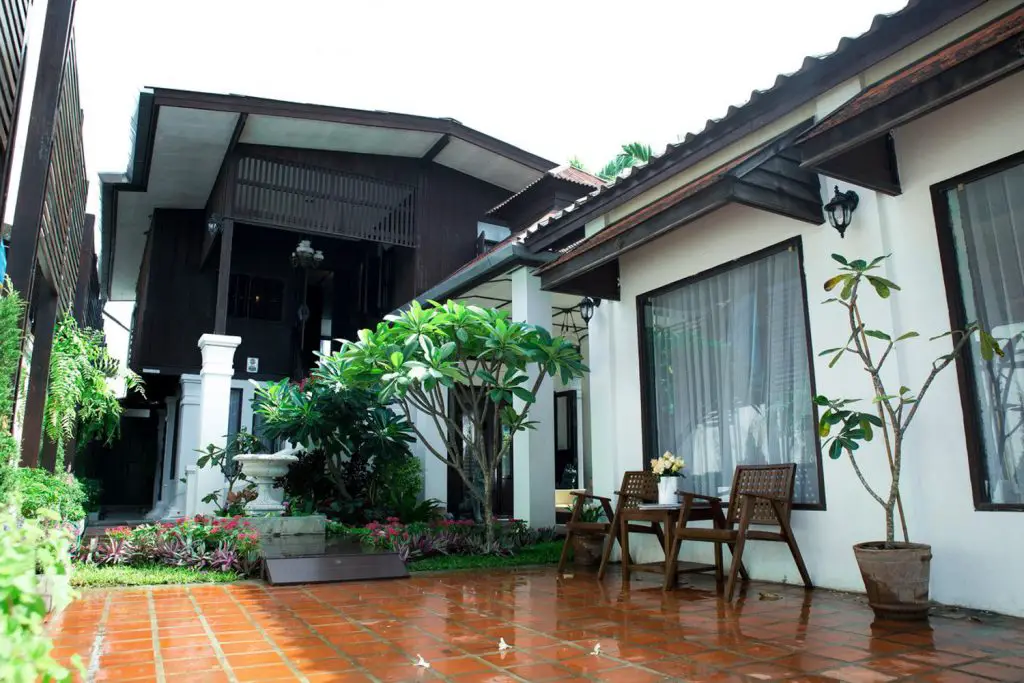 Away from the backpackers' hub and craziness of the city centre, this well-located luxury 2-bedroom Thai Villa boasts 140sqm of space that features a beautiful zen garden and outdoor entertaining space, and a modern interior with a Thai twist, making it perfect for families and luxury travellers alike.
Highlights:
Breakfast cooked fresh every morning
Room cleaning like in a hotel – hit the hay wrapped in fresh sheets every night
Free laundry services (Ooh yeah!)
Complimentary airport pick up service
Books, DVDs & music for kids are provided
Location: 10-minute walk from Sunday Night Market
Wi-Fi: Yes
Price Range: Approx. $200 USD per night
Check prices & read reviews: Agoda | Booking.com
Riverside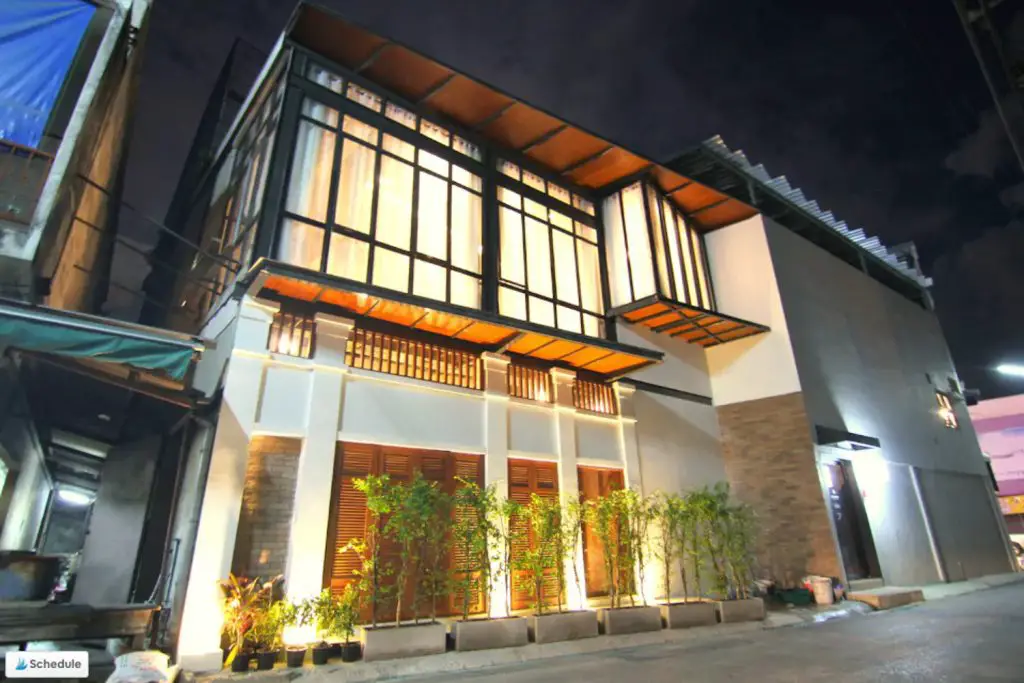 Okay, I'm not even joking. These luxury cribs just keep getting better. The ultimate modern home – this state-of-the-art urban loft townhouse is the definition of style with ease. Incorporating contemporary design, this minimalist space is a haven for families, groups, and friends.
Highlights:
Spectacular view of Lanna style Thai temple from the second floor
The elevated play area is ideal for kids, or just simply, chilling out
Daily cleaning services included
Surrounded by delicious restaurants and cafés within walking distance
Location: 2-minute walk from Thapae Gate & centre of Old City
Wi-Fi: Yes
Price Range: Approx. $120 USD per night
Check prices & read reviews: Airbnb
Renting a long-term Chiang Mai Apartment? Take a look at this essential guide packed with tips & hacks.
Nimman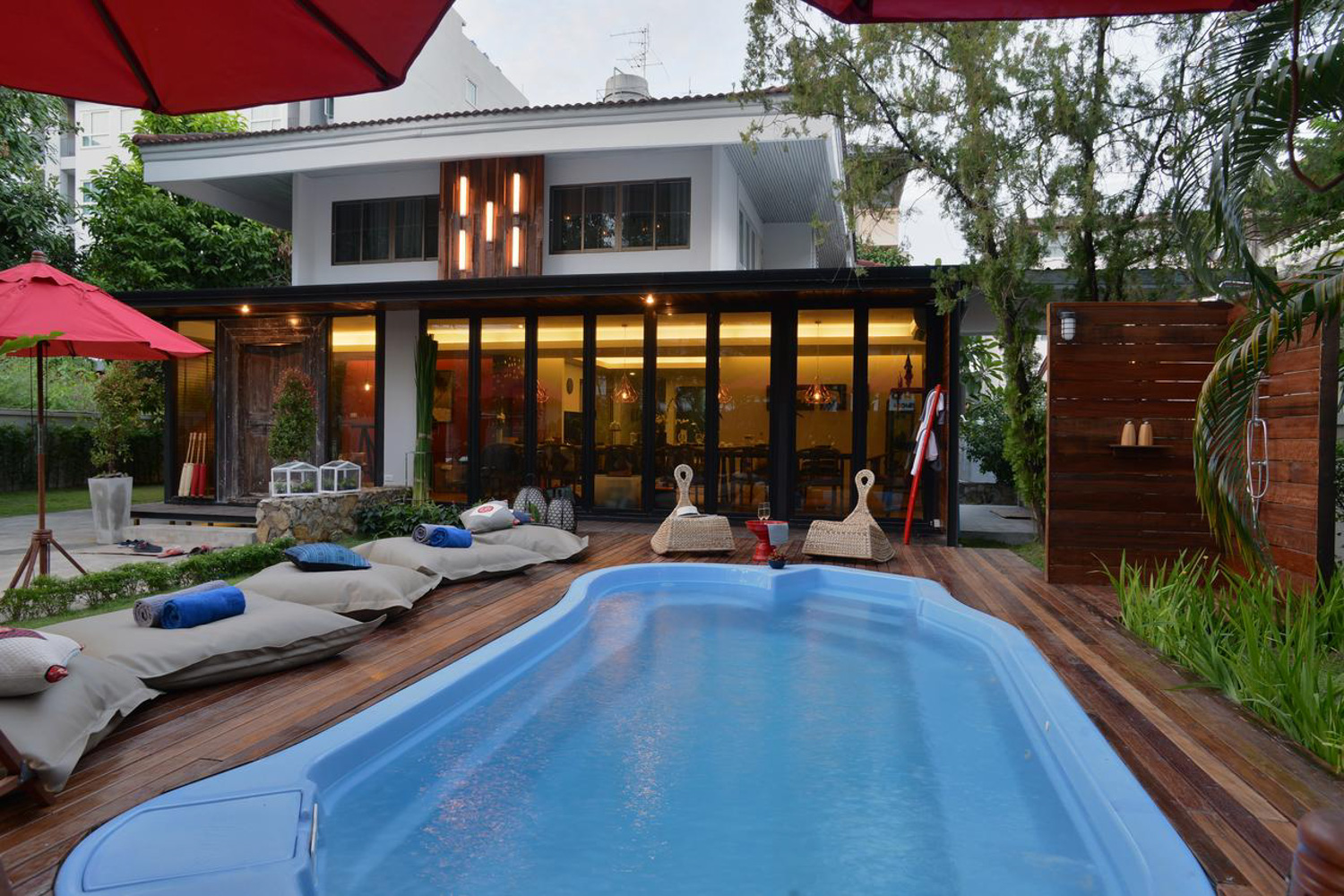 Are you ready for the pinnacle of luxury living in Chiang Mai? Villa 88 in the heart and soul of Nimman will fulfil all of your crib-life dreams. Probably more suited for a number of families travelling together or groups, the 5-bedroom home comes with a private swimming pool, a huge backyard entertaining area, and a ginormous dining table capable of seating 14 people.
Highlights:
Outdoor entertaining area with a barbecue to "chuck some shrimps on the barbie"
Home cinema with human-sized cushions to watch movie marathons on
On-site children's playground so you don't even have to leave if you don't want to
Bicycles are provided for guests to explore the 'hood
Location: 2-minute walk to Nimmanhaeminda Road (main road in Nimman)
Wi-Fi: Yes
Price Range: Approx. $920USD per night for up to 10 adults
Check prices & read reviews: Agoda | Booking.com
Find the best deals on hotels, apartments & villas below:
The beauty of Chiang Mai is that is has something to offer for everyone, whether it's accommodation, activities or food – Thailand's second largest city is the perfect retreat for those who seek to get back in touch with nature.
If it's your first time here, take a look at our detailed 3-day Chiang Mai itinerary highlighting all the major attractions and top-rated restaurants.
Hopefully, this article has helped you find the perfect home away from home, and provided you with all the options necessary to find great budget accommodation or a baller pad for all you pimpin' high rollers.
Got any questions about renting an apartment in Chiang Mai? Drop them in the comments below.
The One Must-See Attraction in Chiang Mai. See Below.
Useful resources to help plan your trip:
To find the best travel deals on accommodation, attractions, and flights – take a look at our Travel Resources page to get started. These are the services we love and use ourselves to plan all our trips, and most of all – save money.
To save on your next hotel or Airbnb booking, take a look below:
For ideas on what to pack for your trip, take a look at all the gear and accessories we take with us on every single trip.
You can stalk us, the #SquatFam (aka Hangry Squad) on YouTube, Instagram and Facebook. We always promised to deliver fun and a less serious approach to life because I'm literally an 8-year old child trapped inside an adult body.
Like it? Pin me.