If you've ever considered living in Chiang Mai with your family, you're probably going to want to know the cost of everything from rent to sim card. Well, you've come to the right place. Lemme break it down for y'all.
It's really no wonder that Chiang Mai gets voted the best and cheapest place to live in the world by digital nomads, freelancers and expats. Super fast internet, heavenly Thai cuisine so cheap you'll never have to cook a day in your life, and some of the friendliest locals you'll come across in all of Thailand.
Plus, warm weather all year round. How much more can you ask for?
In 2018, we lived in Chiang Mai for a short stint whilst trying to get this travel blog up and running – these are some of our best money-saving tips that will give you an insight into how much it costs to live in Thailand's second largest city.
NOTE: All dollar values stated are in USD
Living in Chiang Mai: Must-Knows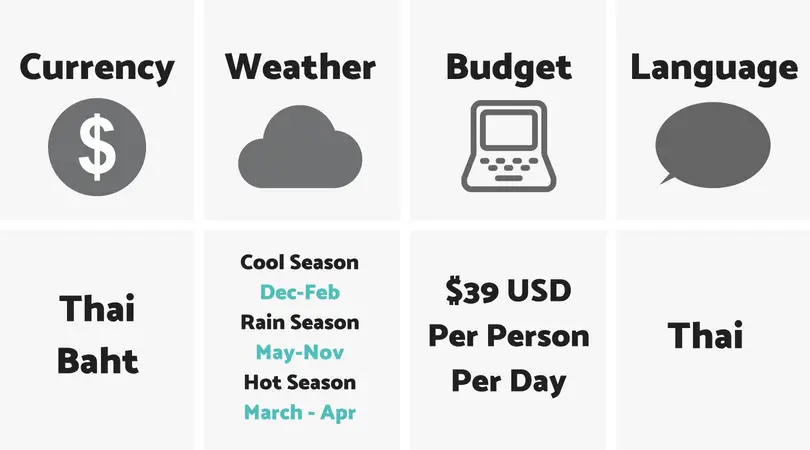 When is the Best Time to Visit?
The beginning of rain season (end of April to start of May) is a great time to visit as there's still a lot of sunshine and little rain. It's also a quiet enough season to start seeing prices for accommodation drop. Meaning, you can also haggle your way through Chiang Mai much more effectively.
Plus, you don't see the usual hordes of tourists at the most popular attractions.
Thai Visa Requirements
If you intend to stay in Thailand for longer than 30 days (or indefinitely), you'll need to organise a visa before you leave your country. Please don't enter the country with a one-way ticket if you have open-ended plans, as you probably won't get further than the check-in terminal in your home country.
For more information on visas, take a look at the official Ministry of Foreign Affairs website.
Travel Insurance
Make sure to organise travel insurance to cover your family on your travels. My fam and I use and recommend World Nomads – they've covered my derriere on countless occasions. Like, that one time my very first iPhone got stolen (still sensitive 'bout that) or when Qatar managed to tear off one side of my brand new suitcase.
If you're planning to stay for a longer period of time, it's probably worth looking into getting private health insurance.
Food Safety
Our kids got sick from food in Vietnam and Indonesia, but Chiang Mai? Not once. Neither did we. We didn't skip out on street and market food either, I bathed in those foods. They're so darn good.
That being said, still be cautious when it comes to street food (especially when feeding kids) and read up on reviews (if you want to be extra safe) before you decide on a place to eat.
The Best Area to Live in Chiang Mai
3 of the most popular areas in Chiang Mai:
Old City
Nimmanhaemin (AKA Nimman)
Riverside.
These are the neighbourhoods that are mostly populated with tourists and expats. The upside of this is that it is convenient to get around, food is at your doorstep, and there's probably a shopping mall around the corner..
Take a look at the best apartments, villas and Airbnbs in Chiang Mai for a look at top-rated accommodation in these areas.
Cost of Living in Chiang Mai: Our Monthly Expenses
Use this table as a rough guide, keeping in mind that the values are based on our expenses as a family of 4. I am also outnumbered by boys – bottom line – they eat a bloody lot.
| | | |
| --- | --- | --- |
| Expenses | Thai Baht | USD |
| One-way Flights | ฿9,530 | $290 (4 passengers) |
| Rent & Utilities | ฿25,335 | $785 |
| Groceries & Food | ฿37,075 | $1,150 |
| Transport | ฿6,762 | $210 |
| Activities & Leisure | ฿14,360 | $440 |
| Health & Medical Expenses | ฿1,950 | $60 |
| Total | ฿95,012 | $2,935 |
The cost of flights will depend on where you're flying in from – we flew to Chiang Mai from Singapore on Air Asia.
Rent and utilities exclude bond, which is usually one month's rent. This gets returned to you at the end of your lease, so I didn't include it as an expense.
Groceries and food also include household items that we bought, as well as essentials for the kids.
Getting to Chiang Mai: Flight Route & Costs
You probably can't get to Chiang Mai without a stop in Bangkok considering the airport is preeeeetty small and only capable of accommodating smaller aircrafts. So, wherever in the world you're coming from, you'll most likely have to transit in Bangkok's Suvarnabhumi or Don Muang Airports.
The best (and cheapest) time to travel to Chiang Mai is either during rain season, or just before (April/May). This is generally off-peak, meaning cheaper accommodation and sweeter travels deals. Whoop, whoop.
You can also follow sites like
Secret Flying
and
Fly4Free
, which are great resources for spotting airfare and accommodation mistakes around the world. Totally worth it when you get a notification for a ridiculously cheap flight departing from your home airport.
Average cost of flights to Chiang Mai from:
Sydney to Chiang Mai (return) – $390
Los Angeles to Chiang Mai (return) – $570
London to Chiang Mai (return) – $619
Hong Kong to Chiang Mai (return) – $142
Food, Groceries & Household Essentials
My one piece of advice when you're living in Chiang Mai – don't cook. Eating out is so insanely cheap (for foreign income earners) that it would seem silly to buy ingredients from supermarkets to cook.
| | | |
| --- | --- | --- |
|   | Thai Baht | USD |
| Eating Out | ฿260-330 | $8-10 per meal for 4 |
| Groceries | ฿1,970-2,300 | $60-70 per week |
| Household Essentials | ฿1,310 | $40 one time |
| Baby & Kids' Essentials | ฿660 | $20 per fortnight |
How much does it cost to eat out?
Now, this may sound crazy – but, as a family of 4, we spent no more than $20 USD a day on lunch and dinner combined, sometimes even with breakfast. We always bought food from local restaurants and a dish, like Pad Thai, generally costs around $1.50-2 USD. Crazy, huh?
Eating at food halls inside shopping centres also saved us a lot of money and gave us more choice for different types of food. Our local go-to in Nimman was Maya Mall where they have stands selling everything from Mexican, Vegetarian to authentic Thai food.
Western food or modern cafés generally have a more expensive menu – in fact, our brunch at Rustic & Blue in Nimman was probably just as expensive as back home in Australia. I mean, it was friggin' delicious, but super pricey for Thai standards.
Average price for food per person a day: $6 USD
Buying Groceries
Supermarkets in Thailand are expensive, namely because this is a western concept and many of the products you get inside the main ones, like Rimping, Tops, Big C, and Tesco are imported. Even fruits, vegetables, seafood, and meats are probably similarly priced to back home.
Your best bet is to hit up a local Thai market to get fresh produce at low prices. The most popular one is Warorot Market by the Riverside where you can buy meats and vegetables, as well as freshly cooked local delights that you can take away at a fraction of the price.
We ate breakfast at home most days, which caused our grocery bill to skyrocket because western cereal brands, breads, sliced meats, and other brekky-type foods don't come cheap. The joys of travelling with kids. Plus, I can't control myself at the supermarket. Yup, I'm that shopper.
Our average price of groceries per week: $60-70 USD
---
Household & Kids' Essentials
We also bought a few extras for the apartment – although most places are equipped with all the kitchen essentials, there were a few minor things that we needed. Some of the pots and pans were really aged and rusting, so we bought a new set for around $10.
I would highly recommend buying a fan, as running the air conditioning unit can substantially add to the electricity bill. I'm gonna admit – it's a bit of a struggle to sleep at night without a fan or air con running, especially if you're travelling to Chiang Mai during hot season. A decent fan (that's not flimsy and weak AF) will set you back around $30.
Since we were travelling with kids, we had to buy essentials like diapers and wet wipes. Below you'll find the average cost of items, like:
46-pack diapers – $9-15
Wet wipes – $1-2 per pack
Baby formula – $9-13 per tin
Baby food pouches – $1.70
Baby shampoo – $1.50
Transport Costs
If scooters (motorbikes) are your dig and you're daring enough to transport your entire family on one, then this is the most cost-effective option of getting around in Chiang Mai. We went all Asian styles and rode our fam around on a single scooter.
| | | |
| --- | --- | --- |
|   | Thai Baht | USD |
| Motorbike Rental | ฿1,700 | $80/month |
| Petrol | ฿70 | $3 per tank |
| Grab Fare | ฿65-130 | $2-4 |
| Songthaew (Red Truck) | ฿30 | $1 one way |
| Tuk Tuk | ฿150-250 | $4.50-7.50 |
| Car Rental | ฿1,000 | $30 per day |
Grab has replaced Uber as of April 2018 and no longer operates in South East Asia – make sure you download the app before your trip so you can start using it as soon as you arrive. It's one of the cheapest, safest and most reliable modes of transport in Thailand. You can also order food and send courier mail (locally) via Grab. I mean, like, how genius is that?
HOT TIP: If you're new to Grab, you can get 100 Baht off your first ride using our special discount code GRABHANGRYSQUAD.
Songthaews (red trucks) are also a cheap way of getting around, it's easy to hail one down, but just bear in mind that they won't always pick you up if you're not going in the direction they're headed. You can actually order these on the Grab app as well.
Tuk Tuks offer the most fun way of getting around, but considering they exist purely for tourists – you have to be prepared to pay a higher price compared to Grab cars or Songthaews. But, if you've got the haggling spirit, then haggle your way to a lower price.
Motorbike Rental
You will have to organise an international driving permit before arriving in Chiang Mai, as local police set up inspection points and fine those who aren't carrying local Thai or international licenses.
I was fined once and the officer demanded a 500 Baht on-the-spot fine, but I decided to play dumb (to see what would happen) and he wrote me a ticket, confiscated my Australian drivers license and told me to go to the police headquarters in Old City to pay the fine. Upon arriving, I found out that the official fine for not carrying an international license is 200 Baht. So, it was definitely worth playing dumb. But, that's kinda me every day – so what's new? Plus, I got my license back, too.
We rented our bike from Mango Bike Rental in Nimman, we found them to be most competitively priced and reputable, with top notch service and knowledge. Most places will ask for 1,000 Baht deposit which will get reimbursed when you return the bike in good knick.
Car Rental
Renting a car in Chiang Mai is a great option if you're planning to take day trips. We found an amazing deal on Rentalcars for a Nissan Almera which we rented for an overnight trip to neighbouring city Chiang Rai for only $35 a day, which even included car seats for kids.
I know – driving in South East Asia may seem like a completely ludicrous suggestion, but traffic in Chiang Mai was nowhere near as chaotic as Bangkok, and we actually thought that drivers were a lot more mindful than the crazy hoons back at home in Australia.
Just make sure you organise an international driving permit beforehand.
Cost of Activities & Leisure
Seriously though, guys – don't skimp out on these amazing attractions and experiences in Chiang Mai. Some may seem higher on the price spectrum for Thai standards, but they are well worth the money.
| | | |
| --- | --- | --- |
|   | Thai Baht | USD |
| Chiang Mai Zoo | ฿150 | $4.50 per adult |
| Elephant Jungle Sanctuary | ฿1,600 | $50 per adult |
| Chiang Mai Night Safari | ฿582 | $18 per adult |
| Temple Entry  | ฿20-30 | $0.60-0.90 per adult |
| Massage | ฿250-500 | $7.60-15 per hour |
| Eyebrow Wax | ฿200 | $6 |
| Manicure & Pedicure | ฿700 | $20 |
Many temples are free to enter, but the most popular ones, such as Doi Suthep and Wat Chedi Luang charge a very small entry fee for foreigners.
We also found entry tickets to be significantly cheaper when booked in advance online – you can save up to $10 on Chiang Mai Night Safari tickets online (so expensive at the door) and discounted Chiang Mai Zoo & Aquarium Combination Tickets.
---
If you can spare the time, I would 
highly
recommend a day or overnight trip to neighbouring city Chiang Rai to see the weird and glorious White Temple and eerie Black House. For more inspiration, take a look at our video guide on
5 Must-Do Attractions in Chiang Rai
.
Phone & Internet
This is one thing we found to be priced similarly to prepaid phone and data packages back at home. I mean, compared to Vietnam where we paid $10 for unlimited calls and Internet for the entire month we were there, it's significantly more expensive in Thailand.
We opted to go with the network provider True where we got a 30-day prepaid sim card with 8gb of data and unlimited calls for $18. We shared this between the two of us using tethering on our phones so we only had to purchase the one sim. Nifty, huh?
Health & Medical Expenses
The cost of doctor and dental visits are most definitely cheaper than in western countries. In most cases, it's not even worth trying to claim the cost back from your travel insurance.
Medication
You can get all kinds of medication from pharmacies in Chiang Mai, but bear in mind that they are not that much cheaper than back at home (for us, that's Australia). The only difference is, for some varieties where you usually need a prescription in western countries – you won't need in Chiang Mai if you know where to go 😉 But you didn't hear it from me. Prescription medication will generally cost you more in Thailand because back at home you'll most likely have health cover that will reimburse you for some of the costs.
Dentists
If you need to get any type of dental work done – do it in Chiang Mai. I would normally pay upwards of $200 for a single filling in Australia. You can get a filling from a reputable dentist for around $40-50.
Doctors
Luckily, we didn't have to visit a doctor during our stay. But, if for some reason you need to see one, make sure to go to a reputable hospital. Expect to pay between 200-400 Baht ($6-12) for a consultation.
Gym
If you're willing to fork out a little extra on accommodation, you can definitely get an apartment that comes with a basic gym. Otherwise, take a look at this list of gyms in Chiang Mai and their membership fees and structures.
Average Daily Cost of Living in Chiang Mai as a Family
Okay look – we are terrible at budgeting and saving. Self-control is really not part of my vocabulary, especially when food is involved. If you have a smidge more self-control than we did, you can probably save a whole lot more as a family.
Our average daily expenses: $25 per person (inclusive of accommodation, food, transport, attractions and all other tidbits)
Money Saving Tips
Shop for fresh produce at local markets – much cheaper than supermarkets.
Buy freshly cooked food from local markets to take away for lunch or dinner.
Eat at shopping centre food halls – the cost for a standard Thai dish (eg. Pad Thai) costs around 50 Baht ($1.50).
Use Klook to pre-purchase discounted tickets to attractions as opposed to buying at the door.
Buy a fan instead of using the air conditioning through the night.
Get 100 Baht off using our discount code GRABHANGRYSQUAD for first time users.
Buy quick meals from convenience stores that cost around 30 Baht ($1) for a quick feed.
I hope this article has provided you with better insight into the cost of living in Chiang Mai as a family. Despite having spent a little more frivolously and splurging more on a comfortable and modern apartment – in most cases, living here is still cheaper than most western countries. That's why, time and time again, Chiang Mai is voted the best country to live for expats, digital nomads, and freelancers.
Have you considered living in Chiang Mai for a stint? Drop your thoughts or any questions you have in the comments below.
Useful Travel Resources For You
To find the best travel deals on accommodation, attractions, and flights – take a look at our Travel Resources page to get started. These are the services we love and use ourselves to plan all our trips, and most of all – save money.
But first, we've got some sweet deals for you:
For ideas on what to pack for your family trip, take a look check out gear and accessories we take with us on every single trip.
Connect with us on YouTube, Instagram and Facebook. I promise we're funny. At least, I like to think so.
Like it? Pin me.