A Melbourne local's Great Ocean Road itinerary covering 2 days worth of highlights and hidden gems of the world's most famous coastal drive.
Arguably, Victoria's (look, I would even say Australia - not like I'm biased or anything 🤫 ) most revered attraction, it's home to mind-blowingly gorgeous coastlines, towering waterfalls and lush rainforests - this is one road trip you absolutely cannot forego on your visit to Melbourne.
Oh, and did I mention the stunning Great Ocean Road beaches that you can dip your feet in? And the charming townships you'll roll past? And the cliff edge lighthouses? And the native Aussie animals you might just cross paths with?
Convinced? Okay. Let's (virtually) hit up this magnifico drive and allow this Melbourne loco (me, durr) to show you exactly how to tackle this trip with the least amount of crowds, what to skip out on, and what you cannot miss for your life.
Looking for more inspiration in Melbourne & Victoria?
PRO TIP: Don't start at the start. Drive to the furthest point - Port Campbell or Warrnambool - book accommodation for one night and complete all the sights in reverse. That way, you get a head start on the visitors coming from Melbourne and avoid the crowds (well, most of them, anyway).
Things to Know Before Visiting
Where does the Great Ocean Road start? The surfy beach town of Torquay is where you'll find the Instagram-worthy plaque marking the beginning of the coastal drive. But, guys, if you're planning to follow my pro tip of doing this trip in reverse, you won't come across this sign until your return route back to Melbourne. It'll be worth it, trust me. Your Insta followers won't even realise that you did things backwards. 😉
When is the best time to visit? Let's face it - Melbourne is not renowned for its climate. In fact, it's notorious for having the worst weather in all of Australia. If you're keen to go for a dip in the ocean without freezing your (arse) cheeks off, then plan your trip in the summer months (December to March). You will definitely freeze cheeks (and more) off in winter, but if you're not keen on crowds, then this is the best time to visit.
Can you do the Great Ocean Road in 1 Day? Well, yes. If your sole purpose is to see the Twelve Apostles - it's 100% achievable. But, you'll be missing out on all the other gems that make the Great Ocean Road drive what it is.
Is there food? Quite possibly the most important question. Yes, there is plenty of food to be found in little townships along the Great Ocean Road. Just make sure you plan ahead so that you don't go hours on end starving on your drive before you hit the next town.
Don't forget to drive on the LEFT. You'll be surprised how often we hear about tourists renting cars and winding up in a pickle on the wrong side of the road. The Great Ocean Road drive is a marvellous stretch of coast to cruise along, but it's also extremely dangerous if you're not familiar with Aussie road rules.
Road trip essentials for your drive. If it's your first time in Australia, you'll probably want to stock up on these important items:
Want more insider guides to hidden gems in Melbourne? Sign up for exclusive tips.

Great Ocean Road Drive: How to Get Around
Rent a car if you don't already have one - it's simply the most convenient and flexible way of moving from one attraction to the next at your own pace. It's a 244km long stretch of road packed with a heap of sights, small towns and gorgeous beaches - believe me, you'll want to make stops at your own accord. To find the perfect car suited for your trip, take a look at Rentalcars to find the best price.
Take a day tour if you don't have the option to drive but would still like to experience this marvellous coastline. Since the drive to the Twelve Apostles takes 3 hours, most day tours will only have enough time to stop at 2-3 attractions before turning back. For one of the most popular Great Ocean Road day tours, check out this one or if you're a Golden Hour lover, then don't look past this sunset tour of the Twelve Apostles.
No car? No problem. Take a look at these top-rated tours:
Great Ocean Road Itinerary 2 Days
Stock your ride up with snacks, buckle in your seatbelts and get those cameras ready - it's gonna be one helluva action-packed and scenic drive trying to cram all these must-see sights into 2 days.
Day 1: Melbourne to Warrnambool
As mentioned earlier, we'll be tackling this Great Ocean Road itinerary in reverse. No scenic route (yet). Sorry, guys. We'll hit that up on the next day.
Plan to leave Melbourne after 9am to avoid peak hour traffic and make your way to the port city of Geelong, or Geetroit as locals would call it. Pop into Pakington Pantry for a mean Aussie brunch because there's not going to be a whole heap of options once you embark on the highway towards Warrnambool.
Be sure to stop by the picturesque Hopkins Falls on the A1 Princes Highway, an offbeat waterfall found along a large, open stretch of land enveloped by rolling green hills and farmlands.
Why begin in Warrnambool? Well, for starters, it's only a 40-minute car ride to the first (or last - depending on how you look at it) point of attraction down the Great Ocean Road. Plus, it's an absolutely beautiful port city on the southwestern coast of Victoria.
If you're budget-conscious like we were, the Mid City Motel Warrnambool provides a cosy rest stop after a hard day of driving. If you're travelling with kids, it's even got a well-maintained pool for guest use to splash around in on hot summer days. For something slightly more upscale, have a squiz at Deep Blue Hotel & Hot Springs.
Catch the sunset at Warrnambool Breakwater - an iconic landmark and breathtaking coastal walk. Better yet, meander down the scenic Pickering Point Trail for impressive views of Merri Island and the rocky coast. Of the weather is obliging, pack your bathers and take a dip in these clear blue waters.
Flagstaff Maritime Village, if you've got time to spare, is a must-see when in town. The replica fishing village houses Australia's largest collection of maritime shipwrecks which will throw you back into life in the early 19th century. Just imagine Sovereign Hill Ballarat meets the sea. It's an experience kids and adults alike will enjoy and learn from.
Logan Beach Whale Watching Platform is a stop to make just before you leave Warrnambool for your Great Ocean Road self drive journey. Between June and September, you'll find Southern Right Whales return to their nursery in Logan Beach to get jiggy with it, throwing spectators into an episode of some serious whale porn.
Bay of Islands/Bay of Martyrs
The quietest point of interest along the Great Ocean Road, as this is the last sight along the drive if you're coming from Melbourne. Most day tour buses don't venture this far down, which means no randoms bombing your photos or getting whacked in the back of your head by someone's godforsaken selfie stick.
There's numerous trails to explore, and... shh, just between us - fences to be climbed over to get stunning panoramas of the rugged coast.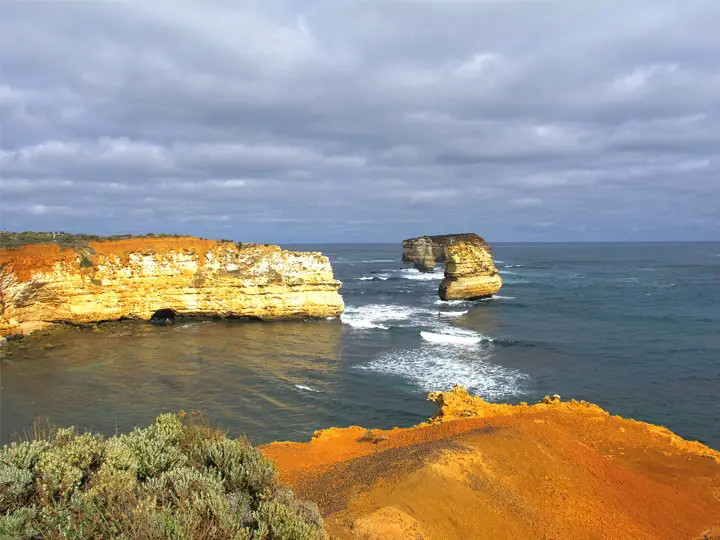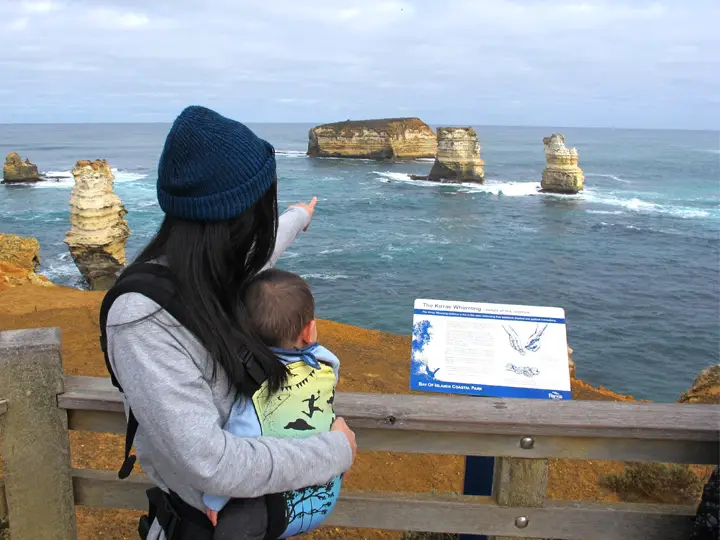 London Bridge
Bridge.. What bridge? Yeah, I know what you guys are thinking. It's been renamed the London Arch because the formation that connected the arch to land collapsed a couple decades ago. In all honesty, London Bridge just has a better ring to it, doesn't it?
Funnily enough, two tourists were left stranded on top of the arch when it happened and were forced to await being rescued by a helicopter. Terrifying? Yes. Free helicopter ride? Hell, yes.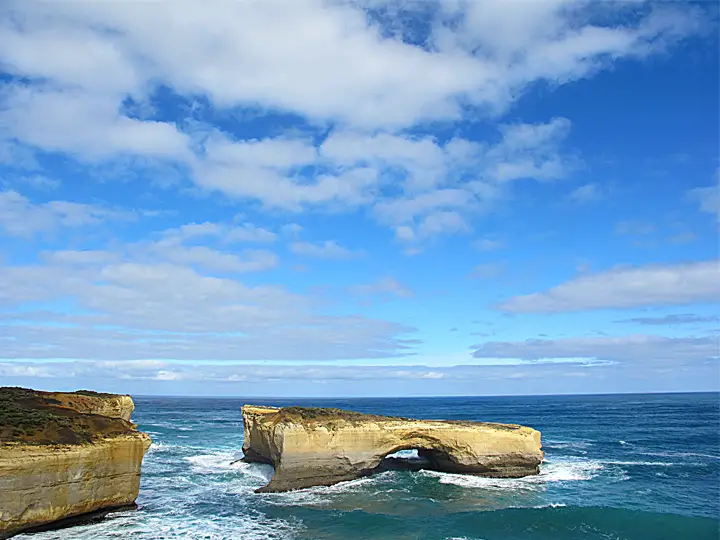 The Grotto
Among the myriad of rock formations, the Grotto captivated me the most. The thought process that geologists must've gone through whilst trying to come up with a name must've been something like this, "Is it a cave? No. Is it an arch? No. Then, what is it? A grotto, mate. It's a bloody grotto."
This geological formation is accessible via a decked wooden staircase that leads all the way down from the viewing platform up top. For the best view and Insta-worthy shot, venture all the way down and into the blowhole (don't worry - no swimming required) and enjoy astonishing views of the ocean from the other side of the arch.
If you're a total rule breaker, then go ahead and climb over the hand rails (you didn't hear it from me), and do a little expedition around the cliff face for some of the most amazing views of The Grotto looking in from the vast ocean.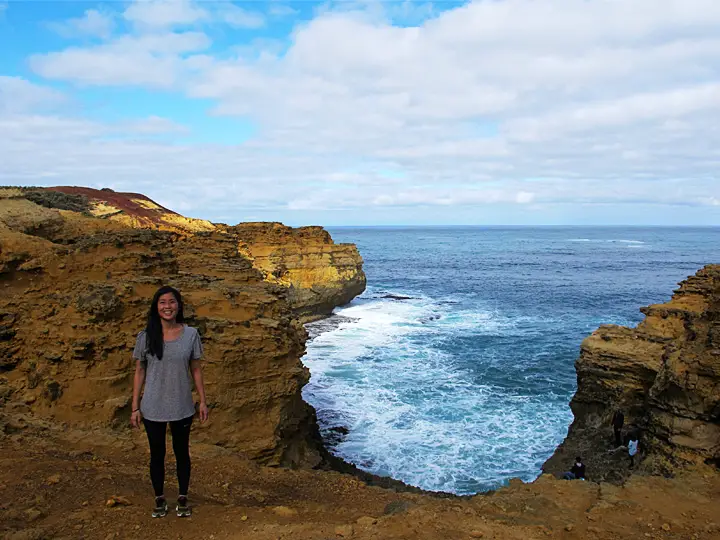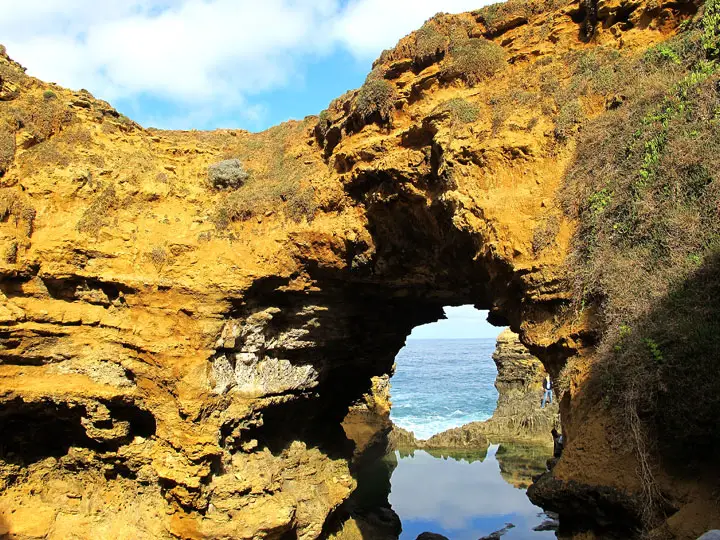 Loch Ard Gorge
My absolute favourite stop along the Great Ocean Road - the location is named after the 19th Century sailing ship, Loch Ard. The vessel was a major shipping like that operated between Great Britain and Australia in the 1870s. Tragedy struck on 1st March 1878 when the ship encountered heavy fog and the captain and his crewmen were unable to see the proximity of the coast, causing them to run aground on a reef and sinking the entire ship within 15 minutes.
From above, the danger is obvious - strong currents, insanely huge waves, and rocks so sharp they could rival a Japanese Global knife set.
But don't let that put you off from descending into Loch Ard Gorge because you're pretty safe so long as you remain ashore. Plus, the scenery is absolutely worth it. I would go as far as to say that it's comparable to Thailand's Maya Bay in the Phi Phi Islands, just a more rugged-looking Aussie version.
Don't forget to pack your swimmers and jump in for a dip if the weather permits!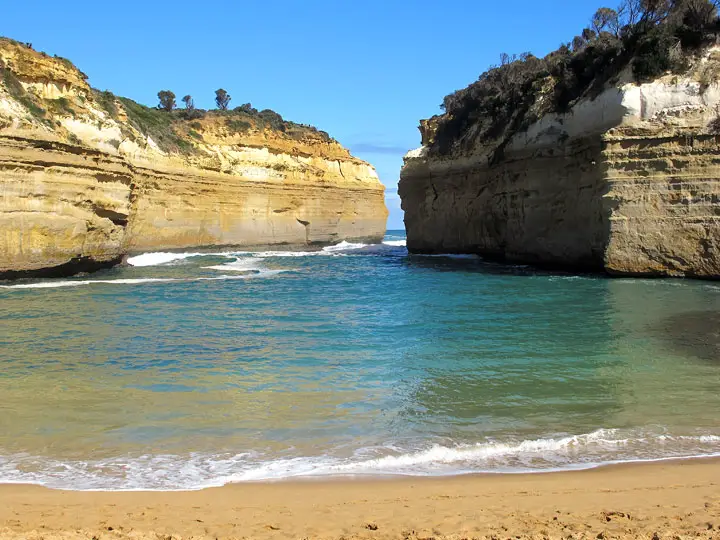 Great Ocean Road Accommodation
Mid City Warrnambool
The perfect location for a short stay, this hotel and motel features double rooms as well as family sized rooms. A short 5-minute walk into the centre of Warrnambool where all the shops, supermarket and eateries are located - there's no place more convenient. Enjoy the free Wifi, year-round outdoor pool and hot tub, and of course, the Nespresso machine with a selection of capsules.
Room Type: Twin, Queen, King, Triple or Family Suite
Free WiFi: Yes
Near: Town centre (Liebig St)
Price: From $160 AUD per night
BOOK A ROOM AT THE BEST PRICE | READ TRIPADVISOR REVIEWS
38 Degrees South Warrnambool
Accommodating up to 6 guests, this modern 3-bedroom house features custom made furniture, a private enclosed yard, an outdoor entertaining area - all within walking distance to the town centre, the beach, Flagstaff Hill, and Lake Pertobe.
Get $50 AUD Airbnb travel credit when you sign up today and make this beautiful home yours for the weekend.
Room Type: 3-bedroom house
Free WiFi: No
Near: Town centre
Price: From $294 AUD per night
Lorne Beach Apartments
A 1-minute walk from Lorne Beach, this cosy apartment accommodates up to 6 adults in 3 separate bedrooms. Featuring air conditioning, a full kitchen, and even a barbecue - this makes for the perfect weekend getaway with family or friends. With cafés and restaurants at your doorstep, you'll be comforted knowing that you won't go hungry.
Room Type: Fully serviced apartment
Free WiFi: Yes
Near: Lorne central
Price: From $340 AUD per night
BOOK ROOM AT THE BEST PRICE | READ TRIPADVISOR REVIEWS
Great Ocean Road Cottages
Cosy cottages nestled along the hillside, you'll feel like you're in the middle of the lush Aussie bush. Conveniently located, it's only a short walk or even short driver into the town centre where you can shop some of the best surfwear or eat to your heart's content.
Room Type: Suite or Family Suite
Free WiFi: Yes
Near: Town centre
Price: From $230 AUD per night
BOOK ROOM AT THE BEST PRICE | READ TRIPADVISOR REVIEWS
Important Travel Tips
Don't be like one of the people on the tour buses who attempt to do it in one day. Pace yourselves, map out the points-of-interest you would like to visit, and space it over at least two days. Even that wasn't enough for us.
Pack clothes suited for four seasons. Because it's pretty much Melbourne weather. It can feel like 30°C under the sun, 20°C in the shade, and 10°C when the wind hits. Then it might rain, hail or tsunami if Mother Melbourne feels like it.
Pay attention to the speed limit - we got blitzed somewhere along the road to Apollo Bay and it cost us a whopping $190 + 2 demerit points.
The best time to visit the attractions is early in the morning. Like, as early as possible. Before the tour buses flock in and do an Asian tourist take-over.
Discover more of Melbourne & the beautiful state of Victoria below:
If you found this post helpful, please share the love below.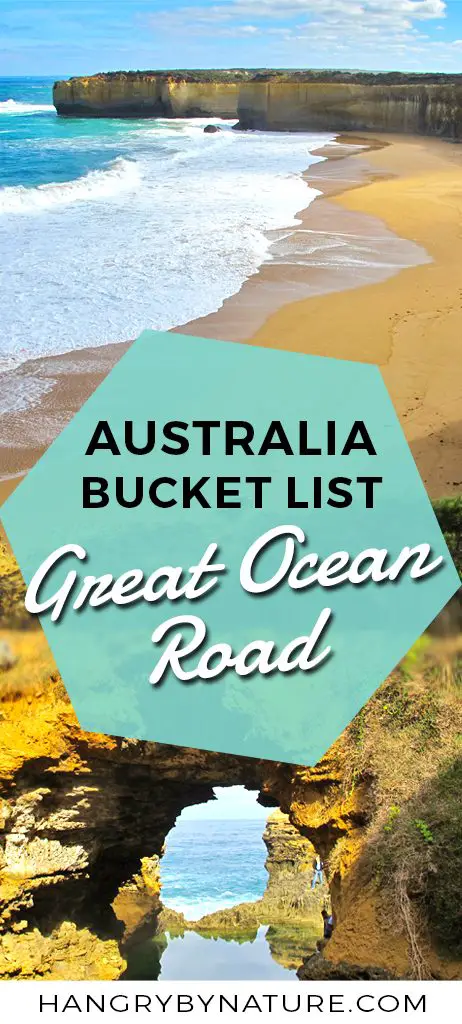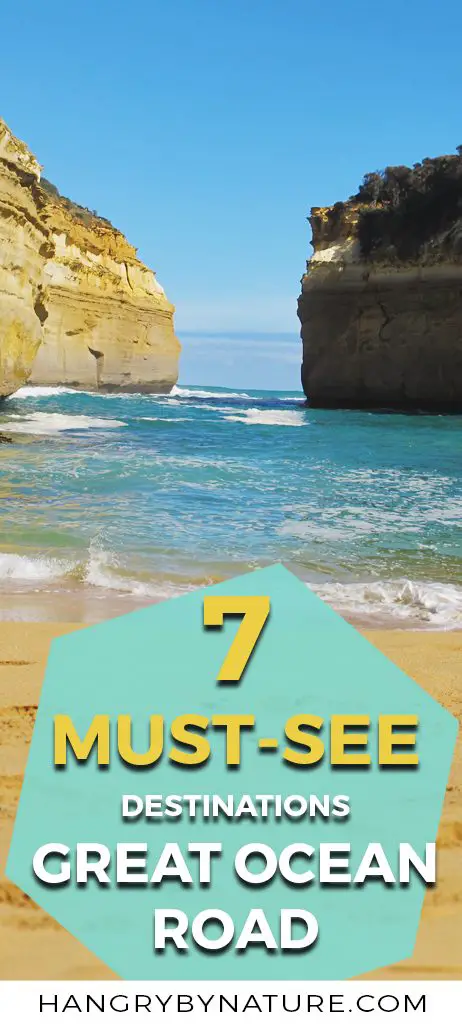 Resources to help plan your Great Ocean Road itinerary:
Visit our Travel Resources to find the best deals on flights, accommodation and attractions. We love and use these services ourselves to plan all of our family trips - they save us a ton of time and money.
Sweet accommodation deals for you:
For ideas on what to pack for a family trip, check out our gear and accessories that we take with us on every single trip.
Come say hi to us on YouTube, Instagram and Facebook. I promise we're funny. At least, I like to think so.