So, you're roadtrippin' down one of the world's most famous coastal drives? Ohhh, you're in for a visual treat. Aren't you lucky you've got a local guide right here (me, yay) to reveal all the must-do attractions and hidden gems you need to add to your Great Ocean Road itinerary.
Arguably, Victoria's (look, I would even say Australia 'cause I'm biased ? ) most revered attraction – the Great Ocean Road is home to heart-stoppingly gorgeous coastlines, majestic waterfalls and lush rainforests. This is one day trip from Melbourne you absolutely cannot forego.
Oh, and did I give mention to the charming townships you'll be rolling past? And the Insta photo-evoking lighthouses? But, of course, nothing will make your road trip more complete than the cute and cuddly Aussie animals you'll probably be crossing paths with. Selfie time (at your own risk)!
Convinced? Okay. Let's (virtually) hit up this magnifico drive and allow this Melbourne loco (me, derp) to show you exactly how to tackle this trip with the least amount of crowds, what to skip out on, and what you cannot miss for your life. Leggo.
Looking for more inspiration in Melbourne & Victoria?
PRO TIP: Don't start at the start.
Drive to the furthest point – Port Campbell or Warrnambool – 
book accommodation for one night 
and complete all the sights in 
reverse
. That way, you get a head start on the visitors coming from Melbourne and avoid the crowds (well, most of them, anyway).
Important Things to Know Before Visiting
Where does the Great Ocean Road start? The surfy beach town of Torquay is where you'll find the famous plaque marking the beginning of the Great Ocean Road drive. But, guys, if you're planning to follow my pro tip of doing this trip in reverse, you won't come across this sign until your return trip.
When is the best time to visit? Let's face it – Melbourne is not renowned for its climate. In fact, it's notorious for having the worst weather in all of Australia. Like, England weather bad. If you're keen to go for a dip in the ocean without freezing your (arse) cheeks off, then plan your trip in the summer months (December to March). Visiting in winter does have its pros since the majority don't fancy freezing their cheeks off, you'll most likely encounter less crowded sights.
Can you do the Great Ocean Road in 1 Day? 
Well, yes. If your sole purpose is to see the Twelve Apostles – it's 100% achievable. But, you'll be missing out on all the other gems that make the Great Ocean Road drive truly remarkable.
Is there food? 
Legit, the most important question. Yes, there is plenty of food to be found in little townships along the Great Ocean Road. Just make sure you plan ahead so that you don't go hours on end starving on your drive before you hit the next town for munchies.
Don't forget to drive on the LEFT. You'll be surprised at how often we hear about tourists renting cars and winding up in a pickle on the wrong side of the road. Embarking on a Great Ocean Road self-drive is the most flexible way of tackling this adventure, but can also be extremely dangerous if you're not familiar with Aussie road rules.
Essentials for your Aussie Road Trip
If it's your first time in Australia, you'll probably want to stock up on these important items:
Want more insider guides to hidden gems in Melbourne? Sign up for exclusive tips.

Great Ocean Road Drive: How to Get Around
Rent a car if you don't already have one – it's simply the most convenient and flexible way of moving from one attraction to the next at your own pace. It's a 244km long stretch of road packed with a whole heap of sights, picturesque towns and gorgeous beaches. Believe me, you'll want to make stops at your own accord. To find the most competitive price and car suited to your needs, take a look at Rentalcars – the platform we personally use to hire cars wherever we go.
Take a day tour if you don't have the option to drive. Do bear in mind that the drive to the main attraction – Twelve Apostles – takes 3 hours from Melbourne. Most day tours will only have enough time to stop at 2-3 attractions before turning back. If you want to experience an unforgettable sunset at the Twelve Apostles, take a look at this popular tour that will allow you to get all the drool-worthy golden hour shots.
For more top-rated Great Ocean Road tours, see below:
Great Ocean Road Itinerary 2 Days
Stock your whip up with snacks, strap on your seatbelts and get those cameras ready – it's gonna be one helluvan action-packed drive cramming all these epic sights into 2 days.
Day 1: Melbourne to Warrnambool
As mentioned earlier, we'll be diving into this Great Ocean Road itinerary in reverse. So, there won't be a scenic route (yet). Just green pastures and countless cows. Sorry, guys. We'll hit up the more impressive stuff on the next day. Promise.
Geelong
Plan to leave Melbourne after 9am to avoid peak hour traffic and make your way to the port city of Geelong, or Geetroit as locals call it. Pop into Pakington Pantry for a mean Aussie brunch because food choices will be limited once you're on the highway en route to Warrnambool. If time permits, stroll down to the Geelong Waterfront and Foreshore. It's a lovely spot for kids to stretch their legs and expend any pent-up energy before jumping in for another long car ride.
Hopkins Falls
Be sure to make a stop at Hopkins Falls on the A1 Princes Highway, an offbeat waterfall found along a large, open stretch of land enveloped by rolling green hills and farmlands. What's so special about it? Well, it's not the most common place to find a waterfall, but, there it is.
Warrnambool is the most beautiful port city on the southwestern coast of Victoria. If I had to pick somewhere remote by the coast to live, then this would be it. But, I'm a city gal who lives, breathes and thrives off pollution and the hustle, so it's probably not going to happen.
If you're arriving late in the afternoon, then you I'm ordering you to go and catch the sunset at Warrnambool Breakwater – an iconic landmark in the city surrounded by coastal walks that will stun your visuals. Better yet, meander down the scenic Pickering Point Trail for impressive views of Merri Island and the rocky coast. If you're there in the summer months, throw yourselves into the crystal blue waters and bask in the beauty.
Drop by Lake Pertobe, a beautiful nature reserve with one hell of an epic playground that the kids can run wild in. A stroll around the lake is invigorating after a day of driving, or you can even hire a motorboat and explore the waters.
We stayed at the Mid City Motel, a budget-friendly and cosy rest stop that was a 10-minute walk from the city centre. It even had a well-maintained pool for guest use to splash around in on hot summer days.
Search more Great Ocean Road accommodation and compare prices below:
Where to eat in Warrnambool? 
If you're like us, exhausted from a day's worth driving, then pop by
Bojangles Restaurant
to grab some takeaway pizza or pasta. The best thing? I drifted off into a cheesy pizza coma on the couch, completely immobile yet satisfied. Nevertheless, if you are seeking out a proper place to eat, I can't recommend
Clovelly
enough. Super fresh seafood platter, mouthwatering steaks and a dessert menu that you can't get enough of.
Day 2: Warrnambool back to Melbourne
Let's get this show on the road, folks! Get up early and swing past Graze Urban Café to grab a yummy sandwich and coffee so you can be on your way to explore the beautiful coast. The earlier you hit the road, the less chance of encountering selfie stick-wielding crowds.
Logan Beach Whale Watching Platform. Okay, hold up. Before you zoom on out of Warrnambool , pit-stop here on your Great Ocean Road self drive adventure. Between June and September, you'll find Southern Right Whales return to their nursery in Logan Beach to get jiggy with it, throwing spectators into an episode of some serious whale porn. If you dig that, you can totally have a perv. If you just wanna see the whales, well, there's a good chance you might just spot some.
Bay of Islands / Bay of Martyrs. The first of many Great Ocean Road after leaving Warrnambool – it's also the least crowded sight because tour buses and tourists don't tend to venture this far down. So, if you need to get ya 'gram on, this is the place. Psst.. just between us – you can lowkey climb over the fences to capture stunning panoramas of the rugged coastlines. Just use your common sense and don't venture too close to unstable cliff edges.
The Grotto was one of my absolute favourites along the drive. The walk down the rocky path and wooden staircase harbours stunning views of the ocean, but the real marvel is all the way at the bottom. Be warned though, the viewing space is small and you'll probably get acquainted with a few random strangers and your photos will probably contain a dozen photobombs – but, a visit to this spectacular natural creation cannot be missed.
London Bridge. Wait, bridge? What bridge? Technically, it's known as the London Arch (it just doesn't have the same ring to it, does it?), another captivating spectacle located a 5-minute drive from The Grotto. Since the span connecting the arch to the shoreline unexpectedly collapsed in 1990, it can no longer be deemed as a bridge. Funny story though – two tourists were left stranded atop the arch at the time of the collapse. Okay, not funny in the moment. They did score a free helicopter ride down the Great Ocean Road – so, that's a win.
Loch Ard Gorge
is the 
real
Great Ocean Road highlight that you do not want to miss. How do I even describe it? The Aussie version of Thailand's Maya Bay. Yes, that's it. Leo Dicaprio – The Beach. The land downunder edition. There are a number of walks you can take in the surrounding area, but the real phenomenon is down below, inside the canyon, standing on the beach peering outwards at the vertical cliff edges and trying to determine where it connects to the ocean.Don't forget to pack your swimmers and jump in for a dip if the weather permits. Take a look at this article if you're curious to know where
Melbourne's best beaches
can be found.
The Twelve Apostles. An iconic sight within Victoria, kind of like what Ayers Rock is the Northern Territory – this is one of the main places to visit in Great Ocean Road and, most likely, your prime reason for visiting. Don't get your hopes up, but there are only 8 Apostles left – with the rapid rate of erosion, this number will diminish even further as time passes and the limestone formations continue to face the constant pummeling of gargantuan waves. Throw this on your bucket list because much like Venice, one day, all of these will disappear. Of course, being the feature attraction also makes this sight the busiest of them all. Prepare thyself for mobs and train yourself on how to dodge selfie stick-wielding tourists.
The most picturesque time to visit is during sunrise (if you truly can get up before the crack of dawn and make your way down – you have my utmost respect) or sunset. Take a look at this Great Ocean Road Sunset Tour to discover what it's like to experience this stunner during golden hour.
This is also the perfect spot to recharge on snacks – the Visitor Centre features public bathrooms and a kiosk where you can buy drinks, sandwiches and a staple Aussie meat pie or sausage roll.
Gibson Steps is literally a one minute drive west of the Twelve Apostles and 100% worth a visit if you're down for a little low-intensity cardio with views to kill for. It takes 86 steps to descend to the wide beach below with captivating views of towering cliffs and more limestone formations in the sea.
Cape Otway sits at the southern tip of the Great Ocean Road drive and it's enveloped by the Great Otway National Park where you'll find lush rainforests and epic waterfalls. If spotting a koala in its natural habitat tops your Aussie bucket list, then this is where you'll find them snoozing their lives away amongst the branches. A must-do activity is the Otway Fly Treetop Walk where you'll find yourself 30 metres above the ground surrounded by native rainforest canopy spotting wildlife and… trying not to look down. If heights don't make your knees go weak, then the hugely popular Zipline Tour might just be your cuppa tea. Tarzan your way through the treetops and maybe even hi-five a koala.
Bells Beach. A quick final stop before hitting the road back to Melbourne – this is a must-do for any surf fanatics or if you simply want to catch some last rays of sun and work that tan of yours. Home to the longest running annual Rip Curl Pro competition, this is a beautiful bay where you can swim, surf or hike along the rocky coast.
Book your Great Ocean Road activity:

Other Great Ocean Road Highlights 
Flagstaff Hill Maritime Museum & Village in Warrnambool is a must-see when in town (if you have the time to spare). This replica early 19th century fishing village houses Australia's largest collection of maritime shipwrecks which will throw you back into what everyday life was like in those times. It's basically a coastal version Sovereign Hill Ballarat, minus the gold digging. By all means, don't miss the Sound and Light Show that brings the village to life through immersive projections onto a 9-metre wall. This is an interactive learning experience that the whole family is guaranteed to enjoy.
Port Fairy. A charming and picturesque fishing village a 25-minute drive from Warrnambool. You'll find broad streets lined with 19th century cottages, old stone churches, and pine trees that reach into the skies. A leisurely stroll through the town centre will have you stumbling upon craft shops, antique stores and boutique retailers – if that's not your cuppa tea, then a hike along one of the historic walking trails might just tickle your fancy.
Lorne.
 Bush, beach and waterfalls – this surf-infatuated town has it all. If you haven't included this stop in your Great Ocean Road itinerary – do it now. Stat. Take a dip or jump waves at the main beach, take surfing lessons, explore striking coastal walks or stand in awe beneath the mighty 30-metre high 
Erskine Falls
. If you're feeling peckish from the drive, Lorne is the perfect place to stop for a bite before heading back to Melbourne. 'Swing' by the
Swing Bridge Café
for South American inspired brunch out in the open overlooking Erskine River.
Aireys Inlet 
is the next gorgeous coastal hamlet to you'll come across after Lorne. Roam through Split Point Lighthouse where visitors can take a guided tour, explore stunning nature trails perfect for riding and walking, or hop along the jagged rocks of Eagle Marine Sanctuary and immerse yourself in the beauty of Australia's magnificent coastline and marine life.
Great Ocean Road Route Map
If you're planning to embark on a Great Ocean Road self drive trip and our recommended 2-day reverse itinerary floats the heck out of your boat (let's be real – who even likes crowds?), then you'll be pleased to know that I mapped out our entire journey along with all the must-see sights in the map below. Thank me later ?
Great Ocean Road Accommodation
You definitely won't be short of options when it comes to finding accommodation somewhere along this vast stretch of road. Whether you're pitching up a tent or ballin' hard at this insane forest lodge overlooking the coast, you're bound to find something within your budget.
PRO TIP: Book well in advance if you're visiting in summer. Great Ocean Road is incredibly busy during the summer holiday months (Dec – Feb). If you want to book your first preference, you need to plan and book ahead of time.
Warrnambool
The very first time we visited this charming town, we stayed at Mid City Warrnambool and bunked ourselves up in a cosy Family Studio which included a single and double bed to squeeze all the kiddos into. Comfy and centrally located, it was the perfect place to kick up our legs and rest for a night before an action-packed day filled with sight hopping and coastal hikes.
We actually returned to Warrnambool a second time around because we fell in love with the town and wanted to spend more time exploring the local region. I coerced my parents into coming along (it really didn't take much convincing) and we booked this amazing Airbnb home that I, legit, never wanted to leave. If you're visiting as a group or with more family members, then this is your dream home away from home.
Cape Otway
Like the idea of camping but don't actually own a tent? Well, you don't need one at Bimbi Park. For a sliiiightly more glamorous option (yet budget AF), you can stay the night inside a Camping Pod. I don't know about you, but it brings me peace knowing that a bear can't run down your tent in the middle of the night (not that we have bears in Australia).
But, did you know that you can also stay at Cape Otway Lightstation? Technically, not inside the lighthouse, but rather in a cosy B&B suite or studio on the grounds of one of the region's most famous attraction. It won't even cost you an arm and a leg.
Apollo Bay
If you've ever dreamed about waking up to the sun rise over the horizon, then you need to stay at one of these breathtaking lodges, because that's how you wake up feeling like a million bucks. Better yet, throw a steak on the barbie and wine and dine on your porch overlooking the Pacific.
For budget-conscious travellers, the Apollo Bay Waterfront Motor Inn has the works. From standard rooms to family apartments and villas – this is a wonderful place to rest after a long day of driving and exploring.
Tips to make the most out of your Trip
Don't try to squeeze everything into one day. Pace it out and bear in mind that you will probably spend at least 30 minutes at each attraction. As hard as you try, you won't get to see it all. We feel like we barely scraped the surface in our 2 days.
Pack clothes suited for all seasons. It's Melbourne, folks. We are notorious for bad weather and what locals like to call "experiencing four seasons in one day." It can feel like 30°C under the sun, 20°C in the shade, and 10°C when the wind hits. Then it might rain, hail or tsunami when Mother Melbourne feels like it.
Pay attention to the speed limit. We got blitzed somewhere along the road to Apollo Bay and it threw us a whopping $190 out of pocket, plus 2 demerit points. Not the most memorable part of our trip.
Get up early and hit the road, Jack. Do come back though, we'd love to have you return. But, if you're not a fan of crowds and selfie stick-wielding tourists, then it's best to avoid peak times (11am onwards) which is usually when tourists buses start arriving from Melbourne.

Did this guide help you plan your Great Ocean Road trip? Sign up for exclusive Melbourne guides.
Like this article? Pin me.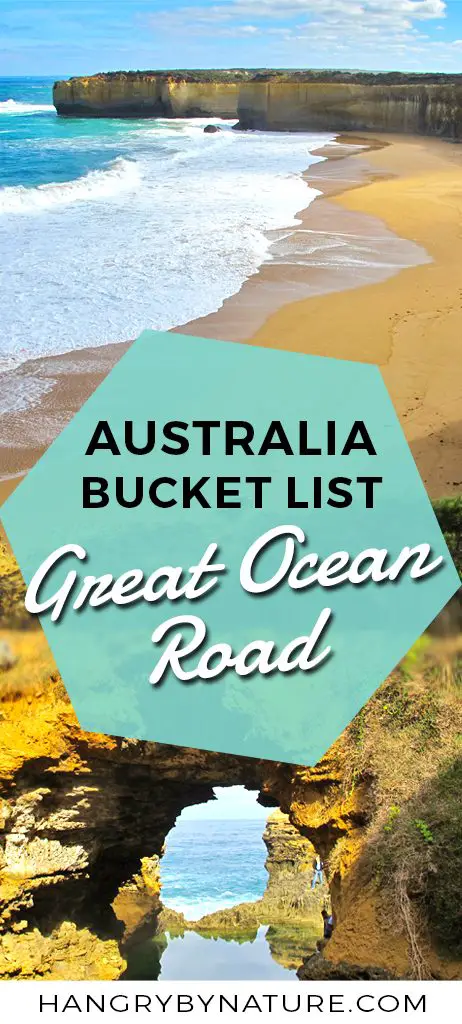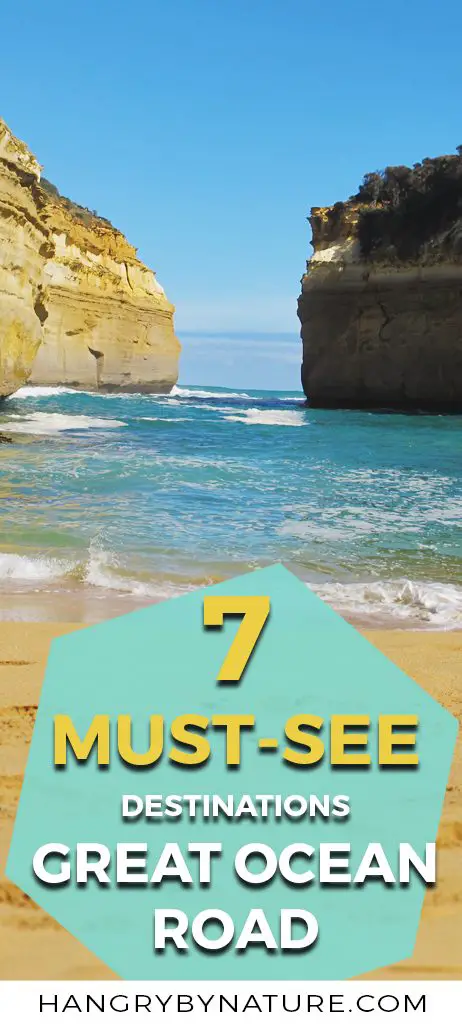 Resources to help plan your Great Ocean Road itinerary:
Visit our Travel Resources to find the best deals on flights, accommodation and attractions. We love and use these services ourselves to plan all of our family trips – they save us a ton of time and money.
Sweet accommodation deals for you:
For ideas on what to pack for a family trip, check out our gear and accessories that we take with us on every single trip.
Come say hi to us on YouTube, Instagram and Facebook. I promise we're funny. At least, I like to think so.