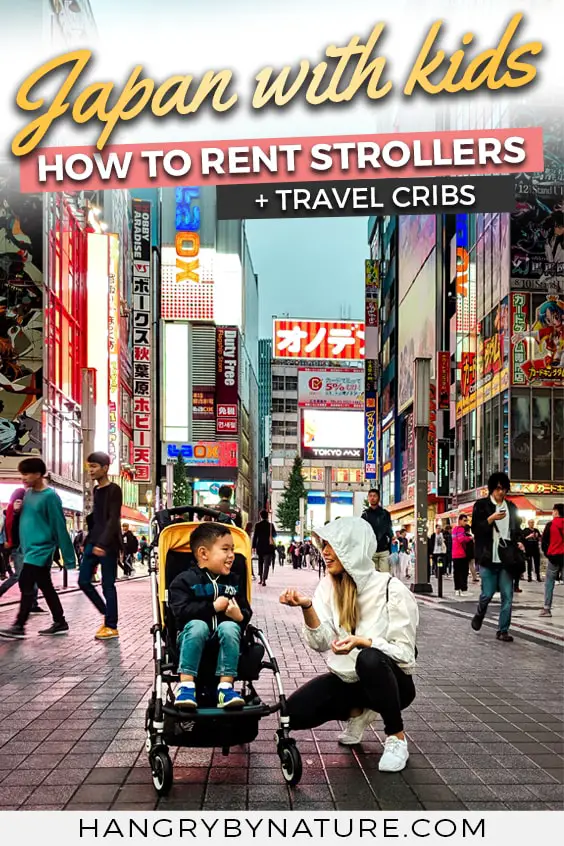 Airline lost your luggage? Hotel ran out of cribs? Or perhaps you simply want to travel light. It's 100% possible thanks to Lileo stroller rental in Tokyo and most cities in Japan.
Travelling is one of the best experiences a parent can give to their kids, and.. themselves. Look, as much as we love saying "we're doing it for the kids", we're really half doing it for ourselves. True? There's no shame about that. Heck, I ain't judgin'. I'm applauding. However, the reality of travelling with young kids is hella challenging and, in most cases, puts your physical strength and resilience to the ultimate test.
By that, I'm talking about lugging oversized suitcases, travel cribs and car seats, whilst simultaneously carrying a baby on your chest and running after a toddler that's gone rogue.
Four years into travelling the world with babies and toddlers (who have now grown into rambunctious lil boys) – I've only one piece of advice to give. Travel light. Easier said than done, right? We've mastered travelling with one check-in suitcase between the four of us so that we have more limbs available to fish back unruly boys who do not heed to the call of roaring parent voices. I swear, having kids gives you a first-hand experience of what it feels like to talk to a wall and completely waste your breath.
Via thorough destination research and picking the right accommodation with family-friendly amenities, we're now able to achieve travelling light with less stress and hair-tearing-out situations. On our most recent Japan family holiday, we came across the brilliant team at Lileo Japan, who provide stroller rentals in Tokyo and most major cities in Japan.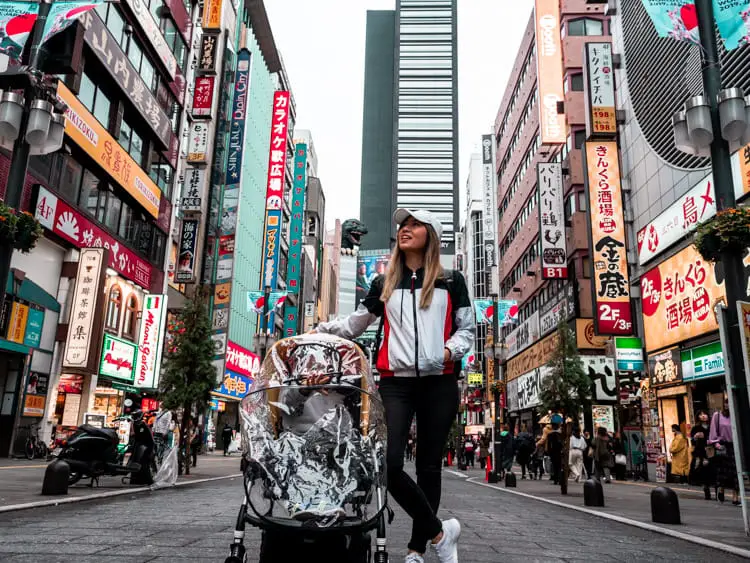 Renting a Baby Stroller in Japan: Common Questions
Renting a stroller in Japan with Lileo is completely hassle-free and a process so easy that it makes a walk in the park seem hard. Seriously. You might be questioning whether you need a stroller at all, as your kids might be avid walkers. These answers will help you make a conclusive decision.
How stroller-friendly is Japan?
Train stations, shrines and temples – they are your greatest foes in Japan. Apart from these two somewhat stroller-unfriendly sites, I have no other grievances when it comes to pushing a baby stroller in Japan. It's not that train stations don't have elevators, it just takes a helluva lot of effort trying to find them without ending up on the wrong side of the platform and having to start over again. On the bright side, the search for lifts and hauling strollers up and down staircases is a great workout, especially if you're needing to work off those matcha ice creams and crepes.
What type of stroller is best suited for use in Japan?
Compact and easily foldable. If you ever get caught in Tokyo peak hour (which I do not recommend getting stuck in with or without kids) and you miraculously manage to squeeze your stroller into a carriage, you'll be thanking whatever higher powers there are for having a compact pram.
Plus, if you want to swing into those teeny tiny delicious local eateries, having a bulky stroller is going to be your biggest setback. Staff will most likely ask you to fold it up or leave it outside.
5 Reasons you need a stroller in Japan
▪︎  Copious amounts of walking. The best way to explore Japan with kids is to *drum rolls* walk. Whether you're wandering from one station to another or through epic department stores and alleyways, you'll find yourself clocking up those fitbit steps like never before. The problem? Well, kids don't seem to like walking.
▪︎  Kids are lazy. Unless the end destination involves a playground or ice cream, kids don't see a reason to walk. Our 4-year old was always worn out by the afternoon from all the fun activities and general awesomeness of Japan, so we were immensely grateful for our stroller that allowed him to rest.
▪︎  Even older kids will nap. Spending an entire day exploring the nooks and crannies of Japan is pretty exhausting, not to mention the jetlag that the kiddos will experience in the first week. A stroller is a must to avoid hand-carrying the kids.
▪︎  Get moving quicker and safer. Cities in Japan are densely populated and if you're gallivanting around busy and touristy areas, it's easy to lose track of small kids in a sea of humans. Plus, you'll move from A to B a whole lot faster when they're tucked safely in a stroller.
▪︎  A place to drape jackets & hang shopping bags. We used our Bugaboo Bee rental stroller from Lileo as a child transporter, a mobile coathanger and shopping bag carrier. Why lug bags and clothes around when you can hang them off a stroller?
Pick your stroller rental at Lileo today and get 10% off your order by using our special coupon code hangrybynature. 
Want more insider tips for planning your Japan trip?
Lileo Japan: Stroller Rental in Tokyo & Other Cities
Praise the gods – renting a stroller is a thing in Japan and there's no better place to hire one than Japan's first baby supply delivery and stroller rental company, Lileo. The service is ideal for parents seeking to travel minimally or for those unforseen travel mishaps (eg. airlines damaging them in transit).
Below are the benefits of renting a baby stroller in Japan from Lileo.
Reduce Travel Stress & Pack Less
After all, packing less on your flight over to Japan means more room in your luggage for Kit Kats, Pocky sticks and matcha snacks, right?
When we first started travelling with kids, our biggest gripes were juggling wiggly toddlers while carrying a baby and keeping track of our suitcases and bulky baby items that have become part of our travel life post-kids. To say it was a struggle is a serious understatement.
Clearly, the team at Lileo heard everyone's travel parenting woes, and being parents themselves, they're well-versed in the highs and lows of travelling with kids. Hence, they came up with the brilliant concept of delivering essential baby supplies and stroller rental in Tokyo and most cities and townships in Japan. Yay to having one (or more) less thing to worry about and account for.
Rent Quality Strollers & Travel Cribs
You won't be getting any random stroller or travel crib that you see at Wal-Mart or Target. Nah-uh. Top of the range brands is what you're going to expect at Lileo. Their rental range consists of high quality products from reputable brands – they're honestly so good that you'll grow desperately attached to your rental by the end of your trip.
We named our rental stroller 'Bumblebee' like the yellow guy from Transformers and when the time came to drop our 'Bee off at the post office, even my husband shed a couple of man tears.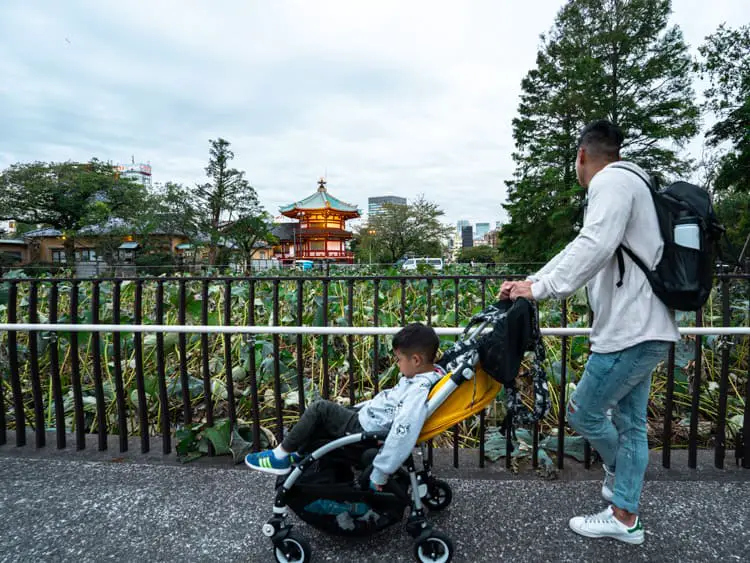 Lileo's range of strollers and travel cribs arrive disassembled for easy transport and thoroughly sanitised. For real, our rental stroller was so clean and in top notch condition that we were convinced it was brand new.
When you rent a stroller or travel crib for your Japan family holiday, Lileo offers the popular and much-loved Bugaboo Bee 5 and the BabyBjörn Travel Crib that comes complete with a mattress and organic cotton sheets.
Delivery & Drop-Off in any City
Travelling to Japan with a baby or toddler has never been easier. Lileo don't just provide stroller rental in Tokyo – you can pick up and drop off rentals in any city in Japan. However, the lovely team at Lileo are more than happy to accommodate to requests to the best of their abilities. That's what makes their service so exceptional.
If you're staying in a hotel, your rental item can be delivered directly to the front desk. In some cases, Lileo are even able to arrange for rental pick-ups at Narita airport so that a stroller is available to transport your little ones as soon as you arrive. Be sure to contact them directly to see if an airport pick-up is available for your arrival date.
For visitors staying in Airbnbs or apartments, the process is also super easy. Have the stroller or travel crib delivered to the nearest post office and it'll be waiting patiently there for you. Unlike many other countries, Japan Post is one of the safest and most efficient methods of delivery – post offices can be found on almost every block in Japan.
First-Class Customer Service
This deserves a category of its own simply because Lileo's customer support goes above and beyond the normal spectrum of a simple business transaction. The husband and wife team deliver a personalised service to ensure that all visitors have an incredible time in Japan with their families.
Don't hesitate to throw questions their way about exploring Tokyo with a toddler or uncovering the best things to do in Japan with a baby. They are seasoned travellers and extremely knowledgeable when it comes to family-friendly restaurants, activities and attractions in Tokyo and other popular cities. There's nothing that will make your trip more whole than a little local insider knowledge, which Erika and Hiro from are more than happy to provide.
Fluent English Support
If you've previously been to Japan, you might know that fluent English customer service can be a little hard to come by. The first thing that struck me was that English support was impeccable at Lileo, which made it easy and efficient to convey any questions I had regarding their products and delivery.
We got by in Japan with a lot of big smiles, head nodding and bowing, but really, Google Translate was our saviour in situations when we really needed to get a message across, so it was refreshing to speak to someone at Lileo who not only advised us about their products and services, but on all things Japan.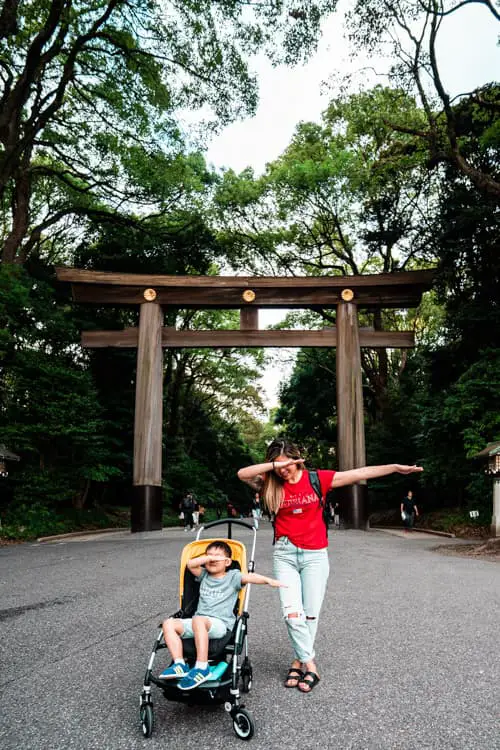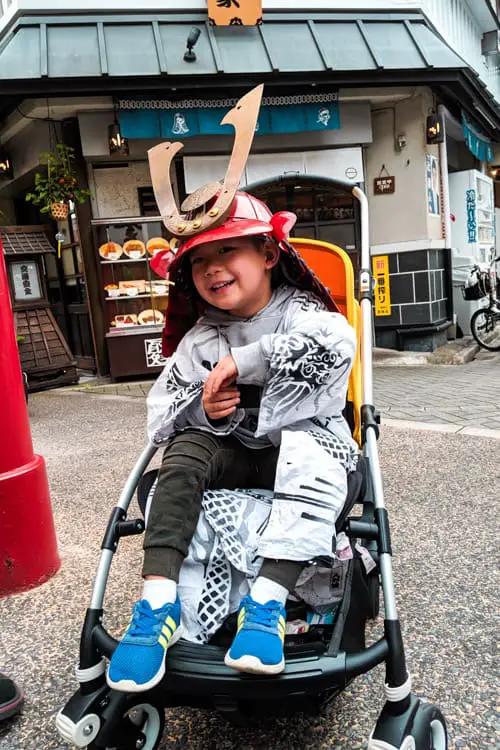 How to Rent a Lileo Baby Stroller in Japan
You know how I mentioned that renting a baby stroller in Japan from Lileo is easier than a walk in the park? I wasn't kidding. Here's how it works:
Jump on the Lileo Japan website
Click on 'Rentals' or 'Supplies' in the navigation bar
Pick your product(s)
Enter your rental dates and pick-up location (hotel or nearest post office)
Collect your order when you arrive
Drop your rental(s) off at your hotel reception or closest post office when you're done
That's basically it, folks. The entire process couldn't be any more seamless. The only thing to be mindful of is to allow a minimum of 5 days for delivery. However, if you do require a last-minute rental, you can always try reaching them at help@lileo.jp and they will do their best to meet your requests.
They've also currently got 50% off shipping which you can take advantage of. Partner that up with our code hangrybynature to receive an additional 10% off your order.
What's Included in Lileo Rentals?
Stroller or crib. Your rental product will arrive neatly packaged in a compact travel bag.
Detailed English instruction guide with pictures. An easy-to-follow English guide is provided to help with assembling rental items, as well as instructions on how to return the product.
Transport bag. Rental items arrive safely in a cover for protection and easy transport.
Rain cover (Bugaboo strollers). This is also provided to help keep little ones dry inside the stroller on rainy days. Absolute life-saver because it rains a fair bit in Japan.
Return shipping label. A pink slip will come with your rental which needs to be provided to your hotel or post office for return.
Find essential travel stroller accessories below:


Other Japanese Baby Products Available at Lileo
Aside from baby stroller rental in Japan, Lileo also offer a host of other essentials for babies and kids that can be conveniently delivered alongside your pram or travel cot rental.
To further reduce packing stress and luggage weight, you can also purchase quality Japanese diapers, wipes, baby bottles, sippy cups and skincare products for your little ones. There's no doubt that Japanese baby products are some of the best and safest to use in the world (we absolutely love them and stock up on baby and kids' products each time), which is why you can be assured that Lileo only provide top quality products for use on your tiny humans.
You can even purchase a Diaper Bundle that includes wipes, disposable diaper change mats, odourless diaper waste bags and, of course, diapers. Traveling to Japan with a baby seriously couldn't get any easier.
See the entire list of essential baby supplies available on Lileo here and use our code hangrybynature for a 10% discount.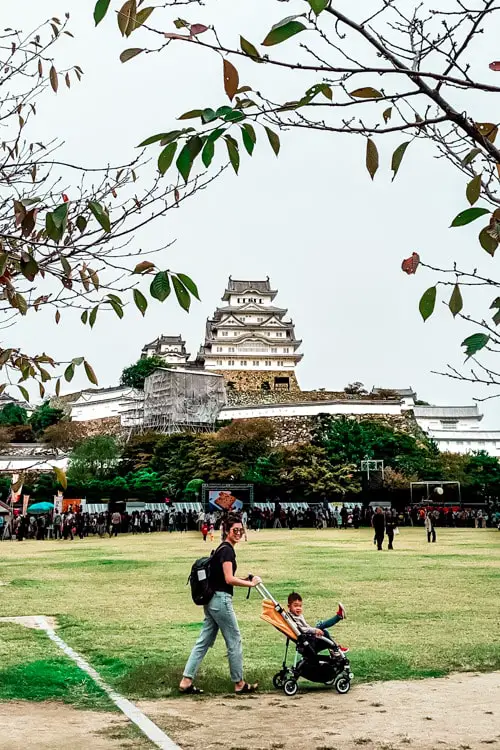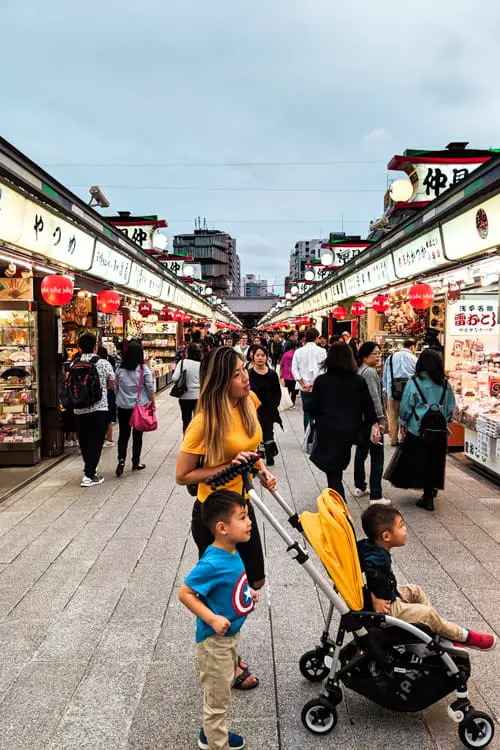 Travel to Japan with a Baby: Must-Know Tips
•  Don't overpack baby products. You'll find everything you could possibly need in department stores, electronic stores, toy stores, supermarkets and shopping malls. Japanese baby products are some of the best in the world – there's no need to worry about the availability of baby supplies.
•  Bring a baby carrier. You'll need one if you plan on exploring the beautiful temples, castles and shrines in Japan, as the grounds usually contain a lot of steps and stairs.
•  Diaper changing facilities can be found everywhere. Every public, station or shopping mall bathroom will have, at the very least, a diaper change table. They also have convenient baby seats in regular cubicles that will safely hold your baby while you're doing your 'business'.
•  Don't breastfeed in public. It's not exactly a sight that the Japanese are attuned to, however, private nursing rooms can be found in almost all department stores and shopping malls.
•  Don't travel during peak hour. Holy moly – don't do it. It's a sweat and claustrophobia-inducing experience. Let's just say it's like being sardines in a can and there's no way you'll even come close to getting a stroller onboard.
•  Did I mention don't overpack? Seriously, don't. You'll want to utilise all the extra space in your suitcase for the ah-friggin'-mazing Japanese souvenirs and snacks you'll accumulate. If I could've taken the whole country and incredible people home with me, I seriously would've.
For more tips on travel to Japan with a baby and kids – watch our How Family Friendly is Japan video.
Should I Rent a Stroller in Tokyo & Japan? The Final Word
If you're not planning to bring your own stroller and you're not 100% confident in your kids' walking abilities or they still enjoy their naps – yes, yes and yes! You won't regret renting a stroller in Japan. It will be your best companion for carrying the weight of kids, snacks, jackets and probably gachapon (Japanese vending machine toys).
A friend of mine who travelled to Japan with her 6-year old regretted not bringing a stroller because they spent most of their days walking and exploring, which – let's be real – kids aren't wholly into unless some form of bribery is involved.
This is what makes Lileo such a great service, as it caters for families travelling light and also parents who no longer own strollers, believing their little ones to be capable walkers only to find out that it's not the case when an entire day of walking is involved.
---
Got questions about renting a stroller in Japan or getting around with kids?
Feel free to ask in the comments below.
---
This post was sponsored and created in partnership with Lileo Japan. However, all content, experiences and opinions are, always, our own.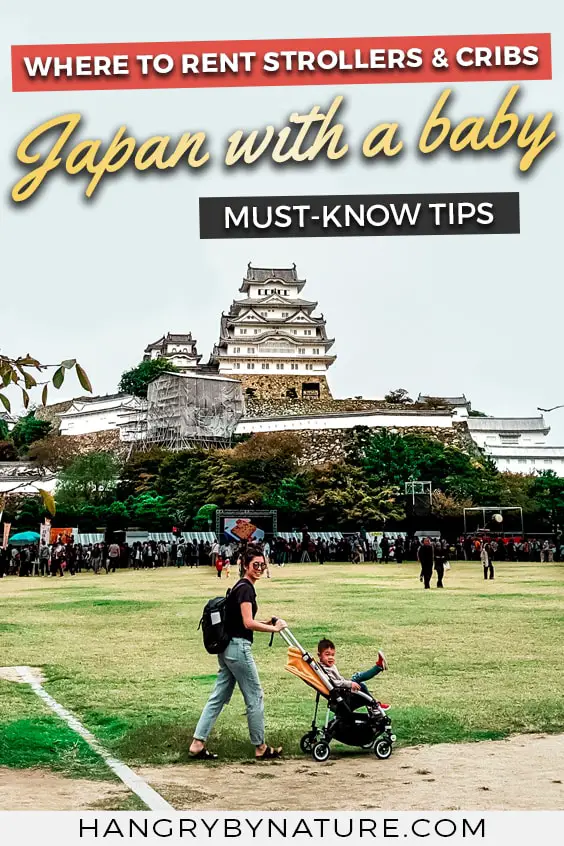 Get the most out of your Japan Family Holiday
Take a look at our Travel Resources to find the best deals on flights, accommodation and attractions. Find mistake fares, the cheapest date to fly each month, hotel and apartment savings, plus where to buy the cheapest tickets for attractions.
If you're looking for some sweet accommodation deals, you're in for a delicious treat.