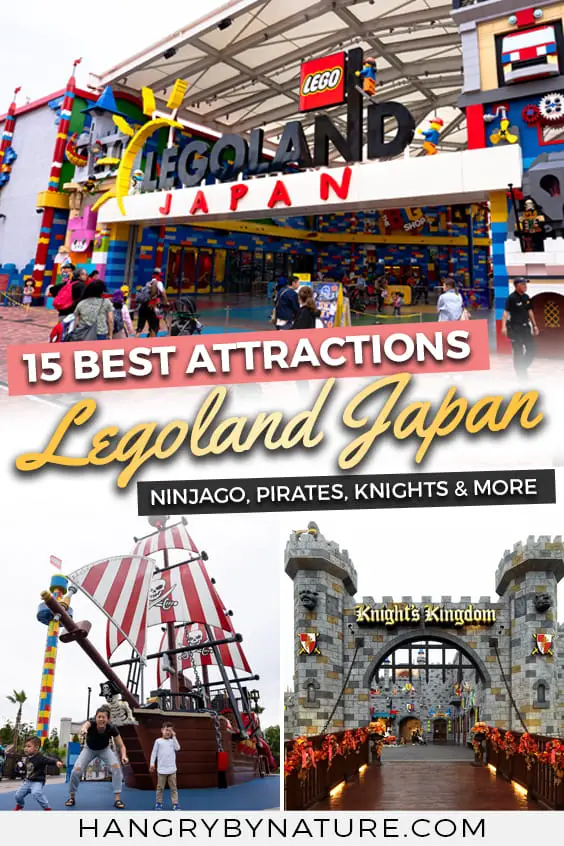 If you're on the hunt for the best deals on Legoland Nagoya tickets, plus, you want a little insight on the highlights of this world-famous theme park.. Sit tight and read on.
Incredible humans. All the theme parks. To-die-for cuisine. Robots. Space age toilets. Japan has it all - don't ya think?
In 2017, Nagoya became home to another one of the world's most sought-after theme parks, Legoland Japan. Yup, add that to the country's never-ending list of things to do that never ceases to grow. T'is the reason why so many travellers return to Japan a multitide of times to explore and experience more of this amazing country.
The Legoland Nagoya amusement park is made up of around 17 million Lego blocks, with over 10,000 models dispersed in its seven themed zones: Bricktopia, Adventure, Knight's Kingdom, Pirate Shores, Miniland, Lego City and Ninjago World.
In this mega fun and detailed Legoland Japan review, I'll be running through popular rides and attractions in each zone and an inside look Sea Life Nagoya that's included in the 1-Day Combo Pass, plus where to find the best deals for your Legoland Nagoya tickets.
So, folks, keep scrolling and uncover everything you need to make the most out of your visit, in addition to our honest Legoland Japan review. Ready? Ninja-GO!
But first, watch this for a preview of the fun you can expect inside...
Essential Legoland Nagoya Tips
▪︎  When is the best time to visit? Weekdays outside of school or public holidays (try to avoid Golden Week at all costs) are your best bet at enjoying the park with minimal time wasted standing in queues for rides.
▪︎  Is one day enough at Legoland Nagoya? Truth be told - probably not. If you're visiting with kids, they'll probably get sidetracked at the umpteen huge playgrounds (and water play spaces in summer) that you'll find in almost every zone. Additionally, if you're planning to check out the live shows, workshops and attend character meet-and-greets, you're gonna find yourself running extremely low on time.
▪︎  What are the age & height requirements? There are no age requirements for rides (unlike Legoland Malaysia), however, adults will need to accompany kids if they are under 130 cm. Some of the faster and more 'thrilling' rides require kids to be over 105 cm. That being said, there are still plenty of rides and attractions that have a 90 cm limit, or no minimum height at all.
▪︎  What is the best age to enjoy Legoland Japan? Our 4.5-year old squeezed a wee bit more out of his visit thanks to being a smidge over 105 cm tall. Our 2.5-year old missed out on the crazier rollercoasters and the flip-you-upside-down rides, but he certainly didn't have any less of an enjoyable time.
Want more insider tips for planning your Japan trip?
Tips to take out from our Experience
▪︎  Take dvantage of the indoor activities if rain is forecast. Central and southern Japan experiences sub-tropical climate. In short, that means it kinda rains a lot. But, dontchu worry - there's a ton of indoor fun to be had. Catch a movie inside Palace Cinema, join in on the Lego Factory tour, engineer a race at Build & Test, pop into the Robotic Play Centre or Creative Workshop for more Lego building entertainment.
▪︎  Pack a poncho or umbrella. Spring, autumn or summer - you're bound to catch some rain in Japan. Don't let it dampen your spirits or ruin your visit to Legoland Nagoya. Pack some ponchos for the family or compact travel umbrellas to keep the fun rolling.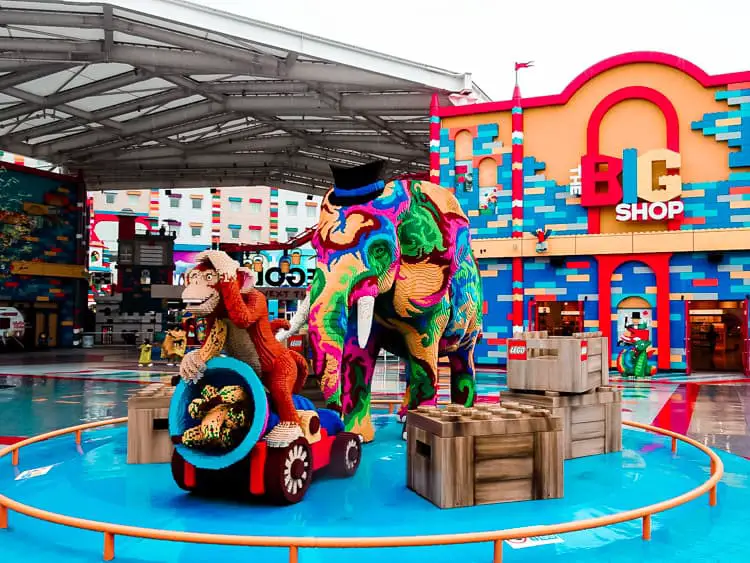 ▪︎  Eat before or after peak lunch hour time. If you don't want to undergo the stress of trying to juggle kids and a platter of food in your hands, whilst simultaneously trying to stalk down a table, set yourself up for an early (11am - 12pm) or late (2pm - 3pm) lunch to avoid hungry crowds of people.
▪︎  Gun for the most popular rides in the morning. Lost Kingdom Adventure, The Dragon, Splash Battle, Submarine Adventure, Rescue Academy and Flying Ninjago are amongst some of the busiest rides at Legoland Japan. Gun for them first thing in the morning to avoid long afternoon queues.
Planning the nitty gritty of your Japan trip? Don't get caught in a pickle - arrange your travel insurance today.
After working at a travel agency for years, I've heard enough horror stories to direct a sequel to Final Destination. We use and recommend World Nomads - frankly, they have the most competitive rates and are available for travellers from 140 countries.
Where to buy Legoland Nagoya Tickets
I mean, of course you can buy them at the door, buuut.. why waste time standing in line when you can simply book your Legoland Nagoya tickets online and fast forward straight to the fun?
For Legoland Nagoya ticket discounts, 1-Day Combo Passes and Family Tickets, we straight up recommend pre-purchasing them on Klook for a super easy and stress-free experience.
All passes give you access to the entire theme park, featuring over 40 exciting attractions; including shows, rides, classes and building activities. Turn it into the ultimate experience by opting for the Combo 1-Day Pass, which includes entry to Sea Life Nagoya, taking you on an adventure beneath the sea to marvel at dazzling ocean animals and explore interactive exhibitions.
Pre-purchase all your Japan theme park tickets in one place:

Legoland Japan Review: 15 Theme Park Highlights
Now that we have the formalities out of the way - it's time to get down in Legotown. It's what you're really here for, isn't it? The theme park popcorn, fun rides, Lego fondling and brick building. Let's dive straight into the first highlight:
Pirate Shores
Throw on your eye patch, knock out some front teeth and grab that bottle of Brandy - you're in for a wild time inside Pirate Shores. Be sure to head straight for Splash Battle where you'll find yourself engaged in pirate warfare against enemy ships. If you're lucky, you might just escape with a few wet splashes on your shirt. If you're one of the unlucky ones (eg. me), you'll find yourself needing the human dryer available after you exit.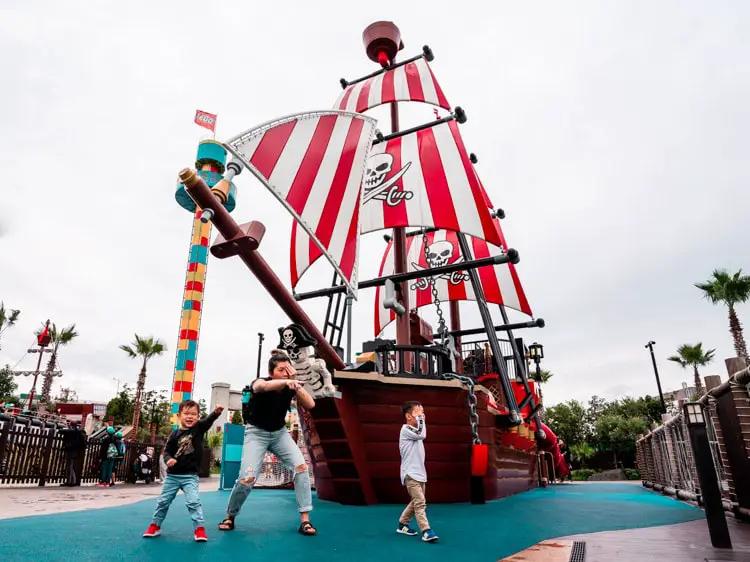 If you want to know what it feels like to be on a pirate ship in a raging storm out on sea - jump on the back-and-forth swaying ride, Anchors Away! for some pirate thrills. Kids as little as 90 cm can get on this ride.
Directly opposite, you'll find another almost life-size pirate ship at Legoland in Japan that kids can climb on and enact their best pirate impressions. Castaway Camp was both of our boys' favourite playground - they climbed up to the ship's wheel and enacted some of their best pirate impressions while pretending to be pint-sized buccaneers raiding the seas for treasure.
DUPLO Play Space
Unleash your wild toddlers or kids into the Duplo Play Space that's fully enclosed and shaded by cover. This is the perfect spot for a break when you need to hide out from the sun's strong rays, or when it starts to drizzle. Keen little builders can build to their heart's content with the piles of Duplo bricks, or they can run off on a mission to explore the colourful cubby houses and slides. There's also a small choo choo train toddlers can ride on.
LEGO Ninjago World
Look, I know I just amped you guys up to turn into savage pirates and all, but that kind of demeanor just isn't going to go down well inside Ninjago World. This place is all about dragons and things that spin in the elusive world of ninjas.
Although our kids weren't yet tall enough to ride the popular Flying Ninjago ride, I took the liberty to jump on, revel in a kid-free minute, and soar through the skies with my hands up in the air (on a dragon) like I just don't care.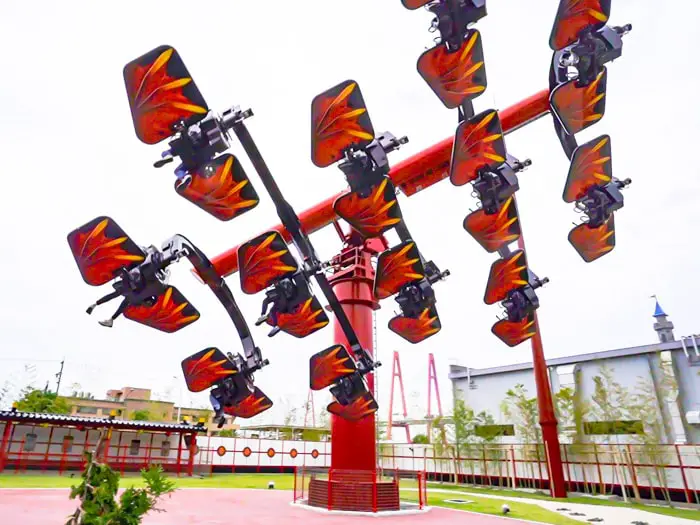 Lloyd's Spinjitzu Spinner was our 4-year old's favourite ride in the entire Legoland theme park in Japan. How do I describe this? It's like experiencing what it feels like to be inside a washing machine. Do not attempt this immediately after food because it might just fly back out.
For little thrill seekers who don't yet meet the 105 cm height limit, Kai's Sky Masters is a fun ride for smaller humans that takes you up in the air on jet fighters to shoot at targets.
Knight's Kingdom
One-legged pirates and backflipping ninjas are cool and all, but I'm going to have to betray my love for all of the other zones and declare Knight's Kingdom as my absolute favourite themed area at Nagoya Legoland. Heart-racing dragon rollercoasters, medieval castles and knights in shining armour.. that's kinda hard to beat.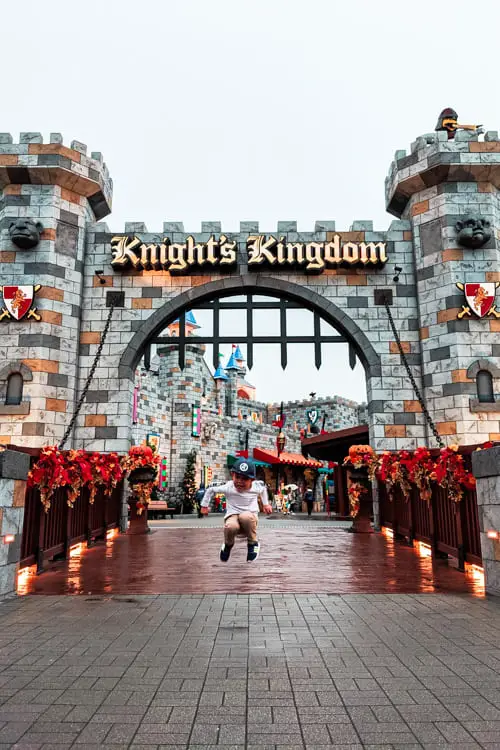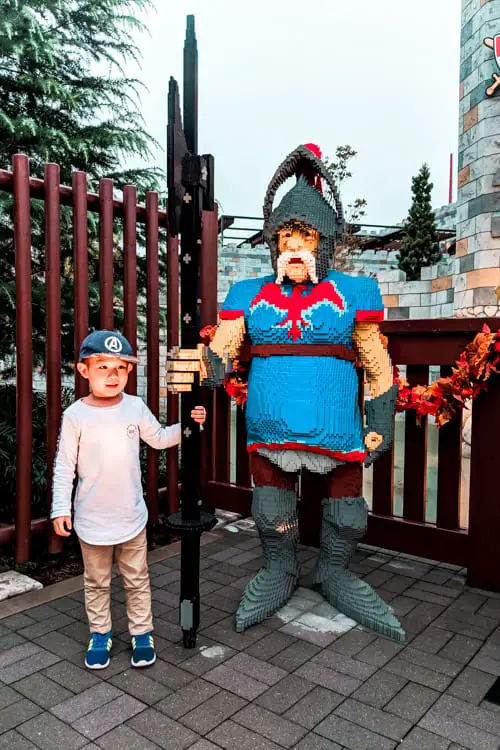 Inside this medieval wonderland, you'll be greeted with two dragon rollercoasters, one suitable for bigger kids (over 105 cm) that twists and turns you like a Spanish doughnut; and a smaller one that goes by the name Dragon's Apprentice. The mini version gives smaller kids a taste of what they can one day expect on The Dragon.
Knight's Kingdom occupies a pretty large chunk of the amusement park; you'll find a bunch of other rides and activities, such as, Merlin's Flying Machines, Merlin's Challenge, carnival games, a marketplace that dedicated to Nexo Knights merchandise, and the Knight's Table Restaurant that serves up hearty meals for brazen warriors.
LEGO City
Welcome back to the present, folks. This is where your little ones can partake in activities of the modern age, eg. learning how to drive an electric car, steering a boat down a windy water passage and piloting a plane.
The Lego City Driving School is split into two sections according to age - a bigger driving track for kids aged 6-13 and a Junior Driving School for 3-5 year olds. It's the only driving school in the world where you can crash into a wall or side swipe another vehicle and still be awarded a 'driver's license'.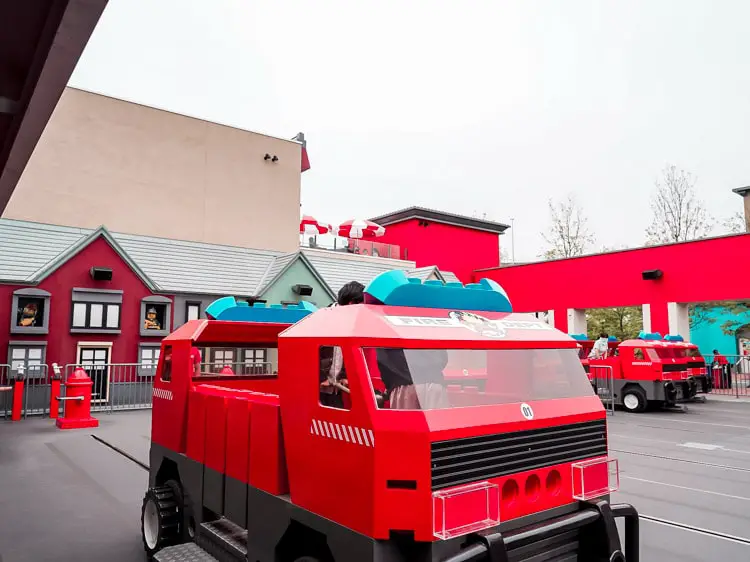 Rescue Academy puts your family's fitness, speed and teamwork abilities to the test by racing other fire squadrons to the scene of emergency and saving the day. This is Lego City's most popular activity, so make sure you get to this one early.
City Airport is a cruisy ride for keen little aviators that allows them to fly their own little bi-planes in an up and down motion. Coast Guard HQ is a chilled family activity takes you to the water on a battery powered boat, or you can head to Build a Boat and get the kids to make their own boats our of Lego pieces and race them down currents in a small pool.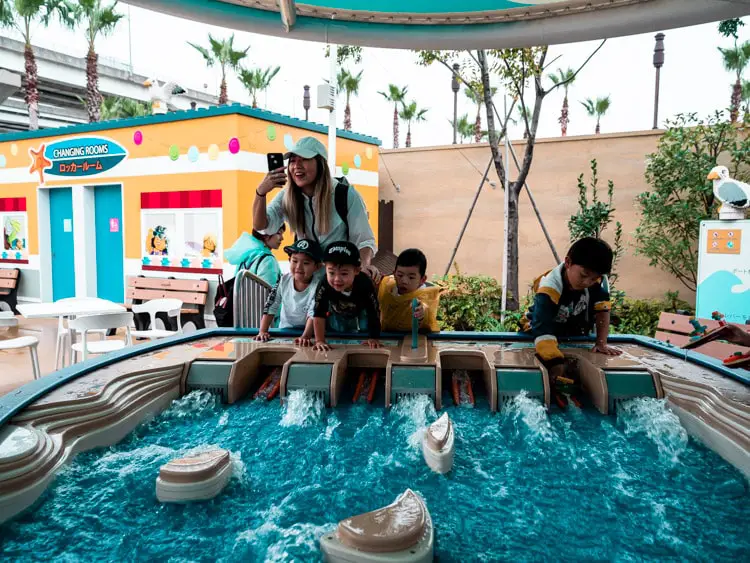 Wind down and catch a 4D movie at Palace Cinema, shop Lego souvenirs and gifts in one of the 3 huge stores in the area, swing by the large indoor play and build area inside Police Building Experience or soak up some sunshine at The Wharf playground and let the kids run wild.
Splash Pad
When the heat becomes unbearable in the dead of summer and you need a place to wash the sweat off your body - head to the beach party at Splash Pad. Make a dash through the water spray features for a refreshing cool-down, drift down the slides or simply chill out with a cold drink on one of the sun loungers.
Adventure
Prepare for the ultimate family adventure in this exciting space that hurls you back in time to the age of pharaohs, dark magic and lost treasure. Hop onto the Lost Kingdom Adventure's off-road desert vehicle and get flung inside an ancient temple on a mission to blast targets with laser guns and recover stolen treasure.
Beetle Bounce was also a favourite amongst our kids where riders get lifted into the air and.. drop! Safely, of course. If I've one piece of advice to give - don't let your kids set foot inside Pharaoh's Revenge playground. They won't come back out. Our boys became infatuated with firing and launching foam balls - so much - that we literally had to drag them out by their feet kicking and screaming.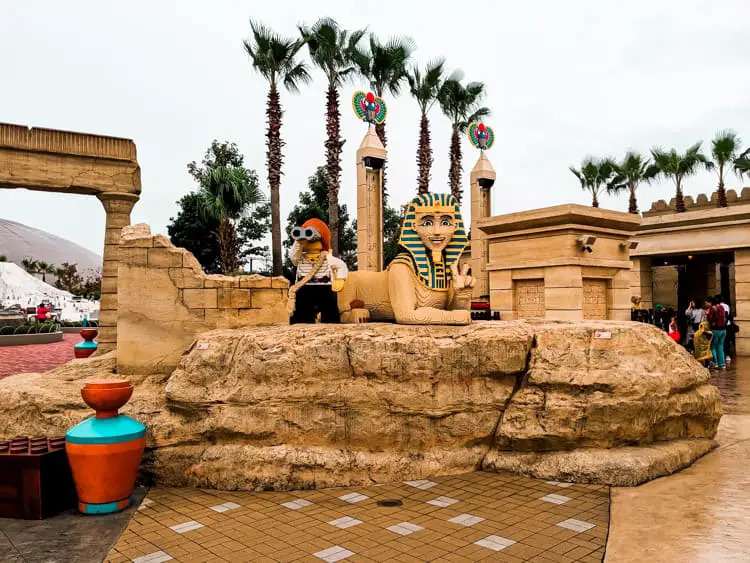 Once you make it out of the ancient lands, you'll be faced with gripping sea adventures onboard the S.Q.U.I.D. Surfer and Submarine Adventure. The former will have you ducking and dodging water bombs triggered by random passers-by, and the latter takes you into the deep seas to spot real fish, sharks and other marine animals.
There's also a select few Lego merchandise shops for all the Adventure fans out there, as well as the Coral Reef Pizza&Pasta Buffet for when those hunger pains kick in, and the fam can indulge in infinite amounts of pizza, pasta and drinks.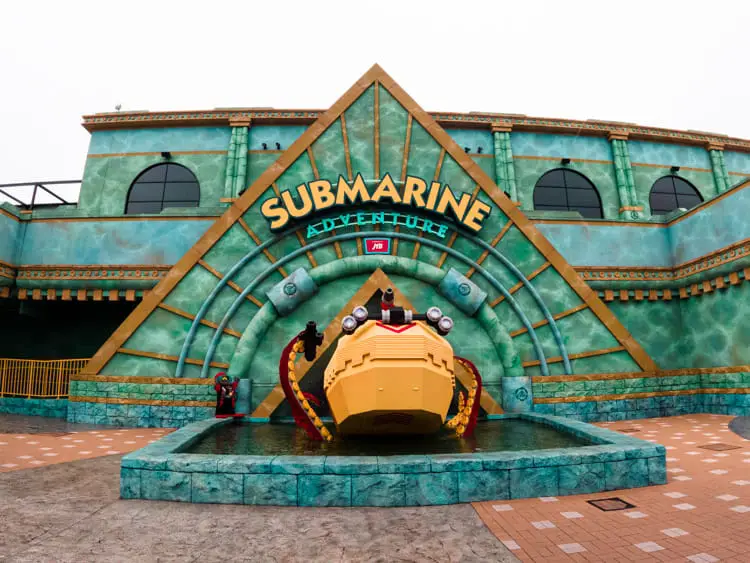 Miniland
One of my favourite things to do inside all Legoland resorts around the world is to admire miniature versions of iconic landmarks and cities in Lego brick-form. Miniland inside the Legoland Nagoya theme park remains to be the most impressive and our favourite, to date.
The centrepiece of the park, Miniland showcases scaled down models of Japan's famous monuments, landmarks and cities, including Shibuya Crossing, Osaka Castle, Kinka-kuji Temple, Mount Fuji and many more.
It's the only place in Japan where you can see Tokyo, Kyoto, Osaka and Nagoya all in a day without needing to catch a single train.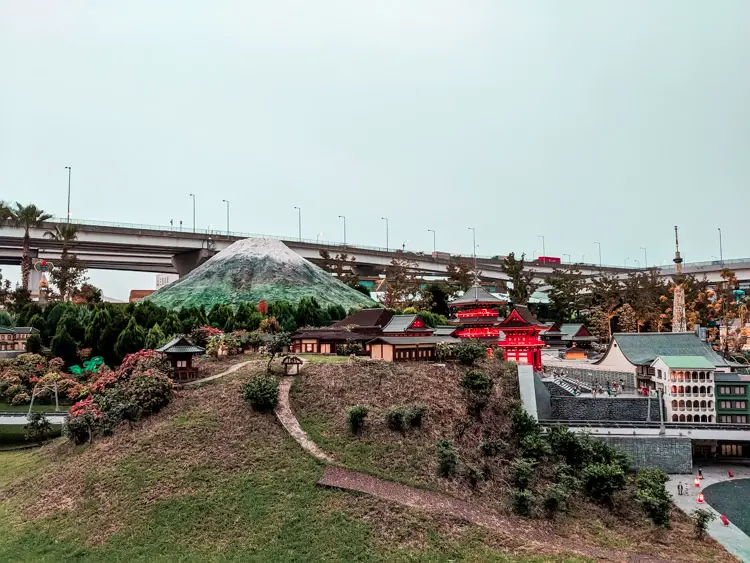 Bricktopia
Bricktopia at the Legoland Nagoya amusement park is the first of its kind - you won't find this at any other resort around the world, so seize it while you're there. This is the perfect area for toddlers, with a ton of activities and rides that have no height requirements. Enjoy a ride with the family on the Brick Party carousel, get dizzy on the teacup-style ride Imagination Celebration, board the Duplo Express train to explore the Lego countryside, or take the ultimate strength test on Cat Cloud Busters and pull yourself up to the top.
But wait - there's more. Kids can mix up their own flavoured frozen drinks inside Abominable Slushies, swing into Minifigure Market or Pick a Brick to make their own set of original minifigures and add personalised Lego bricks. On top of that, they can even get customised engravings for their bricks to take home as a souvenir.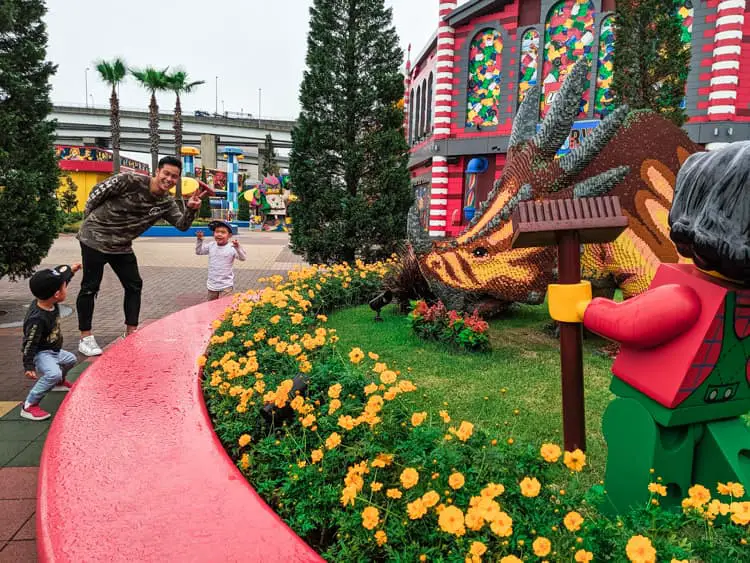 LEGO Ninjago Live
Don't miss this riveting live show - delve into the mystical world of Ninjago and experience a mixture of state-of-the-art 4D special effects, Bunraku-style puppetry (traditional Japanese puppet theatre) and video mapping that takes viewers on an adventure with Kai, Nya and friends to protect a Yinyang dragon from falling into the wrong hands.
TIP: Check the schedule for show & movie times as soon as you enter.
Build and Test
Build the perfect aerodynamic Lego automobile, take it to the race track ramp and test out your invention to determine whether it rolls, flies or completely falls apart. Let the kids unleash their creativity (engineering skills are a bonus) and build anything that sits on wheels. Challenger others in a friendly race or simply launch racers off the ramps.
Additionally, kids can also shape sea creatures on the interactive touchscreen displays and cheer their on their creations swimming around in the digital ocean.
LEGO Factory Tour
Ever pondered over how Lego is made? Well, ponder no further because you'll get the opportunity to witness the entire process inside the Lego Factory. Learn about the toymaker's humble beginnings and how the brand evolved to become a worldwide phenomenon in the toy world. Wander past the types of machinery required to make the blocks and observe as they make their entrance into the world. At the end of the tour, you'll be gifted a freshly made piece of Lego block as a parting gift.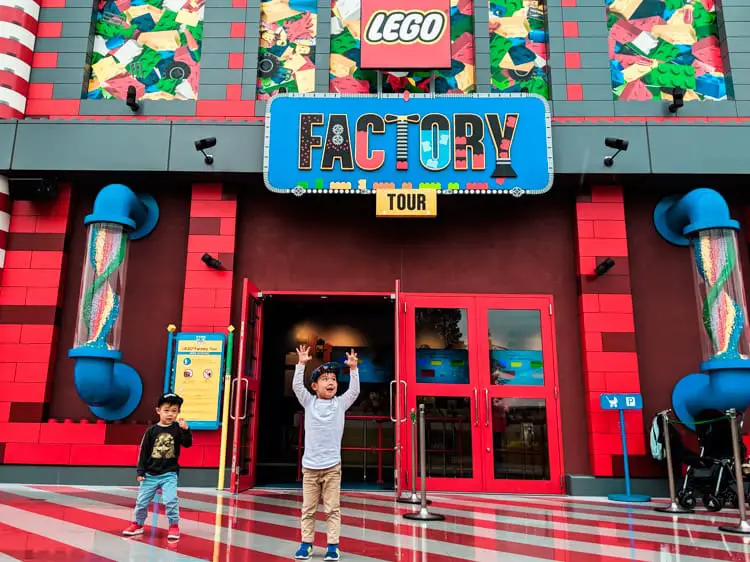 LEGO Creative Workshop
Don't forget to book yourself in for Legoland Japan's most popular indoor activity that caters for kids aged between 3-12 years. Six Creative Workshops operate on a daily basis for beginner to advanced builders who are interested in learning about the mechanisms on moving Lego machines, as well as programming and robotics. This is a super busy activity - be sure to sign up first thing in the morning to secure your spot.
Observation Tower
Best done at sunset when the lights around the park start flicking on and you're winding down from an action-packed day; the Observation Tower reaches a height of 50 metres and offers a 360-degree view over the entire Legoland Japan theme park, as well a captivating scenes of the Nagoya Bay area and Meiko-Nishi Bridge.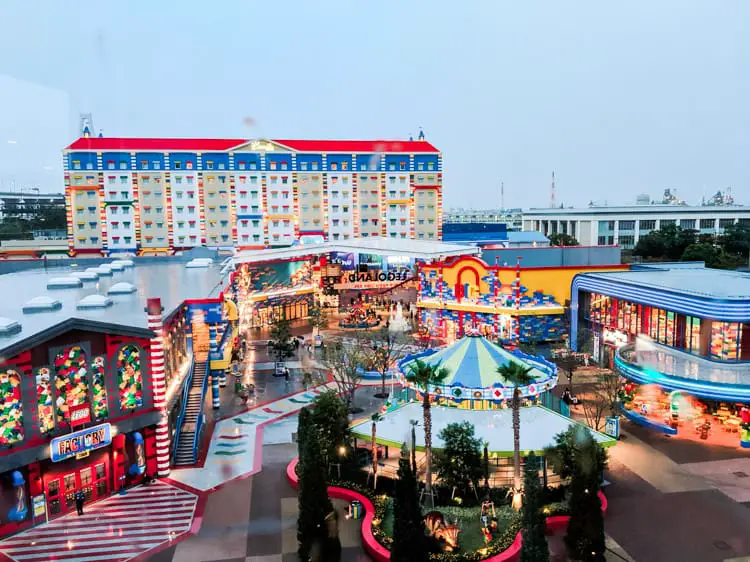 The Big Shop
Prepare for a head-spinning amount of Lego-y goodness inside one of the biggest Lego shops in Asia. Inside, you'll find souvenirs, trinkets - and of course - all the themed sets, such as, Ninjago, Nexo Knights, Lego City, Duplo, Friends, Technic and many more.
This is also where you can get yourselves emergency ponchos and umbrellas for those times when the weather decides to turn.
Discover more fun things to do in Nagoya:

Legoland Japan Food
Fries shaped like Lego blocks? Lego bun hot dogs? Pino ice cream served in a Lego souvenir box?
And.. it's all edible? Yup. I can assure you it's not plastic.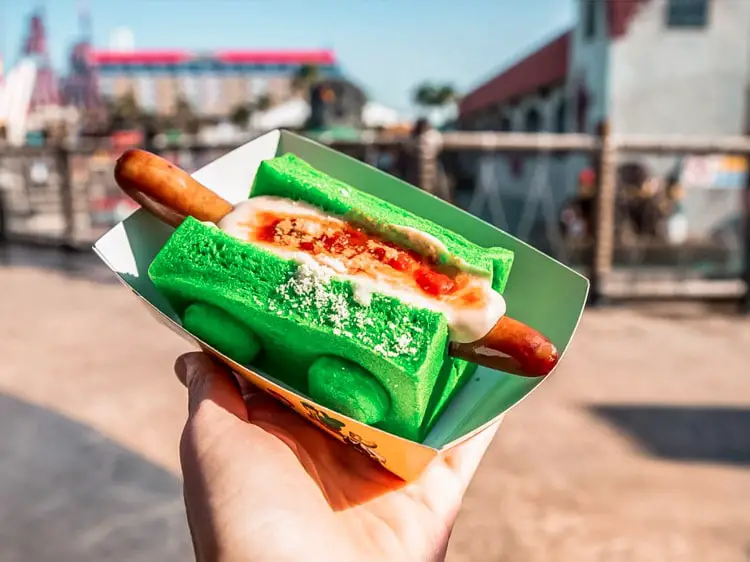 Welcome to the wonderful Legoland Japan food that you can find in each themed zone. Ninja Kitchen is a popular stand for power-up rice snack boxes, or head to Oasis Snacks for one-of-a-kind Lego fries. Get on over to Walk the Plank at Pirate Shores to sink your teeth into a juicy Lego-shaped hot dog.
There are also plenty of sit-down eateries to grab proper meals, such as, Chicken Diner, Brick House Burgers, Knight's Table Restaurant and Coral Reef Pizza&Pasta Buffet if you're big-time hungry.
Grab a buffet discount voucher to save on adult and kids prices.
PRO TIP: Don't bring your own food or snacks. Sadly, it's not permitted and will get confiscated at the entrance.
SEA LIFE Nagoya
Our Legoland Japan review wouldn't be complete without covering the spectacular SEA LIFE Nagoya. Situated directly opposite Legoland Nagoya theme park, this is the perfect place to dive into the world of magnificent creatures that live beneath us.
Designed in typical SEA LIFE fashion, the aquarium includes interactive guides with beautiful tanks, hands-on learning experiences and close-up encounters with friendly sea creatures.
Discover life inside Japan's rivers and streams, touch starfish and tickle sea anemone, marvel at huge spider crabs or wander through the ocean tunnel and spot a huge variety of tropical fish and sharks. Our boys loved learning about the legendary story of Urashima Taro and walking the plank at the sunken shipwreck.
Book Combo Legoland Nagoya tickets to include SEA LIFE Nagoya in your visit.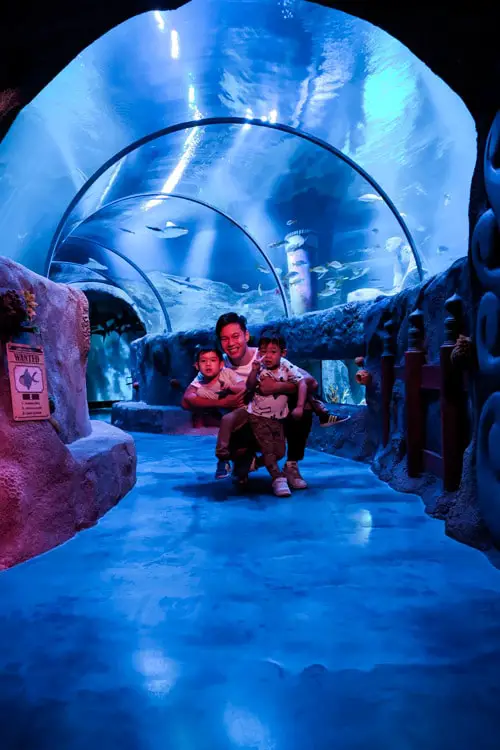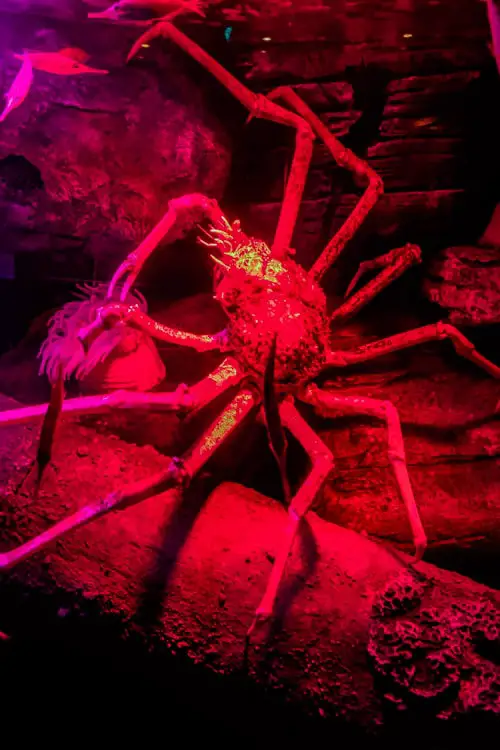 Where is Legoland Japan?
Legoland Japan is located in Nagoya, the capital of Aichi prefecture. It's roughly 3 hours from Tokyo and 2 hours from Osaka, so I probably wouldn't advise a day trip from these cities unless you are crazy determined to get up in the wee hours of the morning to catch a train.
▪︎  Getting from Tokyo to Legoland Nagoya. From Tokyo Station, take the Tokaido-Sanyo Shinkansen and jump off at Nagoya Station, approximately a 1.5-hour trip. From there, find the Aonami Line and head for Kinjofuto Station.
▪︎  Getting from Osaka to Legoland Nagoya. The quickest is to jump on the Tokaido-Sanyo Shinkansen from Shin-Osaka Station, which will get you to Nagoya Sttation within 50 minutes. From there, find the Aonami Line and head for Kinjofuto Station.
TIP: The 7, 14 or 21-day Japan Rail Pass will cover your trip to Legoland Nagoya from Tokyo, Osaka, Kyoto or Kobe.
Is Legoland Japan worth it? The Final Word.
To say the kids had the best day of their lives is probably an understatement. Our youngest had such an amazing time going on the rides that, at one stage, he peed his pants from excitement. Not even joking. We lost our spot in the queue as a result. That pretty much sums up our kids' experiences and excitement levels.
By the end of the way, we were completely exhausted and wet from the rain, but still, not a single person wanted to leave the park. Would we do it all over again? You wouldn't even have to ask.
Legoland Nagoya is an incredible experience for younger kids, and although we visited the likes of DisneySea and Universal Studios on our trip to Japan, our kids voted Legoland as their favourite theme park simply because they were more familiar with the characters and toys, plus, they were able to go on more rides designed for smaller kids.
If you've got kids aged between 2-12, we couldn't recommend this theme park more - everyone's guaranteed to have a good time.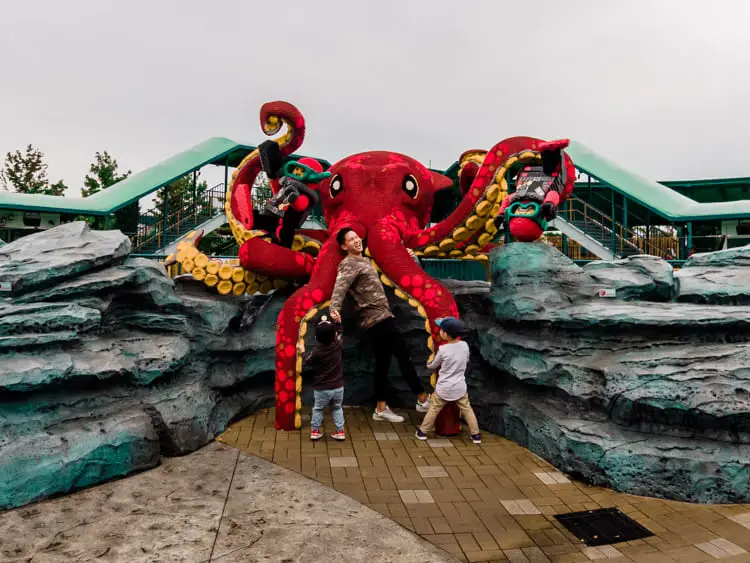 This post was created in partnership with Legoland Japan. However, all content, experiences and opinions are, always, our own.
Got questions about Legoland Nagoya?
Feel free to ask in the comments below.
Don't skid off just yet - discover more of Japan with kids: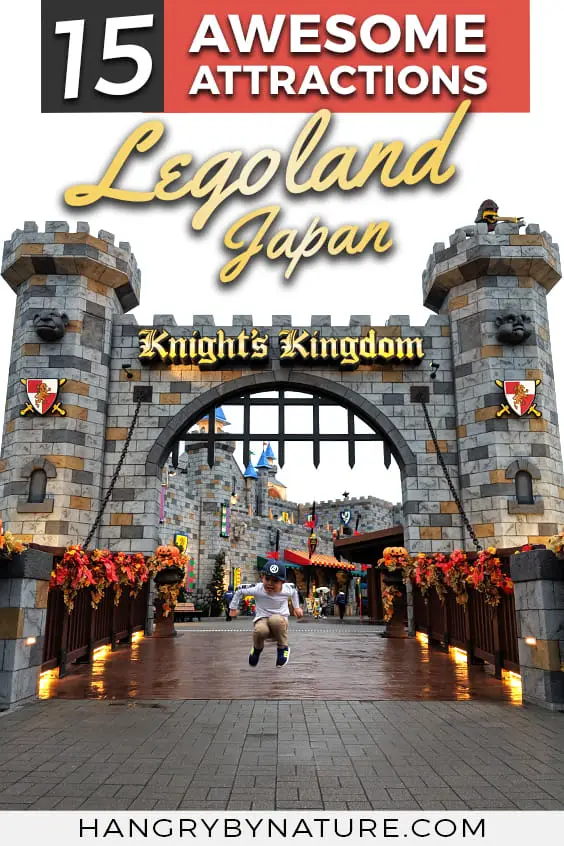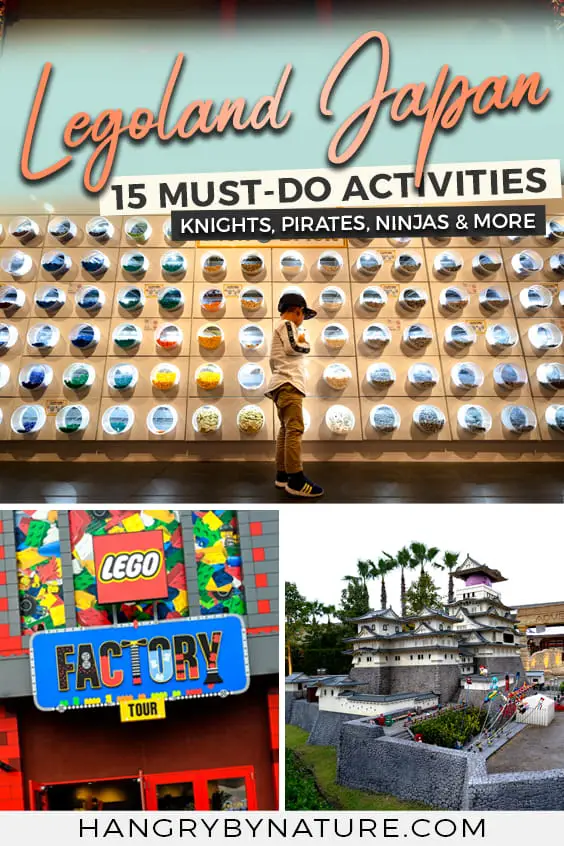 Get the most out of your Legoland Japan Trip
Take a look at our Travel Resources to find the best deals on flights, accommodation and attractions. Find mistake fares, the cheapest date to fly each month, hotel and apartment savings, plus where to buy the cheapest tickets for attractions.
If you're looking for some sweet accommodation deals, you're in for a delicious treat.