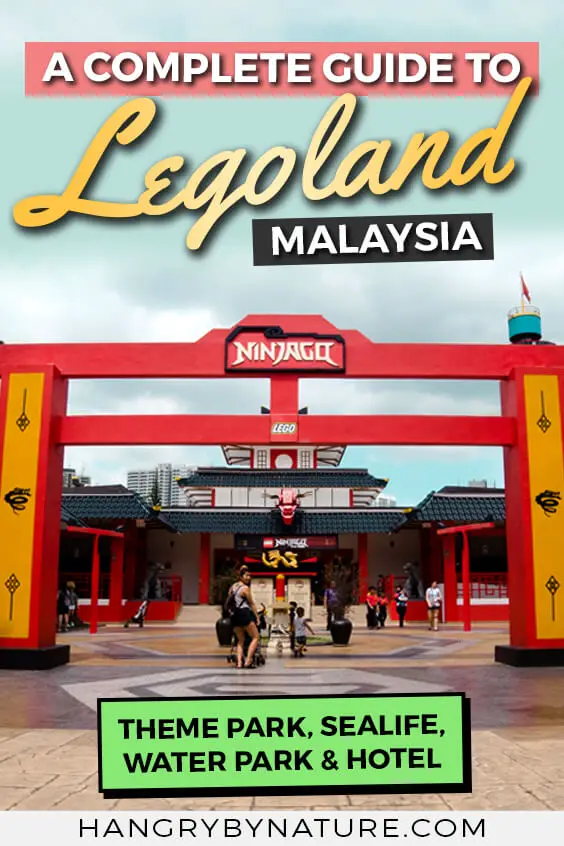 Okay, this might come as a surprise to you, but would you believe me if I said there's another 'happiest place on Earth'? It's made from thousands of colourful plastic blocks and it certainly fills boys, girls and even adults with glee. Here's our Legoland Malaysia review – an unadulterated form of happiness we want to pass to you.
Legoland is the first international theme park in Malaysia – the park opened its doors in 2012, featuring over 40 insanely fun rides, shows and attractions. Oh, but that's not it. It hasn't stopped expanding since its formation. Legoland Water Park made its debut a short year after, and in May 2019, the theme park unravelled its newest addition – SEA LIFE Malaysia. The fun don't stop. Nope.
But, wait. I'm not done yet – we've barely grazed the surface of all the fun there's to be had. I'll also be giving you an insider look at at the Legoland Malaysia Hotel and all the magic and awe you'll come across the moment you set food inside the lobby. We literally walked into an almost real-life size pirate ship and castle made from Lego as we were opening the doors. We also lost our kids in under 0.02 seconds – a record breaker in my books.
So, guys. Without further ado, here's everything you need to get the most out of your visit, plus, our honest Legoland Malaysia review.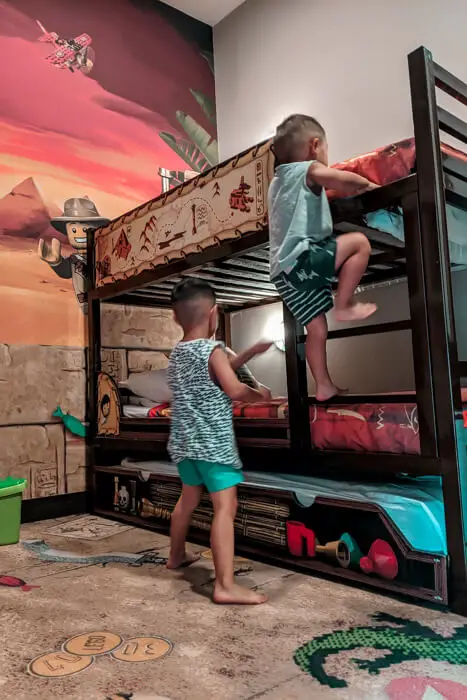 Essential Travel Tips & FAQs
How do you get to Legoland Malaysia?
From Johor Bahru to Legoland. The easiest and haggle-free option is to download the Grab app (South East Asia's equivalent to Uber) and book a ride. It takes around 25 minutes and costs roughly RM30 ($7 USD). Taxis are also an option, but you will most likely need to summon your bargaining powers, as you'll find that many cab drivers will refuse to use the meter.
Book a bus transfer from Singapore to Legoland:
From Singapore to Legoland. It will probably take an hour or more to get from central Singapore to the theme park, depending on traffic conditions, and bearing in mind that you'll also be crossing a country border. Make sure you set yourself enough time, as you might find yourself getting stuck in a ton of traffic, especially on weekends.
Private transfers cost upwards of $70 SGD ($50 USD) per way, but, you can also book a shared bus transfer that picks you up from a departure point in Singapore and drops you off in front of Legoland's doors for under $10 USD.
DON'T FORGET: Bring your passports if you're coming from Singapore because you'll be crossing country borders.
From Kuala Lumpur to Legoland. For the really determined, a trip from KL is definitely doable, buuut.. I would stay the night given the 3-hour journey. The easiest and cheapest way to get there is to book a shared bus transfer from Bukit Bintang that takes you directly to Legoland.
When is the best time to visit?
3 words: Avoid. School. Holidays. Specifically, Singaporean and Malaysian ones (be sure to look them up before planning your trip), because you might get caught in a human stampede. Both at the border entering Malaysia and at the theme park.
Outside of school holidays, the best time to visit is on a weekday. No queues, no hordes of humans.
Is one day enough at Legoland Malaysia?
One day will suffice if you're solely planning to visit the theme park. Even then, you might find yourself running low on time, particularly if you're planning to attend character meet-and-greets, shows, watch 4D movies, and jump on all the crazy fun Legoland Malaysia rides.
Visiting all 3 attractions? You'll definitely need 2 days. Here's how we did it. Day 1: Theme Park. Day 2: morning at the aquarium and afternoon chillin', floatin' and slidin' at the water park.
Tip: Pre-purchase your Legoland Malaysia tickets online to save on time and money.
What baby facilities are there?
The Baby Care Centre can be found at the entrance of the theme park. It's equipped with bottle warmers, microwaves, and high chairs. Family restrooms are also scattered throughout the part in each section and baby change tables can be found in all female restrooms.
PRO TIP: Refrigerated lockers are available outside the entrance if you're bringing baby or kids' food that needs to be kept cool.
What are the height and age requirements?
Most rides have a height restrictions between 80-110cm, with some of the more 'exciting' ones requiring a minimum height of over 110cm. The park is very strict on adhering to these safety rules, so if your kid doesn't fit the requirements – there's no negotiating. Our 2-year old missed out on a lot of rides, whereas our 4-year old was able to enjoy many more.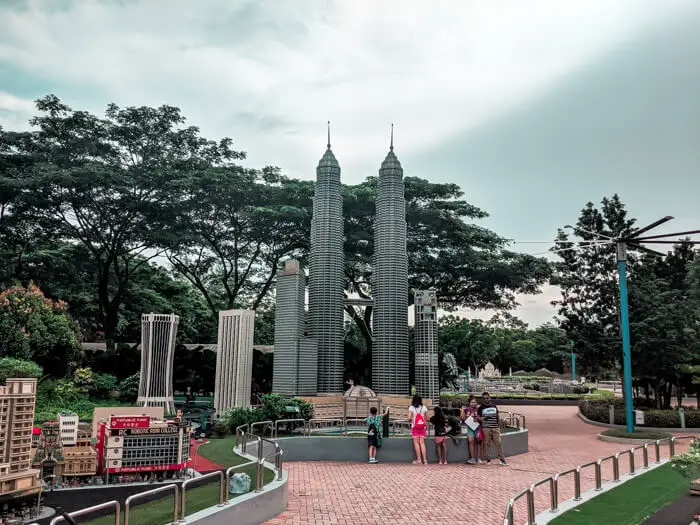 Tips from our experience
Pack a travel poncho or umbrella. Tropical weather is.. fickle, to say the least. We visited in June (outside of monsoon season) and still had to run for cover throughout random times of the day. To avoid experiencing an outdoor shower, bring travel ponchos for the family or compact travel umbrellas.
Eat before peak lunch hour time. If you don't want to undergo the stress and sweat that comes with trying to juggle kids and a platter of food in your hands while trying to stalk down a table – hit up one of the food halls before lunch time between 11am – 12pm.
Prioritise outdoor activities if rain is forecast. Yank out the map and find out where all the outdoor rides are and conquer those first if rain is on the radar. The most popular outdoor rides are found in LEGO Kingdoms, City and Technic.
Hide out and rest inside Build & Test. Need to cool down from the heat or looking for shelter from the rain? Duck into the Build & Test in the Imagination section for some much-needed air con while the kiddos build their own set of wheels and race them down ramps. A win/win situation for all parties.
If you have a Combo Ticket, you can exit the park for food. KFC, Burger King, Subway and a number of other eateries are located inside the Mall of Medini, under a 10-minute walk from the theme par. Without a Combo Ticket, you won't be able to get back in.
Legoland Hotel Malaysia Review
Umm.. Where do I even begin? Let's see – the ELEVATORS, guys. It's a downright disco party in there, complete with disco balls, funky music and if you're lucky, maybe even a dressed up LEGO man. No joke, stepping inside the lifts at the Legoland Hotel Malaysia is a bloody good time alone. It's probably a crime to set foot inside an elevator without pulling – at least – one Saturday Night Fever dance move.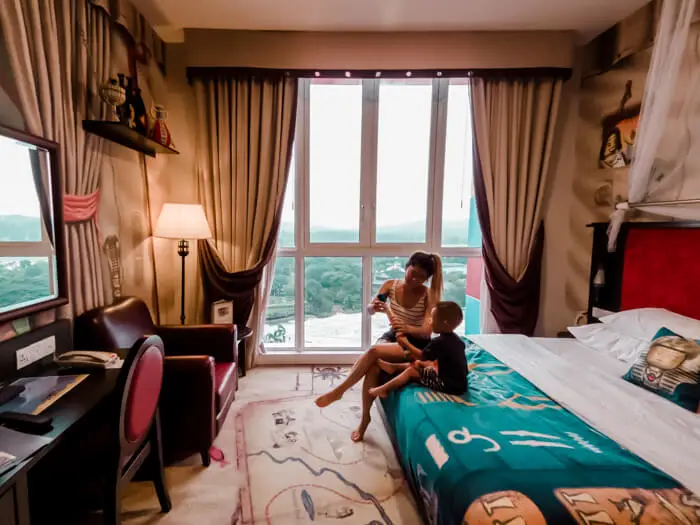 Okay, I probably should've started with the lobby since – you know – it's the entrance and all. Here's a little hint on what to expect though, good luck trying to get your kids out of the lobby. Ha. The moment the valet opens the doors, you'll be greeted with the sight of a castle made from Lego blocks almost as tall as the ceiling. To the left? Oh, you know. Just a pirate ship made completely from colourful blocks. To the back? Another huge playspace for kids featuring giant soft blocks they can make more Lego constructions with.
Say bye to your kids (and perhaps even to yourselves) because there's a good chance none of you will want to face the real world again (unless it's made from plastic blocks) after a stint at Legoland Malaysia.
But, you're here for the rooms, right? Well, take your pick. Not gonna lie – it'll be a tough choice. Make your decision between Pirate, Adventure, Kingdom or Ninjago themed rooms and let your imagination run wild inside.
Standard sized family rooms are feature a kids' room equipped with bunk beds that include an additional pull-out, and a master room fitted with a queen bed. The best thing? Separated rooms. Parents can finally enjoy some privacy while the kids run amuck in their own room stocked with Lego toys and their very own TV. It doesn't get more 5-star than this for little humans.
Inside Legoland Hotel Malaysia rooms, you'll find everything from Lego-made room decor to a toy box filled with Duplo blocks. There's even a treasure chest that's itching to be cracked by completing a mission in the room. Oh, and for the grown-ups, you'll be pleased to know that there's tea and coffee available at your disposal.
Check prices for your travel dates to Legoland Hotel – you can also get $15 discount off your booking, on us.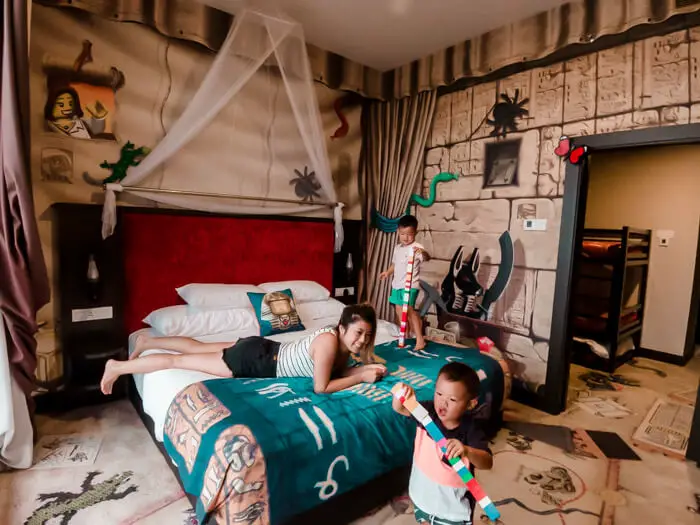 If there's not enough fun to be had in your room, well, there's also a rooftop pool to splash around in. For even more fun, head down to the lobby and check the schedule for character meet-and-greets, dancing and singing shows and fun games to really tire your kiddos out.
Don't forget to rise early for a buffet breakfast of champions. In all seriousness, breakfast at Bricks Family Restaurant is literally one of the best buffets we have ever been to that caters for grown ups and little ones. The selection is super impressive and kids will go bananas over the cereal picks.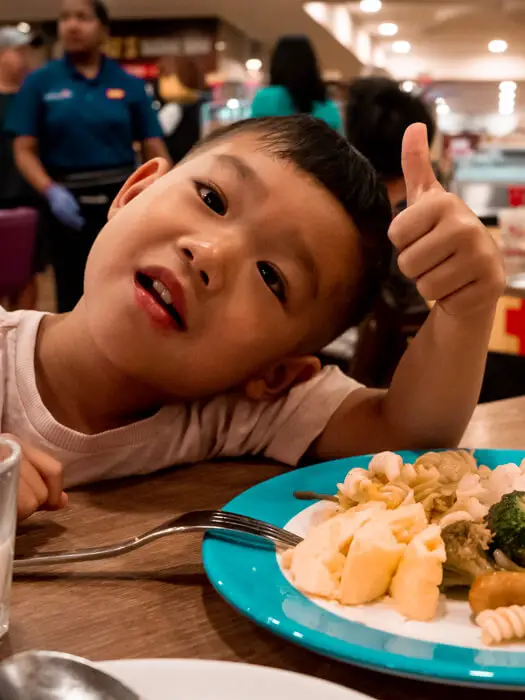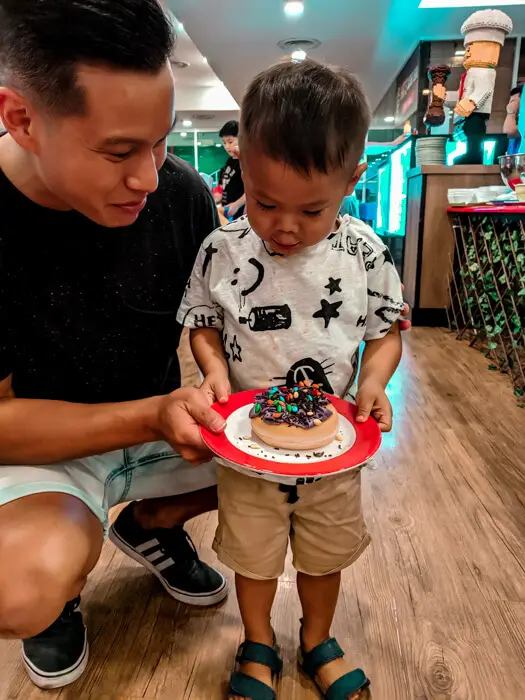 If you're an all-out buffet fan, then dinner at Bricks is not-to-be-missed either. With a wide selection ranging from Western favourites to Malaysia delights, there's something to please even the pickiest of little eaters. Our absolute favourite was the 'hawker' lane set up outside, where you could grab freshly sizzled satays, homemade Laksa noodle soups, and even freshly made-to-order pastas.
Legoland Theme Park in Malaysia
Legoland is, undoubtedly, one of the best things to do in Malaysia with kids; the park comprises 8 wonderful themed sections suitable for tiny tots and older kids. So, let's get into all the exciting areas and, of course, the best Legoland Malaysia rides.
Lego City
Chances are you're going to kick off your theme park adventure in an anti-clockwise direction, like we did. The first section you'll walk into is Lego City, where you'll find the cruisy electric boat ride (our 2-year old was allowed on this – yay), driving schools (great for 3+ year olds), and my personal favourite – Rescue Academy. I'm gonna be honest – I don't actually enjoy participating in this activity, I just derive pure entertainment from watching people struggle as they pump the fire truck from one end to the other and back. It's priceless. Our 4-year old was able to go on this ride accompanied by Dad, and I gotta say, they make a pretty solid rescue team.
Discover more of Singapore & Malaysia with Kids:
Land of Adventure
Journey back in time to the age of majestic Pharaohs and hair-raising dinosaurs, this was – hands down – one of my favourite themed sections of Legoland Malaysia. The centrepiece of this area is the thrilling Dino Island ride, where you jump on a raft, get propelled into the forgotten volcano, only to come crashing down into wild waters with an epic splash.
It's a great space that's suited for little and big adventurers. Our 2-year old was able to go on the Lost Kingdom Adventure laser blasting hunt, while our 4-year old enjoyed getting catapulted into the air on the Beetle Bounce tower drop ride.
There's also an indoor playground suited for all ages where little ones can shoot soft foam balls at targets and get lost inside the obstacle courses.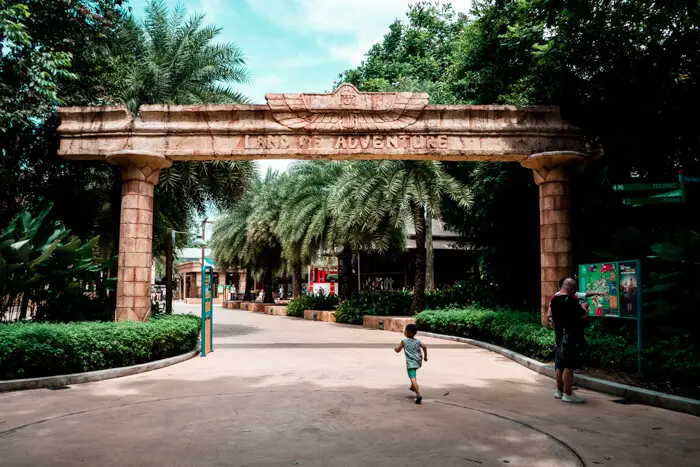 LEGO Ninjago World
One of our family's favourite Legoland Malaysia rides, the Ninjago 4D laser shooting experience puts your ninja skills (or lack of) to the ultimate test. Shoot fireballs, lightning bolts, shockwaves or ice at the bad guys to defeat the Great Devourer and earn ninja status by accruing the highest score of them all.
A little warning though – you will emerge out of this ride with sore arms from all the random air whacking. Or maybe that was just me?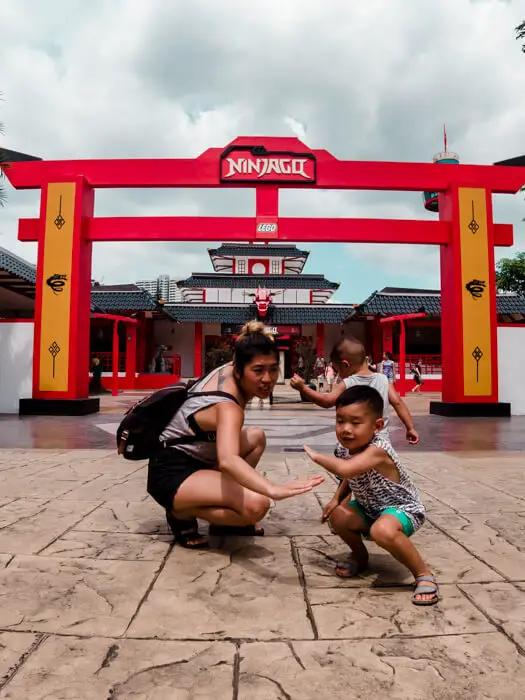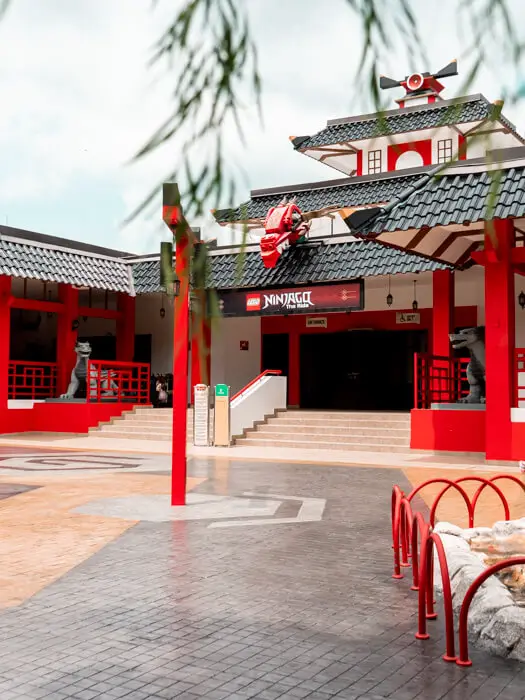 Imagination
Take a breather, kids and kidults. You're almost at the halfway point. Better yet, if you're sweating your behinds off at this point, duck into Pizza Mania for a quick feed and refuel, or Build & Test to bask in much-needed air conditioning. Plus, kids can also build custom Lego cars to race down ramp tracks.
I like to call this the chill space. Kick back inside LEGO Studios and catch a 4D flick running at 30-minute intervals, release the kids into Duplo Playtown for train rides and play time, , or swing up the Observation Tower for a 360 degree view of the the best theme park in Malaysia.
Our favourite team activity was the Kids Power Tower – Andy and our 4-year old flaunted their biceps on this one to show the world just how high they could pull themselves up.
---
Want Fast-Track Ride Access and a Meal Voucher? Grab the HERO Access Pass
---
LEGO Kingdoms
Wait, did I say Land of Adventure was my favourite section? Sorry, guys. This was my favourite area. Towering medieval castles, crazy dragon rollercoasters, and knights in shining armour. Our kids would easily agree that this was their absolute favourite as well.
There are two dragon rollercoasters, one suitable for older kids (8+ years) at least 120cm in height, that twists, turns and flips you upside down. The smaller one, appropriately named Dragon's Apprentice, gives smaller kids a teaser of what they can one day expect on the big dragon. Our thrill-seeking 4-year old was disappointed that he wasn't allowed on the large ride (believe me, we tried), but was more than pleased to jump on the Apprentice.
There's also a fast-spinning carousel, Royal Joust bouncing horse ride, and a very impressive timber playground with treetop climbs, slides and multi-level challenges through an imaginary forest where kids can run completely amuck and exhaust the last of their energy.
Star Wars Miniland
Star Wars fans – behold. This air conditioned Star Wars Miniland indoor exhibit is the perfect place to wind down and admire over 2,000 Lego Star Wars mini models and iconic scenes from the movies. Our kids loved (and fought over) the buttons to press in each room that enabled sounds, lights and actions, bringing the impressive constructions to life.
---
Legoland VIP Experience: Priority Access to Rides, Lunch with Mascots & More!
---
LEGO Technic
We didn't get to experience the full scale of this area, as our kids were still too small to enjoy the rides. This is a super fun place for over 8 year olds who are able to take a spin on the Aquazone Wave Racers and the virtual reality rollercoaster.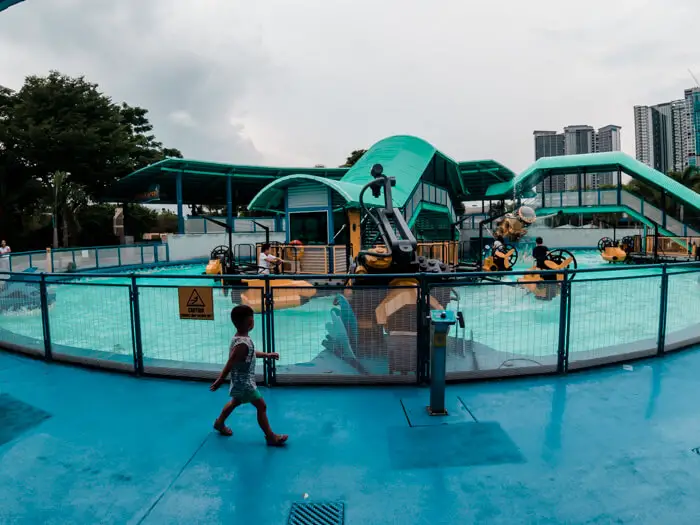 Kids can also enrol in educational workshops inside the Lego Academy, build robots in one of the Mindstorms workshops, or end their day with one last dizzy thrill on the Technic Twister.
LEGO City Miniland
Okay, seriously. Lego City Miniland gets me each time we visit a Legoland. As a travel-obsessed human, these remarkable 'mini cities' never cease to inspire our future travel destinations.
Naturally, this one showcases miniature versions of some of Asia's most iconic landmarks, including the Petronas Twin Towers, Taj Mahal, Angkor Wat, Singapore, The Forbidden City and Great Wall, Wat Arun in Thailand, and many more architectural marvels.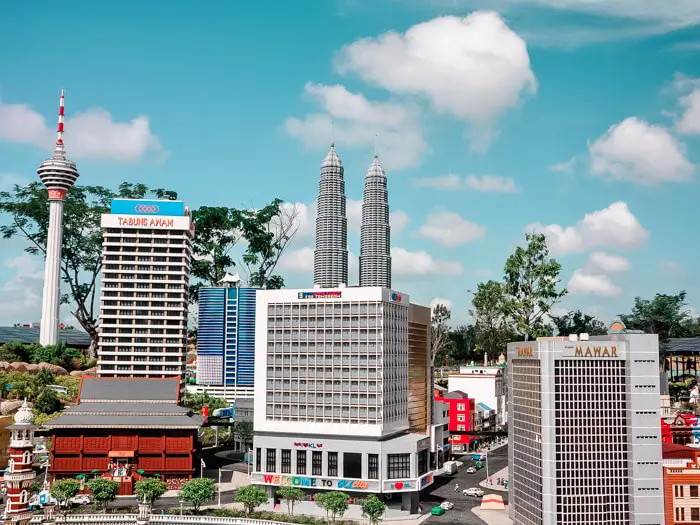 All of the mini cities combined make up over 30 million Lego bricks, some attractions even animated at the touch of a button to bring places to life. From Friday to Sunday, visitors can take a guided Miniland tour hosted by Legoland's Guest Experience Officer, where you can learn intriguing stories and facts about the buildings.
Our insider look at Legoland Malaysia Resort
Legoland Malaysia Water Park
Chances are – you're going to be a dripping, sweating, hot mess of a human after a day spent at the theme park. What better way to cool off than at Legoland Malaysia Water Park right next door? They really thought of everything. Genius.
If time permits, and you got your fam a combo ticket, then a dip and a slide at the water park to rinse all that sweat and grime is a must.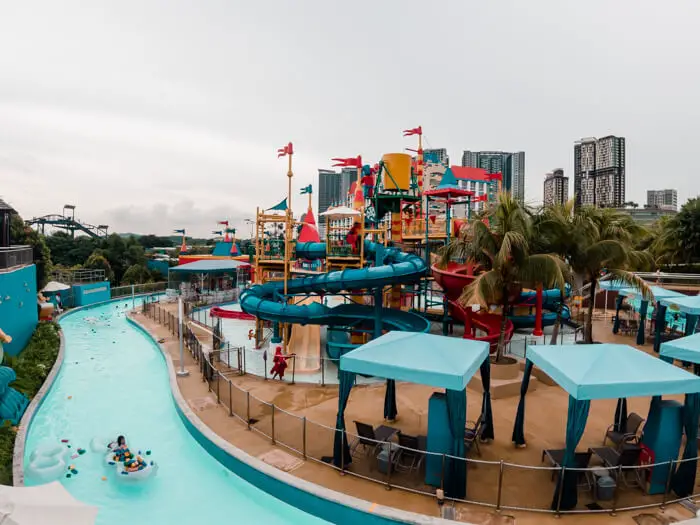 Our 2-year old had an absolute ball floating and collecting colourful soft Lego bricks along the Build-a-Raft River, while our 4-year old was glued to the Joker Soaker splash playground area. Due to our kids being quite young, this was the only area where they could go down the smaller waterslides unattended.
There's also the Duplo Splash Safari designed for babies and toddlers – a safe space for tiny tots to splash around in and interact with the adorable water-spraying animals.
HOT TIP: No need to bring flotation devices or inflatable armbands for the kids. Swim vests ranging XS to large sizes are available for free inside.
We didn't get much of a chance to go on the larger slides due to time constraints (seriously – can time just slow down at Legoland?), but guys, they looked like the epitome of fun. With a wide selection of exhilarating tube slides, Splash 'N' Swirl slides, tunnel slides, racing slides, and tons more – we were absolutely kickin' ourselves that we didn't make enough time to enjoy these. There's even the Red Rush slide, where an entire family of 4 can fit onto one tube and enjoy all the thrills and screams of going down, together. #FamilyGoals
We ended up finishing our day wading around the Wave Pool where the kids did water bombs over Daddy's shoulder as we watched the sun set over Legoland, silently crying in unison on the inside that our time at the resort was coming to an end.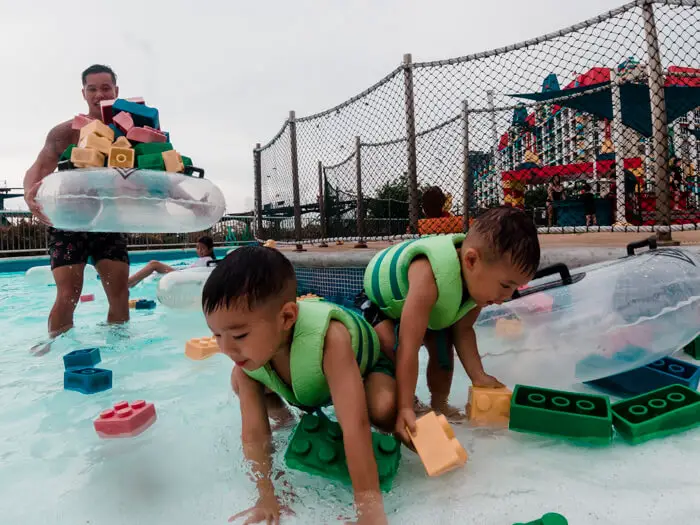 SEA LIFE Malaysia
Our Legoland Malaysia review wouldn't be complete without a special mention of the resort's newest addition – SEA LIFE Malaysia. Opened in May 2019, the aquarium takes visitors through 11 mesmerising and interactive habitat zones.
Set up in typical SEA LIFE fashion, some of the highlights include the Rockpool, where kids can touch starfish and brush their fingers past sea cucumber, and the Malaysian Rainforest, where you'll be taken on a journey of discovery and history surrounding the Johor River, an experience exclusive to SEA LIFE Malaysia.
The Amazing Creations creative space was our boys' favourite area – they could colour in their favourite sea creatures on a tablet screen and release them into the 'digital ocean' and observe their masterpieces in their natural habitat.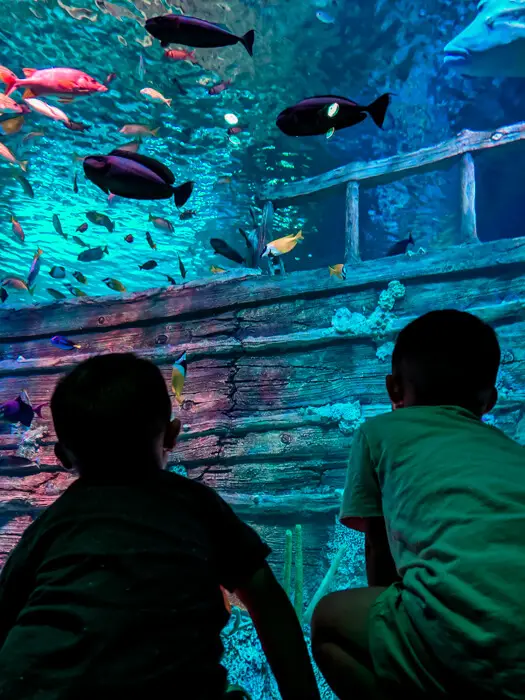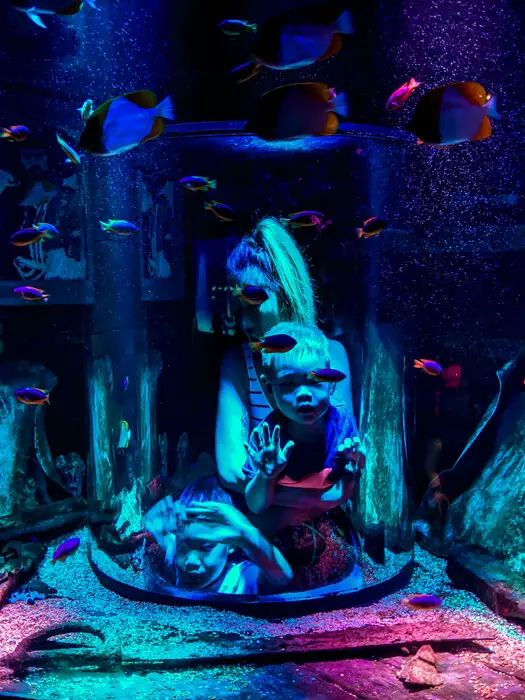 But, of course, the standout for all of us was the Ocean Tunnel, where we danced our way through singing "Baby shark doo doo doo" while Black Tip Reef Sharks were swimming above us.
The aquarium experience is included in your Combo Legoland Malaysia ticket, but you can also visit this attraction as a standalone.
Legoland Malaysia Review: Final Words
Phew. That was a handful, wasn't it? If you're out of breath just from reading this – just imagine when you actually experience this in person. We were exhausted – we laughed, we cried happy tears, tantrums were had, and perspiration flowed out of our bodies by the bucketload. Was it all worth it? Heck, yes. Would we do it all over again? In a heartbeat.
It remains to be our favourite theme park in Malaysia, simply because there are 3 diverse attractions in one place that the whole family can enjoy, without needing to go anywhere else.
As mentioned earlier, if you visit on a weekday outside of peak school holiday time, you'll have a really pleasant time with hardly any time wasted queuing. You get in, get on rides, get out and everybody's happy.
Whether you're coming for a day trip or staying 1-2 nights for the complete Lego experience – I can pretty much guarantee that no one is really ready to leave by the end of it.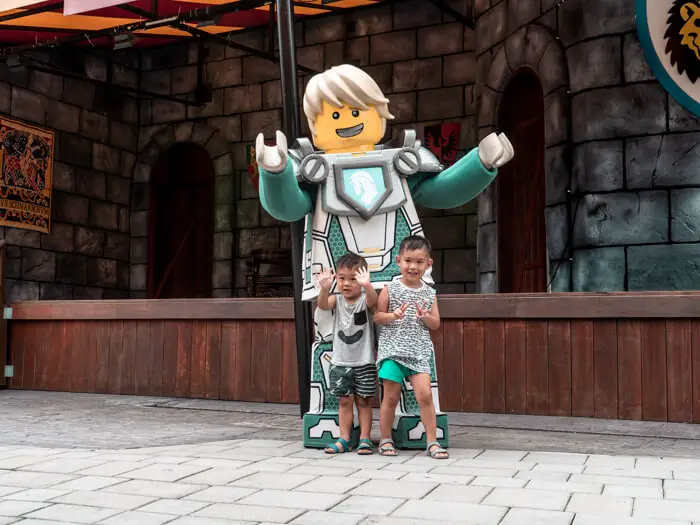 Our stay and experiences were sponsored by Legoland Malaysia. However, all content, unforgettable experiences and opinions are, always, our own.
Don't skid off just yet – see more of Malaysia and South East Asia: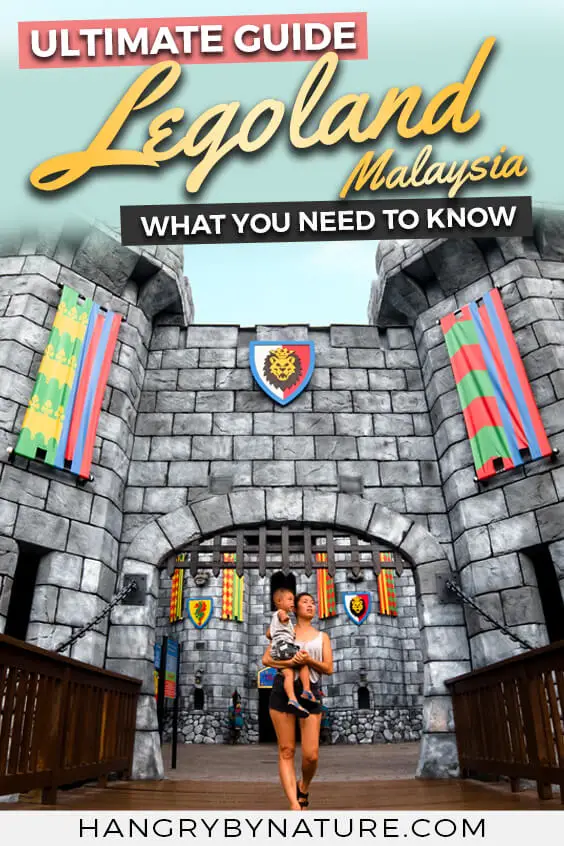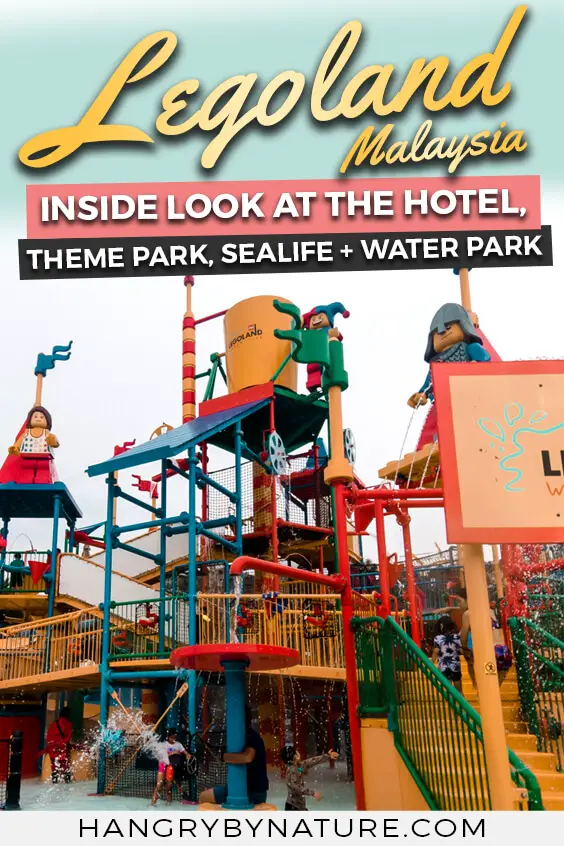 Resources to help plan your trip to Malaysia:
Visit our Travel Resources to find the best deals on flights, accommodation and attractions. We love and use these services ourselves to plan all of our family trips – they save us a ton of time and money.
Sweet accommodation deals for you:
For ideas on what to pack for a family trip, check out our gear and accessories that we take with us on every single trip.
Come say hi to us on YouTube, Instagram and Facebook. I promise we're funny and resourceful. At least, I like to think so.
Which Legoland attraction would your family enjoy the most? Tell us in the comments below.