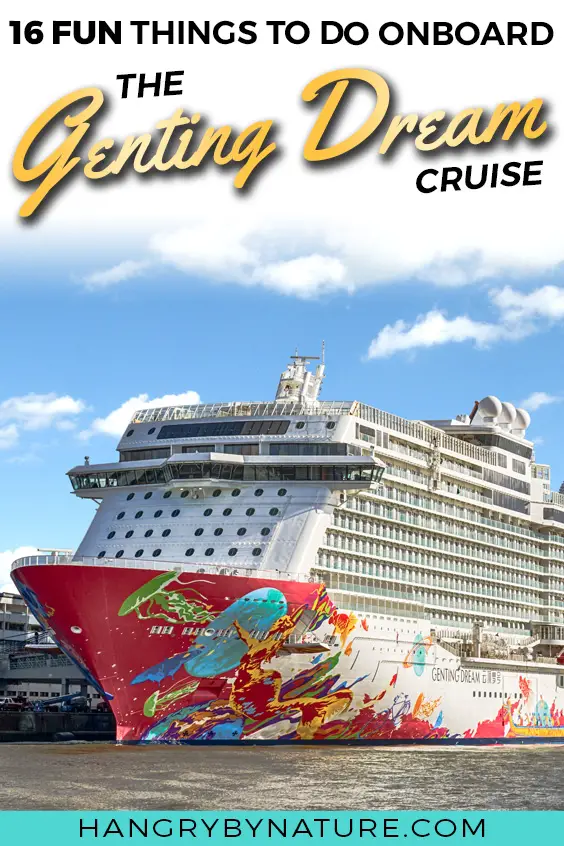 Planning a cruise from Singapore with the fam? Look no further. The Genting Dream has you covered – from kids' entertainment to a delectable cuisine that will have you experiencing some serious withdrawals upon disembarkation.
Look, I'm not gonna lie. I've always been a sceptic when it came to the topic of cruising. "I'm just not that type of traveller" is what I constantly uttered when anybody pitched the idea of boarding a floating resort where you'd be confined within for a week with a bunch of retirees and screaming kids.
Well, folks. Ha. Then I had kids and my life, pretty much, turned upside down. The idea of an onboard kids' club had me backflipping from joy – I was literally grabbing the next stranger walking past, yelling, "get me on a cruise, there's a motherflippin' day care on that ship!" Not to mention, the prospect of not having to cook or clean – legit – brought happy tears to my eyes.
You know those movies with cheesy happy endings where the main character sails off into the sunset? That was (no jokes) me on the Genting Dream cruisin' off into the horizon. If you're still a wee bit skeptical – here's a bunch of solid reasons why cruise holidays are perfect for families.
If you haven't yet been on a cruise from Singapore, or on any cruise in general, well, I think I'm about to change your mind.
Want to discover more of South East Asia? Take a look below.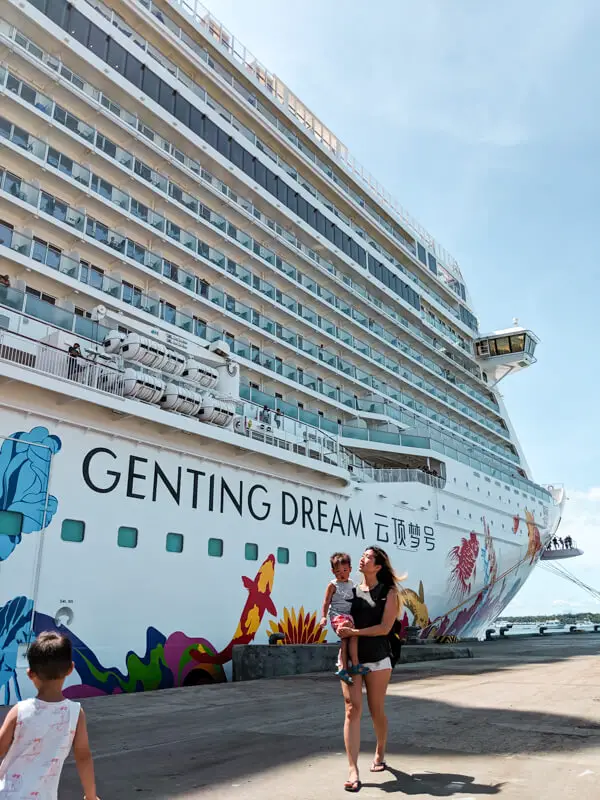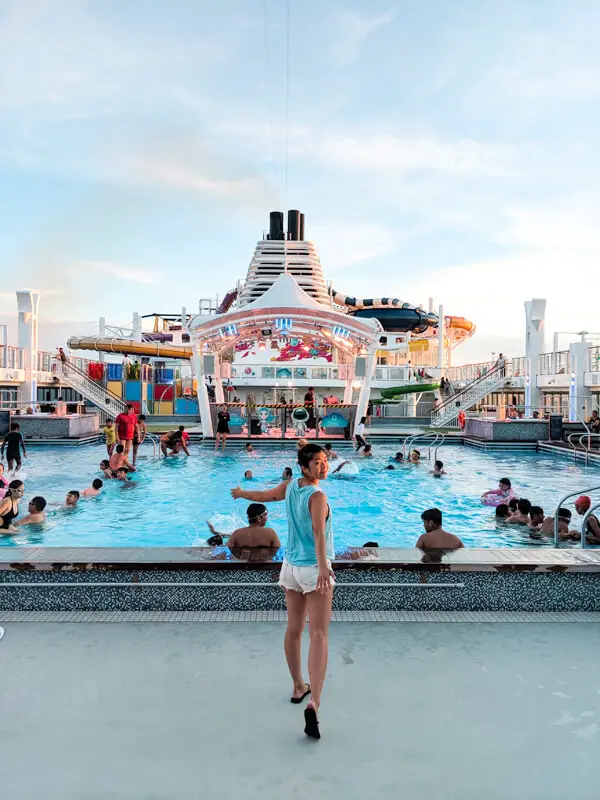 Inside the Genting Dream Cruise from Singapore
So, as you know, I am now a proud supporter of the cruise life. Heck, I'd probably go as far as to say that I'm an addict. "Hi, my name is Tina, and I'm a cruise addict". Thanks, Dream Cruises, you've ruined me (in the best of ways). I'll just sit here and have withdrawals until I board the next cruise again.
We embarked on our 5-night journey to Kota Kinabalu in Malaysia and Puerto Princesa in the Philippines, staying inside one of the cosy Balcony Staterooms with a king-sized bed so comfy, it was impossible to roll out of. This was the very first time the Genting Dream docked in these destinations, so were mega excited to experience this new route.
To give you a perspective of the ship's sheer size – Genting Dream accommodates over 3,300 passengers, boasts over 35 dining and bar concepts, and is even home to a large waterslide park that occupies almost half of the upper outdoor decks. It's also home to casinos, duty-free shopping, arcades, a bowling alley, Zouk nightclub, a huge theatre, basketball court, mini golf, a rock climbing wall, high ropes courses, karaoke rooms, and most importantly, a kids' club.
There's only one word to describe this ship. Astonishing.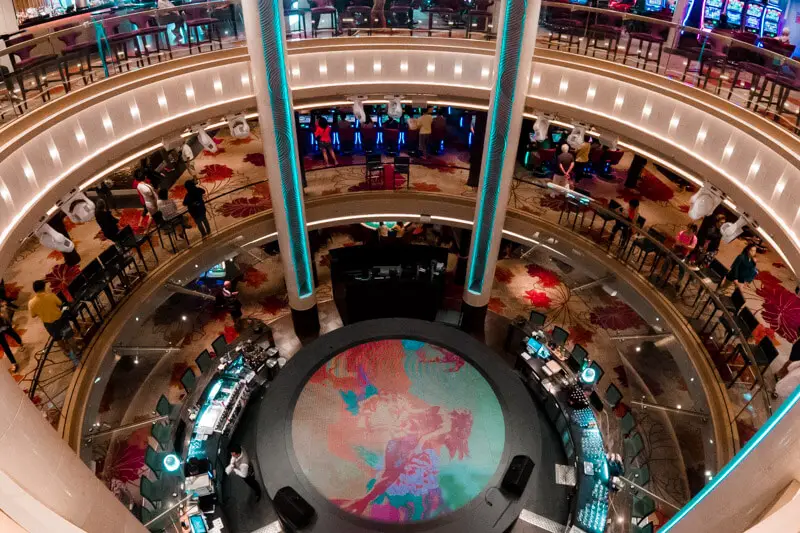 Essential Cruise Tips & Genting Dream Must-Knows
Despite this being our first time on a mega cruise, we did learn a few pointers along the way that we thought we'd share to make your experience smooth and seamless.
Check-in and board early. Our cruise departed at 5pm from Singapore, however, we arrived at Marina Bay Cruise Centre at 12:30pm where staff were already checking in early arrivals. It still took us a good hour and a half to drop off our luggage and make our way through security and customs. Boarding early allows you to enjoy the facilities of the ship before the masses arrive. It's actually the ideal time to enjoy the pool and slide park, as no one's really ready to swim on the first day since everyone's too busy getting coordinated.
PRO TIP: It can take hours for your luggage to arrive in your room. Pack essentials, diapers and anything else needed for kids into a day bag to carry with you.
Download the Dream Cruises app. This is the handiest way of viewing the Genting Dream itinerary and timetable on-the-go, browse shore excursions, book evening shows, purchase Wi-Fi subscription, check your bill, and view general ship information.
Know the daily activities schedule. Don't be like us. We were complete noobs the first couple of days and forgot to check the daily schedule until we realised how much fun we were missing out on. The Genting Dream cruise ship is jam-packed with almost 24 hours of entertainment. The daily schedule is available on the Dream Cruises app or you can even view it from the TV in your room. On top of that, the lovely attendants deliver newsletters passenger rooms on the daily, so be sure to skim through it.
Hit the facilities during mealtimes. I get it. The general train of thought is to get in first when it comes to food. I mean, that's exactly my mentality when food is involved. Here's the thing though – everyone feels the same way about food, so you'll find the pool and all other recreational areas quietest when other passengers are busy chowing down their meals.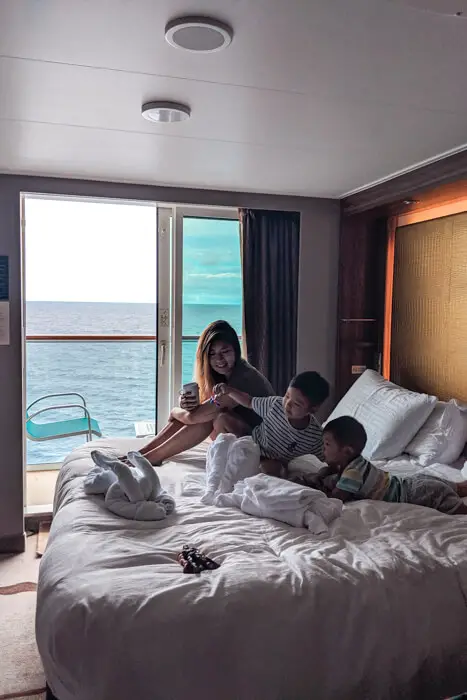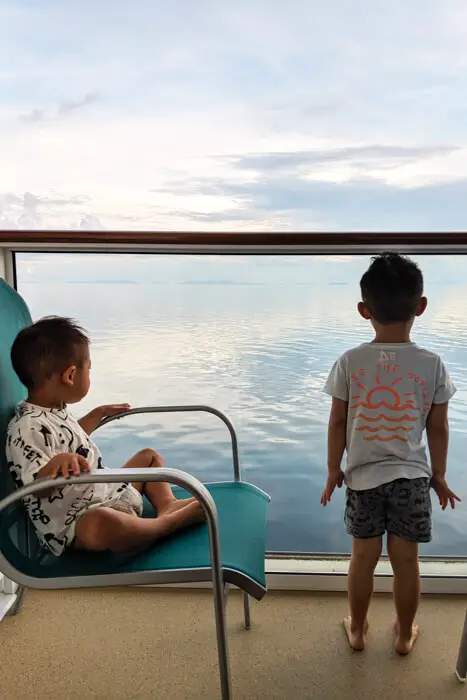 Connecting to Wi-Fi costs extra. Although access to the Dream Cruises app doesn't require Internet, if you're hooked on Insta (like I am) or simply want to send pics and videos to friends and family back at home to make them jealous, then you'll need to purchase an Internet plan. You can connect up to 2 devices on the one plan.
Water Park limitations for younger kids. If you're travelling with kids under 1.4m in height, then keep in mind that it's likely they won't be allowed on the bigger slides due to safety reasons. Small children will also require the company of an adult when going down the kids' slides and when they enter the water park. But, hey. Do what we did. Chuck the little ones into the Little Pandas Kids' Club and get on those slides yourself.
What to Pack VS What's Provided
Inside the Genting Dream cruise, you'll find that many essentials are provided, so you won't actually have to bring much.
 
Provided

Bathroom

Amenities
– Shampoo / Conditioner / Body lotion
– Kids' bath pack (body wash & cream)
– Toothbrush & toothpaste
– Soap & handwash
– Set of towels
– Hairdryer
– Vanity kit: cotton buds & razer for shaving
– Facial Tissues
Room Amenities

– Bathrobes
– Slippers
– Kettle
– Coffee, tea & sugar packets
– Bottled water
– Safety deposit box*Cots are available upon request & availability
What should I pack for the Genting Dream Cruise?
Sunscreen & After Sun Care. Probably the number one essential to take on a cruise. We tend to get natural sunblock for the kids and SPF 30 water-resistant sunscreen for ourselves. We also packed Aloe Vera Gel to soothe potential sunburns.
Mosquito Repellent. A lot of time will be spent wandering the outside decks and sitting on the balcony (if you booked the Balcony Stateroom) – the chances of getting mosquito bites can be pretty high. We prefer natural bug spray because we can share it as a family and they don't contain hardcore chemicals.
Motion Sickness Wristband. I was never one to get motion sickness, but I have family members who do and have raved about these Motion Sickness Relief Wristbands that have alleviated nausea and lightheadedness for boat trips, car and plane rides.
Umbrellas. Weather in South East Asia can be pretty unpredictable and you really don't want to get caught out in a downpour while on a shore excursion. Pack a couple of these compact travel umbrellas for those 'just in case' moments.
Day backpack. The Genting Dream cruise ship is gigantic and you really don't want to run back and forth from your room grabbing things you've forgotten. We're on the Fjallraven backpack bandwagon – we manage to stuff diapers, wipes, sunscreen and our sunnies into this bag.
Swimmers. From the pools and jacuzzis to shore excursions – you'll 100% need to pack these for a tropical weather cruise.
Light jacket or sweater. We never got cold wandering outside, but we did get chilly roaming in the air con inside the ship. It's always wise to pack light outerwear, even if you're in South East Asia.
Sneakers / Runners. You might not be a gym junkie, but you'll need to bring a pair if you plan on doing the high ropes course or rock climbing.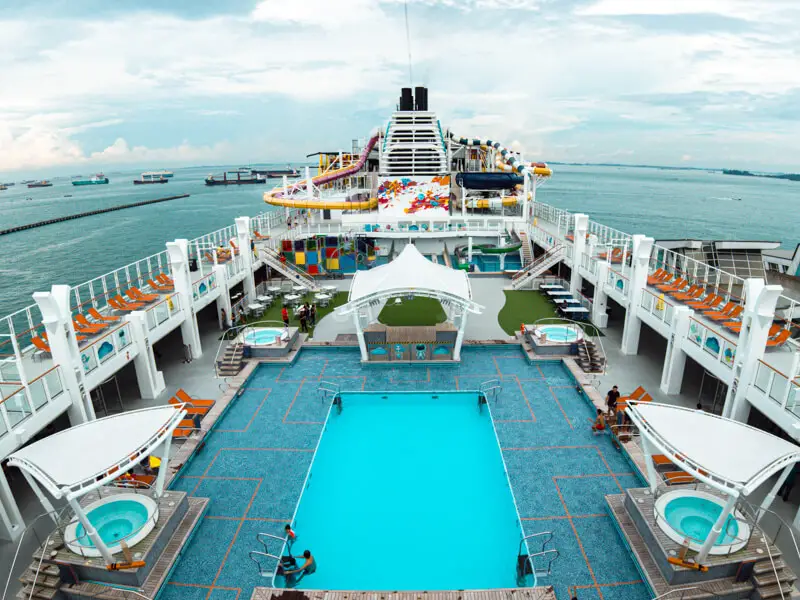 16 Reasons Why Genting Dream is the Perfect Cruise from Singapore
Our 5-night Singapore to Malaysia cruise (with an additional stop in the Philippines) allowed for us to disembark in Kota Kinabalu and Puerto Princesa to either explore ourselves or jump on a shore excursion with other guests. But, I'll let you in on a little secret – we hardly ever wanted to get off the ship due to these reasons…
1. Cool Pools & Epic Waterslides
Feeling flushed from the tropical heat? Take a dip in the refreshing waters of the pool and soak in some Vitamin Sea while you're at it. Or, maybe you're a bit of a daredevil looking for the next adrenalin rush? Make your way up to the uppermost deck and pick from 5 thrilling slides that are guaranteed to make your heart flutter just a little.
For little water lovers, there's also a small winding slide and a water playground to climb up and splash around in.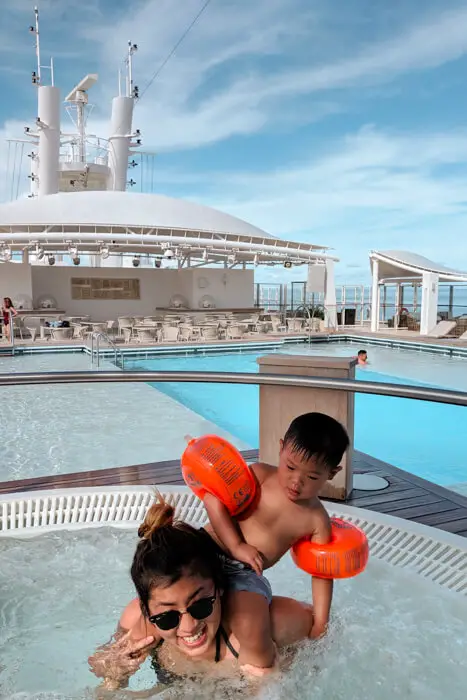 2. Jacuzzis. Need I say more?
Are pools and heart-racing waterslides not your cuppa tea? No worries. Get acquainted with one of the six jacuzzis spread across the pool deck. After all, you can't say no to cruising off into the sunset sippin' on your Piña Colada while you're chillin' inside bubbly waters. Kids are also allowed inside, so if you're stuck with your tiny humans but still want to unwind, feel free to bring them into the spa with you.
3. Free Childcare at Little Pandas Kids' Club
As a parent who hardly gets a moment of peace, I'm going to say that this was the absolute highlight of our cruise. Parents receive 2 hours of free childcare a day per child, once that's been exceeded, an hourly fee will have to be paid. But, guys. 2 hours of kid-free fun on a cruise ship with endless entertainment and activities is like being permitted entry into Disneyland for grown-ups. It's heaven on Earth (or sea, I should say).
Little Pandas Kids' Club is a state-of-the-art childcare centre that's sparkling clean and features all the entertainment, toys and games little ones could possibly wish for. Drawing tables, game consoles and toys can all be found within. Oh, and there's even a cinema room lined with comfy bean bags where kids can watch their favourite animated flicks.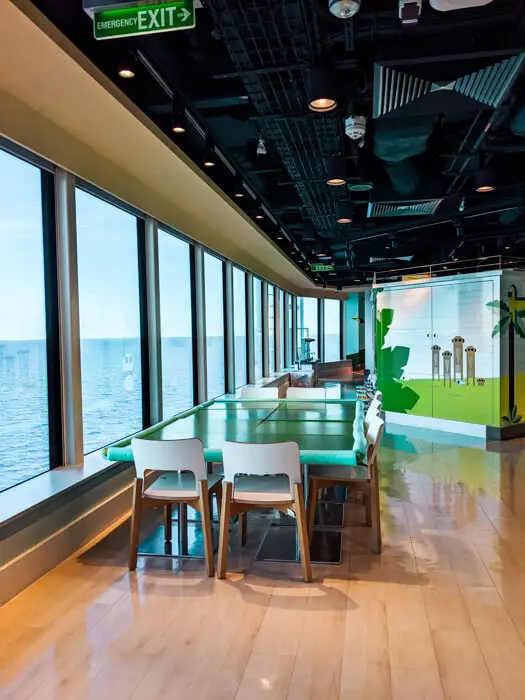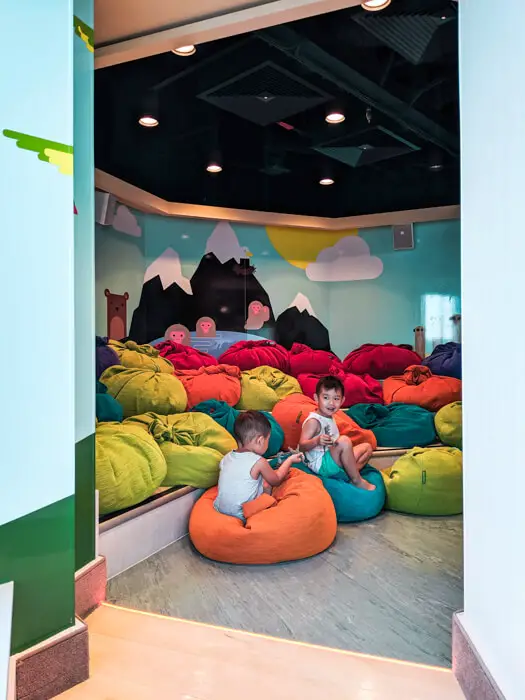 Fancy a round of Dance Revolution or want to get competitive shooting some hoops at the arcades? Then, get over to the arcade for an all-around good time for the whole family. There's also a smaller arcade in the lower deck more suited for younger children.
5. Lively Evening Shows & All-Day Entertainment
Think nights on a cruise ship are boring and that everyone will be tucked into bed by 9pm? Think again. The Genting Dream show goes on.. Well, into the late hours of the night, at least. We booked ourselves into 2 exciting evening performances – China's Got Talent and Sonio: A Tale of Two Dreams. Both were outstanding shows that left us and the kids in awe of some of the insane feats the talented cast performed.
You'll also find entertainment and various performances throughout the day – look out for music performances at Bar 360 or on stage by the pool.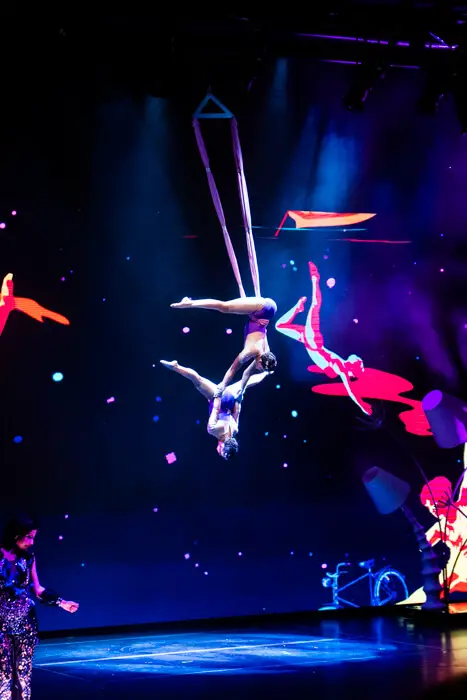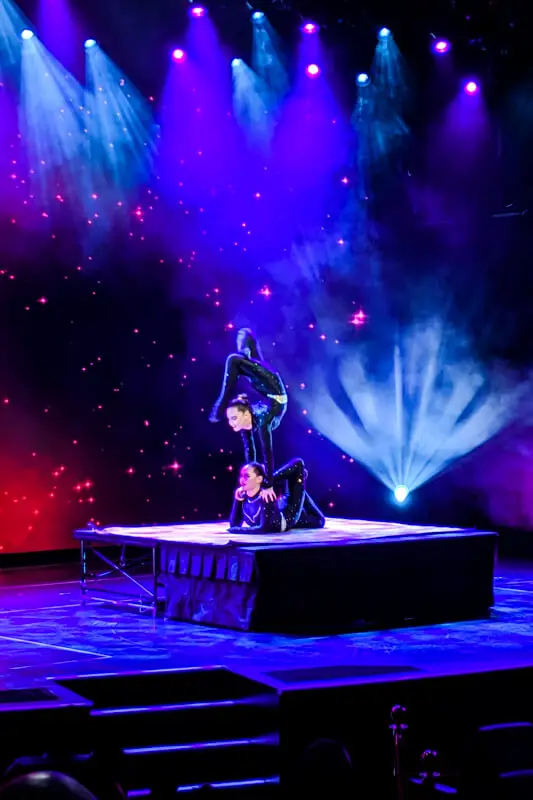 6. Multiple Course Dining, Buffets & 24-hour Snack Bar
The Genting Dream free restaurants include a mega international buffet at The Lido, a scrumptious Western Set Menu in the lower Dream Dining Hall, and a mouthwatering Chinese Set Menu in the upper Dream Dining Hall. Not even gonna fluff this up, we frequented all 3 places and absolutely loved the variety. The international buffet is probably easiest for parents dining with kids, but both set menu restaurants also offer yummy kids' meals that our little ones loved.
Oh, did I mention that there's a 24-hour Snack Bar at the pool deck? Well, now you know. This is pretty much where I creeped for the majority of our cruise.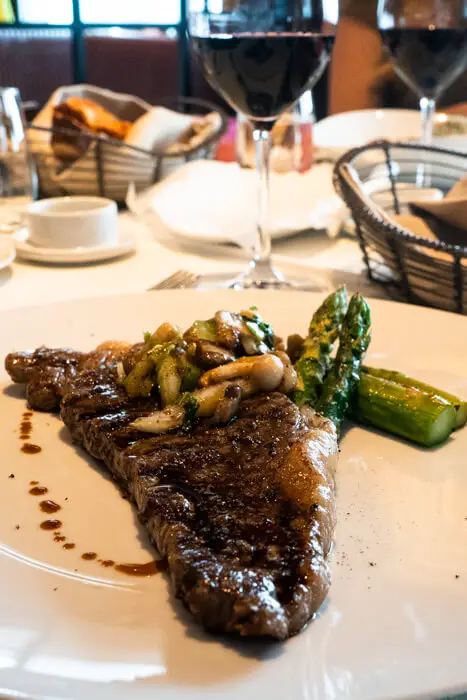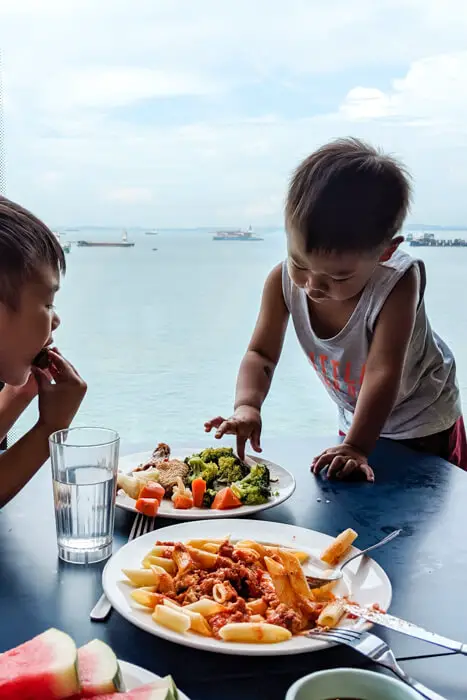 7. Enjoy Blockbuster Movies after a Hard Day Cruisin'
What better way to unwind after an eventful day exploring the Genting Dream ship and all of its fun activities than to kick back to some of the latest blockbusters in the comfort of your own room? You'll be presented with an exciting selection of the latest Hollywood flicks, international films and family movies to enjoy.
Keep an eye out for movies playing on the big screen inside the lobby at Deck 6 – be sure to check the daily timetable to stay in the loop.
8. Fun Daily Kids' Activities
If waterslides and the myriad of outdoor activities just aren't cutting it for the kiddos anymore, then be sure to check the schedule for special kids' activities that take place daily. Get them in on the sunset foam party held at Zouk Beach Club or have them meet a real-life mermaid (and even learn how to swim like one). There's an ocean of opportunities onboard – you just have to know the time and place.
9. Bowling & Mini Golf
Yes, you can even challenge your fam to a round of bowling inside the Genting Dream – it's really that big of a ship. Located within the Zouk Beach Club complex, you'll find a row of pool tables and a bowling alley for those who want to get their Fred Flintstone on.
There's also an outdoor Mini Golf course for little putters, ping pong tables and a giant chess set. Feeling bored definitely won't be part of your vocab onboard the Genting Dream.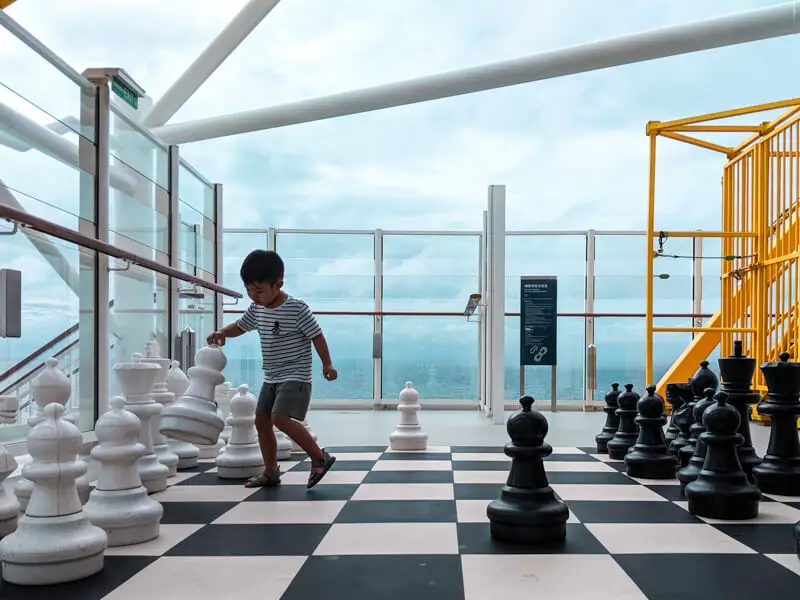 10. Basketball & Soccer Court for Sports Enthusiasts
If you're itching for a ball game, simply head up to the Sportsplex deck to shoot some hoops or kick some goals. We spent most of our non-shore excursion days making attempts at exhausting the kids' boundless energy levels by making them chase a ball. It worked.. most of the time.
11. High Ropes Course, Zip Line & Rock Climbing
If your Genting Dream itinerary isn't giving you a sufficient amount of thrills and adrenalin, then head on over to the High Ropes Course to get that heart of yours pumping. The course is exhilarating and crazy fun at the same time – plus – the best part? Once you've made it past the most challenging wall climb obstacle, you get to zoom down the zip line hanging over the edge of the ship. That'll wake you up better than 20 cups of coffee.
Once you've survived the sideways wall climb on the High Ropes Course – you're pretty much an expert, right? So, take it to the next level and exercise your newfound skill on the large rock climbing wall.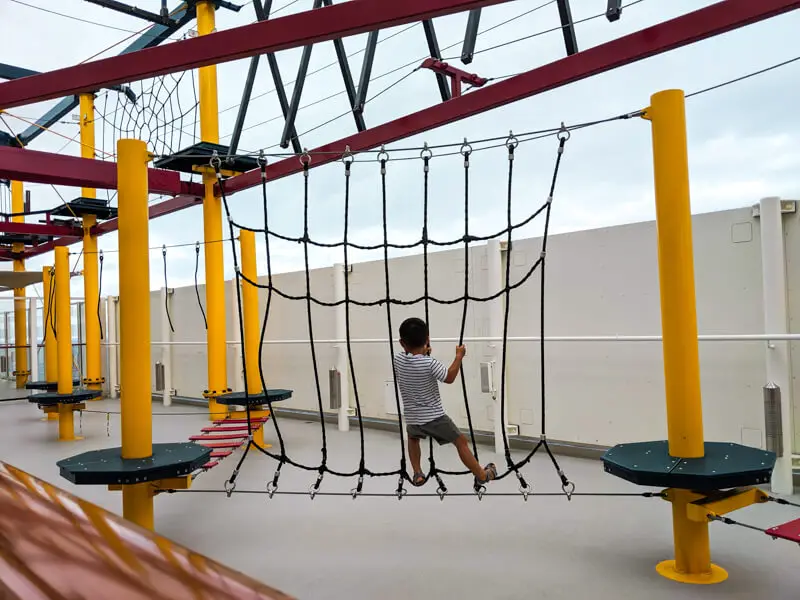 12. Did someone say Massage?
Hailed one of the largest beauty and wellness centres at sea – this is one experience you don't want to forego onboard. Fancy a foot massage? Kick back on one of the ridiculously comfy lounges, check your socials on the tablet mounted on the chair, while your legs and feet get the pampering of their lives. Of course, there's also a number of full body massages and other treatments you can treat yo'self to, should you want to completely switch off and relax.
13. Gym with a View of the Endless Seas

If you don't want to fall out of your fitness routine on the Genting Dream cruise from Singapore, well, you don't have to. The gym has a killer view to get you motivated for your workout and state-of-the-art equipment. I mean, I'm as lazy as they come, but the panoramic view inside was enough to motivate my butt to get down there and, at the very least, set foot inside.
14. Luxury Brand Duty-Free Shopping
The best thing about shopping onboard a cruise? You're on international waters, meaning – duty free. Can I get a "whoop, whoop!"? From Gucci to Cartier, you can ball hard if you've got the cash to splash. Tax free, at that.
15. Unleash your Angelic Voice at Karaoke
Okay, so you might not have an angelic voice, but truth is, nobody really cares after a few beverages 😉 The karaoke rooms are huge and well-designed with a stellar sound system – you could probably squeeze a party of 20 people in one of the rooms. Or, if you're stuck with kids and unsure of how to entertain them further, throw them into a karaoke room. We've done this before and you might be surprised, but we had an absolute ball. No jokes.
16. Shore Excursions for all Types of Travellers
If there's one thing to splash your cash on, it would have to be shore excursions. Whether you're an adventure-seeker or city slicker – there are tours to suit all types of travellers. We went on family-friendly shore excursions in Kota Kinabalu and Puerto Princesa and had the opportunity to take part in activities, such as, scuba diving, banana boating and kayaking, which we otherwise wouldn't have done had we ventured off on our own.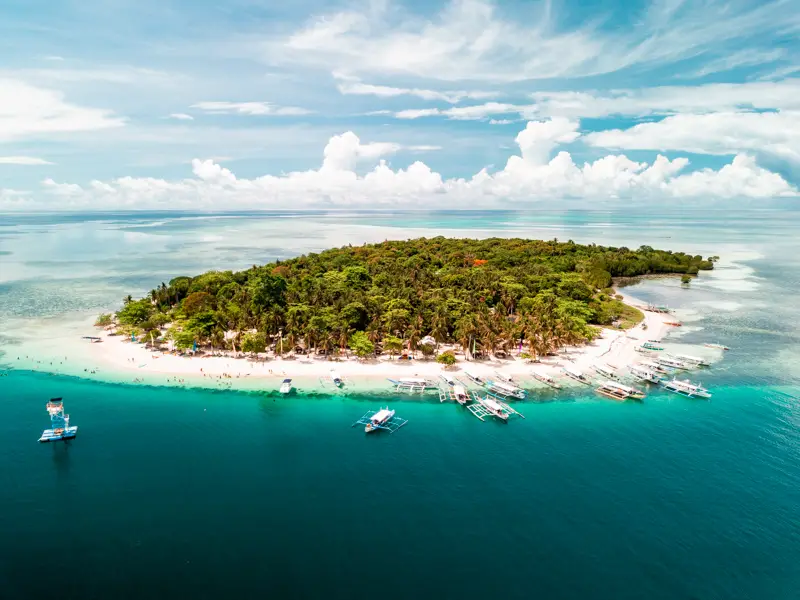 17. (Bonus) Psst.. It's a Genting Ship so there is, errherrm, a Casino
There are two levels of punting fun to be had inside the Genting Dream Cruise Casino. We, personally, didn't have much of a chance to properly explore this space because, well, kids. If casinos are part of how you roll, then you'll no doubt, have a ball in this fun part of the ship. From rows of slot machines to Roulette and Black Jack, you'll find most of the table games found inside large casinos.
WATCH: 21 Highlights of the Genting Dream
Final Words on our Singapore to Malaysia and Philippines Cruise
If there's one thing to tick off your South East Asia bucket list, it's to go on a luxury cruise from Singapore onboard the Genting Dream, or one of the other two ships part of Dream Cruise's fleet. They also operate the World Dream and Explorer Dream, both huge, modern and family-friendly ships.
If me having cruise withdrawals after our 5-night journey doesn't sufficiently express how much of an amazing time we had, then I don't know how to voice it any better. It was an unforgettable experience for our little family, the facilities were top notch and kept the kids more than entertained throughout the day, and the level of customer service was comparable to that of a 5-star hotel.
Our Genting Cruise Singapore itinerary consisted of the perfect balance of leisure and activities without us and the kids ever being too exhausted from the day's activities. Even if you were, it's super easy to retreat to your room for a little shut eye – that's the beauty of being on a cruise.
From the delectable selection of food to the boundless recreational activities available at your fingertips – we have officially been converted to cruise fanatics.
Our stay onboard the Genting Dream was sponsored by Dream Cruises. All photos, videos, unforgettable experiences and opinions are, always, our own.
Don't sail away just yet. Uncover more of South East Asia below:
Like it? Pin me.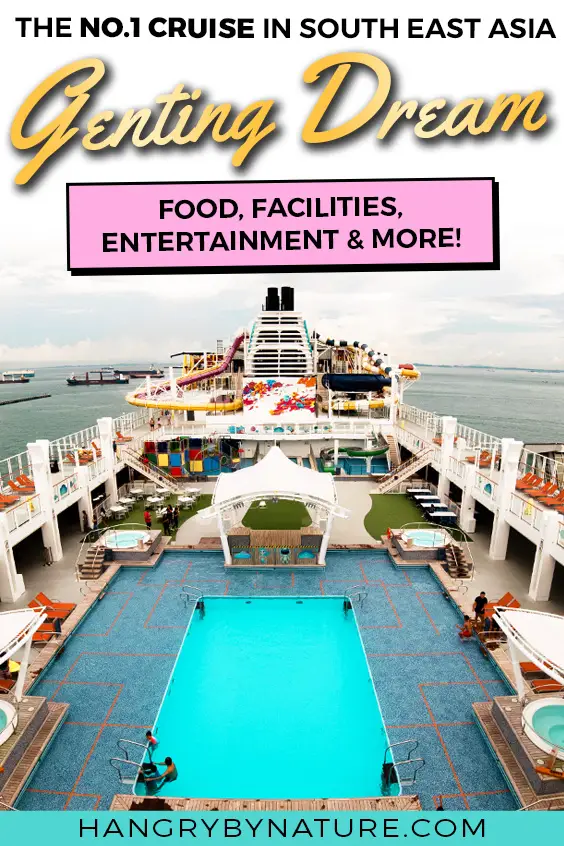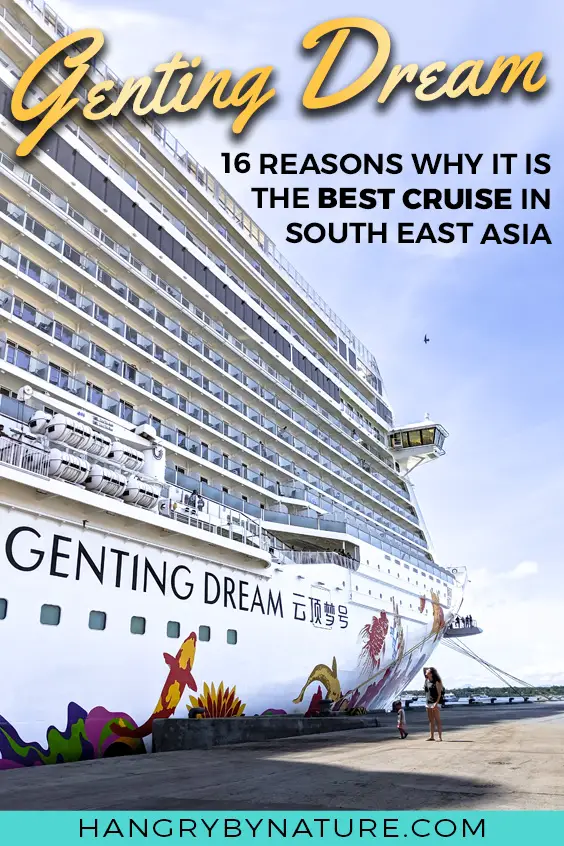 Resources to help plan your trip to Singapore:
Visit our Travel Resources to find the best deals on flights, accommodation and attractions. We love and use these services ourselves to plan all of our family trips – they save us a ton of time and money.
Sweet accommodation deals for you:
For ideas on what to pack for a family trip, check out our gear and accessories that we take with us on every single trip.
Come say hi to us on YouTube, Instagram and Facebook. I promise we're funny and resourceful. At least, I like to think so.
Have you been on a cruise? What was your experience Tell us in the comments below.