Discover 10 of the best things to do in Johor Bahru that the whole family will enjoy - this rapidly growing border city is home to Legoland Malaysia, Angry Birds Theme Park and some of the most epic malls you will ever set foot in.
Johor Bahru - I'll admit, I had never heard of this Malaysian city until some of our Singaporean family members dropped the name and mentioned that a Legoland theme park existed under an hour's drive from Singapore. In an instant, I pulled out my notepad and scribbled down this important fact, and so, Johor Bahru landed high up on my bucket list.
If you're travelling to this corner of South East Asia as a family, then this city needs to be added to your Singapore Malaysia itinerary. It's also doable as a day trip if you've got time to squeeze in your Kuala Lumpur itinerary.
Out of all the amazing places we visited on our trip, the most memorable place for the kids was Johor Bahru. I mean, let's be real - kids don't appreciate culture, food or pretty sights. They just wanna get their hands dirty at playgrounds and jump on all the rides. That's precisely what they'll get right here.
So, allocate (at least) a couple days to get a good grasp of what Johor Bahru has to offer and bask in the cheap prices of food, attractions and shopping.
Looking for more travel destinations in Malaysia? 
Essential Must-Knows & Travel Tips
How exactly do you get from Singapore to Johor Bahru? Pick your whip - private transfer, bus or train. It all depends on your budget - the most efficient way that requires the least amount of effort is a car transfer, which can cost between $60-120 SGD. Catching a bus is the cheapest option, often only costing $1-3 SGD each way - but, the catch? Making your way through immigration can be very time-consuming, depending on how busy it is. You can also catch the train, but be sure to book this well in advance as this is an extremely popular option.
Book a hassle-free transfer from Singapore to Johor Bahru:
Do I need a visa? This depends on your passport, but generally speaking, you will be entering a different country, so be sure to check visa requirements for your passport in advance.
Avoid crossing the border during Singapore/Malaysia school holidays. You know one of those moments where you think, "I've made a huge mistake."? We did that. Crossing the border during school holidays took us - wait for it - 4 hours by bus. To ensure you don't make our mistake, check the Singaporean and Malaysian school holiday calendar.
It's cheaper than Singapore. Much cheaper. Food and many living expenses are one third of the cost, and more often than not, retail shopping is a lot cheaper, too. Hence, why there are so many malls in Johor Bahru. So, eat up and shop up.
Grab is the best mode of transport. Download the app. This will be your best friend in - pretty much - all of South East Asia. In both Singapore and Malaysia, you can ride share, order food from restaurants, and even arrange for courier delivery via the app. It's basically Uber but cheaper and better.
Don't forget travel insurance. Don't be that person. I worked at a travel agency for 2 years and have heard enough horror stories to direct a sequel to Final Destination. We use and recommend World Nomads, because, quite frankly, they have one of the most competitive rates in the industry. Get a quote for your upcoming trip.
10 Things to do in Johor Bahru on your Singapore Malaysia Itinerary
Is it strange to say that we spent 7 days in Johor Bahru and we still didn't find enough time to see everything that Johor Bahru has to offer? I feel like no time is ever enough time in a place, especially if you're travelling with kids who have the attention span of Dory the fish. You know, from Finding Nemo. If you're stuck on which attractions and activities to your Johor Bahru itinerary, well, we've done all the hard work for you and narrowed it down to 10 places.
1. Legoland Malaysia
Can you claim you've been to Johor Bahru without having visited Legoland? Nah, uh. Nope. If this theme park isn't the first attraction you're adding to your Singapore Malaysia itinerary, then you might want to reevaluate your priorities.
Located in Iskandar, Puteri, roughly 30 minutes outside of central JB - Legoland Malaysia Resort is the first international theme park to have graced the country. As part of the resort, you'll also find SEA LIFE Aquarium and Legoland Waterpark, it really is a paradise for kids and kidults.
Read our complete review of Legoland Resort Malaysia, where we provide an inside look at the hotel, theme park, water park and aquarium.
Visitor Information
Opening hours: 10am - 6pm (may vary depending on school holidays)
Entry price: from 231 MYR ($55 USD) per adult, 185 MYR ($45 USD) kids aged 3-11 years, kids under 3 enter free
For more information, visit the official website.
2. Sultan Abu Bakar Mosque
What happens when you combine Victorian architecture with Middle Eastern design? You get the Sultan Abu Bakar Mosque.
Built in the early 20th century, this mosque is, undoubtedly, one of the most interesting cultural places to visit in Johor Bahru. On top of that, if you've ever wondered what a ceiling made of egg shells looks like (I mean, that's a thought that would've crossed every person's mind, right?) - well, this is where you can tick it off the bucket list.
Sitting on top of a prominent hill, the grande mosque is located within walking distance from JB Central and Komtar JBCC Mall, and accommodates up to 2,000 worshippers at any one time.
3. Arulmigu Sri Rajakaliamman Glass Temple
The first - and only - glass jeweled Hindu temple in Malaysia, Arulmigu Sri Rajakaliamman is a sight to behold. Featuring a number of altars with various colourful figures and deities, it's worth noting that each piece of glass was hand cut by the artist before being put in its respective place.
The temple takes a little more Google Map'ing and effort to find, but I can assure you that it's well worth the extra steps accrued on your FitBit. Once inside, simply sit back and revel in the beauty and tranquil atmosphere.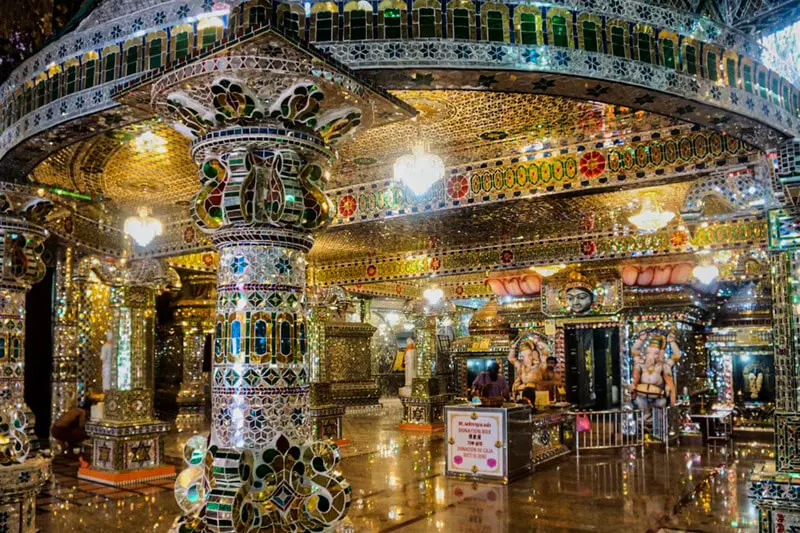 Visitor Information
Opening hours: 12pm - 10pm (Mon-Fri), 7am - 10pm (Sat-Sun)
Entry price: RM10 ($2.50 USD) for foreigners
4. Istana Bukit Serene
Did you know that there's a Sultan of Johor? Yup, neither did I. The palace isn't open for the public, but you can snap as many pics for the 'gram as your heart desires, and soak in the majestic view from the crown arc.
If you're stuck on what to do in Johor Bahru at night - make your way to the light show in front of the palace gates that takes place every evening. It's a great spot to take kids at night to enjoy the colourful lights, run amuck in the gardens and play with the bubble gun.
5. Angry Birds Theme Park
Found within the Komtar JBCC mall - the 26,000 square feet indoor park is the epitome of fun. We took our boys there on our recent visit and guys, seriously, I'm pretty sure I was put into a time machine and came back out as a 10-year old because I probably had more of a blase than my kids combined.
Here's a tip - get your tickets online for a significant discount. Entry prices at the door are fairly steep. If you're bringing a child under 3 years, be sure to bring along their passport for verification, otherwise you'll be forced to pay the full price.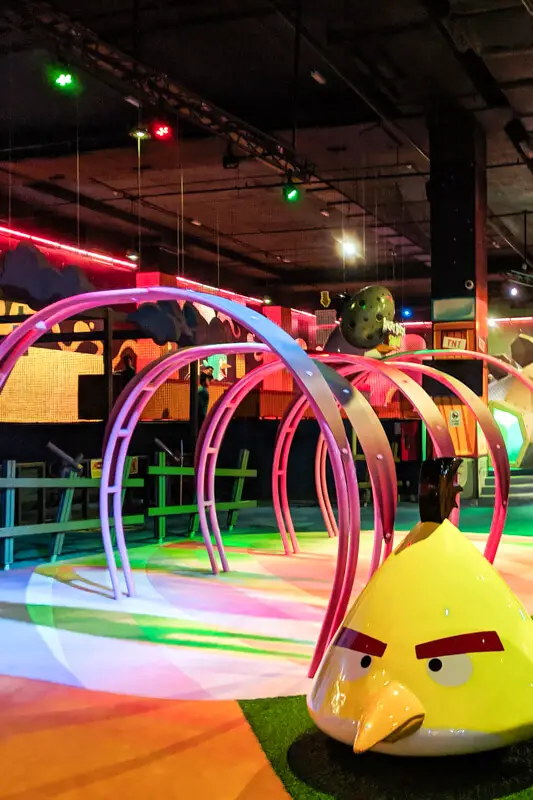 Toddlers, kids or adults - this activity park has obstacles and play area that are suitable for all ages. Some of the highlights include the Danger Zone, where thrill-seekers can leap 2m off a suspended platform and onto a huge air bag, and the Giant Leap Foampit surrounded by trampolines and ropes you can Tarzan your way off from.
Grab your discounted Angry Birds Activity Park tickets here:
Visitor Information
Opening hours: 10am - 10pm (Mon-Sat)
Entry price: RM75 ($18 USD) per adult, kids under 3 enter free (bring passport for proof)
For more information, visit the official website.
6. Danga Bay Park
One of the spots locals flock to on weekends to frolick with their families, Danga Bay is dotted with a diverse range of dining options, interesting shops, and a theme park with a number of carnival-like rides and fun fair games.
The area comes alive at night when the scorching heat of the day has subsided and the lights flicker on, illuminating the bay area, theme park, and walkways. If you're searching for a place to eat, the Seafood Market offers tasty local dishes, Nonya-style fish and crunchy soft shell crab.
7. Mall Hop 'til you Drop
If there's one thing Johor Bahru is know for - it's shopping malls. Scores of them. Hundreds. Thousands. Okay, maybe not that many. But, you getm my drift.
'Epic' is probably the most appropriate word to describe some of these mega shopping centres where you'll find everything from dining alleys to supermarkets and retail store chains. Local brands or international - you'll find, literally, everything you could possibly need in your life in Johor.
Three of the newest (and biggest) ones are R&F Mall, Mid Valley South Key and Paradigm. Although, we loved to frequent KSL City because it gave us MBK (Bangkok) vibes - designer replicas, cheap electronics and massage parlour every 12 steps you take.
We loved eating inside shopping centres, namely because there's so much variety and.. there's air con. You can go real cheap at the food court ($2-3 per dish) or eat at a dine-in restaurant.
8. Desaru Beach
Feeling suffocated from the city life? Book a Grab car and get yourself over to the one place where most humans recharge - the beach. Positioned on the east coast of Johor, Desaru Beach is little over an hour's drive from the city centre.
Covering a 25km long stretch - this is the place to get back in touch with nature by way of fishing, boating, swimming and hiking.
If you're keen to turn your Johor Bahru day trip to Desaru into an overnight or multiple-day getaway - take a look at these gorgeous hotels and resorts in the area.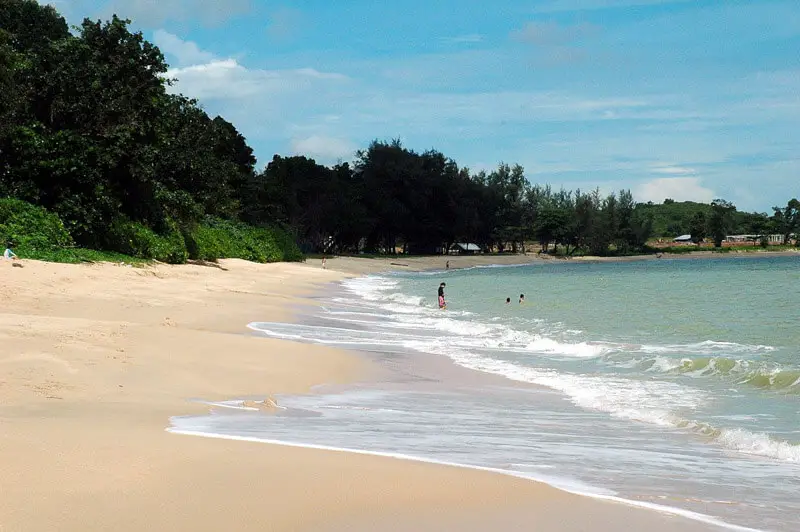 9. Thomas Town & Hello Kitty World
If you're headed to Johor Bahru with kids and you're planning to visit Puteri Harbour - Thomas Town and Hello Kitty World are a must-visit. Little boys and girls, rejoice, for dreams do come true.
Visit the Island of Sodor for an unforgettable adventure where little ones can jump on rides, like, Harold's Helitour, Bertie the Bus and Colin Crane Drop. But, the absolute highlights are the entertaining live shows filled with singing, dancing, bubbles and games.
HOT TIP: Tickets at the door are pricey. To get a huge discount on the 2-Park Pass - buy your entry passes on Klook .
For anyone who's a lifelong fan of Hello Kitty, you can even waltz into her house and roam through her bedroom, kitchen and bathroom. If you or your little ones love pink and everything cutesy, then this is worth a visit.
The fun doesn't stop here - there are 3 levels of fun to be had. Check out the arcade for a round of air hockey or basketball shootout or clamber your way through Bob the Builder's obstacle playground.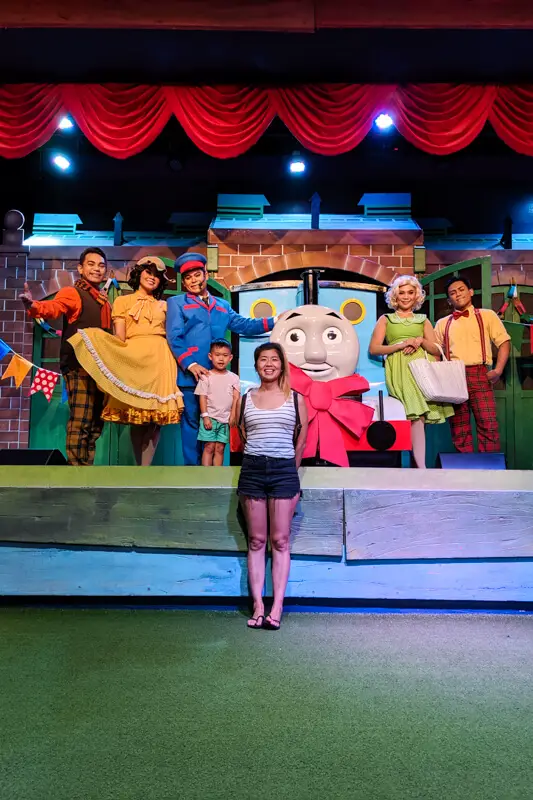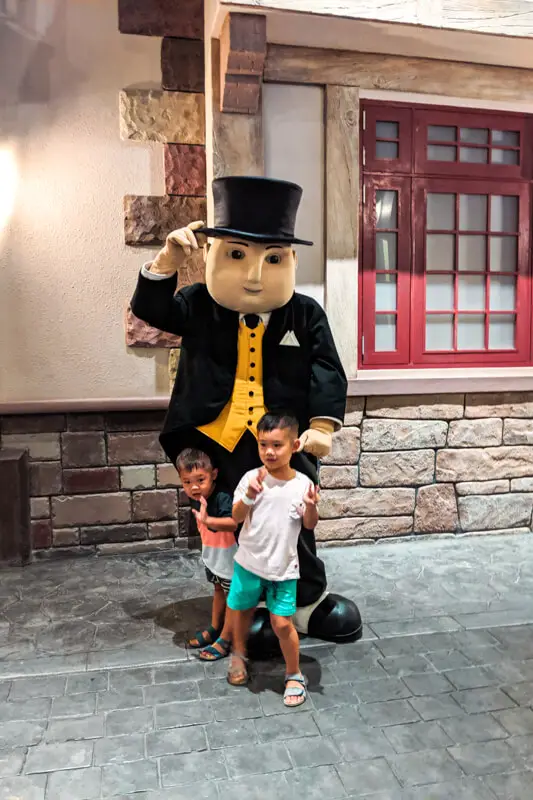 Visitor Information
Opening hours: 10am - 6pm (Wed-Mon)
Entry price: RM139 ($34 USD) for 2-Park Pass, kids under 3 enter free (bring passport for proof)
For more information, visit the official website.
10. Johor Zoo
Okay, so the entrance fee this zoo will set you back a whopping RM2 (50 cents) per adult. Pretty impressive, right? That being said, with low cost comes low maintenance. So, don't set the bar too high.
One of the cheapest Johor Bahru activities for kids - you'll find a decent variety of animal species in here, from lions and tigers to monkeys and crocodiles. You can even feed a couple of super friendly camels and get up close for some selfies.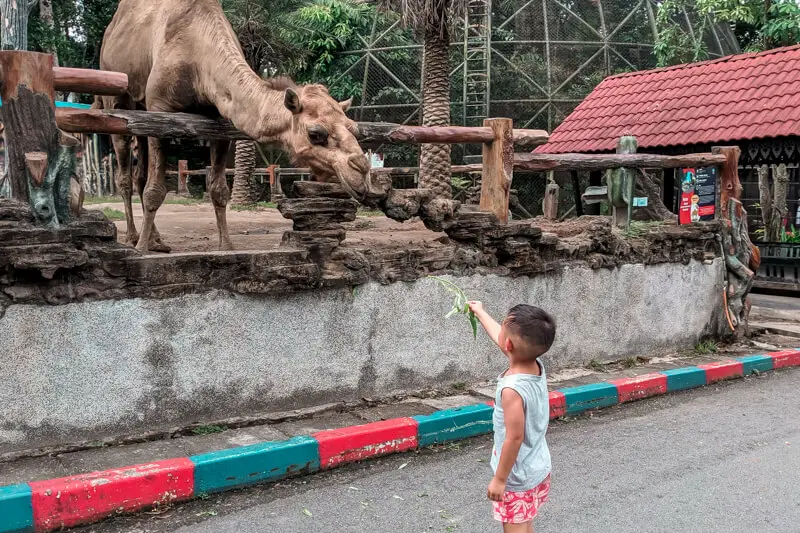 Where to Stay in Johor Bahru: Capri by Fraser
Oh, my - where do I even begin? This brand new hotel in JB is a luxury serviced apartment that's not just modern and absolutely gorgeous (definitely adds bonus points in our book), but what completes this place is the unrivalled customer service that comes with it. From the concierge to the breakfast staff - they're, undoubtedly, some of the friendliest and most helpful employees we have come across on our travels through Malaysia.
Conveniently located next door to Johor Bahru customs, Capri by Fraser is within close walking distance (or super short Grab ride) to some of the biggest and most popular malls in the city, such as, Komtar JBCC, Johor Bahru City Square and R&F Mall.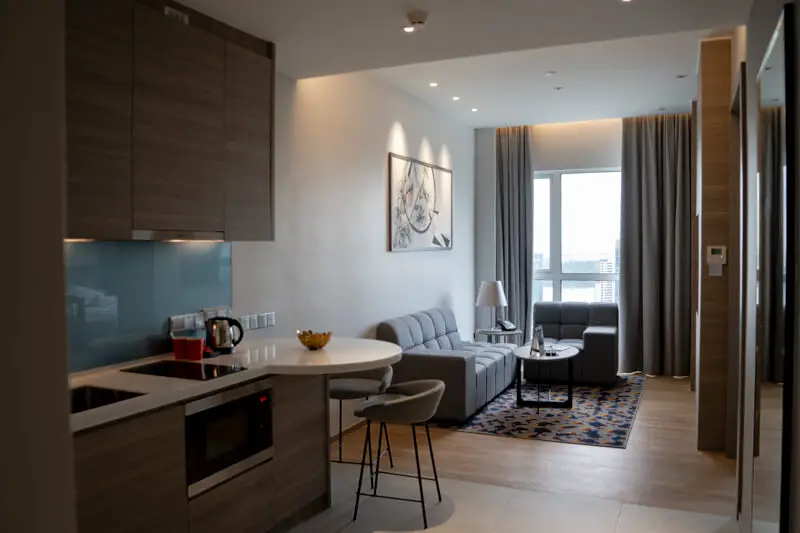 Minimalist and contemporary in design, this place ticked all the boxes for our wee little travelling family. Our 1-bedroom apartment included a well-equipped kitchen, which included a convection stovetop, microwave and kettle. This is perfect for when you need to quickly prepare meals or soft foods for your hangry little ones.
But, guys. Just wait until you set foot into the bathroom. I don't even know if it can be classified as that because it's, legitimately, the size of a bedroom. It is - hands down - the biggest bathroom I have ever had the pleasure of using in my lifetime of hotel stays. Naturally, my first instinct was to jump in the bath, switch off and recover from a hard day of running amuck with kids.
The bedroom also comes with a huge king-sized bed that you could probably fit your entire family into, and a killer view overlooking downtown JB and the bridge crossing into Singapore. If you're on a high enough level, you can even see Marina Bay Sands and the Singapore Flyer on a clear day.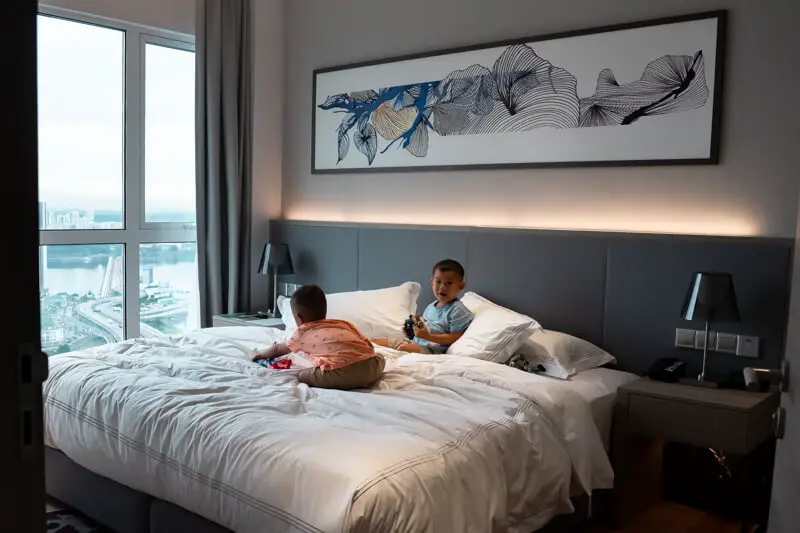 Here's the real amazing thing about staying here though - it basically feels like you're in the comfort of your own home, but with all the facilities and services of a 5-star hotel. Gym? Check. Beautiful pool? Check. Large buffet breakfast? Checkity, check. Oh, and on top of that? A fun coin laundry where you can play a game of FIFA on the Playstation while you wait for your laundry. How cool is that?
But, I'm not gonna deny it - the one thing we looked forward to the most every day was breakfast. Held in a gorgeous and well-lit space with floor-to-ceiling windows, the buffet selection includes everything from local Malaysia delights to a Western-style breakfast, featuring eggs, cereals, breads, sausages, cold-cut meats and many more yummy treats.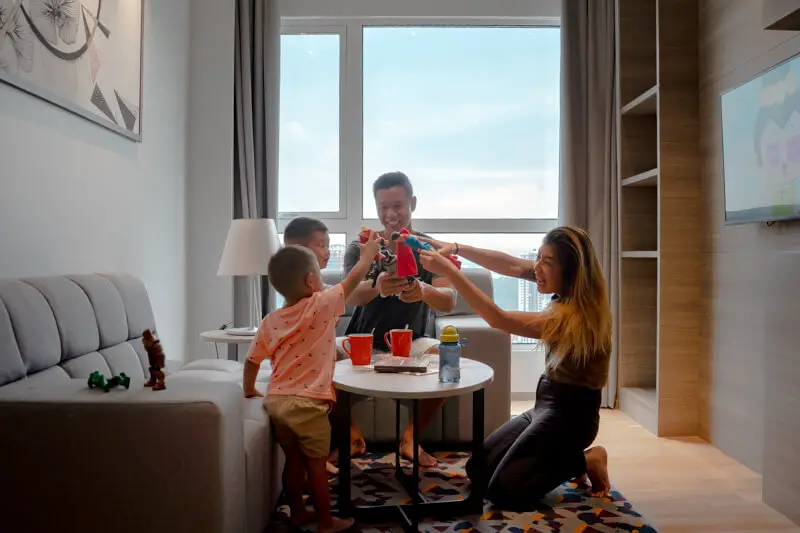 Kids or no kids - this stylish apart-hotel has rooms suited for all types of travellers. From Studios to 1-Bedroom Suites, this is the place to stay in Johor Bahru if want all the amenities from home, yet still want to experience the perks of hotel life (ahem - breakfast and housekeeping).
We stayed as part of the hotel's Family Package, which included buffet breakfast for all 4 of us and a 20% discount on food and beverages. We were also provided a cot for our youngest one, which easily fit into the large bedroom.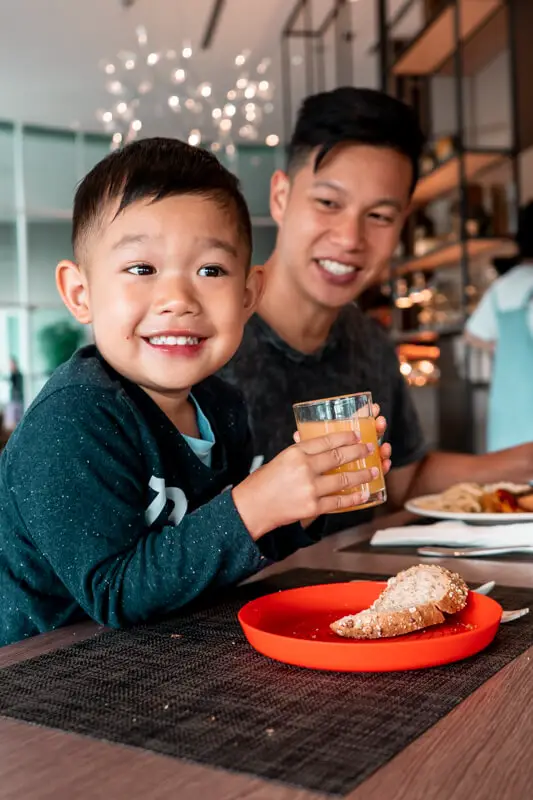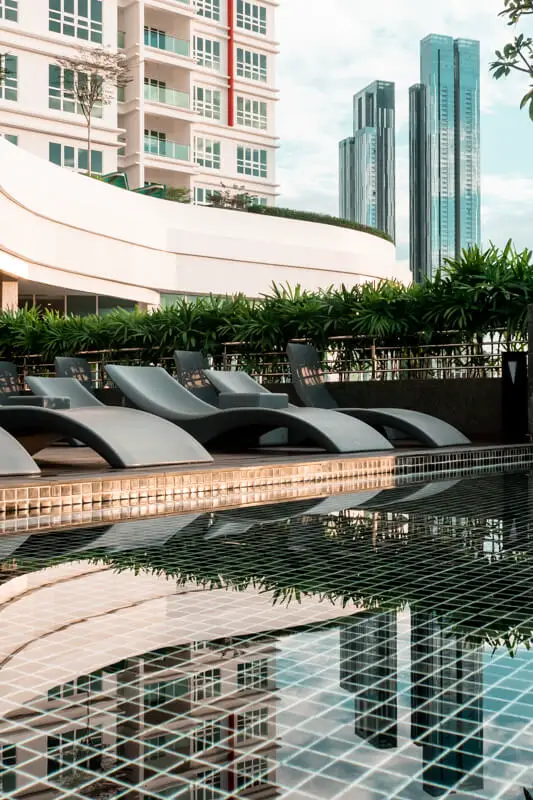 There are a myriad of activities and things to do in Johor Bahru - the city is a goldmine for families travelling here with kids. In fact, we were here for an entire week and still didn't find enough time to see everything I had written down in my Singapore Malaysia itinerary. One of the best places to go in JB, and the absolutely highlight for us, was the Legoland Resort. It's a not-to-be-missed attraction that you'd probably need to designate 2 days for. All in all, I would recommend spending, at least, 3 days in Johor Bahru.
Don't skip away just yet - discover more of Malaysia and South East Asia:

Did this guide help you plan your trip to Malaysia? Sign up for more exclusive South East Asia guides.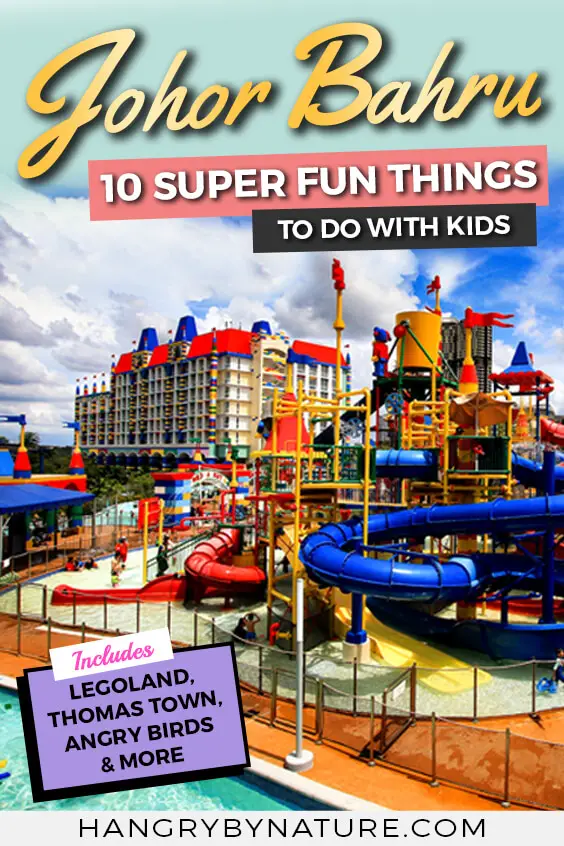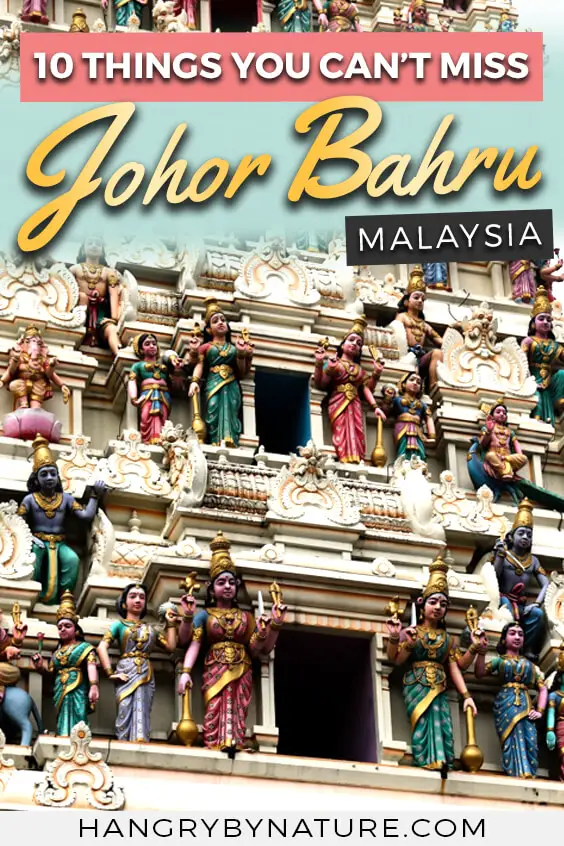 Resources to help plan your trip to Singapore Malaysia:
Visit our Travel Resources to find the best deals on flights, accommodation and attractions. We love and use these services ourselves to plan all of our family trips - they save us a ton of time and money.
Sweet accommodation deals for you:
For ideas on what to pack for a family trip, check out our gear and accessories that we take with us on every single trip.
Come say hi to us on YouTube, Instagram and Facebook. I promise we're funny and resourceful. At least, I like to think so.
Which attraction piques your interest the most? Tell us in the comments below.