Coronavirus. The mere utterance of the word has people grappling for their face masks and hand sanitizers. Is this the beginning of the end? Should we lock ourselves at home until a cure if found?
Contrary to media scaremongering, we don't have to sell our houses and invest into the construction of doomsday bunkers just yet. Although, at present, there is no cure, there are copious measures we can take to protect against Coronavirus.
Look, I'm not gonna lie. We almost caved to the media hype of the novel Coronavirus and cancelled our upcoming trip to the Philippines in March. However, logic prevailed this time around.
We researched further and looked into the facts and statistics, which led us to believe that obsessive compulsive hygiene, common sense and vigilance are key to reducing the chances of contracting this virus.
Disclaimer: The information provided in this article aims to help with improving hygiene while travelling. It is NOT professional medical advice. Please consult your doctor for tailored advice on travel health and Coronavirus.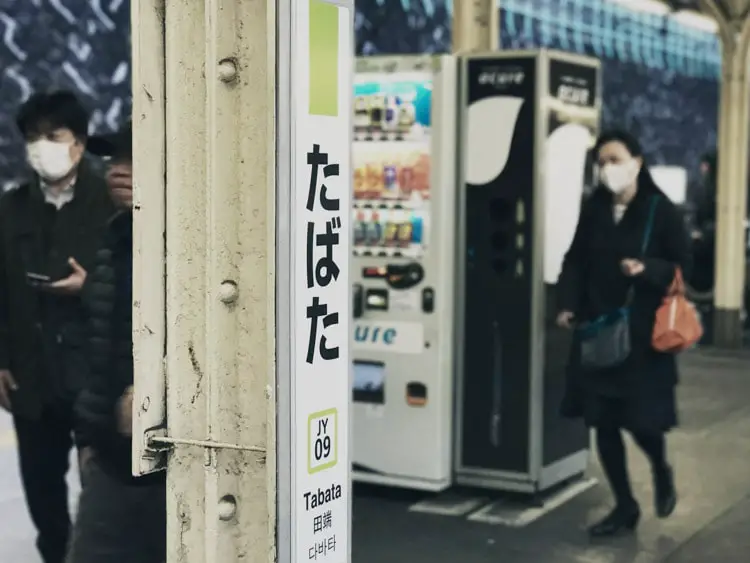 Coronavirus has existed for a long time – there are many different strains. However, the outbreak we are currently experiencing is the 2019 Novel Coronavirus. It is a new strain of the respiratory virus that was first identified in Wuhan, China.
'Novel' simply means that this particular strain of the virus has not been previously identified. It is classed as a respiratory illness that can cause a runny nose, sore throat, cough and fever.
In most healthy individuals, it only causes mild respiratory symptoms, similar to a cold or flu. However, in some people it can lead to more serious health issues, like pneumonia and breathing difficulties. 
It is said that those with pre-existing medical conditions and the elderly are more at risk of becoming severely ill.
Want more exclusive family travel tips & guides?
It can be hard to distinguish the difference between the flu and Coronavirus, since they're both classed as respiratory viruses. 
While typical flu symptoms include fever, sore throat, cough, runny nose, fatigue, headaches and muscle aches; the most common symptoms for Coronavirus are fever, cough and shortness of breath.
That being said, each person can experience different symptoms. The only accurate way to determine whether a person has Coronavirus is to undergo a test.
Is it safe to travel?
The million dollar question. That's an educated decision you'll have to make for yourself and your family.
There's hundreds of different opinions and it really comes down to what you feel comfortable doing. Exercise common sense, take necessary precautions and follow travel advice released by your country.
Don't get caught in a pickle while traveling – arrange your travel insurance today.
After working at a travel agency for years, I've heard enough horror stories to direct a sequel to Final Destination. We use and recommend World Nomads – frankly, they have the most competitive rates and are available for travellers from 140 countries.
Eat. Sleep. Wash hands. Repeat. Ask any doctor or scientist they'll tell you exactly that. Probably with a lot more 'hand washing' in between.
After speaking with our general practitioner about our upcoming family trip, she recommended a number of items for Coronavirus protection.
1. Wash Hands
I mean – pretty straightforward, right? You'd be surprised how many people.. don't. Be sure to wash your own hands, as well as your kids' hands each time they return from a playground or busy public space.
Hand hygiene is crucial to reduce the spread of infection and minimises your chances of contracting viruses, diarrhoea, food poisoning and many other contagious illnesses.
Always remember to wash hands after being in contact with surfaces in a public space. When travelling, pack a mini reusable bottle pump and fill it with antibacterial handwash to keep on you.
2. Pack Hand Sanitizer
If you haven't yet noticed – there's a worldwide hand sanitizer shortage. Yup, they're being cleared off supermarket and pharmacy shelves as if it were a Black Friday sale. But, don't panic just yet.
Luckily, you can still stock up on these desperately sought after toiletries in bulk on Amazon. All Day Hand Sanitizers come in travel-size bottles and kill 99.9% of viruses, bacteria and fungi. Be sure to pack a bottle or 10 for your upcoming travels; they're especially handy for kids who seem to get their hands on everything.
3. Keep Hand Sanitizing Wipes in your Bag
Yes – you're probably going to look like a nutcase wiping every chair and table down that you and your kids plop down on – but hey, it's for the greater good.
Grab a bulk pack of antibacterial hand sanitizing wipes for your travels. They're not only super handy for wiping down grimey little hands, but they're also useful for cleaning germ-ridden surfaces, like airplane tray tables, chairs and handles.
For sensitive little hands, these gentle, alcohol-free hand sanitizing wipes are a great alternative.
4. Wear P2 or N95 Respirator Masks in Crowded Spaces
The reason why doctors don't recommend donning surgical masks for Coronavirus protection is because they're not effective in filtering out microscopic airborne particles.
A P2/N95 mask removes 95% of all particles, gases and vapours, hence, reducing the wearer's exposure to contagious airborne viruses. However, it's only effective when worn correctly and fitted right.
The 3M N95 respirator masks are the most popular to help protect against Coronavirus in adults. N95 masks for kids are also available for little travellers.
5. Wash Laundry at High Temperatures
Although viruses, such as the Coronavirus, aren't considered living organisms, these little buggers are still sensitive to heat and can be inactivated at high temperatures.
When possible, cycle your wash load at 60°C (140°F), especially after visiting crowded areas. Pair your hot wash cycle with these handy laundry detergent sheets that are perfect for travelling and suitable for all types of washing machines.
Psst.. New to Airbnb? Get $40 travel credit when you book your first stay!

6. Boost your Immune System
When on holiday – we tend to kiss our healthy diets goodbye. I mean, it wouldn't be called a holiday without indulging in food adventures. However, this can take a toll on our bodies, as we don't always get essential nutrients that our bodies need on a 'holiday diet'. 
The best way to overcome a nutrient and vitamin deficient diet while travelling? Vitamins. Brands like Nature's Way multivitamins provide nutrients to support immune health when you're not eating all the goodies that you should be while you're on-the-go.
L'il Critters Multivitamins are another great option for kids to maintain their overall wellness while travelling.
7. Saline Nasal Spray for Flights
Did you know that mucus membranes in your nose are the first wall of defense that fight off invading germs entering your body? Dry cabin air dehydrate these mucus membranes, which make it harder for these little warriors to fight off illnesses.
Keep the lining of your nose hydrated with saline nasal spray to help fend off germs from the guy sniffling and coughing in the seat behind you.
Little Remedies Saline Spray can be used for the whole family for staying healthy while flying.
8. Visit Busy Attractions during Non-Peak Times
This, of course, depends on where you're travelling to. Most prime tourist attractions will naturally draw scores of crowds – this doesn't mean you should give them a miss. You may as well stay home and not travel if that's the case.
However, you'll want to go prepared. Be sure to pack those N95 face masks and hand sanitizers, but most of all, plan your visit during non-peak times. Try to go as early in the morning as possible (as soon as it opens) or later in the afternoon just before closing time.
From our experience of visiting some of the world's most popular attractions – ie. Fushimi Inari, Neuschwanstein Castle, Eiffel Tower, etc. – we always found it to be quietest in the mornings and late afternoons. By all means, avoid the '10am tourist bus arrivals' and peak periods in the middle of the day.
9. Eat at Restaurants outside of Peak Times
The same healthy travel tips apply for eating at restaurants while you're on holiday. Try to avoid peak dining times (usually between 6pm -8pm) and fill your hungry bellies a little earlier. I mean, I'm usually happier the sooner I get to eat, so it's an all-round advantageous situation, really. 
We try to eat lunch between 11:30-12pm and head to dinner at 5:30pm. This not only works out better for when you're travelling with young kids, but you also avoid crowds and get food on your table quicker. Win!
TIP: It's also important to check the reviews of restaurants on Google or TripAdvisor. Good reviews mean that the food, service and hygiene are up to standards.
10. Don't forget to Pack a Thermometer
No. Not to self-check Coronavirus symptoms every 5 minutes and live in obsessive compulsive fear, rather, we've found it to be handy when travelling with kids for those times they come down with colds and other minor illnesses. 
Unfortunately, getting sick while travelling does happen, so having a trusty thermometer handy to monitor the progression of fevers in kids has been crucial and provides us with a piece of mind.
We use and recommend the Braun Digital Ear Thermometer – it's a perfectly portable travel size and gives accurate readings for babies, kids and adults.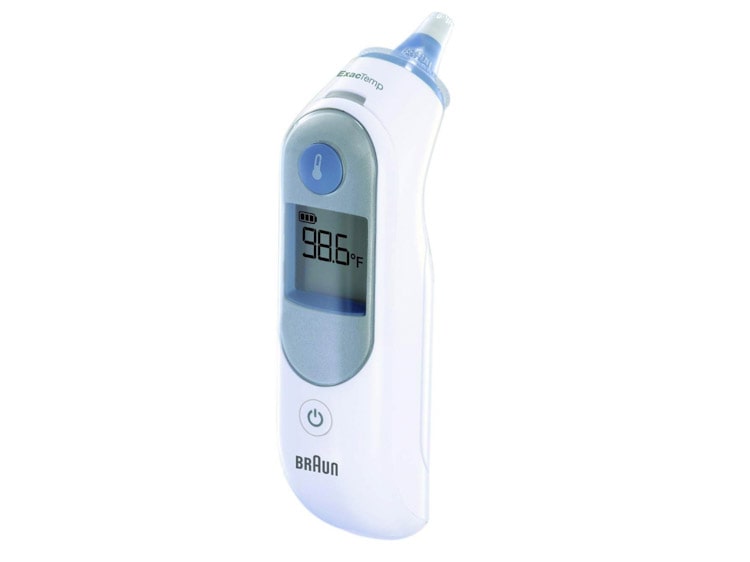 11. Don't Hesitate to Visit a Doctor Overseas
I get the hesitation of visiting a strange doctor (who might not even speak much English) overseas and trying to charade your symptoms to him. Been there, done that. Despite the language barrier and uncertainty – it's still better to be safe than sorry.
Many places (unless you're going somewhere super remote) have international clinics where patients pay a dearer price, but in turn, the staff have a good grasp of the English language and the level of care and standard tends to be significantly higher.
For this reason, it's so important to purchase travel insurance, as most policies cover emergency medical fees for doctor and hospital visits. We use and recommend World Nomads who cover our whole family's behinds on our travels.
Get a travel insurance quote below:
12. Stay up-to-date with Vaccinations
Although, there is no vaccination to protect yourself from Coronavirus yet, it's still worthwile getting vaccinated against other viruses and diseases. Of course, that's entirely up to you and dependent on where you're travelling.
Be sure to get advice from your doctor or local travel clinic before travelling. Also, be aware that some vaccinations need to be timed weeks apart, so it's vital that you start preparing for this months before you set off on your adventure.
If you're travelling during flu season, or to a destination that's experiencing flu season, it might be worth getting the flu shot before you leave.
TIP: Call individual pharmacies and enquire about the price of particular vaccinations. Clinics and even your doctor like to be cheeky and overcharge when they have their own stock.
13. Drink Filtered or Bottled Water
Water. Sick or not, this vital element is what constitutes us and pretty much all living organisms on this planet.  We become more vulnerable to sicknesses when we're dehydrated and our bodies have a harder time recovering when we're water deprived.
If you're travelling to places where the cleanliness of water is questionable, it's important to buy bottled water for, literally, everything. Even for when you're brushing your teeth or washing your face.
An easy way to save money on buying bottled water (also better for the environment) is to get a portable water bottle and purifier like the GRAYL or LARQ that work to remove 99.9% of viruses and bacteria.
Browse more Self-Filtering Water Bottles:
As tempting as it may be to cancel all your travel plans for 2020 in fear of contracting Coronavirus, I'm gonna stand up and say – "let's be rational about this". Unless your plans involve travelling to China, your chances of coming across the virus are still slim. 
But, that doesn't mean you shouldn't take precautions while travelling. The best way to do that? Stay away from overcrowded places and *drum rolls* boost your hygiene. Especially grimey little kids (like ours) who have the tendency to touch anything and everything.
Bear in mind that, although, these tips may reduce the possibility of contracting Coronavirus *knock on wood no one does*, they are definitely not 100% failsafe. It's important to make an appointment with your doctor where you can discuss individual health concerns based on your personal history.
Find more Health Essentials for Travel:
More Family Travel Guides for You
Have you got more tips to protect against the Coronavirus?
Feel free to add suggestions in the comments below.
Like this post? Share on Pinterest.
Get more out of your Family Trip
Best Flight Deals
Use Skyscanner to find the cheapest airfares for your travel dates. We use the "Whole Month" search option where you enter dates to find the cheapest day in the month to travel.
Best Accommodation Deals
We alternate between booking on Airbnb and Booking.com. The former for when we need a larger space and amenities for kids, and the latter for when we're searching for hotels.
Buy Travel Insurance
Most travel insurance policies cover you for illness, injury, theft and cancellations. We recommend World Nomads, as they cover our kids at no extra cost.
Exchanging Money
The worst place to exchange money? Banks. Steer clear because you'll be losing out on a whole lot. For this reason, we wholeheartedly recommend TransferWise.
They provide unbeatable exchange rates and their transfer fees are puney compared to banks. Plus, you can also get a TransferWise debit card that can be used worldwide at the best exchage rates.
Sign up here to get fee-free transfers
Take a look at our Travel Resources to find more deals for flights, accommodation and attractions. 
Come say "HEY!" on Instagram or Facey. I like to think I'm a self-proclaimed comedian, all the while providing some lit AF travel tips. You be the judge.