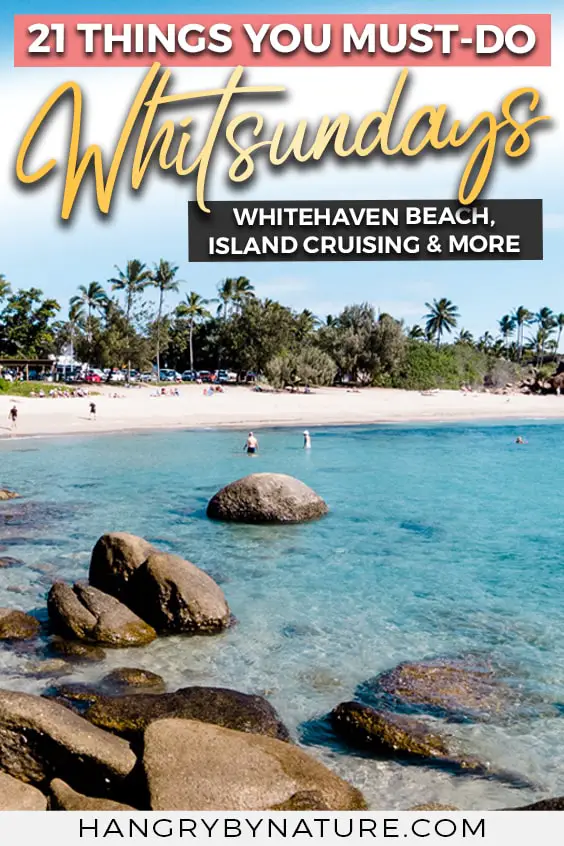 Planning a Whitsundays family holiday and musing over what to do in Airlie Beach and its surrounds? Fret not. We've got all grounds covered in this action-packed guide.
Made up of 74 jaw-dropping islands enveloped by vibrant reefs and home to secluded islands, Whitsundays is paradise on Earth. Well, as close as it can get, really. I mean, if there was a picture next to the term 'paradise' in an English dictionary, you'd find an image of the Whitsundays.
Situated in the heart of the Great Barrier Reef on the central east coast of Queensland, the region is home to dreamy tropical islands, spectacular waterfalls, scenic lakes, lush rainforests, historic country towns, and some of the best beaches in the world.
Hanging for a reason to escape the icy grips of Melbourne's bone-chilling winter, we found ourselves absolutely thrilled to be invited by Tourism Whitsundays to fly to the warm comforts of the equator to showcase all of the family-friendly attractions and activities that this splendid region has to offer. Mind you, we were there for 9 days, and yet, it felt like we barely grazed the surface.
So, to all the tropical warmth addicts, without further ado, here's the ultimate guide to what to do in Airlie Beach on your Whitsundays family holiday.
Want to explore more of Australia? You might enjoy these posts: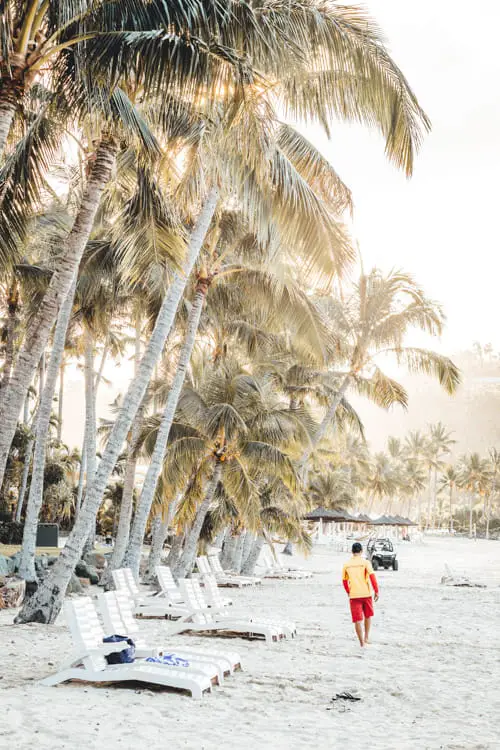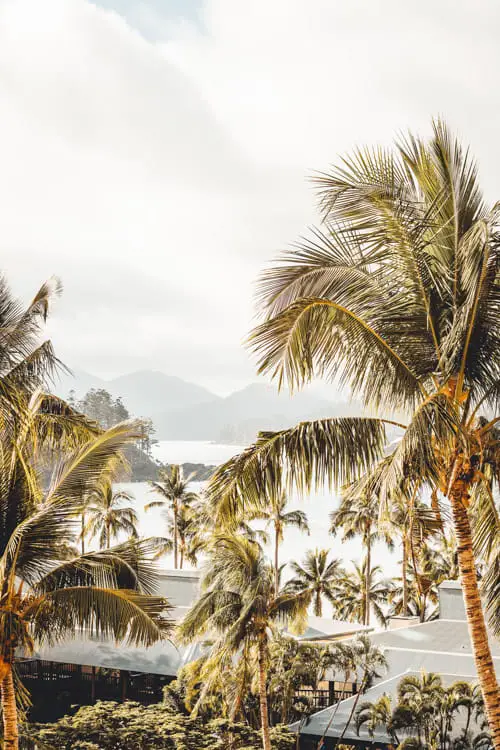 Whitsundays Travel Tips & Must-Knows
How to get to Whitsundays. By plane, you can choose to fly into Whitsunday Coast Airport in Proserpine or Great Barrier Reef Airport on Hamilton Island. The latter is more convenient if you're staying on Hamilton or on one of the nearby islands.
Best time to visit Whitsundays. The climate in this region is considered sub-tropical, meaning, hot and wet summers followed by a mild winters. Plan your visit between June and September to avoid wet season and the notorious s-t-i-n-g-e-r-s.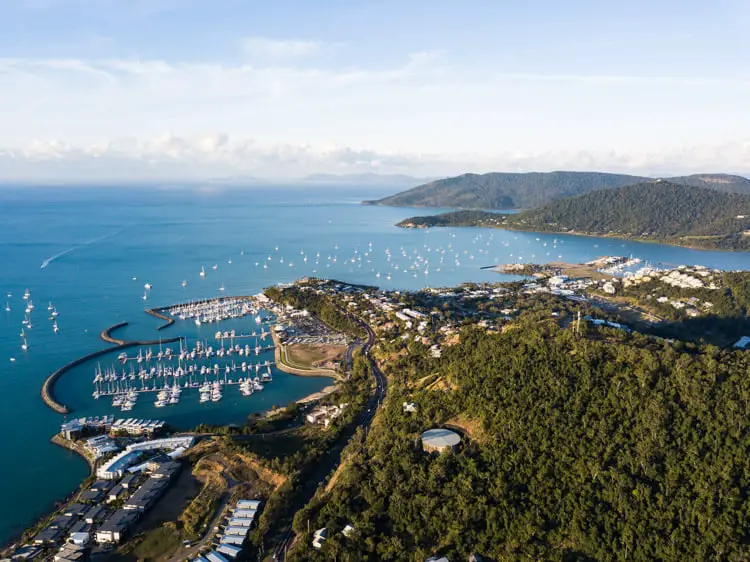 Where to stay in Whitsundays. The most convenient place to base yourself is Airlie Beach, the region's hub and point of access to the Great Barrier Reef and surrounding islands. However, if you want to live up the island life and revel in a touch of luxury and tranquility, then staying on one of the islands - Hamilton, Daydream or Hayman - is a must.
Getting around in Whitsundays. Car. Van. Motorhome. Whatever your whip choice, chances are, you'll need one to get around and explore quaint little towns, hidden waterfalls and local beaches. Taxis fares can add up painfully fast and public transportation can be hard to come by outside of the main towns.
Need to rent a car? Find the lowest rates and get rolling as soon as you arrive.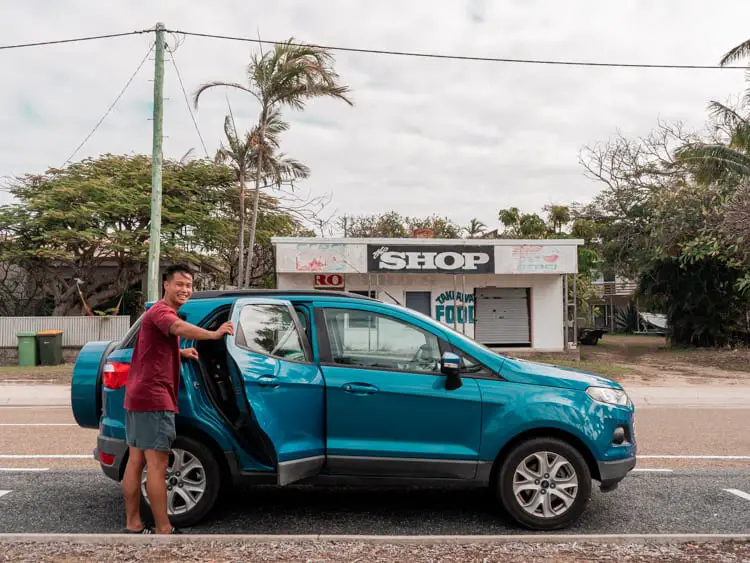 Stingers. Yes. Ouch. Stingers. Otherwise known as Irukandji or Box Jellyfish - you do not want to brush up against one of these fellas while swimming in the ocean. The toxins in their stings cause next level sickness in humans, so it's important that you don protective stinger suits when you enter the water, especially during high risk season from October to May.
What to Pack for Whitsundays
Whitsundays is not exactly acclaimed for being a shopping hub. I mean, if you happen to be on the lookout for stinger suit fashion, then you've probably come to the right place. Nevertheless, it doesn't hurt to come prepared for your great Aussie outdoor adventure.
Protective Swimsuits. Don't fancy wearing stinger suits shared amongst countless strangers? Pack your own. You'll definitely need these for Airlie Beach day trips that involve snorkelling or diving during high risk season.
Mosquito Repellent Bracelets. Tropics means mosquitoes. Deter blood-suckers by rocking repelling wristband made from citronella and lemongrass.
Sea Sickness Relief Wristbands. Let's face it - you'll probably be going on a cruise. These miracle bands apply accupressure to your wrists and take between 2-5 minutes to become effective. Smell ya later, motion sickness.
Travel First Aid Kit. The best small investment we made, especially if you're travelling with kids who are prone to injuries *ahem* boys.
Insect Bite Relief Stick. The BiteAway Pen is a gift from the gods. Using concentrated heat to disperse toxins that cause itchiness from bug bites - it administers no chemicals. I legit don't travel anywhere tropical without this stick.
Reef Safe Sunscreen. Protect your skin from harsh Aussie sun beams with high protection oxybenzone-free sun scream. Fact: Australia is notorious for holding the world's highest rate of skin cancer.
DID YOU KNOW? Oxybenzone, a chemical used in common sunscreens, is killing our reefs? Buy sun cream that's free from this nasty chemical.
What to do in Airlie Beach
The largest town on the Whitsunday Coast and the main port of access to the Great Barrier Reef and surrounding islands - Airlie Beach is the ideal base to kickstart your adventures. Hop on one of the many Whitsundays boat tours, venture into the hinterlands or eat and drink your way into gluttony - here's what to do in Airlie Beach.
Airlie Beach Lagoon
If the thought of swimming in a stinger suit (AKA Teletubbies outfit) makes you ugly cringe and ticks all the fashion faux pas boxes in your books - you'll be relieved to know that you won't have to worry about jellyfish inside the safe confines of Airlie Beach Lagoon.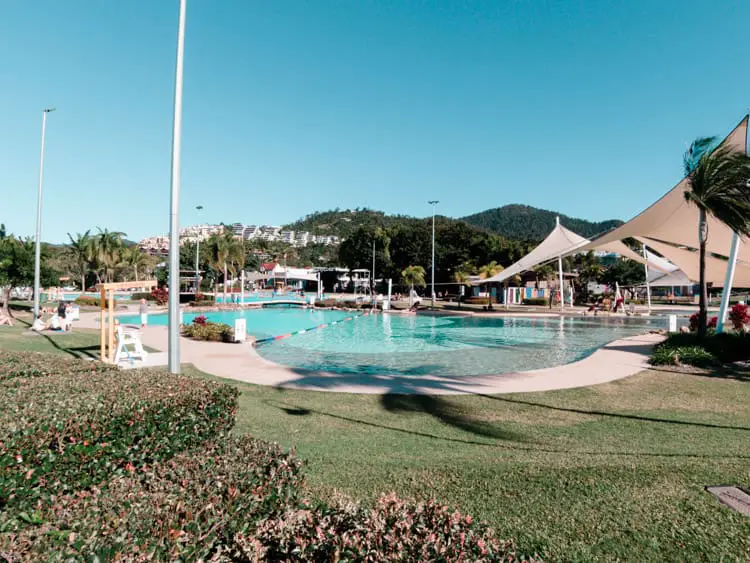 Considered one of the main Airlie Beach attractions, the Lagoon is situated in the centre of town and features a sheltered toddler wading pool, shallow pool for children, and a large swimming space up to 2 metres deep. You'll find toilets and showers on site, plus, BBQ facilities, life guards on patrol and a bed of sand next to the water to give you all the beach vibes.
Best of all? Wait for it.. It's completely free!
Explore the Bustling Town Centre
Wander down Main Street and you'll find the hub of Airlie Beach activities - trendy cafés, bars, clubs, restaurants and boutique shops. Grab a cheap bite to eat at a local fish and chips store or throw on your high roller pants and dine at Coral Sea Resort with marvellous views of the Whitsunday Islands and Coral Sea. There's something to be found along Main Street for all budgets.
Don't miss the Airlie Beach Markets held every Saturday morning along Airlie Beach foreshore. Grab a cup of artisan coffee and be on your merry way to shop local produce, unique gifts, arts, crafts and locally-made souvenirs. The entire foreshore has been revitalised since Cyclone Debbie - lined with BBQs, sheltered picnic spots, hip eateries and a brand new kids' playground, this is a top hangout spot for families and outdoor revellers alike.
DID YOU KNOW? Only 8 out of 74 islands in the Whitsundays are inhabited - the remainder are completely secluded.
Admire the Sunset over Coral Sea Marina
Your list of Whitsundays activities won't be complete without witnessing a magnificent sunset over the Coral Sea Marina. Pull out a picnic rug and kick back on Shingley Beach with some snacks or pit-stop at the viewing point on Shute Harbour Road to capture the beauty from a higher vantage point.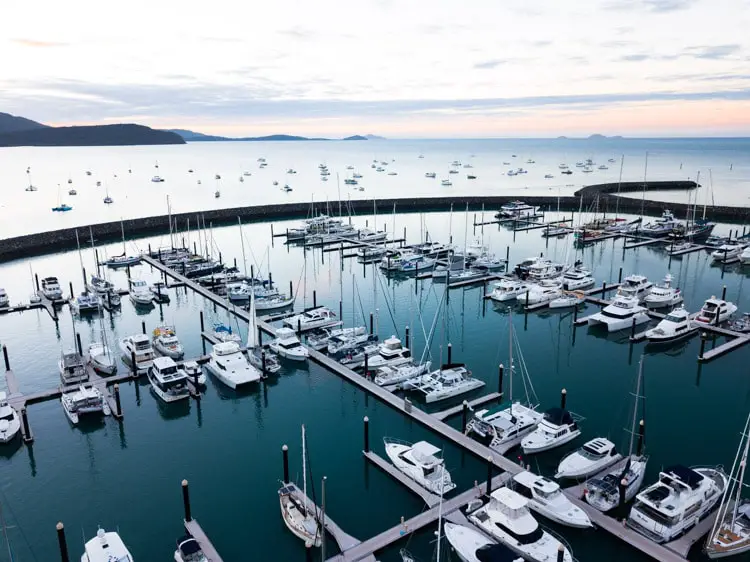 Sail the Islands & Reefs
Sail into the horizon on what kids deem a 'pirate ship', otherwise known as Derwent Hunter, for an unforgettable day that will have you swaying from side-to-side hoisting up sails, snorkelling next to Green Sea Turtles (yup - just likes the ones from Finding Nemo), snapping underwater pics of giant purple-lipped clams, and exploring secluded beaches accessible only via small boats.
The perfect day tour to complete your Whitsundays family holiday, trips on the Derwent Hunter are suitable for kids of all ages and include kids' buoyancy jackets, snorkelling suits and equipment. The super friendly crew 'recruited' our two ruff tug boys as eco pirates and (somehow) ended up earning certificates signed by none other than El Capitan himself. Although our two boys aged 2 and 4 were a little too young to snorkel, they still managed to admire the reefs from the comforts of the inflatable boat wielding a bathiscope.
Get your Seafood Fix at the Northerlies
If, by some miracle, you possess the self-control to resist a fresh seafood platter stacked with prawns, oysters,  and Moreton Bay bugs - I salute you. But, if you have little control when it comes to matters of food (kinda like me), then a trip Northerlies Beach Bar & Grill to get your fill of seafood, succulent steak and juicy burgers, is a must.
However, the experience doesn't end after dessert. Go for a wander around the premises and explore the enormous property and splendid views overlooking Pioneer Bay.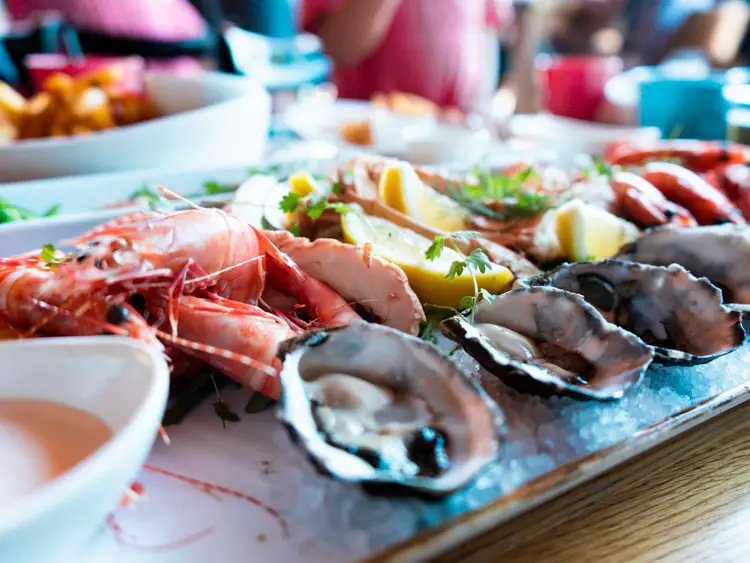 Where to Stay in Airlie Beach
Apartment, luxury hotel resort or holiday park - Airlie Beach has got 'em all. You're certainly spoiled for choice. If you want to stay within close proximity to some of the main things to do in Airlie Beach - take a look at these two stunning properties.
Shingley Beach Resort
Geez, Louise. Where do I even start? Perhaps the sunset views over Coral Sea Marina that'll leave you completely gobsmacked? Or, maybe, the Spanish villa vibes that'll have you feeling like you're in two places at the same time?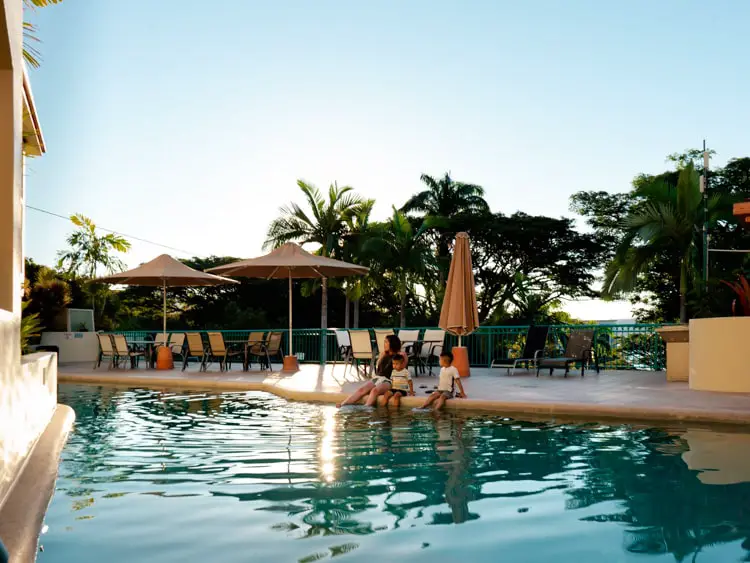 Shingley Beach Resort is nestled inside a quiet cove right opposite the Coral Sea Marina, roughly a 20-minute stroll from the centre of Airlie Beach. The quiet stretch of coast that it sits on is lined with public barbecue facilities, beachside rest areas and large grassy space for families to frolic on. Foodies will love waking up to coffee and breakfast at My Rainbow Bakery & Cafe conveniently located by the poolside.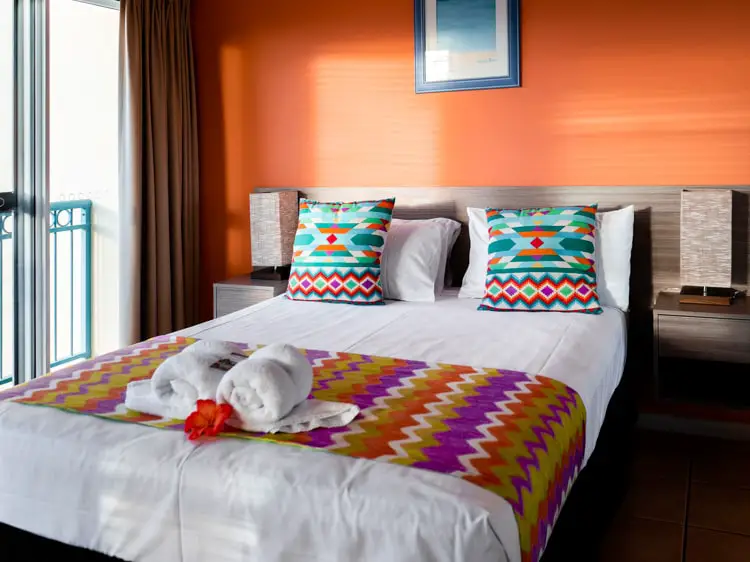 We stayed inside a self-contained 2-bedroom waterfront apartment that came with a large fully equipped kitchen, free WiFi, a flatscreen TV, laundry facilities, ceiling fans in each room, and air conditioning units that would probably come handy in summer. The resort also offers studios, 1 and 3-bedroom apartments, making it a perfect getaway spot for any type of traveller.
All amenities and rooms aside, the real winner was the incredible sunset we got to witness from our balcony on the daily. If there was an ideal way to start or end a day, it would be on that balcony.
New to Airbnb? Get $40 travel credit when you book your first stay!

Mantra Club Croc
Sweep up your worries and let them drift away at Mantra Club Croc, a dreamy resort shrouded in tropical ambience loved by family and couple travellers alike. Bask in the rainforest-like surroundings and enjoy a dip in the lagoon-style pool, roam the landscaped gardens, grab a bite to eat at the bistro, or go for a quick sesh at the gym. This place has it all.
Conveniently located opposite the Coral Esplanade, the resort is an easy 5-minute walk from Whitsunday Shopping Centre and a 3-minute drive to the centre of Airlie Beach. Cannonvale Beach is a short stroll away with a number of BBQ facilities dotted along the foreshore making the area an absolute haven for families.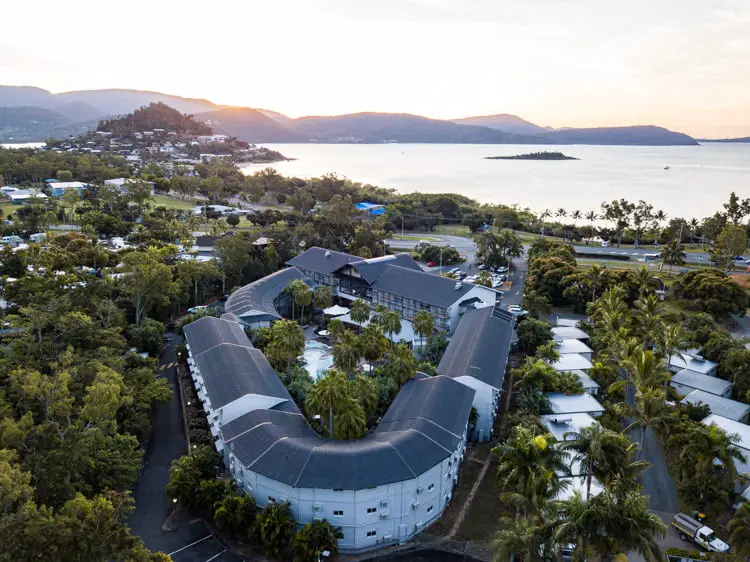 We bunked up inside a large interconnecting Family Room with a large double bed and 3 single beds that our boys could jump sleep between. Not gonna lie, the beds were so plush and cosy that we almost missed our 6am alarm for our bucket list Whitehaven Beach tour. It was a tough choice, really. Between the neverending list of things to do in Whitsundays that we wanted to cross off our list and saying, "stuff it - let's spend our days in the bubbly spa until our fingers turn into prunes", it was a tough choice.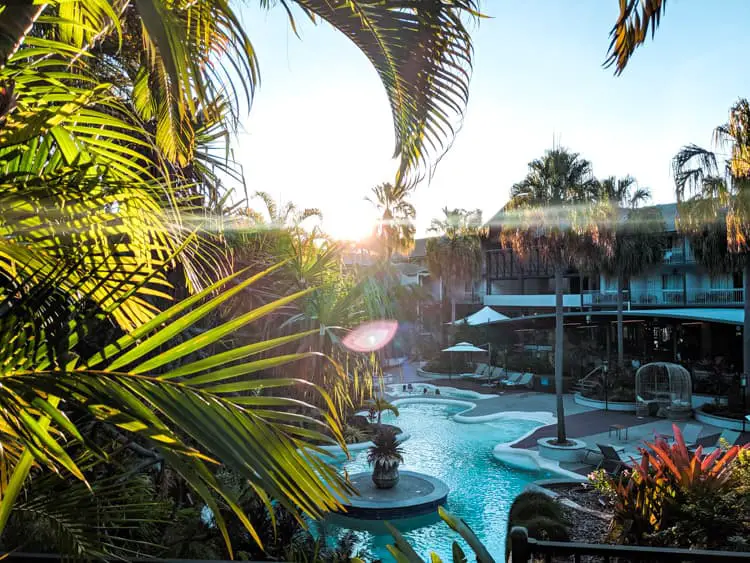 After a hard day of cruising and island hopping, there's nothing more gratifying than peeling yourself off the bed and sliding open the door to find Club Croc Bistro a mere couple steps away, offering a mouthwatering contemporary Australian menu. Better yet, order it straight to your room and you won't even have to slide out of bed.
You might likes these popular Airlie Beach day trips:
Things to do in Bowen QLD
This sleepy little town is one of Whitsunday's best kept secrets and an easy Airlie Beach day trip that doesn't involve cruising or sailing. Home to award-winning beaches, spectacular inner reefs and stunning rural landscapes, Bowen is a side trip that you cannot forgo on your itinerary.
Big Mango
Bowen is famous for being the birthplace of the Kensington Pride Mango, hence, the Big Mango structure you'll undoubtedly stumble upon at the Visitor Centre on your drive in. It's probably deemed a crime to leave the town without indulging in the town's famous Mango Sorbet and snapping, at least, one cheesy selfie with this monumental mango tribute.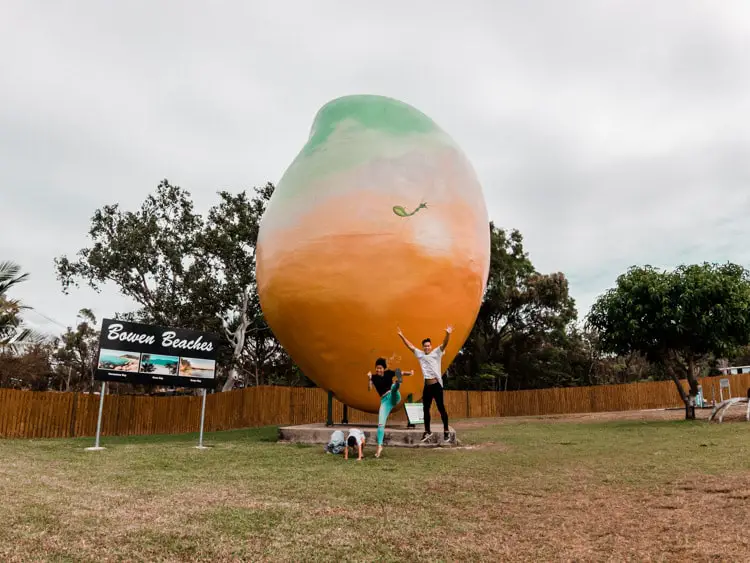 Brekky at Le Sorelle Sisters Coffee House
Brunch and coffee fiends, rejoice. Le Sorelle Sisters Coffee House in town serves up a heavenly breakfast and lunch menu that will probably leave you in a food coma (the good kind).  The café features a tranquil al fresco dining area with a playground and open lawn space for kids to run wild, making it ideal for families. On top of that, they offer a yummy selection of pint-sized meals for little foodies.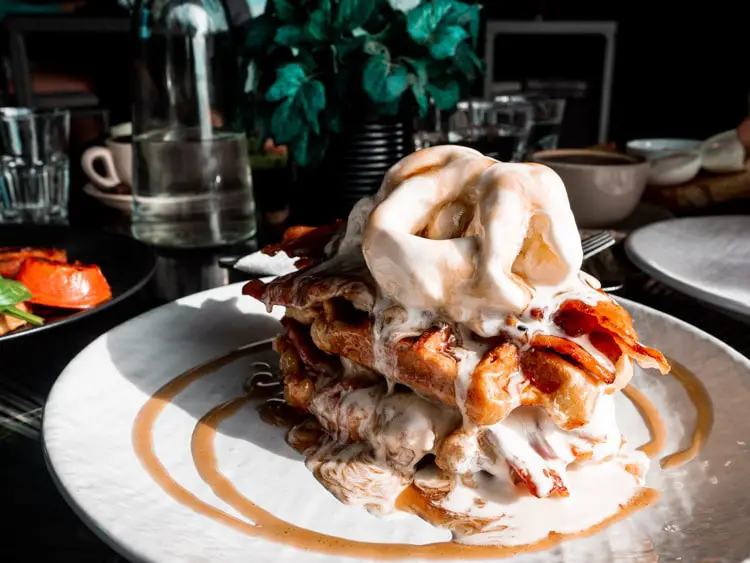 Flagstaff Hill Lookout
Soak in a 360-degree perspective of the entire Bowen region at Flagstaff Hill Lookout. You won't even have to break out in sweat walking or hiking up to this scenic viewpoint. Simply roll up in your wheels and prepare to be blown away by jaw-dropping views of Bowen's gorgeous beaches, rolling hills and the Whitsundays hinterlands.
Bowen Jetty
We legit did not know this until we got here - Bowen doubled as the Darwin waterfront in Baz Luhrmann's 2008 blockbuster flick, Australia. Incredible, right? Pop by the Visitor Centre and discover just how much the foreshore and jetty were transformed to look like the red, dusty desert landscape you see in the movie. Don;t forget to keep an eye out on the water as you stroll down the Bowen Jetty - it's a popular spot to catch green sea turtles, sting rays, squid and on very rare occasions, dugong.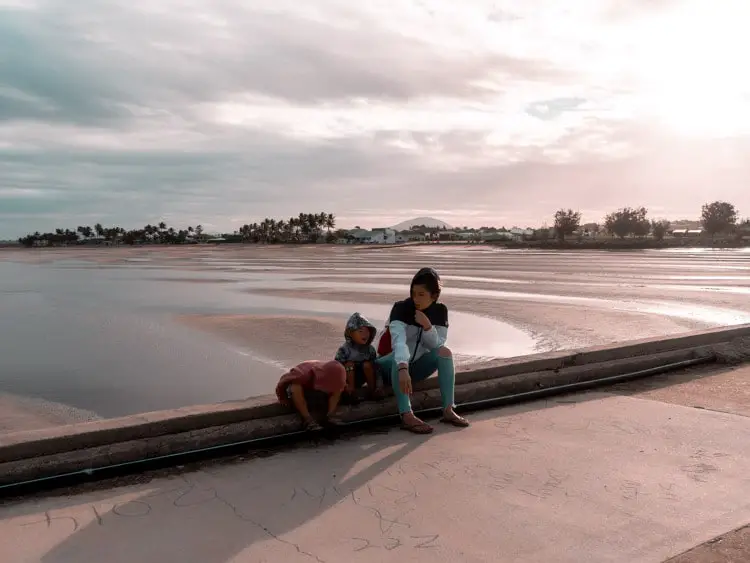 Discover Bowen's Vibrant Murals
Swing into town for a visual history lesson of Bowen's culture and heritage depicted on the walls of buildings throughout town. Here's a challenge - try and find all of the 28 colourful murals scattered in the area. Another stand-out mural you won't miss is Bowen's iconic water tank that sit atop a hill overlooking the entire area. Drive up to get a closer look and bask in the views of the region from the hilltop.
Brunch by the Beach at Meraki's
Charge up at Meraki Whitsundays and indulge in a hearty lunch that is guaranteed to hit the spot. Set directly opposite the award-winning beach, Horseshoe Bay, this beachy café offers a tantalising menu comprising breakfast favourites, zesty salads, juicy burgers and, of course, a killer cup of coffee that'll keep you energised as you swim, snorkel and explore this beaut corner of Bowen.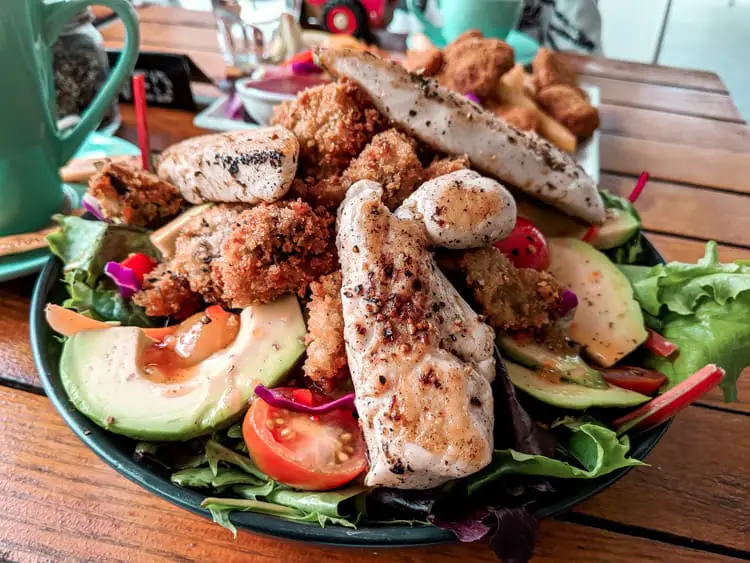 Explore Bowen by Foot
Walk, run, hike or mosey along one of Bowen's many scenic coastal or inland tracks that will inevitably lead you to some kind of majestic view. The town simply doesn't disappoint in that department. Leap across boulders and rocks along the coastlines or wind through shady parklands and long stretches of beach - the diverse landscapes of the region will be etched into your memories for years to come.
Beach Hop 'til you Drop
One of the best things to do in Bowen is to see as many beaches as time allows. From Queens Beach to Rose Bay, there's something for every type of beach reveller. 
Horseshoe Bay is not-to-be-missed, frequently topping the list of best beaches in the world. Super soft sand, crystal clear turquoise water and stunning coral reefs make this a top spot for all kinds of water-based activities.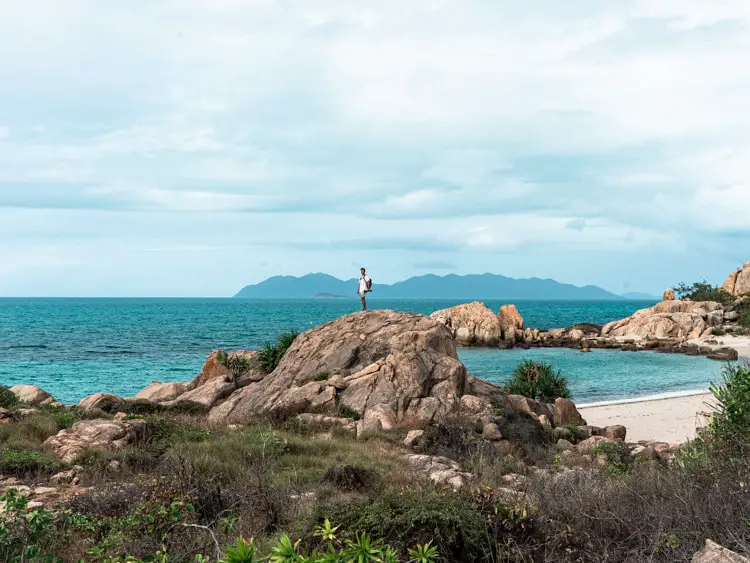 Rose Bay is a splendid beach for families where the kids can run amuck or play ball games on the super wide stretch of sand. But, if you're geared up for a serious day of beach bumming, then head to Queens Beach. This 5 kilometre long stretch is perfect for beachcombing, swimming and fishing.
Fish 'n' Chips Fresh off the Boat
Blow your tastebuds away with local, wild caught seafood that come fresh from that trawlers to your plate. Cooked in the process, of course. Bird's Fish Bar is the most incredible fish and chip experience we've ever had. That's a big call, I know. But, if fish and chips tasted this fresh in Melbourne, we'd probably devour it on the daily until we grow gills ourselves. Featuring a picturesque outdoor seating area overlooking Bowen's beautiful harbour, there truly is no better setting to enjoy everything from juicy Banana Prawns to crispy Spanish Mackerel.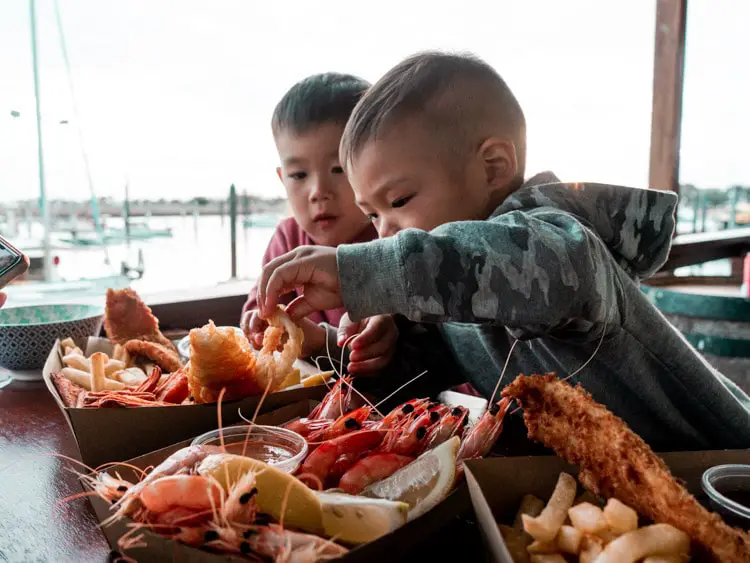 Where to Stay in Bowen: Whitsunday Sands Resort
Ever dreamed about having the beach as your backyard? This is where you can live the dream. Nestled between two award-winning beaches - Horseshoe Bay and Greys Bay - Whitsunday Sands Resort is set on a panoramic peninsula, that provides you easy access to either one. The toughest choice you'll have to make during your stay is to pick which one to stroll down to. It's a hard knock life, really.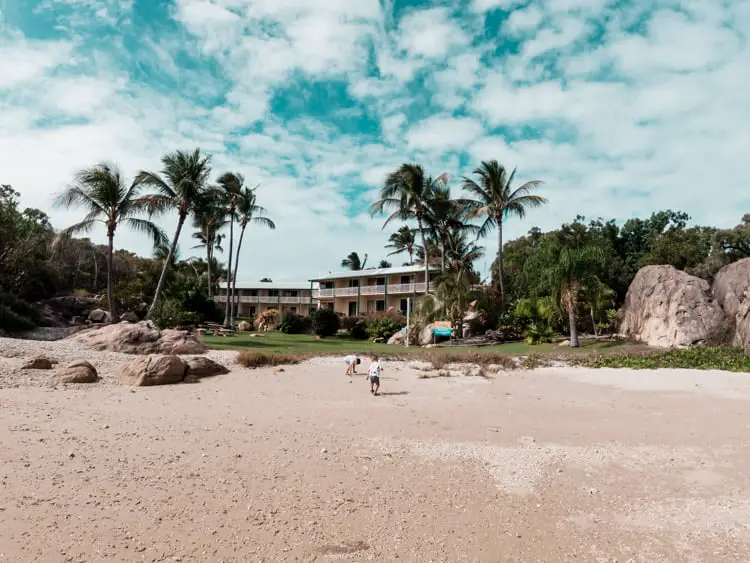 As if having direct access to the beach isn't enough, the resort also features a swimming and wading pool for young children, BBQ and picnic spaces, as well as beautifully landscaped gardens for kids to explore.
Choose between hotel-style rooms if you're here for a short sojourn, or self-contained apartment units for lengthier getaways - there's a room for every type of traveller. We stayed inside an Ocean Twin Room that included a queen and two single beds for kids - the perfect space for a one night escape to explore the town and its amazing beaches.
Things to do in Proserpine
Tucked amongst rolling green hills and towering sugar cane plantations, Proserpine makes for a pleasant stop in the Whitsundays to explore the hinterlands, admire art deco buildings and experience warm country hospitality.
Have a Picnic at Lake Proserpine
If you're done with all the island hopping and lacking ideas on what to do in Airlie Beach, then hop in your car and drive out of town to explore this beautiful natural park. Lake Proserpine, also known as Peter Faust Dam, is a popular spot for barramundi fishing, paddle boarding and kayaking. Located 30 minutes west of Proserpine, the lake is home to over one million wild barramundi - more than any impoundment in Australia.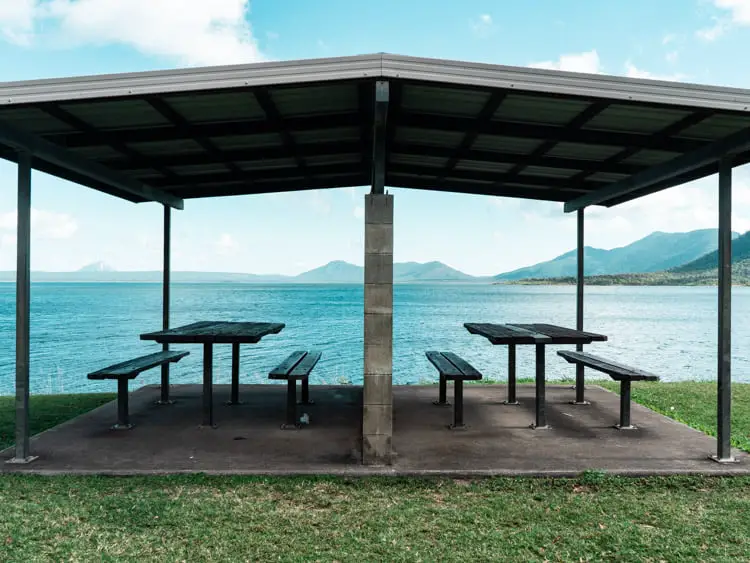 Relax at Pioneer Park Playground
Pack some sandwiches or pick up a delicious homemade pie from Proserpine Pies & Pastries and chill out in this tranquil green space while the kids are occupied roaming the newly built playground. The park also features undercover rest areas, BBQ facilities and restrooms.
Drink Coffee from a Plantation
Pop for in for a much-needed coffee hit and morning snacks at Whitsunday Gold Coffee plantation. Surrounded by gorgeous scenery and oozing laid-back Queensland vibes, this place also has an indoor playspace for children and a large bird aviary housing friendly cockatoos and parrots that visitors can freely walk into.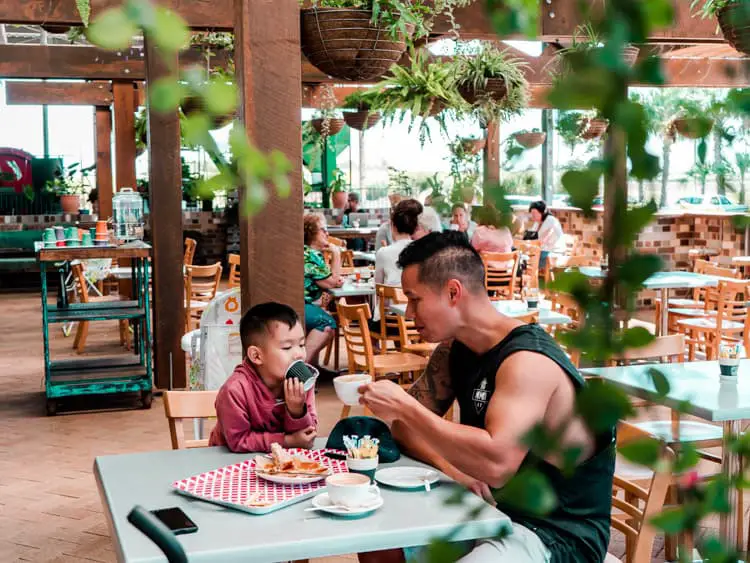 Explore Proserpine Museum
Run entirely by volunteers, Proserpine Museum is well worth a visit to learn about the intriguing history of this sugarcane and cattle town. Discover interesting stories from early settlers and the town's involvement in the world wars - the exhibits feature a diverse collection of local items and memorabilia. The museum also makes for a great family visit, with 20 activity sheets for kids to pick from.
Things to do in Cannonvale
Renowned for being the starting point of the Bicentennial Walk, Cannonvale is a popular base for family travellers that's away from the busy backpacking bustle of Airlie Beach, but close enough so that it's still within walking distance. The shoreline is made up of children's play areas, manicured lawns and a safe swimming beach.
Stroll down the Bicentennial Walk at Sunset
One of the best free things to do in Airlie Beach and Cannonvale is the 4km long Bicentennial Walk that whisks you on a panoramic boardwalk along the dazzling coastline. Admire extravagant yachts docked at Coral Sea Maria or simply soak in serene views of the open seas. There are plenty of rest stops along the way, as well as an array of hip cafés and eateries. Don't forget to keep an eye out for Green Sea Turtles and other marine life.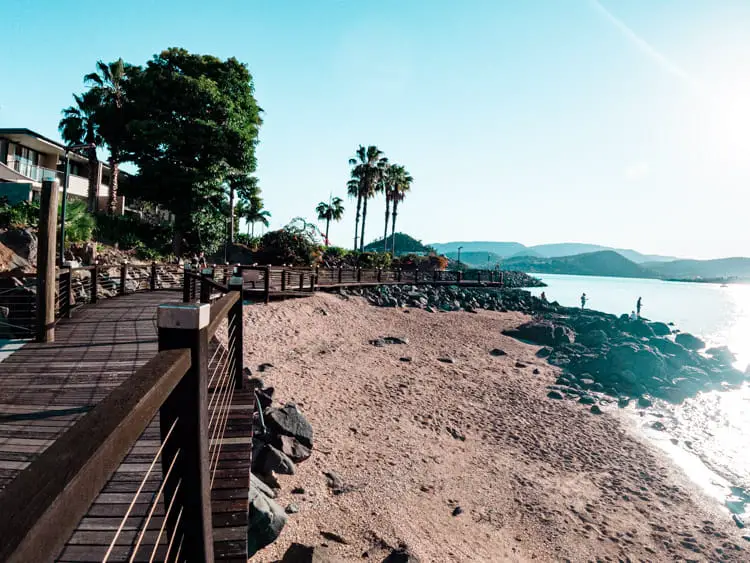 Have a BBQ at Cannonvale Beach
Experiencing a sunset at Cannonvale Beach in true Aussie BBQ style is not a want - it's a necessity. Pack some sausages and burgers, shotgun one of the numerous undercover picnic tables, and get ya grill on while baring witness to one of the most breathtaking sunsets over Pigeon Island and Pioneer Bay. Let the kids cavort at waterfront playground or take a dip in the calm waters.
Where to Stay in Cannonvale: BIG4 Adventure Whitsunday Resort
This place is certified bonkers. In the best of ways. In fact, we enjoyed our stay so much that I was prepared to put in an offer for the giant 3-bedroom condo located directly opposite the epic waterslide park upon check-out.
In all seriousness, if you're visiting Whitsundays with kids, there's no doubt in my mind that they'll have an absolute ball at the multi-award winning BIG4 Adventure Whitsunday Resort. I mean, kids aside, Andy and I - fully grown adults - did not want to leave this place. If my Mum had been with us on holiday, I'm pretty certain I would've thrown a tantrum if she proposed the idea of leaving.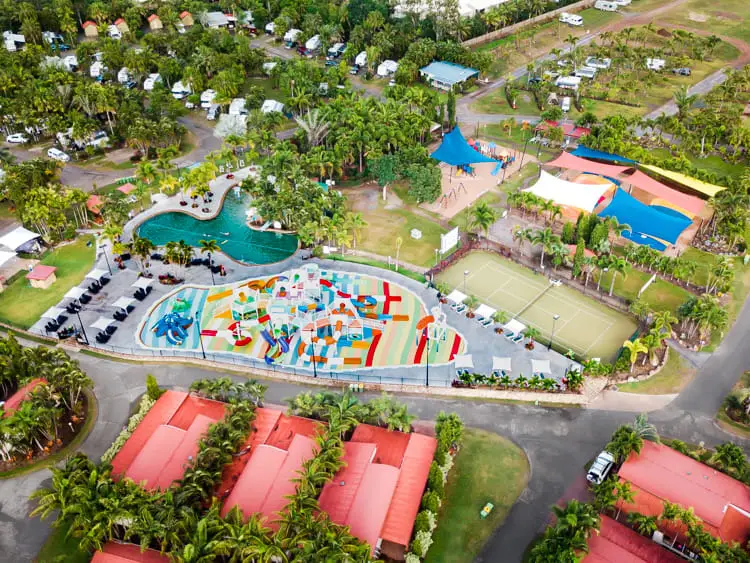 Set on 26 acres of superbly maintained tropical garden space, the resort is located a short 5-minute bus ride from Airlie Beach. We stayed inside one of the designer 3-bedroom condos that could comfortably fit two families, featuring a huge outdoor living space with a BBQ, private parking, laundry, free WiFi, flat screen TV with Foxtel channels, a jacuzzi in the bathroom, and a life-saving coffee pod machine for tired parents.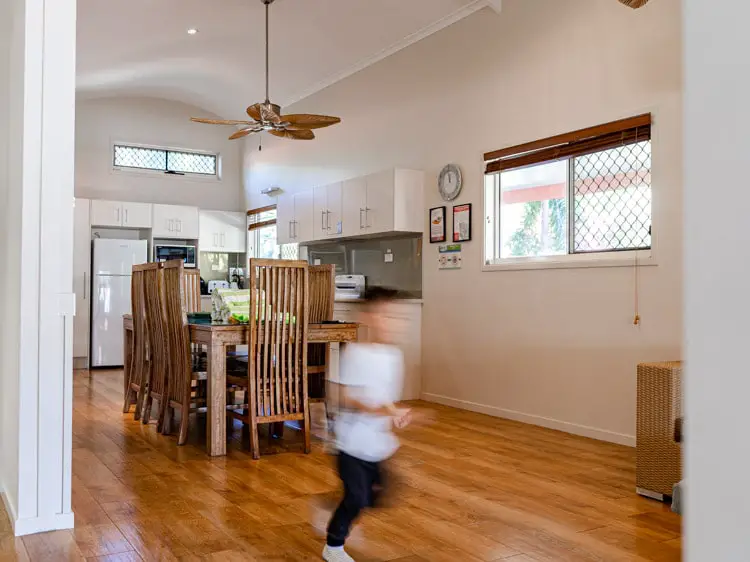 Van lifers and campers will find powered 120 sites set amidst tropical greenery to park or set up camp at, with communal kitchens, bathrooms and showers at your disposal.
Let's get to the bit that you're really here for, shall we? Kids will lose their minds over the incredible waterslide park, lagoon-style swimming pool, tennis court, mini golf course, outdoor cinema, jumping pillows, playground, kids' club, and animal park. There's never a dull moment. Nope. Not a single one.
Psst.. Want a sweet little discount? Get $15 travel credit when you book using our link!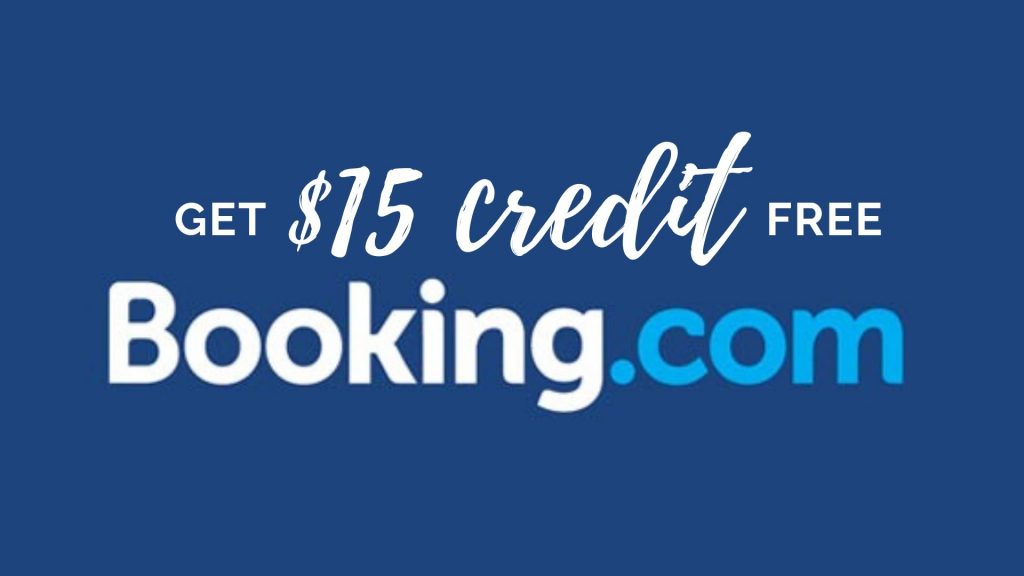 Whitsundays Beaches
Picture silky white sand beaches and crystal clear turquoise water - Whitsundays is, undoubtedly, home to some of the most spectacular beaches in the world.
Discover the Beaches at Cape Gloucester
Hydeaway Bay. This local gem needs to be added to your beach hopping list. Stat. It's the idyllic spot for those who seek a bit of peace and vitamin sea. Search for shells during low tide, sun bake on the soft white sand, or snorkel your way around the fringing coral reef.
Dingo Beach. Rent a 'tinnie' (small motorised boat) and explore Saddleback Island, secluded bays and beaches, or simply just chill on the shore and make use of the barbecue facilities and playground.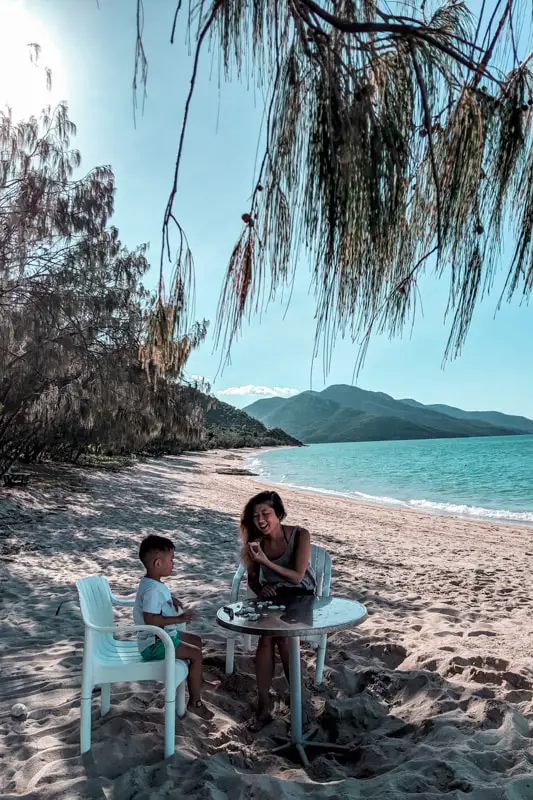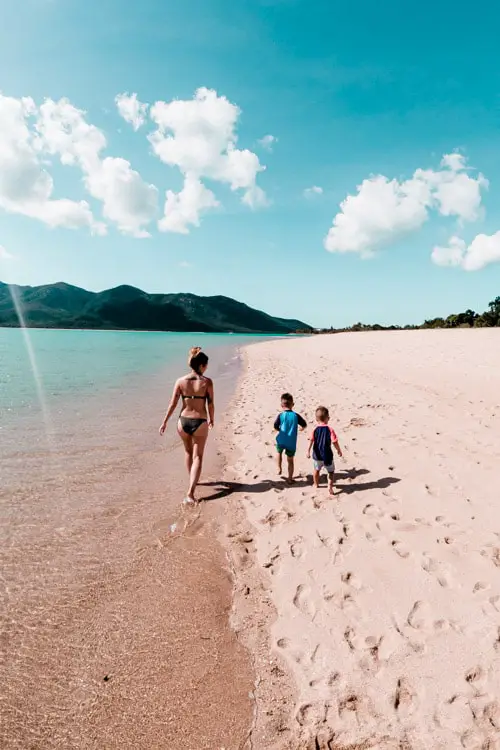 Cape Gloucester Beach Resort. We stumbled upon this place by chance and it completely blew us away with its beauty. Don't be put off and think that you can't enter unless you're staying at the resort - the restaurant and beach is open for public access. With stunning views of lush, green islands and crystal clear water, this beach became our all-time favourite in the Whitsundays. The water remains shallow for a long stretch with little waves, making it an ideal spot for young kids to splash around in.
Cruise to Whitehaven Beach
If there's only one Airlie Beach tour you need to take, it's a day tour onboard Cruise Whitsundays to the magnificent and iconic Whitehaven Beach. You can't say you've been to the Whitsundays until you've sank your feet into the softness of the 98.5% silica sand that you'll want to bury yourself in. Swim in the turquoise-coloured ocean or go on a guided walk to the famous Hill Inlet Outlook. You know, the postcard image you see of Whitsundays with the swirling white sands.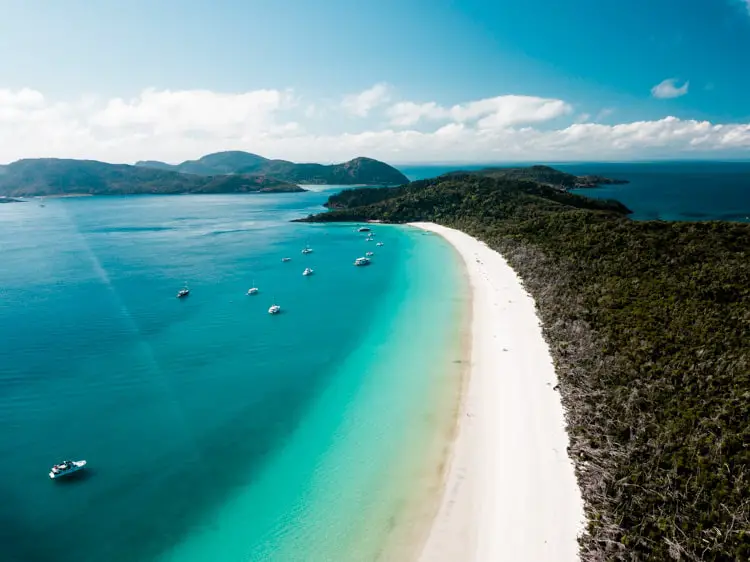 Got questions on the Whitsundays region or do you have more suggestions?
Give us a holla and pop a comment below.
This post was created in partnership with Tourism Whitsundays, who invited our family to spend 10 days exploring the region.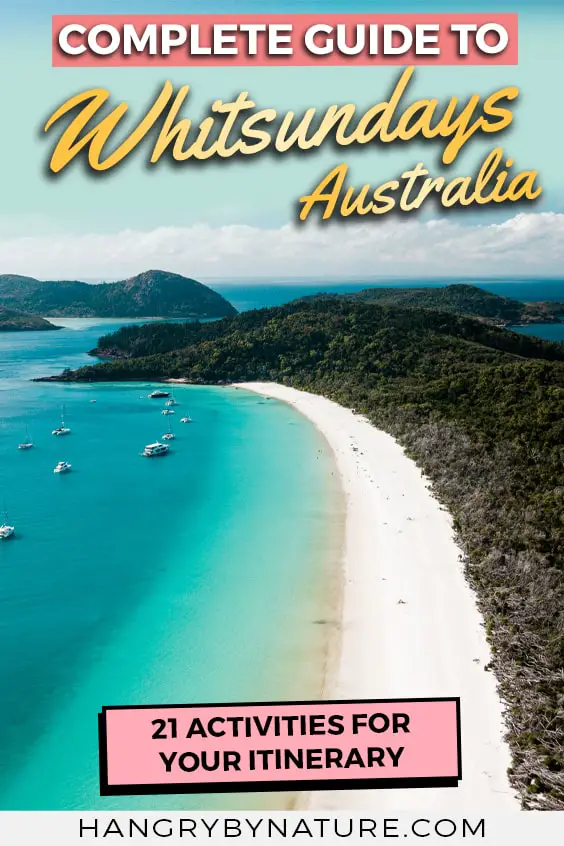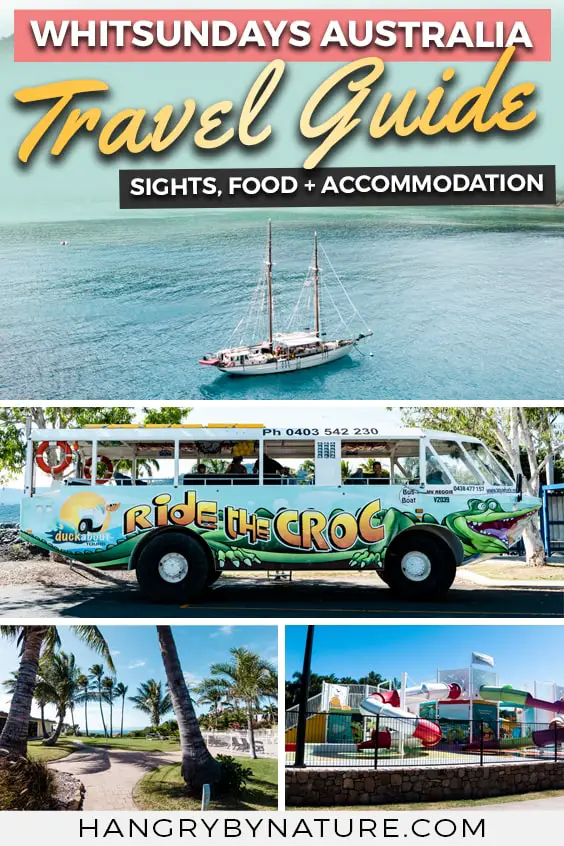 Travel Savings Tips for your Whitsundays Trip
Take a look at our Travel Resources to find the best deals on flights, accommodation and attractions. Find mistake fares, the cheapest date to fly each month, hotel and apartment savings, plus where to buy the cheapest tickets for attractions.
If you're looking for some sweet accommodation deals, you're in for a treat.
How do we survive travelling with kids? Check out our list of packing essentials that we take with us on every trip. Or, take a look at these genius kids' travel gear articles.
Don't forget to come say "HEY!" on YouTube or Instagram. I like to think we're funny, entertaining and resourceful. You be the judge.