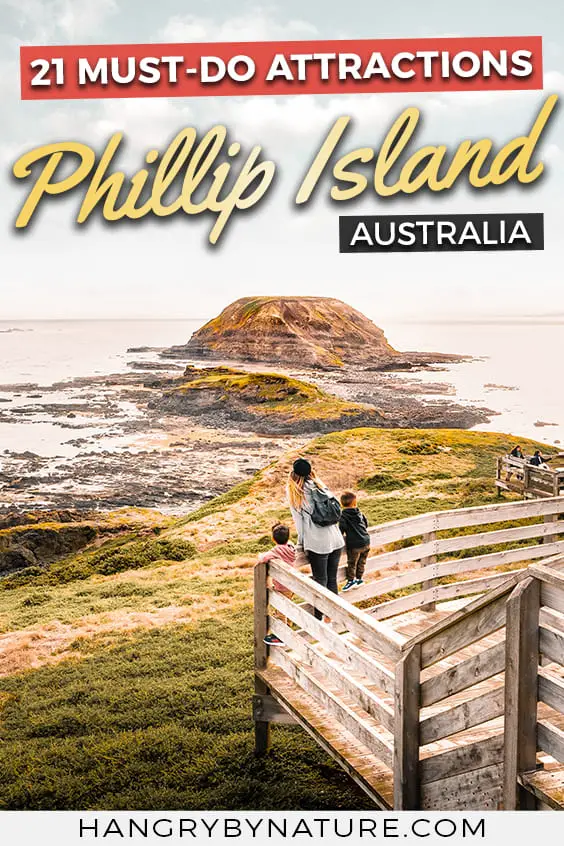 Prepare yourself to be blown away by the endless Phillip Island attractions and natural wonders that Victoria's most popular family holiday destination has to offer.
I have an embarrassing confession to make. I don't know if you're ready for this (I'm mentally prepared for virtual eye rolls and facepalms), but here I go. I thought the Penguin Parade was the extent of Phillip Island's attractions.
I can't begin to tell you just how wrong I was. So, when we were invited by to explore Phillip Island Nature Parks and a seemingly endless throng of family-friendly attractions by Destination Phillip Island – we jumped at the opportunity. 
Under 2 hours drive from Melbourne, the island is accessible via a 640 metre long concrete bridge that connects the mainland town, San Remo, to the island town, Newhaven.
So, hurry along, scramble your family together and pack your bags – there are boundless things to do in Phillip Island that await for all ages. Discover pristine golden sand beaches, awe-inspiring coastlines and even a host of fun indoor activities for those unforeseen drizzly days.
Essential Phillip Island Travel Tips
▪︎  Pack layers. It's Melbourne weather. Add to that a fresh coastal breeze and lots of time spent outdoors in the evenings spotting wildlife and ogling gorgeous sunsets. Be prepared for all weather conditions and bring a jacket.
▪︎  Rent a car. If you're coming from interstate or overseas, I would highly recommend a car rental because the island is definitely not small and sights are scattered all around. We recommend rentalcars.com to find the best price comparison.
▪︎  Get the 4 Parks Pass. Save a huge amount on entry tickets to Phillip Island Nature Parks attractions, including the Penguin Parade, Koala Conservation Centre, Churchill Island Heritage Farm, and the Antarctic Journey at the Nobbies Centre.
▪︎  Plan ahead for school holidays. Being one of the most popular family holiday spots in Victoria means that it gets super busy when school's out. Be sure to book accommodation and tours well in advance.
▪︎  Don't overpack food and groceries. Phillip Island has all major supermarket chains – Coles, Woolworths and Aldi – you'll find everything that Melbourne supermarkets stock. 
▪︎  Don't forget travel insurance. If you're visiting from overseas, you definitely don't want to get caught out without a travel insurance policy in case of any emergencies. World Nomads provide some of the most competitive rates.
But first, watch our video on the best places to visit in Phillip Island for a glimpse of what you can expect from your trip.
21 Must-Do Phillip Island Attractions for Families
Whether you're visiting with little minions in tow or without, there's a slice of Phillip Island that all types of travellers can appreciate. Outdoor fanatics, adventure junkies, quirky attraction admirers, foodies and animal lovers – this place, legit, has got the interests of all visitors covered.
1. Trip out inside A Maze'N Things
There's no place quite like A Maze'N Things in all of Victoria. Nope. Nothing. If the bizarre architecture didn't catch your attention driving past and make you do a double take, then the mysteriously floating running tap certainly will.
Immerse yourself in the dazzling world of optical illusions, wild mazes, mind-boggling puzzles and magic tricks. This is, without a doubt,  one of the best unique Phillip Island activities for families.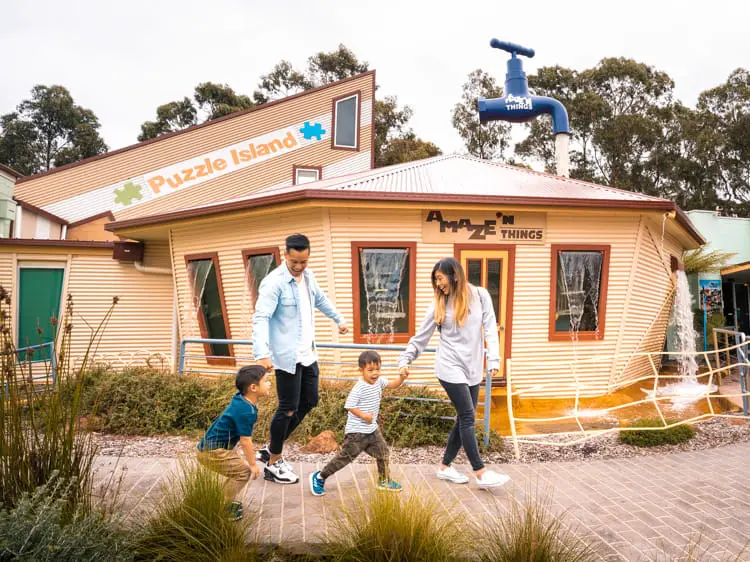 Be prepared to stumble upon gravity-defying rooms, a befuddling mirror maze, wacky puzzles and treasure hunts, followed by scrambling into a dark cave that leads to a den filled with magical tricks and illusions.
Our personal recommendation if you liked to call yourself a thrill seeker? Clamber your way up a set of stairs to the 7.2 metre high LookOut Slide, hang yourself off a bar and.. let go, of course!
Opening hours: 10am – 5pm daily
Location: 1805 Phillip Island Rd, Cowes
Price: $36 (adults) |$23.50 (children 4-15) | $109 (family – 2 adults, 2 children)
2. Go wildlife spotting at Koala Conservation Centre
Keen to spot *ahem* (no kangaroos were offended at the time of writing this) Australia's most beloved animal from beneath panoramic boardwalks and soaring eucalypt trees? Add the Koala Conservation Centre to your list of Phillip Island attractions to visit for some unforgettable wildlife encounters.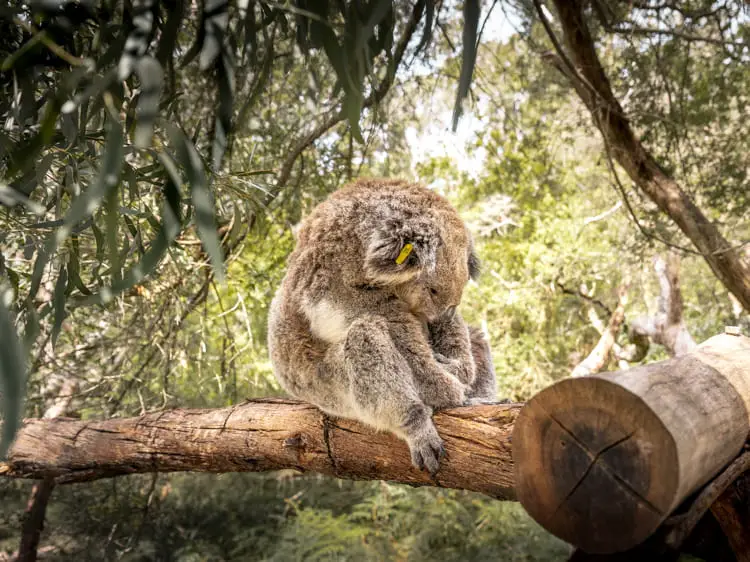 The centre's conservation work has played a vital role in saving the island's koala population, which include preserving their natural habitat and holding special breeding programs .
If you're not keen on zoos, this place is a must-visit, as it gives you the opportunity to observe these heart-meltingly cute little bears thrive in their natural environment.
Opening hours: 10am – 5pm daily
Location: 1810 Phillip Island Rd, Cowes
Price: $13.20 (adults) | $6.60 (child 4-16) | $33 (family – 2 adults, 2 children)
TIP: Get the Phillip Island 4 Parks Pass to save on entry tickets to Koala Conservation Centre, Penguin Parade, Antarctic Journey & Churchill Island Heritage Farm.
3. Soak in 'views for days' at The Nobbies 
The Nobbies – hands down – one of the best things to do in Phillip Island on the natural attraction side of things. You cannot say you have been here until you've set foot on the breathtaking boardwalk that showers you with views of the spectacular, rugged coastline and panoramas as far as Mornington Peninsula.
If you've seen enough of cuddly koalas and wallabies (not that you ever would), then swap them over for some seriously adorable marine animals. Keep your eyes open, heck, even bring binoculars or a telescopic lens and and look out for penguins napping inside burrows along the hillside, or gawk at Australia's largest fur seal colony sunbathing on rock formations.
Opening hours: 24 hours
Location: The Nobbies, Summerlands
Price: Free
4. Venture into the Antarctic Journey 
Okay, I get what you're thinking – why embark on an expedition to Antarctica when you came to Phillip Island to bask in sunshine and frolic on the beaches? Well, technically, we're at the bottom tip of Australia, so we're really not that far from the world's largest ice sheet.
When it comes down to it all.. it's really all about the penguins. Afterall, Antarctica is home to the planet's largest breed – the Emperor Penguin. Australia? Well, we can lay claim to being home to the world's smallest penguin species (and most adorable).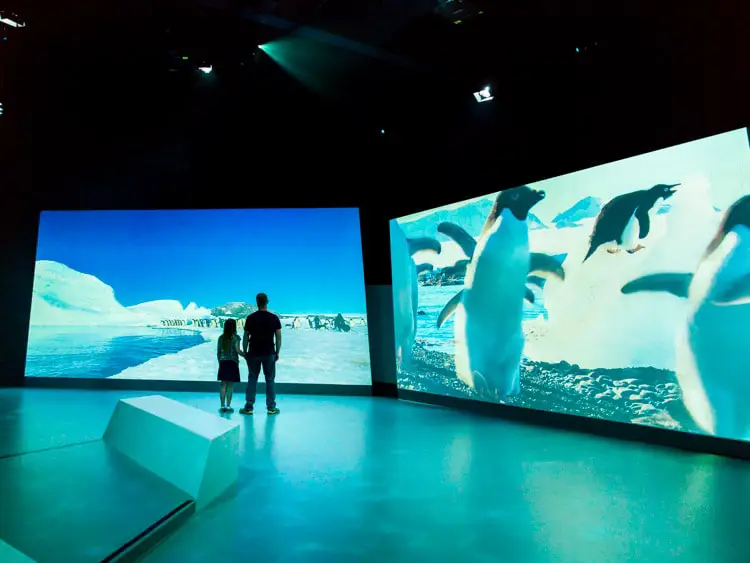 Penguins aside, the Antarctic Journey hurls you on an immersive virtual journey through ice-capped landscapes and the wildlife that thrive in this bone-chilling climate. Kids will love the augmented reality experience and hands-on activities that are designed to entertain and educate about conservation and reducing waste.
Don't forget to grab the Phillip Island 4 Parks Pass in which the Antarctic Journey is included.
Opening hours: 10am – 2 hours before sunset
Location: 1320 Ventnor Rd, Summerlands
Price: $18 (adults) | $9 (child 4-15) | $45 (family – 2 adults, 2 children)
5. Leave your heart at the Penguin Parade
It would be abominable to leave the island without crossing the Penguin Parade off your Phillip Island tourist attractions bucket list. Yeah, sure, you may have seen penguins at aquariums and what-not; but you ain't never seen the world's smallest penguin waddling up the beach in their natural habitat to their burrows.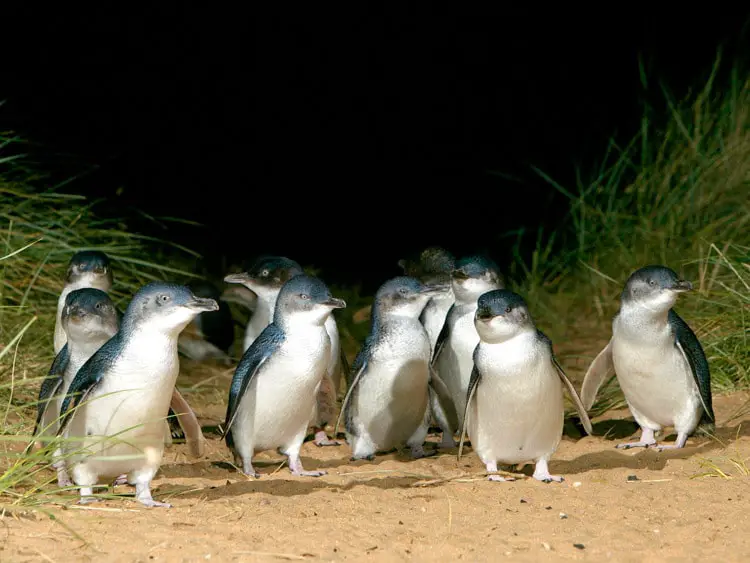 Be awed by the jawdropping modern architecture inside the newly revamped visitor centre, where kids can run wild and occupy themselves with interactive and educational displays, while parents can grab a much-needed hot cuppa at the cafe.
Witness these wee little delightful creatures tottering up the sand as the sun sets over Summerland Beach. Follow their journey along the scenic boardwalk until they reach their sand dune burrows and you're forced to say goodbye to your newfound loves.
You can book tickets for the Penguin Parade or get direct access as part of the Phillip Island 4 Parks Pass.
Opening hours: 10am daily until after sunset
Location: 1019 Ventnor Rd, Summerlands
Price: $26.60 (adults) | $13.20 (child 4-15) | $66.40 (family – 2 adults, 2 children)
6. Overcome fears at Clip 'n Climb Phillip Island
Out of ideas for things to do in Phillip Island when it's raining? Well, my fellow thrill seekers, prepare yourself for an adrenalin kick inside Clip 'n Climb – the newest concept in indoor climbing.
This fully supervised climbing space features 30 eye-popping wall challenges, a VR gaming area and an augmented climbing wall that's guaranteed to tire out the kiddos for a solid night of sleep (parents included). 
Embark on a 1-hour climbing session and find out just how many walls you can conquer with your little fambam.
Opening hours: 9am – 4pm daily
Location: 6-8 Industrial Way, Cowes
Price: $20 (over 5 years) | $16 (under 15 years)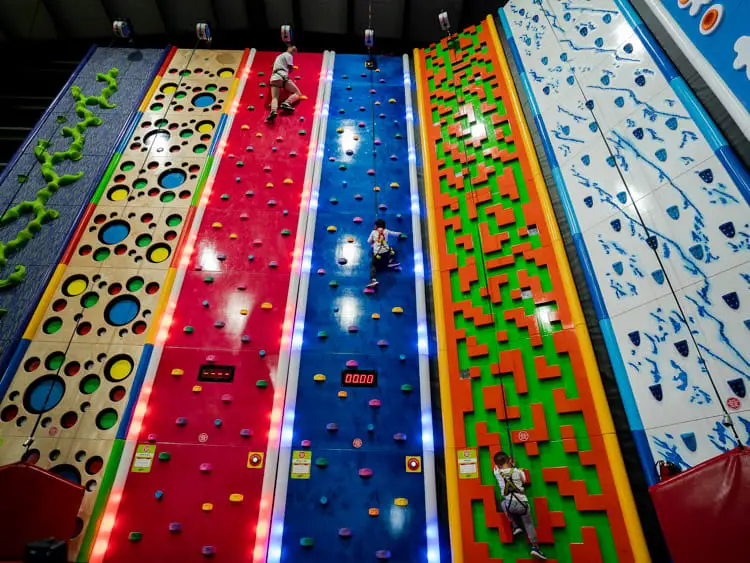 7. Set off on a Cape Woolamai Cruise
It's true. The wildlife spotting never ends on Phillip Island. Why spot dolphins and seals from land when you can admire these gorgeous marine creatures even closer from the water?
Hop onboard Wildlife Coast Cruises and experience a spectacular 1-hour cruise to Cape Woolamai. Soak in the beauty of the sheer granite cliffs and caves whilst being surrounded by tranquil turquoise water. Learn about local wildlife and listen in on interesting stories while scoffing down tea and cakes.
Departure time: 10:45am Wednesdays & Sundays
Location: San Remo Jetty
Price: $30 (adults) | $21 (child 4-15) | $83.60 (family – 2 adults, 2 children)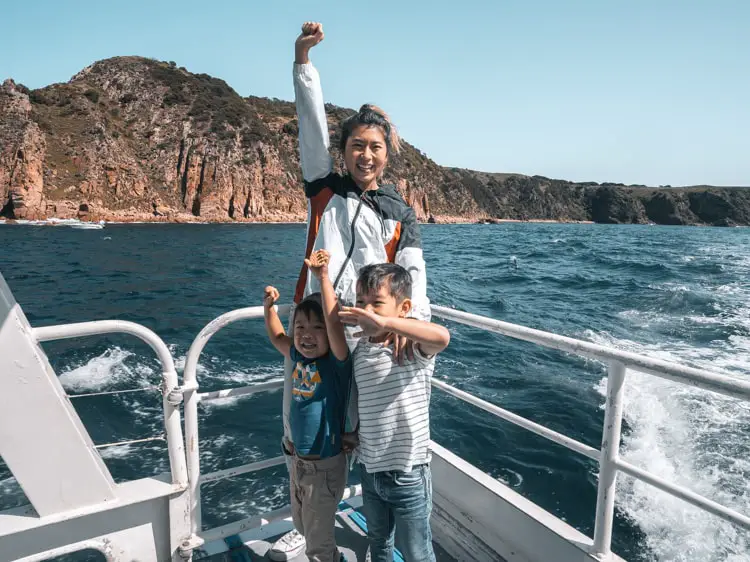 8. Pelican Feeding in front of San Remo Fisherman's Co-op
This unique spectacle can be viewed daily at 12pm on the beach in front of San Remo Fisherman's Co-op.  Be sure to rock up early to snag a good viewing spot because the pelican feeding event is one of the best free things to do in Phillip Island and it certainly get pretty packed. 
Looking for more tips and inspiration from a local for travelling around Melbourne with kids?
9. San Remo Foreshore & Playground
Pack a picnic or grab a serving of takeaway fish and chips from San Remo Fisherman's Co-op and meander your way along the picturesque foreshore. Lined with tables, benches and ample green space for kids to frolic on; it's the perfect relaxing spot to soak in some vitamin sea and let little ones exert energy at the playground.
10. Churchill Island Heritage Farm
The first thought that crossed my mind as we drove over the single lane bridge and onto the dirt track that followed was, "Holy cow. These cattle wake up to some of the best views in all of Victoria."
If I came back as a farm animal in my next life, I would kindly like to request a grazing field at Churchill Island Heritage Farm.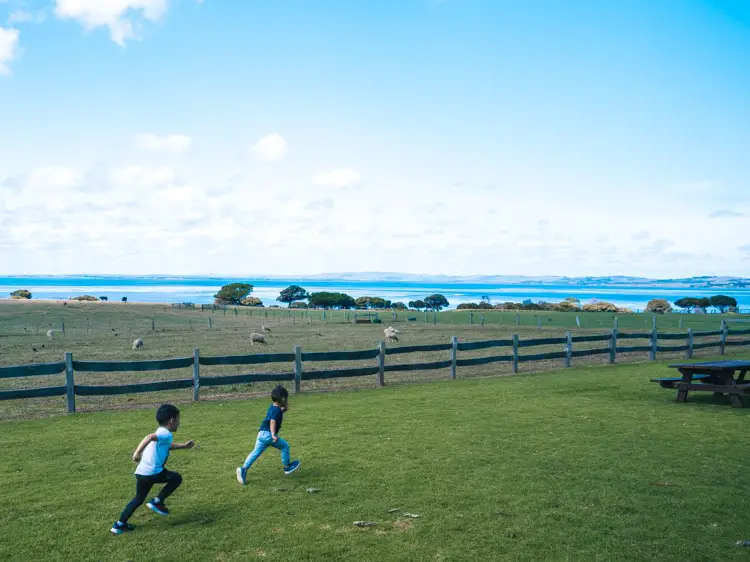 Get thrown back in time and immerse yourself in a slice of Victoria's heritage – this is the site of the first European agricultural pursuits in the state. Roam in and out of the 19th century cottages or gallivant around the manicured gardens and orchards.
By all means, don't miss the daily farming activities which include cow milking, sheep shearing, whip cracking and working dogs. Check the timetable to plan your visit.
Churchill Island Heritage Farm is included in the 4 Parks Pass, or individual tickets can be purchased at the door.
Opening hours: 10am daily (closing time depends on season)
Location: 246 Samuel Amess Dr, Churchill Island
Price: $13.20 (adults) | $6.60 (child 4-15) | $33 (family – 2 adults, 2 children)
11. Stock up on local produce at Churchill Island Farmer's Market
If you happen to be around Phillip Island on the last weekend of the month, then you're in for a beautiful local treat. Whizz on over to Churchill Island, bask in early morning rays and explore the Farmers Market and fill your bags with some of the best produce in the region.
Opening hours: 8am – 1pm every 4th Saturday of the month
Location: Churchill Island, Phillip Island
Price: Free
12. Explore the township of Cowes
Tantalising cuisine from all corners of the world. Hipster barista coffee and to-die-for brunch. A heart-stopping vista of the endless ocean. Plus, a touch of Melbourne's eclectic street culture. Sold on visiting Cowes, yet?
Food tasting and sunset strolls along The Esplanade need to be included on your Phillip Island activities list. There's no better place to indulge in these two fine things in life than a stroll through the township of Cowes.
13. Make a stop at Erehwon Point Playground
Saunter down The Esplanade towards Erehwon Point Beach and you'll be greeted with a leafy green space dotted with public barbecue facilities, tables, benches and a large outdoor playground with sweeping views of the coastline.
Be sure to take little ones to this playground with a killer view to stretch their legs and have a run around. It's one of the best things to do in Phillip Island for kids in the township of Cowes, plus, it's completely free. Win!
14. Catch the sunset from Cowes Jetty
We've experienced a few hella amazing sunsets from our travels around the world, but who knew that one of our top 10 sunsets was right at our doorstep?
To say it's beautiful is probably a vast understatement. Magnificent. Captivating. Yeah, that about describes it. Seriously, you will not regret catching the sunset from Cowes Jetty, regardless of how chilly or sizzling hot the night is.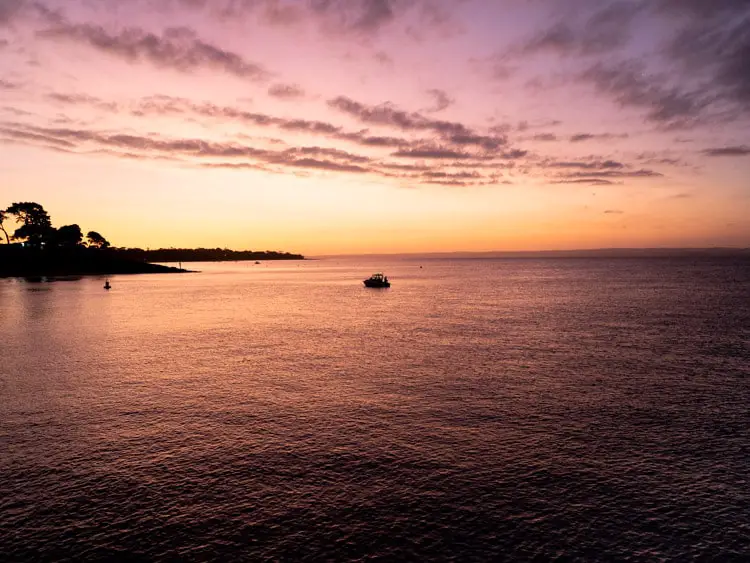 15. Phillip Island Chocolate Factory
Duck through a tunnel made from chocolate bars and enter a divine world made up one thing that we all have in common – our undying love for chocolate. Coined one of the top places to visit in Phillip Island, Panny's Chocolate Factory is sure to provide a satisfying relief for that nagging sweet tooth of yours.
Learn all about the process of chocolate production; from cocoa bean to wrapped bar, gawk at a 2 metre tall chocolate statue of Michelangelos' David, wipe your drool off the floor in front of a giant chocolate waterfall, or create your own chocolate design.. and then eat it, too.
Opening hours: 10am – 5pm daily
Location: 930 Phillip Island Rd, Newhaven
Price: $17 (adults) | $11 (child 4-14) | $50 (family – 2 adults, 2 children)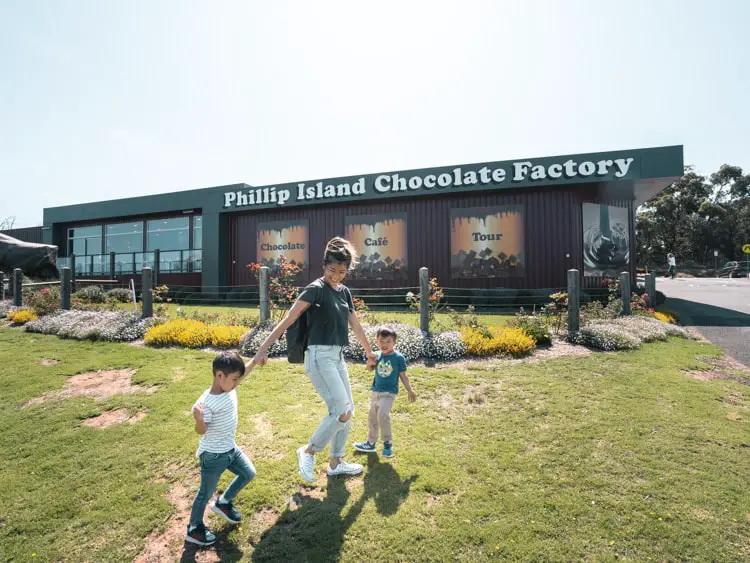 16. Hit the surf at Woolamai Beach
If boogie boarding or barrelling through tubes of waves are your jam, then grab your gear and take a trip down to Woolamai Beach, where you're pretty much guaranteed rough conditions to hit those thrill-seeking notes adventure sport fanatics crave.
Families with kids? Maybe just take a step back and chill on the beach.  You can always live vicariously through some of the pro surfers that frequent this spot and gape at their sheer fearlessness.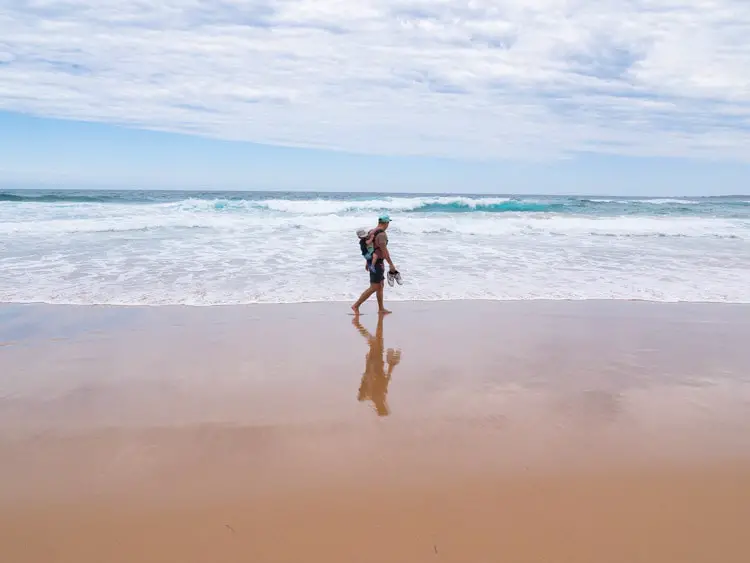 17. Hike to the Pinnacles Lookout
Kick off your hike at Woolamai Beach and trail along the broad expanse of sand until you reach the craggy cliffs of the Pinnacles, easily one of the best natural Phillip Island attractions. 
The trail takes you from Woolamai Beach to a jawdropping path along cliff's edges where you'll be greeted with magnificent views of the beach, surf, and of course, the spectacular Pinnacles.
These towering, ominous-looking granite rock formations date back millions of years, emerging from the Earth's core before dinosaurs even roamed this planet.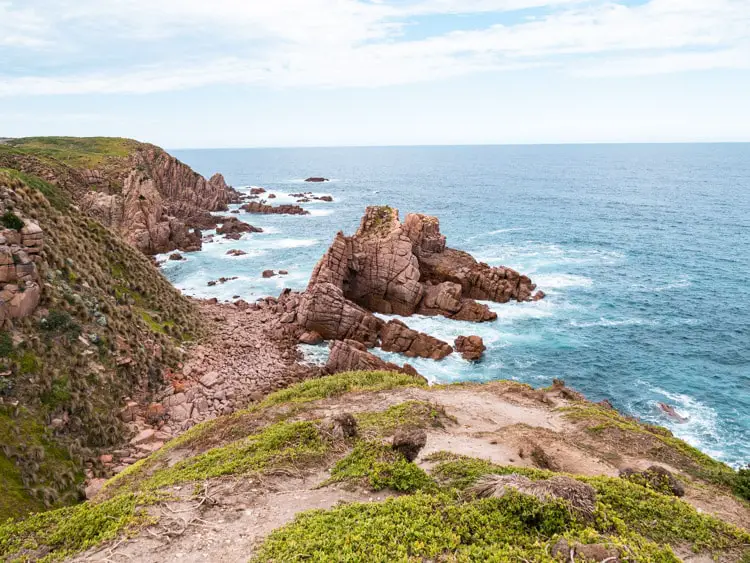 18. Be awed by views along Rhyll Inlet
When I say Phillip Island has views for days – I'm not exaggerating one bit. Visiting this region is like being on the receiving end of a multiple hit combo in the face in a boxing match, but instead of pain and misery, you're getting slammed with 360°  awe-inspiring views and the hardest decision you have to make is which way to look.
Mix that up with mangroves, mudflats and a host of wadings birds, and you wind up with the natural beauty that makes up Rhyll Inlet. Skip along the scenic boardwalk overlooking shallow beaches and wetlands and stop at one of the scenic lookout points to soak it all in.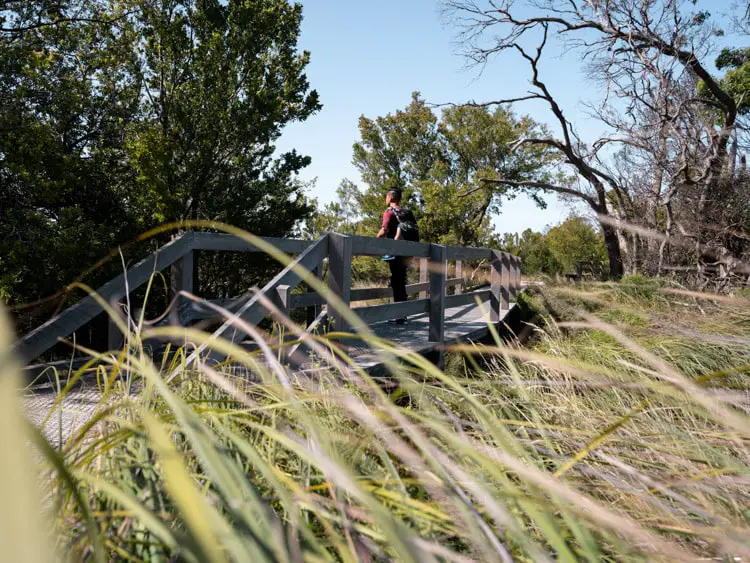 19. Go for a swim at Smiths Beach
Are the kids itching for a dip in the water? There's no better place than Smiths Beach – one of the top kid-friendly Phillip Island beaches, with toilets, change rooms, showers and an easy access ramp that leads down to the sand.
Nestled between turquoise blue waters and lush green hills, the beach is a popular spot for families, beginner surfers, body boarders, and snorkellers. So, pack your beach tent and load up the esky because once you get here – you won't want to leave.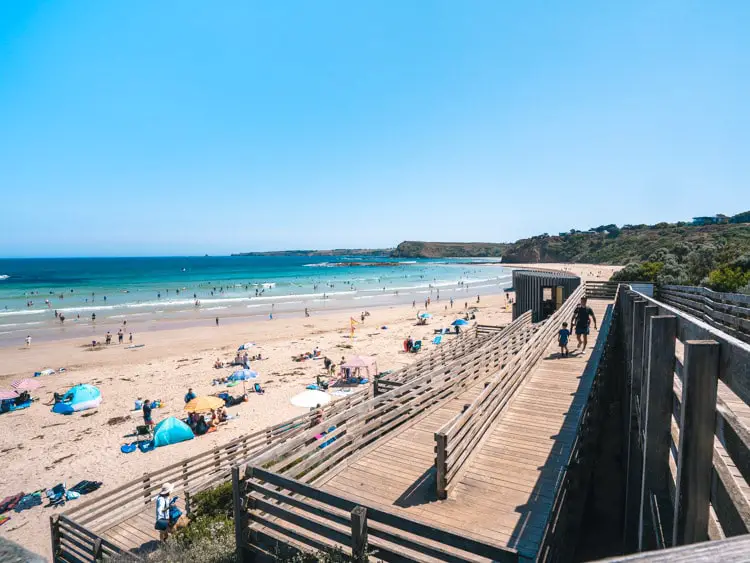 20. Bask in the scenery at Pyramid Rock Lookout
Surround yourself with sweeping views of one of the most fascinating things to do on Phillip Island – Pyramid Rock. This distinct rock formation peeks out against the cerulean waters that envelop it. Walk up to the lookout point and prepare to get blown away by some of the most spectacular scenery of Victoria's stunning coastline.
21. Hop along basalt rocks at Cowrie Beach
It's not the ideal beach for swimming but I can promise you that kiddos will have an absolute ball rock hopping along Cowrie Beach. There's no doubt that Phillip Island Victoria is home to a multitude of pretty beaches, however, this one is a guaranteed hit for little restless humans.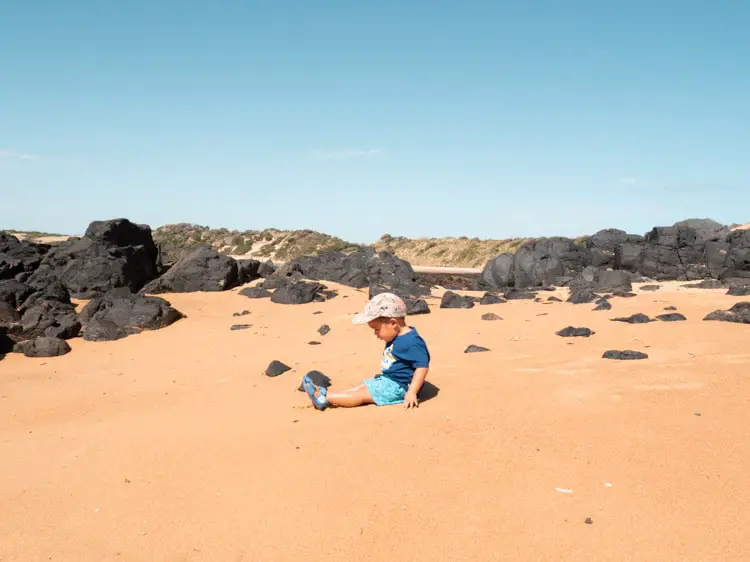 Want more visual Melbourne family guides?
Subscribe to our YouTube channel for a multitude of helpful guides and tips for travelling around Victoria with kids.
Food Guide for Families
Stuck on where to take the kids out for a feed on Phillip Island? Fear not. We've got you covered on the family-friendly eats front of things. In fact, these places kill two birds with one stone. They'll fill their bellies with scrumptious food and keep wild little ones entertained.
San Remo Fishermans Co-op
Feeling peckish after observing the pelican feeding in front of San Remo Fishermans Co-op? Maybe it's the hunger-inducing smell of freshly cooked seafood wafting over from their famous fish and chip store. Or maybe it's the sight of happy pelicans scoffing down their meals.
Luckily, a hearty lunch with a vast selection of fresh seafood and chips is only a few steps away. Pick between their staple locally caught flake or other fresh fish varieties and begin building your platter of amazing. Hand battered prawn, calamari, scallops, potato cakes or crunchy chips? Thanks. I'll go for all of the above.
Would it be a crime to leave Phillip Island without tasting San Remo Fishermans Co-op fish and chips? Yes. Yes, it would be.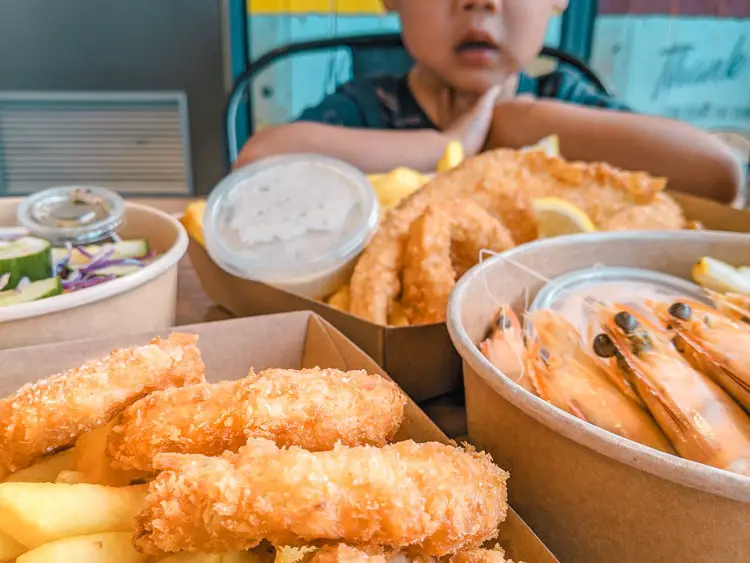 Citrus & Vine
Hold up. Did you say… a restaurant with a huge indoor playground? Oh, yeah. Parents rejoice. Citrus & Vines serves up a mean brunch, lunch and dinner selection that'll have you drooling onto the menu before the food even comes out.
Hatched by a mother and daughter duo who moved to Cowes from Melbourne after falling in love with Phillip Island (they almost convinced us to move over as well); the two developed a vision to open a restaurant with a mega playspace for children after realising that it's the one thing that the island lacked.
Brilliant. I mean, a restaurant where the kids are fully entertained and, simultaneously, dishes up to-die-for paella, seafood linguini, barista coffee, and also has amazing kids' menu, is hard to come by.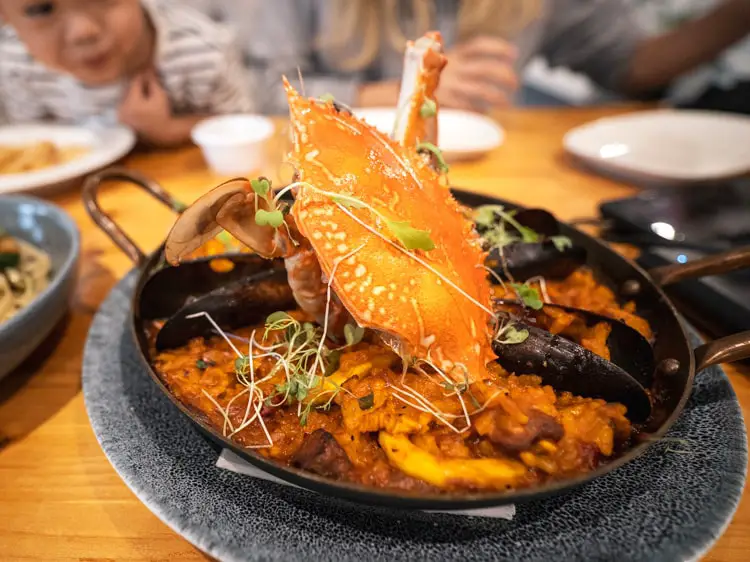 Cheeky Goose Cafe
You'll probably want to fast before you drop into the Cheeky Goose Cafe because I can pretty much guarantee that you'll fall into a deep food coma. The best kind.
Set inside a restored 1930s Tudor church, this place has a warm and homey vibe that can't quite be put into words. Parents can enjoy a 'cheeky' bevvy or cocktail while kids are provided with drawing material and toys. The menu comprises tantalising homemade seasonal food that's designed for comfort feeding and 100% pure indulgence.
We couldn't have been more satisfied with our Jack Daniels Beef Back Ribs, DIY Bean Taco, Pulled Pork Burger and, of course, their famous Buttermilk Fried Chicken. To say we winded up in a food coma is probably an understatement. We crawled out of there with heavy bellies and smiles bigger than our faces.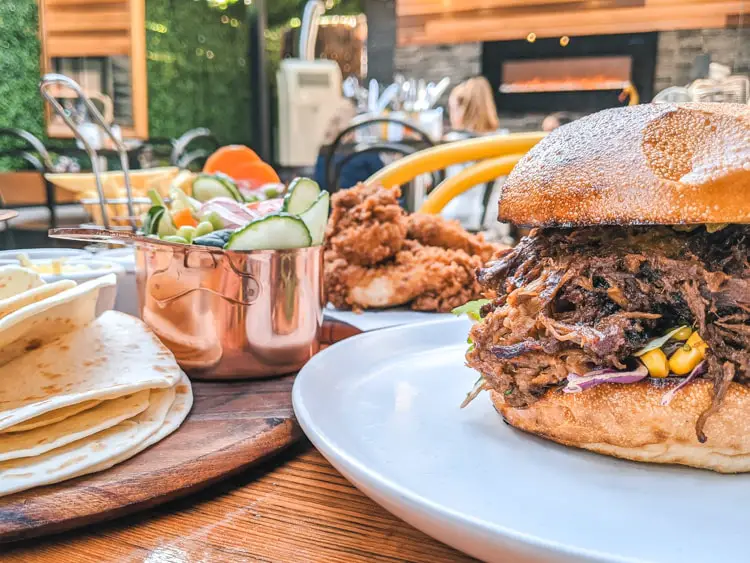 Phillip Island Holiday Parks: Kaloha Holiday Resort
Pool? Check. Hot spa? You bet. Playground? Most certainly. Jumping pillow? Definitely. Beachfront cabins with ocean views? Check. Check. Check.
An easy 10 minute stroll from the centre of Cowes, Kaloha Holiday Resort is nestled between the beach and a quiet residential street. Believe me when I say – it ticks all the boxes for families visiting Phillip Island. 
We stayed inside a spacious 2-bedroom unit that featured essential amenities, such as, a compact fully equipped kitchen, private bathroom, free WiFi, flat screen TV, dining table (in our case, work table), and private parking.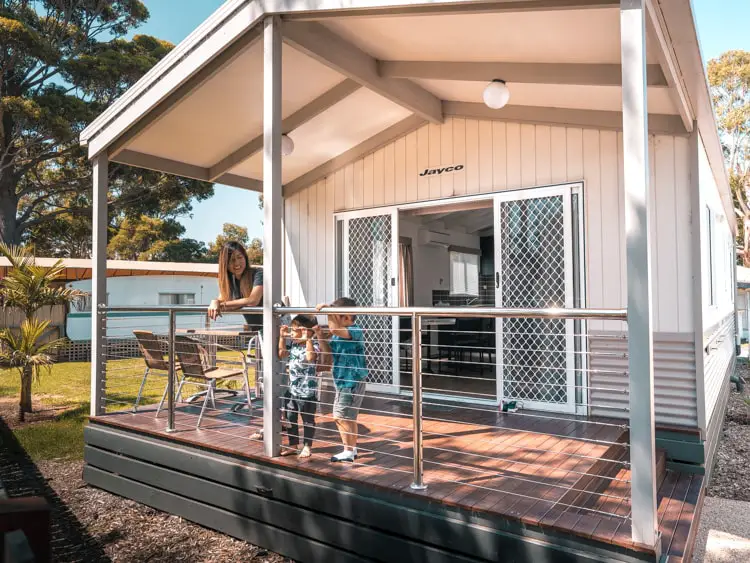 It's also the perfect play to stay on Phillip Island for generational holiday-goers or if you're travelling with another family. The resort offers 2 or 3-bedroom beachfront cabins to 4-bedroom townhouses. 
Van lifers and campers will find a collection of powered sites set amidst a tropical green space to park or set up camp at; with communal bathrooms, showers, laundry and barbecue facilities at disposal. 
The most memorable part of our stay? Romantic sunset strolls (as romantic as they could get with kids in tow) along the the quiet beach once the water has receded, creating an expansive space for the kids to cartwheel around, collect shells and leap into saltwater puddles.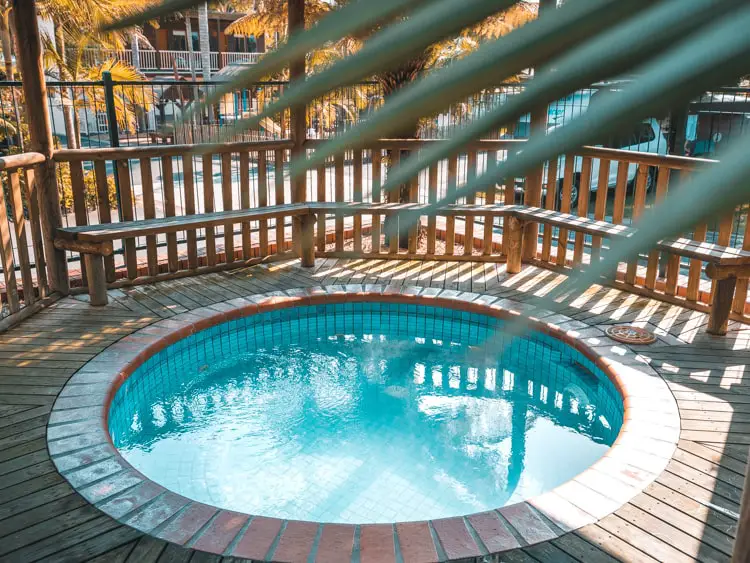 The Palms at Kaloha Holiday Resort
Not in the mood to drag whiny kids into town for dinner? Not to worry. The Palms, located within the grounds of Kaloha Resort, has got little and big hungry tummies covered.
Tucked behind a row of tropical palm trees, the interior of the restaurant oozes laidback vibes with treehouse feels. The delectable a la carte menu consists of a seasonal selection of fresh seafood, juicy steaks, pasta dishes, and also, a kids' menu featuring all the favourites amongst little ones.
Best of all? You're only a few steps away from resort's playground, rooms and campsites. If kids start acting up, send them to the playground or make a quick escape back to your accommodation.
Are you forgetting something?
How to get to Phillip Island
Getting to Phillip Island by car. The quickest way to get to Phillip Island is to travel along the Monash Freeway and take the exit to Phillip Island along the South Gippsland Highway (M420). Follow the signs that lead onto Bass Highway (A420). Continue along Phillip Island Tourist Road and drive over the bridge at San Remo to the island.
By public transport. V/Line buses depart from Southern Cross Station, stopping at various points around the island, including Newhaven, Cowes, Cape Woolamai, Surf Beach and Sunderland Bay. The ride takes around 2 hours to reach San Remo and another 20 minutes until Cowes.
By tour. If you don't have access to a car and taking public transport isn't feasible, then joining a tour is your next best option. We've listed some of the top-rated Phillip Island tours below.
Phillip Island Attractions: The Wrap Up
I couldn't have been more wrong about Phillip Island. The Penguin Parade may be the island's most popular attraction, but there is so much more to this wonderful destination other than adorable little waddling penguins. Still, that's reason enough to warrant  visit on its own, right?
From friendly locals to food-that-I-still-dream-about-every-night and fun-filled indoor and outdoor Phillip Island attractions for kids; this is, no doubt, one of the best destinations in Victoria for families.
Despite having spent 4 full days gallivanting around the island and trying to squeeze as much of it into our itinerary – it still wasn't enough. That being said, I'm going to conclude this in Arnold Schwarzenegger's Terminator voice, "I'll be back."
This post was created in collaboration with Destination Phillip Island. All content, experiences and opinions are, always, our own.
More Melbourne & Victoria Travel Guides
Got questions about travelling to Phillip Island with kids?
Feel free to ask in the comments below.
Like this post? Share the love on Pinterest!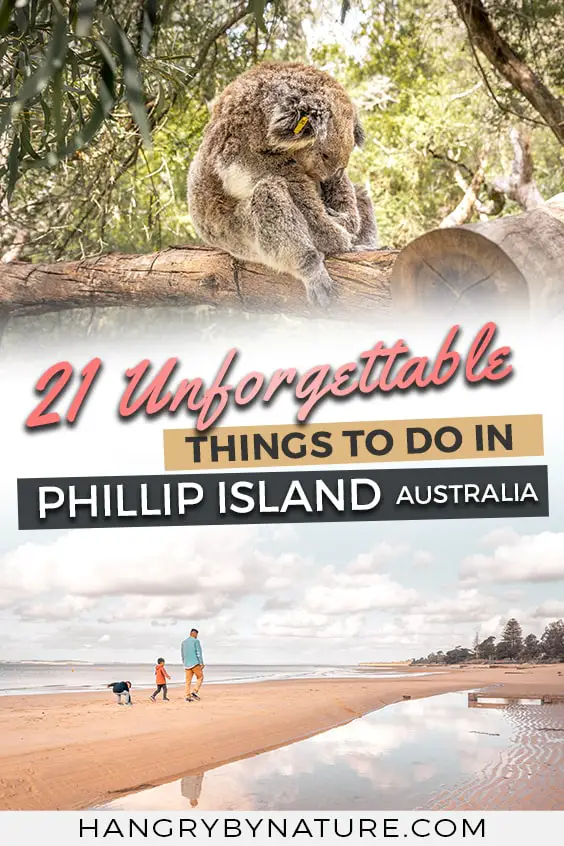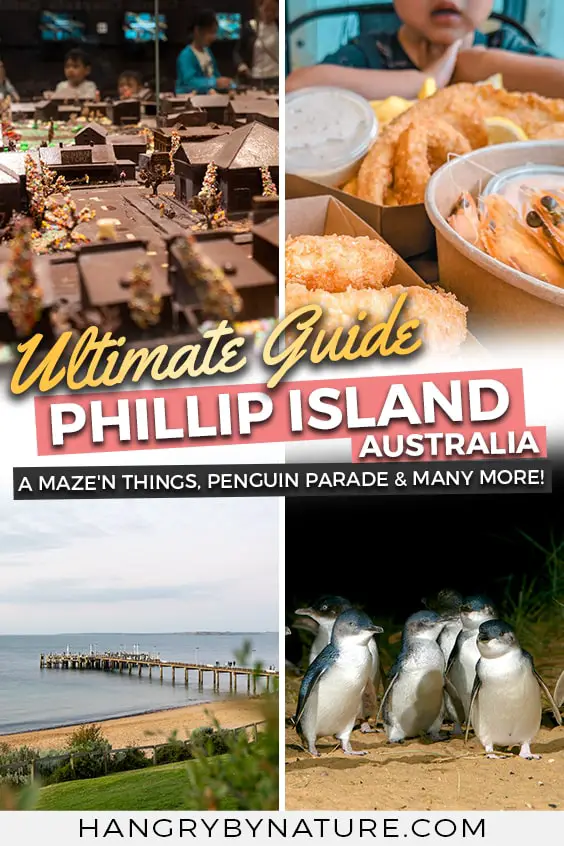 Get more out of your Phillip Island Trip
Take a look at our Travel Resources to find the best deals on flights, accommodation and attractions. Find mistake fares, the cheapest date to fly each month, hotel and apartment savings, plus where to buy the cheapest tickets for attractions.
Looking for some sweet deals in Melbourne? You're in for a treat.
Come say "HEY!" on Instagram or Facey. I like to think I'm a self-proclaimed comedian, all the while providing some lit AF travel tips. You be the judge.