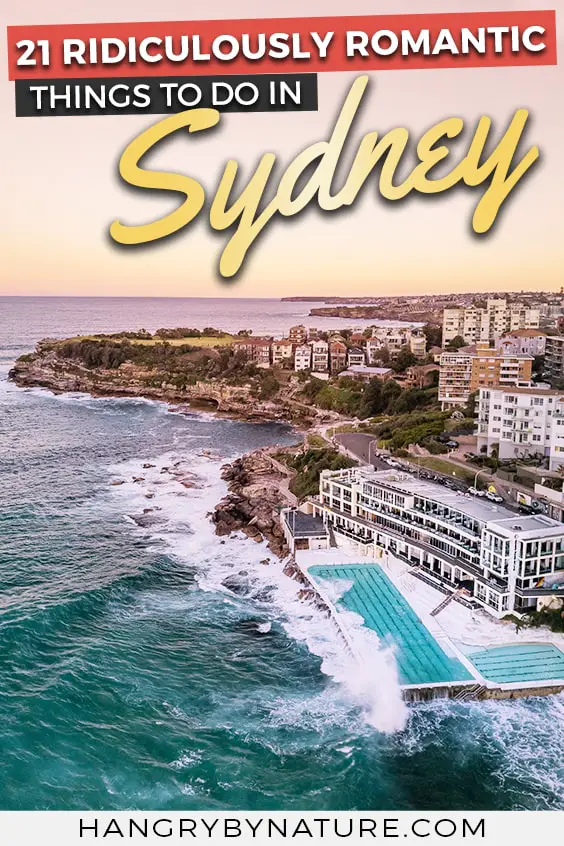 Hunting for date night ideas in Sydney to earn some extra brownie points? Oh, you're in for a serious treat, folks. These ideas will score you the whole damn cake.
Whether it's your first date, 10th anniversary or a surprise valentine's date – we've got you covered with a super fun list of romantic and fun things to do in Sydney for couples that's gonna hit all the high notes. 
On our most recent visit to Sydney, we basically won the lottery and scored an entire kid-free weekend where we gallivanted around the city and delighted in a few hopelessly romantic activities to rekindle the post-kids flame. 
Oh, and it also happened to coincide with our 2 year wedding anniversary, so we decided to turn up the romance and attempted to cross off everything we've ever wanted to do but never got around to doing because, well, kids.
So, my fellow lovebirds. Without further ado, I present to you the best date night ideas in Sydney.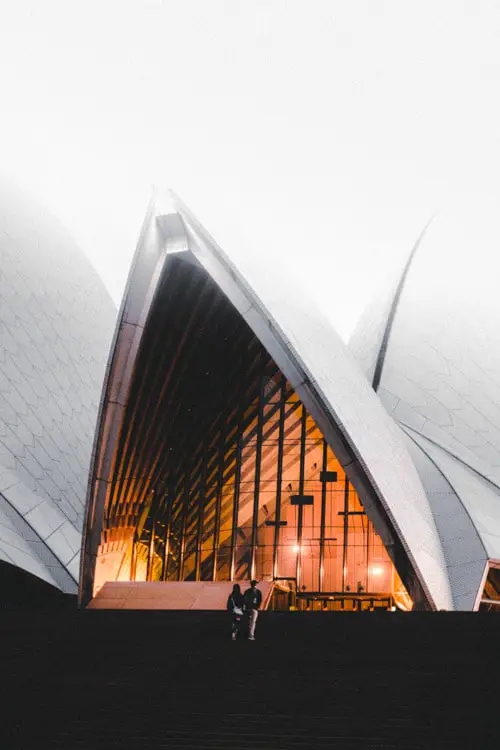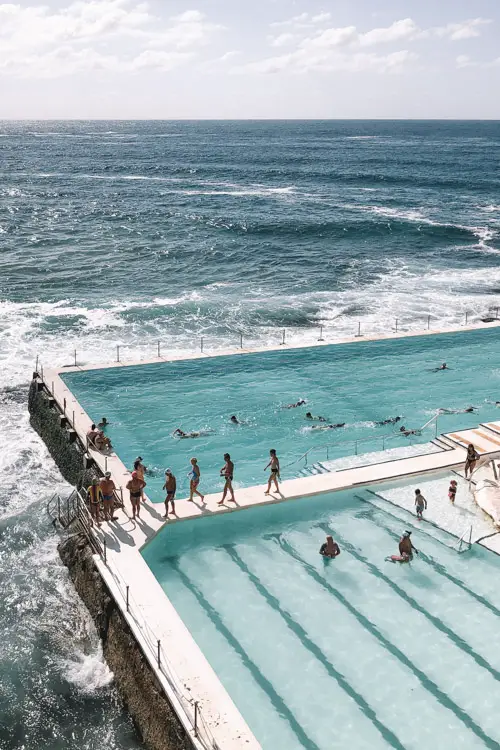 21 Romantic Date Ideas in Sydney
Grab a pen and notebook or pop that spreadsheet open – you're literally two seconds away from getting wow'ed by these unique and exhilarating date night ideas in Sydney. Ready? Go.
1. Captains Dinner by Captain Cook Cruises
What could possibly beat the feeling of drifting past the glorious Opera House with bubbles in hand as the sun sets behind the Sydney Harbour Bridge?
Not much, guys. Not much at all – which is exactly why a dinner cruise by Captain Cook Cruises needs to top your list of date night ideas in Sydney.
Indulge in a sumptuous 3-course contemporary Australian menu onboard the luxury ship, partnered with to-die-for views of the Sydney waterways and mood-setting live music that will make for an unforgettable night out.
Our 3.5 hour Captains Dinner cruise whisked us from Circular Quay to Darling Harbour, Luna Park, Taronga Zoo, Shark Island and back. If you visit in summer, you'll even catch the sun setting behind the Sydney Harbour Bridge – an experience that's guaranteed to take your breath away.
The mouthwatering a la carte menu allows you to pick between tantalising grilled meat, seafood or vegetarian options. Side note: be sure to leave soom room for dessert because that was a one way ticket to heaven.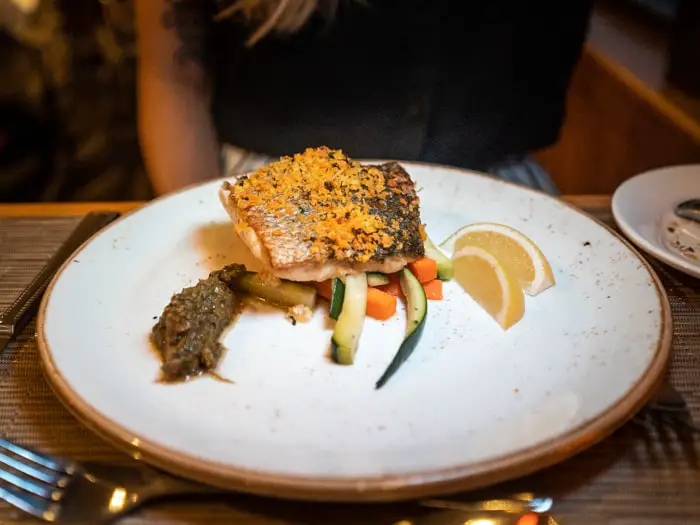 2. Indulge in Buffet Brekky with Koalas
Delve into this rare experience that comprises a tasty buffet breakfast with koalas, plus a private tour of Wild Life Sydney Zoo before opening hours. Roam through all of the exhibits before the park opens to the public and enjoy intimate encounters with kangaroos, quokkas, wallabies and echidnas.
3. Spend an Evening at Luna Park
Get ready to turn up the romance to 'The Notebook' standards inside the heritage-listed Luna Park Sydney to bask in those loved up carnival vibes. Yes, it's cliché. Maybe even a little corny, but heck, it sure will be one of the most memorable and nostalgic first date ideas in Sydney.
Ride the wistful carousel, make out on the ferris wheel, or get that adrenalin kicking on The Wild Mouser, all whilst soaking in a breathtaking vista of the Sydney Harbour Bridge.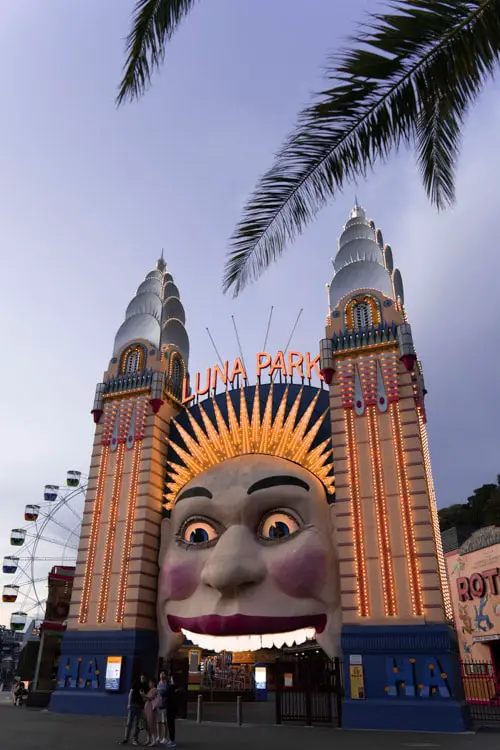 4. Dig into Vegan Yum Cha at Bodhi
It's yum cha with a twist! Embark on a relaxing stroll through Hyde Park and top the date off with a delicious lunch surprise at Bodhi Restaurant.
Tucked beneath ancient Moreton Bay fig trees, Bodhi is found inside Cook and Phillip Park, right beneath St Mary's Cathedral in the heart of the CBD.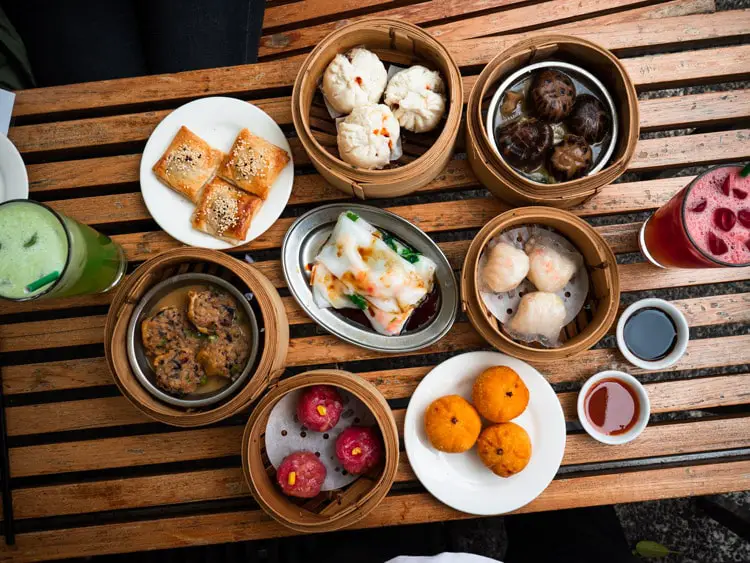 Their plant-based menu boasts all the yum cha classics, including meat-free juicy 'chicken' dumplings, scrumptious vegetarian siew mai, and melt-in-your-mouth char siew steamed buns, to name a few.
But wait, I'm gonna have to give our personal favourite a shout out – the mango and vegan soy cream pancake. If dying and going straight to heaven was a real thing, this is, undoubtedly, what it would feel like.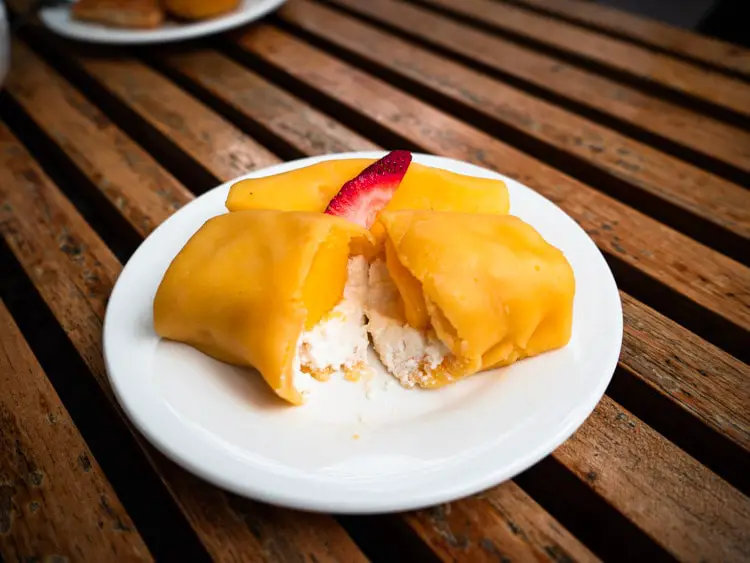 5. Sunrise from a Hot Air Balloon in Hunter Valley
Escape the hustle and bustle of the city and spend a weekend exploring the splendid Hunter Region, famous for its world-class wines and acclaimed vineyards.
Drift high off the ground and bask in 360-degree views of rolling green hills and vineyards as the world begins to stir and wake. To top off the experience, opt for a breakfast and champagne bundle for a lavish start to the day.
6. Jet Boat Adventure around Sydney Harbour
Thrill-seeking lovebirds – this one's for you. One of the best fun date ideas in Sydney is to jump on a heartracing jet boat ride that'll see you charging through Darling Harbour and Circular Quay at crazy speeds, while doing 360-degree spins, water drifts and other mad stunts that you would expect in a movie starring Dwayne Johnson.
Is your date a bit of an adrenalin junkie? Check out these crazy romantic things to do in Sydney that'll make 'em swoon.
Experience the thrill of freefalling from up to 15,000 feet while safely attached to a professional instructor.
✰ Helicopter Flight over Sydney Harbour
Soak in unbelievable views of Bondi Beach, Coogee Beach, Manly Cove and the spectacular landmarks of Sydney Harbour from above.
✰ Captain your own Speedboat Harbour Adventure
Speed your way through the Harbour on a self-navigated thrilling speedboat tour where you get to be the captain.
7. Roar and Snore at Taronga Zoo
Say hello to one of the most romantic things to do in Sydney for animal lovers. Camp underneath the stars in luxury glamping-style tents and wake up to the sound of roaring lions in the background.
Book the Taronga Zoo Roar and Snore glamping experience, which includes a delicious buffet dinner, breakfast, as well as canapés and beverages upon arrival at the harbourside campsite overlooking the Sydney Opera House and Harbour Bridge.
Get whisked away on an exclusive night safari at the zoo without the crowds and enjoy feeding time and close encounter sessions with friendly animals.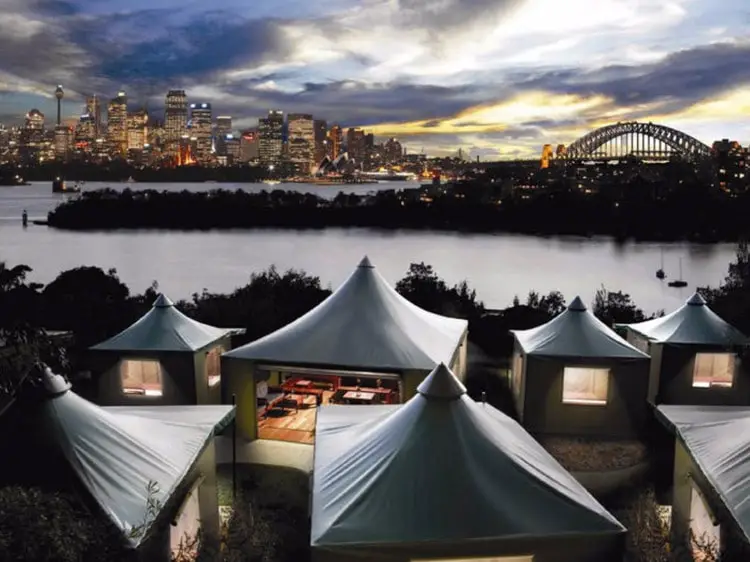 8. Sydney Opera House Tour + Dine at Opera Bar
Join a tour of the Opera House and uncover the grand theatres and foyers of the  UNESCO World Heritage site. Delve into the intriguing history of this iconic venue, unearthing enchanting tales and astonishing performances.
Top off the tour with a relaxed meal and heart-stopping views at the famous Opera Bar and immerse yourself in the splendid setting.
Want more insider tips for planning your city trip from a local?
9. Climb the Sydney Harbour Bridge at Twilight
Set out on a bucket list adventure and climb up the Sydney Harbour Bridge to admire the city's sparkling landscape from high up above the ground. 
Undoubtedly, one of the most adrenalin-inducing and fun things to do in Sydney at night; the spine-tingling bridge climb will see you venture to the top of the outer arch via catwalks and ladders. The ultimate reward? Intoxicating 360 degree views spanning as far as the Blue Mountains.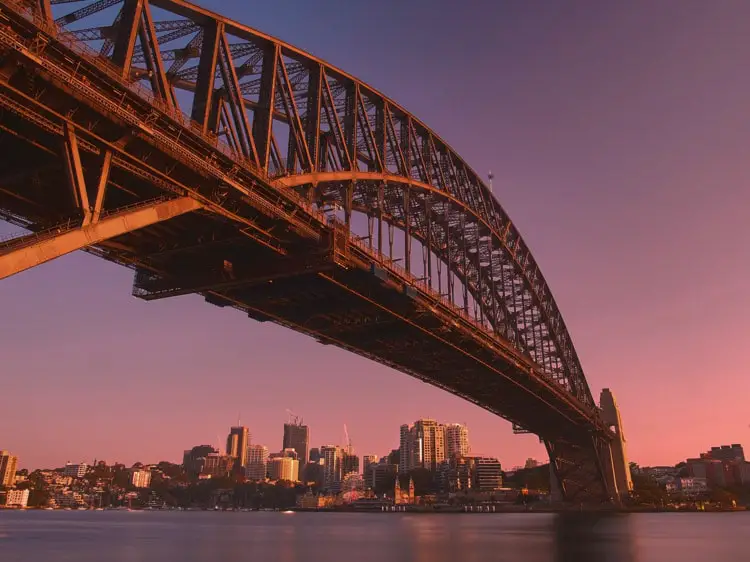 10. Take a walk inside the Chinese Garden of Friendship
If you're searching for romantic places to go in Sydney after a lunch date or just before heading out to dinner, make a pit-stop at the Chinese Garden of Friendship. Wander through the tranquil landscape that'll transport you to the orient the moment you set foot inside.
Stumble upon beautifully manicured gardens, picturesque ponds, jagged rocks, and even spot the odd lizard hanging about. 
11. Drift into the Sunset on an Italian-style Speed Boat
Pack a grazing platter and some bubbles – this is probably the most romantic weekend in Sydney you'll experience jetting around the waterways onboard a luxury mahogany speed boat.
Start your journey Rose Bay Wharf and get whizzed around the Harbour in style. Prepare to be blown away by the amazing spectacle of the sun setting behind the Sydney Harbour Bridge.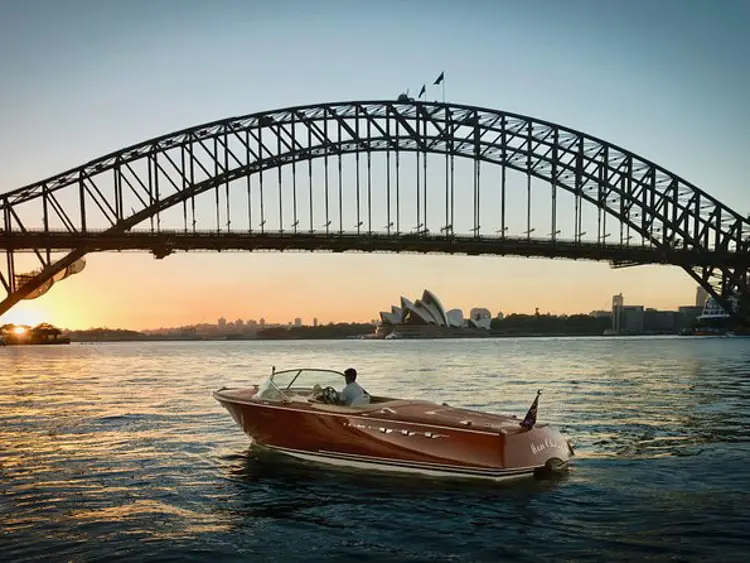 12. Gourmet Lunch at Jonah's by Seaplane
Jet off into the horizon from Rose Bay and soak in a bird's eye view of Sydney on a scenic sightseeing flight by seaplane. Indulge in a sumptuous 3-course lunch at the award-winning waterside restaurant, Jonah's, before getting flown back home.
The flight will swoop you and your date over the Harbour Bridge, Opera House, and the Northern Beaches, allowing you to marvel at the beautiful city from above.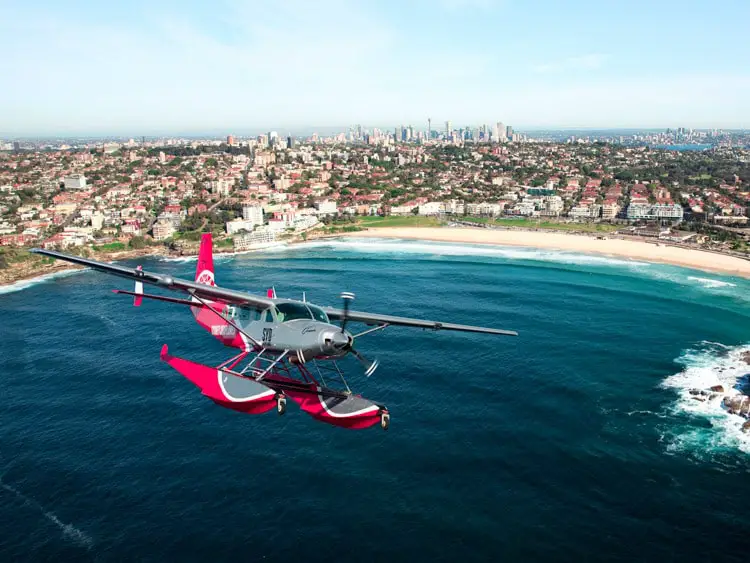 13. Picnic inside the Royal Botanic Gardens
Searching for one of the most romantic places in Sydney to frolic on that's filled with beautiful natural marvels and, of course, love and amour?
Strut into the Royal Botanic Gardens and partner your visit with a deluxe picnic package, which includes a soft rug, cushions, picnic table, plates, cutlery, napkins, a bluetooth speaker, flowers, alcoholic bevvies, and a delectable grazing board.
14. Romantic Picnic on a Secret Beach
Speed away on a private water limousine to a secret beach destination on the outskirts of Sydney. Escape the bustle of the city and whisk your date away to catch some vitamin sea, complete with antipasto or seafood picnic options and some bubbles to make it one of the most unique and romantic date ideas in Sydney.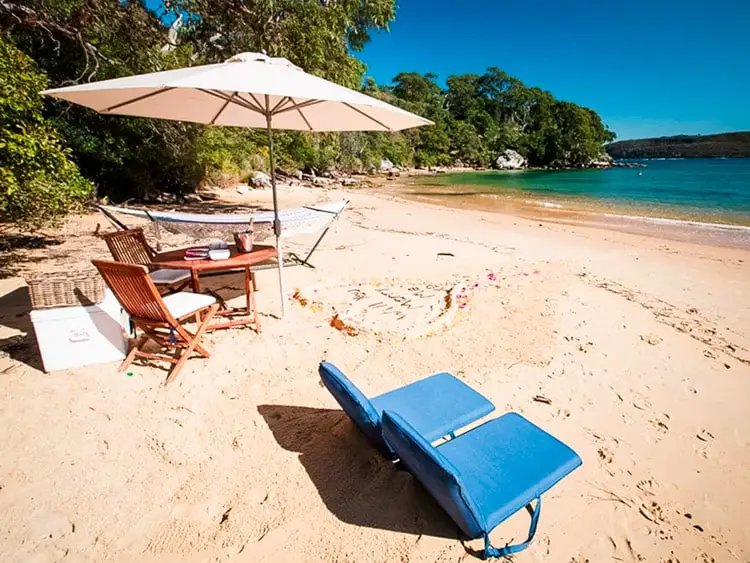 15. Sunset Kayak Tour on Sydney Harbour
There's no denying it – witnessing a sunset from the Harbour is, hands down, one of the most romantic things to do in Sydney when planning for a date night.
Hop in a 1 or 2 person kayak and paddle your way to secluded islands, golden beaches, taking in magnificent views of the city's famous landmarks during golden hour.
Discover more romantic things to do in Sydney:
16. Visit an Art Gallery in Surry Hills
Get cultured and visit the modern art hub of Sydney where you can sip your way through the lively bar scene, grab dinner at one of the best eateries in Surry Hills, watch a play at Belvoir St Theatre, or belt out some tunes at karaoke.
Be sure to check out eye-popping contemporary art galleries, such as the acclaimed Australian artist, Brett Whiteley Studio (doubling as his home as well as art exhibit), m2 Gallery, Michael Reid Sydney on Kippax Street, and the works of up-and-coming local artists.
TIP: Be sure to wander into some of Surry Hill's exciting laneways to uncover incredible street art, murals, hidden bars and eateries.
17. Escape into the Blue Mountains
If you've ticked all the romantic date ideas in Sydney CBD off your list – it's probably time to move beyond the city. What better place than the vast and magnificent Blue Mountains?
Bask in breathtaking panoramas of this world heritage listed national park, breathe in the eucalypt forests and ride the glass-floored cable car that zips you over the deep gorge. 
Be sure to grab the Blue Mountains Scenic World Discovery Pass for park admission, walkway and railway use and skyway access.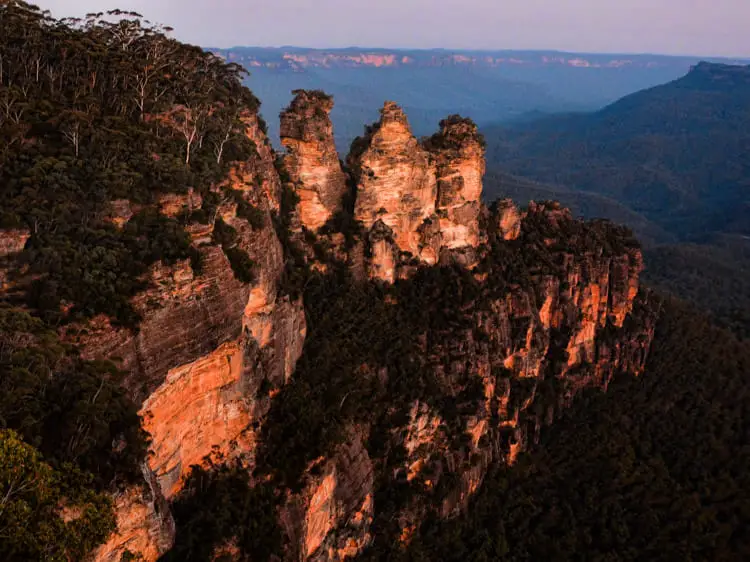 18. Stand-Up Paddle Boarding in Rose Bay
Rent a stand-up paddleboard in Rose Bay and get ready for a day filled with laughs and splash-tastic fun. It's the perfect spot for beginner paddleboarders to enjoy one of the most fun dates in Sydney while soaking in the tranquil landscape from the water.
19. Grab Dinner & Drinks at Bondi Icebergs Rooftop Bar
Treat your date to dinner and drinks at one of the most awe-inspiring rooftop bars in Sydney, Icebergs Dining Room and Bar. The indoor dining room boasts a stylish Italian fine dining menu with floor-to-ceiling windows offering panoramic views of Bondi Beach.
If you're planning for a more casual and laidback date, head to the rooftop bar to enjoy a mouthwatering selection of pastas, burgers, beers and cocktails.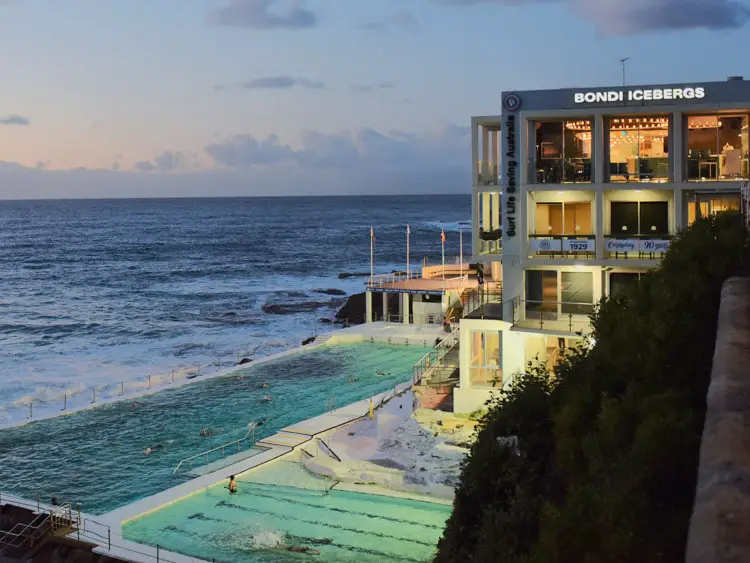 Discover more unique places to eat in Sydney:
20. Wander inside the Museum of Contemporary Art
Located at Circular Quay on the edge of Sydney Harbour, the Museum of Contemporary Art boasts some Australia's most celebrated modern art pieces.
Don't forget to swing by MCA's rooftop cafe for a sweeping vista of the harbour and a quick caffeine recharge before you continue on your quest to find the most romantic things to do in Sydney.
21. Venture into the deep on an Underwater Scooter Tour
Embark on the journey of a lifetime into the deep blue sea and set out on a guided underwater scooter tour led by a certified dive master. 
If you're up for one of the most unique dates ideas in Sydney – this 2-hour tour will teach you how to manoeuvre an underwater scooter for the craziest snorkelling experience of your life.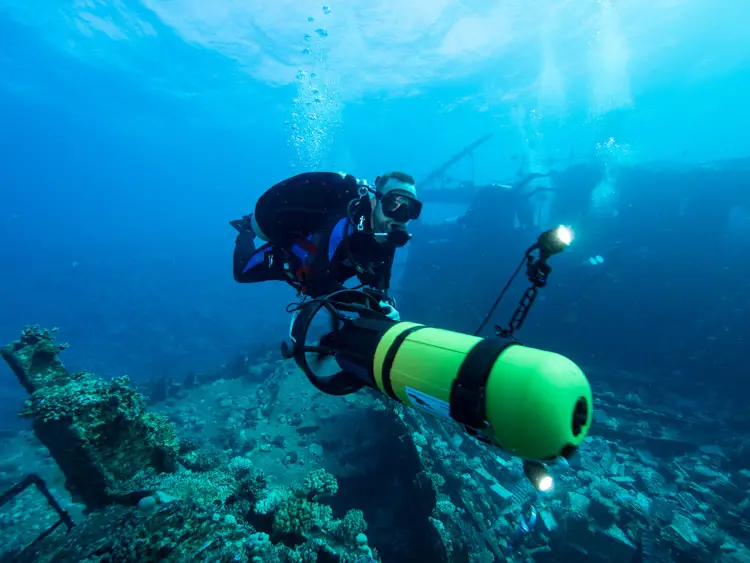 Romantic Hotels in Sydney: SKYE Suites Sydney
Turn your date night into one of the most romantic weekend getaways in Sydney – book a lux stay at SKYE Suites Sydney and experience pure 'wow' factor. Not even gonna lie. You'll probably end your weekend stay with legit plans to move into one of their lavish suites.
Okay, that's an understatement. You'll probably be plotting your move 3 minutes in.
Perfectly located in the heart of Sydney, the stunning hotel suites are an easy 5 minute walk from Barangaroo and the Queen Victoria Building. Got a fancy dinner booked at a trendy restaurant in Darling Harbour? No problems. It's only a 10 minute leisurely stroll from the hotel's doorstep.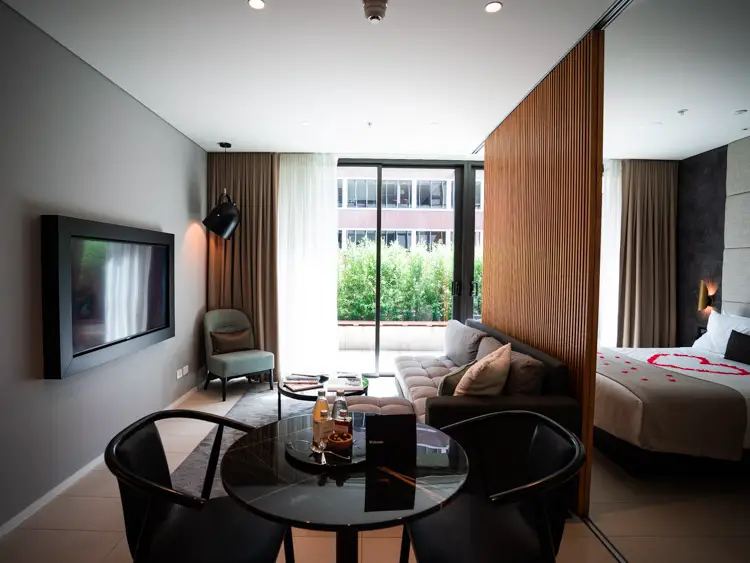 I mean, apart from the awe-inspiring architectual design of the building – I'll tell you what we were most impressed by. Room size. The vast amount of space inside these suites are hard to come by in any Sydney CBD accommodation.
We stayed inside a one bedroom suite, which featured a cushy queen bed, designer bathroom, cosy lounge area with a massive flatscreen TV, and a fully equipped kitchen. If you take the huge balcony into account, I could've probably ran laps around the room.
Designed by the internationally acclaimed architect, Koichi Takada, the interior and rooftop features were inspired  by the majestic crystal ice caves found in Iceland.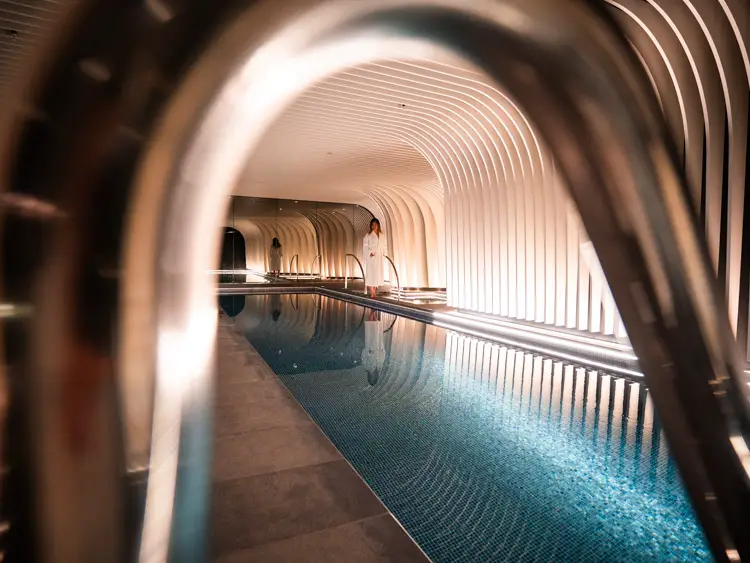 Spend a lazy afternoon kicking back at the heated ice cave swimming pool and hot jacuzzi – I'm going to go as far as to say that this is one of the most incredible and unusual indoor pools we have ever set foot inside.
If it wasn't for the rumble of our stomachs yelling at us to get out and eat, we would've probably floated around inside until we turned into dried prunes.
Other facilities that are available to guests staying at SKYE Suites are a well-equipped gym, valet parking, daily housekeeping, and free high speed WiFi.
Additionally, the property prides itself in its efforts to remain paperless – all rooms are equipped with a tablet that guests are able to use during their stay to learn more about the hotel, its services, and even order meals from restaurants within the property's dining precinct.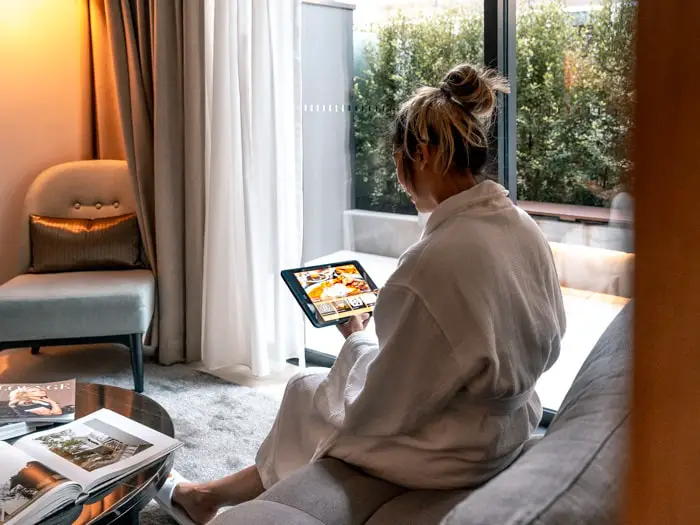 Note: SKYE Suites apartments are ideal for long stay guests as the rooms are completely self-contained. During the current health crisis, it's the ideal space for individuals, couples or families who have returned from overseas and need a place to self-isolate, or travellers who are stuck in Sydney as a result of cancelled flights.
Our stay was graciously hosted by SKYE Hotel Suites Sydney. All photos, opinions and unforgettable experiences are, always, our own.
New to Airbnb? Get $40 travel credit when you book your first stay!

Romantic Date Night Ideas Sydney: The Wrap Up
It ain't no Paris, but that's not to say that the city doesn't have its very own romantic flair that'll have your date swooning over some of these extraordinary date ideas in Sydney.
Australia's most picturesque city is filled with love and magic; if you only know where to look. 
So, get on up and start planning an unforgettable romantic weekend in Sydney to wow your mister or missus with some of the most extravagant gestures and ideas that will earn you brownie points for life.
Are you forgetting something?
More Sydney & Australia Guides
Have more suggestions or questions about date night ideas in Sydney?
Feel free to ask in the comments below.
Loved this post? Share the romance on Pinterest!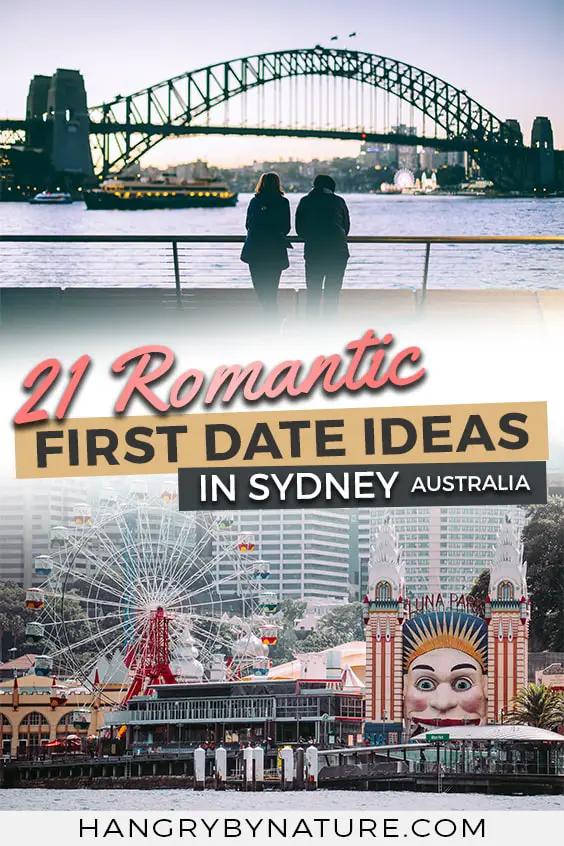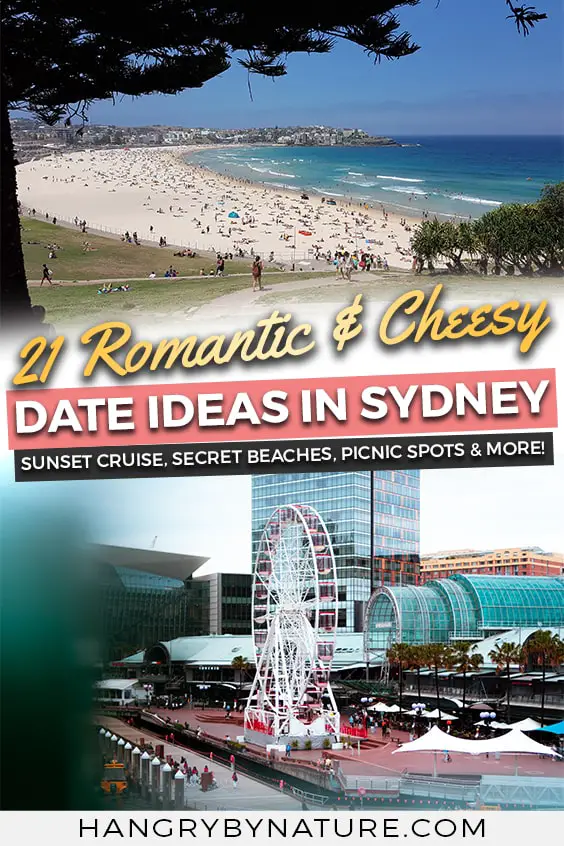 Get more out of your travels
Take a look at our Travel Resources to find the best deals on flights, accommodation and attractions. Find mistake fares, the cheapest date to fly each month, hotel and apartment savings, plus where to buy the cheapest tickets for attractions.
Looking for some sweet deals in Sydney? You're in for a treat.
Come say "HEY!" on Instagram or Facey. I like to think I'm a self-proclaimed comedian, all the while providing some lit AF travel tips. You be the judge.