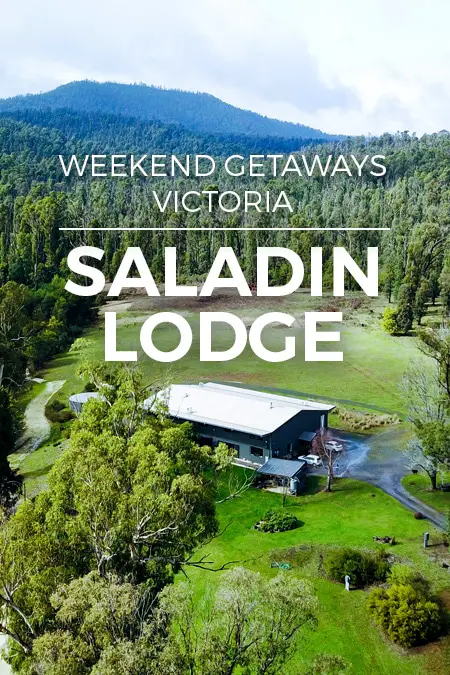 You know when you have 'one of those' weeks where nothing seems to be going your way – the kids have gone rogue, work has been, well, work, and you just feel like you need to… get away?
Well, my lovelies, I've found the answer to your prayers.
You've probably heard of this perfectly secluded lodge in the foresty hills of the Yarra Valley, but lemme tell you – it's exactly what you need after a long and hard week at work. It's the perfect retreat for those who wish to escape the fast-paced concrete city life.
We had been planning a winter getaway in Victoria for quite some time, and a trip into the mountains was always an idea that had been on the cards. We were determined to let Flo experience his first taste and feel of snow at Lake Mountain so naturally, we wanted to head somewhere with toboggan slopes for kids.
Basically, we didn't want to drive anywhere that took longer than 2 hours to reach, for the sake of our sanities since we were on the road with a baby that legit goes from zero to 100 in hysterics the moment his hair grazes the car seat, and a 2-year old who enjoys (all too much) crying in sync with the baby and kicking the back of my seat for giggles.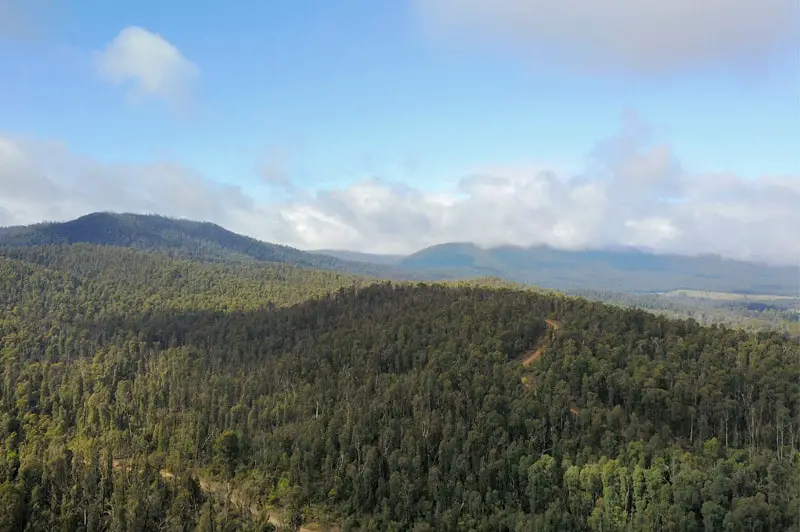 Saladin Lodge is a secluded retreat in the woods, yet only a short 10-minute drive from Marysville town centre.
Nestled between rolling green hills and dense forestry lies the 68-hectare property, owned and managed by none other than the lovely Kim Rycroft. Regardless of whether you're a solo traveller, road tripping with your other half, or hauling your entire clan with you – you'll find the perfect room and space to suit your needs.
We didn't arrive until 10pm on a Friday night after manoeuvring our way through the famous Black Spur in complete darkness, torrential Melbourne rain and fog as thick as pea soup. Kim briskly came and greeted us at the door, despite our very late arrival and helped us with our belongings, gave us a quick tour of the place, and quietly ushered us into our room.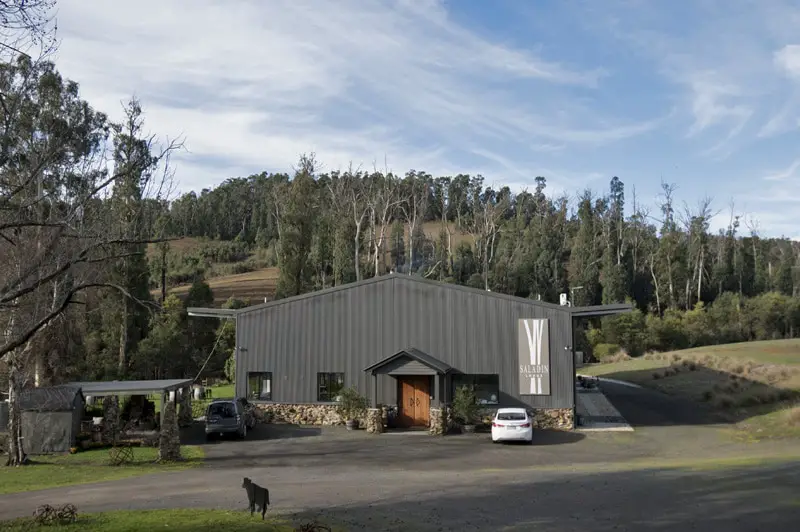 It's like, home away from home.
There aren't many places in the world that feel as warm as your Mum's home. I'm really not even trying to sugar coat here, but Saladin Lodge comes pretty darn close to the home you've always wanted to have. Kim makes the place exude a glowing warmth and unsurpassed hospitality that's truly hard to come by these days.
You really won't want to leave. Ever.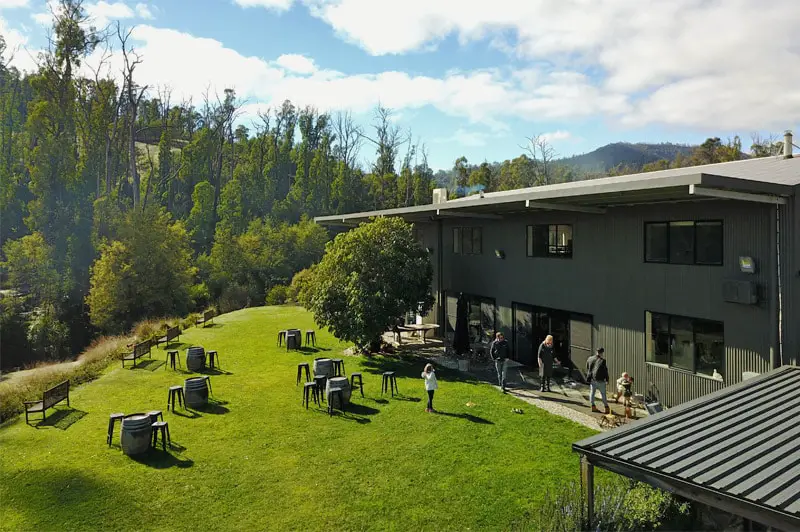 THE PROPERTY – CRISP AIR, MOUNTAINS AND KANGAROOS
Located a short 2-hour drive north east of Melbourne's CBD, it is an ideal short weekend trip for families and nature seekers alike.
We've done numerous road trips in Victoria with our now toddler, and I'll let you in on one thing – the journey is not always fun. Especially when you're trapped in a small sedan with no place to run or hide, and you've forgotten to pack that bottle of wine to drown out the sounds of hysterical cries and the constant repetition of "are we there yet?".
So, when a stunning country retreat that's under 2 hours away from home jumped into my line of sight – there ain't no way in hell I was gonna say no.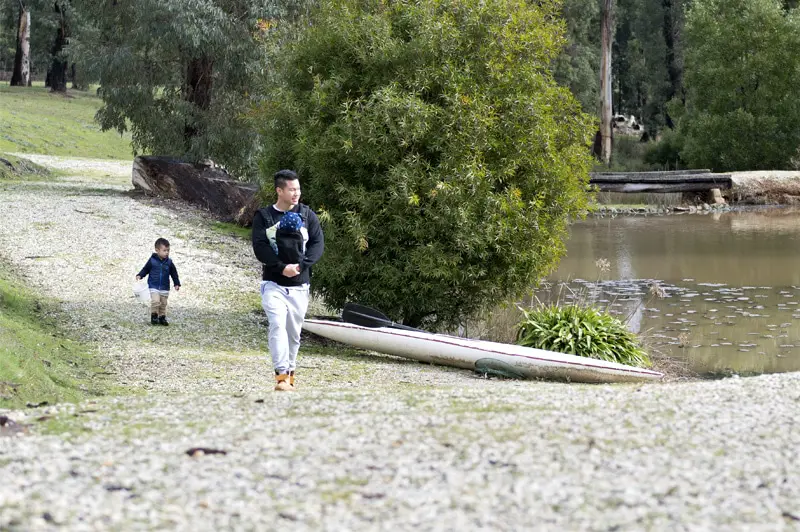 How's the serenity? Un-bloody-real.
Seriously, if the stresses of work, family and general pressures of life are weighing up on you, then I can guarantee you that this is where it all S-L-O-W-S D-O-W-N. This is where you stop to smell the flowers, wake up and say g'day to kangaroos outside your window, and enjoy every sip of that coffee you're holding.
The area is scattered with an abundance of walking tracks, a creek that you can fish or kayak on, and a paddock housing Kim's beloved horse, Buggsy. It's literally every kid's and parents' dream. You let them run wild on hectares of land and burn their energy, whilst you slowly polish off your hot cuppa and watch life go past at the rate that it should.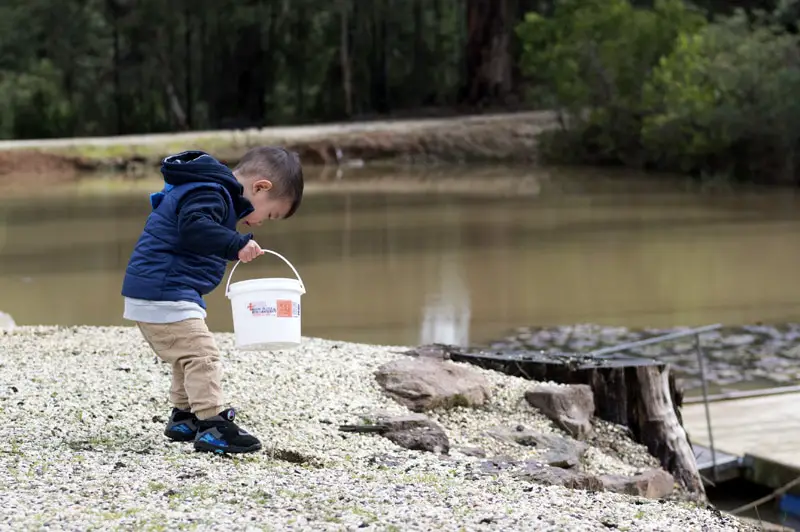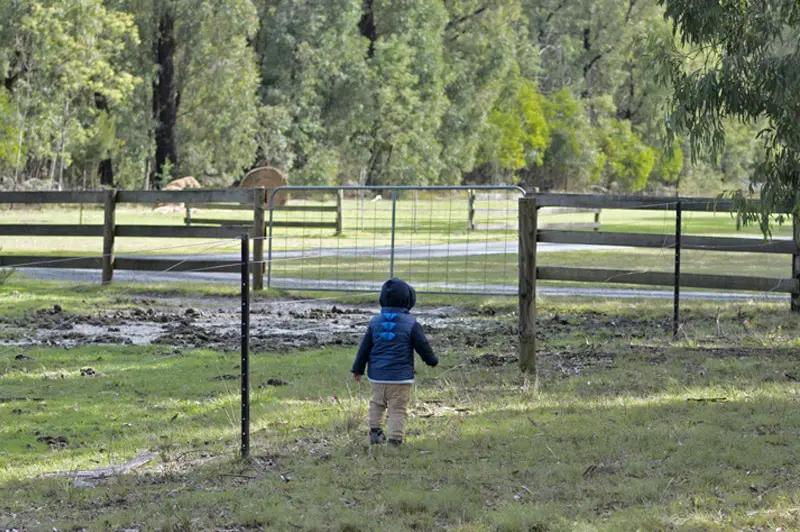 So, what's the deal with the name? It sounds so exotic.
Kim is the third generation owner of the property, having come into ownership of it 17 years ago, she desired to honour the history of the place, and believed it to be appropriate to name the Lodge after the famous half-Arabian race horse, Saladin, who belonged to the original proprietor, J.R. Crooke.
Mr. Crooke believed the horse to possess the courage and strength of none other than the first Sultan of Egypt and Syria, Saladin. For a good reason – Saladin, the horse, went on to win the prestigious Australian Cup in 1872.
You'll find it hard to believe that the property wasn't always a lush, green oasis. In February 2009, at the height of Australian summer, the Black Saturday tragedy engulfed the entire property in flames. Deemed Australia's all-time worst bushfire disasters, the raging fires left most of Marysville and its surrounds in ashes.
Apart from the scattered barren trees, little visual evidence remains today that something so terrible happened less than a decade ago. But, that is the work of nature, and we can all be in awe of how fantastically plants, trees and wildlife are able to restore themselves.
THE LODGE AND ITS ROOMS – MARYSVILLE ACCOMMODATION AT ITS FINEST
Saladin Lodge offers a variety of accommodation styles to suit almost all types of travellers.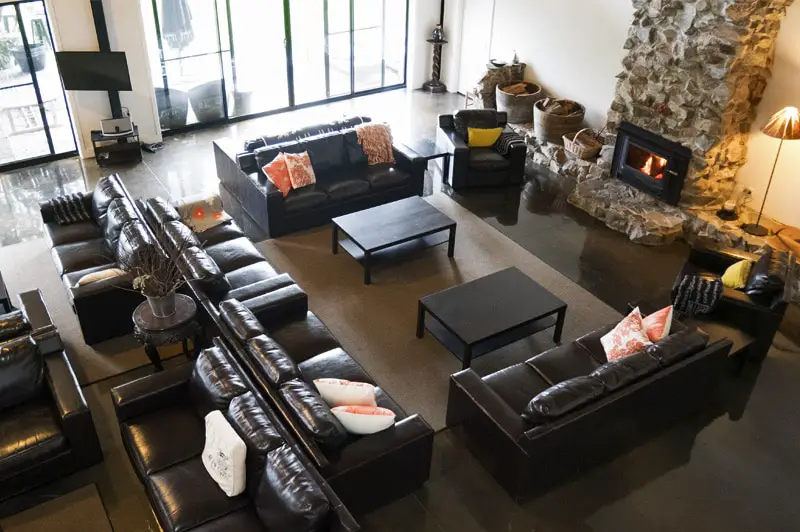 We stayed in a spacious Lodge Room which comprised of a King-sized bed and two single beds. We had a toilet for our own use which was located just outside the room, but do bear in mind that showers are shared with two other Lodge Rooms.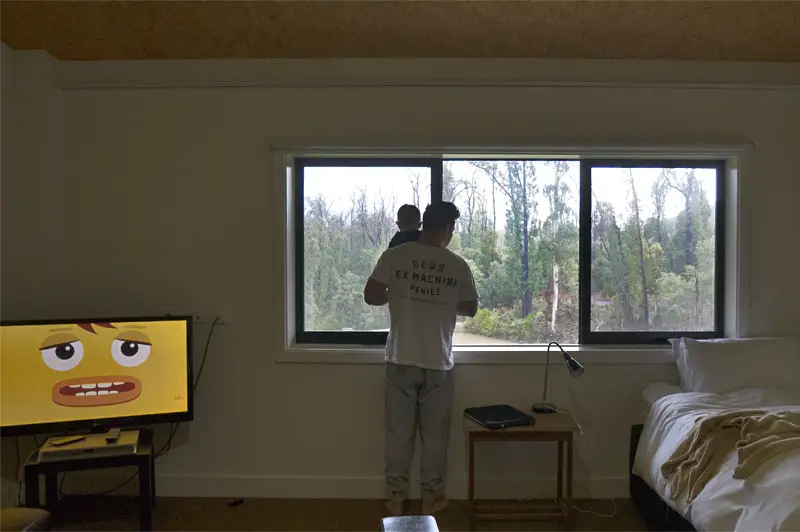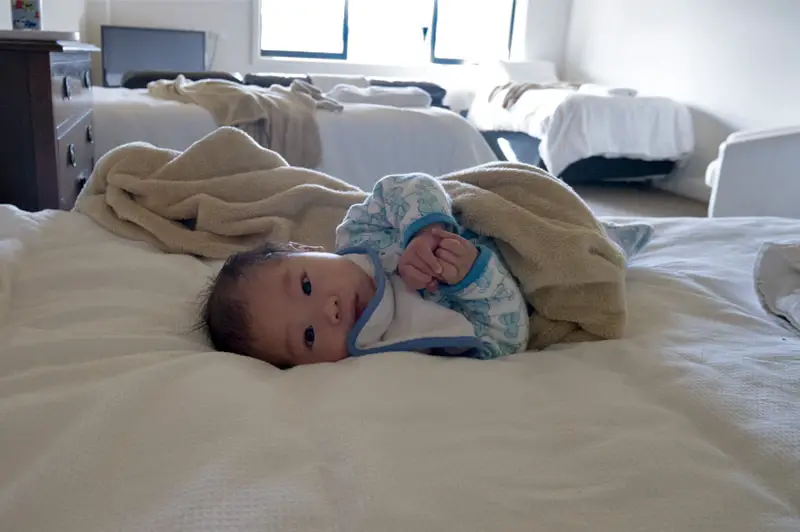 Now, I know what you might be thinking – you're probably reminiscing on your Euro trip in your youth and it's taking you back to the 20-bunk hostels with mass shared facilities and showers that you would never set foot inside unless you had a quarantine suit on.
You can now wipe that from your memory banks because – let me reassure you – these are some of the cleanest bathrooms and showers I have ever seen in shared use facilities.
If you're towing kids along, this style of room is perfect to accommodate a family of four. The rooms also include a chill out lounge space with a flat screen TV, so don't forget to bring your Google Chrome so you can connect Netflix and get the kids to zone out in front of the TV whilst you and hubby polish off that bottle of Shiraz from Kim's heavenly local wine selection.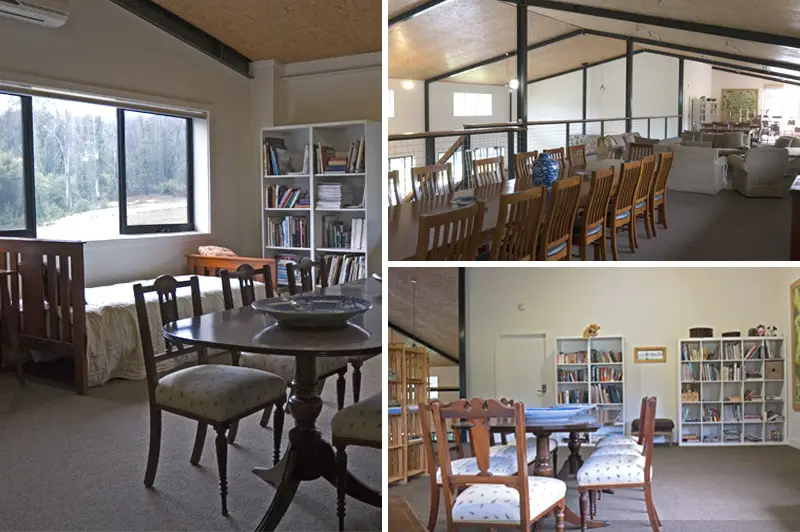 If you're on the road with your better half, or travelling solo, you can opt to stay in one of the Deluxe Bed & Breakfast Rooms with private ensuites.
Oh, and I almost forgot to mention the coolest room of them all – The Barn!
Not every city slicker can claim that they have slept inside a barn. Not to crush a child's dreams or anything, but you won't be sharing your living quarters with any farm animals. The Barn has been restored and modernised, located above the Barn Café (yay, wake up to the smell of coffee) where Kim brews a mean coffee and showcases a host of local produce. The Barn Room features a private ensuite with a King and two single beds, and access to a balcony with breathtaking views overlooking the mountains, creek and Saladin Lodge.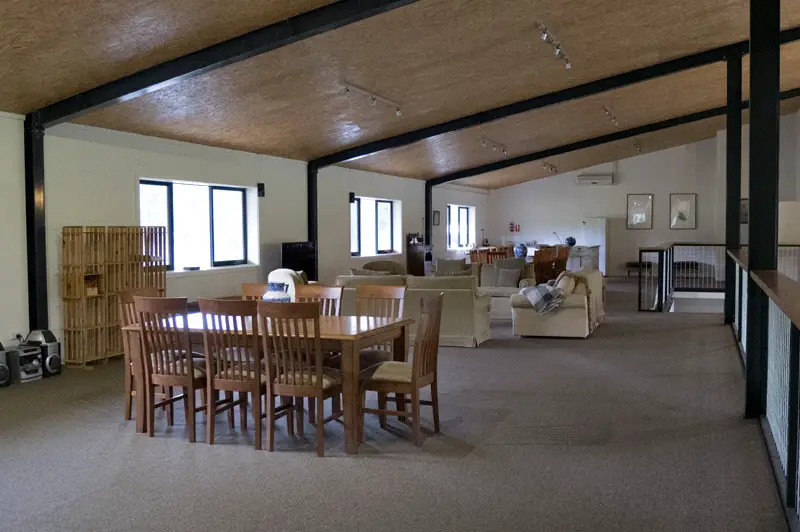 The space is designed to be communal, and the idea is to mingle with other families and travellers that are exploring the region. I'll guarantee you that your kids will never get bored, you'll find them getting up to mischief with other kids, running amuck in the great outdoors, or unleashing their creativity on drawing paper and crayons that Kim has so thoughtfully provided. Not to forget, every little Picasso gets their masterpiece displayed at the entrance.
But, if you're not in the mood to mingle – let's face it, we can't always be social 24/7 – then you can escape to the lounge room upstairs for some quiet TV time. Or, if you really want to get some work done (I would advise against it, I mean, you're on holiday), you can sneak off into the conference room for some privacy, or set yourself up on one of the two large tables available upstairs.
If it's time for the kids to wind down and hit the hay, you can also take them upstairs to the quiet reading area, where a large selection of books and boardgames are available for use.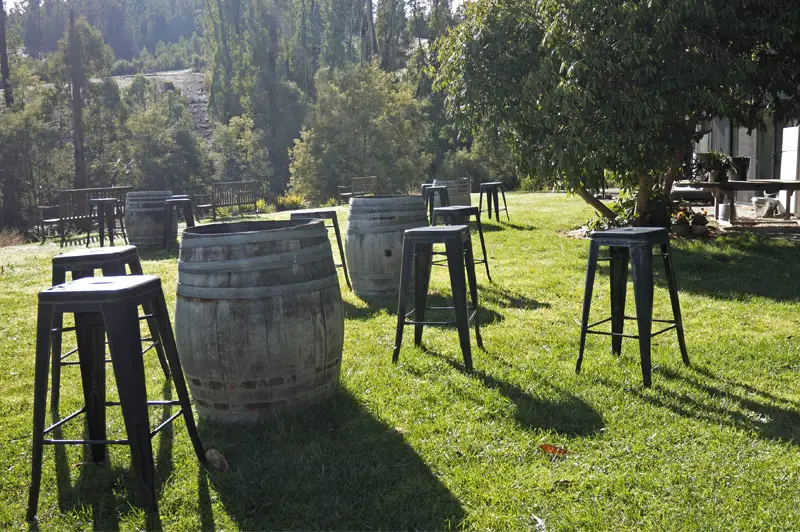 BUUUT… WHAT ABOUT THE FOOD?
Now we're talkin'.
I know you guys were waiting for this, and it's totally the best part. Kim's home cooking is phenomenal, a lot of her ingredients are locally sourced, so you're most likely eating food that is grown in the beautiful Yarra Valley region.
Breakfast is included in your room package, with a variety of breads, spreads, yoghurt, fruits and cereals on offer.
But you know what the icing on the cake is for me? Bacon. Kim takes breakfast orders – eggs, however you like them, with sautéed spinach, mushrooms and tomatoes. I'm literally sitting on my desk drooling as I'm writing this – her food is delish!
At an additional cost, but so worth it, she cooks up a fresh, healthy and scrumptious dinner for her guests – so you get to experience the convenience of dining in, which is a total bonus if you have kids and try to avoid dining at restaurants because we all know that after a certain hour they turn into screaming devils.
THE HOST – THE HEART & SOUL OF SALADIN LODGE
As breathtaking as The Lodge and its surrounds are, I think – for us – the real substance of our 2-night stay came from the beating heart of the business, Kim. She's everything you could ever hope for in a host, and more.
To us, she's like the kind of aunt everyone wishes they had in their family – funny, kind-hearted, cheerful, easygoing, and just a general joy to be around.
Originally from the beachside suburb of Brighton, Victoria, her passion for horse-riding and 4-wheel driving led her into the Victorian countryside, which eventuated in the discovery of Saladin Lodge. Forgotten and almost completely engorged by nature, she fell in love with the charming cottage that once stood on the land.
After the tragic bushfires that took down the cottage that originally captivated her, she transformed it into the marvellous accommodation that it is today, keeping the legacy of the property's predecessors alive through her storytelling and displaying ornaments that survived the fire.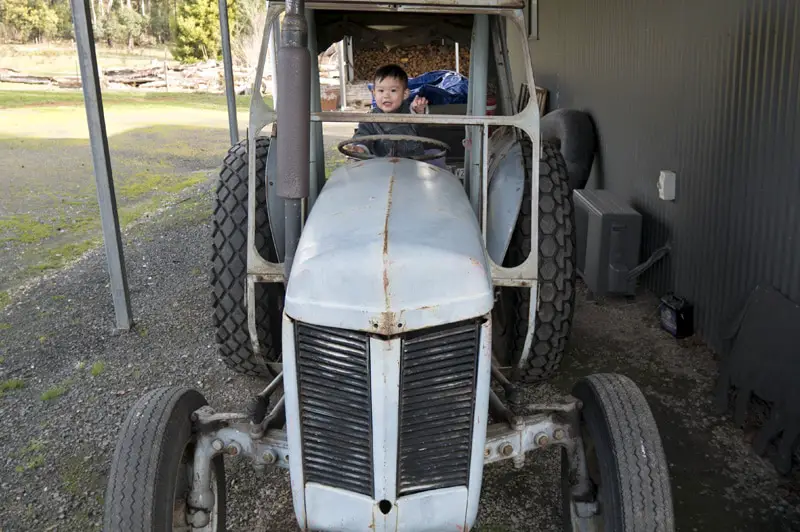 Like any business owner, Kim has grand visions for the property – she excitedly revealed her plans of building an amphitheatre-like seating area in the elevated grounds facing the creek, where she envisions live bands performing outside in the warmer months.
One thing's for sure – we cannot wait to return in the future to see which one of her visions she has given life to on our next visit.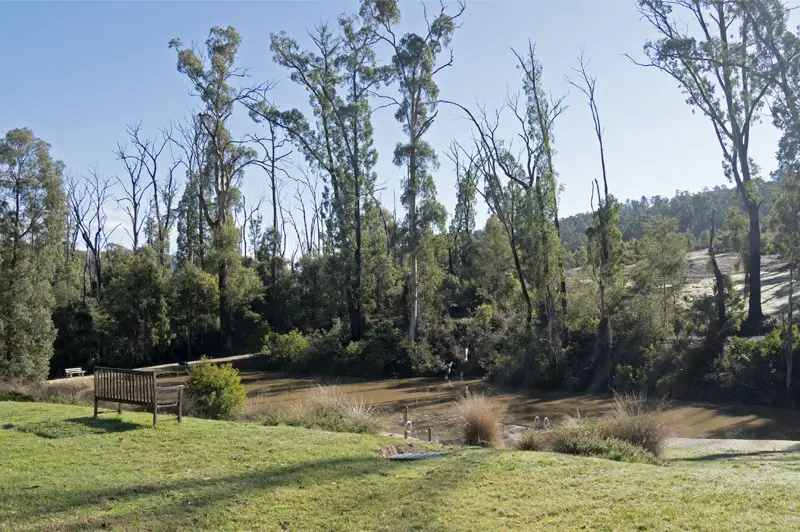 THE LOW DOWN
I'm pretty sure I was close to chaining myself to the king-sized bed, just to delay us from returning to Melbourne when Sunday came around.
For us, the location was prime – a short drive from Marysville that allowed us to discover the quaint little town and all that it had to offer, but yet far enough to make you feel like you're in the deep of nature. We set out to escape suburbia and the hustle and bustle of fast-paced Melbourne life, and that's exactly what we got.
If you're looking for perfect weekend getaways in Victoria – look no further. Saladin Lodge provides a piece of luxury in stunning, natural surrounds. all in a social setting that allows families and other travellers to meet. Add an incredible host who cooks up a mean storm to the mix, and you have yourself a recipe for a rejuvenating and unforgettable weekend that will have you ready to tackle the week to come.
So, what are you waiting for? Give Kim a buzz and treat your partner or family to an extraordinary weekend in the country.
A massive thanks to Saladin Lodge for hosting our stay. Opinions are, undoubtedly, my own and based on my own personal experience at The Lodge.