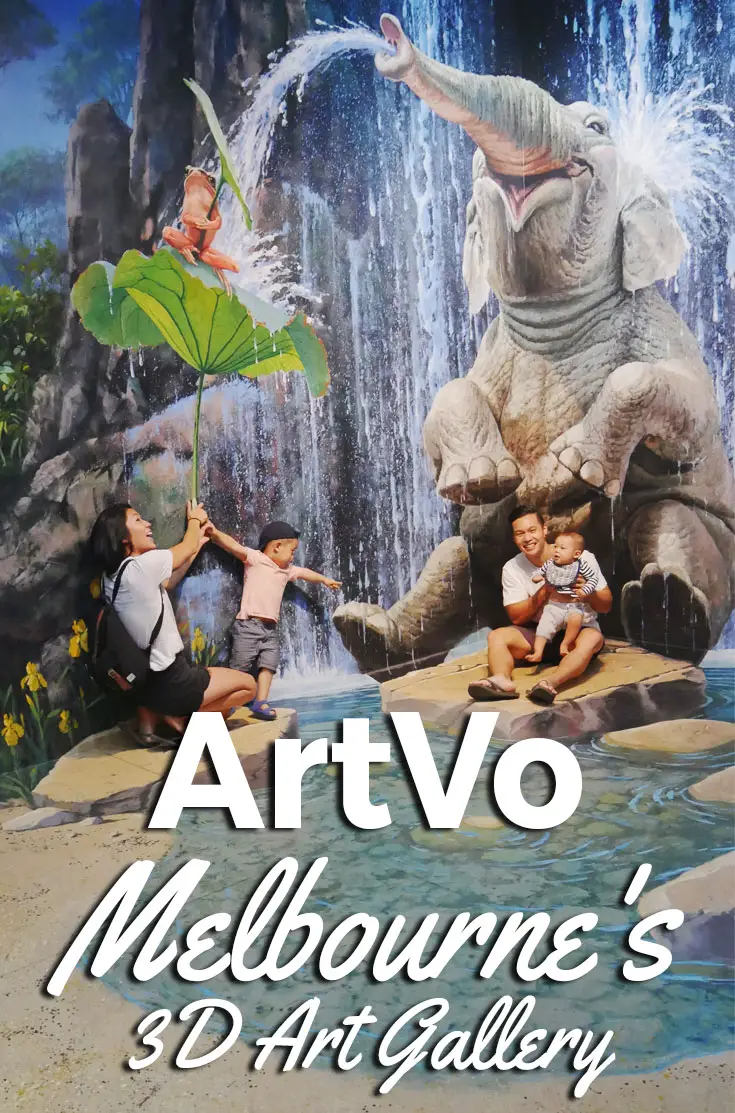 Never heard of ArtVo Melbourne before? Well, my friends, you're in for a visually pleasant surprise.
Out of all the cities in Australia, Melbourne is lucky enough to be graced with the awe-inspiring immersive 3D art gallery – ArtVo. Feeling seriously blessed to be a Melbournian here, guys.
But, truth be told – I'm actually not surprised our beloved Burn City was picked to be the cream of the ArtVo crop. Being the self-proclaimed 'hipster' capital of Australia, I, as a Melbournian, like to believe that we pave the way for creative expression and thinking. In the whole damn country. Yup. I'm calling it.
Whether you're visiting the city on a weekend, or you're simply on the search for fun things to do in Melbourne with kids because they're driving you bonkers at home – this is one art gallery in Melbourne you don't want to miss.
THE GALLERY
So, um.. What exactly is ArtVo?
Well, how do I put it? Unlike traditional art galleries (in which half the time I have no idea what I'm staring at unless the painting involves some type of food because I'm just so cultured like that), ArtVo's 3D artwork encourages visitors to touch, hug, smooch (probably wouldn't advise) and whatever your creative mind can conjure up, with the art pieces. Be one with it.
Your only limit is your imagination (insert raised eyebrow at this cliché remark).
Adults and kids of all ages will be mind blown by the illusions and immersive nature of the wall and floor paintings – hands down, some of the most Insta-worthy photos I have ever snapped.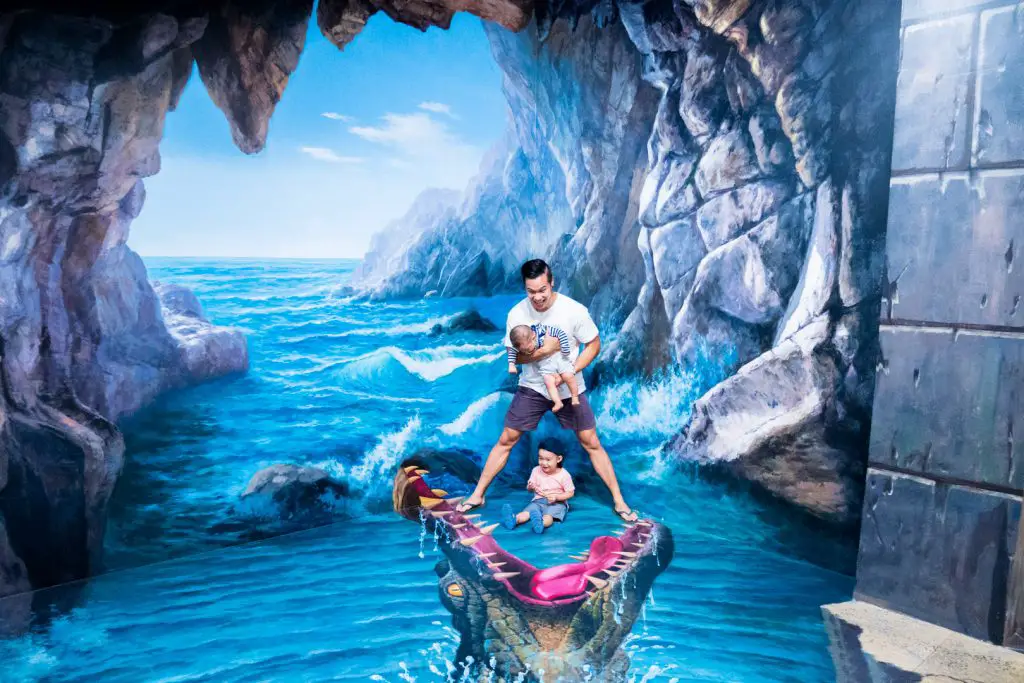 The ArtVo Melbourne gallery spans over 1,900 square metres of space, with 11 themed zones containing over 100 pieces of 3D artwork just waiting to be delved into, literally.
You'll probably quickly discover what the most popular rooms are, because you'll find yourself (and others) whipping out your most outrageous antics on the ground and on the walls as soon as you walk in – a very entertaining sight if I'm going to be absolutely honest.
The things we do for the 'gram, aye?
Our personal favourites were the Jungle Safari, Aquatic Adventure and The Enchanted Garden. Go and see this top Melbourne attraction and decide for yourself!
Skip the queue and walk right in – book tickets online

here

.
GETTING TO ARTVO
ArtVo is located at The District Shopping Centre (formerly Harbour Town) in Docklands, Melbourne. It's easily accessible via tram, bus or car.
Public transport:
City Circle Tram (free Melbourne tram) stops right outside The District Docklands (Docklands Drive). You can also hop on a regular tram (no. 70 or 86), which also happens to be free within the free tram zones in Melbourne – check the map of the free tram zone here. 
Bus Links route 220 will drop you off right at the front of The District Docklands (stop 6, Footscray Rd)
Car:
Park in the multilevel carpark at The District Docklands for direct access. For more info on prices, check here.
Walk:
If you feel like you're in need of cardio (like mua, because my body doesn't seem to believe in it), it is entirely possible to walk to ArtVo Docklands from the Melbourne CBD. It'll probably take you a good half hour from, say Emporium Shopping Centre, which is basically in the centre of the Melbourne CBD.
Take a look at the walking routes below:
TIPS FOR FAMILIES
ArtVo Melbourne is an ideal experience for parents on the lookout for unique kids' activities in Melbourne, and you certainly won't find a shortage of things to do in Docklands Melbourne with kids if you're heading down that way for the day.
Here are 3 of my most important family tips:
Come early (ideally when the doors open at 10am) on weekends or school holidays to avoid queues, especially if your desire is to get right in on the fun and pull out some crazy poses for the 'gram without publicly humiliating yourself in front of other visitors. If you're not much of an early bird, arriving later in the afternoon will also work in your favour.
Book your tickets online here to avoid queuing up on location.
There are no toilets inside. I repeat, there are no toilets inside. As realistic as some of the paintings may look (heck, there may even be a 3D painting of a toilet), it probably isn't acceptable to urinate into what appears to be a body of water. So, make sure to take yourselves and the kids to the public toilets in The District Shopping Centre before you make your way inside to avoid accidents and busting-to-pee leg shakes.
Don't forget to ask one of the lovely staff to capture a group photo for you. They know all the best camera angles for the perfect 3D shot that will leave your friends and family gaping when you show them your pictures.
OTHER ESSENTIAL ARTVO TIPS
Keep an eye our for 'Photo Points' on the ground as a guide to getting the perfect framing and 3D effects in your photos. If you look close enough, these guides also share tips on the best camera orientation and flash setting for any particular shot.
Depending on how many photos, videos, poses and general silliness you want to unleash, on average, it will take 1.5-2 hours to make your way through the gallery.
Bring snacks and water for yourselves and the kiddos because there's no café inside. Trust me, after going crazy as apes doing some of your most ludicrous poses and getting downright goofy – everyone is going to get hangry and thirsty.
Okay, I'm well aware that I literally just mentioned this above… But, did I mention come early? Alright, I know. I just wanted to reiterate that fact again. We had the whole place to ourselves for a whole 15 minutes when we rocked up at opening time before other visitors started arriving. Rest assured, we went bonkers. Slid across the floor, shamelessly plastered ourselves against the wall, pulled faces we never knew we were capable of making, all without being publicly embarrassing ourselves. Our reputation still stands.
GENERAL INFO
Opening hours: 7 days a week 10am – 6pm
Location: 26 Star Cres, Level 1, The District (formerly Harbour Town), Docklands VIC
Website: https://artvo.com.au (book online to avoid queues)
Cost: $28 (Adult), $25 (Concession), $18 (Child 5-15 years), 0-4 free, family group prices range from $55-78
Need more inspiration for getting out with kids?
[siteorigin_widget class="WP_Widget_Media_Video"][/siteorigin_widget]
LIKE IT? PIN ME.