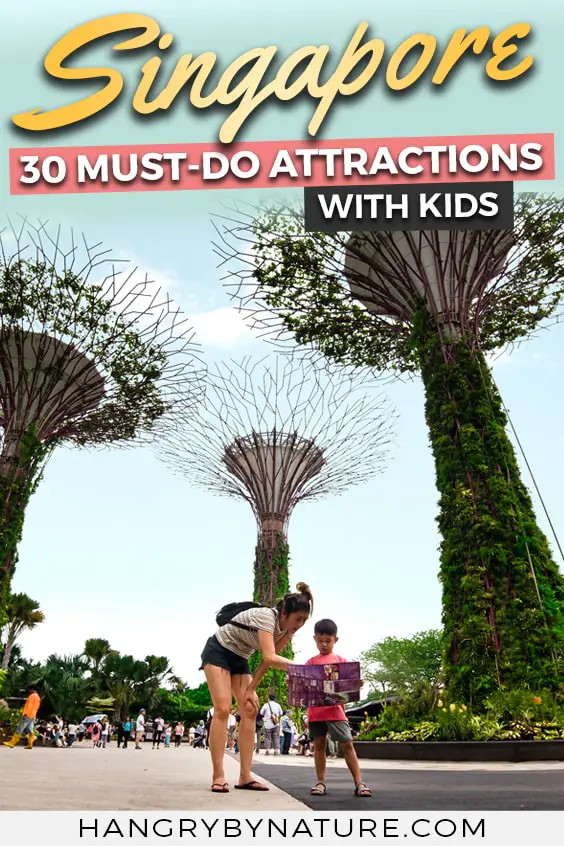 Hunting for places to go with kids in Singapore? You've come to the right place. This highly developed South East Asian country is a  slice of paradise for families that's home to countless attractions and architectural marvels that'll have you picking up your jaws off the floor.
Mark my words - you will never run out of things to do in Singapore with kids. For a relatively small place, this country packs a helluva lot of heat when it comes to entertainment, activities, man-made marvels, and just all round fun stuff.
Plus, each time you visit in the space of a few years, they seem to come out with some kind of new next level awesomeness (The Jewel, anyone?) that leaves you adding more to your bucket list. The world can't keep up, Singapore. We've been to the city 3 times and never seem to get around to everything on our list. It would probably be wise to just move there for a bit.
So, start planning your family trip with this pretty epic list featuring 30 places to go with kids in Singapore. I wish you good fortune in trying to jam these into your itinerary.
Planning a trip to Singapore & Malaysia? You might enjoy these posts: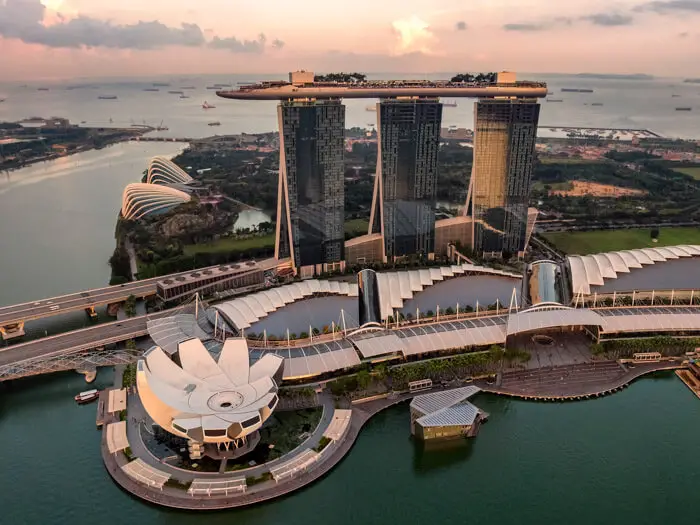 Singapore Travel Tips & Must-Knows
How long to spend in Singapore? Umm, like, a month? Is that too farfetched? Okay, I get it. You don't have that much leave. 3 days in Singapore will be enough to graze the surface and visit some of the main attractions, but I would probably say that 5 days is a good amount of time to really enjoy the food, enjoy a few attractions and activities, and also not feel too rushed.
Which area to stay in Singapore? From our 3 trips, we've found that staying around Marina Square, near Bugis Junction, along Orchard Road, or around Clarke Quay were great central locations. We always found a shopping mall nearby with plenty of food options and, of course, an MRT (subway) station where we could conveniently get around.
For a more detailed guide, take a look at the best and worst places to stay in Singapore.
What's the best way of getting around? I don't always recommend catching a cab in South East Asia, but Singapore is the one place where I can honestly say that taxi drivers aren't dodgy, they're great conversationalists (or not when you just want silence), and on many occasions, we actually found them to be cheaper than the popular ride-sharing app, Grab.
If you're travelling with kids, the upside to catching a taxi, is that car seats are not a legal requirement. Whereas with Grab, you'll need to book a 'family ride' where the driver offers kids' car seats, which are usually more expensive.
When is the best time to visit? Singapore is a year-round destination, but if you don't fancy getting caught in torrential downpours (let's be real - who does?), then you'll probably want to plan your travels between February and April during the country's drier season. I say drier because it still is a tropical country and random bouts of rainfall can always materialise out of the blue.
TIP: Rain season lasts from September until February - not an ideal time to experience Singapore's outdoor attractions.
Avoid school holidays and Chinese New Year. If you're looking for places to go with kids in Singapore - do not visit during school or seasonal holidays. Attractions will be immensely crowded, queues will be long, tantrums will be had, and patience will most definitely be tested. Check the public holidays calendar so that you can plan your trip outside of these testing times.
Don't forget Travel Insurance. Don't be that person. I worked at a travel agency for 2 years and have heard enough horror stories to direct a sequel to Final Destination. We use and recommend World Nomads, because, quite frankly, they have one of the most competitive rates in the industry. Get a quote for your upcoming trip.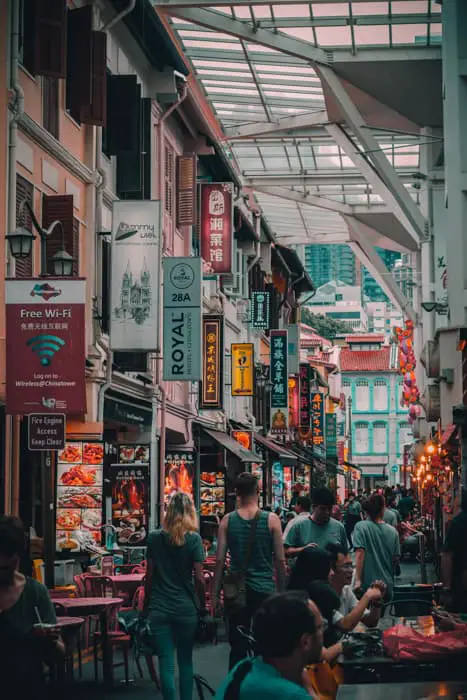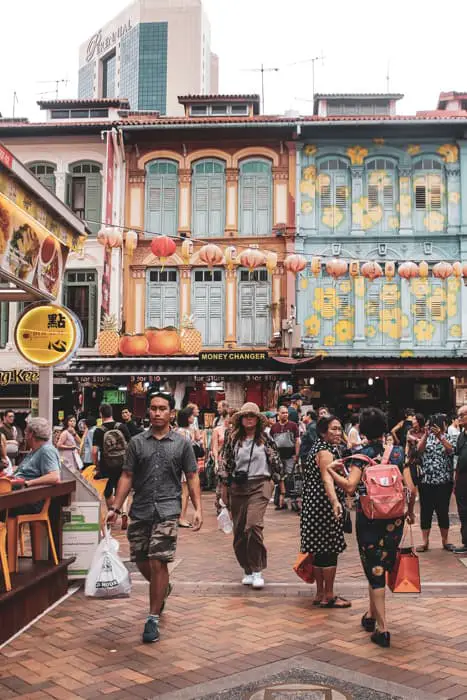 What to Pack for Singapore with Kids
Singapore is a super developed country with access to many imported products - you won't come across any difficulties finding reputable brands. Nevertheless, from our numerous trips, we've found these items to be extremely useful on our travels.
Mosquito Bite Relief Stick. This magical device called the Bite Away Stick was gifted to me by family and saved me from scratching myself to my demise. Heat is used to disperse toxins that cause itchiness from bug bites. The outcome? No itch. No lump. The trick is to apply it to the wound as soon as you realise that you've been bitten for maximum effectiveness. It works like a charm.
Mosquito Repellent Bracelets. If you or your kids are anything like me and bugs eye you out like a walking piece of steak, then you'll probably want to deter them as much as possible by rocking insect repellent bracelets made from citronella and lemongrass oil that work effectively to drive away blood-sucking bugs.
Universal Adapter.  Singapore use Class G sockets (same as UK) - if you're from USA, Canada, Australia or other parts of Europe, you'll need to get a converter. Instead of buying country or region-specific ones, this compact universal adapter is the only one you'll need to charge your devices wherever you are.
Portable Laundry Bag. Keeping up with the entire family's laundry in hot and humid countries has always been a struggle because we like to pack as minimal as possible. Much to my dismay, that means more laundry. The Scrubba wash bag is a blessing in disguise - it allows us to quickly wash dirty laundry at the end of each day.
Insulated Water Bottles. You'll go through litres of water a day in Singapore. After a day out and about in the heat, you'll probably end up with warm water in your bottle. Make sure to bring insulated stainless steel bottles to keep hydrated with icy cold water.
Portable Charger. You'll want to keep your smartphones juiced up to use apps like Grab to book a ride, Maps to plan your route and social media to stay in touch with friends and family. We never go anywhere without our Anker PowerCore 10000 - we get at least 2 charges on our phones out of this little beast.
WiFi Router or SIM Card. Pick up a 4G sim card or a 4G WiFi router and get the whole family connected as soon as you arrive at Changi airport. You'll need it to find your way to your hotel, book a taxi or Grab, and find discounted tickets to attractions.
Tissues & Wet Wipes. You might already have these with you but it's best to stock up on them if you plan to eat at hawker centres or shopping mall food courts. Why? They don't give out serviettes and meals can end up a messy affair.
30 Places to Go with Kids in Singapore
Rain or shine - this mega list of where to bring kids in Singapore on your family trip provides a great number of indoor and outdoor activities for all weather conditions. Sorry to break it to you, guys, but it's also an expensive travel destination where the cost of visiting attractions can quickly add up and bore halls into your pockets. Luckily for you, I've included links where you can book discounted entry tickets where possible.
1. The Jewel, Changi Airport
Okay, stop. Before you hail a taxi and get up on outta Changi Airport - you need to pop into Singapore's newest and most spectacular attraction, The Jewel. Linked to Terminal 1's arrival hall and via a pedestrian walkway from Terminals 2 and 3, this 10-storey man-made marvel is more than just your standard mall.
For starters, you can't miss the centrepiece of it all - the HSBC Rain Vortex. You know, just the world's tallest indoor waterfall. Nothing special. Okay, on the real - this piece of architecture is utterly mind-blowing. Prepare to pick your jaws off the floor.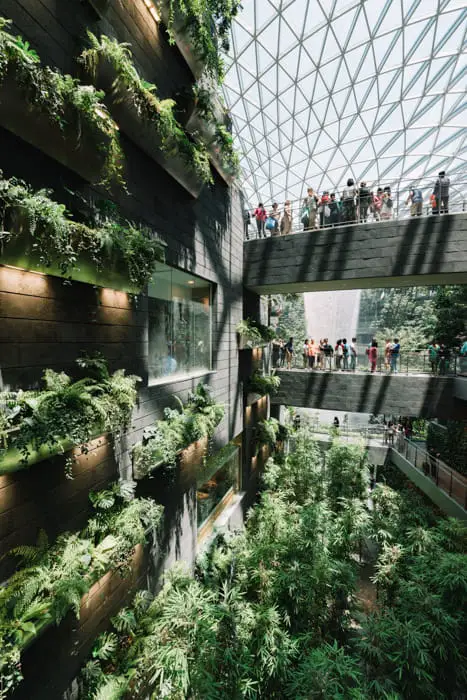 That's not it though. Not even close. Make your way up to the 5th floor where you'll find the Canopy Bridge (snap some serious gram-worthy pics of the waterfall here), Canopy Park (literally an indoor botanical garden), epic slides for kids, a Hedge Maze, a 25 metre high suspended net kids can walk or bounce on, a Mirror Maze, and world-class eateries that will blow your tastebuds away.
Canopy Park Visitor Information
Location: Level 5, The Jewel Changi
Opening Hours: 10am - midnight (Sun-Thu), 10am - 1am (Fri-Sat)
For more information, visit the official website.
2. Singapore Zoo
A family trip to Singapore wouldn't be anywhere near complete without a visit to this world-famous zoo. We've been to many zoos around the world, and so far, this one ranks number 1 in the entire world for us. Big call, I know. But, it really is that good.
For an insider look, take a look at our walkthrough guide that details everything you need to know to plan your visit.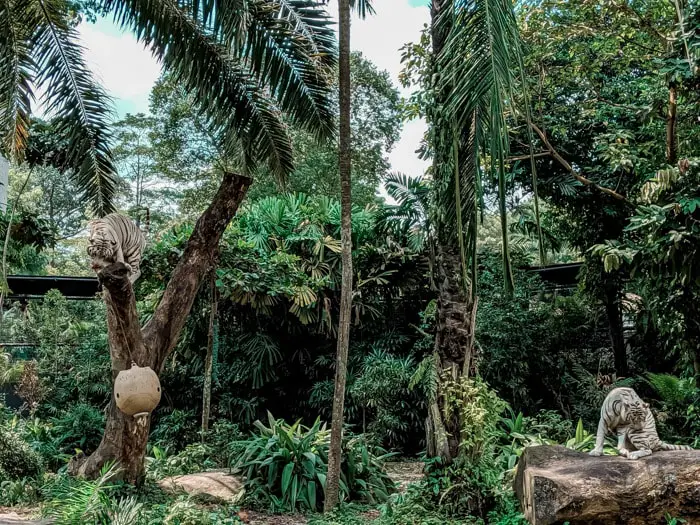 Occupying 26 hectares of land, the zoo is situated in a lush rainforest setting and boasts an 'open concept'. What does that mean? All you have to do is look up as you're gallivanting through the zoo and you'll find the most adorable apes swinging and climbing the trees above your head.
If time permits, be sure to book tickets for the once-in-a-lifetime Breakfast with Orangutans experience. On top of the thousands of gorgeous animals you'll meet, there's also fun activities for kids, such as a high ropes course, a petting zoo and a large water playground to cool down from the heat.
Visitor Information
Address: 80 Mandai Lake Road, Singapore
Opening Hours: daily from 8:30am - 6pm
Entry Price: $37 SGD (adults) | $25 SGD (kids aged 3-12)
3. Singapore River Safari
This unique river-themed wildlife park is the newest addition to Wildlife Reserves Singapore's portfolio of award-winning animals parks. Home to over 7,500 aquatic and terrestrial animals who call the riverlands home, you'll meet creatures from the Amazon to the Mississippi River.
The absolute highlight? Meeting Kai Kai and Jia Jia - two ridiculously adorable panda residents visiting from China. You seriously won't get enough of them.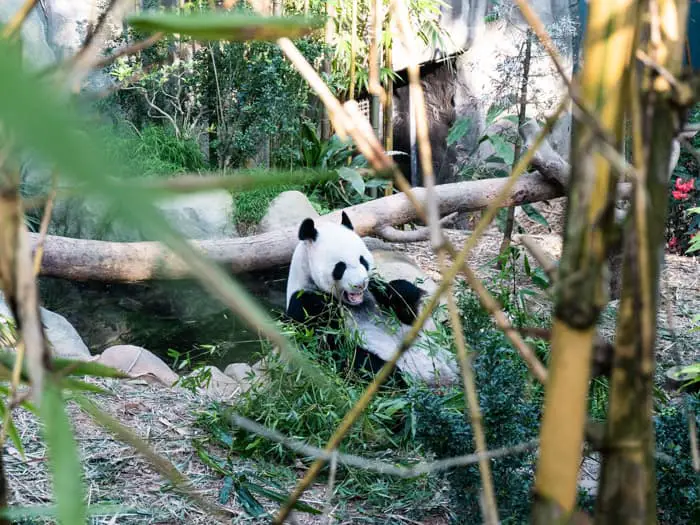 Additionally, Singapore River Safari offer free educational ferry tours along the river, animal encounters, and an adventurous Amazon River Quest boat ride where you'll come across species from the great Amazon.
Don't get full price tickets at the door - grab Singapore River Safari tickets online and save.
Visitor Information:
Location: 80 Mandai Lake Rd, Singapore
Opening Hours: 10am - 7pm daily
Entry Price: $34 SGD (adults), $23 SGD (kids aged 3-12)
4. Singapore Night Safari
Looking to take your family on the ultimate after dark adventure? Chuck on your safari hats and lather yourselves in bug repellent - this nocturnal wildlife park is a must-visit for family revellers.
Grab a quick bite to eat inside and let the shows begin. Don't miss out on the spectacular fire display on the stage before you enter and the not-to-be-missed Creatures of the Night presentation in which spectators will bare witness to incredible animal feats, including otters sorting out recycling trash and hyenas leaping for their prey.
As darkness descends over the park, hop on the Night Safari tram that takes visitors on a thrilling ride to observe predators and creatures of the night thrive in their natural element. Alternatively, you can also opt for the walking trail and enjoy the safari tour at your own pace (subject to willing kids).
Book your Singapore Night Safari tickets and enjoy a multi-sensory wildlife adventure.
HOT TIP: Parents with young kids and prams can skip the queue - look out for the priority queue when boarding the tram.
Visitor Information:
Address: 80 Mandai Lake Rd, Singapore
Opening Hours: daily from 7:15pm - midnight 
Entry Price: $59 SGD (adults), $33 SGD (kids aged 3-12 years) inclusive of Rainforest Lumina experience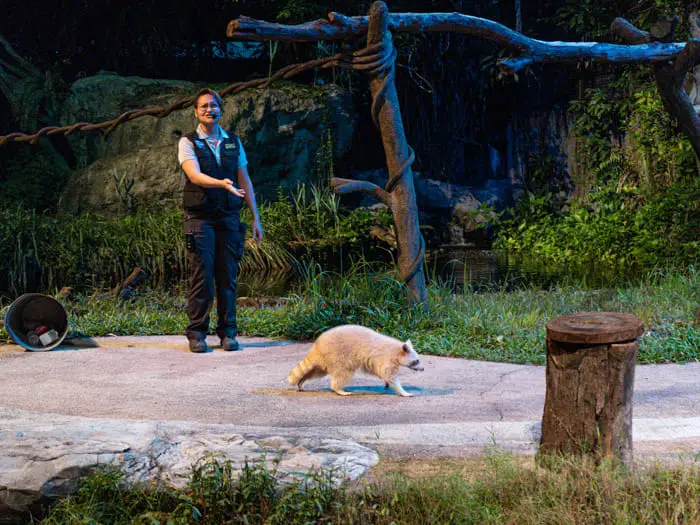 5. Jurong Bird Park
If you're stuck on where to go with kids in Singapore on a sunny day, jump in a taxi and get over to Jurong Bird Park. Set on 20 hectares of lush, green land, the space is home to over 3000 birds across 400 species. Prepare to be amazed by the 9-story high walk-in aviary, a 30 metre tall waterfall, Flamingo Lake and more marvels.
Learn all about different species of birds, seize the opportunity to feed them, or even have lunch with parrots (they legit serenade you while you're eating). By all means, don't miss out on the interactive show featuring top-of-the-food-chain flying predators and cuddly feathered friends that'll make your hearts melt.
Be sure to grab your tickets online to save on entry prices at the door.
Visitor Information
Address: 2 Jurong Hill, Singapore
Opening Hours: daily from 8:30am - 6pm
Entry Price: $30 SGD (adults), $20 SGD (kids aged 3-12 years)
6. Universal Studios Singapore
This is - hands down - one of the ultimate must go places in Singapore with kids. I mean, can you even say you've taken your kids to this country without experiencing Universal Studios? Probably not.
Little ones will be absolutely rapt to meet some of their favourite movie characters up close - give Alex from Madagascar a 'lion' hug, leap into the air and give Bumblebee a hi five, or try and catch a minion for a selfie. For little visitors, there's also a selection of age-appropriate rides and captivating shows from Madagascar, Sesame Street and Jurassic Park's 'The Lost World'.
Divided into 7 exciting sections - Hollywood, Madagascar, Far Far Away, The Lost World, Ancient Egypt, Sci-Fi City and New York, experience cutting-edge rides, dazzling shows and attractions based on yours (and the kids') favourite blockbuster films and TV series. Universal Studios Singapore is an unforgettable day out that will be sure to please all members of the family
Visitor Information
Address: 8 Sentosa Gateway, Singapore
Opening Hours: 10am - 6pm (subject to change - check the website for up-to-date info)
Entry Price: $79 SGD (adult), $59 SGD (kids aged 4-12)
7. S.E.A. Aquarium
Swing by the breathtaking S.E.A. Aquarium in Sentosa and discover over 100,000 marine creatures, consisting of over 800 species from 49 habitats - it's the largest aquarium in South East Asia. Meet hammerhead sharks, get tete-a-tete with bottlenose dolphins and get hands on with sting rays, small sharks and colourful fish. If the tropical weather has brought in a torrential downpour, a visit to the aquarium is one of the perfect rainy day things to do in Singapore with kids.
Skip the ticket line and save when you buy tickets online.
Visitor Information
Address: 8 Sentosa Gateway, Sentosa Island
Opening Hours: daily from 10am - 7pm
Entry Price: $40 SGD (adults), $29 SGD (kids aged 4-12)
8. Adventure Cove Waterpark
Feeling sweaty, hot and bothered? Well, folks, it's time to throw on your bathers and pack the swim bag. Adventure Cove Waterpark is where to bring kids in Singapore to splash in gallons of fun and hit up heart-racing slides and tube rides.
If you're daring enough, climb on South East Asia's first hydromagnetic water coaster, zoom down thrilling water slides, get sucked into a spiral whirlpool, conquer your fears at the platform cliff jump, or grab a mat and challenge your family to a high speed water race. The possibilities are endless.
Even the tiniest family members need to cool down - if you're wondering where to go with toddlers in Singapore, look no further. Tots can play and splash away in the shallow waters and fountains at Seahorse Hideaway, jump on the smaller slides at Big Bucket Treehouse or lazily float along the Adventure River on a tube.
Visitor Information
Address: 8 Sentosa Gateway, Singapore
Opening Hours: daily from 10am - 6pm
Entry Price: $38 SGD (adults), $30 SGD (kids aged 4-12)
9. The Maritime Experiential Museum
Learn and explore the interactive exhibits of the Maritime where visitors travel back in time to the great age of sea voyages and pirates. Learn how seafarers survived sailing the treacherous oceans, stroll through the iconic replica ports of Malacca, Quanzhou, Oman and Calicut, embark on an immersive adventure inside the 4D theatre, learn how to navigate a storm in the state-of-the-art Typhoon Theatre.
Visitor Information
Address: 8 Sentosa Gateway, Singapore
Opening Hours: daily from 10am - 7pm
Entry Price: $12 (adults), $8 SGD (kids aged 4-12)
10. Dolphin Island
Seize the opportunity to touch, play and swim with the adorable Indo-Pacific Bottlenose Dolphins. Arrange your interaction session at Dolphin Island to get up close and personal with these friendly creatures.
Visitor Information
Address: 8 Sentosa Gateway, Singapore
Opening Hours: daily from 10am - 6pm
11. HeadRock VR in Sentosa
Enjoy the wonders of virtual reality as a family - if you're on the hunt for unique places to bring kids in Singapore, then an immersive trip into an adventurous made-up world might just be the answer. Deemed one of the biggest VR theme parks in South East Asia, HeadRock features 11 thrilling actions, ranging from the adventures of Robin Hood to terrifying zombie escapes. It's the all-in-one experience for families that will give you an adrenalin rush and solid workout.
Book online and save on your family VR experience.
Visitor Information
Address: 8 Sentosa Gateway, Singapore
Opening Hours: daily from 10am - 8pm
12. Trick Eye Museum
Let your imaginations run wild at the Trick Eye Museum for kids Singapore, featuring over 80 optical illusion paintings and art installations, the exhibits use a special art technique that turns 2D artwork into immersive 3D canvasses. With exlusive exhibits made by a talented team of artists from South Korea, visitors are encouraged to touch, interact and snap Instagram-worthy photos with these fun pieces that'll make you feel like you're inside the painting.
The latest addition to the museum includes the Augmented Reality, which brings art pieces to life using surround sound, lights and other effects to create realistic illusions. Save money and purchase your tickets on Klook.
Visitor Information
Address: 26 Sentosa Gateway, Singapore
Opening Hours: 10am - 9pm (Mon-Sun)
Entry Price: $25 SGD (adults), $20 SGD (kids aged 4-12)
13. Dip in the Sentosa Beaches
Chill, swim or sunbathe on one of the 3 relaxing beaches on Sentosa - Siloso, Palawan and Tanjong. But, that's not where the fun ends. If the kids are getting bored soaking in the sun, throw them on the flying trapeze or have them zoom down a 450 metre long zipline over jungle canopy.
Hop between the beaches via tram transfer or simply explore by foot via the Beach Walk roads along the coast. You'll stumble upon playgrounds, gardens, cafés, restaurants, lines of picturesque palm trees and even animal encounters.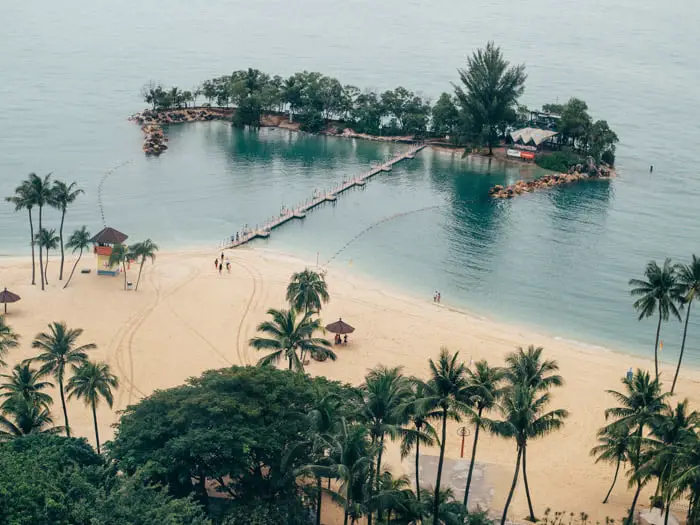 14. Singapore Cable Car
Rock up to Sentosa in style (and in the air) on the Singapore Cable Car and relish in 360-degree views of the bustling harbour and the island. You can even have a 4-course dinner onboard the cable car with your family and admire the sunset from above.
If you're simply here for the views, the delightful 12-minute ride takes you from Keppel Harbour to Sentosa. From thereon, you'll find connections to all the attractions of the island from Merlion Station on the Sentosa Line.
Get a hold of discounted Singapore Cable Car tickets at reduced prices on Klook.
Visitor Information
Address: 1 Harbourfront Ave, Tower 2, Keppel Bay Towe, Singapore
Opening Hours: 8:45am - 9pm (Mon-Thu & Sunday)
Ticket Price (Round Trip): $35 SGD (adults), $25 SGD (kids aged 4-12)
15. Skyline Luge Sentosa
Wondering what to do in Singapore with kids that'll give the whole family an adrenalin rush? Climb aboard and steer the 3-wheel sled, a mix between a go-kart and toboggan, and race down the exhilarating Dragon or Jungle Trail, filled with exciting bends and straight roads thrill seekers can go fast and furious on.
As part of your ticket, you can enjoy a scenic cable-seat ride up up to the tracks with killer views Singapore's city skyline, Sentosa Island and the harbour.
Pre-book your Skyline Luge Passes:

16. Madame Tussaud's Singapore
Rub shoulders with A-list celebrities, historic figures, political leaders and renowned people who have long left the Earth inside the world's most famous wax art museum - Madame Tussaud's Singapore. If you're on the lookout for things for kids to do in Singapore with a bit of an edge that'll have you snapping selfies and pulling some ridiculous poses every corner you turn - don't give this place a miss. Little one will love meeting their favourite superheroes, such as Captain America and Iron Man, in wax form at the brand new Marvel 4D segment.
Completely unique to Singapore, entry to the attraction also includes a trip on the Spirit of Singapore boat ride and discover the city's mind-blowing transformation from a village into South East Asia's trade and business hub.
Don't forget to book discounted tickets online and save.
Visitor Information
Address: 40 Imbiah Road, Singapore
Opening Hours: daily from 10am - 8:30pm
Entry Price: $32 SGD (adults), $22 SGD (kids aged 3-12)
17. Singapore Botanic Gardens
A family trip to Singapore wouldn't be complete without a visit to the 158-year old Botanic Gardens where families can frolic on 60 acres of green space, roam through the National Orchid Garden that boasts the world's largest orchid display, or soak in the surrounds from one of the restaurants and cafes.
Inside, you'll also find sculpture gardens, grand fountains, serene lakes and even turtles that kids can feed.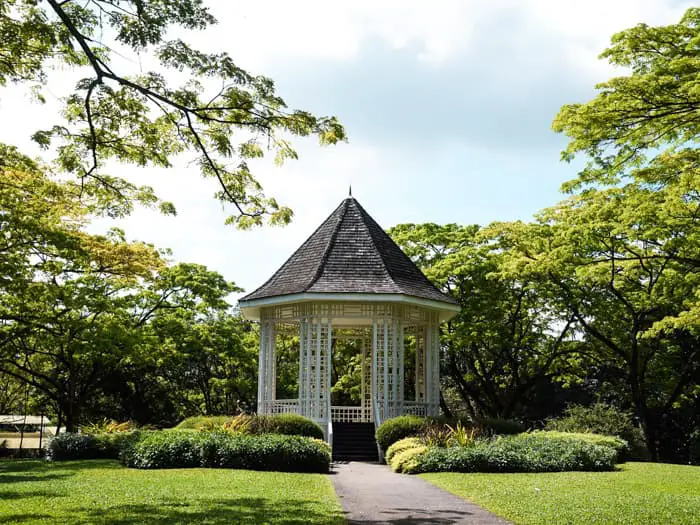 Visitor Information
Address: 1 Cluny Rd, Singapore
Opening Hours: daily from 5am - midnight
Free admission
18. Jacob Ballas Children's Garden
While inside the Botanic Gardens, make sure to pop into the number one kids park in Singapore - Jacob Ballas Children's Garden. A popular weekend spot amongst local families, it's the first garden in Asia that's purely dedicated to little humans. Climb up treehouse-themed playgrounds, get messy in the sandpits, spot colourful fish in the pond, cross a wobbly suspension bridge or find your way through a green maze.
On top of all that fun, there's also a water play area where sweat-drenched kids can cool down and a flying fox for little adrenalin junkies.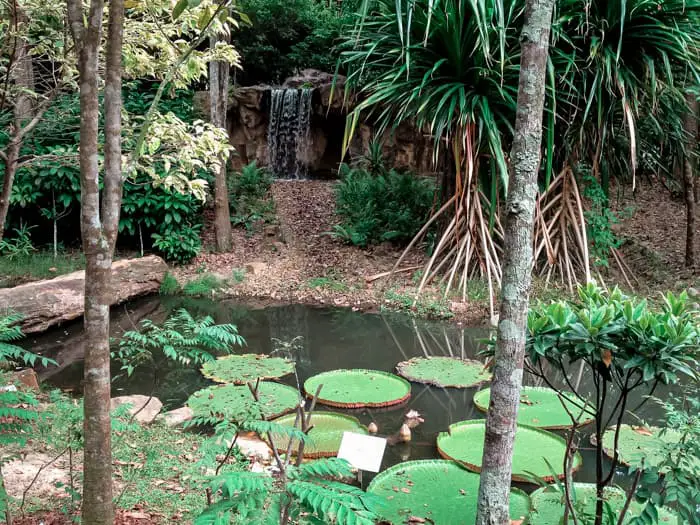 Visitor Information
Address: 481 Bukit Timah Rd, Singapore
Opening Hours: daily from 8am - 7pm
Free admission
19. Gardens by the Bay
Can you even say you've been to Singapore without popping into Gardens by the Bay and grabbing a shot of the Supertree Grove? Nope. Certainly not. You won't look at another garden the same way anymore once you've set foot in here.
Gape in awe at the super-sized man-made trees, heck, you can even take a closer look and stroll on the suspended walkway to enjoy a bird's eye view of the gardens.
Skip the huge tickets queue for the suspended bridge walk and grab the discounted Gardens by the Bay Combo Ticket on Klook for hassle-free entry into Cloud Forest, Flower Dome and OCBC Skyway.
Inside Cloud Forest, you'll find the picturesque 35 metre tall mountain covered in lush, green vegetation, and tumbling down from it, Singapore's second highest indoor waterfall. Wander into Flower Dome and discover a collection of plants from the dry climate of Mediterranean regions or duck into the newest attraction, Floral Fantasy, where flowers, artistry and technology merge to create a dreamy Alice in Wonderland-like landscape.
The highlight for kids is the amazing Children's Garden that includes a gigantic water play area, an outdoor adventure playground, a toddler splash playzone and fun educational programs.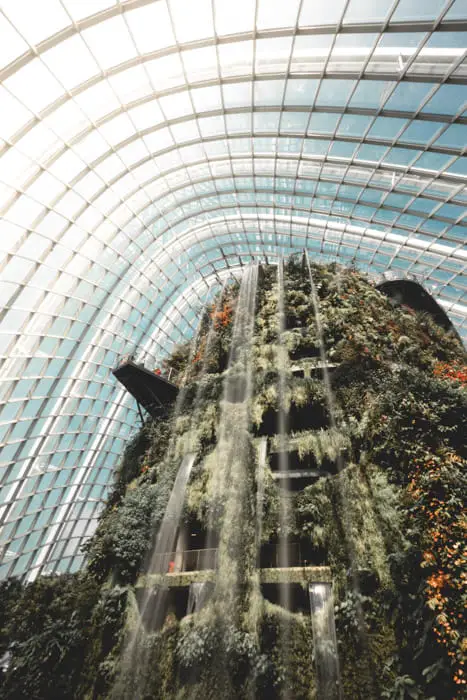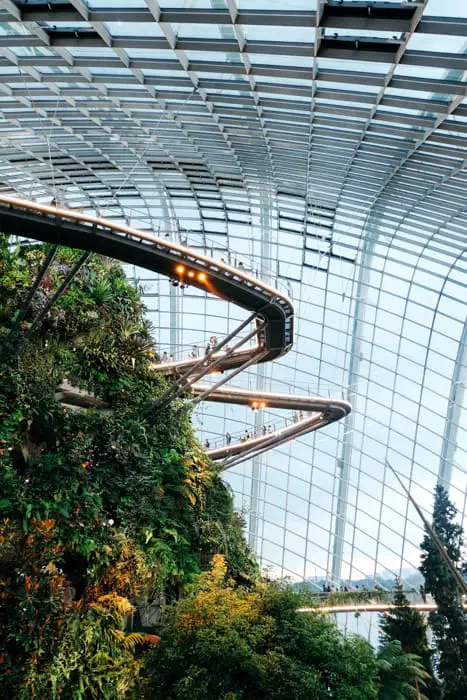 Visitor Information
Address: 18 Marina Gardens Drive, Singapore
Opening Hours: daily from 5am - 2pm
For entry prices to individual attractions, take a look at the official website.
20. Spectra Light & Water Show at Marina Bay
Don't miss out on this extravagant nightly light show and musical symphony that takes place over the water at the Event Plaza outside Marina Bay Sands. The 15-minute event features colourful visual projections, state-of-the-art lasers, coordinated dancing jets, plus lava and mist effects that will blow kids and adults away.
Visitor Information
Address: 2 Bayfront Ave, Event Plaza at Marina Bay Sands
Showtimes: 8pm & 9pm (Sun-Thu) | 8pm, 9pm & 10pm (Fri-Sat)
Free admission
21. SuperPark Singapore
Found inside one of Singapore's mega malls, Suntec City, SuperPark is an innovative play concept that has its roots in Finland. In short, it simply is a bersek (in a good way) play centre that features over 20 activities sprawled over two huge levels. Inside, you'll find a sports arena, Ninja Warrior style obstacles, tube slides, trampolines, a skate park, and even rock climbing wall - all packed into one crazy fun space that kids (and adults) will go bonkers over.
Visitor Information
Address: Suntec City (North Wing) 3, Temasek Boulevard, Tower 1, Singapore
Opening Hours: 10am - 9pm (Mon-Fri) | 9am - 9pm (Sat-Sun)
Entry Price: $35 SGD (adults & kids aged 3+ years) | Kids under 3 years enter free of charge
22. KidZania Singapore
Hailed one of the top places to go with kids in Singapore, KidZania is a play and 'edu-tainment' centre like no other. Offering real-life experiences through roleplaying activities, inquisitive little humans can learn how to pilot a plane, become little chefs, perform a surgery as a doctor and save the day as firemen. Oh, and you know, there's a Boeing 737 full-wing fuselage sitting inside, chillin'. No biggie.
Grab reduced KidZania entry tickets on Klook.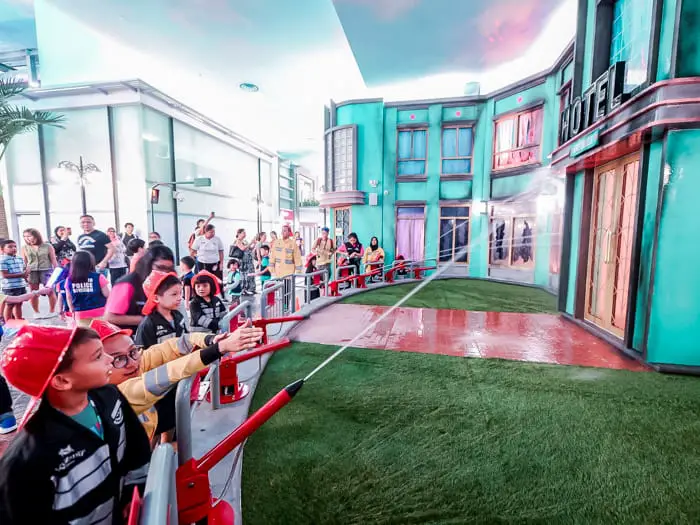 Visitor Information
Address: 31 Beach View, Singapore
Opening Hours: daily from 10am - 6pm
Entry Price: $35 SGD (adults) | $62 (kids aged 3-17 years) 
23. Rent an Electric Scooter
What's better than exploring Singapore on foot? Rent an e-scooter for a day and cover quadruple times the amount of sights. Environmentally friendly and less physical effort on your behalf, zip off to landmarks, such as, Marina Bay Sands, Gardens by the Bay, Merlion Park and many more on the comforts of a standing or sitting electric scooter. I'm not even gonna lie - we did this in Singapore with our 4-year old balancing on the front and our 2-year old in a carrier on my back.
24. Science Centre Singapore
Fascinating, educational and one of the most interesting places for kids in Singapore - the Science Centre is an attraction the whole family can enjoy to learn about technology, nature and science. Embark on a dinosaur expedition at DinoQuest, experience real snow inside Snow City, explore a living laboratory of plants inside Ecogarden, test your ninja skills inside the Laser Maze, get wet and learn about H2O at the Waterworks playspace, plus hundreds more exhibits to get hands-on in.
Visitor Information
Address: 15 Science Centre Rd, 
Opening Hours: 10am - 6pm (Tue-Sun)
Entry Price: from $46 SGD per adult or child
25. Natural History Museum
Explore the magnificent 7-storey building that houses the Lee Kong Chian Natural History Museum, home to some of the oldest collections of regional specimens. Discover mammals, amphibians and dinosaurs in 16 themed areas, uncover ancient plant life and learn about the diversity of life on Earth.
Skip the queue and get tickets to the Natural History Museum online.
Visitor Information
Address: 2 Conservatory Drive, Singapore
Opening Hours: 10am - 7pm (Tue-Sun)
Entry Price: $21 SGD (adults) | $13 SGD (kids aged 3-12)
26. Relax at East Coast Park
Roughly a 12-minute drive from the centre of Singapore is a 15km stretch of coastline lined with an array of playgrounds, BBQs and local restaurants. You'll also find bike rental kiosks, paddle board rental shops, a water ski park and a skate park. But, if you're a real foodie - don't miss the East Coast Lagoon Food Village hawker centre where you can dig your teeth in some of the tastiest Chilli Crab and seafood dishes in all of Singapore.
27. Singapore Flyer
Apart from the hawker food and chilli crab, one of the best things in Singapore is the view. No doubt. Architectural marvels like Marina Bay Sands, the Helix Bridge and Gardens by the Bay look even more incredible from above. Take the kids for a spin on Asia's largest observation wheel - the Singapore Flyer - and bask in the captivating views of the city from above.
For an unforgettable experience with the family, you can even have a 4-course dinner on the Singapore Flyer and watch day turn into night.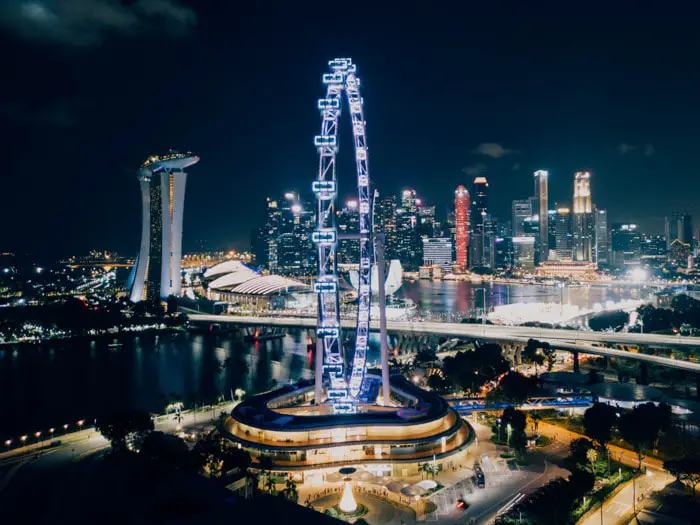 Visitor Information
Address: 30 Raffles Avenue, Singapore
Opening Hours: daily from 8:30am - 10:30pm
Entry Price: $33 SGD (adults) | $21 SGD (kids aged 3-12)
28. Butterfly Park & Insect Kingdom
Chase after free-fluttering butterflies or learn about the world of insects through intriguing displays - this is one of the best places to go with toddlers in Singapore. The park is home to over 50 species of butterflies and a collection of creepy crawlies, like stinging scorpions and gigantic beetlers, that are sure to make your hairs tingle.
Grab your Butterfly Park & Insect Kingdom tickets online.
Visitor Information
Address: 51 Imbiah Road, Singapore
Opening Hours: daily from 9:30am - 7pm
Entry Price: $18 SGD (adults) | $12.60 (kids aged 3-12)
29. ArtScience Museum
You can't miss this iconic lotus-shaped building when you're strolling around Marina Bay - if you're wondering what the heck is inside, it's the world's first ArtScience Museum. The name pretty much says it all - it's art fused with science. Explore over 21 interactive exhibitions, including a kid-friendly play gallery, teamLab's Future World and Crystal Universe light displays, and you can even have tea inside Wonderland with the Mad Hatter and his friends.
View this post on Instagram
This is an absolute must-do to add to your things to do in Singapore with kids itinerary that will 'wow' the whole family. Be sure to get tickets online to save money on door entry.
Visitor Information
Address: 6 Bayfront Avenue, Singapore
Opening Hours: 10am - 7pm (daily)
Entry Price: $37 SGD (adults) | $27 SGD (kids aged 2-12)
30. Forest Adventure Treetop Course
For outdoor adventure places to go with kids in Singapore, head to the largest treetop park in the city - Forest Adventure Treetop. Promising a day filled with 'adrenalin pumping action', laughs and 'achievement unlocked' moments, this 2.5 hour activity will create family bonding moments for climbers big and small. If you're game, clip yourselves onto the Big Zip and zoom across the 300 metre long zipline suspended over a bed of water.
You might like these Singapore activities & tours:
Where to Stay in Singapore with Kids
For convenience when it comes to being in close proximity to places to go with kids in Singapore, we suggest staying in the following super kid-friendly hotels.
Novotel Clarke Quay
Apart from the gorgeous pool, amazing buffet breakfast spread and central location - what makes Novotel Clarke Quay an absolute hit with little ones? Well, folks, you're in for a sweet treat. Just wait until you see the themed family rooms they have on offer.
Sensing our innate wild instincts and love for the outdoors, the lovely team at Novotel arranged their newly launched Lil' Explorers at Camp suite for our family. Let me tell you what - this room is a dream come true for glampers. If sleeping under the starry night sky, getting eaten by mosquitoes and outdoor showers is not your cuppa tea, then this is as close as it gets to camping but with a 5-star twist. Better yet, this style of camping comes with a killer view of the Singapore skyline and Marina Bay. You definitely don't get a vista quite like that when camping out in the bushes.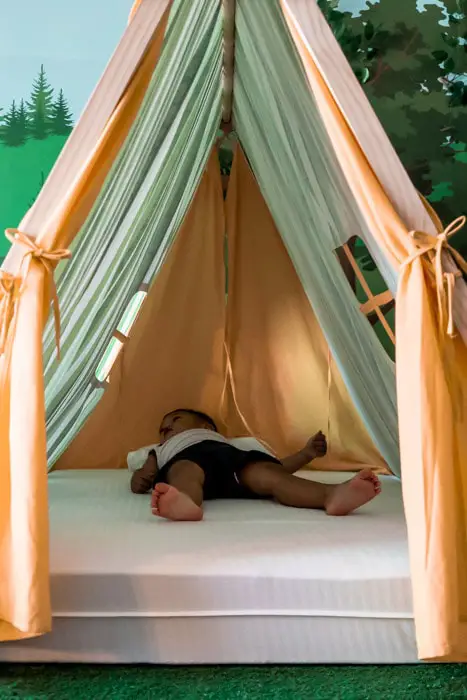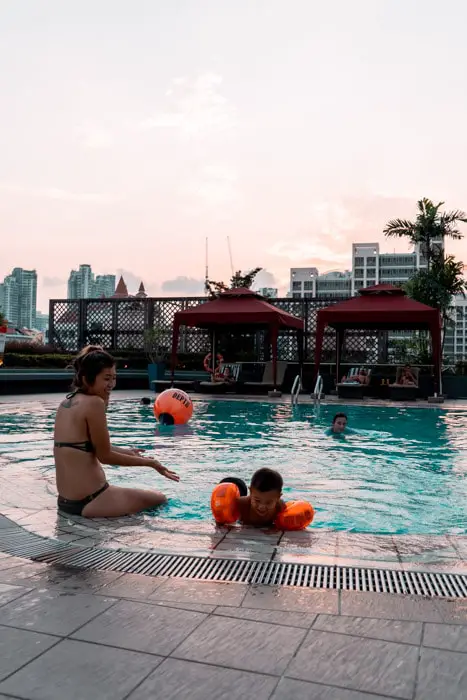 At 64m2, the Lil' Explorers at Camp suite is massive, featuring a king size bed and an interconnected living (or camp I should say) space that consists of teepees (in which our 2 boys slept soundly), a plush campfire made from cushions and wall art that gives you all the outdoor nature vibes. But, campsites don't usually come with 60-inch flatscreen TVs, Nespresso machines, a jacuzzi bathtub and free WiFi. Well, this one does.
In true camping style, we gathered around the campfire, told spooky stories, 'roasted' marshmallows, and.. unwinded in the bubble bath after a hard day of explorin'.
View this post on Instagram
Oh, and there's another amazing perk. The hotel, literally, sits on top of a shopping mall, with nightlife and trendy food spots surrounding the premises. Need to venture out further? No problems. The Fort Canning MRT station is a 2-minute walk away and will connect you to all the aforementioned hot spots in Singapore for kids.
Psst.. Want a sweet little discount? Get $15 travel credit when you book with our link!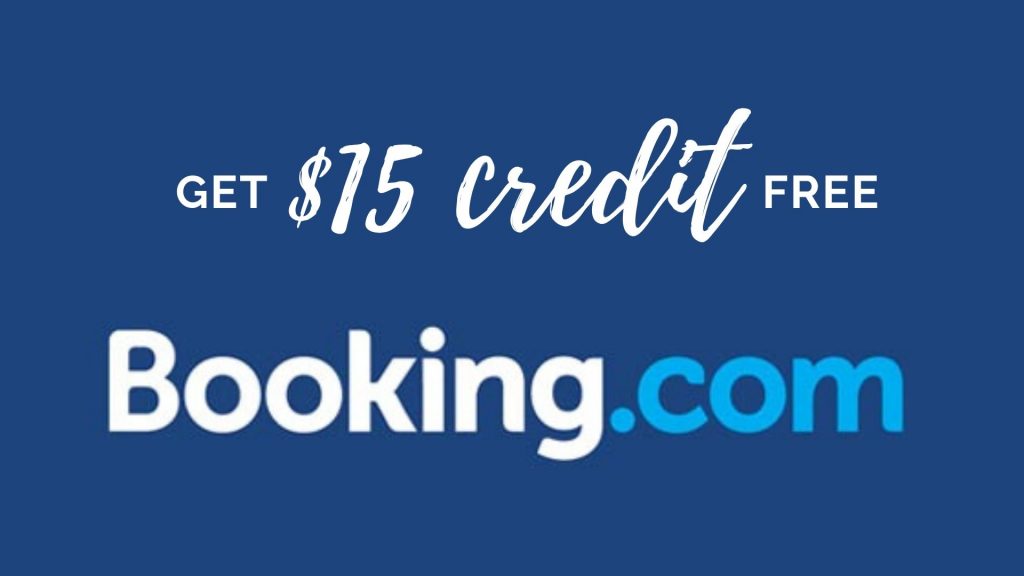 ONE°15 Marina Sentosa Cove
Ask anyone where to bring kids in Singapore and the answer you'll receive is, undoubtedly, Sentosa. What better way to revel in the endless fun activities and attractions than to actually stay on the island and make the most of them? Located on the tranquil waterfront in Sentosa Cove, ONE°15 Marina will complete your family trip to Singapore with a jaw-dropping infinity pool, nautical-themed rooms and top notch kids' facilities.
View this post on Instagram
We were initially booked into the Marina Family Room, which is fitted with a Queen Bed, bunk bed and amenities designed for kids, but due to construction works occurring on the property at the time, the wonderful team moved our family to the other side of the property and into the ballin' Monte Carlo suite. What's even better? We had the infinity pool, kids' play room and playground directly beneath us. We could've literally woken up from our beds, walked onto the balcony and leaped into the water (please don't try this).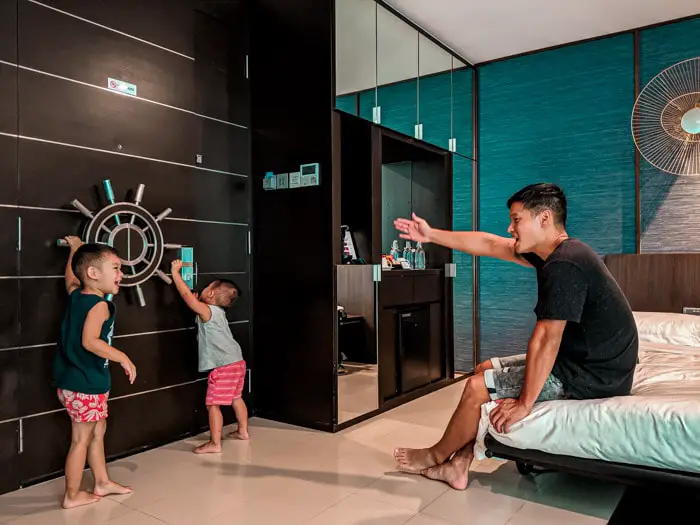 ONE°15 Marina also boasts a well-equipped gym with personal trainers to lend you a hand, an exclusive members' lounge, arcade room, spa facilities, and even two full size tennis courts. Plus, if you're game, you can even rent electric scooters on the premises and dash down to the Sentosa beaches and Resorts World attractions.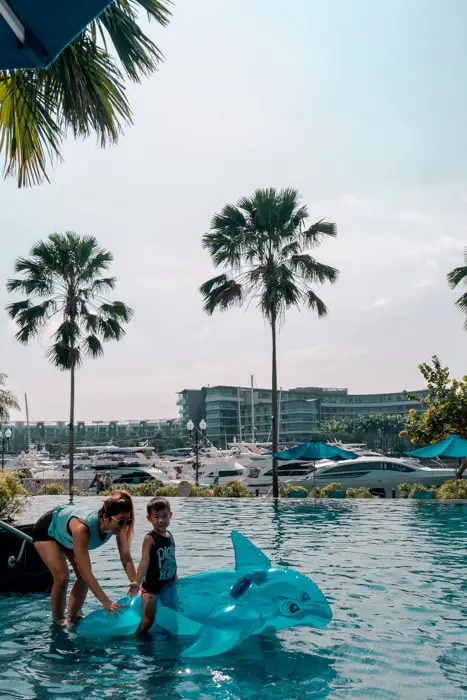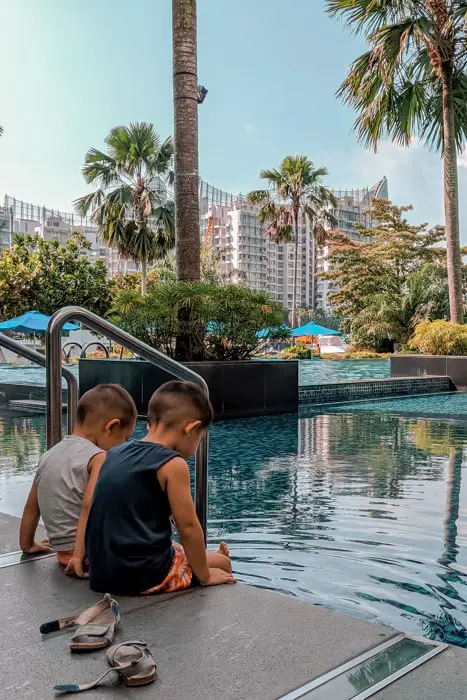 The hotel is positioned right next to the marina on the west end of Sentosa island. It's a 5-minute taxi ride to Resorts World and around 15 minutes to central Singapore. You really want to come down this way just to relax, unwind and bask in the scenery before tackling the infinite amount of activities the fun island offers.
The best thing about this place? The free air-conditioned Sentosa Shuttle Bus swings by the front of the resort at regular intervals and stops at all of the major attractions on the island. If you're particularly motivated, you can also embark on a half hour walk from the resort to the beaches and attractions. Disclaimer: no liability is taken for the sweaty mess you'll wind up post-walk.
New to Airbnb? Get $40 travel credit when you book your first stay!

Our stays were graciously hosted by Novotel Clarke Quay and One°15 Marina Sentosa Cove. However, all content, experiences and opinions are, always, our own.
Which attractions are you planning to hit up in Singapore? Tell us in the comments below.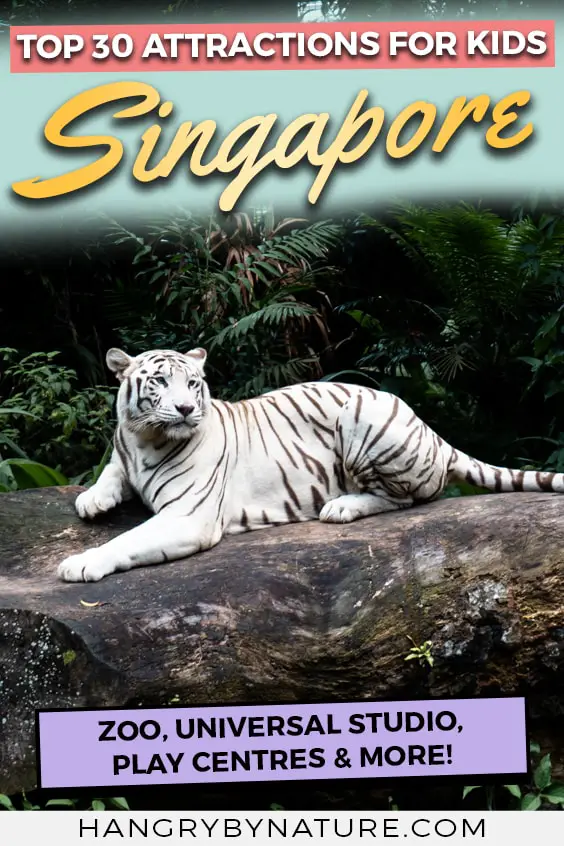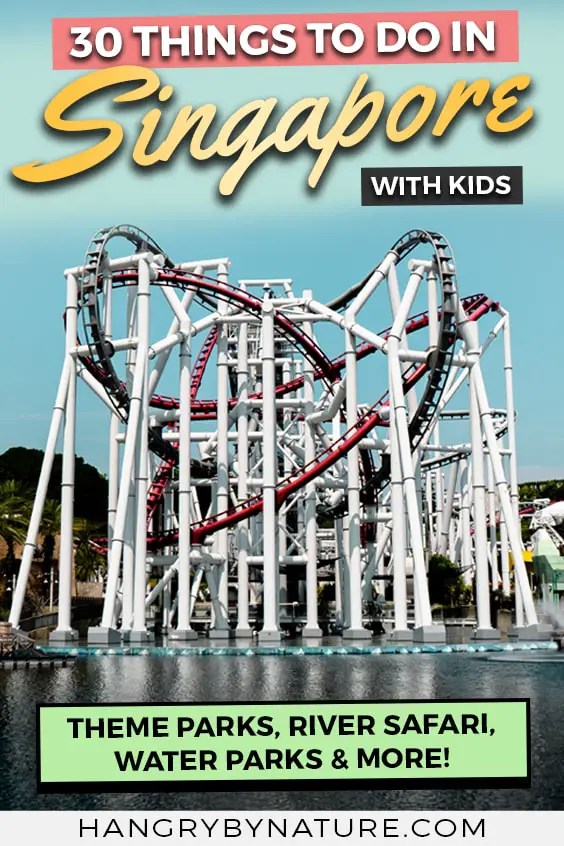 Resources to help plan your trip to Singapore:
Visit our Travel Resources to find the best deals on flights, accommodation and attractions. We love and use these services ourselves to plan all of our family trips - they save us a ton of time and money.
Sweet accommodation deals for you:
For ideas on what to pack for a family holiday - take a look at our kids' travel essentials and other accessories we take with us on every trip.
Come say HEY on YouTube or Instagram. I like to think we're funny, entertaining and resourceful. You be the judge.