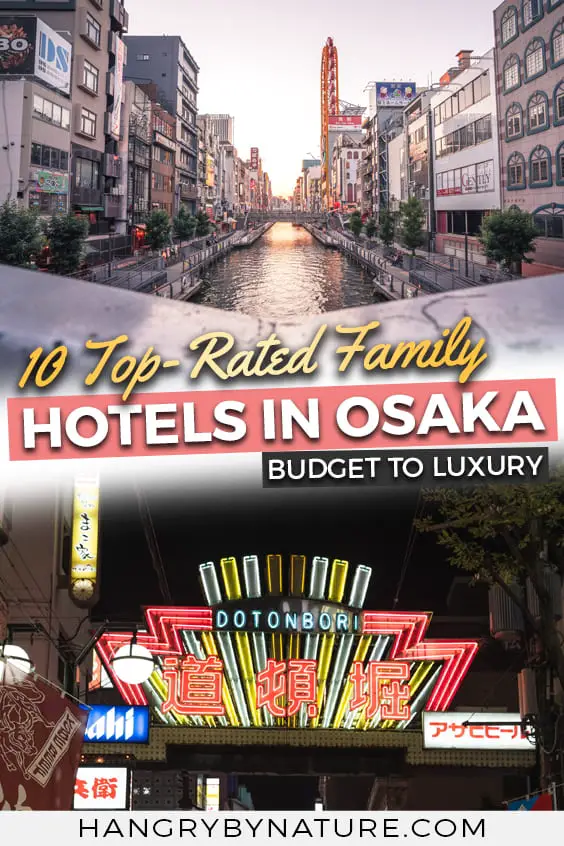 Ready to book your accommodation in Japan and searching for the best family hotels in Osaka? We've summed up 10 of Osaka's top-rated hotels from budget to luxury to simplify your planning.
Osaka. Tokyo's grungier and more laidback counterpart – as a family, we have so many feels for Osaka. Good feels. The locals seem to be laced with a better sense of humour, there's a myriad of kid-friendly attractions, and oh my lawdy, the food. I'll just leave it at that.
In all our travels to Osaka, we've had the opportunity to stay at both hotels and Airbnbs in the city. They both have their pros and cons, but let's be real, oftentimes when you're on holiday, you simply want to experience the luxury of staying in a hotel. That's what this post is all about; to help you find the best place to stay in Osaka with a touch of luxury within your budget means.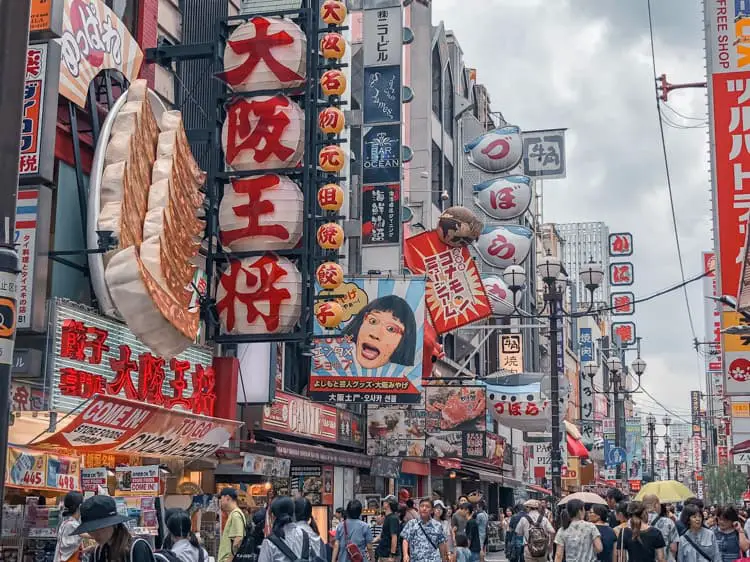 Quick Picks
Short on time? Here are our favourite picks for accommodation in Osaka for family travellers.
■  Best Budget Family Hotel Osaka: The Stay Osaka
■  Best Mid-Range Family Hotel Osaka: Hotel & Resort Bali Tower
■  Best Luxury Family Hotel Osaka: Conrad Osaka
Want more insider tips for planning your Japan trip?
Our Top Neighbourhood Pick
  NAMBA  
Centred around Namba Station, this bustling area is one of the city's 2 major centres and the best place to stay in Osaka for first-time visitors.
Things to do:
Round1 Stadium
Namba Parks Rooftop Oasis
Dotonbori Ferris Wheel
Tonbori River Cruise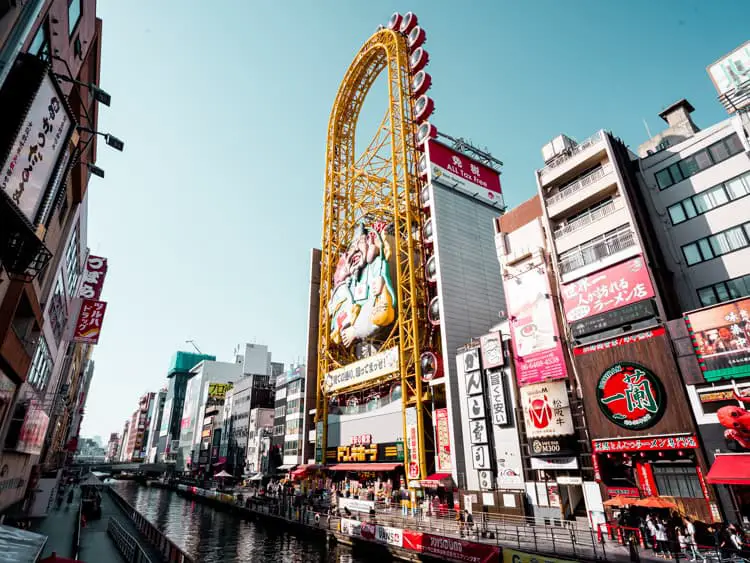 Take a look at this mega list of attractions in Namba and greater Osaka for more itinerary inspiration.
Best Areas to stay in Osaka for Families
Namba
The beating heart of the city, Namba is, basically, the Shibuya and Shinjuku of Osaka. With an ample number of family hotels in Osaka, you'll find yourself within walking distance to the city's most famous sights, such as, Dotonbori, Shinsaibashi shopping district and Kuromon Market.
Umeda
Also known as Kita Ward – this is the neighbourhood where all the young professionals hang and live. To say it's 'cool' is probably an understatement. Located a short 15-minute train ride from Namba Station, Umeda is the main transport hub in Osaka and is dotted with an abundance of shopping, dining and accommodation options.
Osaka Bay
Home to 2 epic entertainment complexes – Universal Studios Japan and Tempozan – this is the ideal place to base yourselves on an Osaka family trip. If you're planning to visit the theme park and make trips to Osaka Aquarium and the giant Tempozan Ferris Wheel, this is the area to revel in with kids.
Tennoji
This family-friendly neighbourhood in Osaka has seen a rapid urban transformation in recent years. It's the area we find ourselves drawn back to on each of our trips back to the city, hence why we have stayed here on almost all of our visits. It's where you'll find the beautiful Tennoji Park that's a haven for families, Shitennoji Temple, the retro entertainment district of Shinsekai, and some of the best shopping malls in Osaka.
Top-Rated Family Hotels in Osaka: Budget to Luxury
We've summed up 10 of the best places to stay in Osaka for families that will accommodate most budgets. Grab yourself a private family room at a cool and edgy hostel or ball out at a 5-star and bathe in caviar (not entirely certain this is possible but I'm sure it can be arranged).
Best Budget Family Hotels Osaka
Say what? On a budget. In Japan. Can those two words even share the same sentence? Yes, they most definitely can. In fact, we cover everything on how to travel Japan on a budget with kids, so we might just blow your mind a little bit with just how much bang you can get for your buck with these hotels.
At such a jaw-dropping price with top notch reviews by hundreds of guests – you really can't go wrong. Don't get put off by its hostel vibes, this place offers family-sized private rooms as well as dorms. Fitted with trendy urban decor, you'll find spacious common spaces for kids to play, hang out and meet other travellers.
Triple or quadruple private rooms
Free WiFi
Heating and air conditioning
Breakfast option available for $5 USD
Location: Shinsaibashi (10-minute walk to Dotonbori)
Price: Under $50 USD per night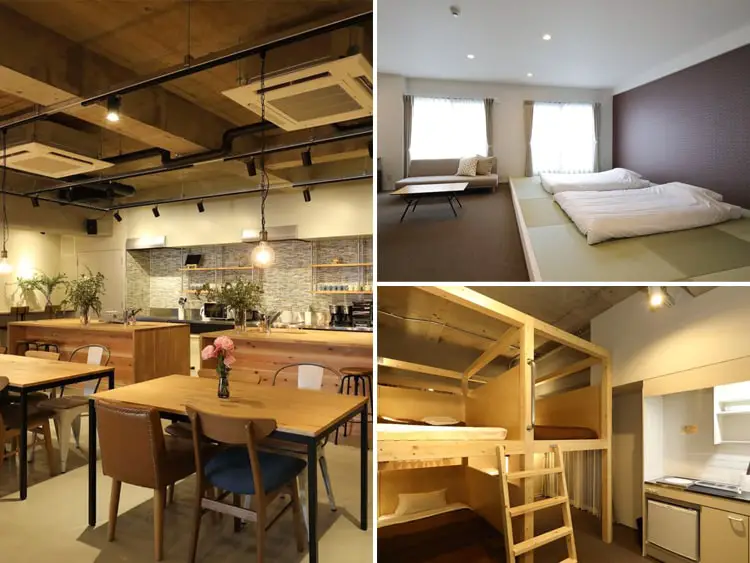 For cheap family accommodation in Osaka that allows you to experience all the 'cabin in the woods' feels in inner city Osaka – Glamlodge is your go-to. Step inside from the hustle and bustle where you'll feel like you've been transported to a chalet in the mountains. The quadruple rooms are far bigger than the Japanese standard, making it a perfect space for kids to sprawl all their toys.
Quadruple alpine-style rooms
Free WiFi
Air conditioning and heating
On-site restaurant
Location: Namba (7-minute walk to Dotonbori)
Price: Under $60 USD per night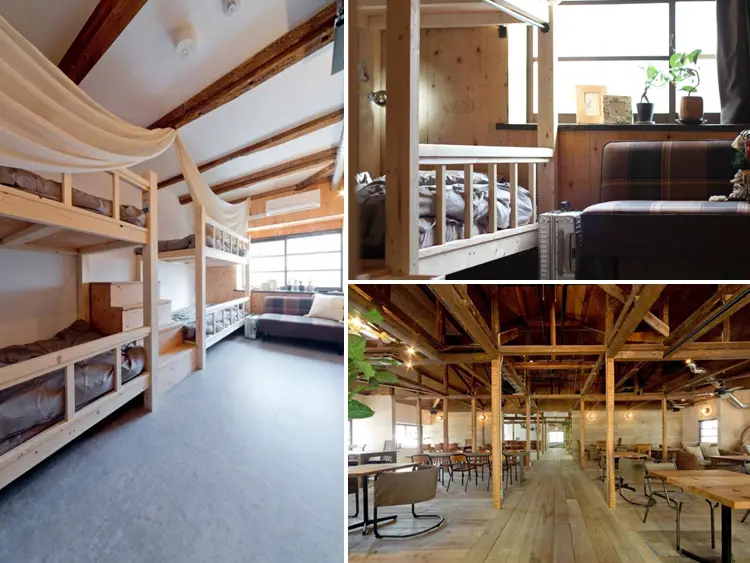 One of the best places to stay in Osaka on a budget, this contemporary and stylish hotel is located in the heart of Namba, surrounded by some of the city's best attractions. Alongside top notch customer service, Kamon Hotel also offer a raved-about Japanese-Western fusion breakfast.
Japanese-style twin and family rooms
Free WiFi
TV, heating and air conditioning
Breakfast option available for $11 USD
Location: Namba (8-minute walk to Dotonbori)
Price: Under $100 USD per night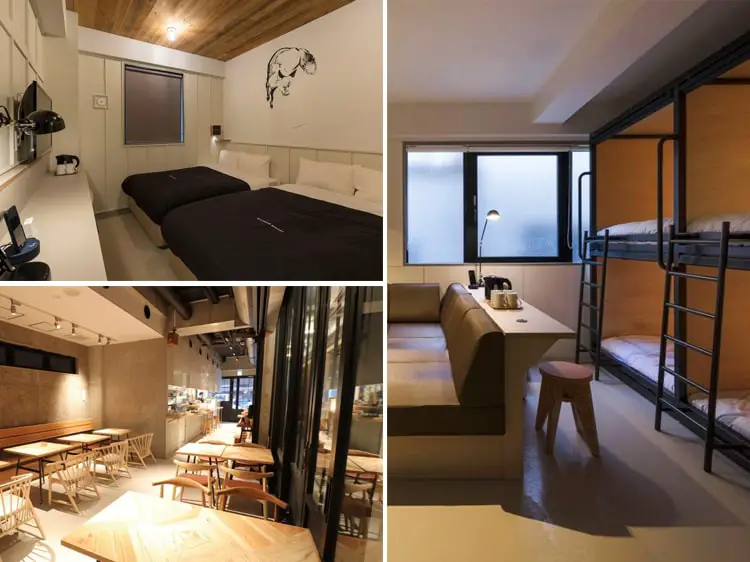 Best Mid-Range Family Hotels Osaka
Searching for a place with a little more boujee without completely breaking your wallet? These boutique-y (bordering luxury) hotels might just fit the bill.
Alright, hands down – the best accommodation in Osaka for families. Why? It's a 4-minute walk to the entrance of Universal Studios Japan. Nuff said. Choose from family rooms or even themed rooms that will blow your kids' socks off. Enjoy family-friendly facilities as well as an in-house Universal Studios souvenir shop (which will probably hurt the wallet).
Standard, family or themed rooms
Free WiFi
TV, mini kitchenette, heating and air conditioning
Breakfast option available
Location: Universal City (30-minute train ride from Namba Station)
Price: Under $150 USD per night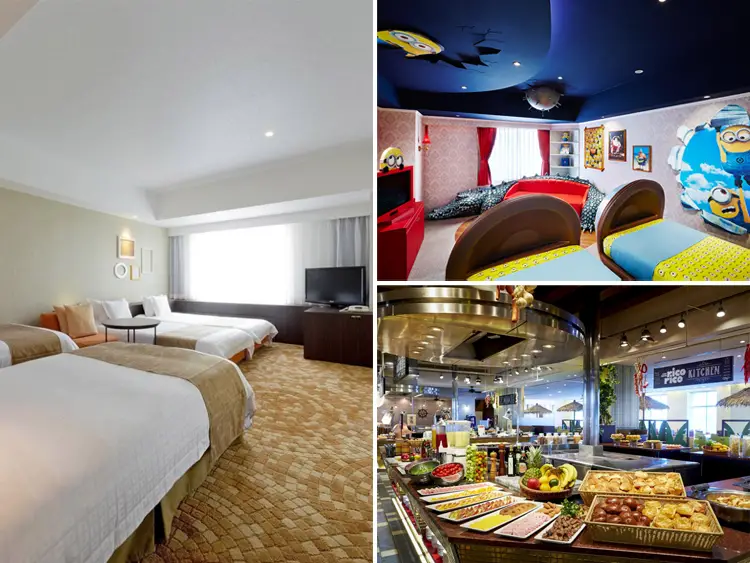 For a contemporary twist on where to stay in Osaka with family, Excel Hotel Tokyu is the answer. Nestled in a quiet corner of Namba, this brand new 4-star hotel features spacious rooms, sleek modern decor and top notch amenities. Inside, you'll find a gym, coin-operated washers and dryers, and even microwave access on various levels.
Spacious twin rooms with extra beds
Free WiFi
TV, gym and coin laundry
Breakfast option available
Location: Namba North (15-minute walk to Dotonbori)
Price: Under $130 USD per night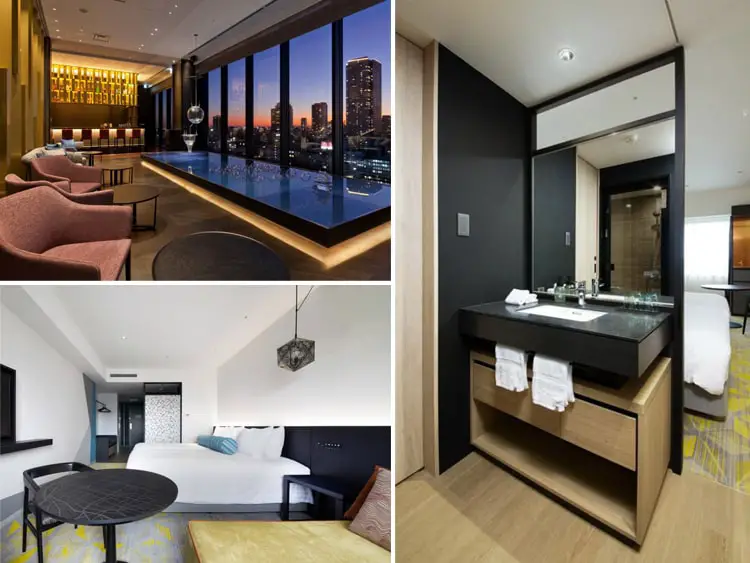 Experience all the Balinese vibes inside this thoughtfully designed hotel that oozes tropical island feels. Ranked the best Osaka hotel for family of 4 for its price, the property features a bright and airy indoor kids' playspace, karaoke, an arcade and games room. 'Fun' should be this hotel's middle name.
Twin, double or family rooms
Free WiFi
TV, kitchenette & toiletries
Indoor kids' playspace, games room and in-house restaurant
Breakfast option available
Location: Tennoji (10-minute train ride to Namba Station)
Price: Around $100 USD per night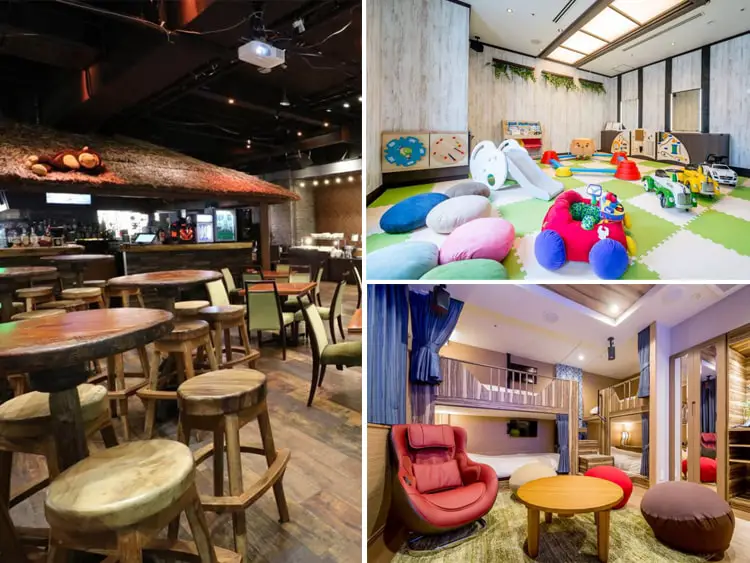 What makes this Osaka family hotel so amazing? All the free stuff. Get this – free homemade ramen, stroller rental, sweets buffet, drinks in the mini bar, kids' bathroom amenities, baby bottle steriliser, Lego rental, pocket Wifi rental, laptop rental, massage chairs, umbrellas for rent, beer, communal drink bar, kimono wearing experience, and a whole heap more. If you're not sold by now.. are you even human?
Twin, double or triple rooms
Huge amount of free amenities
Room fridge stocked with complimentary drinks
Breakfast option available
Location: Shinsaibashi (10-minute walk to Dotonbori)
Price: Under $150 USD per night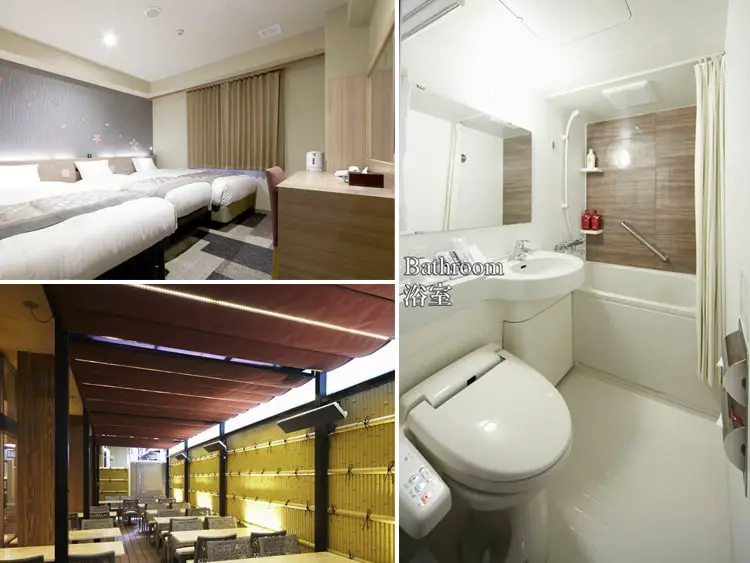 Best Luxury Family Hotels Osaka
So, a little bit of boujee is not quite enough and you want some champagne and caviar to top it off? Feast your 5-star eyes on these lux hotels for those who love the high life.
If you've got the budget to splurge and you're contemplating where to stay in Osaka with kids that's got a smashing view in one of the most family-friendly neighbourhoods in the city – look no further. Tucked inside the tallest building in Japan, Marriott Miyako guests receive free perkes, like, free entry to the Harukas 300 Observation Deck and many shopping discounts. The hotel is conveniently located at Tennoji Station, surrounded by shopping malls, department stores and restaurants.
Standard and interconnecting rooms
360° view of Osaka from 58th floor
Kitchenette with coffee machine, kettle and mini bar
In-house restaurants and bars
Location: Tennoji (10-minute train ride to Namba Station)
Price: From $350 USD per night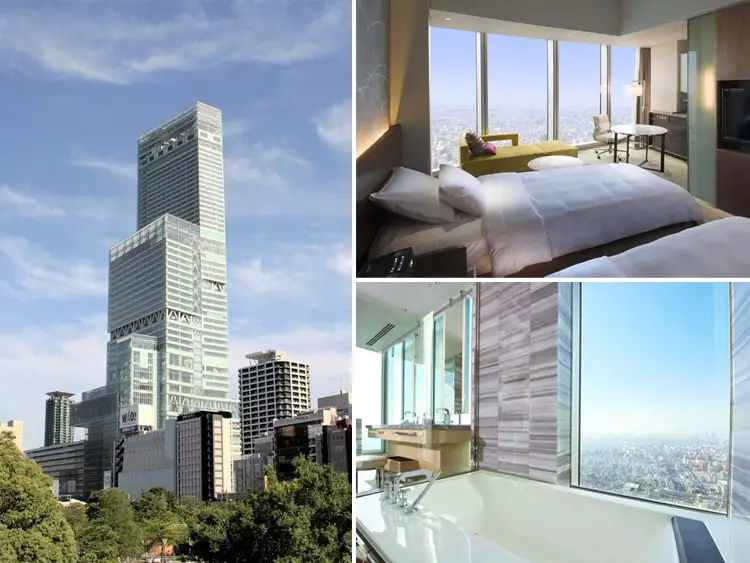 Looking for a Osaka hotel family room with splash of luxury without forfeiting some of the comforts from home? This upmarket serviced apart-hotel offers all the services and amenities of a hotel, but also gives travellers the handy amenities of an apartment. Unwind with a massage, take the kids to the library, or burn off those mochis at the gym – this place is the outcome if an Airbnb and a hotel had a baby.
Studio or one bedroom apartments
Kitchen, washing machine and dining space
Fitness centre, sauna and library
Breakfast included
Location: Namba (7-minute walk to Dotonbori)
Price: From $180 USD per night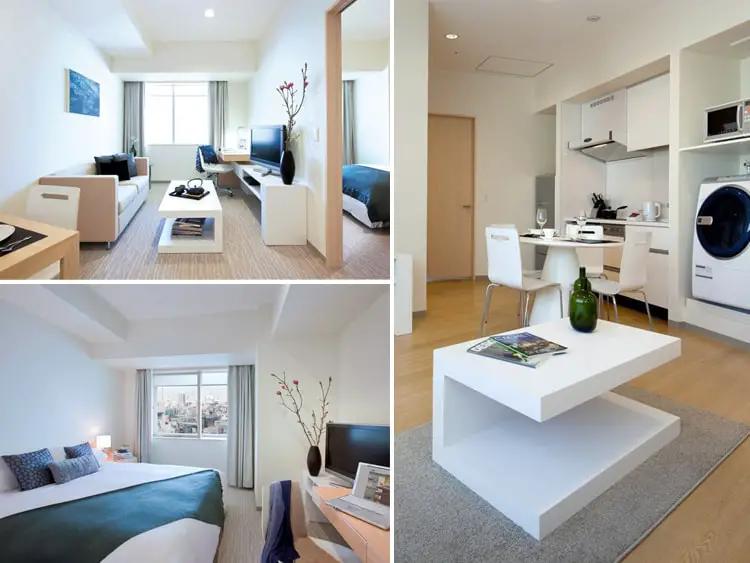 Considered one of the most prestigious and best places to stay in Osaka for family travellers, the Conrad is at the top of the luxury hotel food chain and the best family stay in Osaka. Boasting a heated indoor pool, en suite bathrooms, breathtaking views of the city, and spa and wellness facilities; there's a good chance you'll never leave this hotel once you set foot inside.
Twin, premium or executive rooms
Pool, gym and spa
In-house restaurants and bars
Breakfast option available
Location: Nakanoshima (10-minute train ride to Umeda)
Price: Around $550 USD per night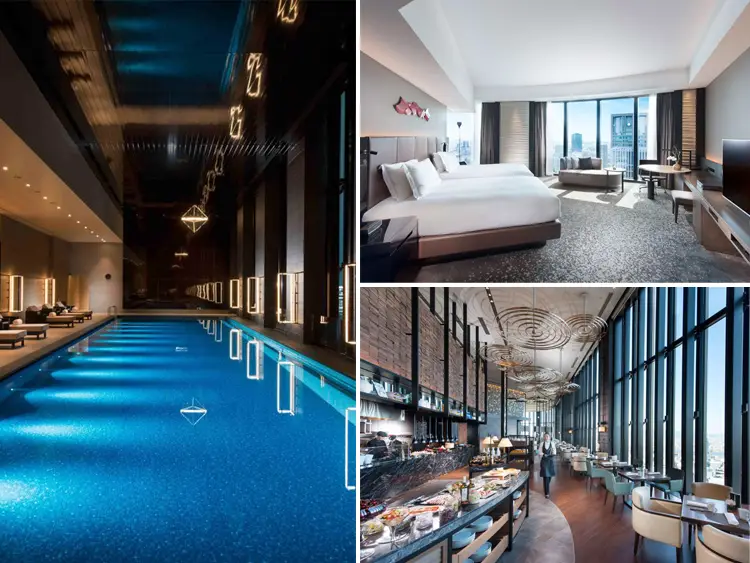 Fancy staying in a capsule hotel? While some don't allow children, there are a select few that allow kids over a certain age. Take a look at these 7 best capsule inns in Osaka for a breakdown.
New to Airbnb? Get $40 travel credit when you book your first stay!

Fancy a family apartment in Osaka instead? Take a look on Airbnb.
Essential Osaka Travel Tips
▪︎  Get the Osaka Amazing Pass. Save on entry to Osaka's best tourist attractions with the 1 or 2-day pass, which includes Osaka Castle, HEP5 Ferris Wheel, Tonbori River Cruise and many more.
▪︎  Buy the ICOCA IC Card for easy commuting on the train and subway in Osaka. Valid for use on the JR West trains, subway and buses in the Kansai region, including Osaka, Kyoto and Kobe.
▪︎  To JR Pass or not to JR Pass? If your itinerary includes day trips to multiple cities in various regions, it's probably worth getting a 7, 14 or 21-day JR Pass. If you're visiting cities within the Kansai region (Kyoto, Nara, Kobe, Himeji) – save money and grab the JR West Kansai Pass instead.
▪︎  Rent a bicycle to get around. Get around quicker and see more – rental shops around Namba Station offer bike rentals with child seats, or better yet, rent an e-bike if you're lazy and unfit (like me).
▪︎  Don't exchange money at self-service machines. Always make an effort to find places with people operating the currency exchange counters. Smart Exchange ATMs offer dismal rates that'll cause angry teeth-gritting.
▪︎  Book attraction tickets on Klook. Check for discounted tickets to Universal Studios Japan, Osaka Aquarium and many other attractions to save money and skip the long queues.
More Osaka & Japan Guides
Got questions about accommodation in Osaka?
Feel free to ask in the comments below.
Like this post? Pin me.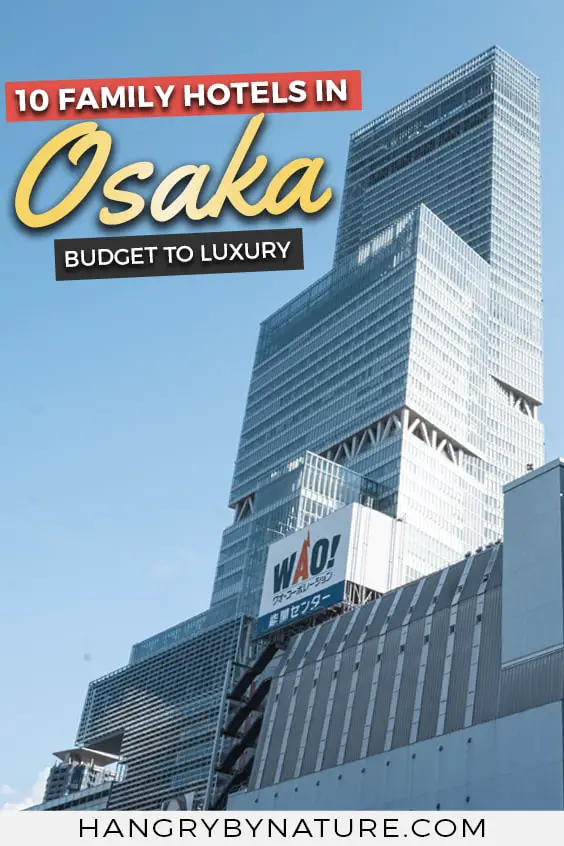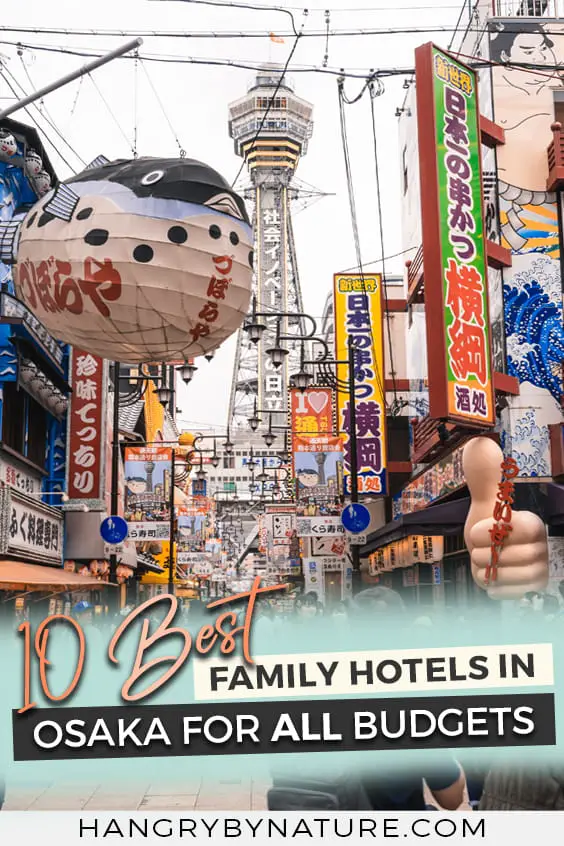 Get the most out of your Japan trip
Take a look at our Travel Resources to find the best deals on flights, accommodation and attractions. Find mistake fares, the cheapest date to fly each month, hotel and apartment savings, plus where to buy the cheapest tickets for attractions.
If you're looking for some sweet accommodation deals, you're in for a delicious treat.
Come say "HEY!" on Instagram or Facey. I like to think I'm a self-proclaimed comedian, all the while providing some lit AF travel tips. You be the judge.