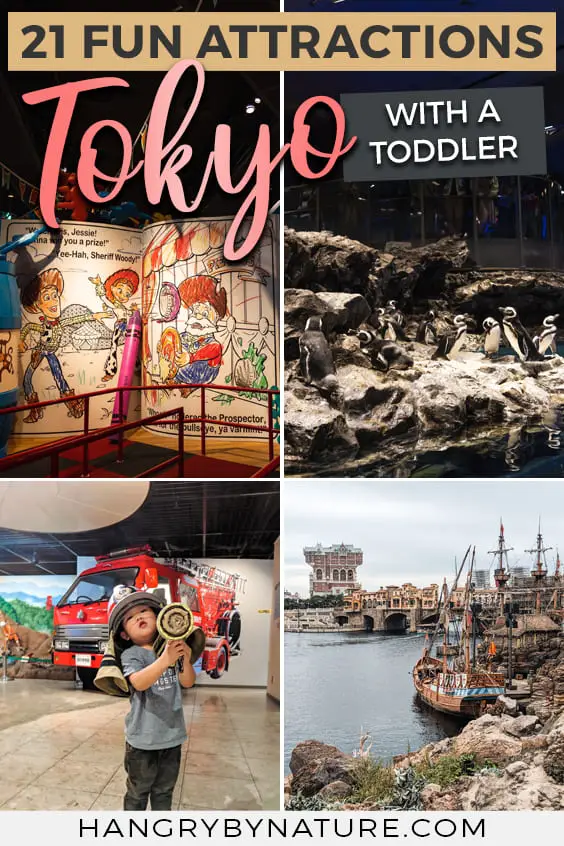 On the hunt for things to do in Tokyo with toddlers? Fear not. I gotchu, fam. Grab a pen and whip out your Tokyo family itinerary spreadsheet. We've compiled an exhaustive list that's guaranteed to keep your wild child at bay.
Short attention spans. Irrational meltdowns. Hangry tantrums. That's the life of a toddler summed up. Sounds pretty glum, huh? Don't be discouraged.
This handy post will arm you with the right activities to keep bite-sized authoritarians at bay, and you'll be breezing through your trip, like.. a breath of cool air hitting your face on a hot summer night (gawd, my metaphors are embarrassing – don't judge me).
Bad metaphors aside (my pun game is even worse), let's not delay the imminent fun you'll be having in this amazing country – here are the absolute best things to do in Tokyo with toddlers. Boom chicka wow wow.
Essential Tokyo Travel Tips
▪︎  Get the Suica IC Card for train travel. This all-in-one transport card is valid for travel on JR East trains, subway trains and some bus lines and comes pre-loaded with ¥1,500 credit. 
▪︎  Rent a pocket WiFi. Access the Internet as soon as you land to check train connections and directions. Pocket WiFis allow multiple users to connect to the one device.
▪︎  Don't exchange money at self-service machines. AKA Smart Exchange ATMs – the rates are dismal and will cause angry teeth-gritting. Our best tip is to get on Google Maps and type "currency exchange" into search to find human exchange counters with high star ratings.
Planning the nitty gritty of your Japan trip? Don't get caught in a pickle – arrange your travel insurance today.
After working at a travel agency for years, I've heard enough horror stories to direct a sequel to Final Destination. We use and recommend World Nomads. They have some of the most competitive rates and are available for travellers from 140 countries.
▪︎  Always have cash. Japan is at the forefront of technology – no doubt. However, cash is still king. Be sure to have a stash on you for train tickets, eateries and cafes.
▪︎  Don't overbudget. Japan is not as expensive as many of us are led to believe. Take a look at the cost of traveling Japan as a family for more details on budgeting for Japan.
▪︎  Rent a stroller in Tokyo. If you have no plans to to lug your bulky pram along for the trip, you can rent a stroller in any city in Japan and have it delivered to your accommodation.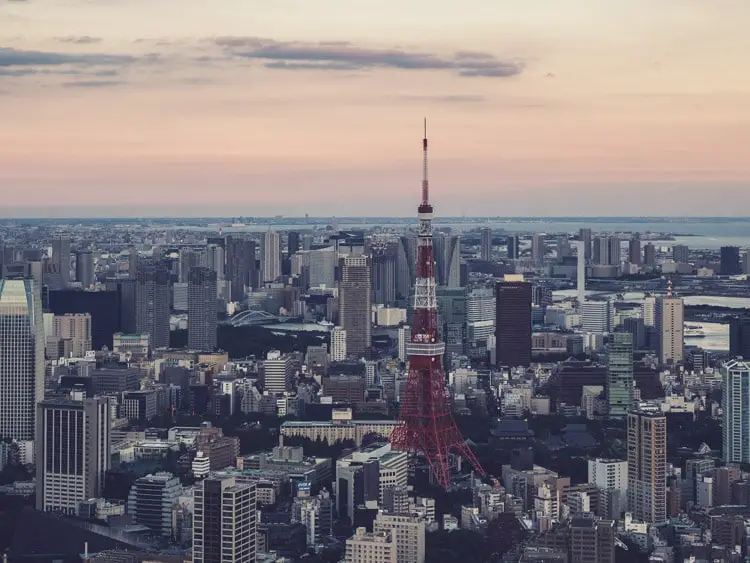 ▪︎  Know your Japanese etiquette. To tip or not to tip? Where are the bins? No talking on trains? Take a look at the 12 must-knows before visiting Japan to get schooled on what to do and what not to do.
▪︎  Book Tokyo attraction tickets on Klook. Skip lengthy queues and pre-purchase your tickets online for a hassle-free experience.
▪︎  Should you get the JR Pass? If you intend to visit multiple cities in different regions, it's probably worth getting a 7, 14 or 21-day JR Pass. If you're only doing short trips from Tokyo – probably not.
Want more insider tips for planning your Japan trip?
21 Things to do in Tokyo with Toddlers
1.  KidZania Tokyo
Edu-tainment centre are all the hype amongst kids these days. That's what KidZania is all about. It's what you get when you combine an amusement park with, uh, well a job internship experience.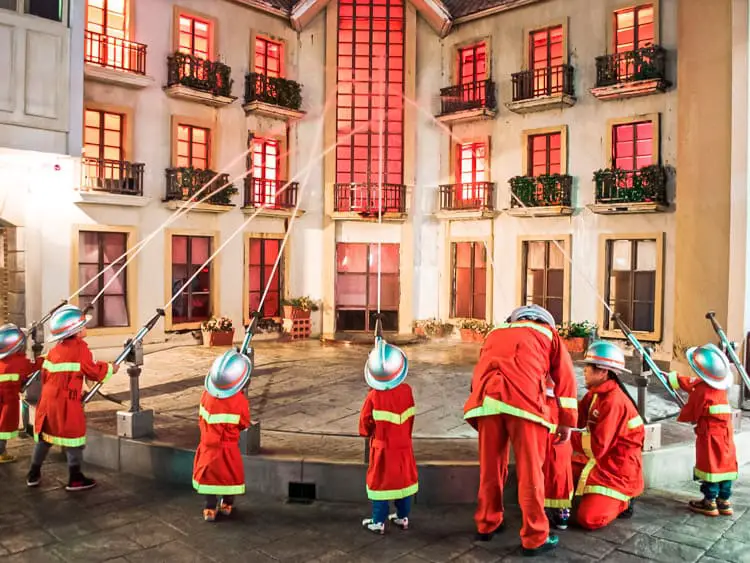 Toddlers and kids aged between 3 and 12 years will have the opportunity to don uniforms that correlate with their chosen 'jobs' and get a hands-on experience of what takes to be a firefighter, pilot, flight attendant and a bunch of other occupations.
Oh, and all their hard work won't be in vain. With completed job at their chosen occupation, they'll earn KidZania dollars which they can deposit into the bank, spend on toys or invest into further education.
Opening hours: daily between 9am – 3pm and 4pm – 9pm
Location: 2-Chome-4-9, Toyosu, Koto City, Tokyo
Price: ¥1,950 (adults) | from ¥3,550 (3+ years)
2. TeamLab Borderless
How does one even describe this experience? Mind-blowing. Riveting. Unforgettable. That just about sums it up. TeamLab Borderless cannot be excluded on your itinerary when visiting Tokyo with toddlers.
Get blown away by immersive digital art displays that will leave any visitor (tiny or big) in jaw-dropping awe.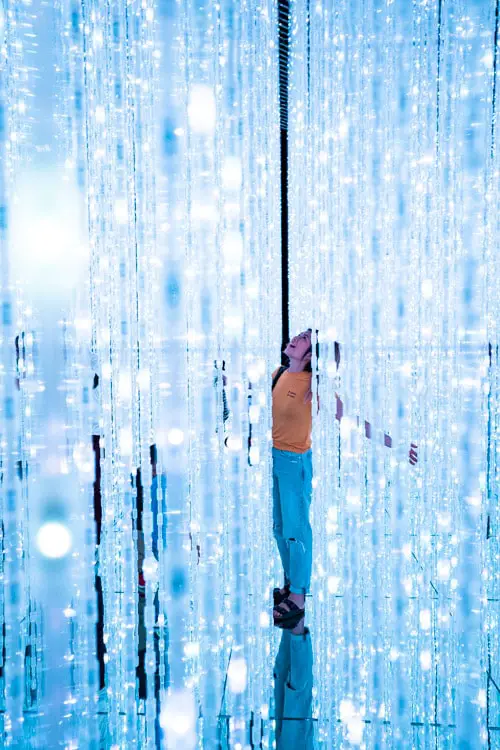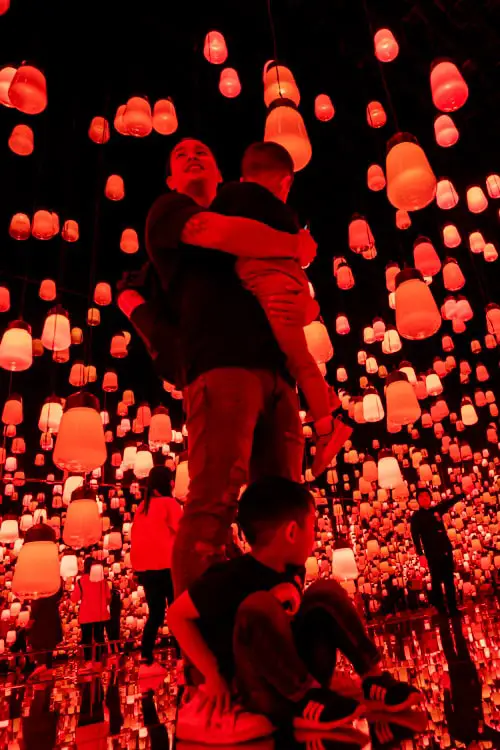 Wander from room to room, lose yourselves and observe mesmerising art pieces that travel seamlessly from one space to the next.
The upper level is home to an enormous playspace for kids; no doubt, one of the best things to do in Tokyo with toddlers. Let them run wild and bounce off walls, trampolines, hang from swings, climb up poles or weave between giant balloons.
Don't forget to book tickets in advance – this is one of Tokyo's most popular attractions and queues at the door get shockingly long.
Opening hours: 10am – 7pm (Mon to Fri) | 10am – 9pm (Sat & Sun)
Location: 1 Chome-3-8, Aomi, Koto City, Tokyo 
Price: 3,200 JPY (adults) | ¥1,000 (4+ years)
More popular Tokyo with toddler activities:
3. Oedo-Onsen Monogatari
When in Japan, do as the Japanese do. The Romans had their baths and the Japanese have their onsens. Most traditional onsens are not kid-friendly, however, at Oedo-Onsen Monogatari babies, toddlers and kids are allowed to join in on the relaxation.
Deemed one of the best things to do in Odaiba with kids, Tokyo's most popular onsen theme park allows you to experience 13 indoor and outdoor baths drawn from natural hot springs 1,400 metres underground.
Opening hours: daily 11am – 9am (next day)
Location: 2 Chome-6-3 Aomi, Koto City, Tokyo
ce: from ¥2,720 (adults) | ¥1,058 (4-12 years) | free for under 4s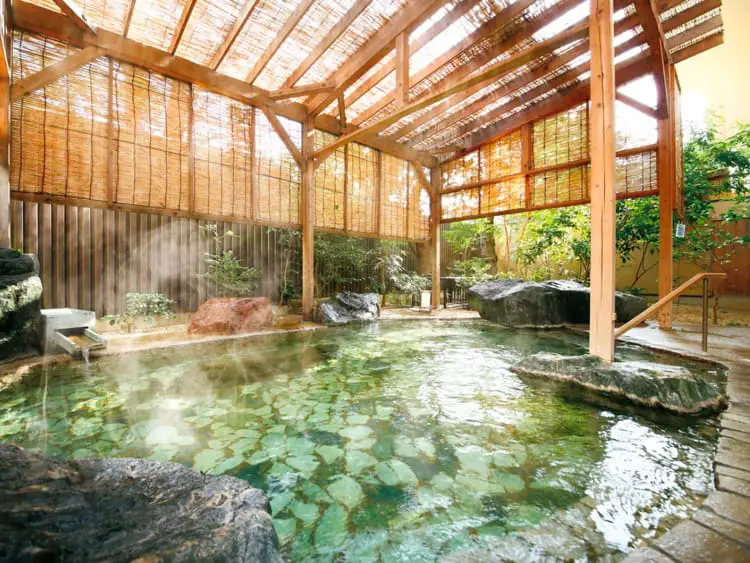 4. Legoland Discovery Center Tokyo
When people say Tokyo has it all – they ain't lying. Unleash the kids into this amazing indoor playground packed with neverending fun, and let little ones learn, build and explore all that the centre has to offer. If you're planning to visit, be sure to book discounted tickets on Klook to save money and avoid queues.
The space features a 4D cinema, 3 amusement rides, 10 Lego Build & Play zones, a Ninjago-themed playground and more activities the whole family can take part in. Small tots will enjoy roaming Duplo Village, designed for kids aged 1-5 years where they can develop their building skills and jam to catchy songs.
Opening hours: 10am – 8pm (weekdays) | 10am – 9pm (weekends)
Location: Decks Tokyo Beach Island Mall 3F, Odaiba 1-6-1, Minato Ward, Tokyo 
Price: ¥2,500 ages 3+ (at the door)
5. Disneyland Tokyo
Hands down – one of the best things to do with toddlers in Tokyo, Disneyland is the happiest place on Earth for grown-ups and kids alike. 
Meet and snap photos with beloved characters, eat your way into a Disney food coma, explore the 7 wonderful themed zones and enjoy rides together as a family.
Be sure to book your tickets online to avoid maddening queues on the day.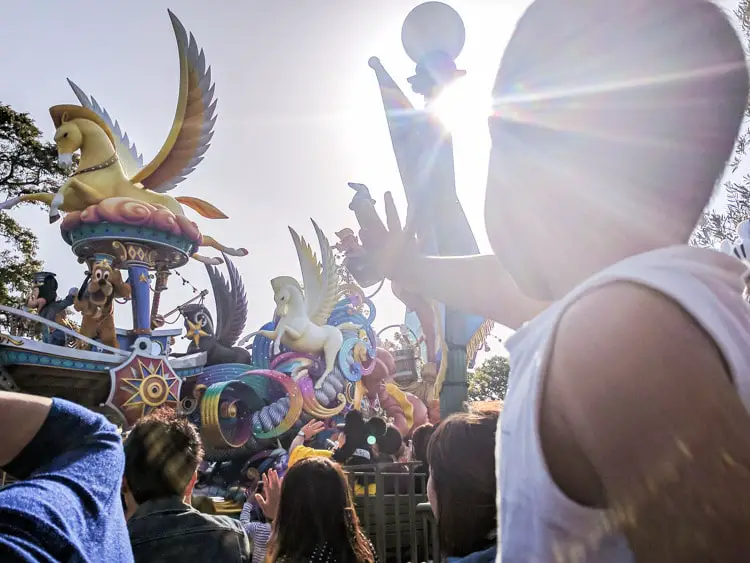 The most popular Disneyland Tokyo toddler activities and rides can be found within Fantasyland and Toontown. Make a run for Monsters Inc. Ride & Go Seek!, Buzz Lightyear's Astro Blasters and Pooh's Hunny Hunt.
By all means, don't miss the evening parade. The captivating show and electrical dreamlights are a sight you'll never forget.
Opening hours: 8am – 10pm daily
Location: 1-1 Maihama, Urayasu, Chiba Ward, Tokyo
Price: ¥7,500 (adults) | ¥6,500 (12-17 youths) | ¥4,900 (4-11 kids)
TIP: Be sure to get the Suica IC Card for convenient and fuss-free subway train travel in Tokyo.
6. DisneySea Tokyo
Look, I'm not gonna lie. DisneySea Tokyo tops our list of favourite theme parks on this planet. Yup, that's a big call but rightfully so because it's beyond amazing.
Now, DisneySea may not have all the iconic movies and characters that your little ones recognise, it's still 110% worth a visit when travelling to Tokyo with a toddler.
We highly recommend booking tickets in advance online to avoid disappointment upon arrival.
The epic park is divided into 7 themed zones that are inspired by the popular flicks: Finding Nemo, Toy Story, Sindbad, Indiana Jones and many more. 
Themed areas are designed meticulously well – you'll feel completely immersed in the environment and the seeming 'realness' of it.
For an inside look at some of the best attractions and rides at DisneySea, take a look at our video guide that covers the park with young children.
Opening hours:  check the official site as hours vary daily
Location: 1-1 3 Maihama, Urayasu, Chiba
Price: ¥7,500 (adults) | ¥6,500 (12-17 youths) | ¥4,900 (4-11 kids)
7. Sumida Aquarium
Set aside some time to visit the super modern Sumida Aquarium, located inside the Tokyo Solamachi shopping complex beneath the iconic Skytree tower.
Learn about Japan's diverse marine ecosystems, gawk at the contemporary exhibits and explore the beautiful zones with various themes.
Look out for the adorable fur seals that get taken on a walk around the penguin exhibit by trainers – it's the best thing you'll see with your two eyes.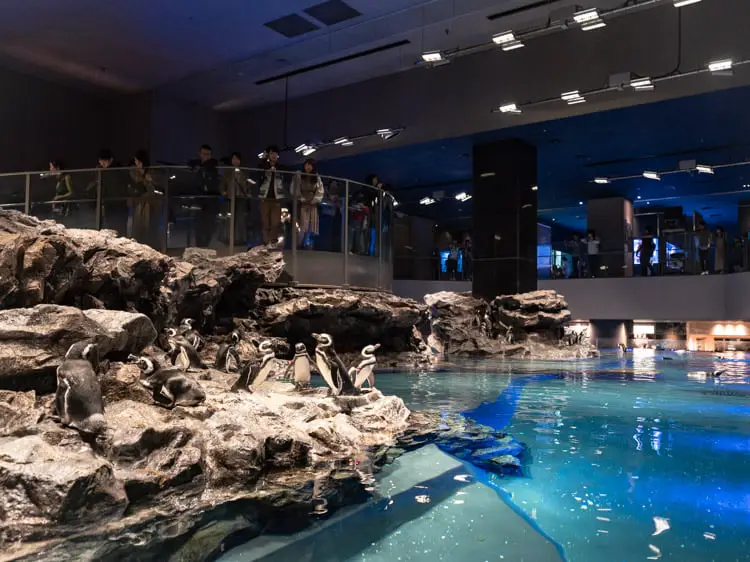 Opening hours: 9am – 9pm daily
Location: Tokyo Skytree Town Solamachi 1-2, Oshiage 1-Chome, Sumida Ward, Tokyo
Price: ¥2,050 (adults) | from ¥600 (kids)
8. Tokyo Solamachi mall
If you've made plans to visit Tokyo Skytree and Sumida Aquarium, then you may as well make it a day and explore this huge shopping, dining and entertainment complex that's home to over 300 stores.
It's the perfect rest stop in Tokyo with a toddler to recharge, change diapers and grab a bite to eat.
Oh, and did I mention there's a Pokemon Centre inside this complex? Even more of a reason to hang around. There are also two hilariously cute themed cafes: Moomin Cafe and Kirby Cafe. Drop in to rest your legs and get a 'kawaii' caffeine boost.
Opening hours: 10am – 9pm daily
Location: 1 Chome-1-2 Oshiage, Sumida City, Tokyo
Want more Tokyo with toddler guides?
Subscribe to our YouTube channel for a multitude of helpful city guides and tips for travelling to Tokyo with children.
9. Ueno Zoo
A fun outdoor activity in Tokyo with toddlers, Ueno Zoo is probably one of the cheapest animal parks you'll come across – anywhere. 
This underrated attraction found inside Ueno Park features a panda exhibit, Tiger Forest, animals of the African savannah, petting zoo and a 5-storey tall pagoda and tea ceremony house built in the 17th century to entertain shoguns.
Opening hours: 9:30am – 5pm (Tue to Sun)
Location: Ueno Park, Taito City, Tokyo
Price: ¥600 (adults) | Free for kids 0-12 years
10. Tokyo Fire Museum
If you're a proud parent of a kid that's obsessed with fire trucks *raises hand*, then you must include this free Tokyo Fire Museum experience in your Tokyo family itinerary.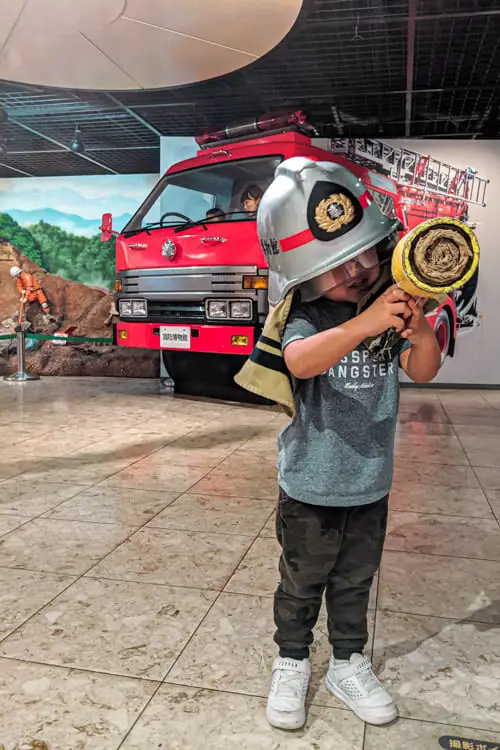 The museum consists of 5 levels comprising interactive exhibits, historical artefacts (eg. Samurai fire fighter uniforms), vintage firetrucks and helicopters, as well as an entire floor dedicated to fun activities for kids.
Opening hours: 9:30am – 5pm (Tue to Sun)
Location: 3-10 Yotsuya, Shinjuku-ku, Tokyo
Price: Free
11. Tokyo Toy Museum
Even though it's coined a 'toy museum', this 3-storey high centre is actually more of an indoor playground for babies, toddlers and kids.
The interactive museum houses over 10,000 toys from Japan and other parts of the world. Additionally, kids can also partake in workshops suitable for all ages where they can attempt to create toys from recycled materials.
Opening hours: 10am – 4pm (Fri to Wed) | Closed Thursdays
Location: 4-20 Yotsuya, Shinjuku-ku, Tokyo
Price: ¥800 (adults) | ¥500 (6 months – 6 years)
DON'T FORGET: Rent a Pocket WiFi and pick it up at the airport so that you can immediately find directions or check train timetables.
12. Shinjuku Chuo Park Playground
It's a mission trying to find a free public outdoor playground in Tokyo – believe me, we've tried.
An easy 5-minute walk from the Tokyo Metropolitan Government Building, Shinjuku Chuo Park is an urban oasis that comprises a massive playground and wading pool for toddlers (only in summer).
Opening hours: 24 hours
Location: 2-11 Nishi Shinjuku, Shinjuku City, Tokyo
Price: Free
13. Shinjuku Gyoen National Garden
For the picture perfect Japanese garden experience where parents can bask in small amounts of zen and tranquility while little ones roam freely in the open green space, Shinjuku Guyen National Garden is absolutely worth a visit for a breath of fresh air.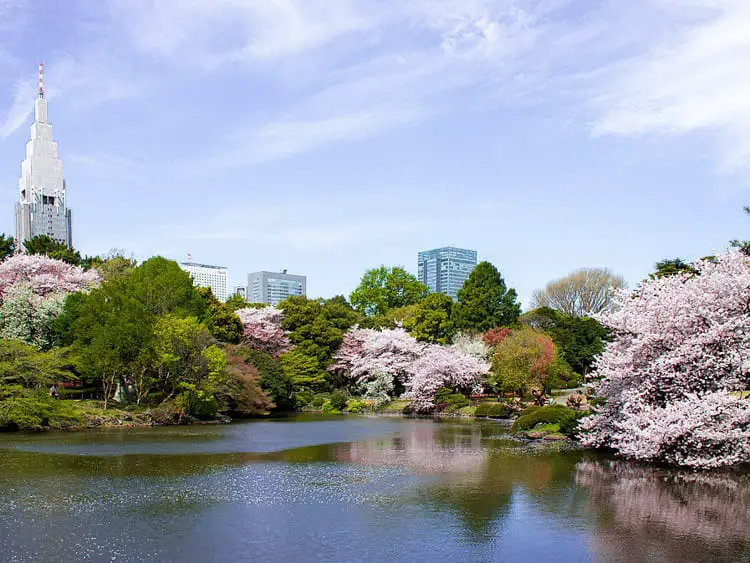 If you're visiting Tokyo in between seasons – pop into the garden to gawk at the mesmerising cherry blossoms or breathtaking autumn colours.
Opening hours: from 9am (Tue – Sun) –  4:30pm / 7pm (depending on season) | Closed Mondays
Location: 11 Naitomachi, Shinjuku City, Tokyo
Price: ¥500 (adults)
14. Kawaii Monster Cafe
Looking to experience something completely bonkers? Of course you do. It's Japan. Prepare your senses for a super cute (and what-the-heck-did-I-just-unsee) time at the Kawaii Monster Cafe in Harajuku.
The cafe is suited for all ages, and it's without a doubt, one of the craziest things to do in Tokyo with toddlers that'll have you scratching your heads and bopping to the fun at the same time.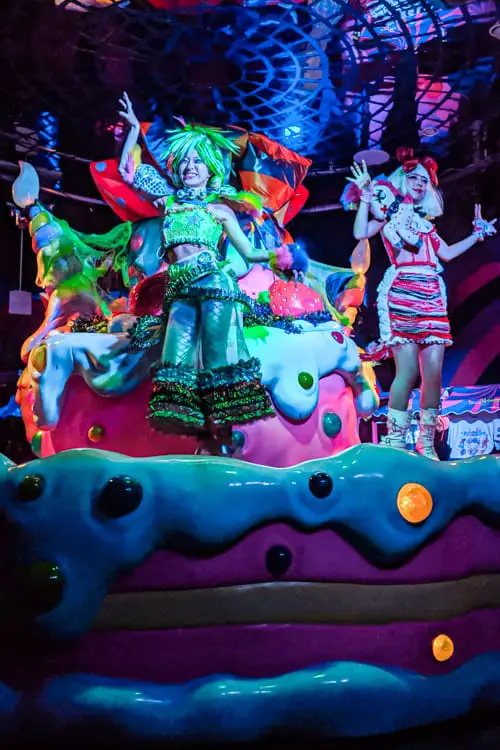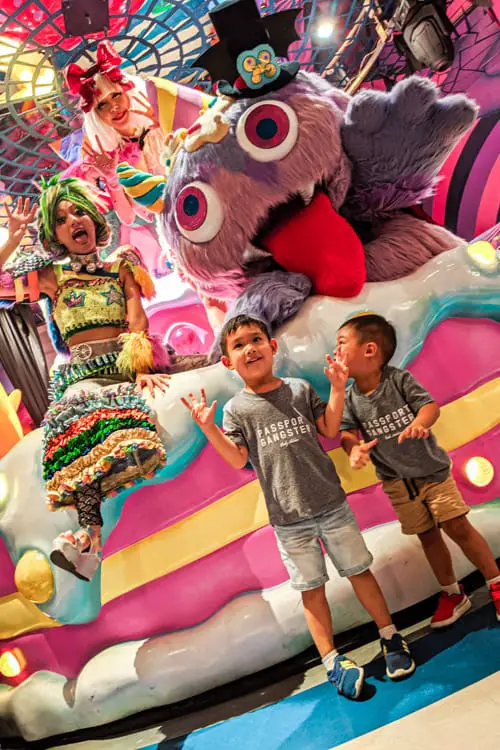 Order from the monster-themed menu and pick from colourful drinks and desserts that's sure to send everyone to sugar rush high.
Chat and take pictures with costumed waitresses, explore the nooks and crannies of the Alice in Wonderland-style venue, and be sure to stick around for the monster dance show.
Opening hours: 11:30am – 4:30pm & 6pm – 10:30pm (Mon – Sat) | 11am – 8pm (Sundays)
Location: YM Square 4F, Shibuya City, Tokyo
Price: ¥500 cover charge per person
NOTE: It's a requirement upon entry to purchase one drink and food item per person. Let's just say the menu ain't cheap either.
15. Yoyogi Park
Escape the crowds and craziness of Harajuku – cross the road to Yoyogi Park and get lost inside a mystical forest in the middle of the city.
Gape at the giant Tori gate and follow the windy path that leads to the iconic Meiji Shrine.
If you're looking for a relaxing spot in Tokyo with children for a stretch and breather, head to the west end of the park and soak in some sunshine on the huge open lawn space.
Opening hours: 24 hours
Location: 2-1 Yoyogikamizonocho, Shibuya City, Tokyo
Entry: Free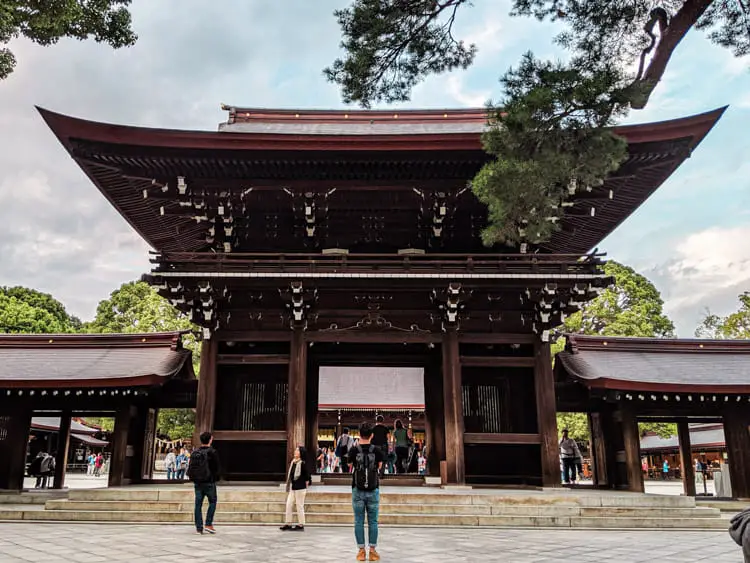 16. Rent a four legged friend at Dog Heart 
Missing the pooch back at home? Dog Heart is the solution.  Not gonna lie, it's one of the most awesomely bizarre things to do with toddlers in Tokyo.
Yes, renting a dog in Tokyo is nothing out of the ordinary. It's not even the craziest thing considering that renting a (human) friend is also another option.
Found on the northwest end of Yoyogi Park, Dog Heart offers dog cuddle and play sessions, or if you want to go that extra mile, rent one that has stolen your heart for up to an hour and take him for a walk in the park.
Opening hours: 11am – 7pm daily
Location: 1 Chome-45-2 Tomigaya Building 2F, Shibuya City, Tokyo
Price: ¥3,600 for 1 hour dog rental
17. Sanrio Puroland
Drop into Tokyo's signature indoor theme park on a rany day and meet all your favourite Sanrio characters – Hello Kitty, Keroppi, My Melody and many more.
Even if you're not familiar with these adorable characters, Sanrio Puroland still makes for a fun and enjoyable visit in Tokyo with baby or toddlers.
The bright and colourful indoor space features a myriad of toddler-friendly rides, attractions, musicals and parades that can be enjoyed by the whole family.
Opening hours: 10am – 5pm (Mon to Fri) | 10am – 6pm (Sat to Sun)
Location: 1-31 Ochiai, Tama, Tokyo
Price: from ¥3,300 (adults) | from ¥2,500 (3-7 years)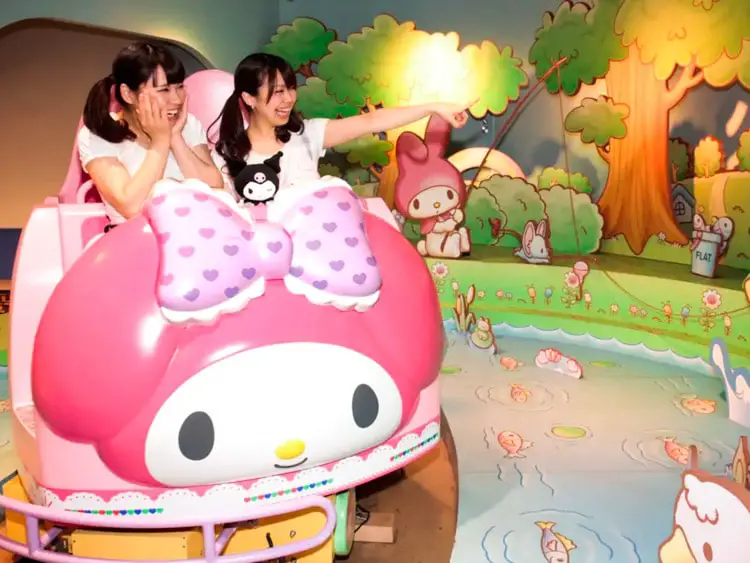 18. Edo Wonderland
If a trip to Nikko is on the cards, you must add Edo Wonderland to your Tokyo itinerary with toddlers.
This magical Edo period-themed park will throw the family back in time – back to the legendary age of samurai and ninjas.
Be awed by the carefully reconstructed town, consisting of rows of buildings modelled after Edo architecture, while interacting with lords and warriors of the time.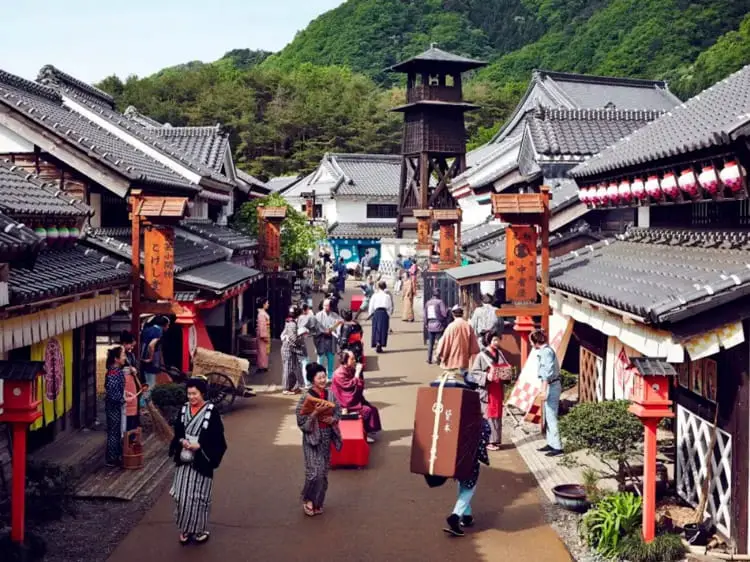 Dress the whole family in kimonos, visit the Kai Kai Ninja House, experience cultural ceremonies, and enjoy authentic Edo cuisine at one of the many restaurants found throughout the park.
Opening hours: 9am – 5pm (20 Mar to 30 Nov) | 9:30am – 4pm (1 Dec to 19 Mar)
Location: 470-2 Karakura, Nikko, Tochigi-ken
Price: ¥4,700 (adults) | ¥2,400 (6-12 years)
19. Fujiko F Fujio Museum
Warning: visitors may not be able to tolerate the level of cuteness inside the Fujiko F Fujio Museum. Symptoms include warm and fuzzy feelings, constant utterings of "aww", and non-stop selfie taking.
The space is dedicated to the popular Japanese animation series, Doraemon, beloved by children all around the world. The place includes interactive learning experiences, an indoor playground, a library and an indoor playground.
Opening hours: 10am – 6pm (Wed to Mon) | Closed on Tuesdays
Location: 2-Chome 8-1 Nagao, Tama Ward, Kawasaki City
Price: ¥1,430 (adults) | ¥1,100 (12-17 youths) | ¥880 (kids)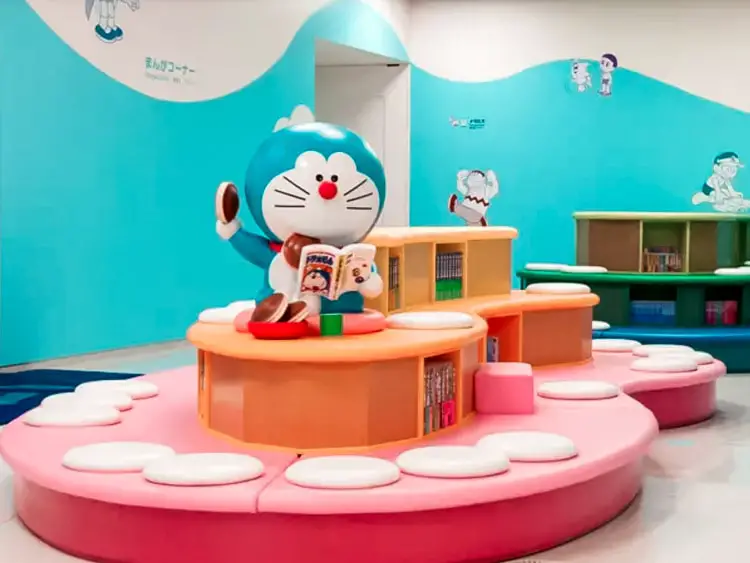 20. Tokyo Sea Life Park
The greatest challenge you'll face in Tokyo (aside from attempting to squeeze 12 meals into your stomach in a day) will be picking which aquarium to visit. You have the choice between 5 in a single city. 
We had to include Tokyo Sea Life Park on this list because of its size and price. For a small entrance fee, visitors get a huge experience. The aquarium is also home to one of Japan's largest penguin habitats.
Opening hours: 9:30am – 5pm (Thu to Tue) | Closed Wednesdays
Location: 6 Chome-2-3 Rinkaicho, Edogawa City, Tokyo
Price: ¥700 (adults) | Free for kids 0-12
Need a JR Pass? Find the best match.
21. Crazy, Cute & Kawaii Harajuku Food Tour
Operating a host of family-friendly food experiences in Tokyo, Kyoto and Osaka; Arigato Food Tours is one of the leading tour operators in Japan for foodies of all ages.
Join this unique and fun activity on your Japan holiday with a toddler that involves ice cream, sweet Japanese treats and the best self-cooked Okonomiyaki in Tokyo's most eccentric and fun neighbourhoods.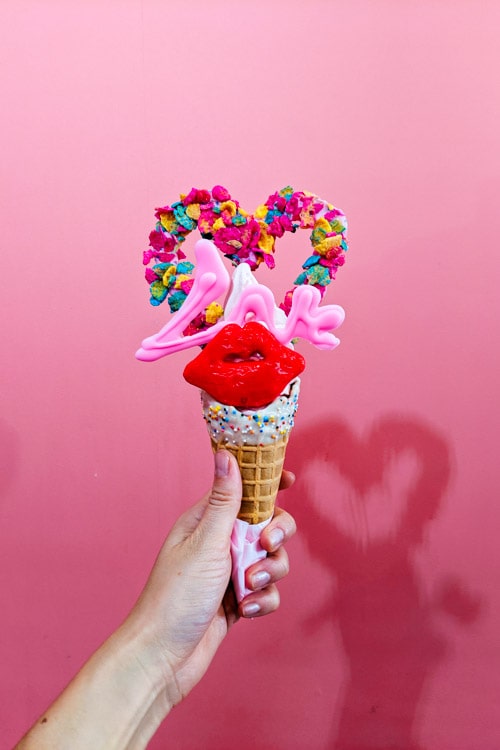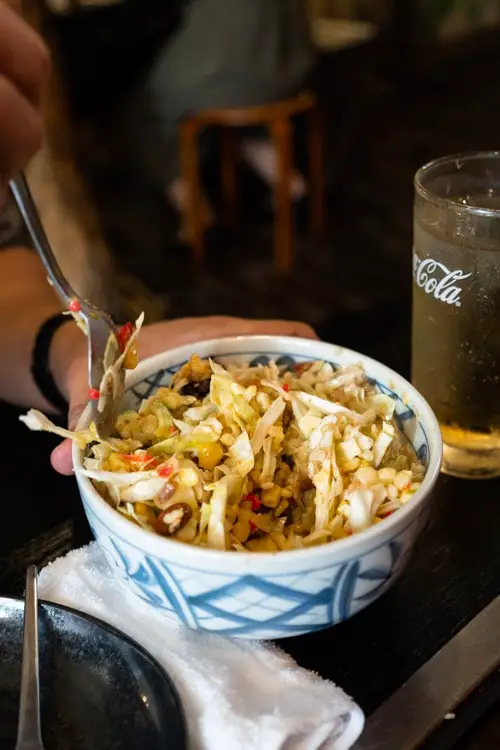 Tokyo with Toddler: The Wrap Up
Look, I know. Everyone's greatest dilemma on a Japan trip with family, or no family for that matter, is that there is nowhere near enough time to experience it 'all'. That's why everyone (including myself) starts planning their next trip back before they have even left. Pretty standard, really.
If I had to narrow it down for a first-time trip to Tokyo with toddlers, I would make it a mission to visit Disneyland, TeamLab Borderless, at least one aquarium, a stroll in Yoyogi Park, Harajuku (for obvious reasons) and a dip in Oedo Onsen (provided you don't have tattoos). We couldn't get in because of our ink – the only time in life I regret getting tatts is when we visit Japan. Sigh.
More Popular Japan Guides
Keen to know more about traveling to Tokyo with kids?
Feel free to ask in the comments below.
Like it? Share it.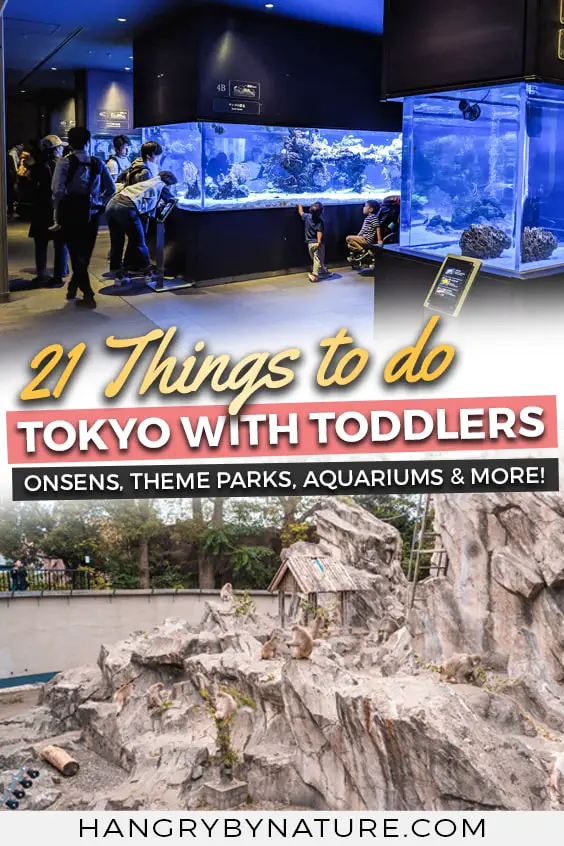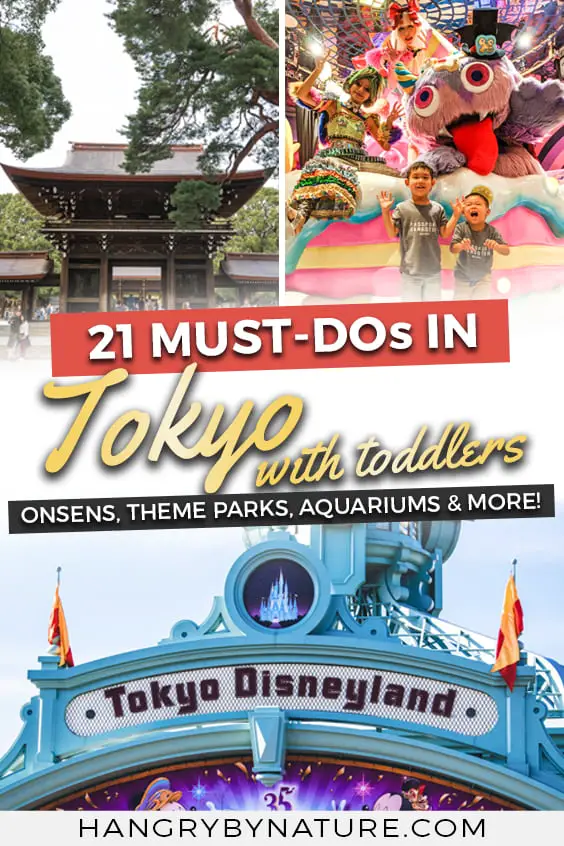 Get more out of your Japan Trip
Take a look at our Travel Resources to find the best deals on flights, accommodation and attractions. Find mistake fares, the cheapest date to fly each month, hotel and apartment savings, plus where to buy the cheapest tickets for attractions.
Looking for some sweet deals in Melbourne? You're in for a treat.
Come say "HEY!" on Instagram or Facey. I like to think I'm a self-proclaimed comedian, all the while providing some lit AF travel tips. You be the judge.