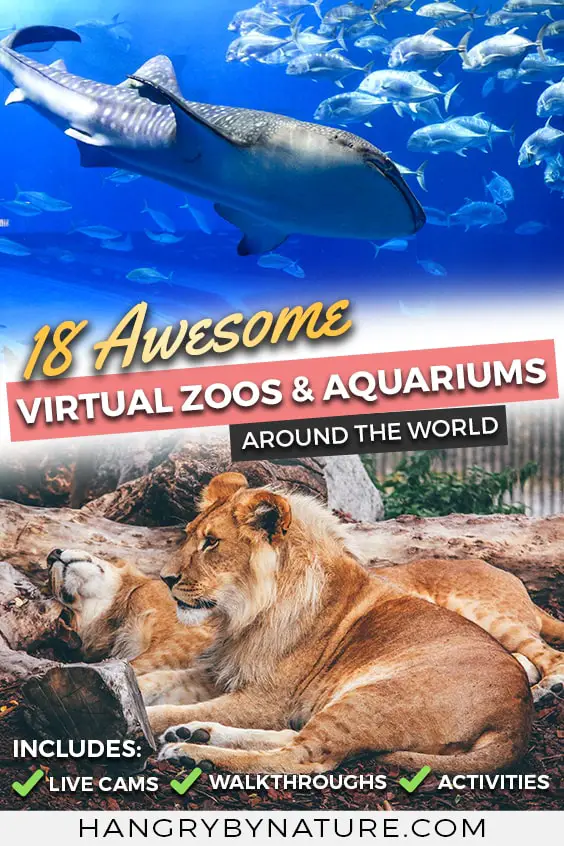 Stuck at home with kids and going kooky? This epic list of virtual zoo tours and aquariums from around the world will (hopefully) provide kids with a few hours of entertainment, and grownups with a smidge of regained sanity.
Things are completely berserk right now – not gonna lie. But, you have to admit that living through a global pandemic in the 21st century really ain't all that bad. I mean, on the bright side, we have the Internet, liquor stores and an infinite online catalogue of hilarious memes to keep us entertained.
Fellow parents, this enlightening virtual zoo and aquariums post aims to create an 'occupation' for the kids so that us poor souls can quietly resume watching Tiger King or scrolling through funny quarantine videos on Tik Tok.
Psst.. You can find us on Tik Tok here for a daily dose of quarantine laughs.
Alright, folks. Whip out your VR goggles or get the TV ready for casting – we are about to embark on a whirlwind trip around the world to experience the best aquariums and virtual zoo tours on all four corners of the planet. Best of all.. You won't even have to lift a finger. Okay, maybe just one finger for clicking.
But first, watch our video on 12 genius ideas to enjoy a pretend 'holiday' at home for days where you and the littles are experiencing a serious case of travel withdrawals.
18 Best Virtual Zoos & Aquariums in the World
Strap on your 'seatbelts' and virtual reality headset (if you own a pair), we're about to take you on a wild ride through four continents to experience a string of virtual field trips to the zoo and aquariums like you've never experienced before.
North America: Virtual Zoo Tours & Aquariums
Home to world-class zoos and one of the most remarkable aquariums we've ever set foot inside *ahem* Georgia Aquarium, North America is one virtual trip you have to take to ogle at pandas, Beluga whales and even piranhas via 24-hour live cams.
San Diego Zoo
If there's one virtual zoo trip to place on top of your online 'travel' bucket list – it's San Diego Zoo.
Slide into their live cams to take a peek at the daily shenanigans of tigers, elephants, baboons and more adorable four-legged fur friends that will steal your hearts away.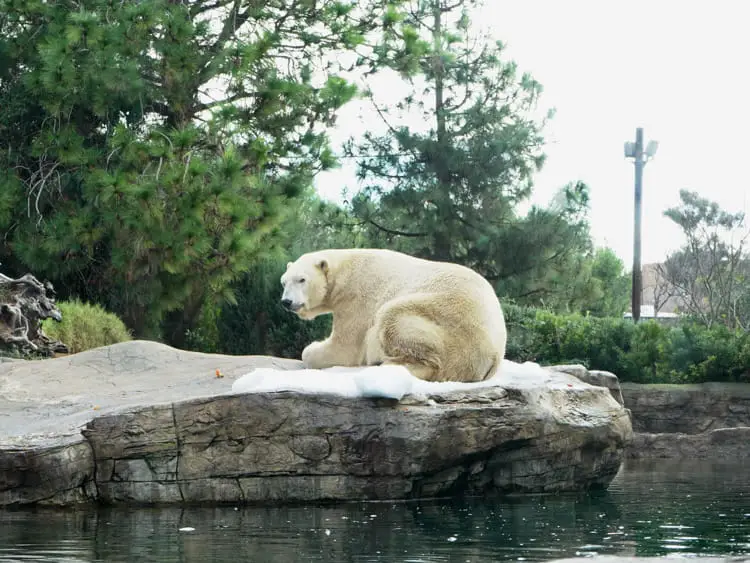 But wait, guys. There's more to your San Diego Zoo virtual tour and online experience. Way more. Ensure that you pop a visit to the dedicated kids' section of the website for a myriad of animal-focused learning activities, art and crafts video tutorials, home experiment ideas and educational games.
Oh, and if you have a VR headset handy, now's the time to pop them over your head and check into their YouTube channel to immerse yourselves in 360º videos, like this one of giant tortoises eating watermelon.
Atlanta Zoo
In need of a cute animal fix that's not your own household pet? Atlanta Zoo has got you covered with their world-famous live PandaCam. Meet the ridiculously adorable panda twins, Ya Lun and Xi Lun, who are melting hearts across the globe with their playful antics and just all-round cuteness.
Don't forget to swing by their Facebook page to experience what basically feels like virtual field trips to the zoo, featuring regular keeper talks and behind-the-scenes insight into animals and their diets and lifestyle.
The website also offers a host of fun activities and lessons that support 'at home learning', like animal arts and crafts, backyard bingo and a storybooks packed with hands-on activities.
TIP: Download the WILDEVERSE mobile game, which features real-life characters from Atlanta Zoo. Transform your home into a digital jungle and embark on research quests and missions to find endangered apes. 
Cincinnati Zoo
Hopping over a couple of states north to Ohio, we're going to spring into Cincinnati Zoo to meet the world's most famous hippopotamus, Fiona. Follow this immersive virtual zoo tour to get a feel of the space, exhibits and animals.
Swing by their Facebook page to tune into The Fiona Show where you can watch videos of her birth and follow her astonishing progress and growth. She's the only hippo ever to survive an almost 2-month premature birth.
They also host daily virtual safari live streams, in which you can learn all about the zoo's resident animals, including their diets, personalities and lifestyles.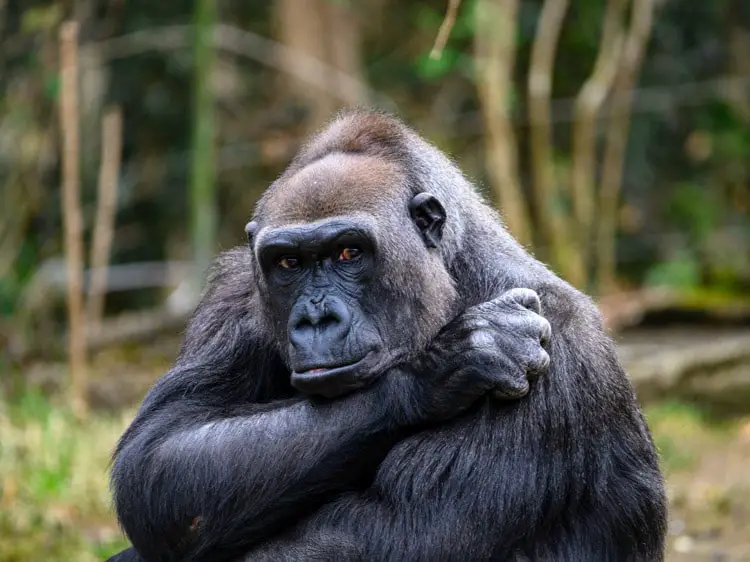 Toronto Zoo
Slip into your down jackets because I'm about to beam you further up to the chillier regions of the northern hemisphere. Ready? Get set. Click away.
Explore Toronto Zoo's YouTube channel to get up close and personal to mighty grizzly bears,  fluffy white Arctic foxes, lynxes, and even Masai giraffes.
If you're keen to experience a virtual zoo trip to this beautiful destination, take a look at this complete walkthrough which lets viewers enjoy the zoo on a snowy winter day.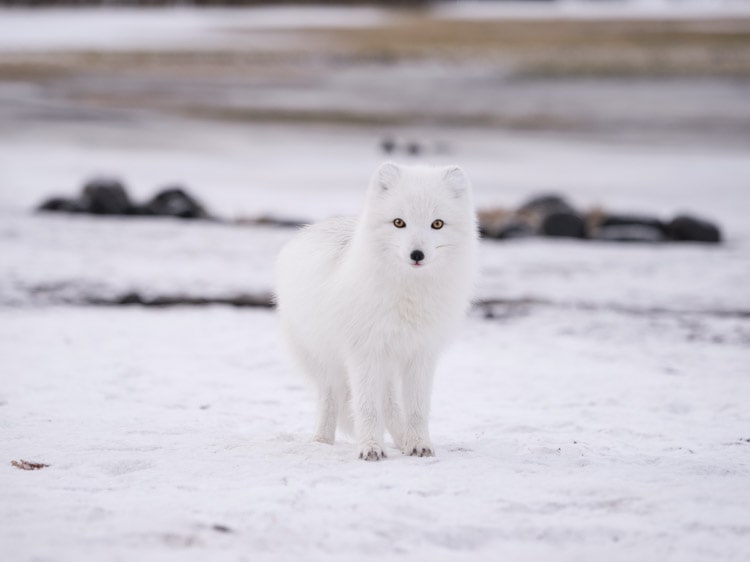 Georgia Aquarium
Yes. We're parents and.. yes, we love to travel, so I can safely say that we've been to a crapload of aquariums around the world. If there isn't an aquarium on our city itinerary, then something has gone horribly wrong in the planning process.
Of all the aquariums we have visited, none have, so far, compared to Georgia Aquarium. Not even close. If you're an aquarium nut like we are – you need to put a physical visit to this spectacular place on your travel bucket list.
For now, you can, of course, experience this epic aquarium virtually via their virtual aquarium tour and live cam feed where you can soothe your soul gazing at dancing jellyfish or stare in awe at the Beluga whale.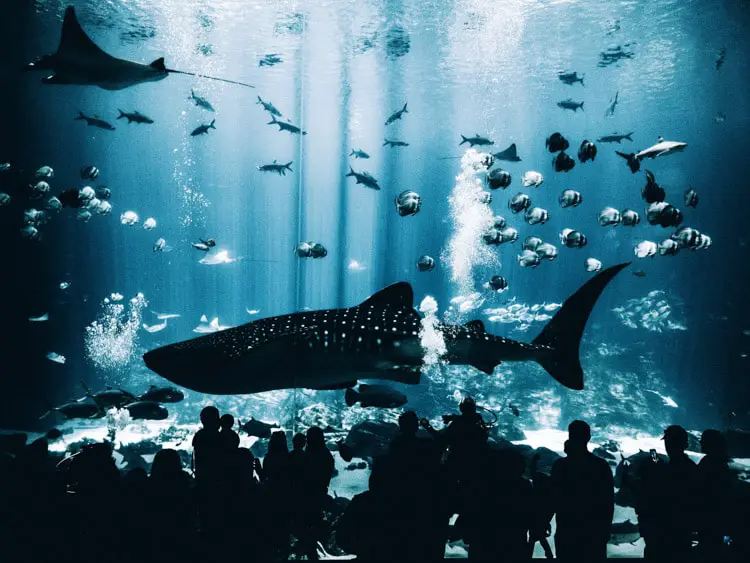 Monterey Bay Aquarium
Attention, please. It's time to choose your snack, sink into the couch and get cozy; your self-guided Monterey Bay Aquarium virtual tour is about to begin.
Step one. Cast this 360° aquarium walkthrough to your TV or don your virtual reality headset 'cause things are about to go down in underwater town.
Virtually meet and learn about Monterey Bay Aquarium's resident marine animals on their interactive website, or stalk your favourite sea animal's live cam. 
You can even enrol in free online courses comprising guided activities to support learning at home or engage the kiddos in free virtual zoo games that both educate and entertain.
Want more insider tips for surviving the stay-at-home life with kids?
Asia: Virtual Zoos & Aquariums
Exotic rainforest virtual zoo tours and thrilling night safaris – discover Asia's most enchanting zoos and aquariums without having to peel yourself off the couch. 
Singapore Zoo
Okay, so Asia is off-limits right now. I mean, pretty much every continent is out of reach at this moment, but that doesn't mean you can't take a virtual field trip to this incredible zoo in South East Asia that everyone raves about.
Get a feel of Singapore Zoo and what animals you can expect to encounter in our very own walkthrough guide that we filmed on one of our visits or read up on the zoo's resident animals.
Hold up a second though. Your journey doesn't end at the Singapore Zoo. Drop into the Singapore River Safari for a virtual walkthrough tour and meet weird and wonderful creatures that inhabit rivers around the world.
Your adventure continues onwards to the Singapore Night Safari where you can view a hypnotising fire show, witness an impressive animal show, and hop on a tram car to discover nocturnal animals in their open exhibits.
Check out our Singapore virtual zoo guide to see the highlights of this open zoo concept.
Jurong Bird Park
While we're in Singapore, let's take a hot moment to visit one of the biggest bird parks in the world where you can make a feeble attempt at identifying up to 3,500 birds across 400 species from all over the world.
Discover the diverse zones inhabited by bird species from all corners of the Earth, meet the winged residents of Jurong Bird Park or take a virtual stroll through the lush, green space that will give you all the jungle vibes 
Aquaria KLCC
Swing into Aquaria KLCC in Kuala Lumpur, Malaysia, on one of your free virtual field trips to zoos and aquariums around the world and tune into marine animal feedings and educational talks on their 24-hour live streaming cam.
Don't forget to check their Facebook for the schedule.
Meet the spine-chilling Sand Tiger Shark and his stingray buddies, or chill out with laid-back Green Sea Turtles that all dwell inside the Living Ocean tank.
Dubai Aquarium & Underwater Zoo
Set off on a virtual aquarium tour at the magnificent Dubai Aquarium and Underwater Zoo located in the glittering capital of the United Arab Emirates.
The tour isn't just an ordinary virtual field trip of your average aquarium; this epic space also doubles as a zoo. Be prepared to encounter fruit bats, desert hedgehogs, cobras, chameleons.
Pop over to their Facebook page to learn fun animal facts and binge on videos of iguanas, hedgehogs and racoons freely roaming the empty aquarium.
Australia: Virtual Zoos & Aquariums
Kangaroos? Check. Koalas? No doubt. Tasmanian Devil? Yeah, baby. It's time for a trip downunder to meet friendly Aussie animals and not-so-friendly creatures and crawlies that either bite or kill.
Taronga Zoo 
To experience one of the southern hemisphere's best virtual zoos, you can't go past Sydney's newly launched Taronga TV. Tune into the live cams to view animal exhibits, shows, keeper chats, and even take a peek inside the Wildlife Hospital.
Hit up Taronga's YouTube channel to witness funny animal antics and catch up on missed shows and performances. This video of a lemur baking in the sun is basically all of us right now when the sun touches our windows in quarantine.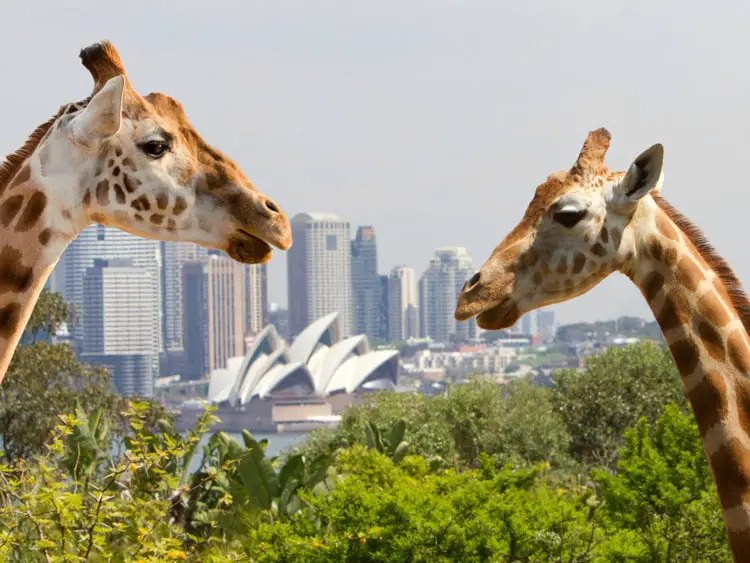 Sea Life & Wild Life Sydney
Sea Life and Wild Life Sydney have recently launched their fun and super educational online virtual zoo and aquarium experiences. Prepare yourselves for hours worth of fun family activities and homeschooling content.
Dive into the virtual aquarium experience and meet dugongs and King penguins in live streams, or gape at aquarists throwing themselves into the shark tank to feed hungry sea predators.
If you're running low on learning activities for the kiddos, you'll also find a bunch of marine animal-themed craft activities and free downloadable homeschooling resources and activity sheets.
A virtual visit to Sea Life wouldn't be complete without popping into Wild Life Sydney to learn all about Australian animals that are slightly more.. grounded.
Peek into live streams to see what Rocky the croc is up to or join in on storytime events run by the zoo staff on the virtual zoo tours page. You'll also find printable animal-themed colouring pages, plus fact and activity sheets.
Before you leave, don't forget to drop by Merlin's Education Toolbox for even more activities and workbooks, especially helpful for parents seeking homeschooling resources or teachers looking for lesson content. 
Europe: Virtual Zoos & Aquariums
The last continent we'll be virtually teleporting you to on this worldwide virtual safari, zoo and aquarium tour is, of course, good ole Europe. Home to the world's oldest zoo and the first zoo in the world to house and breed penguins – your roundtrip will end with a little history and class.
Berlin Zoo
Germany's capital can proudly claim to have the most popular zoo in all of Europe. Berlin Zoo houses a whopping collection of over 20,000 animals across 1,500 different species – more than any zoo on the planet.
Considering none of us can currently visit in person, we can thank the Internet once again for this high-resolution walkthrough, making it possible to meet some of the friendly furry residents of the zoo, virtually.
Oh, and I'm just gonna casually mention that they have PANDA CUBS, guys. *Hyperventilating*. Jump onto their Facebook to meet the twinning cuties, Pit and Paule. Right now. It'll be the most adorable thing you'll see all week.
You can stalk them trying to catch some snoozy time below…
Prague Zoo
Speaking of stalking animals (cos that's socially acceptable, right?), Prague Zoo houses a baby elephant that online visitors can attempt to spot on their live Elephant Valley cam. Pop by their YouTube channel for more adorable moments and to follow its journey from birth.
Watch this 4k  walkthrough of the zoo and try to spot mighty Western Lowland gorillas, polar bears, hippos, Asian elephants, red pandas and many more cute and intimidating animals.
Edinburgh Zoo
This was the first zoo in the world to house and breed penguins – in fact, Edinburgh Zoo is popularly known for its Penguin Parade, where waddling little penguins are let free their enclosure for a stroll around the space.
Observe the antics of King and Rockhopper penguins on live cams, as well as koalas, tigers and pandas.
They've made their learning portal readily accessible – the online hub is packed with free activities, games, quizzes and fact files for kids of all ages.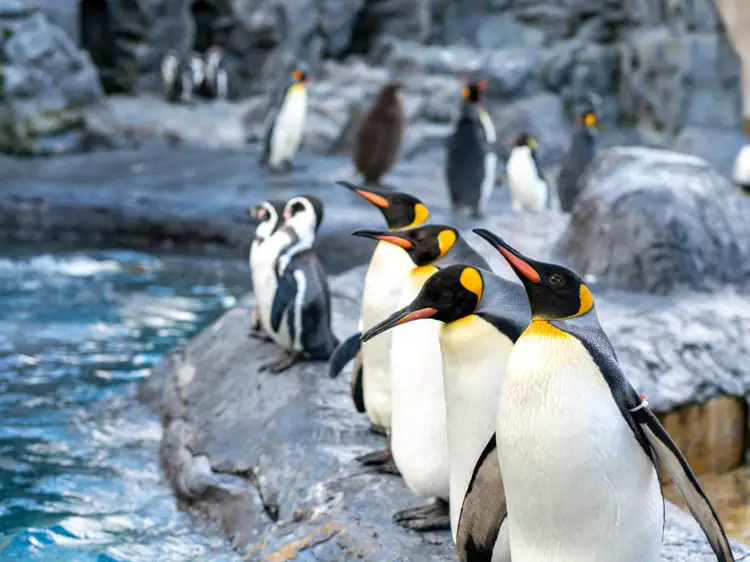 Vienna Zoo
Hang tight – just gonna beam you over to our final leg of virtual zoo tours around the world in Vienna. The city is home to the world's oldest zoo, Tiergarten Schönbrunn, which opened its doors in 1752.
Soak in this gorgeous space in this virtual zoo stroll and meet animals from all around the world and, of course, explore the picturesque landscape that surrounds the zoo. 
Keep an eye out for the zoo's newest sensation, Finja – a polar bear cub. Watch her birth and everyday life on Vienna Zoo's YouTube channel.
Have you got more ideas to add to the list?
Hit me up in the comments and let me know what virtual little gems you've found in isolation, so that together, we may survive being confined inside four walls with perpetually bored kids.
Explore more Virtual Travel Guides
Loved this post? Share the inspiration on Pinterest.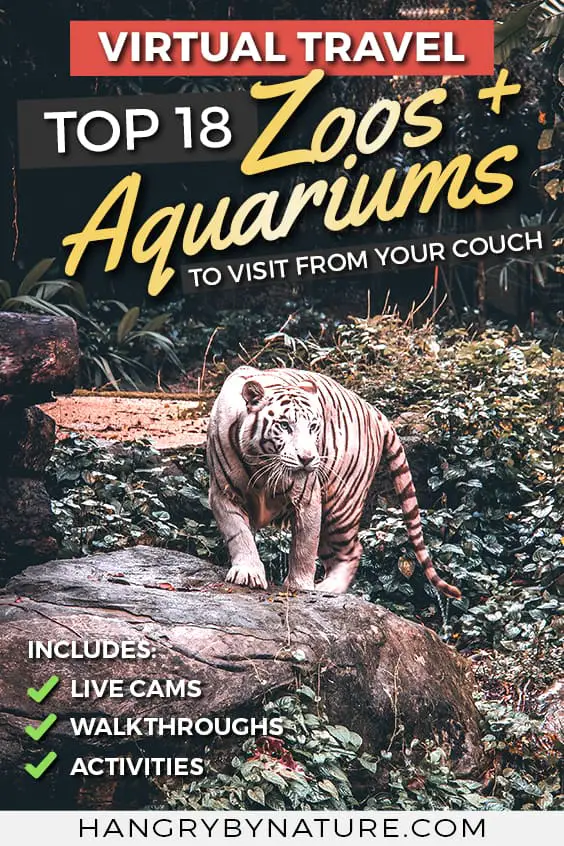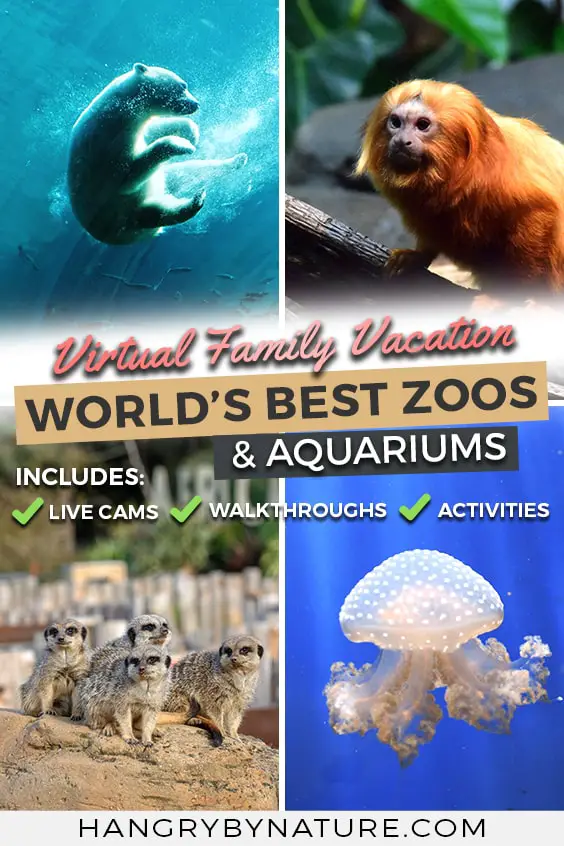 Get more out of your Family Trip
Take a look at our Travel Resources to find the best deals on flights, accommodation and attractions. Find mistake fares, the cheapest date to fly each month, hotel and apartment savings, plus where to buy the cheapest tickets for attractions.
Looking for some sweet travel deals? You're in for a treat.
•  Get $40 USD / $50 AUD OFF your first Airbnb booking
Come say "HEY!" on Instagram or Facey. I like to think I'm a self-proclaimed comedian, all the while providing some lit AF travel tips. You be the judge.