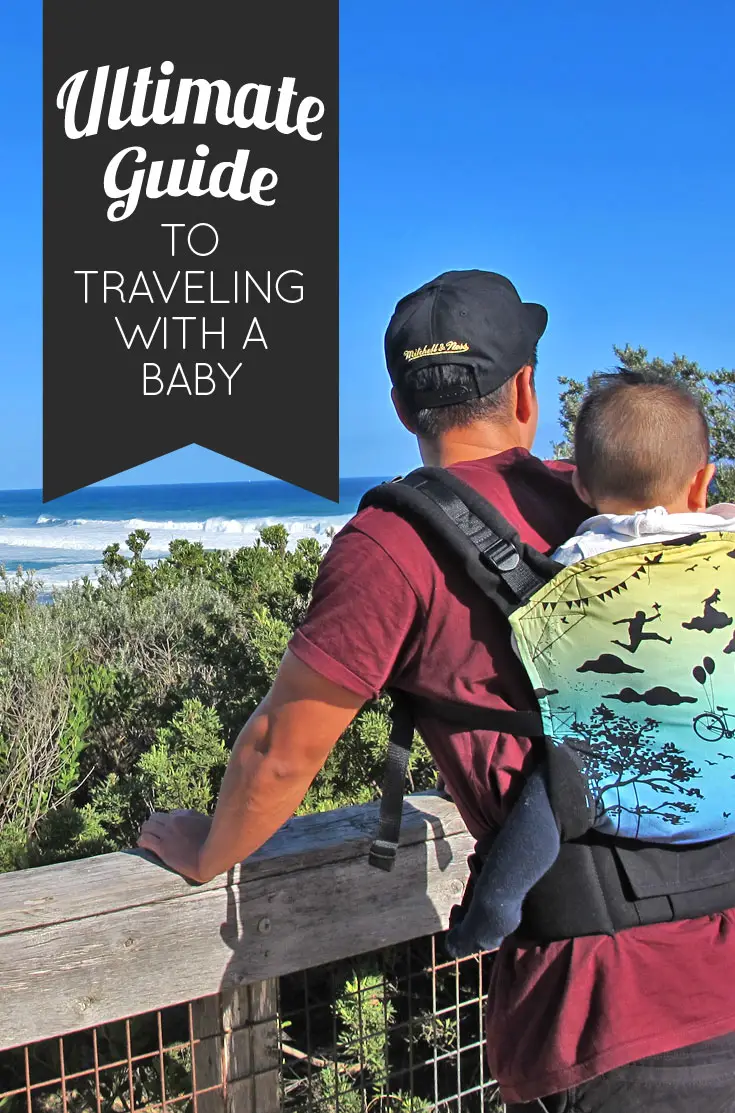 Are you secretly dreading the thought of traveling with your baby? Unsure of where to even start?
You've come to the right place. I provide *ahem* excellent and knowledgable parenting advice from my personal experience.
I can tell you this – it's not all fun and games when one of your passengers is apparently, a VIP, without having paid a single cent for his seat in the car, and has the attention span of a goldfish. This VIP passenger also demands constant entertainment, attention, love, top notch customer service, and has a very particular diet – one that would put a hipster to shame.
We did the Great Ocean Road Drive back in late April with a 10-month old baby and we all came out of it in tact. So I guess I'm a professional? Yeah.
I mean for the most part – I can't even remember to pack my own bare basics, let alone a little human's survival essentials that I'm responsible for.
This is coming from someone who has managed to forget to pack her dacks on her travels to China. Luckily, if you get your haggle on at a market, you can get a six pack of 'Calvim Klains' for five buckaroos. Bargain. Not like anyone will notice the typo.
So to lighten the load on your travels with your baby, I've devised a list of tips and essentials for traveling with a baby to make your roadtrip as smooth as a baby's bottom.
NOTE DOWN ALL 50 ATTRACTIONS YOU WANT TO SEE – AND SEE THEM!
No seriously, don't do that. Don't overplan. I made the mistake of planning to visit something like fifteen sights on our Great Ocean Road family trip. I even carefully mapped the points out on Google Maps.
That's fifteen locations in two days. With a baby. And my 70-year old Dad who has hip problems.
Needless to say, we came nowhere close to seeing these fifteen places along the Great Ocean Road. Lesson learnt.
Note down the attractions that you absolutely cannot miss, and work with that number. Everything you get around to after that is a bonus. Even if it means that extra destination was a run to the toilets for a nappy change.
You got out of the house, Momma, that's a win in itself.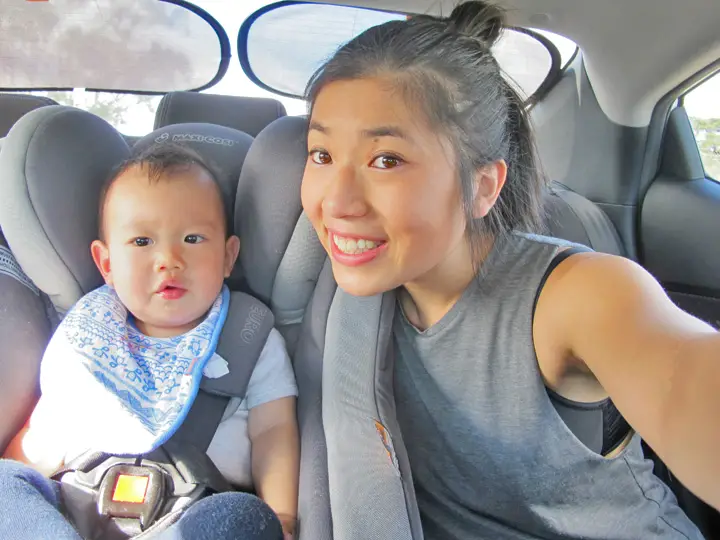 Left the house – winning!
HOTEL ROOMS MUST HAVE A KITCHENETTE – OR BOOK AN APARTMENT!
I've always loved hotel rooms and all the luxuries that come with them. Until I had a baby. Now I realise how vital it is to have a microwave, kettle, sink and stove. The fucking works. Struggle is real.
If you've pre-prepared all the food that your baby will eat for the entire duration of your getaway (that's mad effort) – then all you need to is ensure that the hotel room has a microwave so that you can heat the food up.
If you haven't, well, then my dear you're going to need to book a self-serviced apartment. Get your ass onto Airbnb.
CO-SLEEP TO REDUCE EXTRA WEIGHT
If co-sleeping with your baby is your cuppa tea, then this will save you the effort and weight of having to lug around a huge ass travel cot with you. You'll even save on extra luggage fees when you're flying. Airlines will usually allow two extra items (pram, car seat) to be checked in – anything on top of that may incur a fee. Vultures.
We co-slept with Flo in our family room at Mid City Warrnambool, as well as on our weekend getaway to Sydney.
Before I go any further into the controversial topic of co-sleeping, I just wanna say – relax ya flaps, everyone. It's really not that bad as long as it's done safely. We copped the occasional fly kick in the face, but that's about as bad as it got. Now let's get on with it.
GIVE BUB SOME BOOZE TO KNOCK 'EM OUT FOR THE WHOLE DRIVE
Wine tends to be slow working, so if you're short on time, you might want to try some harder spirits like Tequila or Vodka.
Ok, no don't knock your kid out with booze. Yet.
Plan your departure time close to your baby's nap time. That way you're guaranteed at least half an hour of peace, or better yet – leave at night and they might just sleep through the whole damn car ride. It's a game of carefully strategising when they will be K.O. for most of the trip so that it's more enjoyable for the adults involved. That way you can enjoy listening to Justin Bieber without feeling compelled to throw on The Wiggles CD for a bit of shut eye.
If you're set on a night time departure – don't forget the Red Bulls. Shit's vital.
TRAVELING WITH HOMEMADE BABY FOOD
So on most days I can't even put together a half-assed sandwich for myself. These days, I'm up late burning the midnight oil cookin' up mad baby food.
Occasionally, I go to the organic supermarket and get the real good shit. That's right – I'm nourishing my baby. Turning him into a green warrior. A walking-fucking talking piece of superfood. And he's gonna have a bigger brain capacity than all y'all other kids out there because I raised him on the good shit. Fucking invincible. Damn straight.
Nek minnit- I'm broke as a joke cos I spent my entire wage on so-called superfoods, bee pollen, activated charcoal, and biodynamic kitty poo.
I don't even treat myself this good. But that's the sacrifice mothers make. One day when Flo is grown and has beautiful, radiating skin and looks like he hasn't aged a day – I'm gonna be like, "Son, it's the biodynamic kitty poo I fed you. Shit cost me $30 a pop. You better appreciate."
Anyways, back to the point – so how do you keep baby food fresh for hours without breeding an army of salmonella fuckers?
You freeze the portions your baby isn't due to have the night before departure and take them out in the morning. Place them into an insulated lunch bag or esky, and throw in some ice packs for added chills. Voila. Salmonella crisis avoided.
HEALTHY SNACKS TO PACK FOR A ROADTRIP
Avocados are always a BIG win for us. They're healthy, can be smeared on bread, and can be eaten anywhere. They are the bomb diggity.
Peanut butter and banana sandwiches: protein hit for the whole fambam. And it never fails you in the taste department.

Cobbs Organic Popcorn

because who said popcorn is only for movies?
Oven roasted

sweet potato sticks

– yeah, no one likes soggy chips, but Flo's never had chips before so who's he to judge? For all he knows that's how chips are meant to be. Soggy and cold.
Blueberries, chopped up strawberries, sliced oranges – all that fruit ninja shit.
HAVE WIPES & BIBS WITHIN ARM'S REACH
Lots. They're snacking. You're shoving things into their mouths. They miss. You miss. They swat your food away. Shit goes SPLAT SPLAT SPLAT.
So packs lots of bibs and keep them close, as well as baby wipes. All hail baby wipes.
DON'T FORGET THE BABY CARRIER
My Tula has become a part of me. An extra limb. I don't want to imagine what my life would be like without it.
If you're on a family roadtrip, you might be jumping in and out of the car to see attractions.
A lot of the attractions along the Great Ocean Road required us to climb up and down stairs to get certain sights and viewing platforms. You certainly wouldn't want to be hand carrying a baby, or trying to adventure your way down staircases with a pram.
So pack that carrier. And triple check to make sure you haven't forgotten.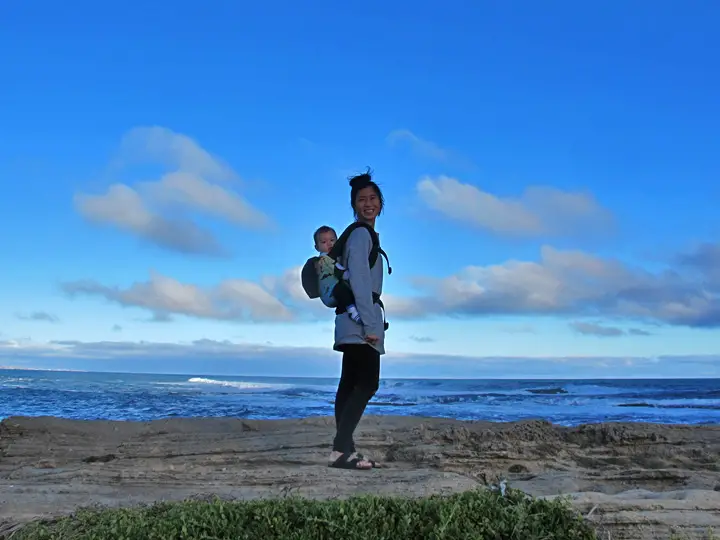 BRING THE FIRST AID KIT
Someone will hurt themselves. Someone always does.
In my case, it surprisingly wasn't me or my baby – it was my accident prone Dad. He became so excited upon seeing the Bay of Islands, he sprang out of the car without anyone noticing. In short, he sprang out, tripped on a rock and almost tumbled down a 50 metre cliff next to the viewing platform.
Andy and I were too busy trying to get Flo out of the car, we didn't get to witness any of the hilarity unfold. Otherwise it would've been on camera. Or snapchat. Or every social media platform that I have. My Dad would've been a famous Internet meme by now.
So in case of tripping and faceplanting in a bush – pack your band aids and disinfectants, peeps!
Have you got anything else to add to the list from your experience? I would love to hear some funny 'roadtrip with a baby' stories from you!
FREE DOWNLOAD: OUR 30 SECRET TRAVEL HACKS FOR KIDS