So, you think you're ready to tackle the world's biggest beer festival with kids?
You got this, all my parental homies who still want to party like rockstars, even after kids. I can let you in on one thing though - after a single visit with kids, you'll either bloody love it, or hate it and vow to never return again.
Growing up in Munich throughout my childhood years, this was the single-most exciting annual event I begged my parents to take me to, year after year. As soon as I reached the height threshold for rides, it was on like Donkey Kong. I couldn't get enough of the flashing lights, rollercoasters and the buzzing excitement the entire city falls into.
It was probably the thing I missed the most upon moving to Australia in my early teenage years, I mean, let's be real - Oktoberfest in the Gardens in Melbourne with its tiny servings of German beer I've never even heard of just doesn't seem to cut it. Not one bit.
I returned again as soon as I turned 16 (because you can legally drink at 16 in Germany, say wut?), met up with some old friends and took on the festival from a new perspective - the blind drunk perspective. And, you know what? It was even better than my experience as a child. Because rides are SO much more fun when you are not sober.
Without further ado, I present to you my top tips of the most exhausting (and possibly least enjoyable) way to visit Oktoberfest as an adult, and that is, with kids.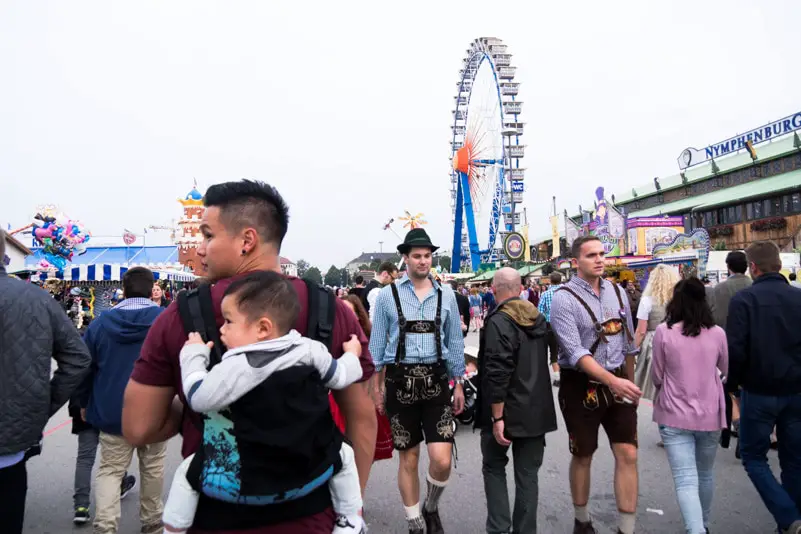 DRESS TO IMPRESS (THAT MEANS THE KIDS, TOO)
Bavarians take their 'Wiesn' (Oktoberfest) attire seriously, and Germans (as Germans do) look down upon those who do not dress for the occasion. This is a serious matter. If you really want to get into the Bavarian spirit and feel like you're Heidi and Hans up in the Alps yodelling into the distance and ringing cow bells to pass the time, then you need to get your Tracht (traditional German attire) on.
My fellow Australians, I'm looking at you in particular. Havaianas do not fit into the equation when you're putting an outfit together that consists of Lederhosen and Dirndl. You can always spot a group of Aussies at Oktoberfest when you look at their feet. Plus, you really don't want to be scrambling over all the broken glass left on the ground at the end of the day in your Havis - that's just asking for a one way ride to the ER.
Now, it may be a fair investment when you need to buy Tracht for the whole family, especially if this is an event you're only planning to attend once. But, don't give up on the outfits just yet - there are plenty of shops in Munich where you can rent the whole do-up.
Alternatively, you can always order Lederhosen and Dirndl from Amazon Germany if you want to buy an outfit and plan on keeping it. You'll find prices online to be lower than some of the shops and department stores in Munich.
HOT TIP: If you're attending Oktoberfest near the end of the festival (end of September to early October), you'll find that shops will start clearing their stock and you might even score yourself an entire outfit (including shoes) at half the price!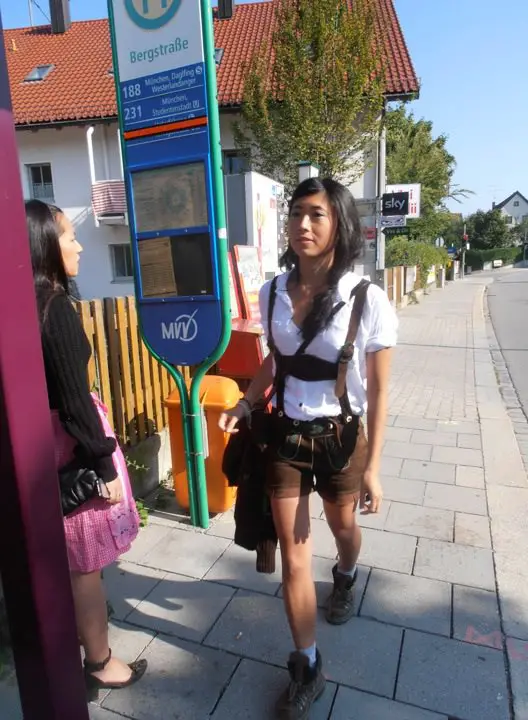 GO EARLY AND LEAVE EARLY
I can guarantee you that by noon you'll start seeing the first lot of trashed festival-goers tripping out of beer tents, leaving a trail of spew before passing out on a patch of grass.
I mean, this would most likely be me if I weren't attending with kids and was at liberty to self-destruct my liver and gulp down litres of potent German beer, but unfortunately, times have changed. I can't be that blind drunk passed out girl on the sidewalks anymore. These days, you'll find me at Oktoberfest drinking a Stein filled with apple juice and soda water because that's the closest beverage that resembles beer.
So, advice for parents visiting Oktoberfest with kids - make haste towards to exit before the beer starts kicking in for everyone else. I know you're probably thinking, who the hell drinks before noon? Germans do. Everyone without kids at Oktoberfest does. It's the only time of the year where it's socially acceptable to be drunk before brunch.
FORGET BEER TENTS. IT'S ALL ABOUT THE DESSERT TENT.
You probably won't get into a beer tent with kids, but don't despair, because it probably isn't the brightest idea. You really don't want to be kicking shitfaced men swinging around a litre of beer in the balls at lunchtime just so they don't trample over your precious spawn.
There is a tent that's almost just as good. Almost.
It's called Café Kaiserschmarrn and it looks like a giant, edible gingerbread castle - you can't miss it. Immerse yourself in all the heavenly German desserts. Because, what's better than a drunken coma? A food coma.
Get some Kaiserschmarrn (kind of, like, chopped up German pancakes with apple sauce), Dampfnudel (steamed German dumplings) or Apple Strudel in vanilla sauce in ya belly.
Oh, and they also have a selection of wines and Spritz. Win!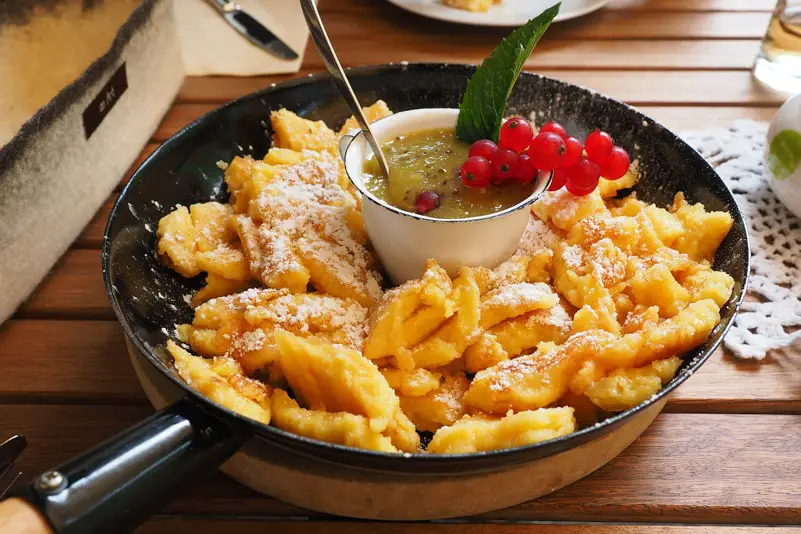 FIND THE OIDE WIESN
You don't want to miss this at Oktoberfest in 2017, as it only happens every second year. The Oide Wiesn, which translated, means 'Old Oktoberfest' is located in the southern part (near the Riesenrad - big ferris wheel) of the venue.
Entry costs 3 Euro, but in my opinion, worth every cent. Considering there's no entry fee for the general part of Oktoberfest, it's a fair trade.
You'll feel like you've been hurled back in time as soon as you set food inside - the historical Oktoberfest was first introduced in 2010, initially as a one off event to celebrate the 200th anniversary of the festival. Inside, you'll find nostalgic carnival rides, a petting zoo for kids, and a smaller Festzelt (beer tent) offering traditional Bavarian dishes and beer made after original recipes from the early 19th century.
Read more about the Oide Wiesn here.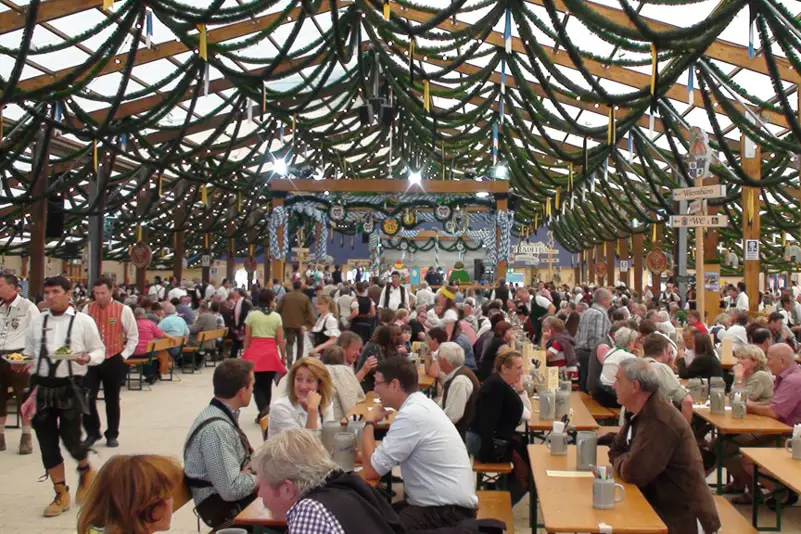 RIDES, RIDES AND MORE RIDES
An obvious one, considering Oktoberfest is home to over 80 exhilarating rides, ranging from rollercoasters, ferris wheels, merry-go-rounds, bumper cars, mazes and heaps more. You'll find something for toddlers, kids and adults alike.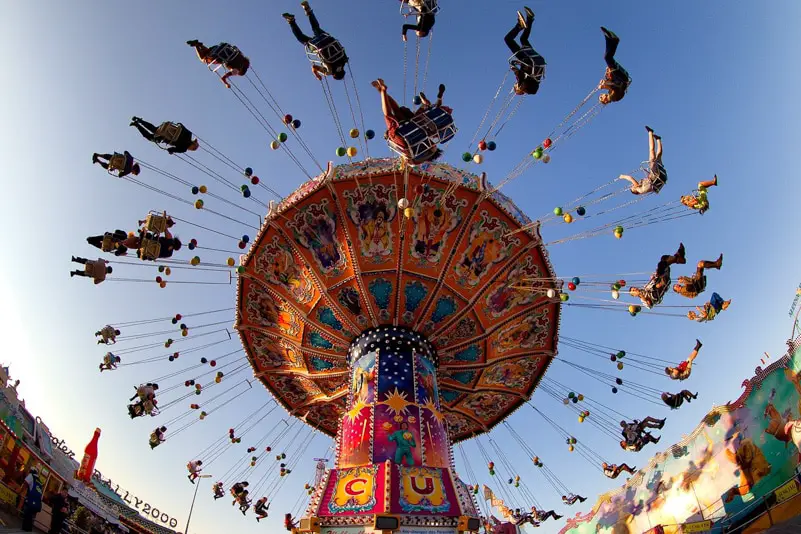 That being said, I'm going to list my absolute favourite rides growing up as a kid (and, even now) and the most amusing rides to go on after you've had a Maß (Stein) or 10.
Alex Airport: You've probably seen this ride in other parts of the world, but the Oktoberfest version is next level, because it takes you up high. Way high. If your little ones aren't afraid of heights, then I would decide against this, but it gives you an incredible view of the showgrounds whilst taking you around in a circle.
Wilde Maus: My personal favourite as a kid, and as a young adult, it's a joyride after stumbling out of a beer tent looking for cheap thrills. Sharp corners, steep descents, and maybe even a minor heart attack. My kind of ride.
Illusion Mazes: Also fantastic after a few beers (what isn't amazing after booze?) because there's the potential that in your drunken demeanour, you'll get hopelessly lost in the mirror maze forever. Drunken antics aside, this is a winner for kids as they love the obstacles that are presented inside.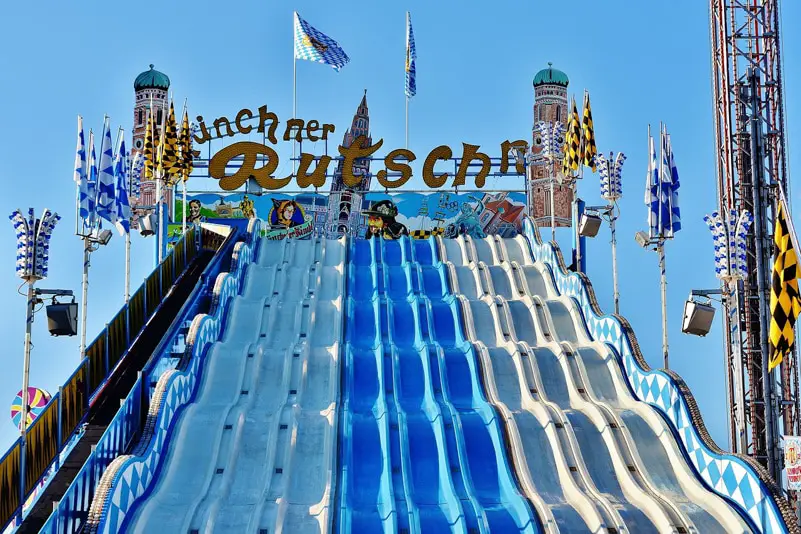 Münchner Rutsch'n: Slides are cool. Slides are even better when they're 10x as big, and beer is involved. This gargantuan slide is a favourite amongst kids and tipsy adults - it's so big that it is a safety requirement for everyone to slide down on a smelly old carpet to avoid potential burrrrrn.
Riesenrad: If slow, steady and leisurely is your pace - then this one's for you, and the kids. At 50m high at its topmost point, this is the best view of Oktoberfest Munich you're going to get.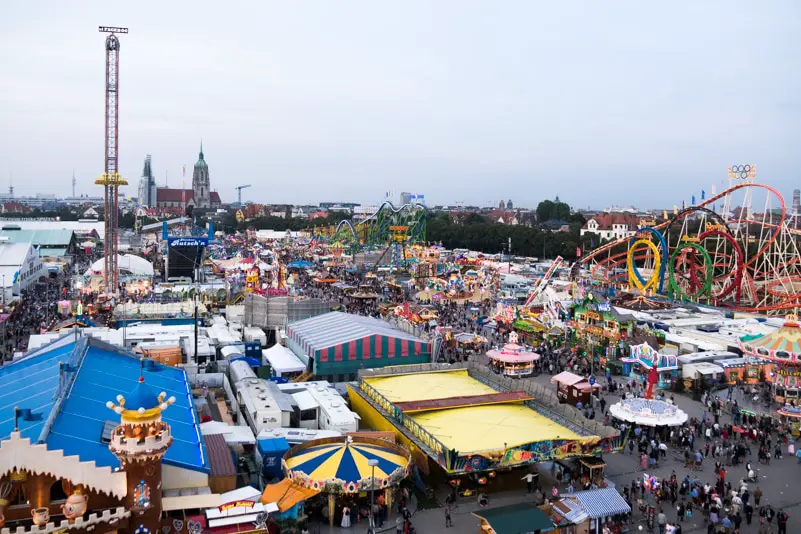 Fünfer Looping: This one's for the real thrill seekers. This gigantic Olympic logo-inspired roller coaster has been around since I was a kid (I'm sure there's been many safety upgrades since, we're dealing with the Germans here, after all) and I can't say I've ever had the pleasure of being on it. That is only because I've never had anyone game enough to go on with me.
Toboggan: This one is purely for laughs, and you must admire this phenomenon from a distance. If you're having a bad day, or your kids are being downright savage, you MUST make a pit-stop at this ride before you make your way out of Oktoberfest. Make sure you have your smartphone camera ready on record. Get ready to roll on the floor laughing your tits off at trashfaced festival-goers attempt to hold their balance whilst trying to make it up the elevated travelator without stacking it on their bums. I've borne witness to all sorts of individuals lose their dignity here.
PLAY CARNIVAL GAMES
Look, I get it. As a parent, you're literally just watching your kids throw (and miss) away your hard-earned dollars. Put it simple, your kids probably don't know how to throw yet, or they're so terrible at it, that they hit the vendor instead of the metal tins.
There's a whole heap of carnival games sprawled across the grounds, and although it only costs a few Euro to play one game, it adds up after your kids beg you to try all the other ones.
So, this one's for the kids - because, after all, we're doing it for them, right?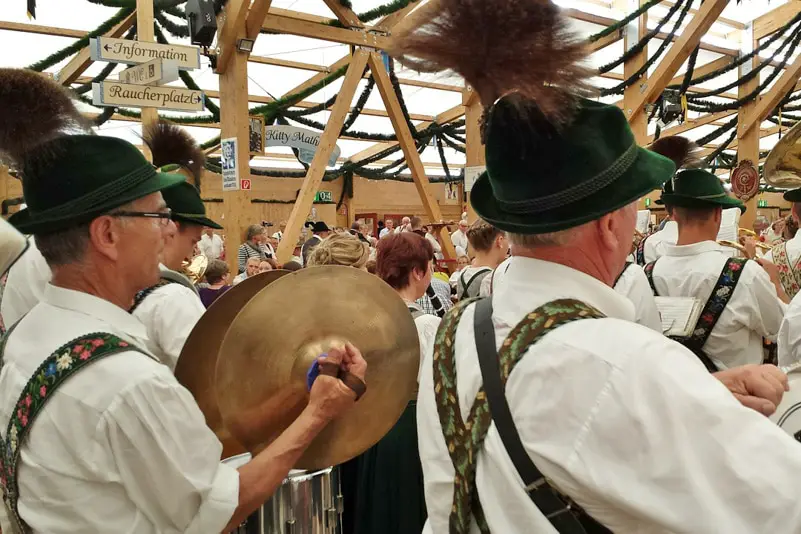 EAT ALL THE OKTOBERFEST STREET FOOD
You don't have to squeeze yourself into a beer tent in order to get your tastebuds on some of the best food zee Bavarians have to offer. Unless, of course, you're after a sit-down meal. But, us parents know that sitting down for a peaceful is a novelty of the past, right?
Discover mouthwatering Bavarian specialties littered all along the main walkways - I've listed foods that you absolutely cannot forego below:
Hax'nsemmel in front of the small Haxenbraterei tent (nestled between the Hofbräu and Hacker tents), it's literally a piece of juicy, crispy pork shank in German bread. Although you can find this in German restaurants in Munich, no one does it like the Haxenbraterei does it at Oktoberfest.
Steak Semmel, practically a steak sandwich, a la German style. Caramelised onions and all. The best steak sanga I've ever had in my entire goddamn life. You can find this at almost every second food stall, and they're all equally as good.
Glazed fruits, chocolate or sugar-coated - these are kids' favourites. Hey, there's fruit innit, right? That makes it healthy. Kinda.
Dampfnudel - I really don't know how to translate this, because in English, it literally means steamed noodles, which doesn't sound very enticing. And the word noodle is misleading because these are not noodles. The only food I can compare it to are Asian steamed buns, German style. In vanilla sauce. If that's not heaven, then I don't know what is.
Auszogne from Bodo's Cafézelt, which is a crispy Bavarian doughnut, and it's melt-in-your-mouth delicious. Since you probably won't be drinking at Oktoberfest with kids, then I would suggest you devour this with a cuppa coffee or hot choccy.
The metre-long sausage (that's what she said - I know, I'm so mature), say what? That's 100cm of red or white crunchy, juicy German sausage. I can't picture anything better entering your mouth. 
I know, I probably made Oktoberfest sound a lot more appealing to people without kids, but with a little preparation and knowledge of what to expect - the whole fambam can have a good time. I loved it as a kid and I love it as an adult, I just don't get to drink as much beer these days, but I'll survive. 
Most importantly, your kids will get to experience one of the most mind-blowing festivals in the world, and they will hold onto those memories for years to come.