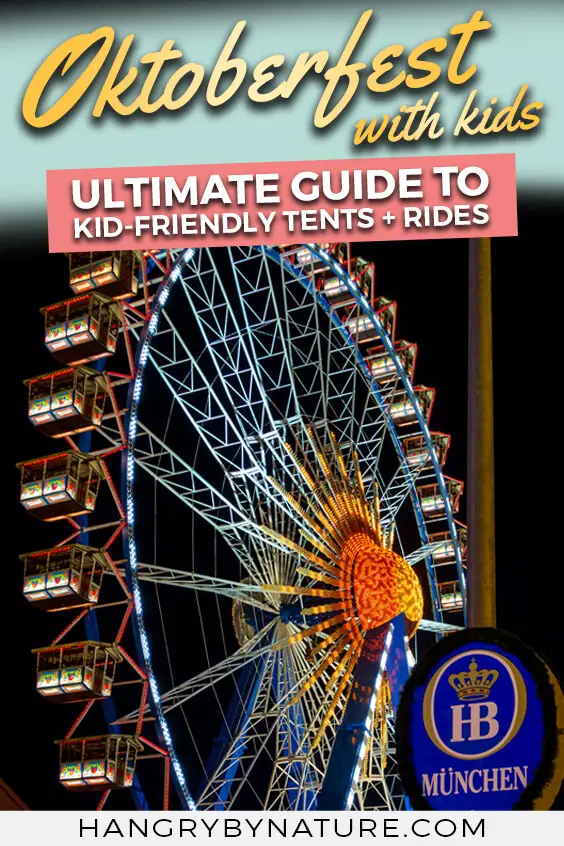 Is Oktoberfest Munich possible with kids? Is it safe? Are there gonna be heaps of drunk people? Well, yes to all, but.. it's so awesome you won't even care.
To all my #ParentSquad out there – you got this. Trust me, I've been there and done that. It's 100% socially acceptable to attend the biggest beer drinking festival in the world.. with kids. In fact, I've seen German mums with a Stein of beer in one hand, and baby in another. Totally fine. Nothing to see there.
Growing up in Munich as a child, this was the single-most exciting annual event I begged my parents to take me to, year after year. As soon as I reached the height threshold for rides, it was on like Donkey Kong. I couldn't get enough of the flashing lights, rollercoasters and crazy hype the entire city fell into.
Although it's completely safe to attend the Oktoberfest with kids, there are a few precautions you should take to make your visit a completely memorable and stress-free one.
For more on Germany & kids' travel tips, check out:
Oktoberfest Must-Knows
2018 Dates

Saturday 22nd September until Sunday 7th October

Where is it?

Theresienwiese (near city centre) Check the map below for location.

Weather in Munich

Autumn (warm in the day & cold at night)

Oktoberfest Budget

Approx. 50€ per adult
Find Oktoberfest Grounds South East of Central Munich
There's no entry fee for Oktoberfest (yas!). It also won't cost you a cent to enter beer, wine, and food tents. But, you will be paying a premium price for 1L of beer, roughly 11€ in 2018. Food will cost anywhere between 5€ (food from stalls) to 20€ (dine-in tent food). To see the complete list of drink prices, take a look at the official Oktoberfest website.
Rides will set you back 4-5€, so best to try and contain your kids – because trust me, it will all add up in the end and you don't want to cry the next time you check the status of your wallet.
Getting into Beer Tents with Kids
I was dead serious when I said that no German is going to judge you if you decide to enter a beer tent with your kids. They won't even judge you with a baby strapped on your with one hand holding a cheeky Stein. In fact, they're very seasoned at doing this themselves. In fact, kids get introduced to delicious, frothy German beer at a very tender young age. #ParentingGoals, y'all.
Bottom line – you won't encounter any issues visiting beer or wine tents with kids. Get the whole fambam in on the festivities and be merry!
Dress for the Occasion
Bavarians take their 'Wiesn' (Oktoberfest) attire seriously, and Germans (as Germans do) frown upon those who do not dress for the occasion. Beer drinking is serious business. Get everyone in on the spirit and buy (or rent) some Lederhosen and Dirndl.
You can find a whole bunch of Oktoberfest costumes in Munich department stores, or cheap ones online for the whole family.
Super Adorable Oktoberfest Kids' Costumes on Amazon:
HOT TIP: Keep an eye out for huge discounts on Lederhosen and Dirndl
if you're attending the final week of the festival when most shops start clearing stock.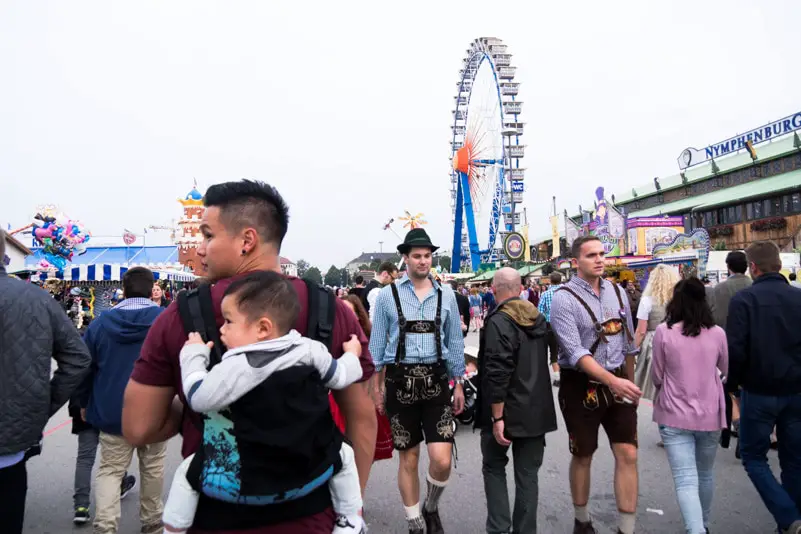 Hit Up Beer Tents for Food, Beverages & Good Times
There's really only 2 reasons for visiting Oktoberfest: to drink record amounts of beer whilst dancing on benchtops, and to enjoy the all the rides (and food). And, believe it or not, the rides weren't brought in for children. They're there so that partygoers can experience rides in a severely intoxicated state. And, I'll tell ya what? It's a genius idea. Except for, perhaps, the injuries that result.
The number 1 rule for visiting with kids is to get there early (tents usually start opening at 10am), as in before beer drinkers start pouring litres of beer down their throats. Plus, mornings are way tamer. As the day drags on and the Steins keep comin', you might want to consider leaving the beer tents for something a little more subdued and less boozy. You know? For the kids. Darn kids. Killin' all the vibes.
So, yeah. Leave the booze coma for a food coma.
Swing by Café Kaiserschmarrn
The exterior of this kooky-looking dessert tent called Café Kaiserschmarrn seems to be on a dose of acid. That's why you can't miss it. It looks like a giant, warped gingerbread castle Basically, if you can't get drunk – get sugar high. Order a serving of Kaiserschmarrn (chopped up pancakes with apple sauce) or Apple Strudel and bask in the heavenly sweetness.
Oh, and they also have a selection of wines and Spritz. So, you can still get your wine goggles on.
Basically, Eat your Way through Tents
Germans claim that Oktoberfest cooks up some of the best food you'll get in Munich, and I can wholeheartedly concur. Eat up, drink up, and make sure you try these German staples – 1/2 Roast Chicken (AKA Hendl), Metre-long Sausages (not even kidding), Giant Pretzels, Curry Wurst, and Pork Knuckle.
Check out this map of the festival grounds displaying all the tents, eateries and rides.
FUN FACT: Germans actually take annual leave (sometimes the entire 2 weeks) to attend Oktoberfest. Every day.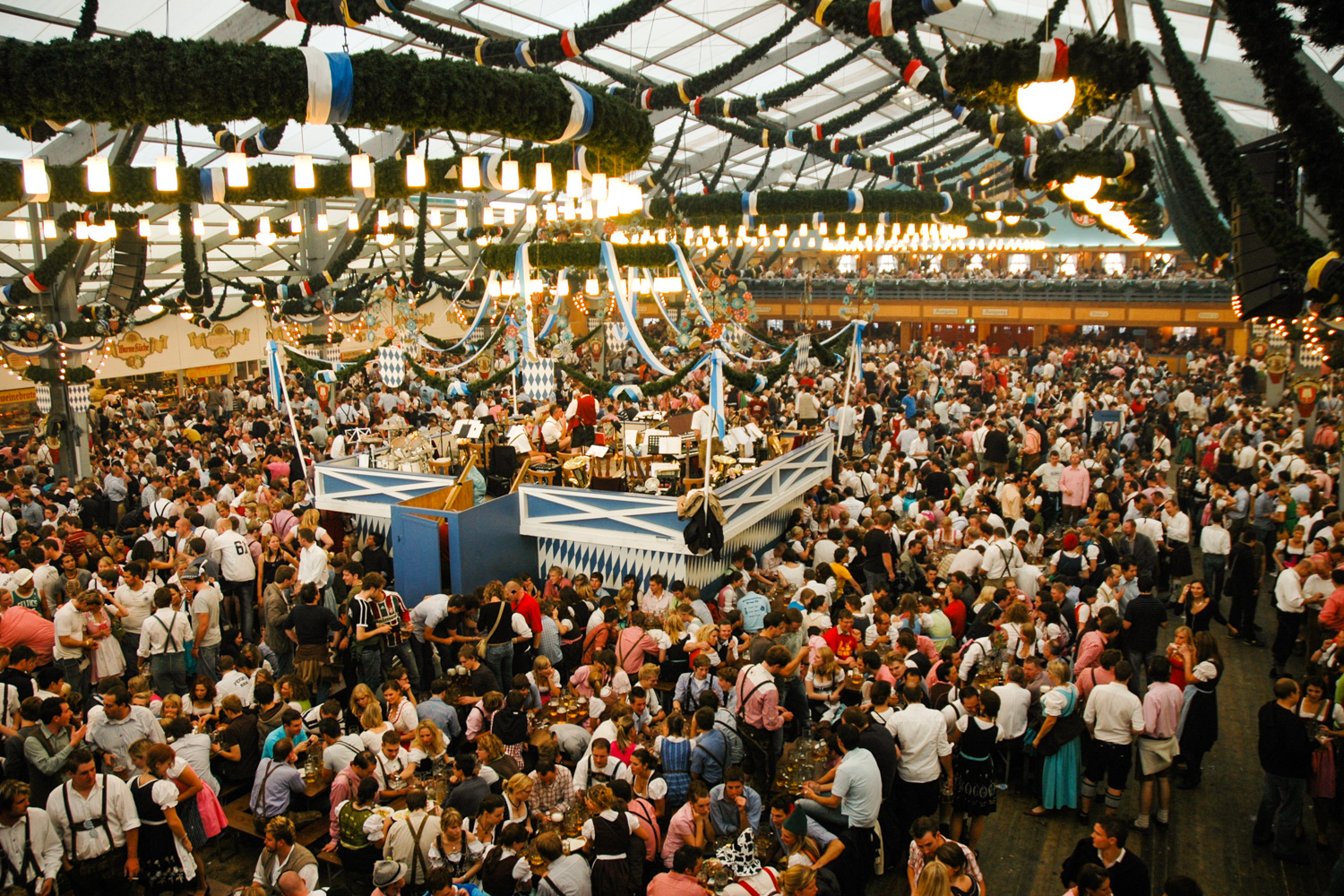 Eat, drink, and be merry… with kids!
Get on the Rides
Home to over 80 exhilarating rides, this is the one thing kids of all ages can wholeheartedly enjoy. Jump on rollercoasters, ferris wheels, merry-go-rounds, bumper cars, labyrinths and much more. Word of advice: bring extra cash. Rides are expensive and kids like rides.
Look, if any of you parents manage to actually guzzle down a beer or two, I would highly recommend a round of bumper cars or jumping on this crazy ride called Wilde Maus immediately after. No fun in the world compares to drinking and 'coaster-riding. Except for when it all comes back up, but let's just hope for the best, hey?
DO THIS: Find this ride called Toboggan, stand in front of it, and watch drunk individuals lose their balance on the travelator. Gags guaranteed.
Stroll the Festival Grounds
Okay, wait. Do this before everyone drunk partygoer comes stumbling out of the tents (usually late in the afternoon), because that's the time you really want to pack your kids and get on outta there.
Although, Oktoberfest is a sight to behold when the sun sets, you might want to consider strapping young kids into a stroller as it does get very busy towards the evening. This will give young ones the opportunity to admire all the flashing neon lights and lively atmosphere.
While you're exploring the area, don't forget to…
Eat all the Oktoberfest 'Street Food'
You don't have to squeeze yourself into a beer tent in order to get your tastebuds on some of the best food Bavarian cuisine, keep your head up and eyes open – mouthwatering quick eats and sweets can be found absolutely everywhere.
Littered along the two main walkways, you'll find juicy sausages, steak sandwiches, glazed fruits, crispy pork shank (Hax'nsemmel), and steamed German buns in vanilla sauce (Dampfnudel).
Play Carnival Games
Look, I get it. As a parent, you're literally just watching your kids throw (and miss) away your hard-earned dollars. I mean, kids don't know how to throw yet, my boys are so terrible at it, that they would hit the vendor instead of the metal tins.
There's a whole heap of carnival games sprawled across the grounds, and although it only costs a few Euro to play one game, it adds up after your kids beg you to try all the other ones.
Buy Trinkets & Souvenirs
Overpriced helium balloons, beer-shaped hats, magnets, and of course, gingerbread hearts – these are all mementos you can buy at stalls strewn across Oktoberfest. FYI, no one eats the gingerbread hearts – they taste gross. Display only, peeps.
Visit the 'Oide Wiesn'
The Oide Wiesn, which directly translated, means 'Old Oktoberfest' is located at the far end of the main entrance (near the giant ferris wheel). It's the perfect space to take young kids to enjoy traditional rides and rollercoasters.
Entry costs 3€ and rides an additional 1€, but the experience is worth every cent. Oide Wiesn hurls you back in time to what Oktoberfest supposedly looked like 200 years back. Inside, you'll find nostalgic carnival rides, a petting zoo for kids, and a smaller Festzelt (beer tent) offering traditional Bavarian dishes and beer made after original recipes from the early 19th century.
Read more about the Oide Wiesn here.
Oktoberfest for Kids – Basic Survival Tips
When is the Best Time to Go?
For us unfortunate bunch who must resort to visiting Oktoberfest with kids, the best time to go first thing in the morning. It's usually quiet(er) at 10am and everyone is still sober – well, at least you would hope so.
The queue to get on rides is also much shorter, or close to non-existent, meaning no impatient and whining children to deal with. Plus, you get served one of the first meals of the day? Who wouldn't want a freshly roast chicken and potato salad for brekky?
Is Oktoberfest Safe for Kids?
100%. Everyone's just out to have a good time – big or small. Of course, bear in mind that it is a drinking festival so your kids are most likely going to bear witness to humankind at its worst. From crawling out of beer tents (best case scenario) to dodging puddles of spew, you're just going to have to find a creative way to explain to your kids why there's passed out people on the lawn.
Just don't stay out too late when it gets real messy (like, me prior to kids messy).
Essential Things To Know
Remember to wear comfortable shoes – trust me, you would not want to saunter around in anything with a heel.
Pack as light as possible – I know it's hardly possible with kids, but if there's anything you can lose, lose it.
Contrary to popular belief, beverages other than beer are available. Kids can drink Apfelschorle (apple juice mixed with sparkling water) or Spezi (Coke mixed with Fanta) which doesn't sound enticing, but kinda tastes good.
German Phrases for Oktoberfest
| | |
| --- | --- |
| "Servus" – What's up/Hello (Bavarian greeting) | "Danke" – Thank you |
| "Eine Mass bitte" – One Stein of beer, please. | "Entschuldigung" – Excuse me/Sorry |
| "Ciao" – Bye (I know, it's Italian but Germans actually use this more commonly") | "Wo ist die Toilette?" – Where is the toilet? |
| "Ist noch ein Tisch frei?" – Is there a free table? | "Eine Breze bitte" – One pretzel, please. |
Best Travel Guides for Munich & Germany:
Getting to Oktoberfest
The best and most efficient way of getting to Oktoberfest is, no doubt, via public transport. For the love of Pretzel, please don't attempt to drive – you'll probably get there faster by walking.
U-Bahn (Underground Train): Jump on the U4 or U5 to Theresienwiese or Schwanthalerhöhe, and basically follow the hordes. Alternatively, you can also take the U3 or U6 to Goetheplatz or Poccistrasse and then walk.
S-Bahn (City Rapid Railway): Pick between S1-S8 (whichever arrives first) and disembark at Hackerbrücke. The walk takes roughly 10 minutes.
In all honesty, I probably wouldn't even recommend any other mode of transport – taxis are expensive and buses/trams not as efficient. Taking the U-Bahn or S-Bahn is the quickest and easiest way to reach Oktoberfest. Granted, you might get stuck in a full carriage feeling like sardines in a can with a few tipsy singing Germans – but, it's all part of the festive experience.
Seeing more of Germany? One of the best ways to see this picturesque country is via train. I highly recommend getting the BahnCard for cheaper & more convenient rail travel within Germany.
I hope this article has made it feasible for you to bear the thought of visiting Oktoberfest with kids. With a little preparation and knowledge of what to expect – the whole fambam can have a fantabulous time. I loved it as a kid and I love it as an adult – I just don't get to drink as much beer as I would like, but I'll survive.More importantly, your kids will get to experience one of the most impressive festivals in the world, and they will hold onto those memories for years to come.
Have you been to Oktoberfest with kids? Tell me about your experience in the comments below.
For more on Germany & kids' travel tips, check out:
Useful resources to help plan your trip:
To find the best travel deals on accommodation, attractions, and flights – take a look at our Travel Resources page to get started. These are the services we love and use ourselves to plan all our trips, and most of all – save money.
To save on your next hotel or Airbnb booking, take a look below:
For ideas on what to pack for your trip, take a look at all the gear and accessories we take with us on every single trip.
You can stalk us, the #SquatFam (aka Hangry Squad) on YouTube, Instagram and Facebook. We always promised to deliver fun and a less serious approach to life because I'm literally an 8-year old child trapped inside an adult body.
Like it? Pin me.